How to update dining room furniture: Learn how to take a dull, boring, dark dining room and make it feel cozy, fresh and stylish!
This design lesson applies to any dining room that needs a refresh!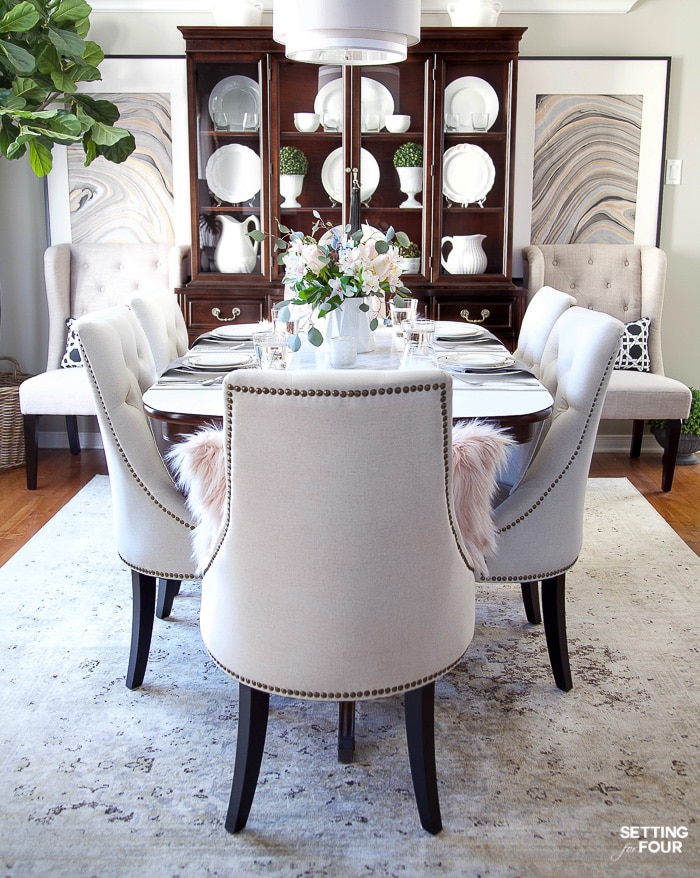 ---
Need help with furniture layout, choosing paint colors, kitchen/bathroom design, selecting furniture & decor or updating your home? I can help!
See my online design & paint color services!  Plus my client reviews!
Email me at [email protected] for more info!

---
This post contains affiliate links. Click here to read my full disclosure policy.
How to modernize dining room furniture:
How do you modernize an old dining room set?
These are all the ideas I used to update our antique Duncan Phyfe style dining room table, hutch and cabinet!
I hope it gives you inspiration to update your dining room pieces too!
My hubby inherited this set and we've used it so much for hosting dinner parties and big holiday meals.
Traditional style dining room furniture can look really heavy, dark and dreary and make a dining space look dark and heavy too.
5 Design Tricks To Brighten A Dark Room
But using these design tips will add style and flair to traditional furniture and lighten and brighten your dining area.
These dining room ideas can be used to breathe new life and lightness to any type of dining room!
Whether you have a formal dining room or an open concept kitchen/dining area!
Or if your design style is farmhouse, traditional or modern!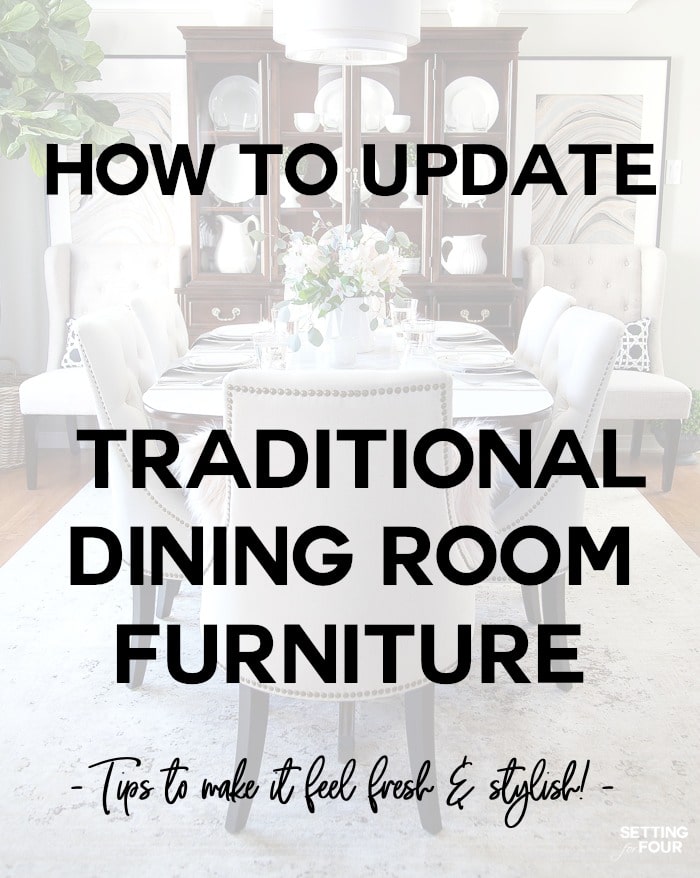 1. Keep, Donate or Sell
The first decision you have to make is if you will keep your traditional dining room furniture or replace it.
If the pieces are in bad condition, have scratches or damage that can't be removed with wood polish, then perhaps it's time to sell it or donate it.
This also applies to dated fabrics on dining chairs.
Donating the furniture to a family member or friend in need, a women's shelter or thrift store is a great way to pass it on to someone who wants it.
You can also sell it and put the money into new dining room furniture!
If wood dining room furniture is damaged or a dated stain color (like honey oak), the other option is to paint it.
If it's in great condition and you want to keep it – here are lots of ways you can modernize traditional dining room furniture without getting rid of it!
Favorite Painting Tips and Tools for Interiors
2. Update Your Wall Paint Color
Pick a new wall color that will compliment the color of your traditional furniture!
For example, used my favorite go to gray paint color Mindful Gray (I used this color in many other rooms in our home!) for our dining room. It really compliments the wood color of our antique Duncan Phyfe style table and chairs and updates the room.
White walls are very much on trend right now and can instantly make your traditional dining room furniture look fresh.
If you have dated wallpaper I highly advise you to remove it and paint your walls to update the look.
You could also replace it with grasscloth or a wallpaper that is a newer style.
Top 50 Bestselling Paint Colors At Sherwin Williams
How to Pick Paint Colors With Confidence!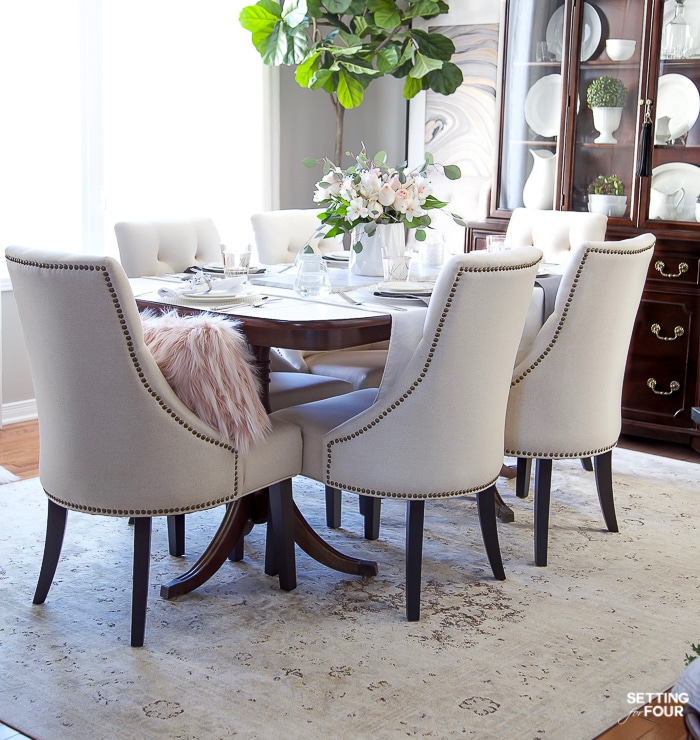 Shop the look! Click on the images below to shop the items. Scroll using the arrows to see them all!

3. Update The Color Palette
Add more modern neutral colors to your dining room to update the room's color palette. White, cream, greige, gray and black are beautiful, timeless neutrals that pair really well with traditional styles. Use these colors in your drapery, dinnerware and rug.
Also add contrasting, complimentary accent colors such as navy blue , mid toned blue, pink or dark green in your textiles and art.
How To Make A Marble Table Runner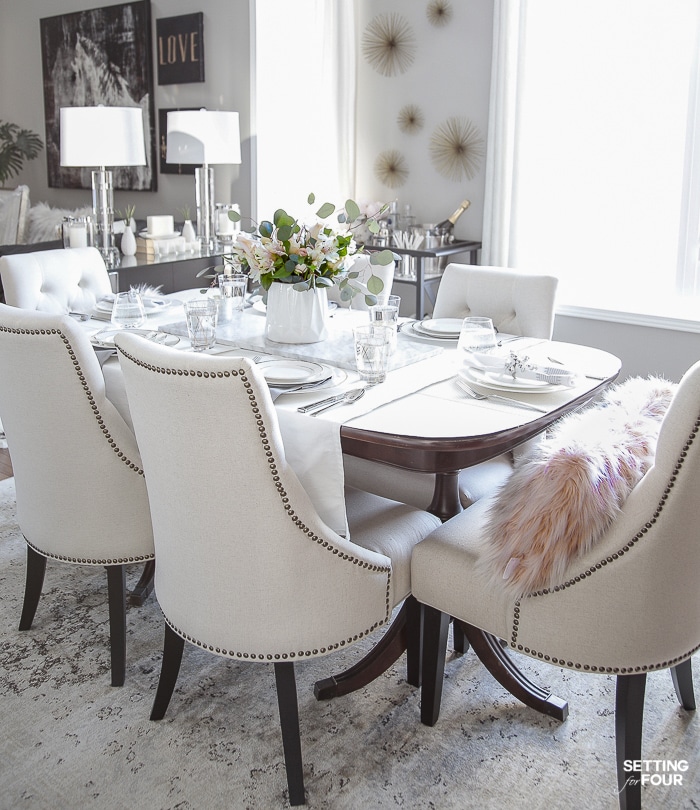 Shop the look! Click on the images below to shop the items. Scroll using the arrows to see them all!

4. Mix in A Second Design Style
Break up all the formal traditional lines of your dining room set with a second design style. Modern, transitional and some mid century modern styles pair beautifully with traditional furniture!
Coastal style also can make traditional furniture look less formal and more casual.
5 Ways To Add Coastal Style To Your Home
Contemporary design is also gorgeous paired with traditional dining room furniture.
What is contemporary interior design?
Contemporary style embraces minimalistic elements.
Add the second design style in your art, lighting, place settings console table and accent chairs.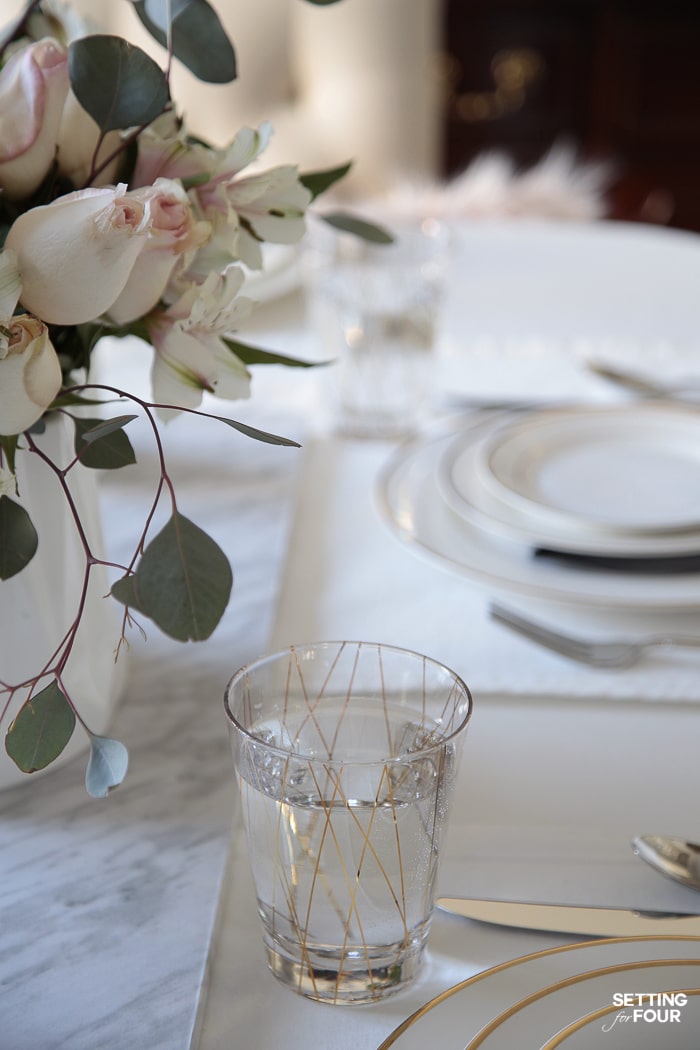 5. Fast Way To Update Dining Room Furniture – Break Up The Set
Replace the two host dining room chairs at the ends of the table (or all of the chairs!) with upholstered chairs in a contrasting color to break up all the wood tones.
Replace a bench with upholstered dining room chairs as well.
Remove the hutch and keep the buffet for storage.
Hang a mirror or large piece of art above the buffet and add two table lamps to add modern style. (More on that below!)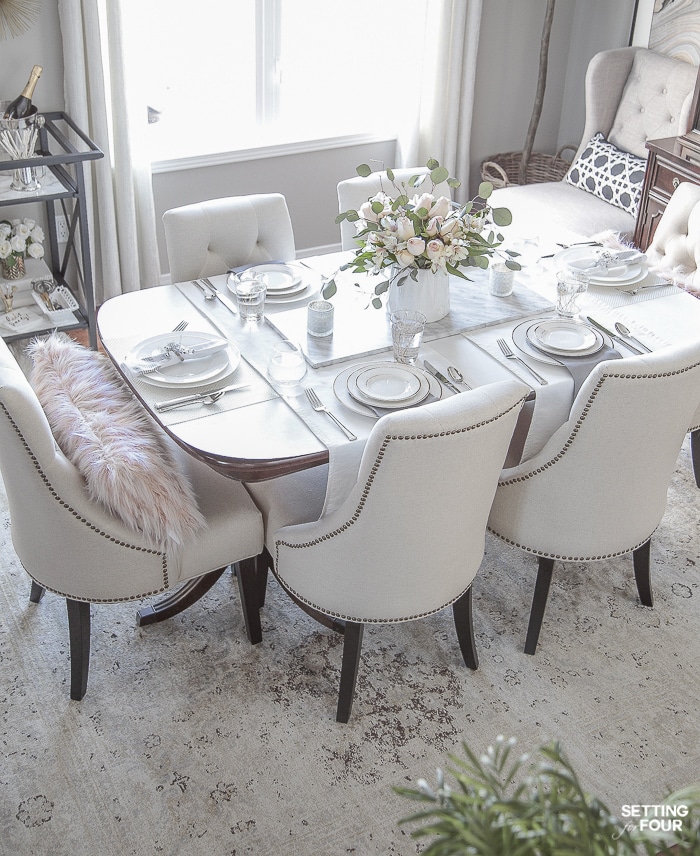 Shop the look! Click on the pictures below to see more about each item!

6. New Cabinet Hardware
Replacing the existing hardware to a buffet and hutch will instantly give  it a fresh makeover!
Add modern styled hardware like this, or gold toned hardware for an on trend update.
For example I painted our buffet cabinet hardware gold with my favorite spray paint.  (I'm currently looking at adding these cabinet handles to give it a big wow factor!)
Also don't forget to add a tassel to a cabinet! Tassels are so on trend right now! I added an  oversized black leather tassel to our cabinet to give it some drama and impact!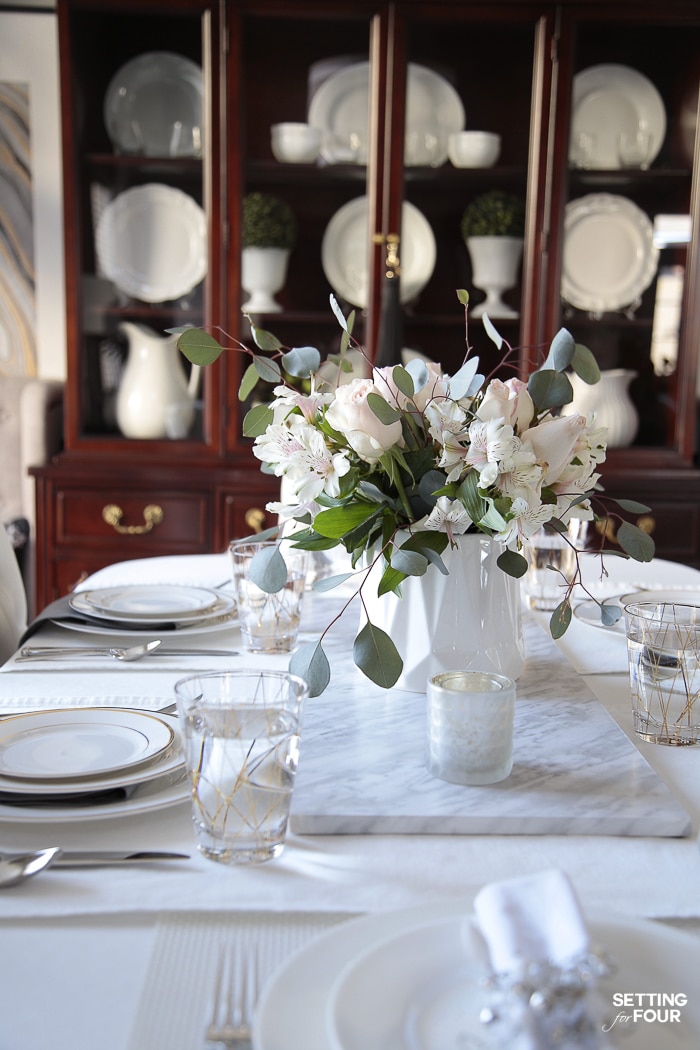 7. Area Rug
Infuse coziness to your dining room and make it look inviting by adding a rug. Adding a contemporary rug like this one or a vintage distressed area rug like mine will make traditional furniture look more stylish and current.
An easy to clean polypropylene area rug with some color and pattern in it is a wise choice considering the food and drink spills that can happen in a dining room.
Design Tip: How to Choose the Perfect Area Rug Size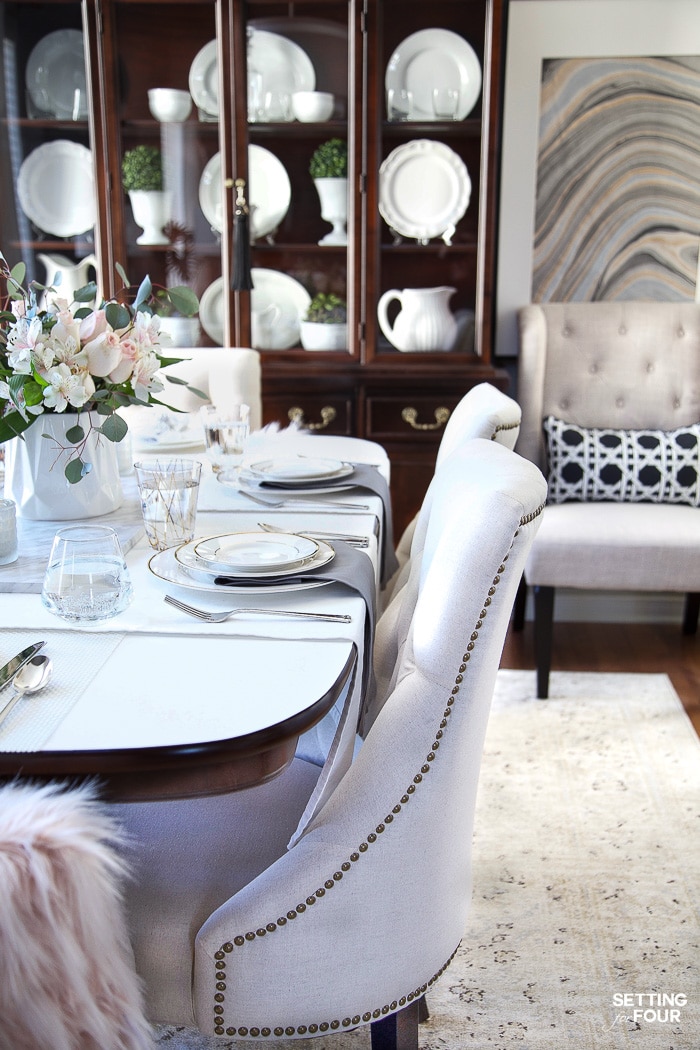 8. Window Treatments
Updating your window treatments is a quick way to give traditional dining room furniture a new look.
Add grommet top drapes or roman blinds.
Linen or cotton drapes will give your dining room a casual feeling.
If you want to amp up the drama choose silk or velvet curtains.
Woven wood shades will give your traditional dining room furniture a coastal vibe.
In terms of color, I advise my design clients to stay away from window treatments with prints unless you are willing to replace them often, since printed drapes can go out of style quickly.
White or ivory colored drapes are timeless and add a gorgeous neutral layer to a dining room.
Design tip: When hanging your drapes make sure your rod is hung as close to the ceiling as possible, to make your space feel large and airy.
Interior Design Advice: Do's and Dont's Every Beginner Should Know
9. Mirrors
Adding a large mirror above a buffet sideboard will make your small dining room feel larger and add impact and elegance to traditional furniture pieces, especially if you choose a transitional style mirror.
A mirror will also add a beautiful focal point
10. Wall Art
Add some contemporary artwork to decorate a dining room and modernize traditional furniture.
For instance, I made this quick and easy framed  DIY marble art to our dining room and love how it adds a more contemporary look!
Adding one large scale art piece or creating a gallery wall of prints is another beautiful way to add a fresh new look.
Stay away from adding one or two small prints to each wall because that will make your dining room feel cluttered and dated.
On another wall I added these fun gold sea urchin wall sculptures – I love the impact they give our dining room!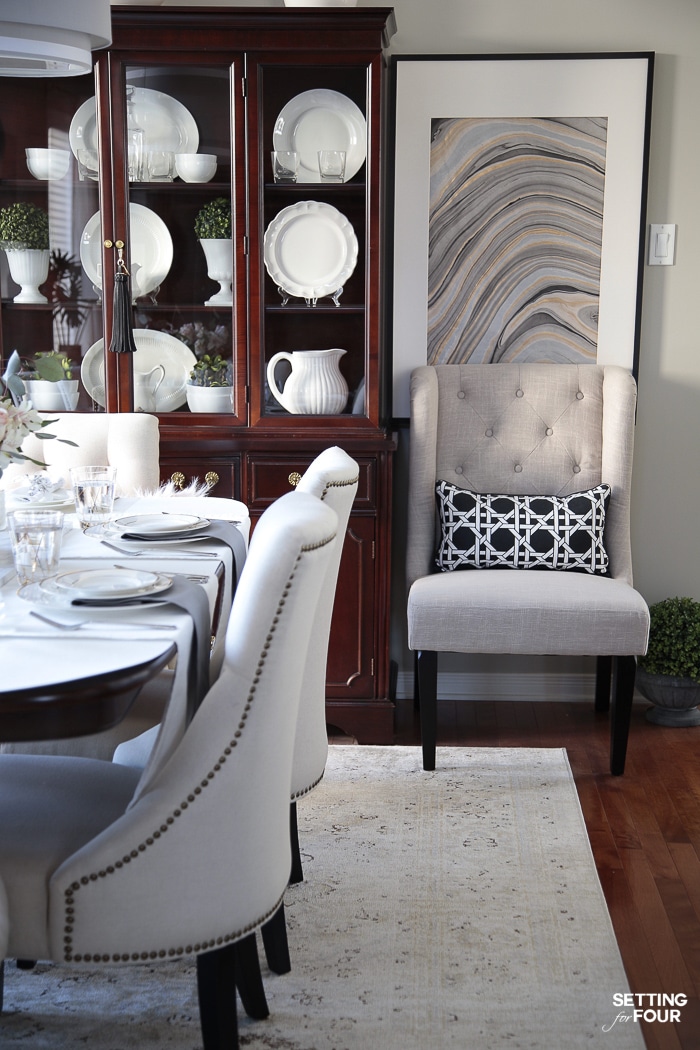 Shop the look! Click on the images below to shop the items. Scroll using the arrows to see them all!

You can also just update dated frames and keep the art you have!
11. Tropical Trees, plants and flowers
Always, always, always add greenery or flowers to a dining room to breath life into it and give it that designer look!
A tropical tree like a large palm or fiddle leaf fig tree is a great way to fill an empty corner in your living room. Olive trees are really on trend now too.
I added this 6 foot tall fiddle leaf fig tree in a basket to our dining room and I just love how it instantly updated our dining room set!
Adding fresh or faux  flowers and plants to the table and console table is a great way to add a pop of color and greenery!
How to Style & Decorate With Artificial Flowers & Plants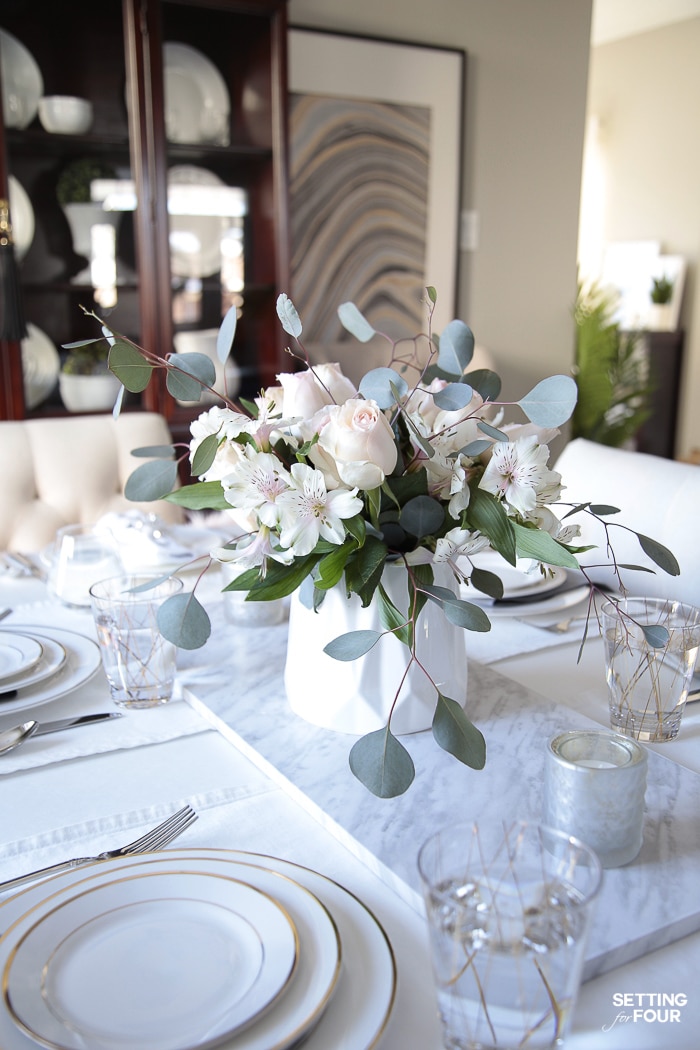 Shop the look! Click on the images below to shop the items. Scroll using the arrows to see them all!

12. Centerpiece
A quick way to update your dining room furniture is to add a floral centerpiece to the center of your dining room table.
How to make your dining table look more modern?
Add this gorgeous DIY Marble Table Runner!
It's so easy to make!
I also love using a contemporary vase to modernize the table, like this white geometric style.
This is actually a plant pot, but I love using it as a vase (it holds lots of water and I don't have to worry about my flowers going dry!)
During the summer I love using flowers from my backyard flower garden but in the winter I usually use flowers from the grocery store.
Make sure your centerpiece is not too tall so it doesn't block your guests views across the table.
How To Grow A Cut Flower Garden
This floral centerpiece was so quick and easy to whip together using:
one bunch of eucalyptus
one bunch of pale pink roses
one bunch of white and pink Peruvian Lily (alstroemeria)
That's it! These inexpensive grocery store flowers look like a million bucks paired together in a white vase! These flowers last a long time too!
(When the roses are done – make this amazing DIY Rose sugar scrub with the petals!)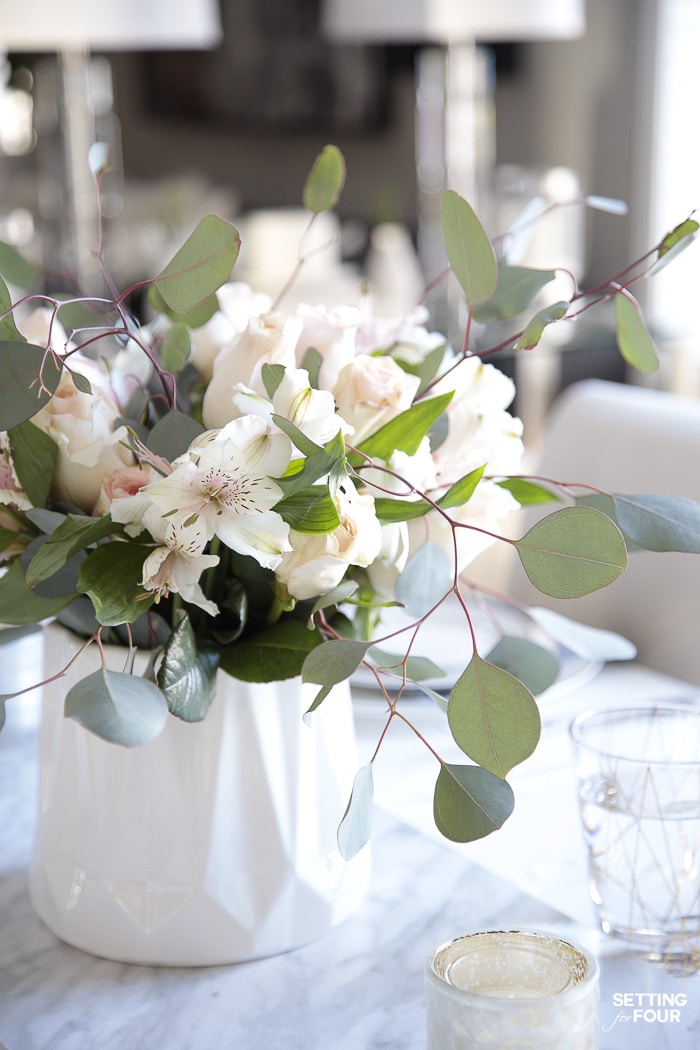 How To Make A Marble Table Runner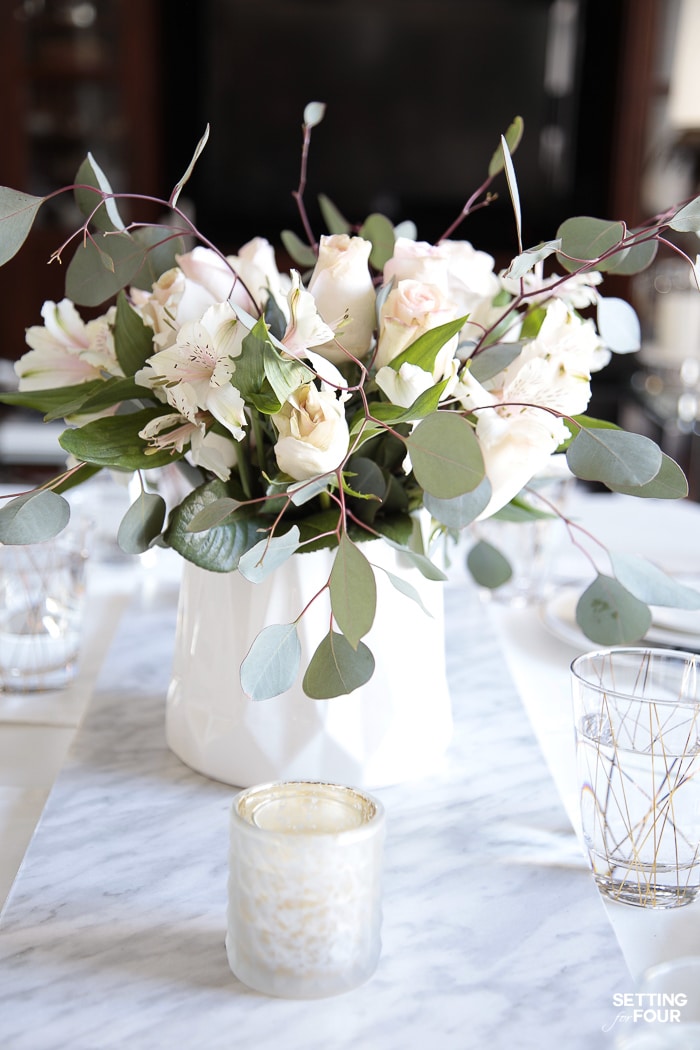 13. Bar Cart To Update Dining Room Furniture
In my opinion every dining room needs a bar cart! They are so gorgeous and fun to style and display liquors and glassware!
I love decorating mine for the holidays too!
A bar cart will instantly give your traditional furniture a fresh look – plus it offers more storage too and we all need as much storage as we can get in our homes!
DIY Marble Bar Cart Top and Shelf
There are actually so many ways you can use a bar cart in a home – they are so multi-tasking and functional!!
15 Creative Ways To Use and Style A Bar Cart!
14. Candles & Candle Holders
I'm obsessed with candles! I love using wax taper candles and pillar candles, but I especially love using these battery operated, dancing flame candles – they are so realistic! Plus they have timers so you can time them to automatically turn on at dusk to add ambiance and make a dining room feel cozy.
Candles and candle holders make traditional furniture look elegant, classy and inviting!
I also  love using votive candle holders! These are my newest favorites! They are frosted with gold specks on the inside and a geometric surface!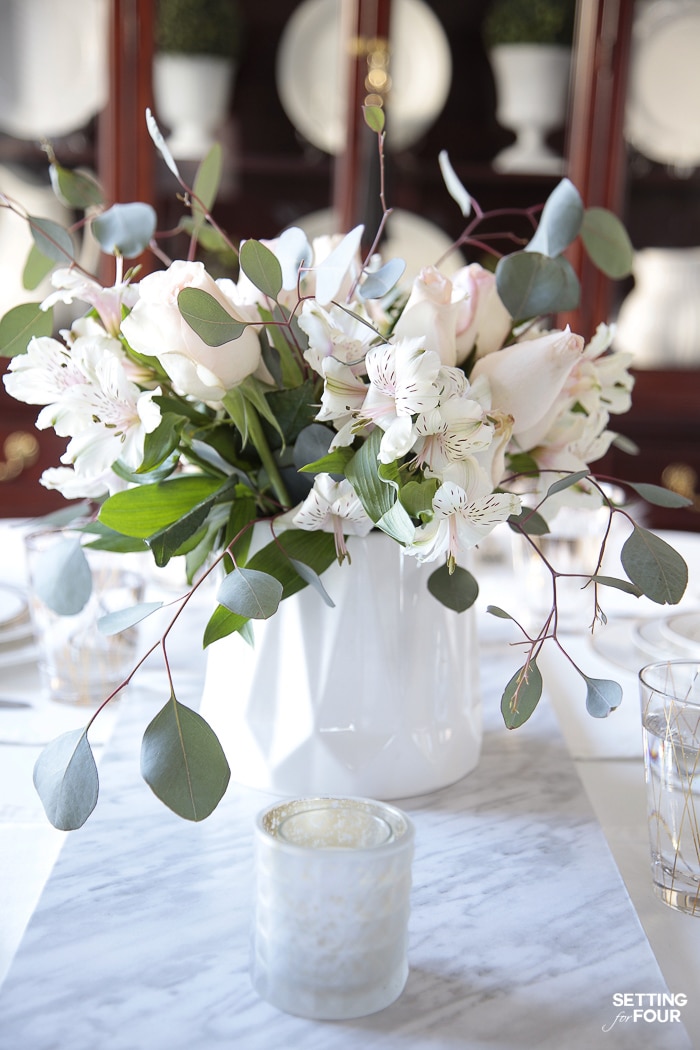 15. Table Linens
Add a couple of table runners to your table or one long one down the middle to add texture and warmth.
Mine are 14″ wide by 60″ long like this table runner.
Use a classic white runner or a contemporary pattern.
I love adding a table runner to my dining table to connect the middle table settings! This lets you skip placemats too!
Napkins are also a gorgeous way to infuse color and texture to a traditional dining set
These white with gray border napkins add a gorgeous touch to our dining room – I really love them!
Adding some fun and fabulous napkin rings also amp up traditional styled furniture! Don't overlook the power of these accent pieces. They all add to a well rounded, layered dining room that's inviting and one you LOVE to be in and entertain in!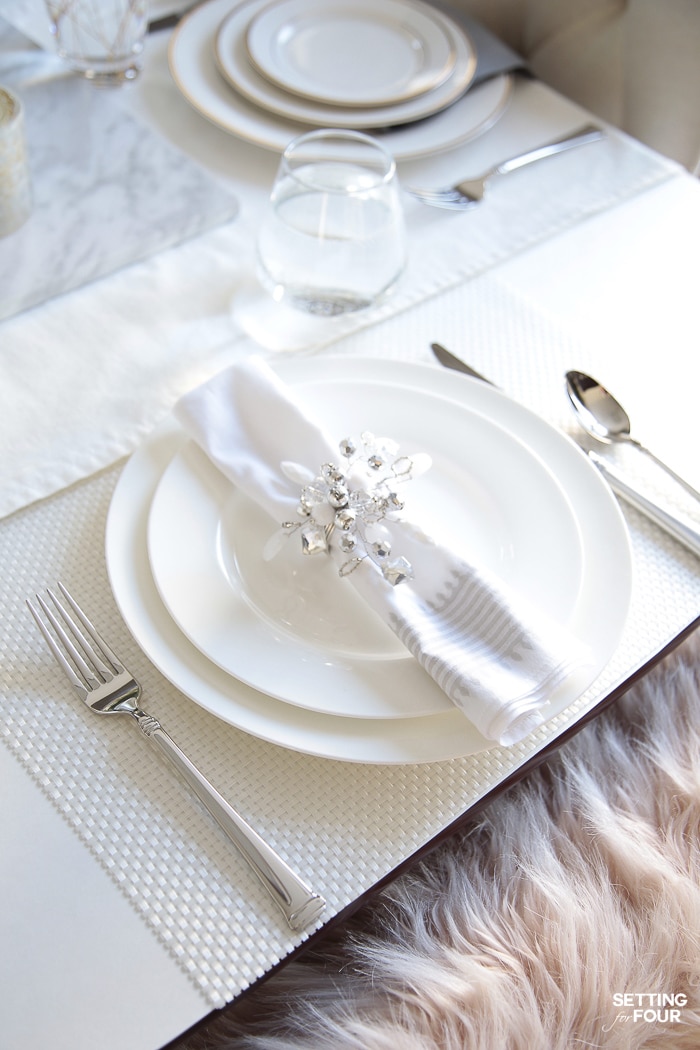 Shop the look! Click on the images below to shop the items. Scroll using the arrows to see them all!

16. Dinnerware, Flatware & Glassware
Select dinnerware, glassware and flatware to make your traditional furniture pop. You can never go wrong with classic white. Adding a pop of color with printed salad plates is a way to add style too.
I love using timeless white dinnerware to lighten and brighten our dining room furniture!
Thank you to my friends at Mikasa for sending me these gorgeous gold rimmed dishes  – they are stunning and add a bit of glimmer and shimmer to our dining room!  I just love their simple, sophisticated style.
I love layering these contemporary gold line glasses from Mikasa at my table settings – they are so fun and add  gorgeous glam style.
And this handsome Mikasa silver colored stainless steel flatware has such a classic look! I love the timeless pattern! This flatware that goes with everything!
Mixing metallics is a hot design trend this year so don't be afraid to mix gold, brass, silver, pewter, rose gold and copper together.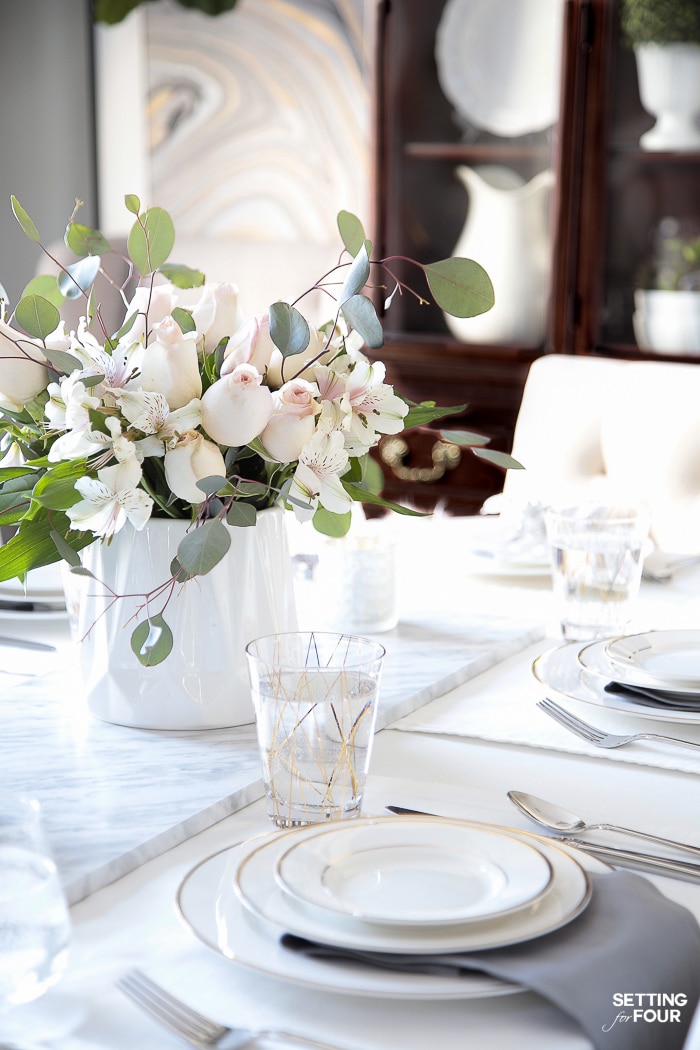 17. Light Fixtures
Lighting is the jewelry of the room and really sets the mood!
I added a large drum pendant to our dining room to update the furniture.
Sputnik pendants, glam crystal pendants and lantern style lighting are all gorgeous ways to update traditional dining room furniture!
Replace a traditional crystal chandelier with something more transitional or contemporary to update the whole look.Add transitional wall sconces if you have the wall space.
Design Tip – How to Pick the Perfect Chandelier Size and Printable Size Guide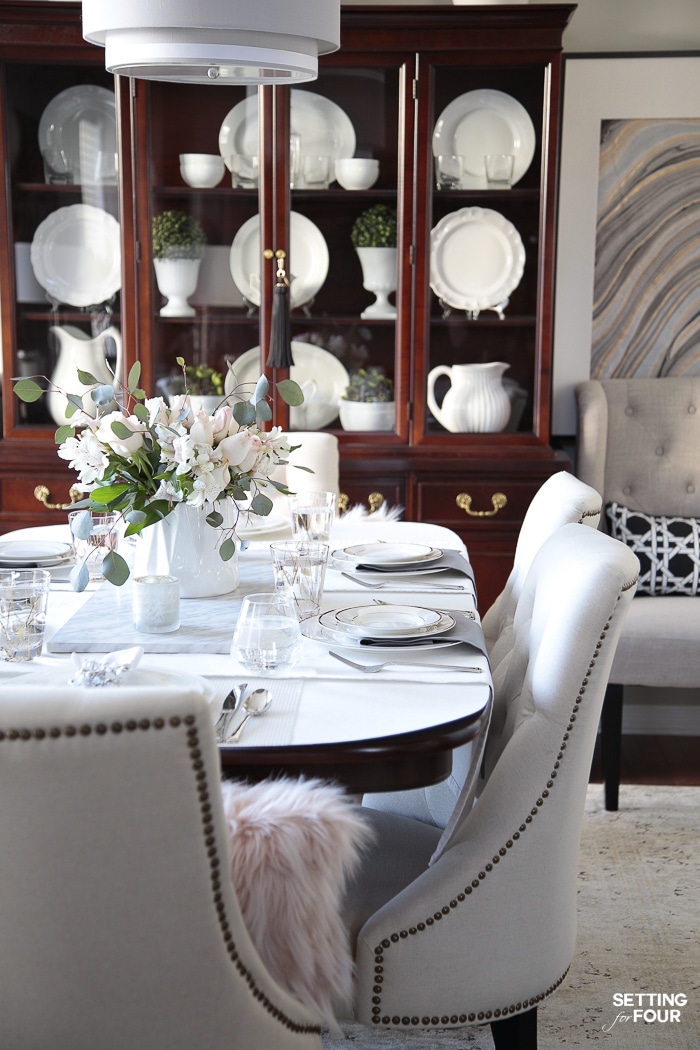 I hope you like my design tips on how to update a dining room and dining room design ideas!!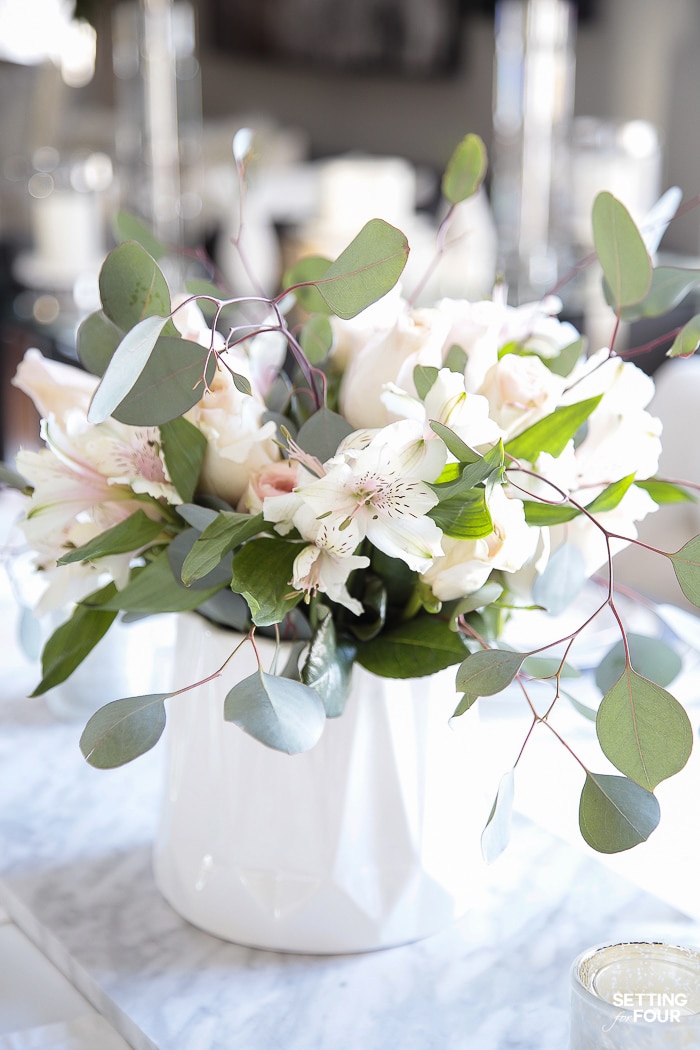 Here are some other common questions:
What can I transform my dining room into?
You don't have to keep your dining room as a dining space!
If you want to modernize the area then use your dining room as a sitting area by adding 2-4 armchairs.
You can also turn your dining room into a home office! Use your dining table as a desk and add a comfortable chair. Add a couple of beautiful bookshelves or etageres and style the shelves in a aesthetically pleasing way.
A dining table will give you lots of work space!
How do you beautify a dining room?
Add a stunning rug, art, mirrors, a real or artificial tree in a basket, gorgeous lighting and beautiful decor.
You may also like: