Use these 5 design tricks to brighten a dark room! Rooms that don't get a lot of natural light will feel instantly bigger, brighter & lighter!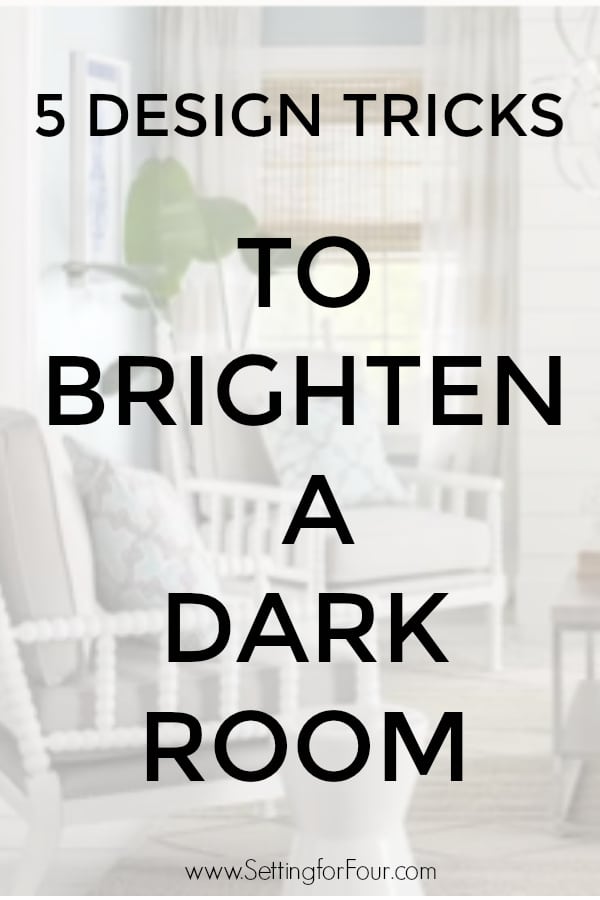 This post contains some affiliate links for your shopping convenience. Click here to read my full disclosure policy.
5 Design Tricks To Brighten A Dark Room

Click on the pictures below to see and shop the sources!

1. Remove Curtains With Dark, Heavy Fabrics
Curtains made from heavy dark fabrics will make your room feel drab and dark. Replace them with sheers! Sheer drapes will let natural light diffuse for the room and will visually lighten the space too! If you don't like sheers add drapes made from light colored cotton or linen. Stay away from dark polyester or velvet drapery.
In my living room, shown above, I hung these beautiful white cotton curtains that are so bright and airy! They really make our living room light and beautiful! See them in our living room makeover!
This bright coastal living room uses beautiful sheers!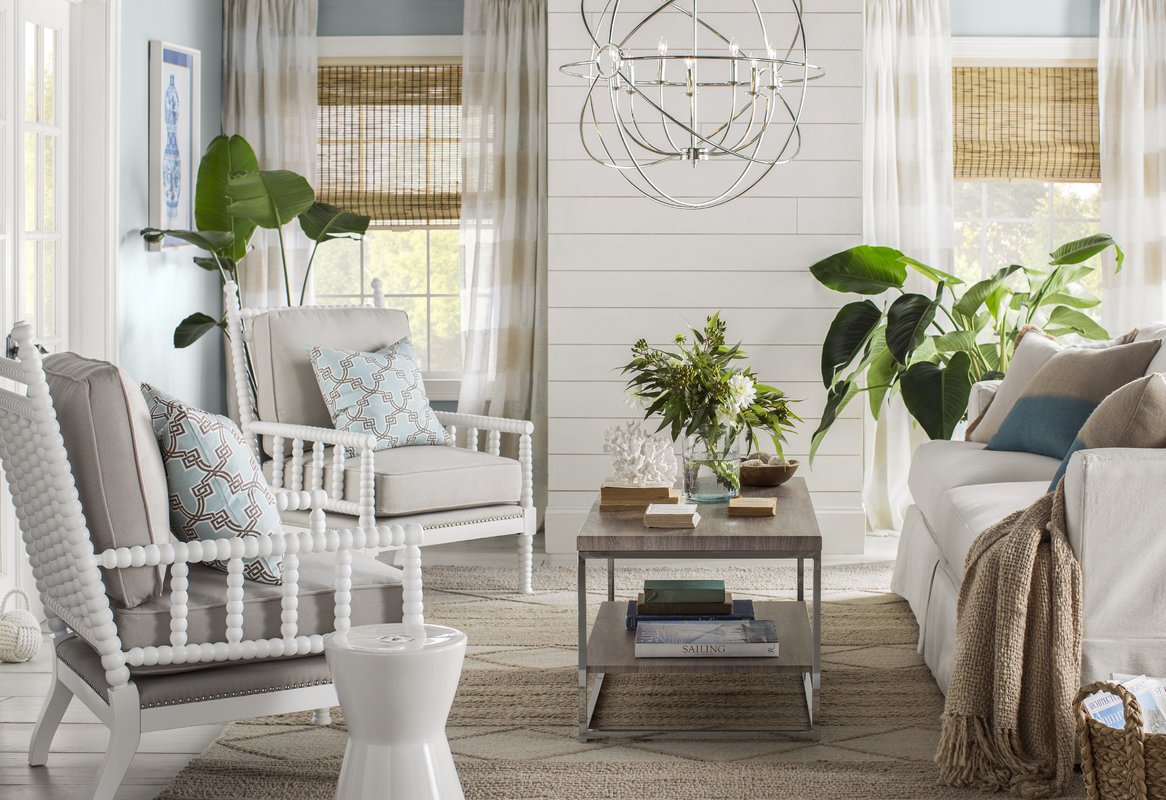 2. Hanging Curtains High And Wide Will Brighten A Dark Room
Adjusting your curtain rod so that it's as high as possible and allows curtains to be pulled back from the window as much as possible is a great designer trick to make your spaces feel lighter and brighter!
3. Use LED Lightbulbs
Get rid of incandescent lightbulbs and use LED lightbulbs instead! I love these daylight light bulbs the best!
Click on the pictures below and scroll using the arrows to see the sources!


4. Use All 3 Layers Of Lighting
Make sure you have 3 layers of lighting: Ambient lighting, task lighting and accent lighting.
ambient lighting: use overhead fixtures like recessed pot lights, track lights, chandeliers, flush mount lights and pendants, plus floor and table lamps.
task lighting: task lighting brightens your task areas like your reading spot, desk area, craft area ect. These lights area typically in the form of wall sconces and table lamps where you can move the light in the exact spot you need it in.
accent lighting: provides a third layer of light and accents a piece of art or sculpture. These are usually in the form of wall mounted picture lights or pot lights where the bulb is directed onto the object.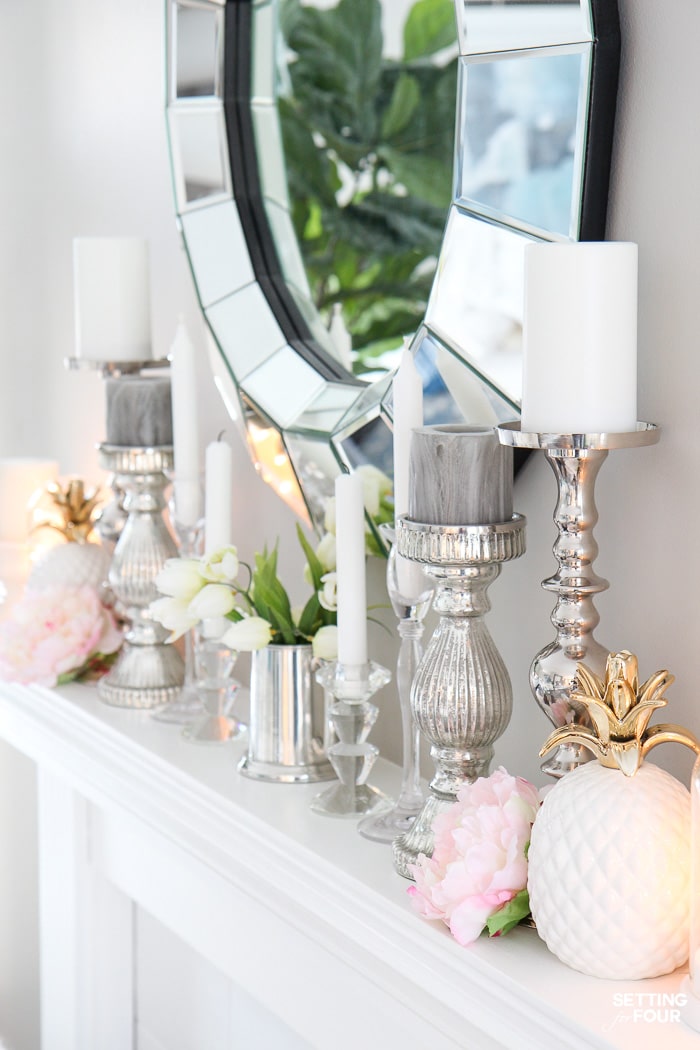 5. Add A Mirror To Brighten A Dark Room
Adding a mirror to a room will instantly brighten it! Mirrors will bounce the light around the room and add sparkle and glimmer too! Placing a mirror across from a window to maximize a mirror's effect! Add one large mirror or several mirrors in different shapes and sizes in a mirror gallery wall.
See my sparkly Mirror Gallery Wall in my foyer!
65 plus Gallery Wall Layout Ideas
Our Dark Tuscan Kitchen Remodel Before and After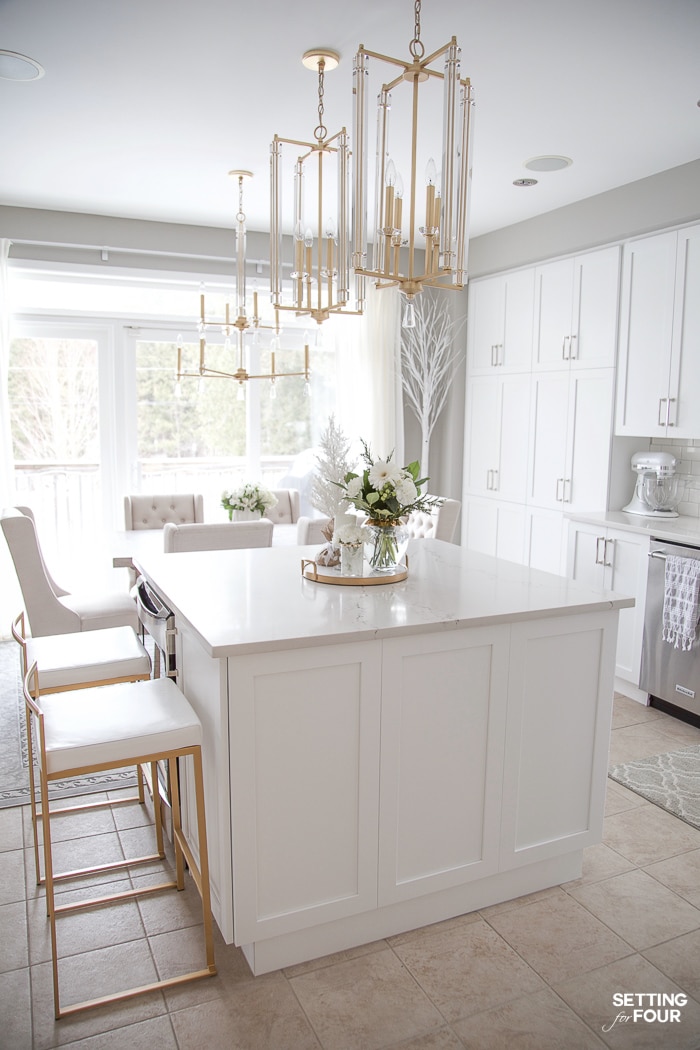 Click on the pictures below and scroll using the arrows to see the sources!

Bonus Tip: Add Metallic Finishes and Crystal
Using metallic finishes in your fixtures, accent tables, picture frames and decor will help to reflect natural light and lamp light.
Crystal is known for it's beautiful sparkle and glimmer!
We love our new crystal and brass kitchen pendants and dining table chandelier!
The crystal accents on them really make our new kitchen so bright and light.
Even on the gloomiest days our kitchen feels bright and cheery!
I also love using mercury glass candlesticks and brass and gold decor accents to brighten my rooms!
My living room coffee table is chrome and glass – which adds a bright, light look to the space.
I hope you enjoyed these 5 Design Tricks To Brighten A Dark Room!
Do you have any tips to brighten a dark space? That have worked well for you? Let me know in the comments below!!
More Design and Decor Ideas