Agreeable Gray SW 7029 is a warm gray paint color. It's a beautiful neutral that works well with many other colors, in any room!
It's also very popular!
It's Sherwin Williams number one selling paint color!
Today I'm diving deep into Agreeable Gray to discuss undertones, complimentary colors, real room photos and coordinating flooring.
I also interviewed the expert on Agreeable Gray,  Sue Wadden , who is the director of color marketing at Sherwin-Williams!
I got her expert advice on this gorgeous greige color just for YOU!!!!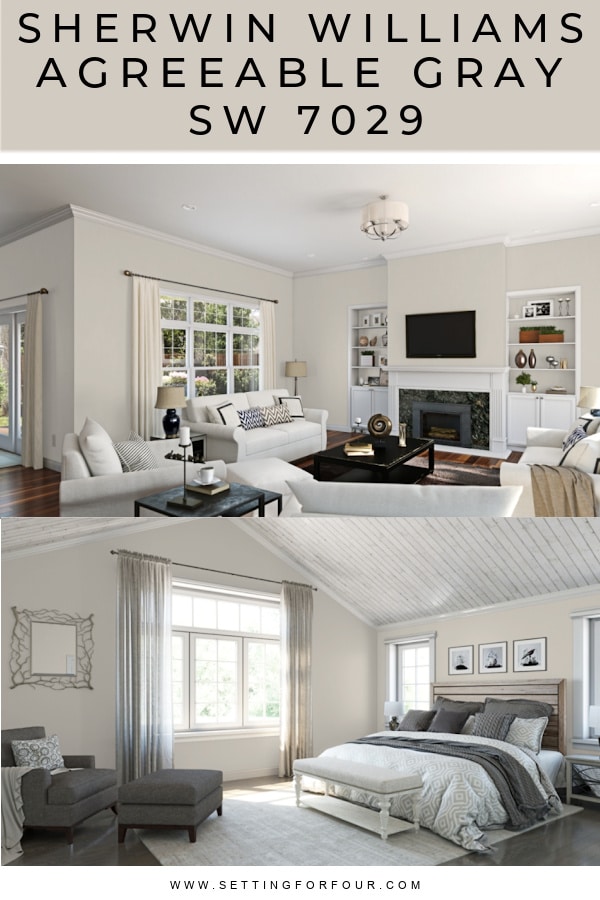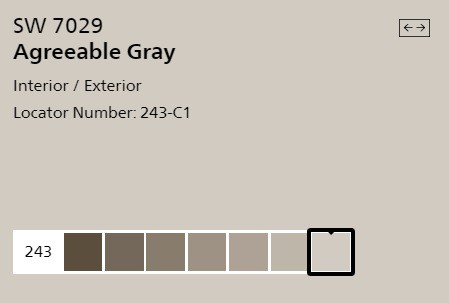 Agreeable Gray Sherwin Williams 7029 – Undertones and Coordinating Colors!
In this post I want to completely break down this color for you so you can understand why it's such a popular color and why it MAY NOT be right for your room.
This is the Complete Beginners Guide to SW Agreeable Gray!
PLEASE PIN THIS TO REFER TO THESE TIPS LATER!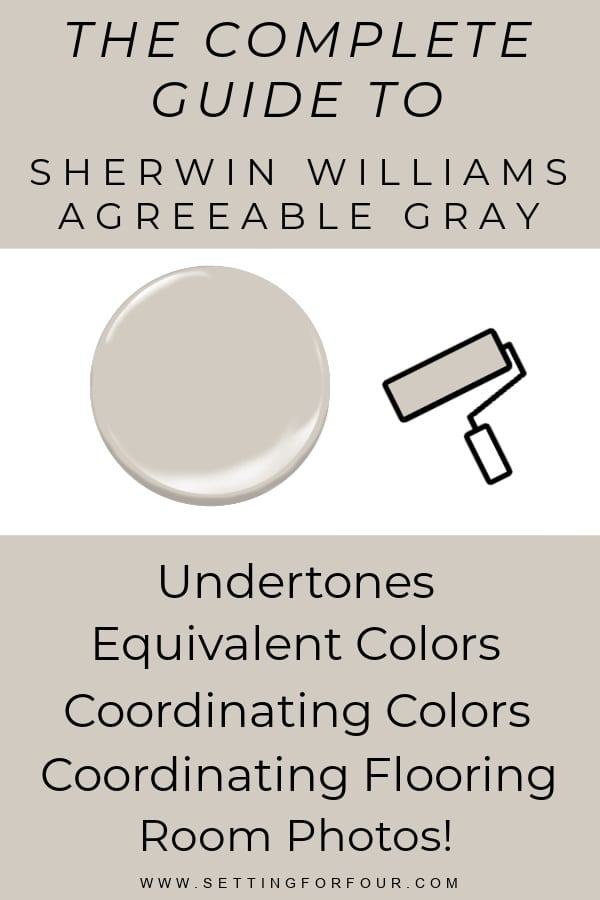 So why is Agreeable Gray so popular?
It's hard to go onto Pinterest or Instagram and not see this color used in rooms and on cabinets.
In a nutshell, it's because it's so versatile and creates a blank slate base for furniture and decor.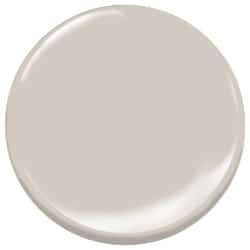 ---
Test paint colors in your home with zero mess and zero cleanup!
 Samplize Peel & Stick Paint Samples are an easy, mess-free way to test paint colors
Accurate colors – large 9″ x 14″ paint samples with two coats of real paint, guaranteeing 100% color accuracy
Peel & Stick – and repositionable 
Quick – samples are delivered the next day!
All the top paint brands – Benjamin Moore, Sherwin Williams, PPG, Farrow & Ball
---
Sherwin Williams Agreeable Gray is a warm gray.
It's a greige color with both gray and beige in it.
In order to get the best expert advice on this paint color I asked paint color expert Sue Wadden, director of color marketing at Sherwin-Williams to share her best tips and secrets for Agreeable Gray!
Details of Agreeable Gray
R: 209 G: 203 B: 193
Hex Value: #d1cbc1
LRV: 60
Color Collections: Reasoned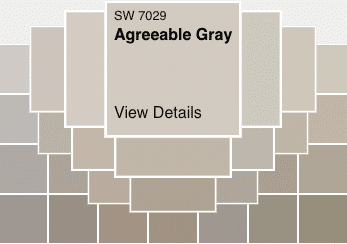 ---
Need help with furniture layout, choosing paint colors, room design, selecting furniture or updating your home?
I'm a Designer and True Color Expert® – I can help!
See my Online Interior Design & Paint Color Services – and client reviews.
Reach out – email me at [email protected]
I'd love to work with you!

---
What is the LRV of Sherwin Williams Agreeable Gray?
Sherwin Williams Agreeable Gray has an LRV of 60.
LRV, or Light Reflectance Value, measures the percentage of light a paint color reflects.
It's a number to assign how light or dark a paint color looks on a scale of 0 (black) to 100 (white).
The higher the LRV number is, the lighter the color is.
The lower the LRV number is – the darker the color is.
So an LRV or 60 means that SW Agreeable Gray is a light color that reflects a decent amount light.
You need to test it in your room however to see how it looks with your rooms lighting!
And remember! A light paint color will not necessarily lighten up or work in a dark room!
Design Tip! Use these reusable peel and stick paint samples to easily test out how the paint color will look.
They're mess-free and you can move the peel and stick samples to different walls o see how the color will look in different areas of the room.  
Use these Peel & Stick Paint Samples for a mess-free way to test paint colors!
What Color is Agreeable Gray?
Agreeable gray is categorized as a gray, however it's a complex gray because of it's undertones and it behaves like a chameleon.
It will look very different in any given room, depending on the other elements in the room.


Is Agreeable Gray a warm or cool color?
AG is a warm gray paint color.
Because it has beige in it.
Comparing Agreeable Gray to SW Silverplate, for example, it's clear that AG is a warm color.
Agreeable Gray paint strip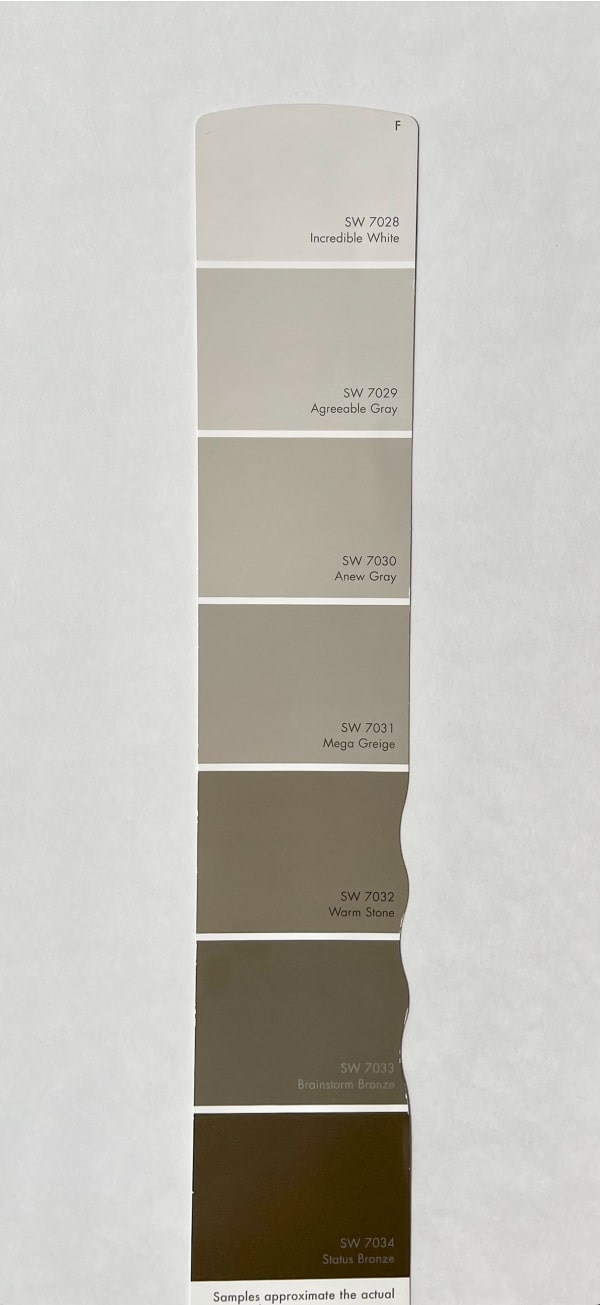 What is the undertone of Agreeable Gray?
Sue Wadden says: "Agreeable Gray SW 7029 has some slight green undertones, but it is still warmer than most grays. It bodes well with the beiges and warm hues we're seeing people start to gravitate toward and embrace in their homes."
What types/colors of flooring does Agreeable Gray work with and does NOT work with?
Sue Wadden says: "This color is versatile – it works so well in a variety of living spaces, whether it be a living room or bedroom, and it pairs with many different types of finishes, flooring and textures.
It is the perfect neutral backdrop for a space.
I love how crisp this color looks with Pure White SW 7005 trim, marble countertops and light tile flooring in a bathroom.
Add color through fresh greenery and the combination will make the bathroom feel like a luxurious home spa!"
What's the most popular Sherwin Williams paint color?
Sue Wadden says: Agreeable Gray SW 7029 is our most popular paint color.
I think it's so popular because it provides a cool, blank slate for homeowners to put their personal touches on a space with artwork and décor.
Now more than ever, homeowners are thinking about ways to make their spaces more versatile.
For example, a living room may also have to serve as a home office and kids' playroom. Agreeable Gray allows for a space to serve a variety of purposes."
Would you like to see Agreeable Gray in your own room? You can get a reusable peel & stick sample  of SW Agreeable Gray made with real paint here.
Coordinating colors for Agreeable Gray
These are Agreeable Gray's coordinating colors:
Blue, white, ivory, cream, black and pink including the following:
SW Pure White is a beautiful pairing with AG
Snowbound SW 7004 looks gorgeous with AG as well
Dark blues like SW Indigo and SW Naval
Pink like SW Dragonfruit
Greens like SW Stillwater and SW Underseas
Soft pink like SW Quartz White
Dark Gray like SW Web Gray and SW Iron Ore
Agreeable Gray coordinating colors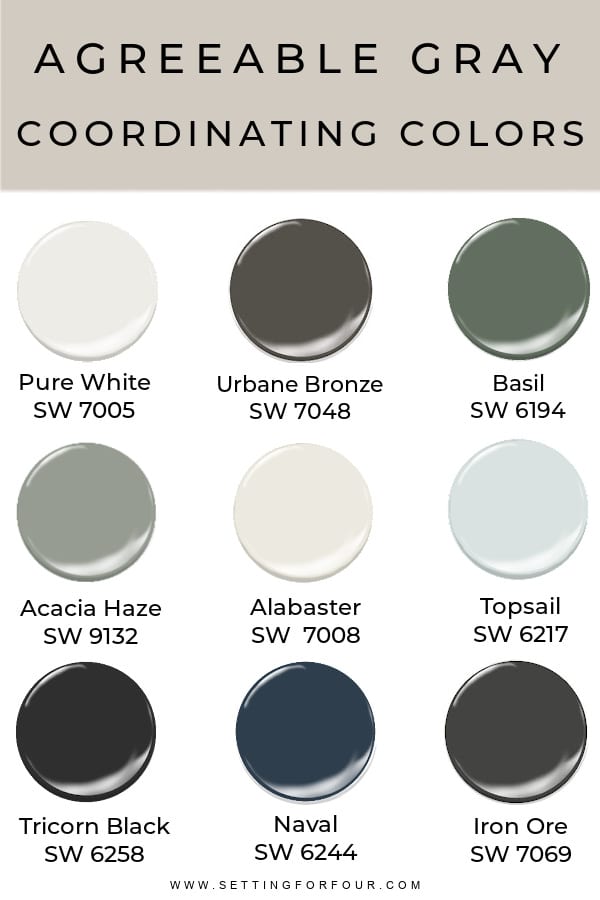 A color scheme that works with Agreeable Gray
A beautiful color scheme that works with Agreeable Gray is:
A clean white – SW Pure White
A clean black – SW Tricorn Black
A dark charcoal gray – SW Iron Ore
A dark green – SW Basil
Or a dark blue – SW Naval
Similar colors to Agreeable Gray
So what colors are similar to Agreeable Gray?
Benjamin Moore Revere Pewter HC-172
Benjamin Moore Collingwood OC-28
Worldly Gray SW 7043
Gossamer Veil SW 9165

What color floor goes with Agreeable Gray?
Would you like to see this color with your flooring? If so, you can get a sample here.
– Dark brown hardwood floors with a walnut or espresso stain work well with AG.
– Black hardwood floors with an ebony stain also pair well with AG.
– Gray hardwood and gray carpeting works well as long as the beige and green undertone in AG doesn't clash.
– Blonde and white oak flooring as well as ivory/beige carpeting also work really well with Agreeable Gray.
– Any flooring with red or orange in it like cherry or mahogany flooring are not the best option because the red in the flooring can clash with the green undertone in AG, since they are opposite colors on the color wheel.
Understand The Color Wheel & Color Schemes To Become A Better Decorator
– Any flooring with orange in it like honey pine, honey oak flooring can also clash with AG.
Design tip –  if you have a large area rug to cover a lot of the honey flooring as well as whites in the room (drapes, light furniture), Agreeable Gray may possibly work.
As always,  it's all about testing the paint color in your room to see if it will work with your flooring in your home's lighting!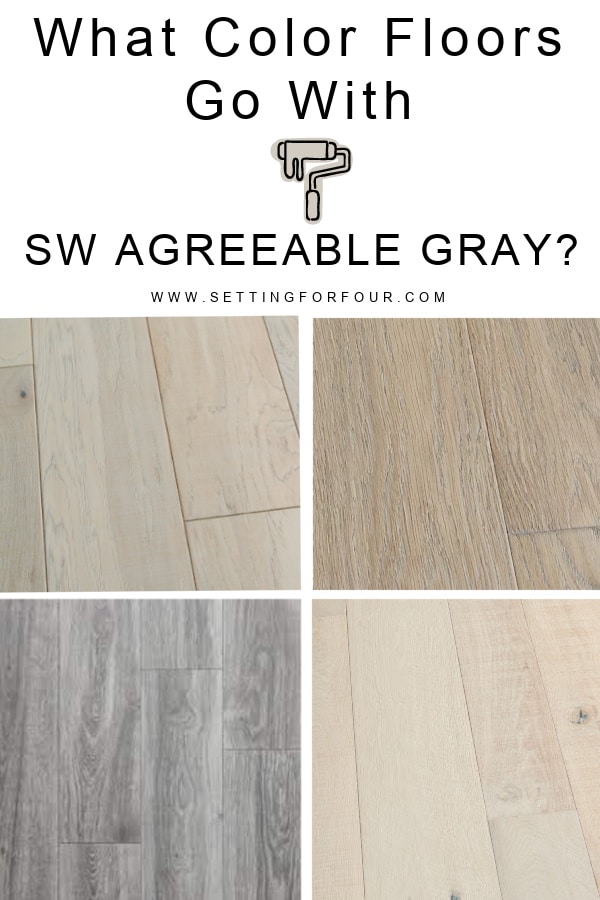 What Rooms Can you Use AG?
It can be used in any room even basements!
Kitchen
Living room
Bedroom
Nursery
Kids Playroom
Home Office
Basement
Bathroom
Hallways
Dining Room
Nursery
Living Room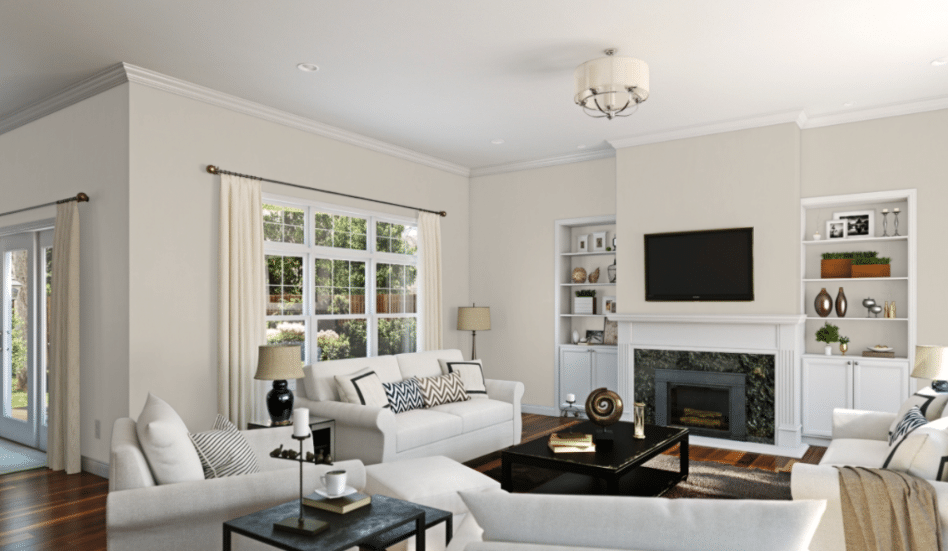 Kitchen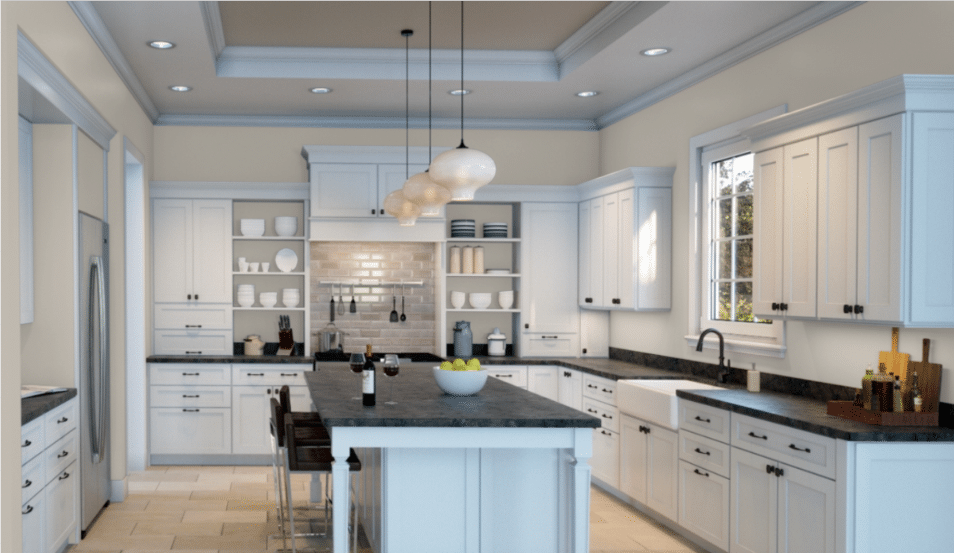 Bedroom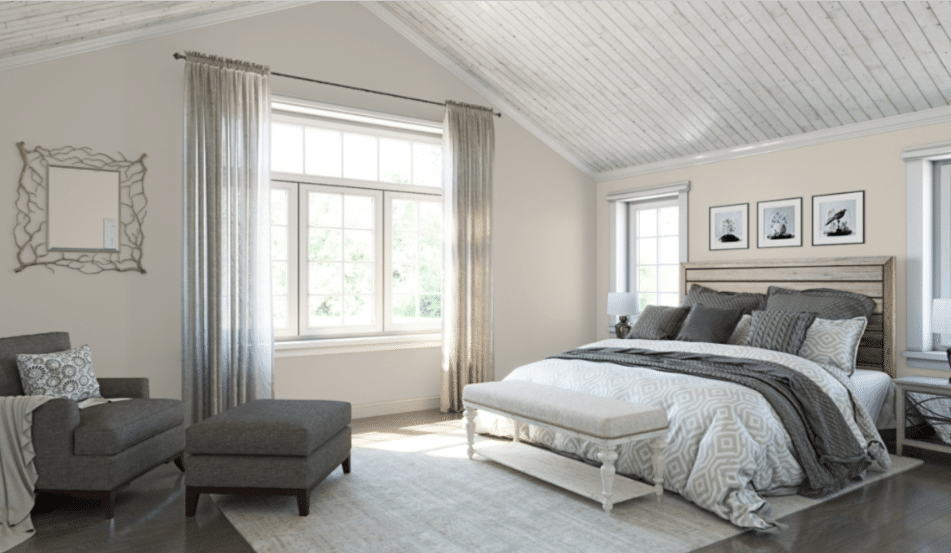 Bathroom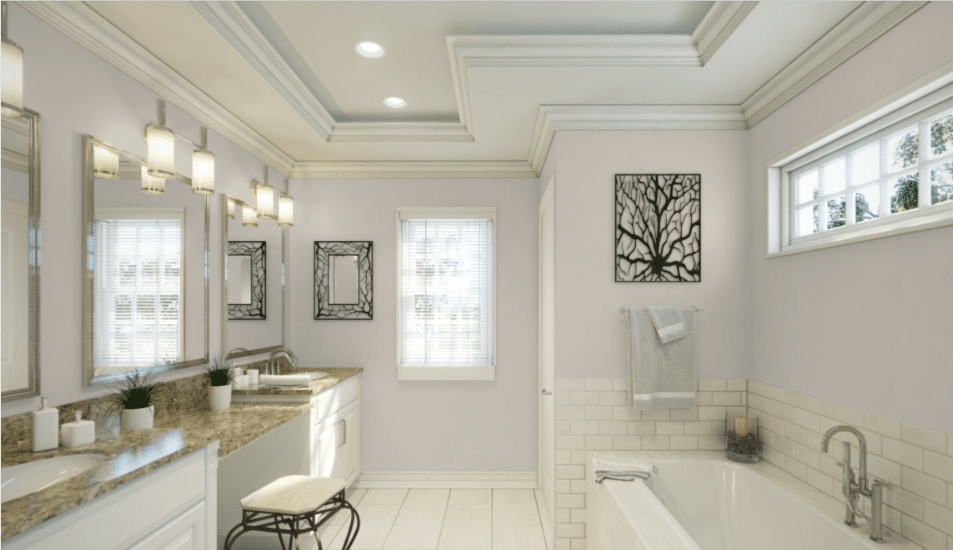 Is Agreeable Gray good for a kitchen?
Yes! Agreeable gray is a beautiful paint color for a kitchen because it's light and adds a bit of contrast to make white cabinets pop! It's an inviting color perfectly suited to create a welcoming kitchen.
Kitchen walls and open concept living room walls painted Agreeable Gray: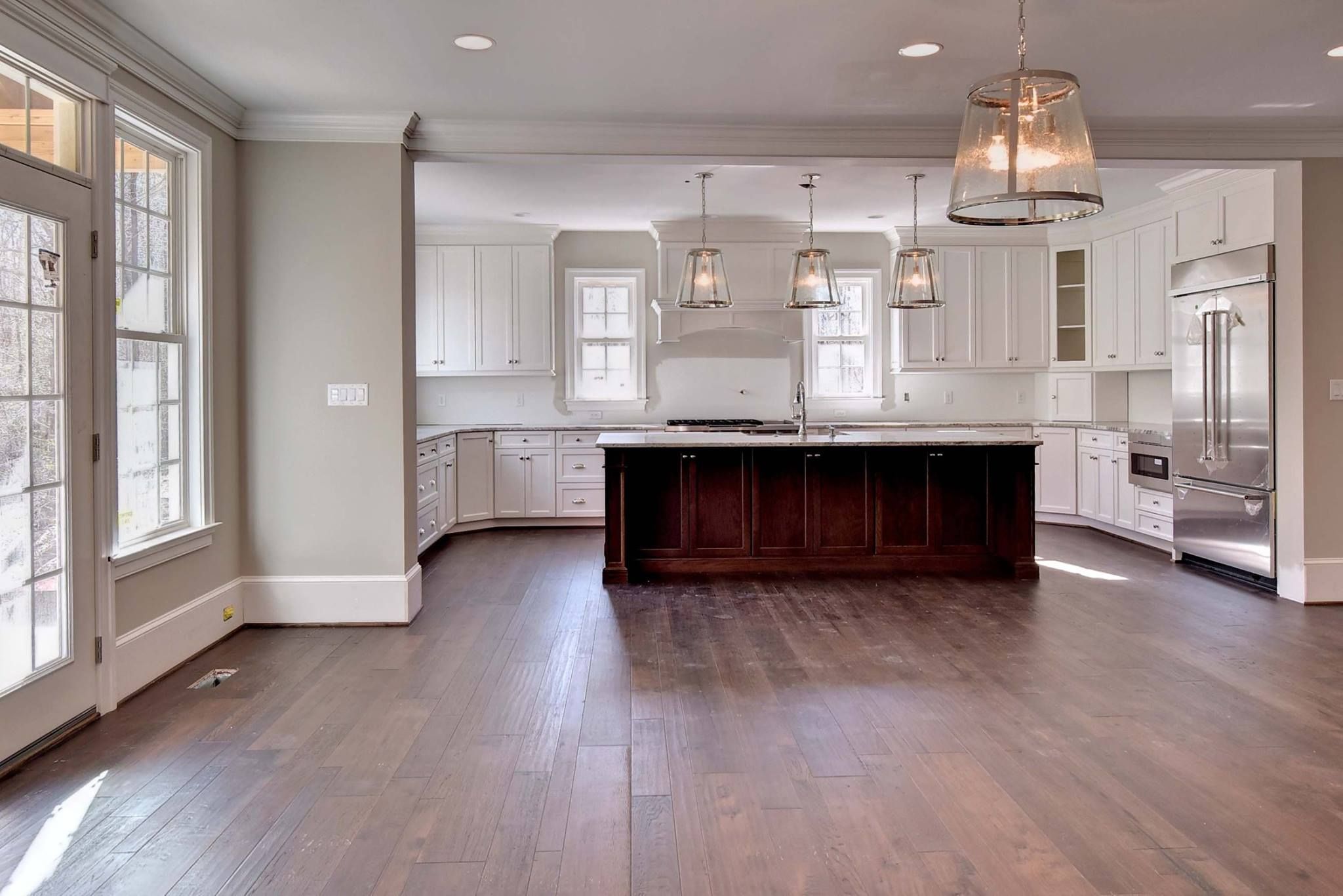 Kitchen walls painted AG: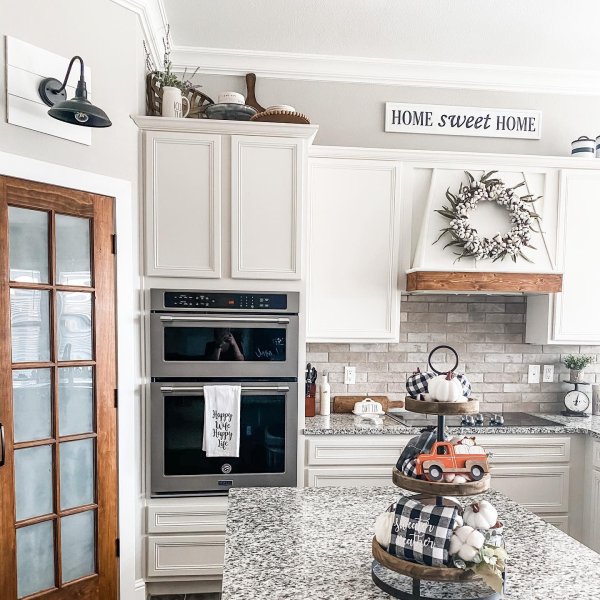 Agreeable Gray good for cabinets?
Agreeable gray is such a versatile color that it works great on kitchen cabinets and bathroom cabinets!
It's very versatile and coordinates with many design styles including modern, traditional, farmhouse, boho, transitional and desert organic.
Kitchen cabinets painted Agreeable Gray: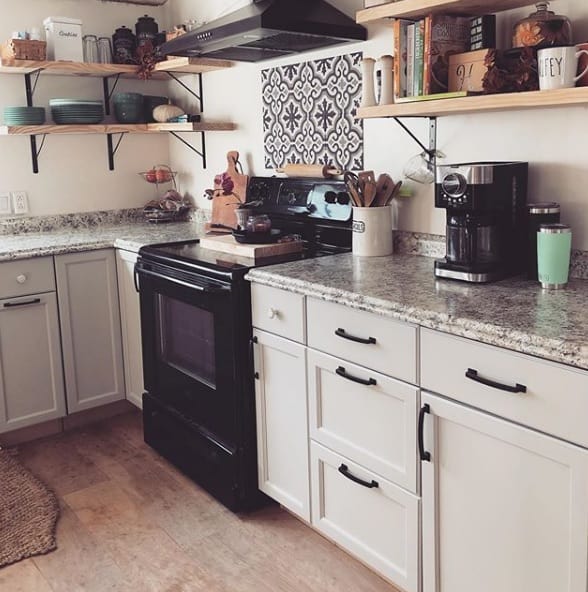 Which is better Agreeable Gray or Repose Gray?
The best color for your room is the one that pairs best with your flooring and fixed elements such as your furniture upholstery, tile, countertop ect.
Repose Gray is a bit more gray and darker than Agreeable Gray,. AG has a stronger beige coloring, making it more of a greige.
Repose Gray is cooler than Agreeable Gray, but it's still a warm gray.
Snag a sample of Repose Gray here. 
And you can get a sample of Agreeable Gray here.
You can get them with overnight shipping!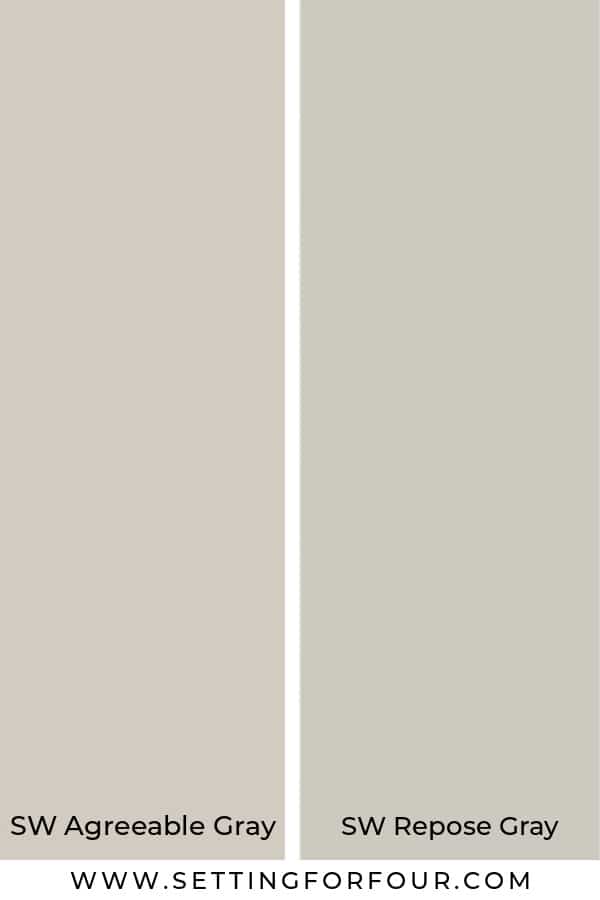 PLEASE PIN THIS TO REFER TO THESE TIPS LATER!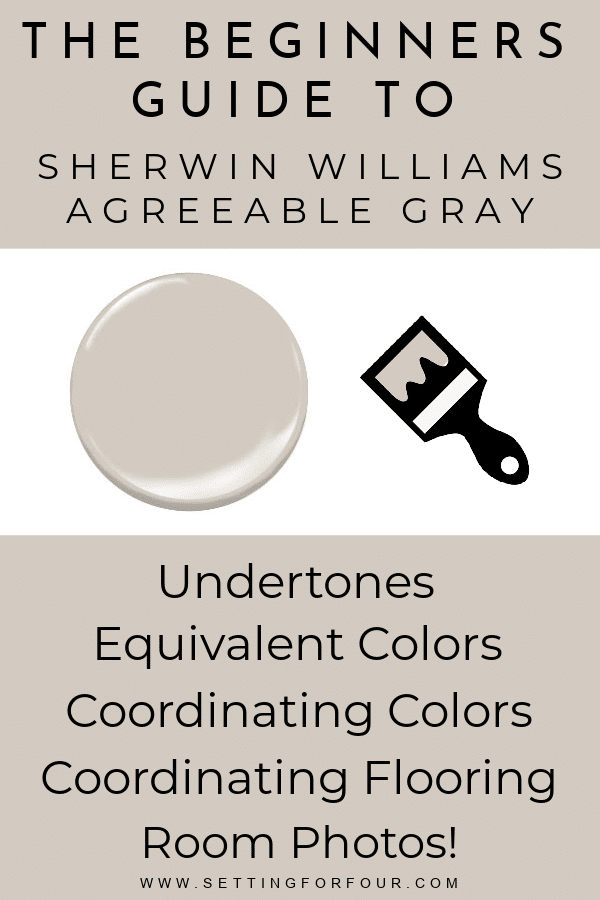 AG In Real Spaces
Here are more inspirational room photos!
Living Room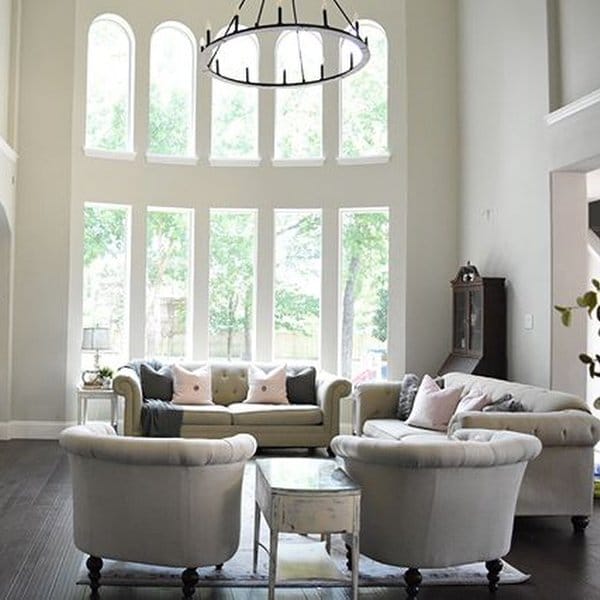 Hallway & staircase wall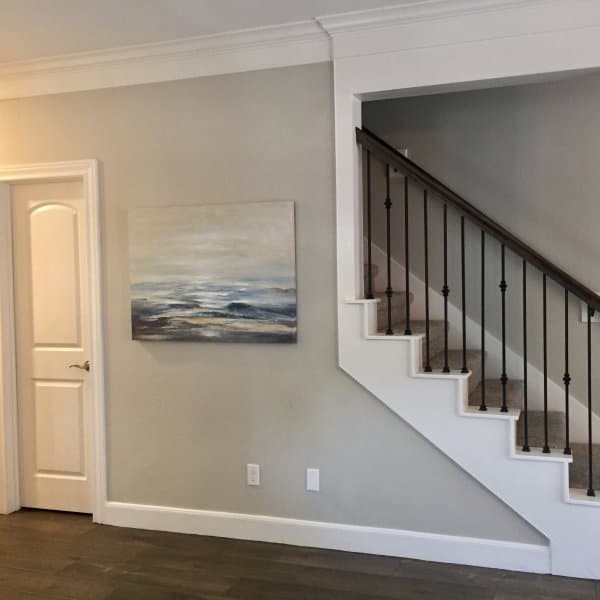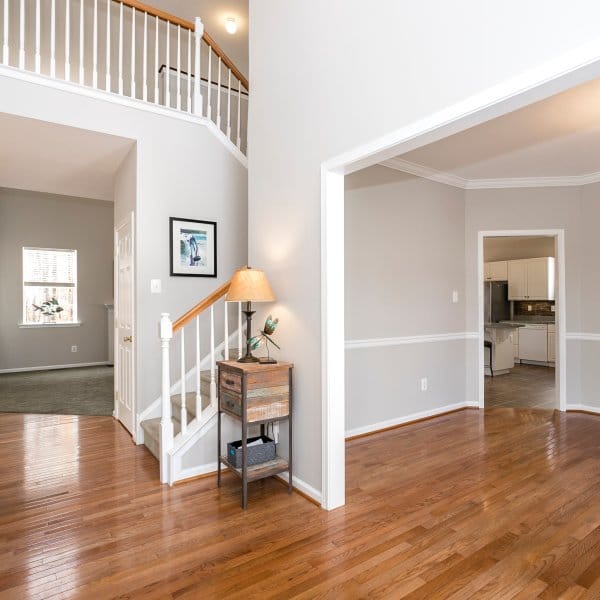 Living room/Dining Room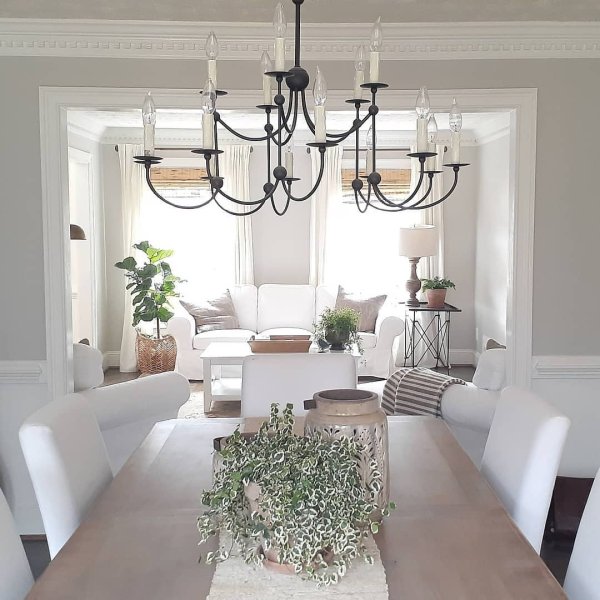 Bedroom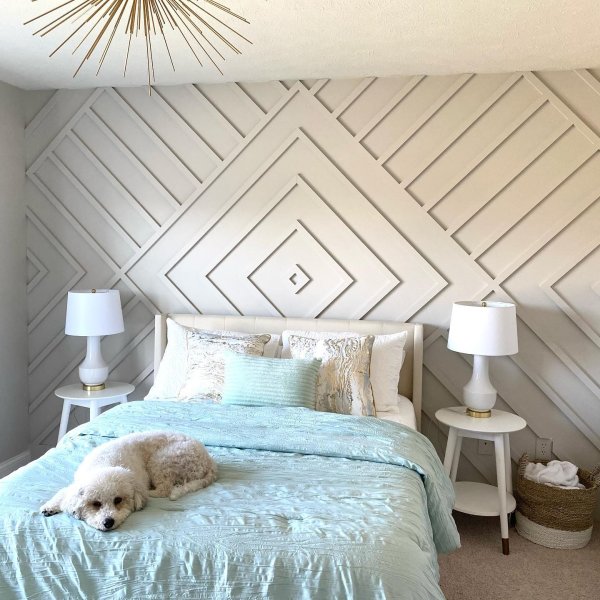 Bathroom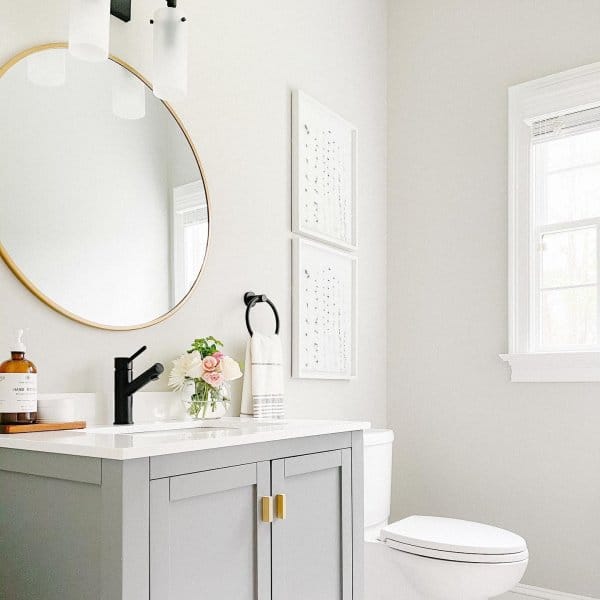 Nursery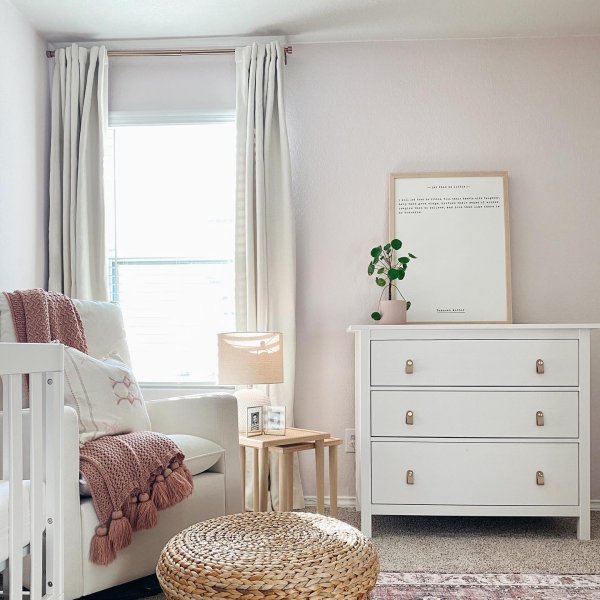 Playroom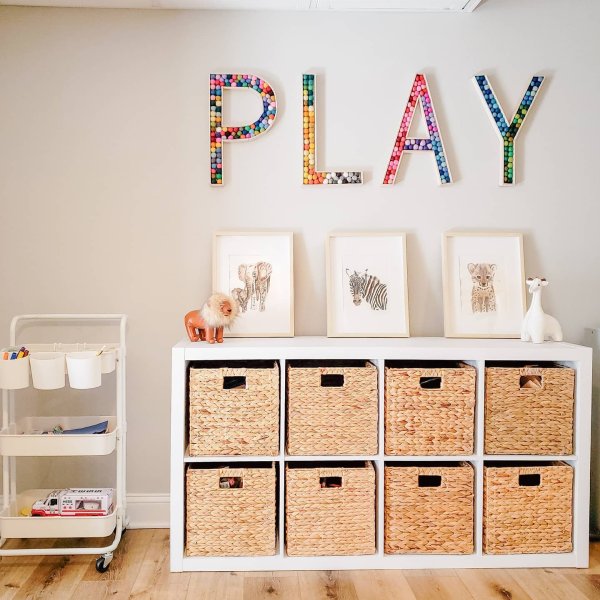 FAQ:
1. Is Agreeable Gray still popular?
Yes!! As Sue Wadden stated, it's the most popular & best selling color at Sherwin Williams!
2. Does Agreeable Gray look purple?
Agreeable Gray can indeed look purple, depending on the flooring and other fixed elements in a space such as furniture, tile ect.
AG is a chameleon color. Agreeable Gray's undertones can really conflict with it's surroundings.
Always test your paint colors before painting!
How to Pick Paint Colors With Confidence!
DIY painting tips

I wanted to share a SUPER helpful video from Sherwin Williams – some quick and super useful DIY painting tips.
It's just 2 minutes and covers types of brushes and painting techniques.
Also, below, I share the painting tools and accessories that I use (with links to buy them on Amazon).
Sherwin Williams Painting tips for DIY homeowners
The best painting tools and accessories that I use

Use Samplize Peel & Stick Paint Samples for a mess-free way to test paint colors!
SW Agreeable Gray peel-and-stick paint sample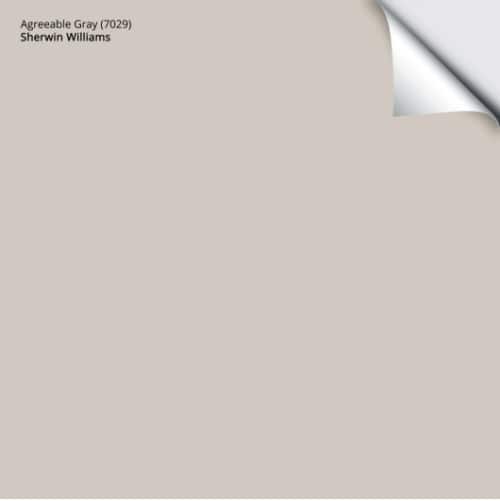 Do you love Agreeable Gray? Have it in your home?
Have any questions? Please leave them in the comments below!
You may also like these design and color ideas:
This post contains some affiliate links for your shopping convenience! Click here to read my full disclosure policy.