Choosing our new bedroom paint color – Sherwin Williams Pure White! See why we chose this beautiful fresh white with no yellow undertone!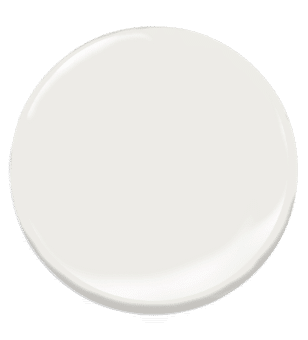 Choosing Our Bedroom Paint Color – Sherwin Williams Pure White
Our bedroom is getting a major makeover! From new paint, some new furniture, area rug, decor and lighting!
Read on to see a sneak peak of what our new wall color Sherwin Williams Pure White 7005  looks like and the 'before'!
The Bedroom Paint Color 'Before':
When we moved into our home, our master bedroom was this deep teal green and a light green color.
Here's what it looked like with the previous home owner's furniture as shown in the real estate ad.
These colors looked pretty with their bedroom furniture but looked awful and really dark with ours!
Wall colors with previous home owners furniture: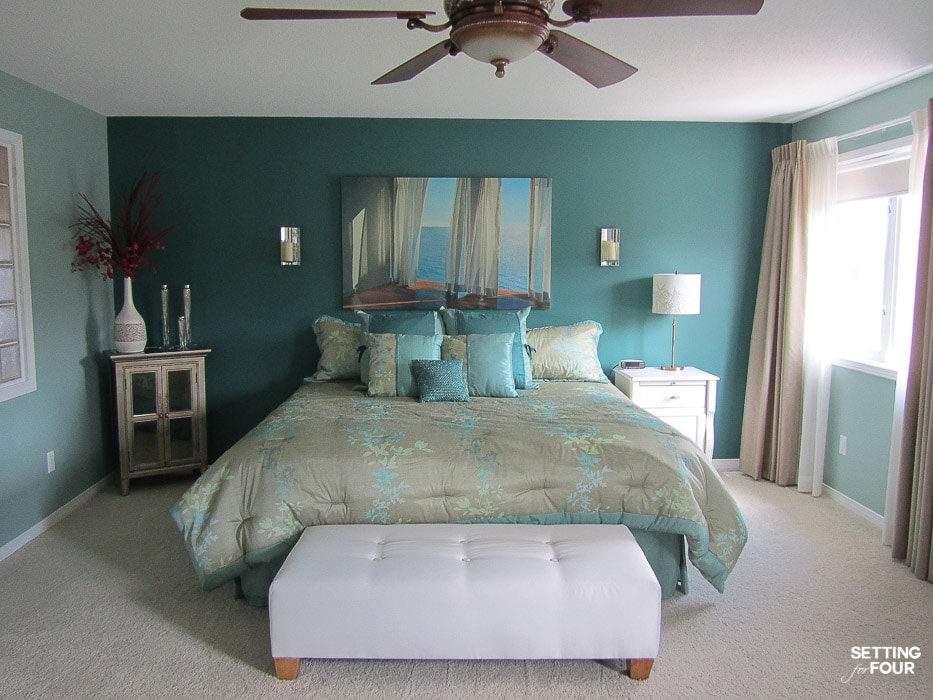 The bed wall was a deep teal green and the rest of the room was painted a mid toned green.
These green paint colors are too dark for our liking, we prefer more neutral shades of gray and greige…. so for us, teal and green just had to go.
(We removed this glass block wall):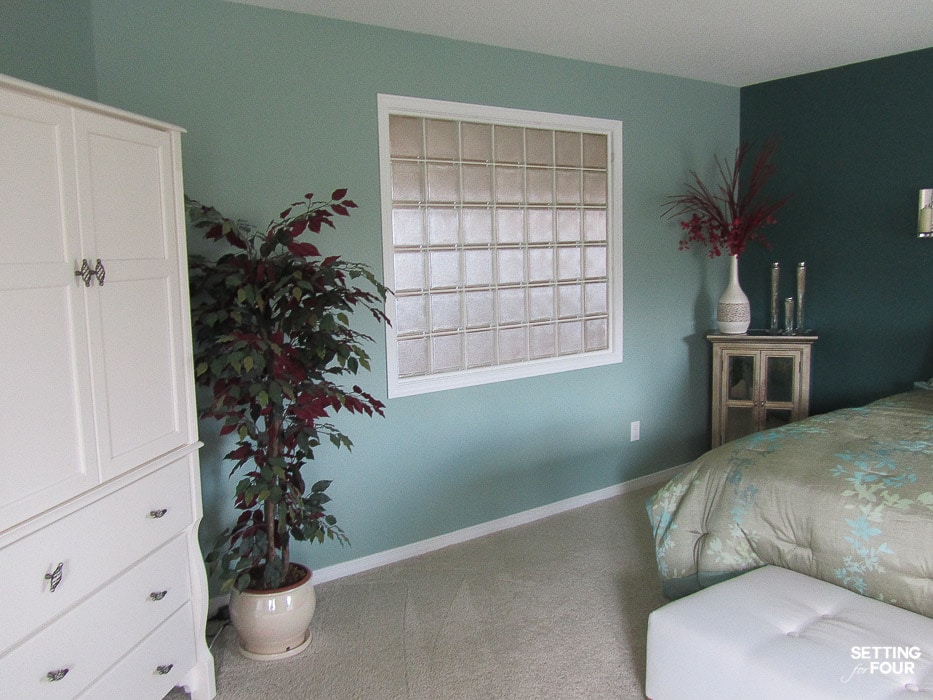 So we moved in, unpacked our furniture and belongings and lived with this color for a while to get a 'reading' on the light in this room and the color that would work best.
Design tip: Don't paint your walls until after you've moved in to a new home. You need to see your furniture and the lighting in the rooms before picking paint colors.
This picture was taken right after we moved in – the white spots on the wall are primed and patched nail holes!
See how dark it looks?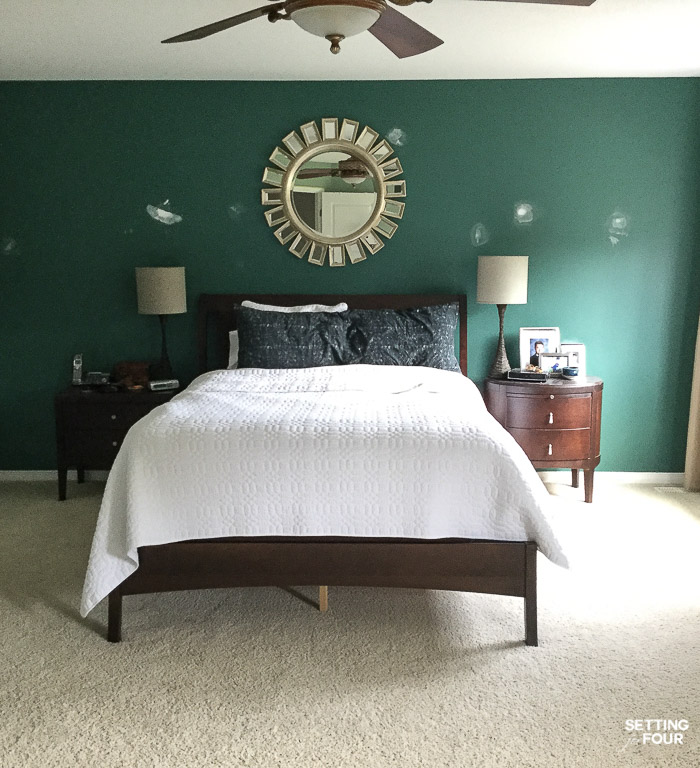 What Color is Pure White SW7005?
SW Pure white is a fresh, crisp, clean white with very little undertone.
It doesn't have a strong yellow undertone that Benjamin Moore Simply White has.
It doesn't have a strong blue or purple undertone either.
It's a gorgeous versatile white hue that is popular with designers, interior decorators, stagers and home owners because it works well with warm and cool accents.
It's a beautiful, neutral canvas that looks gorgeous with furnishings, brick, stone and cabinetry.
It's a warm shade that is very inviting.
Design tip: Understand The Color Wheel & Color Schemes To Become A Better Decorator
Pure White Undertones
Pure White typically doesn't have any undertones, however in some lighting it can have a very slight yellow undertone.
Because of the slight yellow undertone it's a warm shade that's very inviting.
However because it's such a clean color it works well in north facing rooms that are cool.
Some articles say that it has a gray undertone  – I believe these articles mean that it works well with gray colors in furniture, flooring ect.
It is the perfect blend of cool and warm, crisp and soft.
How To Identify A Paint Color's Undertone
Most paint companies pair all of their white paints on strips in their paint fan decks. Viewing the strips you can easily see the color undertones.
Check out this SW paint color fan deck – it's a great tool to have on hand when picking paint colors!
See: How To Identify Paint Color Undertones  To Choose The Right Color
LRV of Pure White
Pure White has an LRV (Light Reflectance Value) of 84.
The LRV scale goes from 1-100 which means that Pure White reflects a lot of light.
So it's a great paint color for bathrooms that don't have windows and basements.
Where Should I Use Pure White?
SW Pure white is a fabulous color for any room in the house – for walls, trim, interior doors and cabinetry.
Its the perfect bedroom paint color because it goes well with wood bedroom furniture and upholstered beds!
It's also a great color for exterior trim, fascia, exterior body color and shutters.
See: Paint Tips & How To Pick The Perfect Paint Sheen
Pure White Paint Color Comparisons
As I mentioned, SW Pure white is a clean white with virtually no undertone.
BM Decorators White CC-20 has a cool undertone.
And BM OC-117 Simply White has a warm undertone.
BM Cloud White another popular white has a warm undertone as well.
What Trim Color Goes With Pure White?
My advice is to pair Pure white on walls in a matte or satin finish with Pure white in a satin or semi gloss finish.
That way there is no clash of undertones or trying to find the right white color that goes with it.
Using the same color in a different finish will make your rooms feel cohesive and pulled together!
We used this bedroom paint color on our walls, baseboard trim, window trim and door trim.
The Bedroom Paint Color 'After':
Here's our bedroom painted Pure White!
The ceiling fan will be removed and some of the furniture is leaving too- more details on all that to come! I'll be adding new bedding, decor and wall art as well!
So much fresher and brighter!
Before we painted, I removed everything in our master bedroom that we aren't keeping in this room (lamps, decor, art ect).
So right now it looks pretty stark since it's missing all the layers that make a cozy, well decorated room.
(Take a look at my  New Guest Bedroom Updates to see how I've designed and decorated that bedroom.)
But my design plan will turn it to a room that we'll love sleeping in, reading in and watching TV in comfort!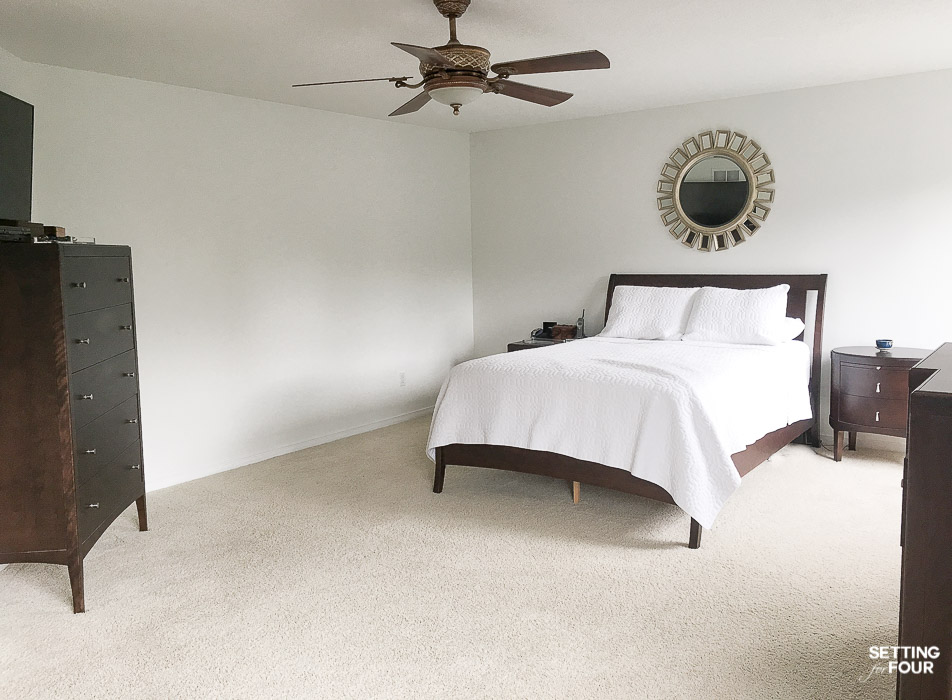 Shop our bedroom look! Click on the pictures below to see more about each item!

SW Pure White is the perfect white that I was looking for in our primary bedroom: it has no yellow or green undertones, works beautifully with our dressers (which I'll be keeping), works well with the natural lighting in this room and gives our primary bedroom a stylish look!
Also, this white is a perfect backdrop to any accent color!!
So I'll have fun adding color with my decorative pillows, throw blankets and art.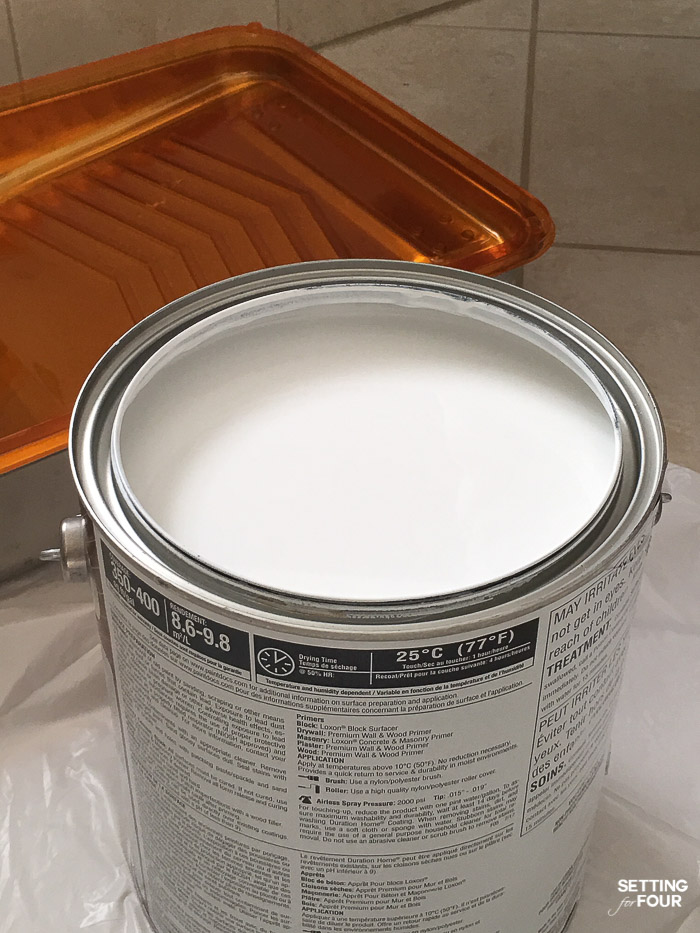 So why did I choose white for our bedroom paint color?
1. I wanted my bedroom to feel relaxing, light and airy.
2. I wanted our bedroom dressers to contrast with the wall color.
3. I wanted to use decorative accent colors that I can change from time to time and with the seasons. So I needed a wall color that works with other colors without clashing.
4. I didn't choose a gray this time, like the SW Mindful Gray that we used in our guest bedroom and on the main level of our home, because I wanted a change and to use a different color.
SW Mindful Gray would have worked well in our master bedroom but I was looking for something completely different in our bedroom.
4. Plus I'm toying with adding molding to our walls and I've always loved the look of white walls with molding!
Testing Different White Paint Colors:
I tested 4 other different whites in our bedroom – Sherwin Williams Simply White , BM White Dove OC-17, BM Chantilly Lace OC-65 and Benjamin Moore Decorator's White CC-20.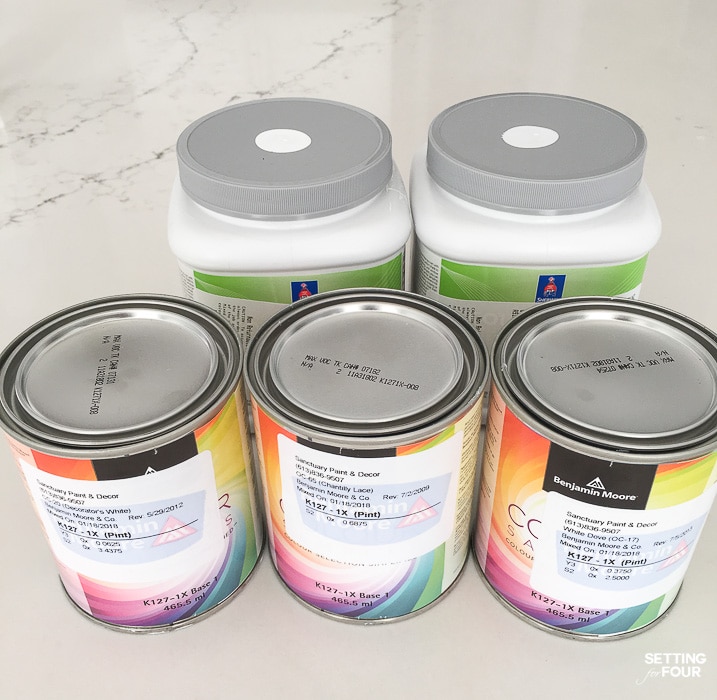 When I tested them in our master bedroom all of them (except Pure White) had blue or yellow undertones, which I didn't want.
So I chose SW Pure White as our bedroom paint color.
Pure White is a 'white' white, has no yellow undertone and isn't a stark white.
Paint Finish Selection:
We used Sherwin Williams Duration interior paint in a matte finish.
Even though it's a matte finish it's washable and looks like velvet!
See my Paint Tips – How To Pick The Perfect Paint Sheen.
Painting The Walls:
 With my checklist in hand on How to Prepare a Room For Painting we prepared the room then started to paint.
We used this amazing short handled Wooster sash paint brush for the first time and love it for cutting in around the ceilings and trim!
It's short handle makes it easy to maneuver around tight spaces!
Our walls took 2 coats of paint.
Recording the Bedroom Paint Color Information:
I recorded the name and finish of this paint color in my paint color tracking sheet.
This printable form keeps track of all your paint colors, brand names, finish type ect – it's so handy and you'll never forget again what paint you used where!
GET YOUR FREE PRINTABLE WALL PAINT COLOR TRACKING SHEET! Fill out the form below!
I love how our new paint color SW Pure White turned out!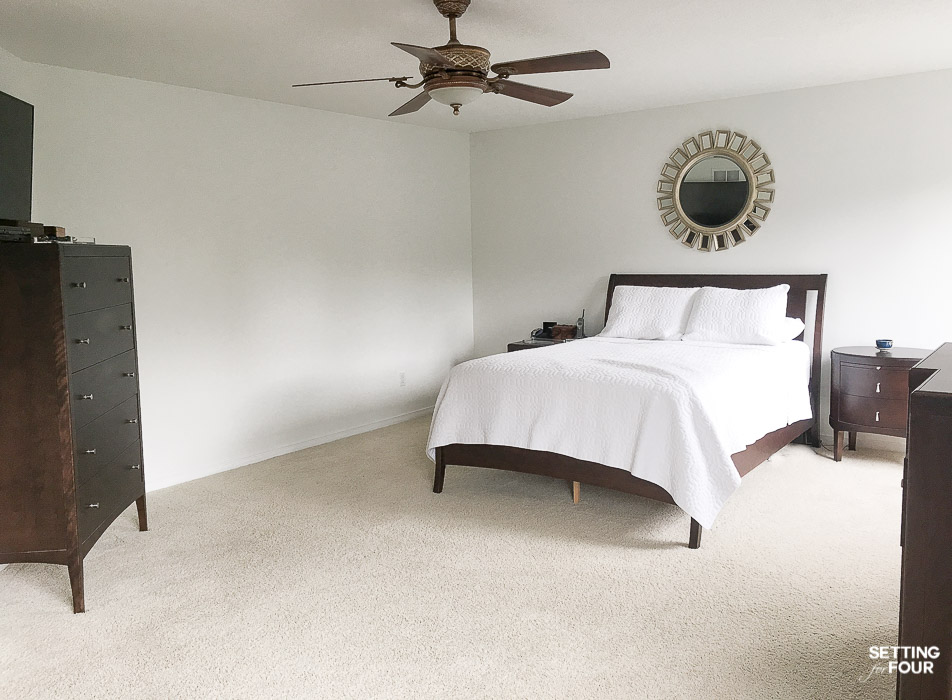 Next Steps:
Right now I'm working on the remaining parts of my bedroom design refresh!
I'm sourcing new window treatments, lighting, art, area rug, chairs for a seating area, a bench for the foot of the bed, bedding and new nightstands.
The final layer will be adding new decor ideas.
I hope you enjoyed my post on Choosing Our Bedroom Paint Color – Sherwin Williams Pure White!
PLEASE PIN THIS AND SHARE IT WITH YOUR FRIENDS!


More Design and Decor Inspiration: