Paint color advice! Learn how to identify paint color undertones – to choose the right color for your room! Learn how to see if a paint color is warm or cool. How to take the mystery out of paint undertones!
How To Identify Paint Color Undertones – To Choose The Right Color
Have you ever painted a room with a color you love on the paint chip then realize it looks awful on the walls and clashes with the other colors in your home?
It's because of a paint color's undertones.
It's very important to learn how to identify a paint color's undertone so you can pick the right one for your space!
Want to see my paint colors? See the Paint Colors In My Home and my color schemes
The wrong undertone will make your room look unappealing and can make the other colors in your room look terrible too!
So today I'm going to teach you three easy ways to identify any paint color's undertone! And the BIG MISTAKES people make with paint undertones.
---
Need help decorating or help picking paint colors? I offer online design services and paint color advice! See the info on my services, my client designs & client reviews here!

---
What is an Undertone?
It's easy to see a paint color's 'mass' color tone – that's the first color you see when you look at a paint color on the paint chip.
A paint color's undertone is the underlying color. Undertones can vary from pink, beige, blue, yellow, purple and green.
No wonder an undertone can really mess up the look of a room!
Understand The Color Wheel & Color Schemes To Become A Better Decorator
These undertones will make a color look warm or cool.
So how do you know if a paint color is warm or cool?
A warm paint color with have a pink, beige, or yellow undertone.
A cool paint color will have a blue, green or purple undertone.
Check out my Instagram stories – I often talk about popular paint colors there! Such as Color of the Year 2020 Chinese Porcelain – a gorgeous rich blue!
How To Identify A Paint Color Undertone
There are three ways to help you determine the undertone of a paint color. Sometimes you can see it using one of these methods. Sometimes you need two or three of these methods to see it.
The big mistake that people often make is that they look at the paint chip color in isolation. Don't do this! You have to compare it to one of three things to see its undertone.
I'll show you how!
Method 1:
This is a technique that a Sherwin Williams color expert taught me and is the method she uses and recommends – and it's simple!
Place a paint chip on a sheet of white computer paper. The undertone will reveal itself when the paint chip is compared to the white of the printer paper!
Look at the pictures below. I took several paint chips and placed them on a sheet of printer paper.
Here's Sherwin Williams Pure White ( I used this color in my bedroom!). The mass tone is white and when laid on the printer paper you can see it has a slight creamy yellow undertone.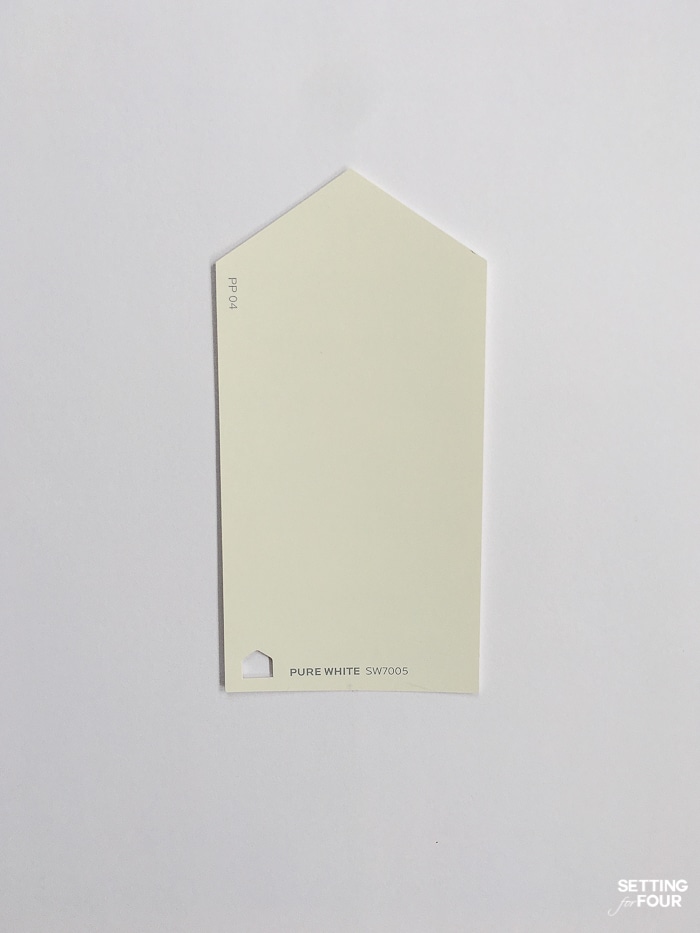 Here's Sherwin Williams Dover White – It's also a white and has an obvious yellow undertone.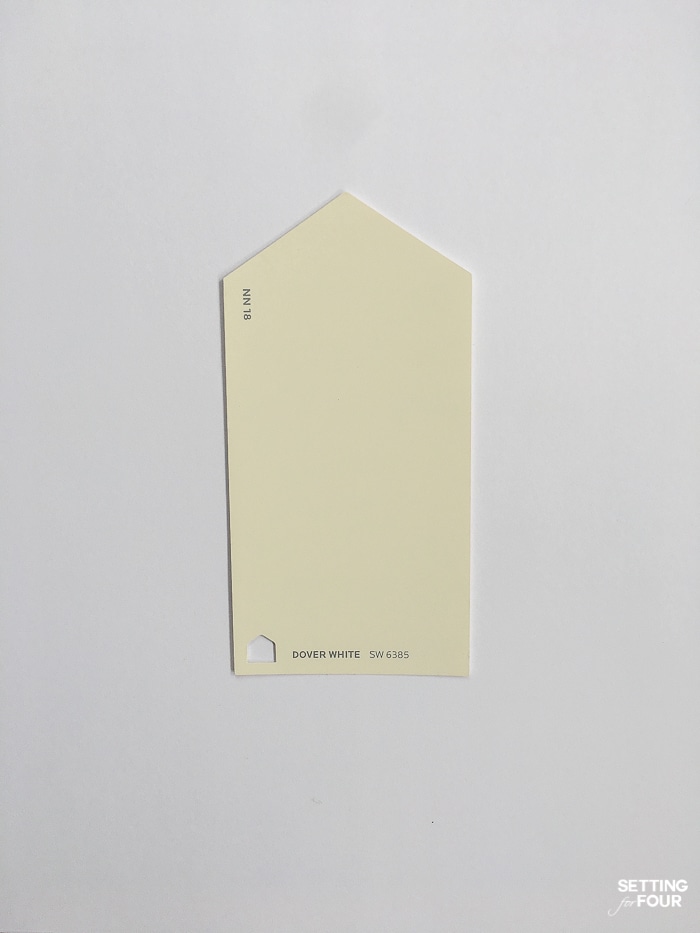 Grays can be the most difficult to identify undertones. They can be real chameleons! In various lighting they will look completely different.
Repose Gray is a very popular neutral paint color. It's a warm greige color that has a purple-brown undertone but in some lighting it will have a blue or even green undertone. In my lighting in the pic below (south facing) it has a green undertone.
This is why it's so important to use the right methods to pick your paint colors with confidence:
Test your paint color sample boards in the room itself and in various lighting conditions. In morning, noon and night, on gray days and bright sunny days.
You'll be able to see how the paint behaves in all light scenarios and can rule out ones that you don't like before painting!
A big mistake people make is that they don't test the color in the room or look at it in bright and dim light!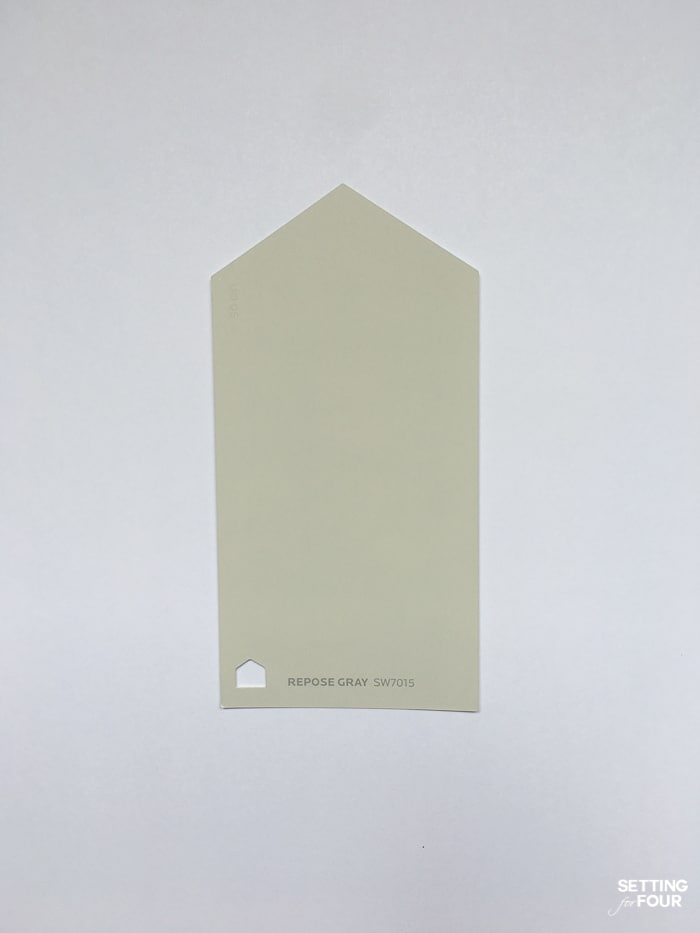 Peppercorn is a rich, dark gray color with a brown undertone. It is a chameleon too and in certain lighting will have a blue or purple undertone.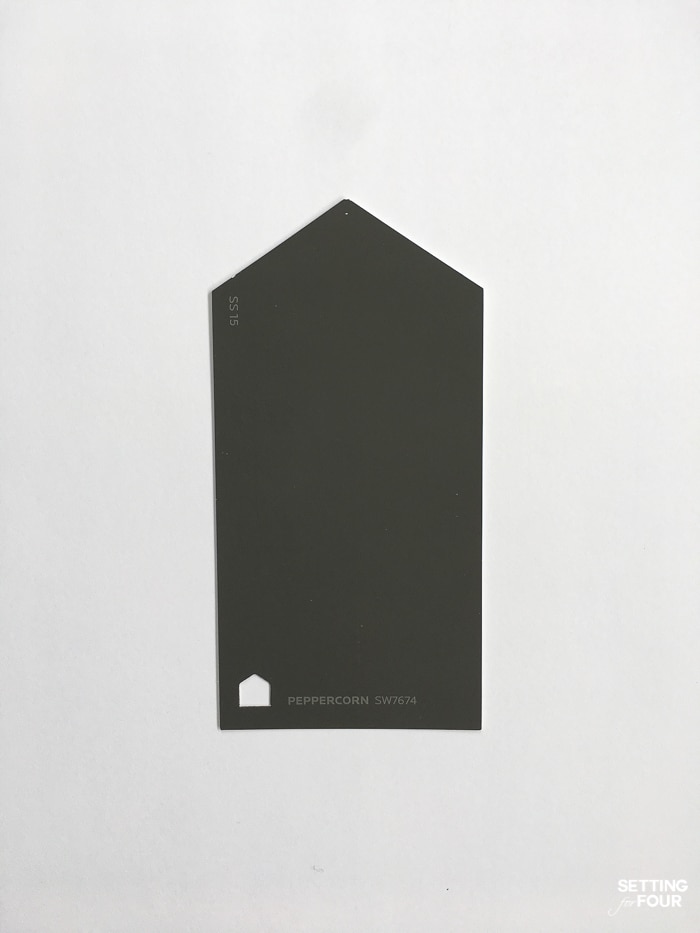 Paint Color Undertone Method 2:
Look at the colors at each end of the paint chip strip.
This is SW Rainwashed – a gorgeous greenish blue that looks beautiful in bedrooms and laundry rooms.
By looking at the colors at the bottom of the paint strip you can see it has a green undertone, Rocky River is an obvious dark green.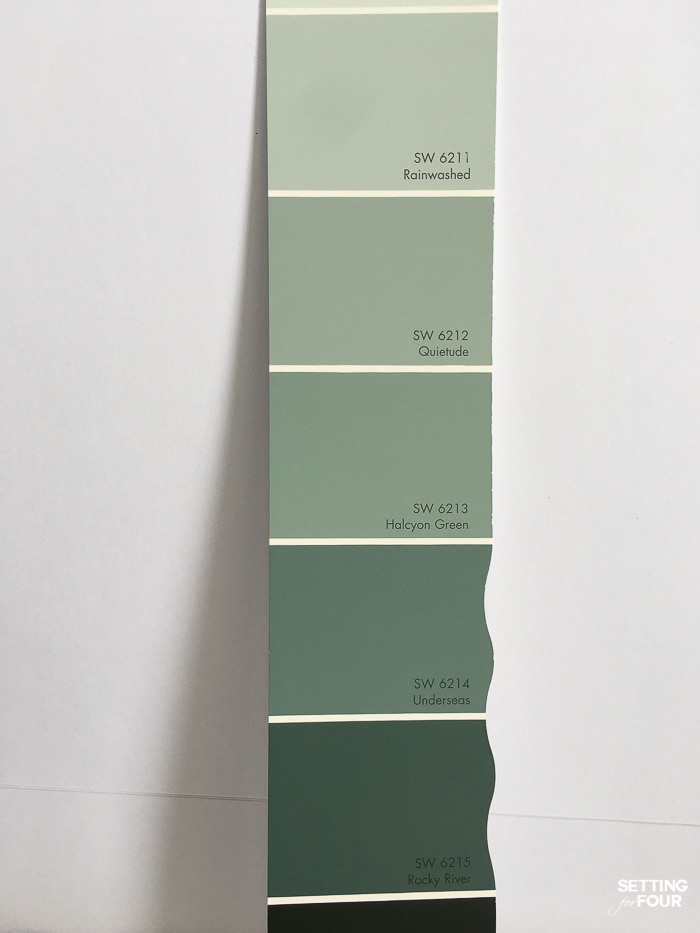 Here are several grays by Sherwin Williams that have a blue undertone. By comparing them to each other you can see the blue undertones they have.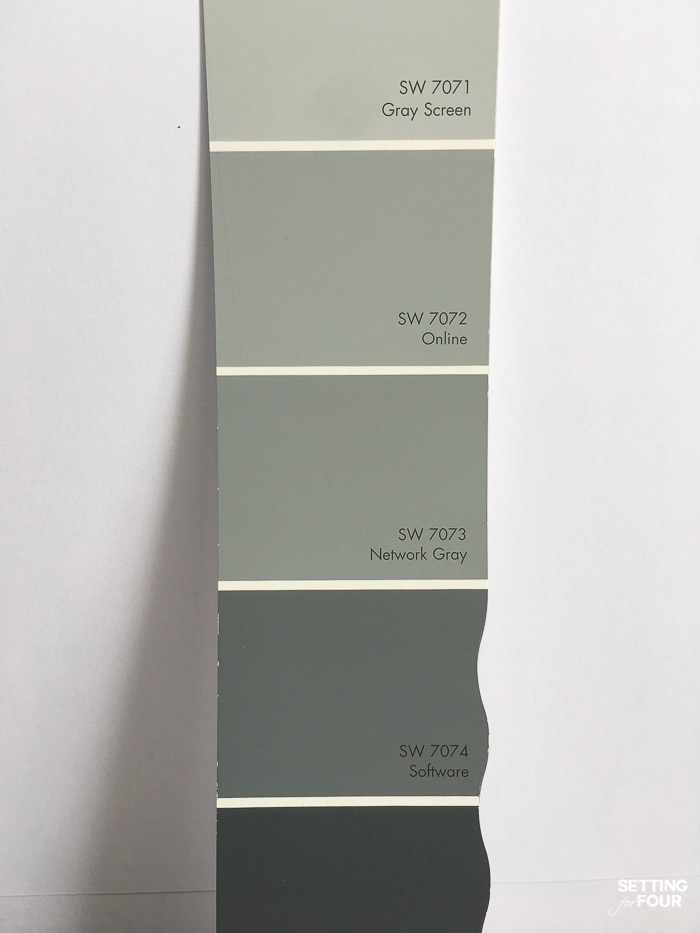 Method 3:
Compare the color with the other colors on the paint strip.
This is a collection of black colors from Sherwin Williams, all having different undertones.
By comparing them to each other you can see that Inkwell has a blue undertone, Caviar has a yellow undertone, Tricorn Black is the 'truest' black.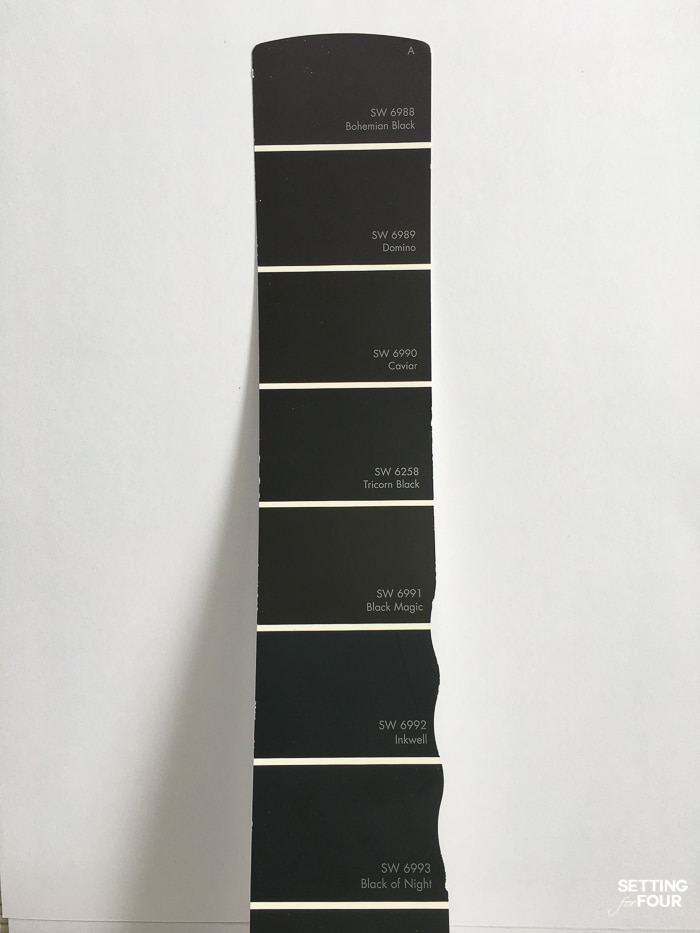 Now that you've learned how to identify a paint color's undertone you still HAVE to look at the color in the room you are painting!
The other colors in the room and the lighting in the space will affect how the undertone behaves and how the paint color will look in the space.
For example see the pic below – this is SW Pure White in my north facing foyer which has a lot of white from the closet doors. Pure White looks like a 'true' white' in this space! Remember how it had the slight yellow undertone in the previous photo?
In my north facing foyer the yellow undertone is not as obvious!
This is what happens when a color is viewed in different lighting – the undertones always behave differently!
It's important to know what a color's undertone is to know how it will behave in general, but you still have to test the color in your space to really see how the color will look.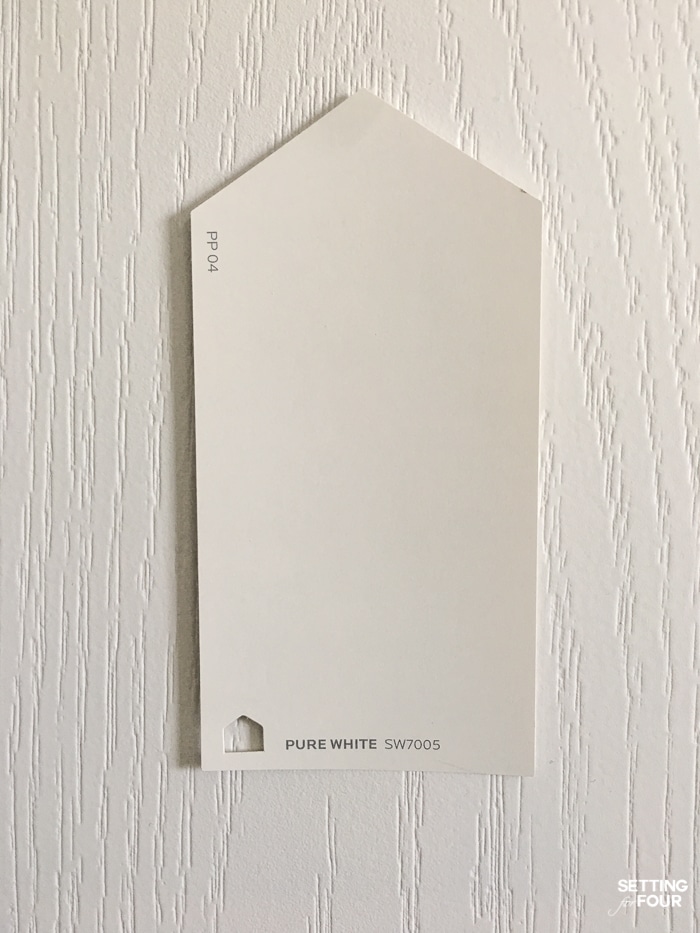 Here's Repose Gray in my foyer. It has a grayer overall tone. The green undertone is still there but not as strong as it looked before, compared against the printer paper.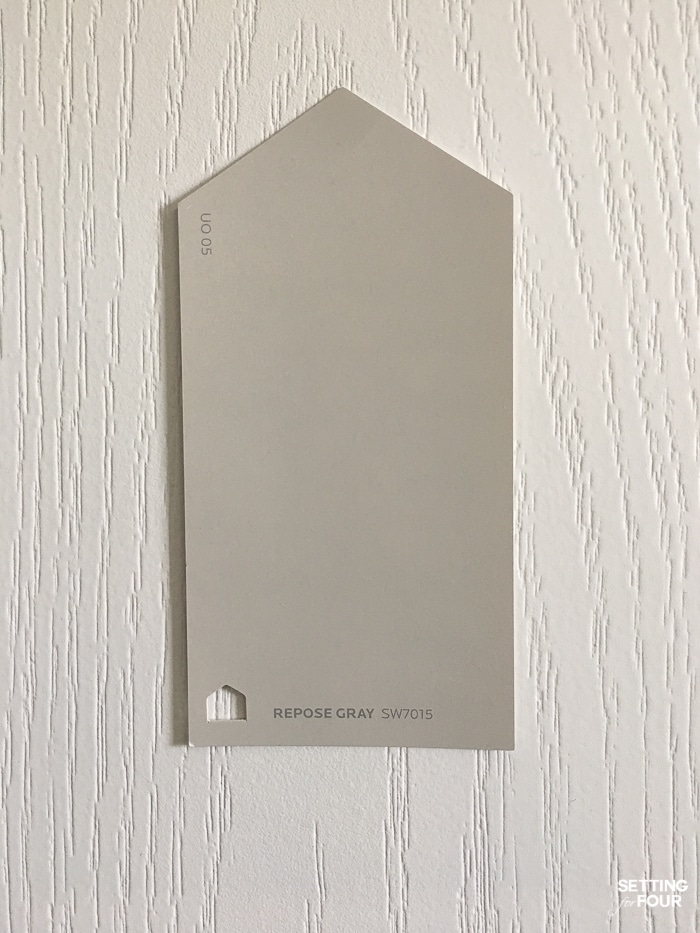 This is Peppercorn in my foyer at a different time of day. It looks like a richer gray than it did against the printer paper.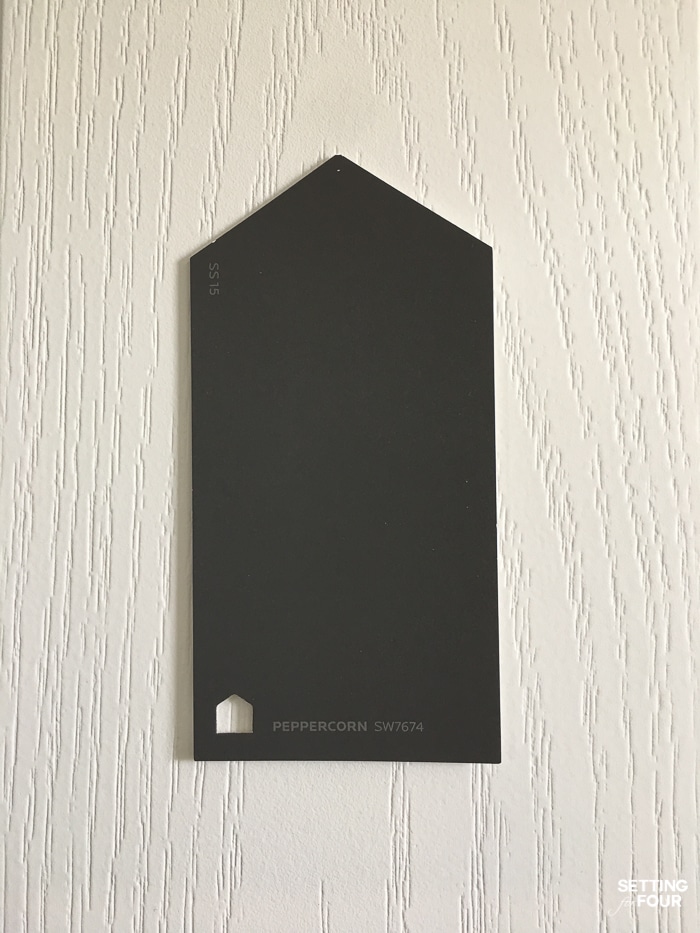 Picking paint colors is one of the trickiest elements of design yet most satisfying ways to transform a room!
With these undertone tips you'll be able to pick paint colors with more confidence.
ALWAYS look at a paint color, using a test sample, with the other colors in the room. You want the paint color to accentuate, not fight with the fixed colors in the space!
If you still feel you need help picking paint colors, email me about my online color and design consults! See my design experience, client designs and client reviews here!

You may also like:
Interior Design Advice: Do's and Don'ts Every Beginner Should Know
5 Decorating Mistakes That Make Your Home Look Cluttered
Our Dark to White Kitchen Remodel Before and After