Learn about the Color Of The Year 2022 Sherwin Williams Evergreen Fog SW 9130, it's undertones and coordinating colors!
Plus see it in real spaces and the flooring colors that go with it!!

I'm so excited about this Color Of The Year 2022!
PLEASE PIN THIS AND SHARE IT WITH OTHERS!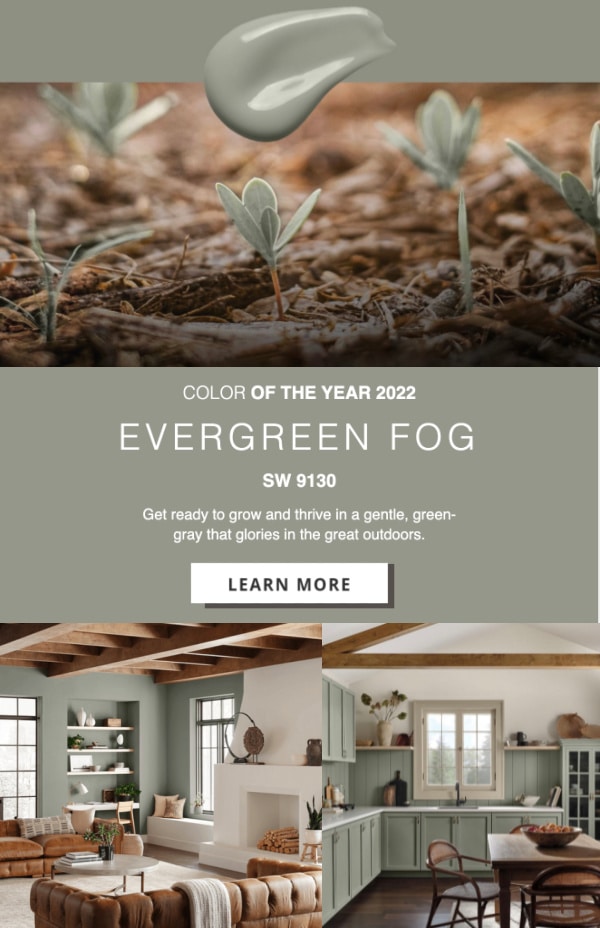 Affiliate links  included. Click here for my disclosure statement.
What is the Color of the Year 2022?
Just announced the color gurus at Sherwin Williams have named Evergreen Fog SW 9130 as it's signature color for 2022.
I love this relaxing neutral green color!
It's timeless and can look contemporary or classic.
It's a beautiful neutral like Sherwin Williams Color Of The Year 2021 Urbane Bronze SW 7048.
Evergreen Fog pairs well with all design styles: modern, traditional, transitional, farmhouse, boho and french country.
It's very livable and pairs beautifully with whites, grays, blacks and amber hues.
It can add the contrast your space may need!
Sherwin Williams Evergreen Fog 9130
What Color is Sherwin Williams Evergreen Fog?
Evergreen Fog is a gorgeous mid-toned green.
It's a green-gray color that has a slight blue gray undertone.
It is in the same color family (and on the same paint strip) as Conservative Gray SW 6183 and Austere Gray SW 6184, two other popular green-gray paint colors that I have used with my design client's paint color consults.
 Evergreen Fog SW 9130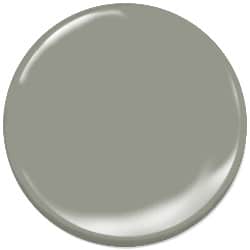 Paint Strip with Evergreen Fog SW 9130 and the paint colors in the same family: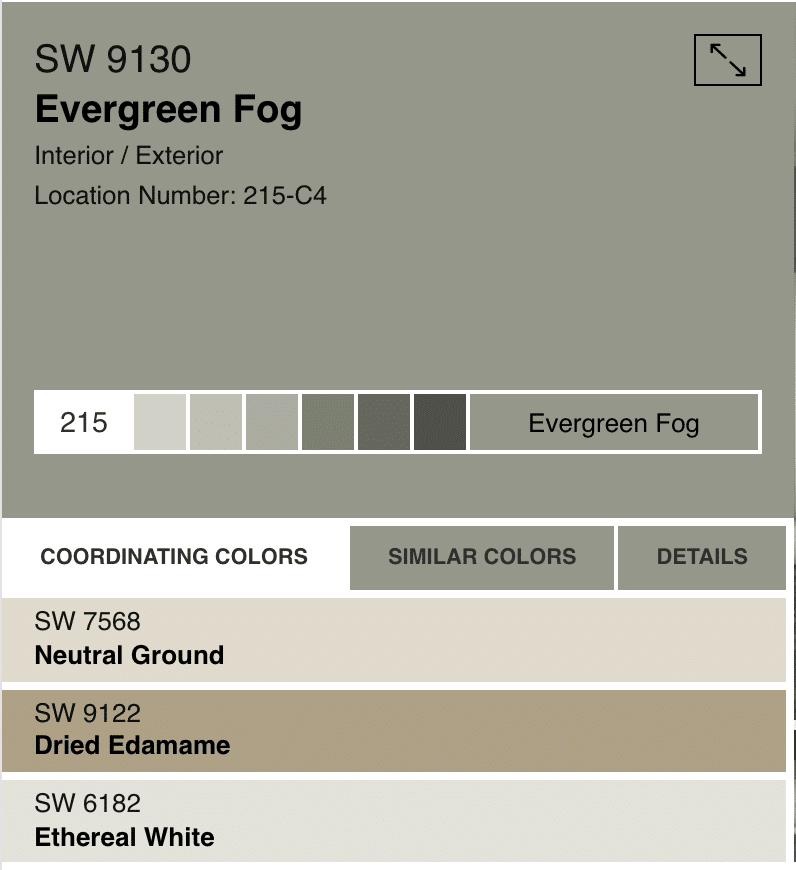 ---
Accurate colors. These big samples are rolled with two coats of paint to achieve incredible accurate color.
Less mess, more fun! No painting, no cleanup!
And samples are delivered overnight!
You can select samples from all the top paint brands like Benjamin Moore, Sherwin Williams, PPG, Farrow & Ball.
Here's a paint sample of Sherwin Williams Evergreen Fog SW 9130
---
This is how Sherwin Williams describes this gorgeous green color:
Sue Wadden, Director of Color Marketing, says it's 'Soothing, subtle, and a perfect shade to freshen up any space.'
Evergreen Fog SW 9130 is a versatile and calming hue, a chameleon color of gorgeous green-meets-gray, with just a bit of blue.
It's a simple but sophisticated wash of beautiful, organic color for spaces that crave a subtle yet stunning statement shade.
Like a clean slate, this refreshing hue lets you reset and start fresh.
This green is a restorative shade that breathes freshness into modern interiors.
Design Tip: How To Pick The Perfect Paint Sheen
---
Need help with furniture layout, choosing paint colors, kitchen/bathroom design, selecting furniture & decor or updating your home? I can help!
See my online design & paint color services!  Plus my client reviews!
Email me at [email protected] for more info!

---
What is the Undertone of Sherwin Williams Evergreen Fog?
SW Evergreen Fog is a gorgeous green with a blue gray undertone.
Design Tip: How To Identify Paint Color Undertones To Choose The Right Color
What is the LRV of Sherwin Williams Evergreen Fog?
Sherwin Williams Evergreen Fog has an LRV of 30.
LRV, or Light Reflectance Value, measures the percentage of light a paint color reflects.
It's a number to assign how light or dark a paint color looks on a scale of 0 (black) to 100 (white).
The higher the LRV number is, the lighter the color is.
The lower the LRV number is – the darker the color is.
So an LRV or 30 means that SW Evergreen Fog is a mid toned color that doesn't reflect much light.
You can still use it however, in a dark room to create a cozy feeling.
What Finishes and Materials does SW Evergreen Fog pair with?
This serene color pairs beautifully with stone, wood and metal finishes.
Natural materials like marble countertops, wood finishes, stone accents, and mixed metals ties this earthy neutral back to its nature-inspired roots.
What Paint Colors does SW Evergreen Fog 9130 go with?
Pair it with other warm neutrals and warm  whites, like Sherwin Williams Shoji White SW 7042, to create an updated take on minimalism.
If you want to bring in more color, modern brown-bronze, like Sherwin Williams Urbane Bronze W 7048, can be introduced to add a hint of bolder style.
PLEASE PIN THIS AND SHARE IT FOR LATER!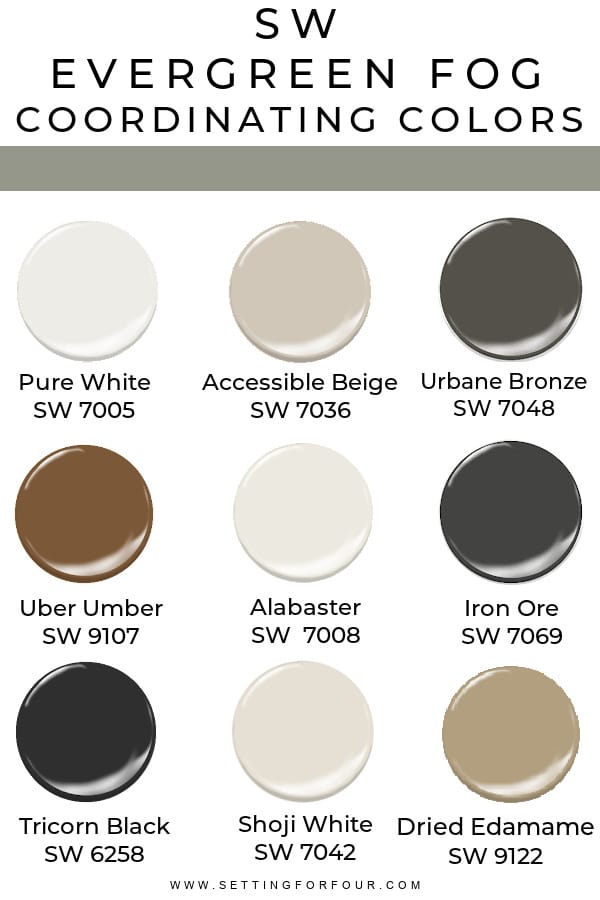 ---
Design Tip! Use these reusable peel and stick paint samples to easily test paint colors in your home.
They're mess free!
Delivered overnight!
---
What Trim Paint colors does SW Evergreen Fog go with?
Use it with a warm white like Alabaster SW 70o8 or a clean white like Pure White SW 7005.
Always test your paint colors in the room to make sure they work well together and with the fixed elements of the room (flooring, tile, upholstery colors ect)
Where can Sherwin Williams Evergreen Fog be used?
Evergreen Fog is a stunning exterior color for siding, shutters, front doors, garage doors and fences!
It's also a stunning color for a sideboard, dresser, cabinet or an accent wall.
Use it on kitchen cabinets, in a living room, on interior doors, family room, dining room, bedroom, powder room, laundry room and basement!
Here are some rooms featuring SW Evergreen Fog for inspiration!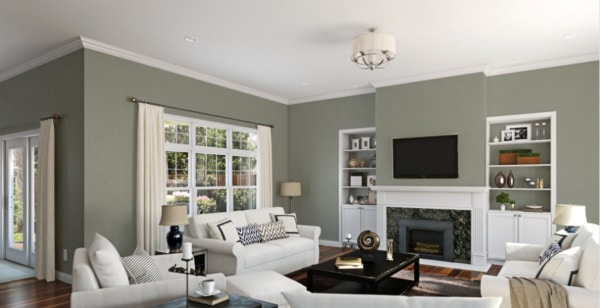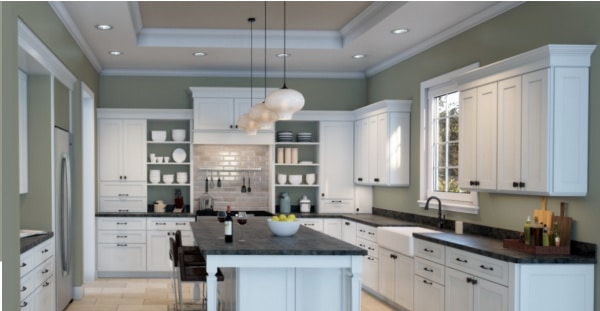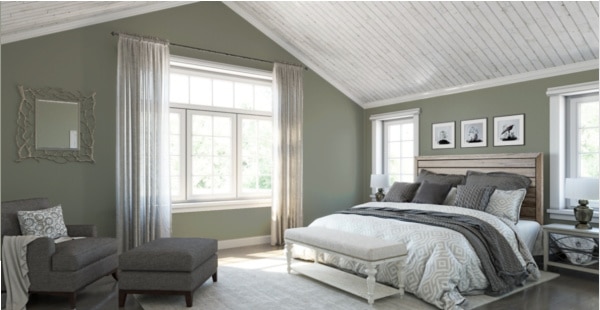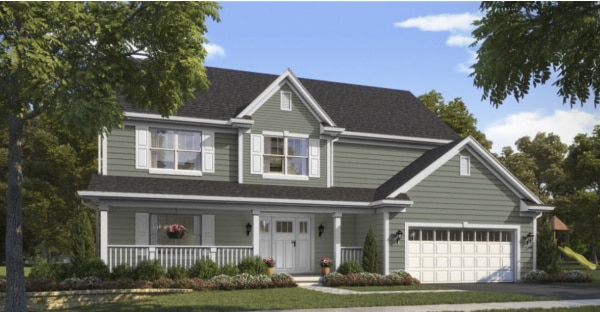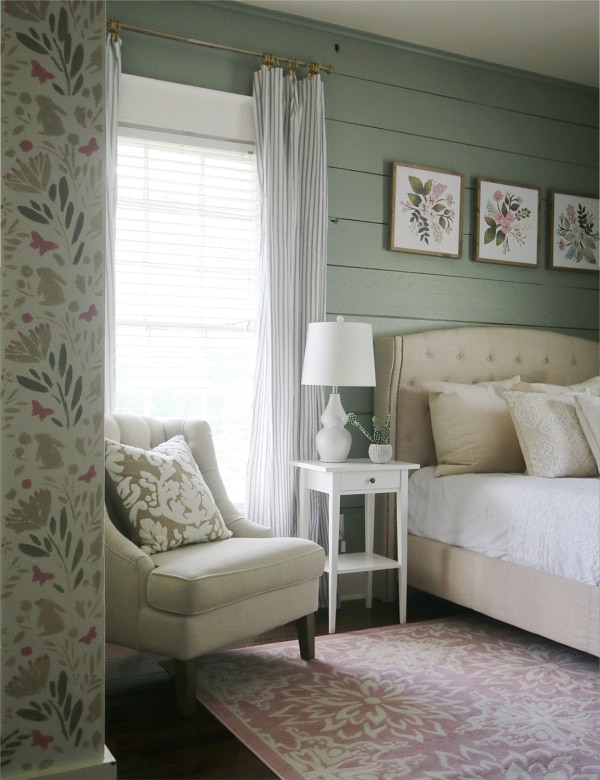 In this photo below you can see how gorgeous Evergreen Fog walls look with wall molding like this picture frame molding.
It's also a beautiful interior door and front door color!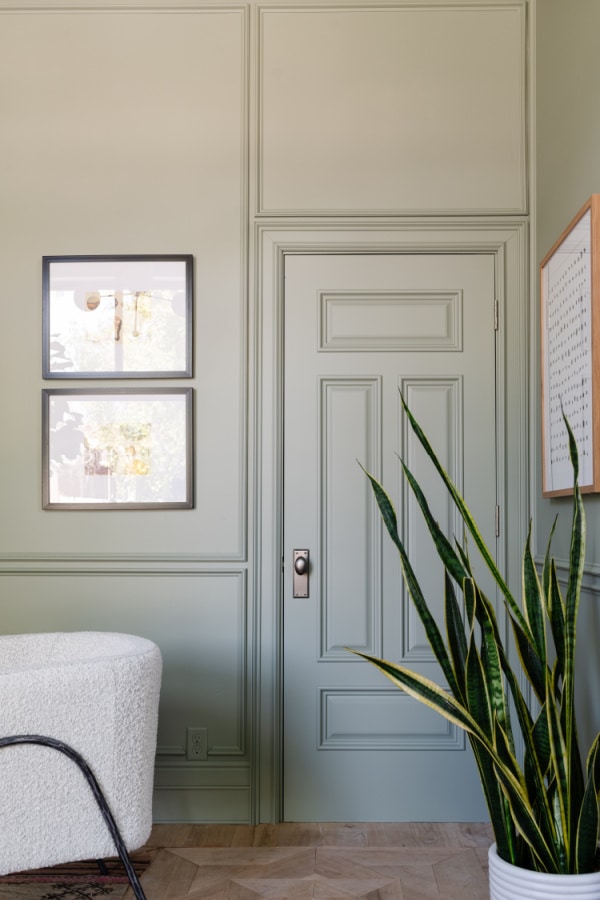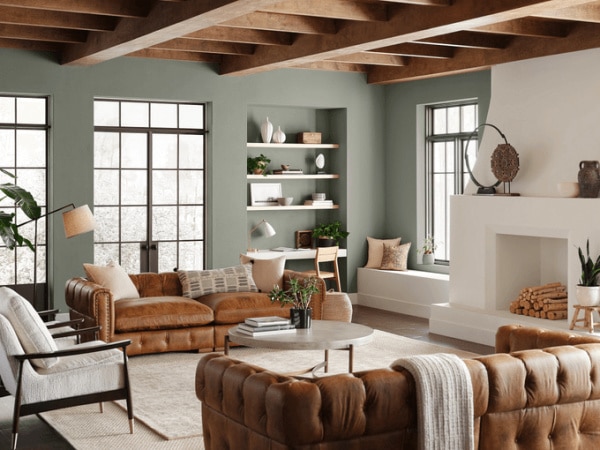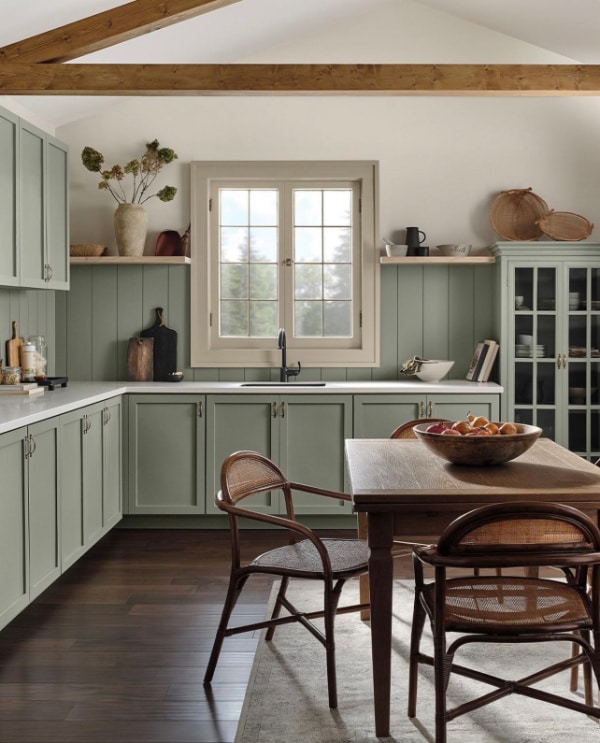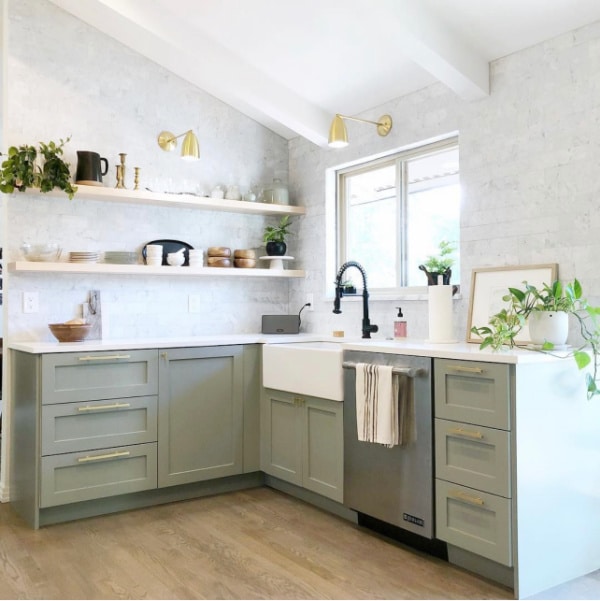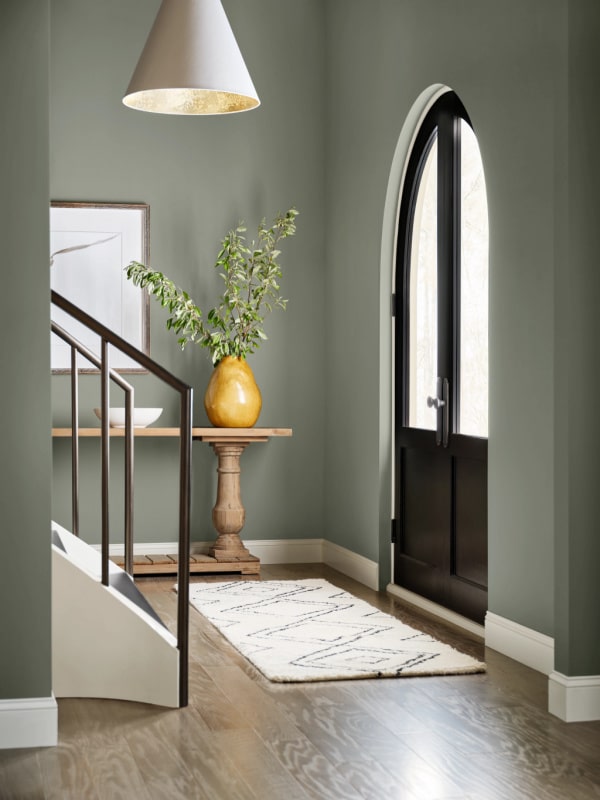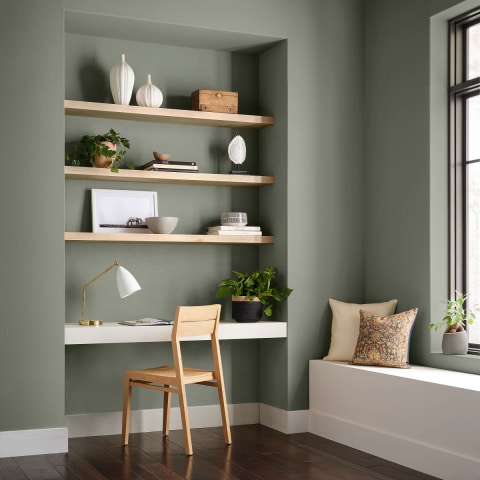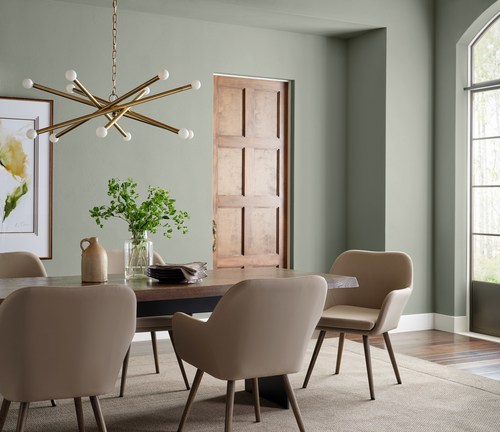 What Flooring Colors Go with Evergreen Fog?
Because Evergreen Fog is a green-gray color it's very versatile and will coordinate with many flooring colors like:
white oak flooring
blond colored woods
dark brown flooring
mid-toned brown
yellow/orange toned flooring
black colored flooring
gray colored flooring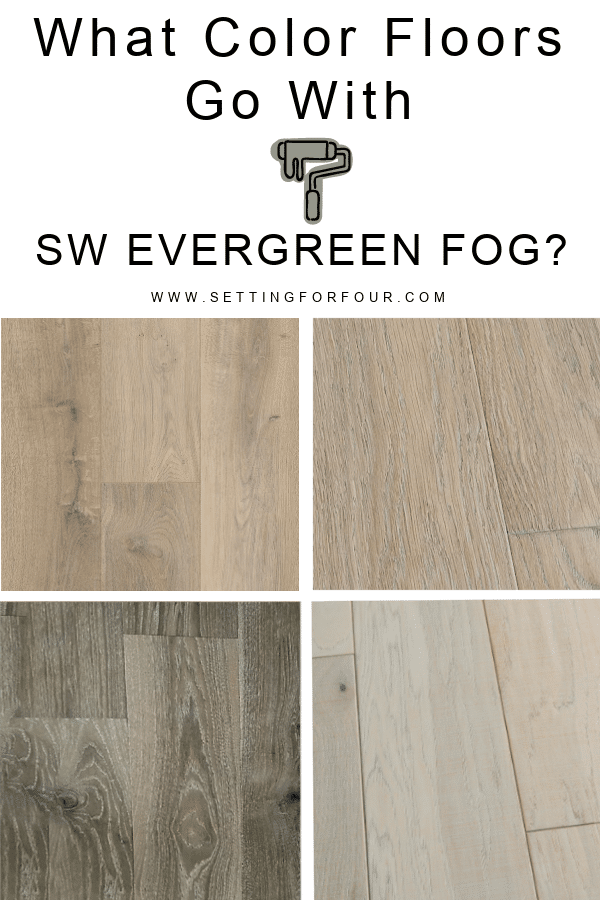 What do you think of Evergreen Fog? Have you used it in your home? Let me know in the comments below! 🙂
Follow me on Instagram and TikTok for more design and decor inspiration!
More Paint Color and Design Ideas: