I mentioned last month when I shared my Glam Spring Mantel that I would show you all how I painted my fireplace tile….and I didn't forget! Today I'll show you how I did it in just 3 steps and no sanding! It was so much easier than I thought it was going to be – and I love how it turned out!
How to Paint Tile: You'll love this DIY tutorial if you've ever wanted to paint over outdated tile but weren't sure what supplies are needed or how to do it…I'll show you exactly how easy it is!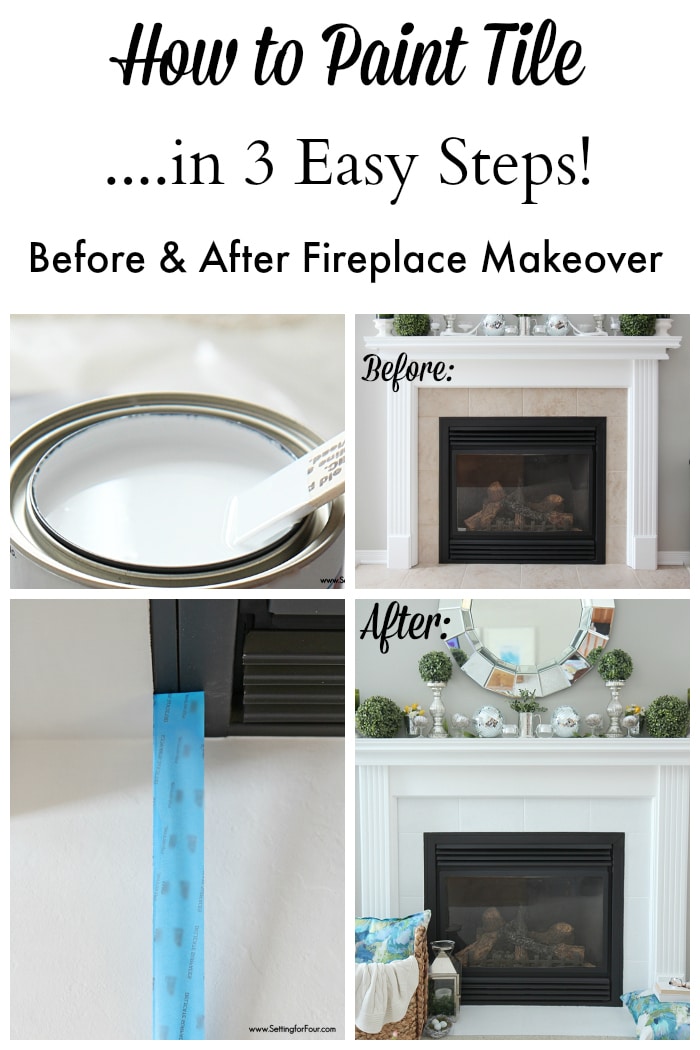 Giving our living room gas fireplace a total makeover has been in the plans for a while – it's in great shape and we love the size of it and the design of the mantel but the colors were pretty boring and not as bright and stylish as I knew it could be. We gave the stained brown wooden mantel a paint makeover in white as the first step and it made such a huge difference to lighten and brighten our living room!
The fireplace blah beige tile surround got a paint makeover last month too – here's how I did it, with no sanding and in just 3 steps! It's easy – so easy!:
First let's look at the before: Boring and blah tile.
Bye-bye beige!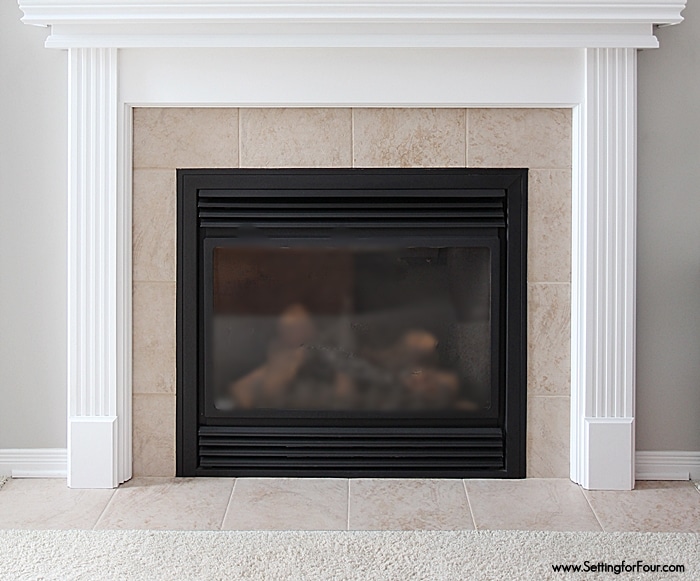 This post may contain affiliate links. There is no additional charge to you, you just get to check out some beautiful things I love!
Supplies:
– Painter's tape for delicate surfaces (so it doesn't remove the paint from the metal fireplace insert)
– Paint brushes – a 1.5 inch flat paint brush and a 1/4 inch flat paint brush. The brushes I used are artist brushes becauseI love how much control I had with applying the paint with them!
I usually use household paint brushes for these types of interior paint projects but the flat artist brushes were the perfect size and shape for applying the tile paint!
Okay let me just say it again because I'm so excited about this part!! I did NOT SAND at all! Saves lots of time and mess!
The specific paint I used is a primer and sealer in one and it's designed to adhere to tile. (always paint a test patch first to make sure any paint you are using will apply to the surface!!)
How to Paint the Tile On Your Fireplace Surround:
Step 1. Wash the tile before painting to remove any dirt or grease. I made up a mixture of 2 cups of warm water and 1 drop of dish detergent in a small plastic container and wiped down the tile with a cotton cloth and the soap mixture. After cleaning the tile I gave it a final 'rinse' and wiped it down with a slightly wet cloth (with just water, no soap) and let it air dry.
Step 2. Tape around the entire tile with the painter's tape. I even taped out the hearth tile by applying the tape right onto the carpet! Run your finger over the edges thoroughly to seal.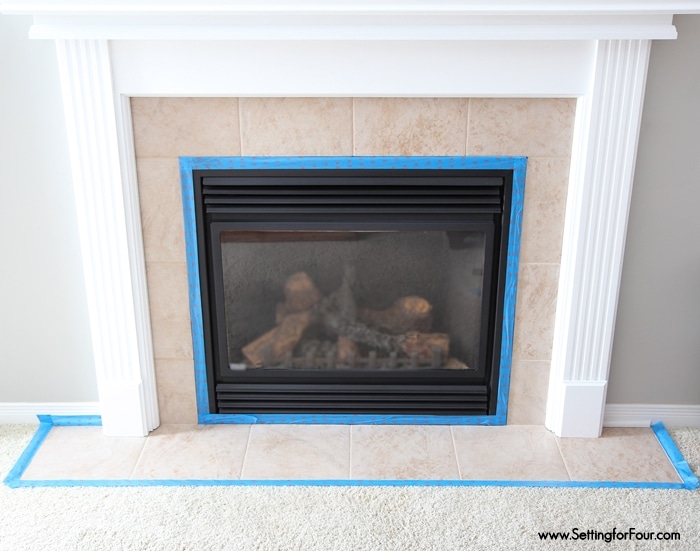 Step 3. Paint away using the flat artist brushes and the white tile paint! Our tile took 3 coats to cover. Each coat dries quickly though so I was able to finish in 2 days. The paint sheen has a very soft satin look. Not completely matte, just a very soft shine – it's perfect!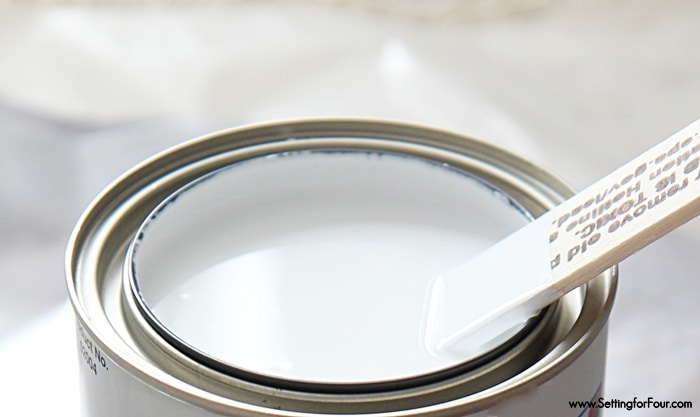 After 1 coat: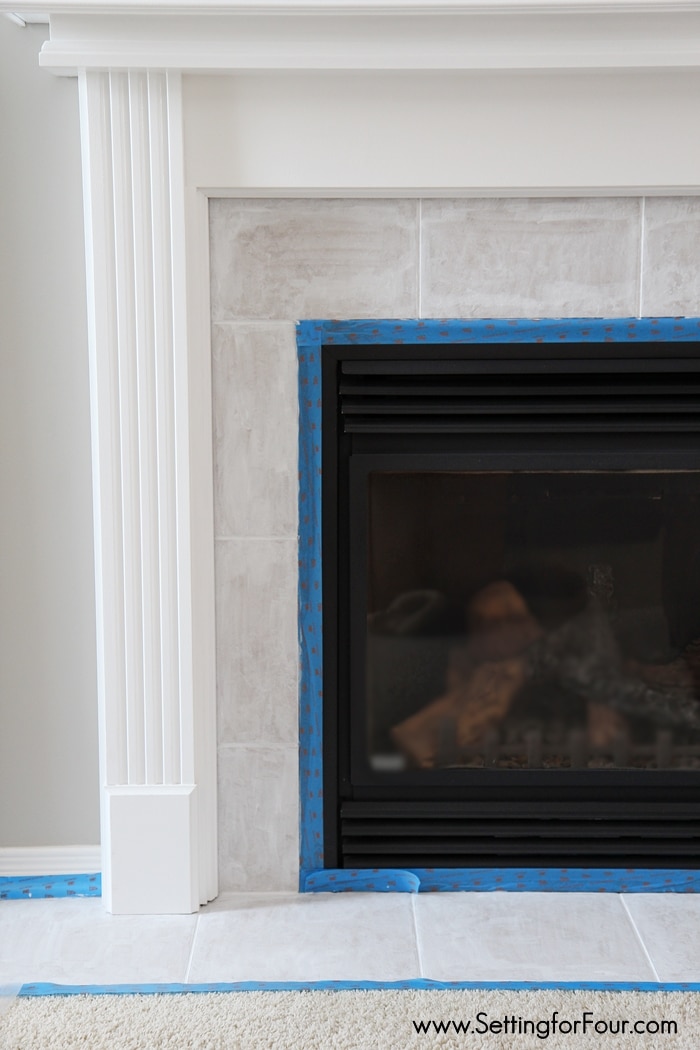 When the paint has completely dried remove the painter's tape. Look – no seeping! Nice clean edges!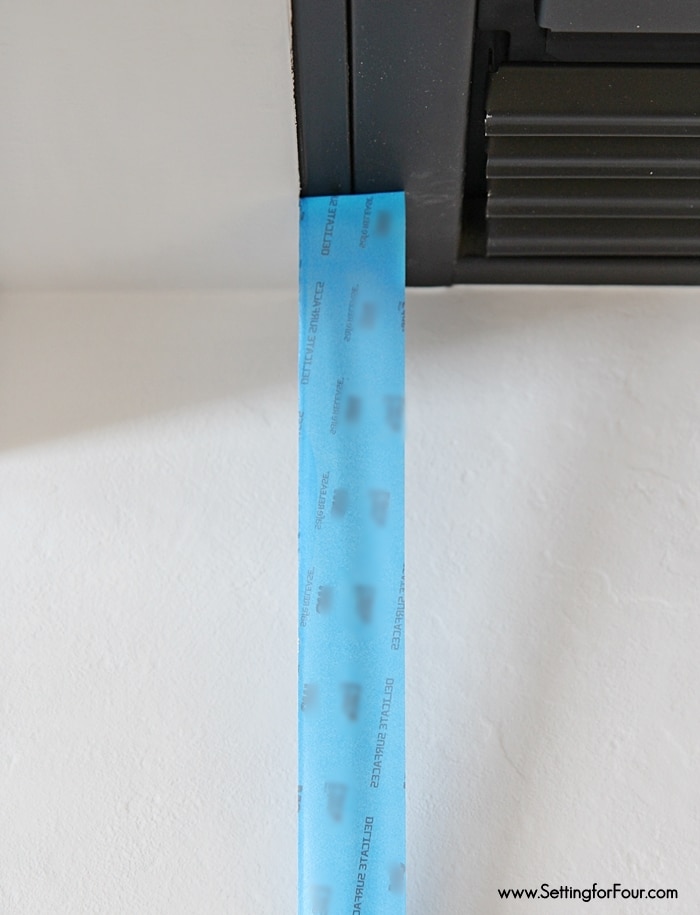 We love it! No more boring beige! It's fresh, bright and I love the white against our gray wall color and the black fireplace insert!
Aaaahhh!!
See my newly painted fireplace in my Spring Home Tour !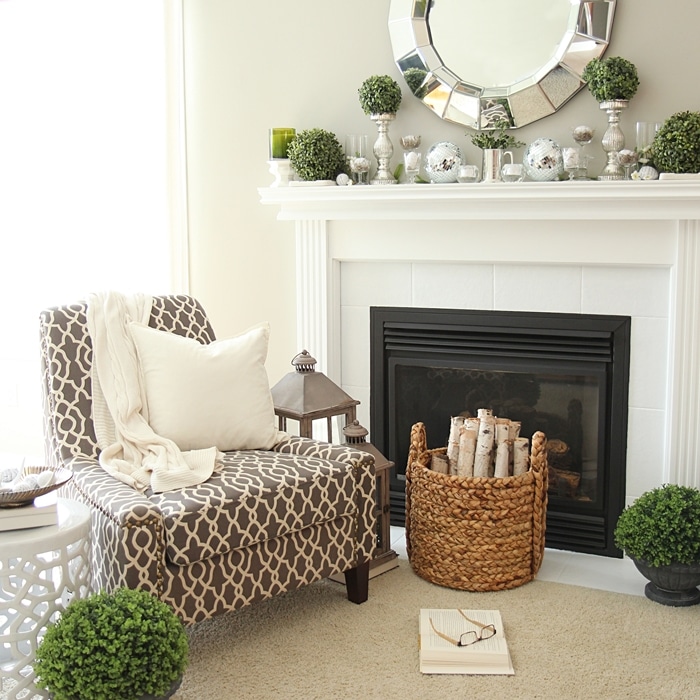 As a lover of classic colors and clean lines this paint makeover really makes me happy!
I also really love how my mantel decor absolutely pops now with the entire fireplace painted out in white.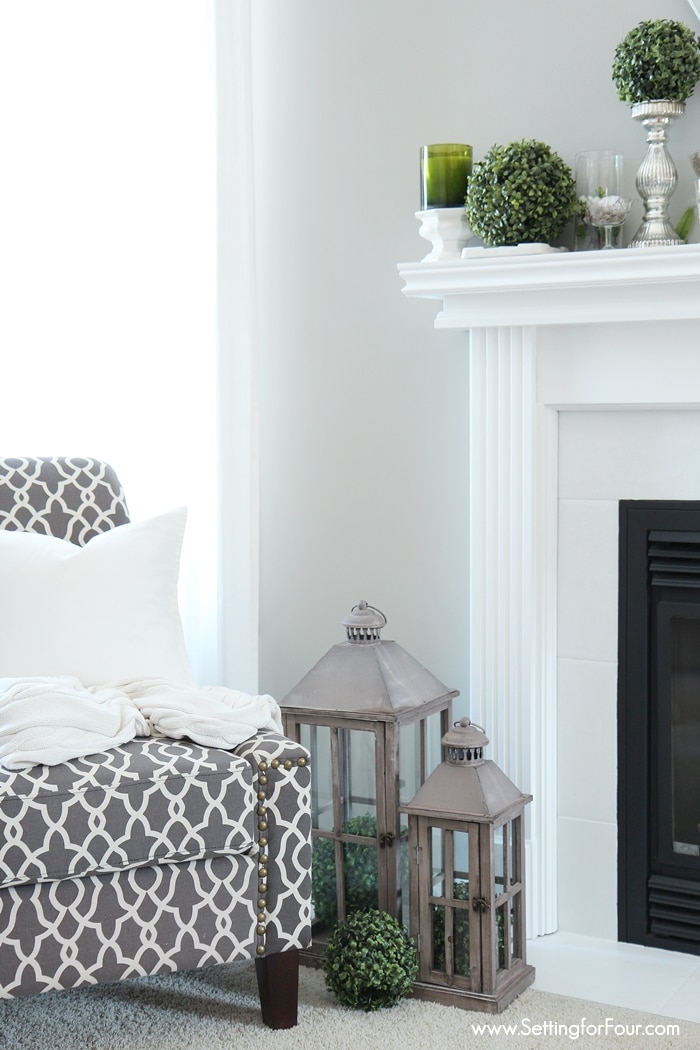 Before: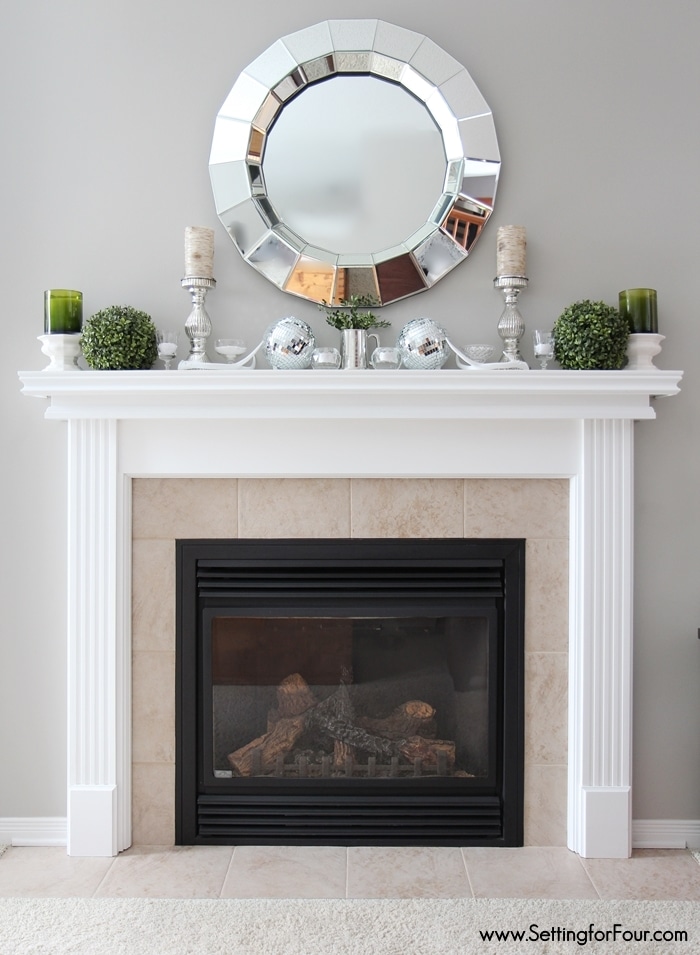 After: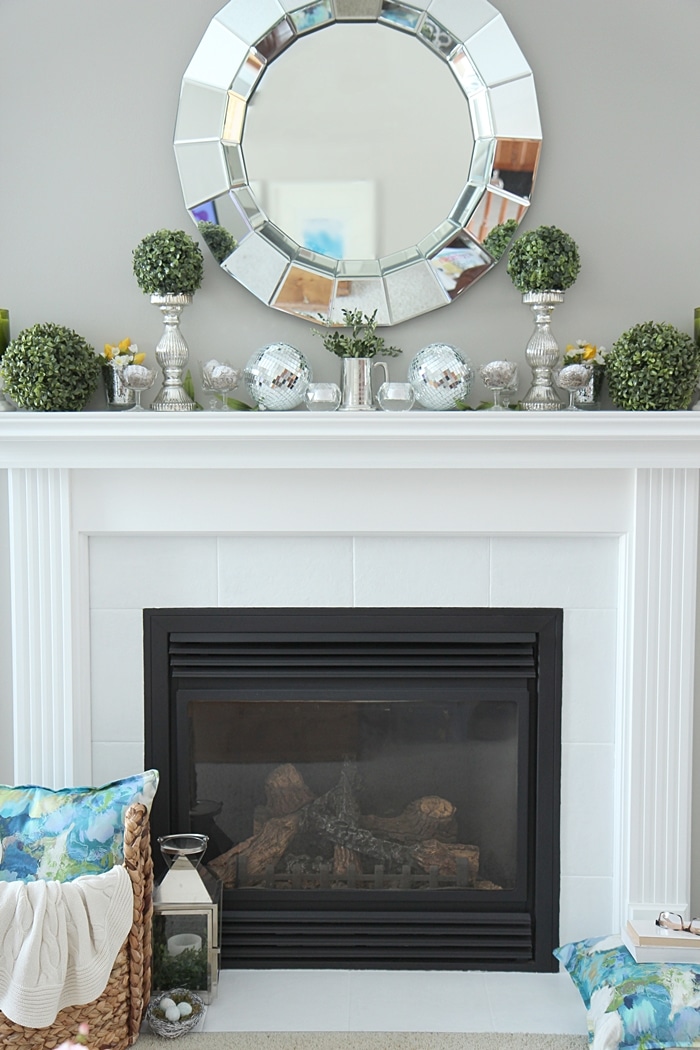 How to Paint Tile in 3 EASY STEPS!

My next project is to paint some bathroom accent tile using this same method – I'll let you know how that goes!
Do you have some tile to paint? Do you think you'll try painting it this way? Let me know how your tile paint project turns out!
Shop my home decor and furnishings! Just click on each image below to find out more about it!

Pssst – for more decor ideas take a peek at my Glam Spring Mantel Decorating Ideas
Beach Inspired Mantel decorating tips
….and see the before and after mantel paint makeover !
* * *
TOP TIPS ON HOW TO PREPARE A ROOM FOR PAINTING!
As a military wife who has painted A TON of rooms in her day I've figured out the QUICKEST way to paint a room with the most gorgeous results – because I'm picky and want my painted walls to look smooth and streak free! You do too right?
It lists the best supplies you need for your paint job and keeps you on track as you check each step off as you go – so you save time, get the best paint adhesion and blitz through the painting process!
Now you can enjoy your newly painted room as quickly as possible!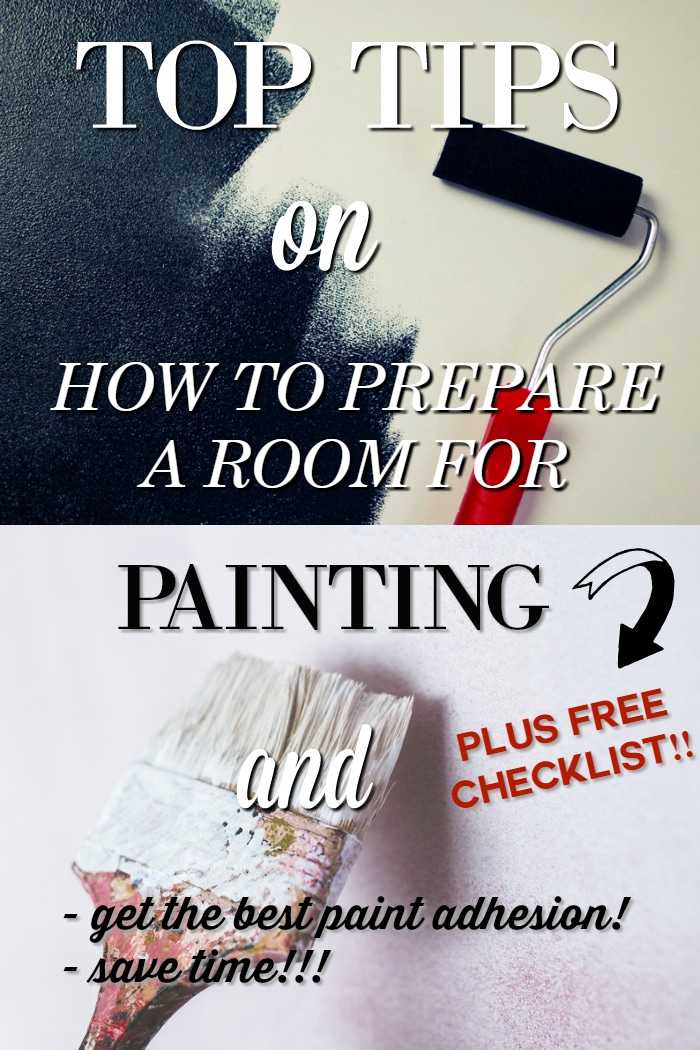 I hope you enjoyed this tile painting tips post!