See my living room makeover and room redesign ideas! I've added a new tv media console, wall art, area rug and throw pillows to create a cozy place for our family to watch TV and lounge.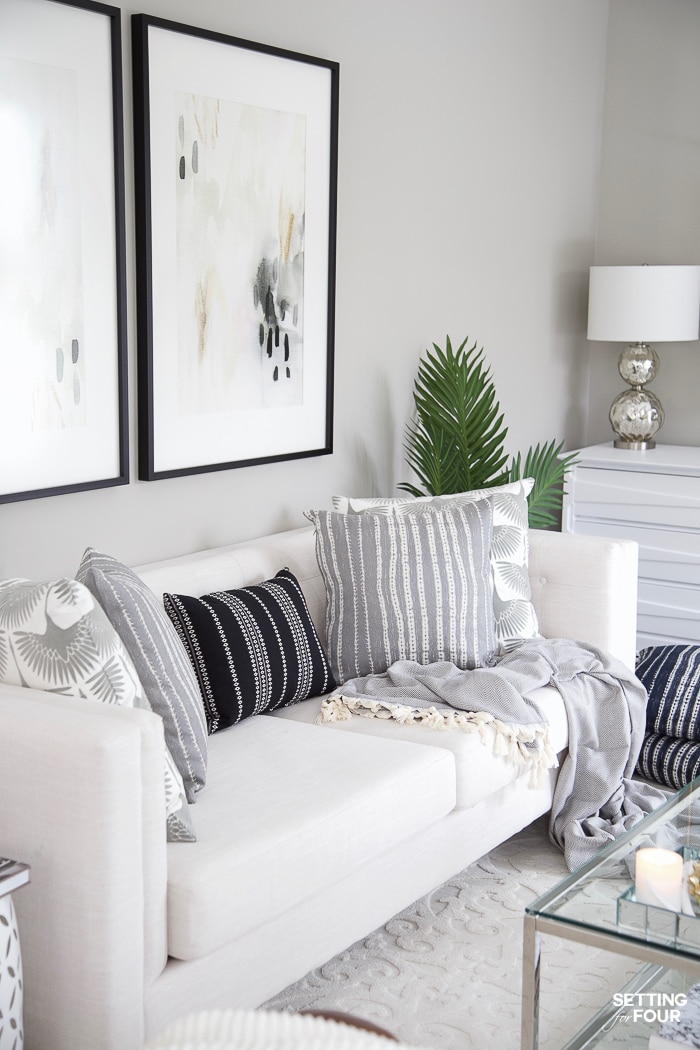 This post contains affiliate links, which means that if you make a purchase after following a link I may receive, at no cost to you, a commission on the sale. Funds from affiliates help pay for web hosting, domain registration, email delivery, and other fees to keep settingforfour.com up and running. Thanks for your support! Click here to read my full disclosure policy.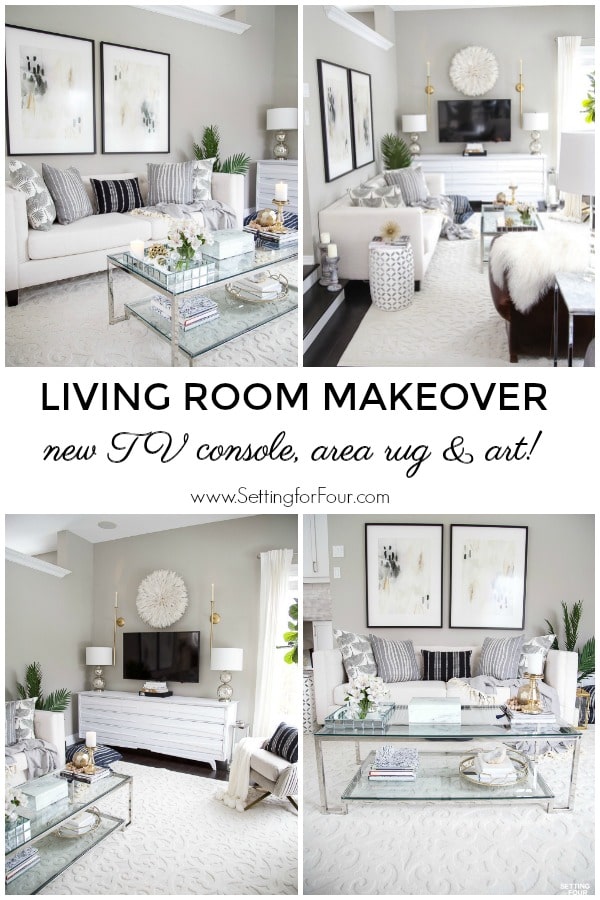 If you follow me on Instagram – I mentioned that I was working on a refresh design project for our living room and it's now finished!
Here are the decor updates I made – I'm so excited to show you!
For our living room refresh my goal was to make it feel relaxing, comfortable and interesting.
I also wanted it to function for entertaining friends and family, lounging with our iPads and iPhones and watching TV and Netflix.
We needed our living room to feel cohesive with the rest of our home, have comfy seating, good lighting, a TV console with storage, and be beautiful to look at since we spend so much time here!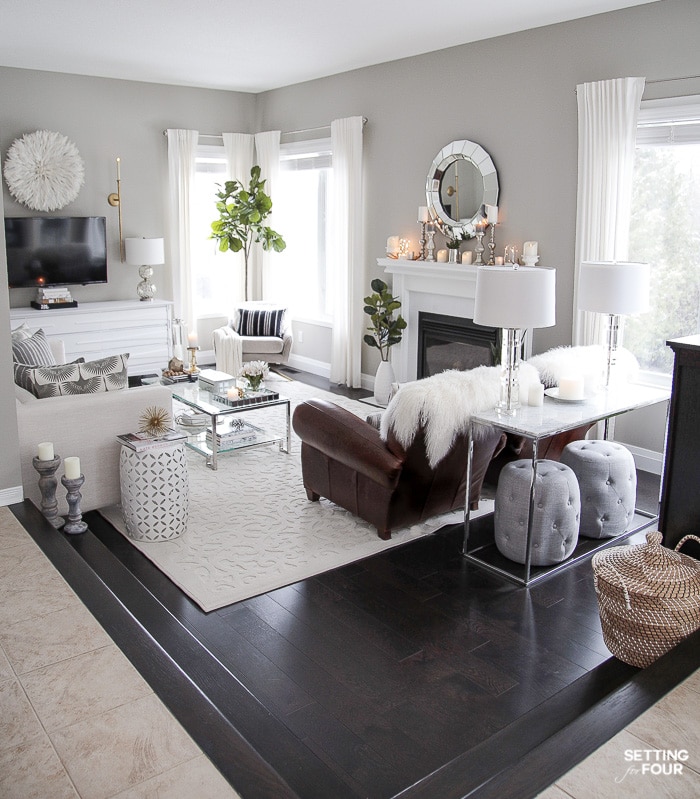 So with those goals in mind these are the changes I made!:
1. TV Stand and TV Wall Idea
I revealed a sneak peak of our new TV stand here in this TV Wall Decor Idea post and today I'm sharing more details about it!
We replaced our boring TV stand with this DIY Mid Century Modern dresser-turned-TV-stand that I found at …of all places, Goodwill!
One day I was dropping off some clothing at Goodwill and I thought I'd just pop in for a quick look around.
I had been looking for a TV unit to fit this wall space for a while and when I stumbled on this vintage MCM beauty at the thrift store, I snapped it up!
It's the perfect length to fit this wall area and has tons of storage with 9 roomy drawers.
Overall it was in beautiful shape except the veneer was crackled on the top and damaged in one bottom corner. The veneer was paper thin which meant I couldn't sand it in order to stain it….so I painted it fresh white.
I'll share soon the exact refinishing method, paint technique and how we customized it to fit our media equipment and TV components. You can turn any dresser into a TV unit!
We absolutely love it!
It has a beautiful MCM design on the drawers and has clean lines that we absolutely love!
Giving it a coat of white paint really made the drawer design pop.
The 9 drawers are so handy for storing our media and electronic pieces, extra pillows, blankets and board games too!
I added two wall sconces over the TV and a gorgeous juju hat to balance the TV and dresser – I just am so thrilled with how this TV wall area looks now!
The gold wall sconces add so much impact! I have battery operated, flameless flickering taper candles in them which automatically turn on at dusk (they have built in timers).
This adds such a relaxing ambiance!
gold sconces -they come in silver too!
flameless flickering taper candles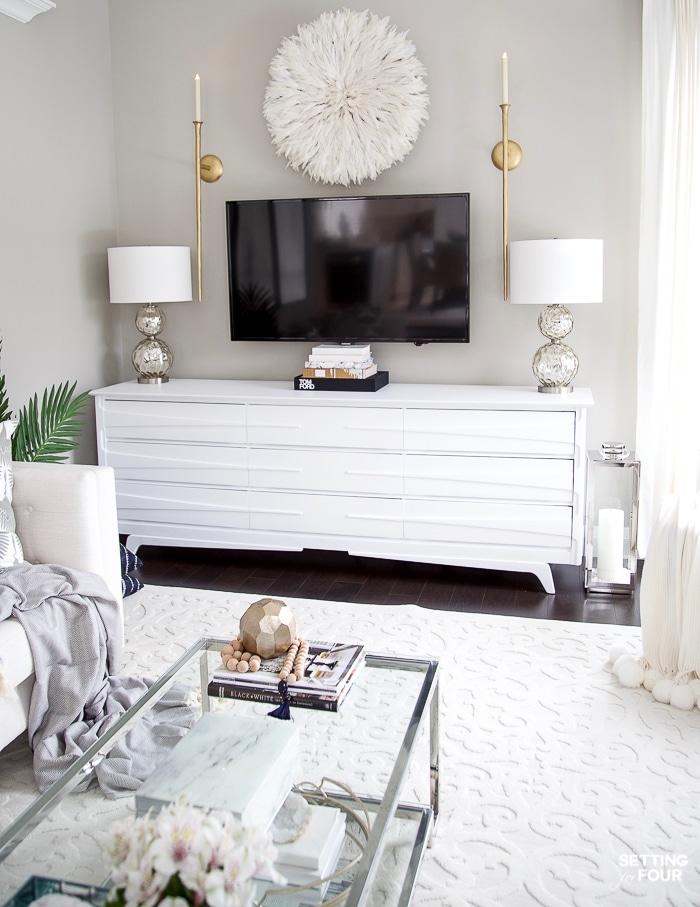 Click on the images below and scroll using the arrows to see more info about each item and shop the look!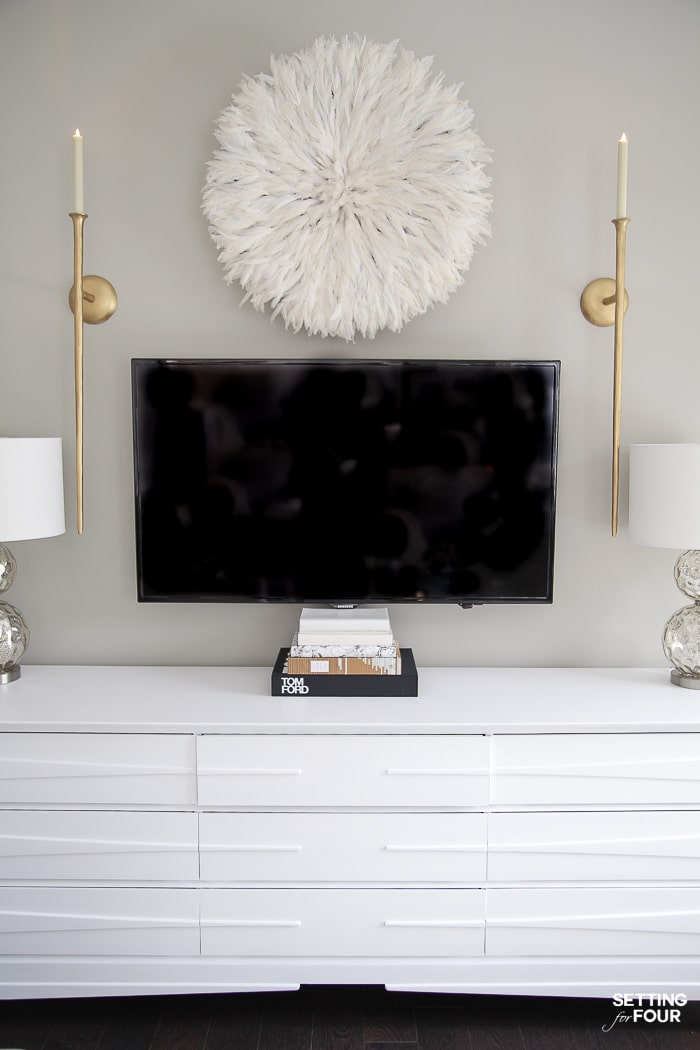 2. TV Stand Decor
I added two mercury glass table lamps with white shades to the dresser to balance the TV.
I bought them at home goods but found similar ones here. They add a pretty glow at night!
We haven't hidden the TV cables yet – I'm researching wether we should cut the wall and thread them through or we may cover the cords with this cord cover kit that's paintable and easy to install – I've heard a lot of great things about it!
For now I added a stack of coffee table books to hide them!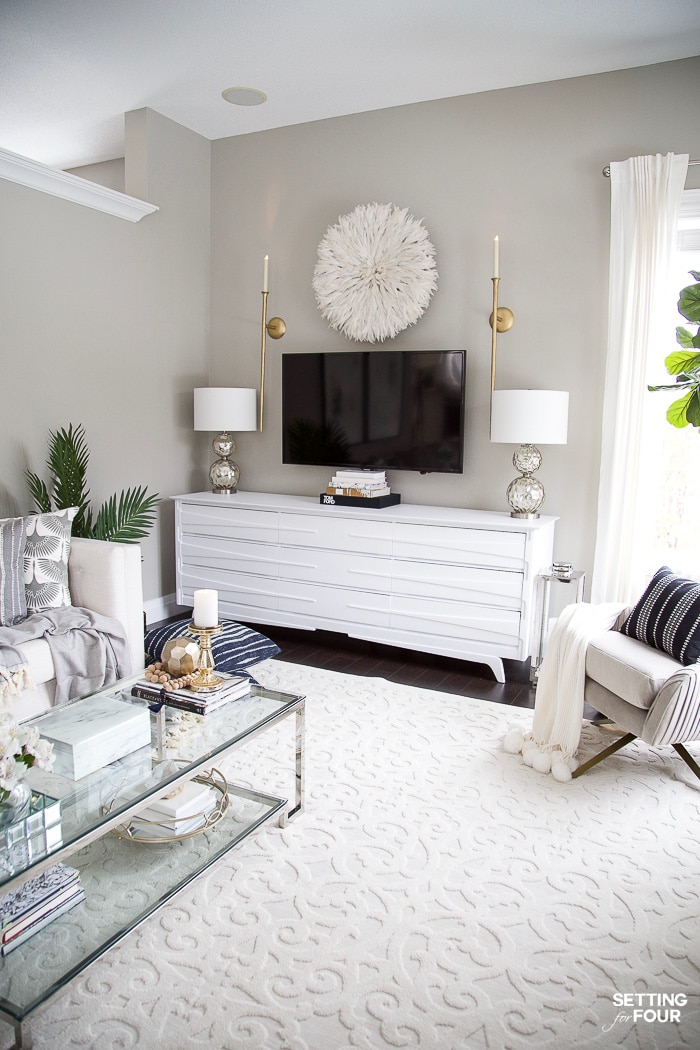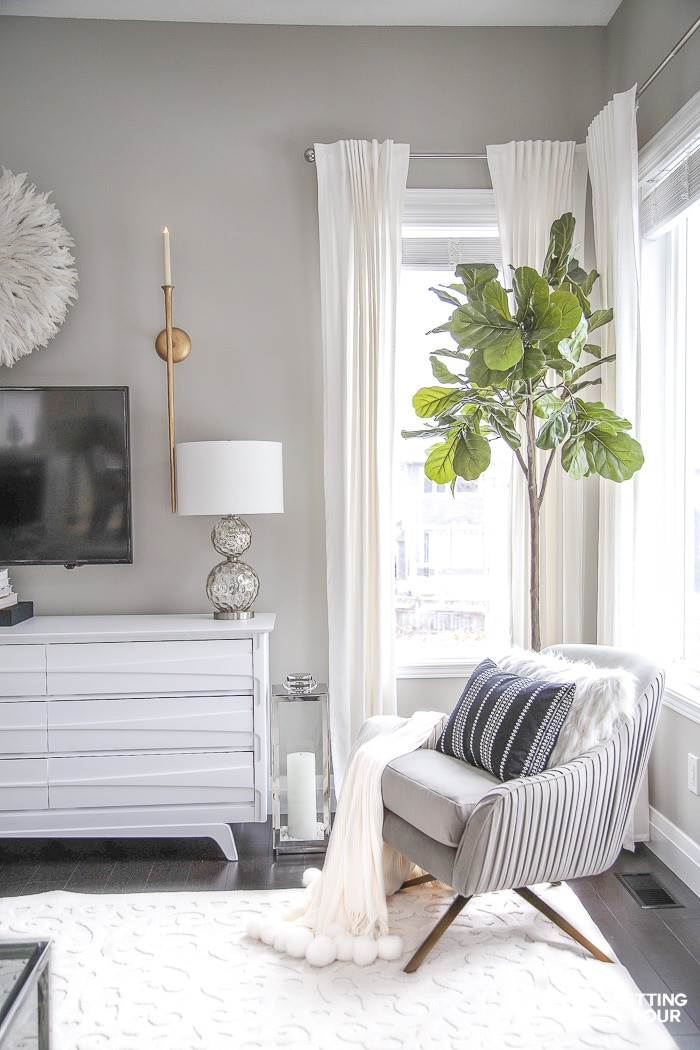 3. Wall Art
I love my new wall art that my friends at Minted sent to me! This print is called 'Ever Softly' and it's a gorgeous abstract design!
I wanted two large prints to hang over our sofa to balance this side of the room better and add a pop of color and pattern.
Instead of using two different art prints, I used one! I ordered two of the Ever Softly prints, had them matted and framed the same way and hung one upside down to create two different but coordinating looks!
We LOVE them so much!!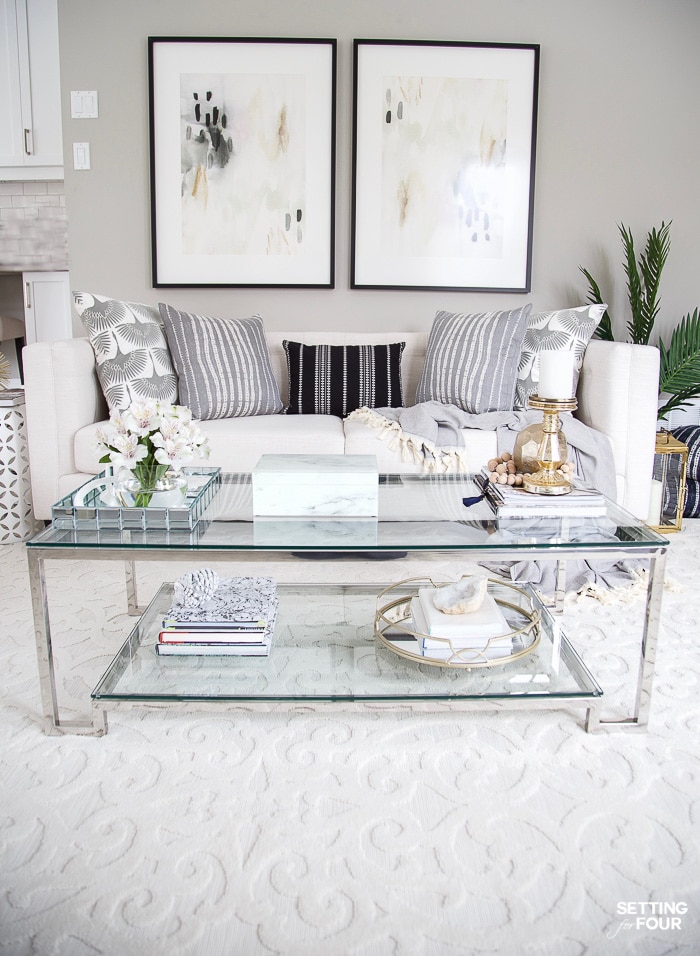 When I saw this 'Ever Softly' design  I fell head over heels in love with it! It has gorgeous colors in it that I can play with in my decor too: black, ochre, blush pink and grays. Our SW Mindful Gray walls pick up the gray in this print and really give a cohesive look!
This print also has a beautiful watercolor look to it too that's so relaxing and sophisticated!
Here are the matting and frame details:
Print color: Charcoal ( this print also comes in 'Forest' and 'Midnight')
Size: 30″ x 40″
Matting: Matted with 4 ply archival material in 100% cotton
Glass: UV plexi-glass & archival materials
Frame: Matte Black Metal – there are lots of other frame colors to choose from! Wood, white, gold, silver and more!
Hanging measurement for height: Height hung over the sofa: 8 inches from top of sofa to bottom of prints
Hanging measurement for distance apart: I hung the prints 3 inches apart.
These prints are soooo beautiful and really make our room!
Check out Minted for all of their gorgeous wall art prints and wall murals!
They offer free shipping with code SHIPFREE. There are so many gorgeous prints available to decorate your home!
See 65 plus Photo Gallery Wall Layout Ideas on ideas for gallery walls.
Gallery Wall Of Botanical Prints in my hallway.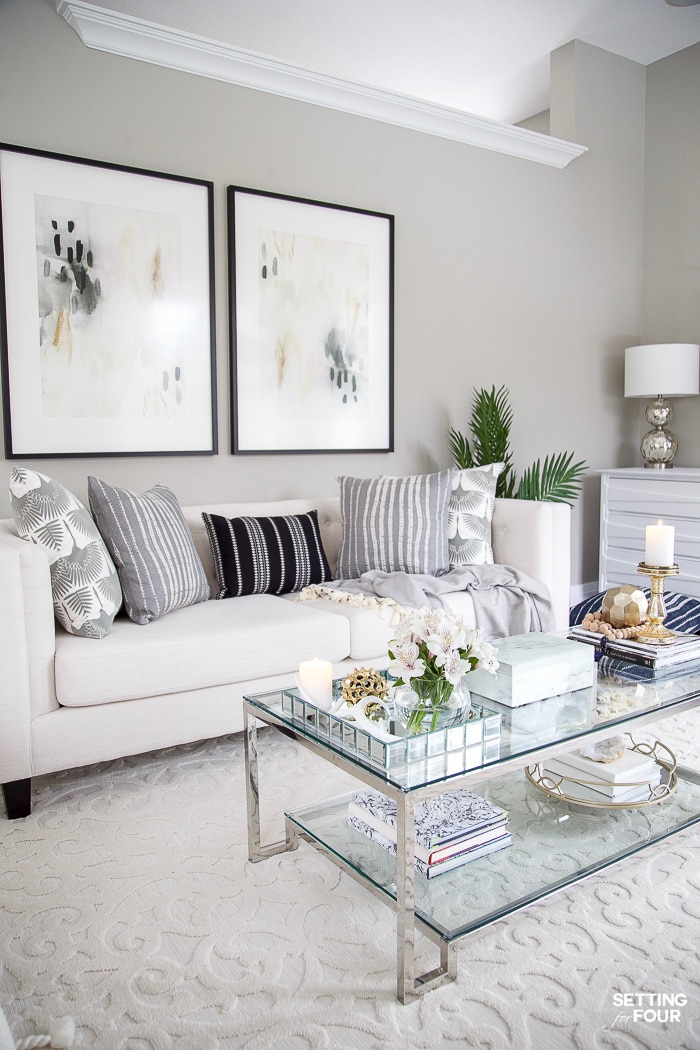 See these other beautiful tuxedo sofa styles:

4. Pillows
As an Interior Decorator one way I love to update a room for myself and my clients is with textiles and especially with pillows! Adding new decorative pillows to any room will give it an instant pick me up and whole new look.
Pillows add color, texture and a cozy, relaxing look to a room.
These pillows from Tonic Living are beyond stunning! Tonic Living makes gorgeous designer pillows, ottomans and curtains without the designer price tag!
THere's so many reasons I'm obsessed with Tonic Living's pillows and throws!
Firstly – they ship worldwide! How fabulous!
I LOVE that their pillow covers can be purchased separately, so you can use your own inserts!!
And you can purchase the inserts  separately too – for the dreamiest comfort.
Their pillow inserts are a super soft, microfiber, fluffy, faux down; are hypoallergenic and a vegan friendly feather/down alternative!
The zippers are really high quality and disappear in the seam.
They carry designer fabrics that are beyond beautiful and sell them by the yard if you want to make your own projects! They also provide custom draperies as well.
The pillows I chose are a mix of stripes and organic prints in grays, whites, indigo blues and blacks. This is such a relaxing color palette.
These pillows are so soft and comfortable – you just sink into them, they are perfect for lounging!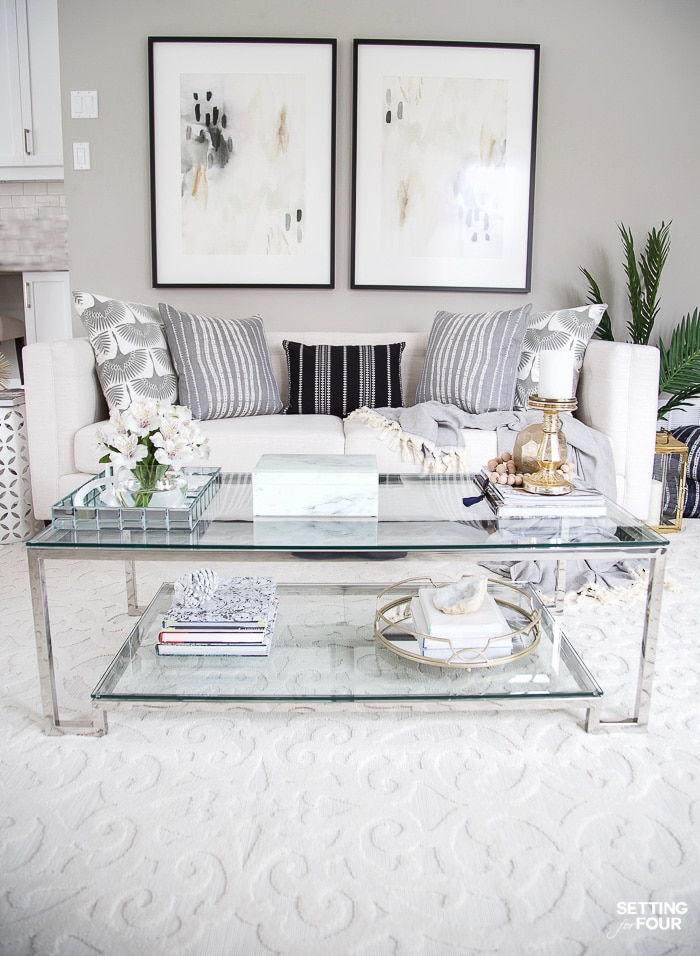 Black and White Striped Pillow –  This creamy white and black stitch pattern mixes so well with almost any other print pattern!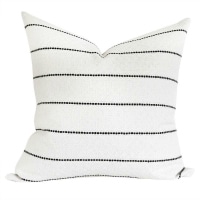 Blue Shibori Print Pillow – an indigo blue pillow with white stripes in an organic shibori like pattern.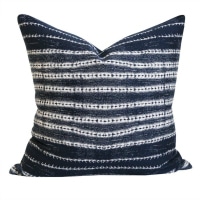 Gray and White Shibori Print Pillow – a stone grey, sand and white organic striped pillow. Fits in as a great neutral with texture in most any pillow mix.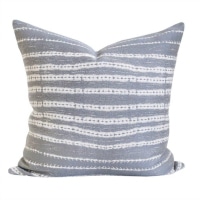 Gray and White Crane Print Pillow: this graphic bird pattern is ABSOLUTELY breath taking! These birds in flight have a beautiful flocked, velvet like feel. The gray and white colors have a relaxing vibe.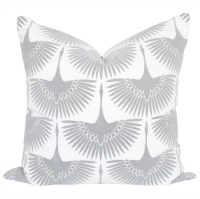 Boho Stripe: This black and white stripe and diamond pattern is a classic and will go with so many other pillow patterns too! It's a comfortable lumbar size too to tuck behind your lower back or neck.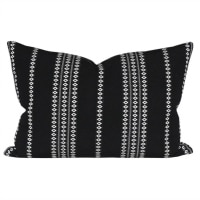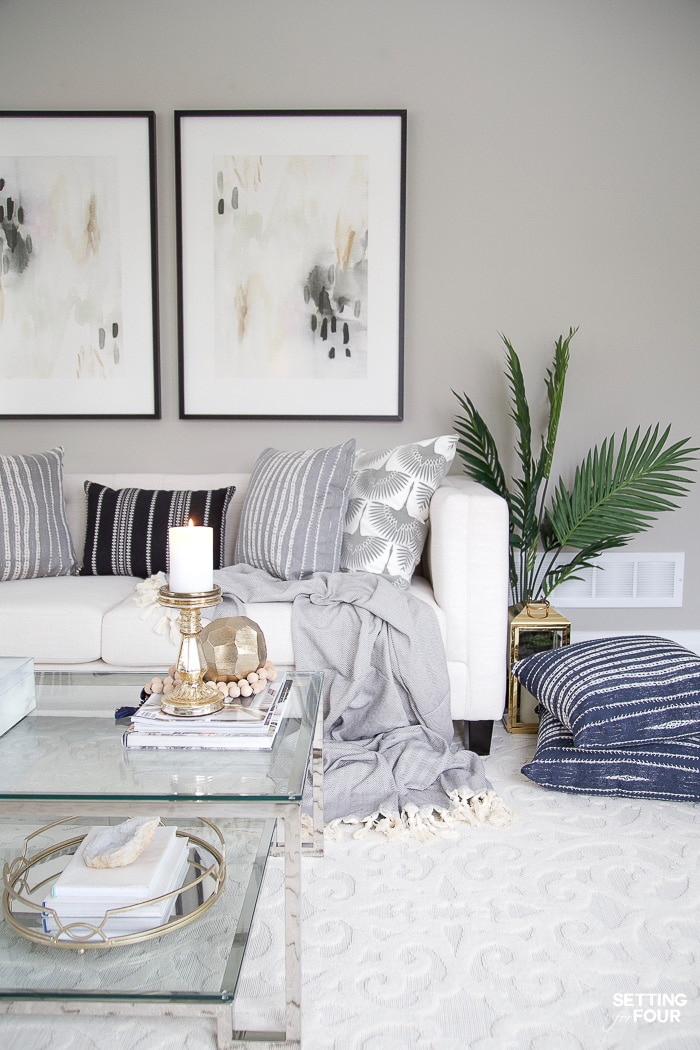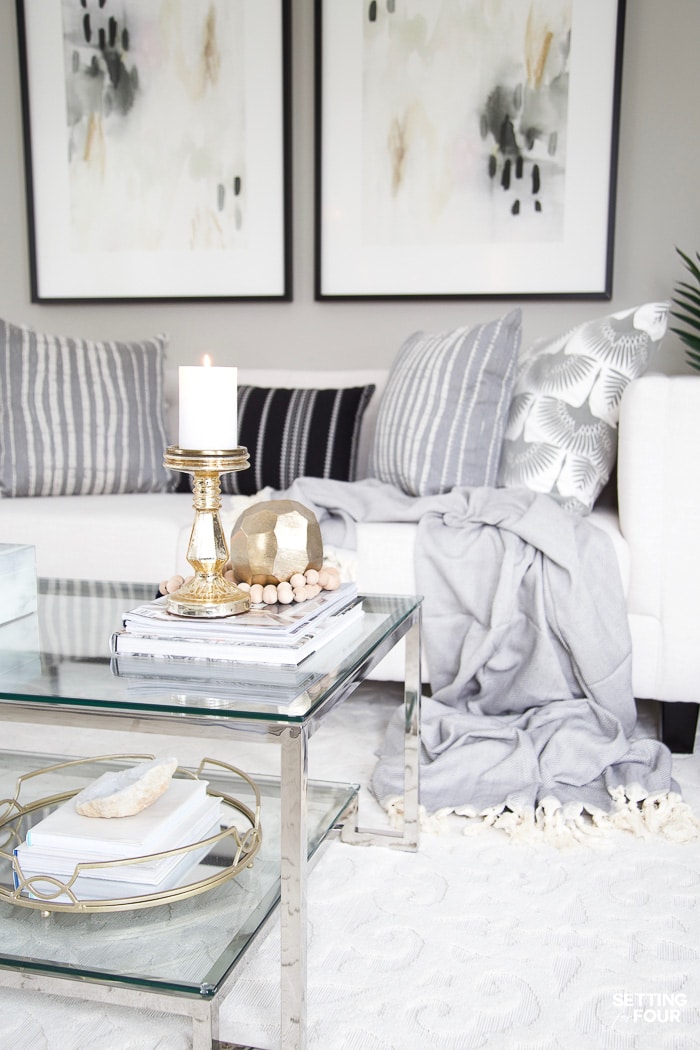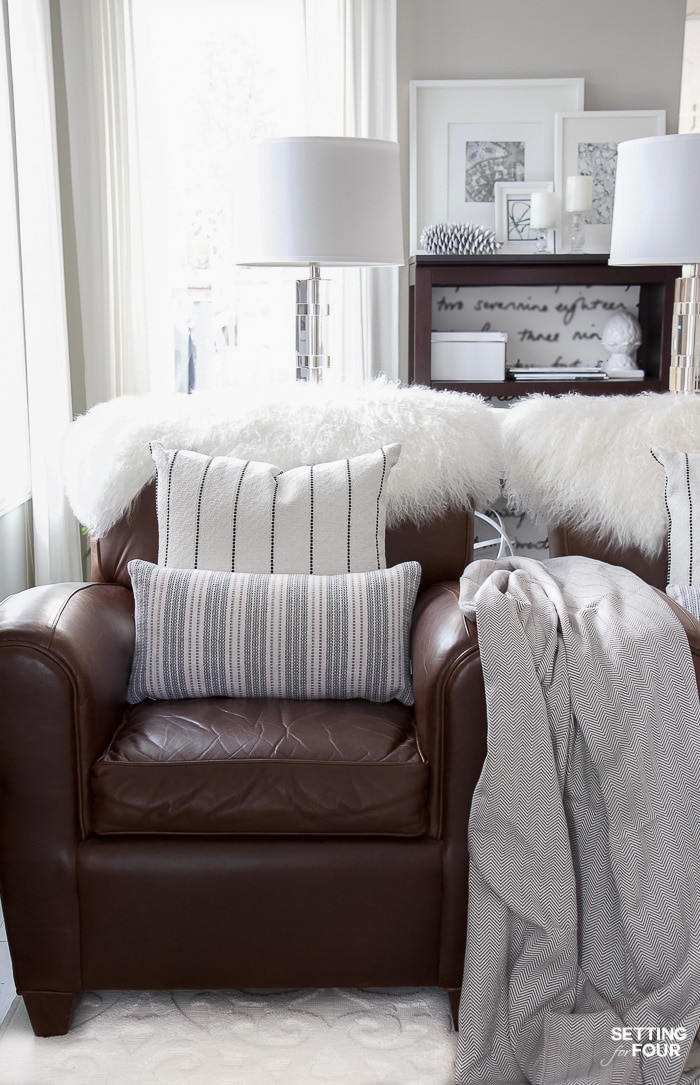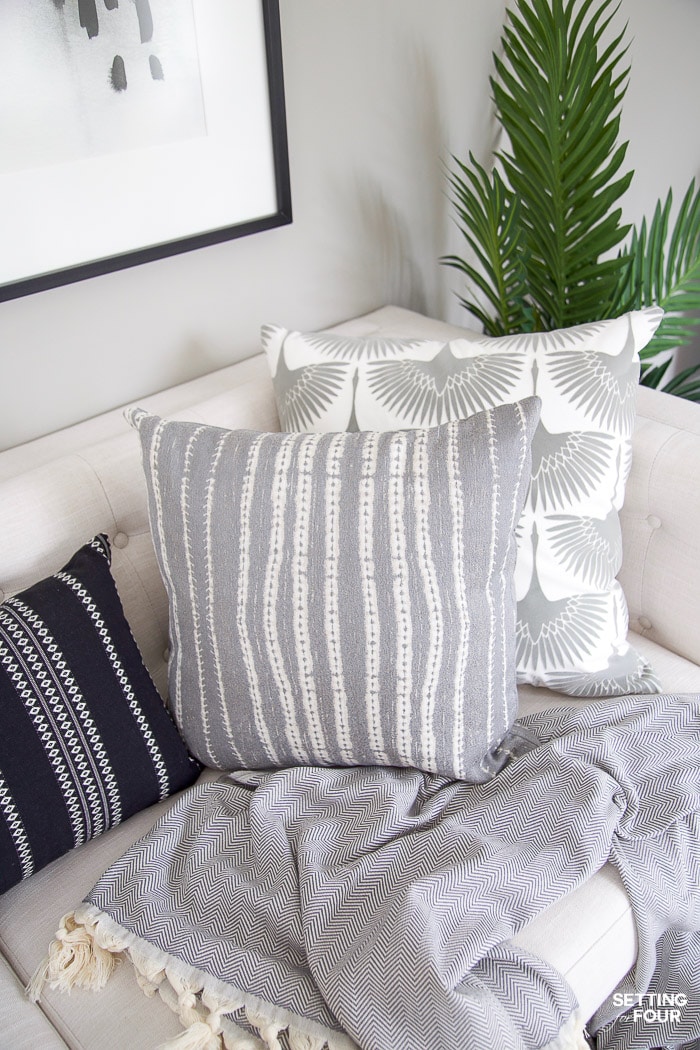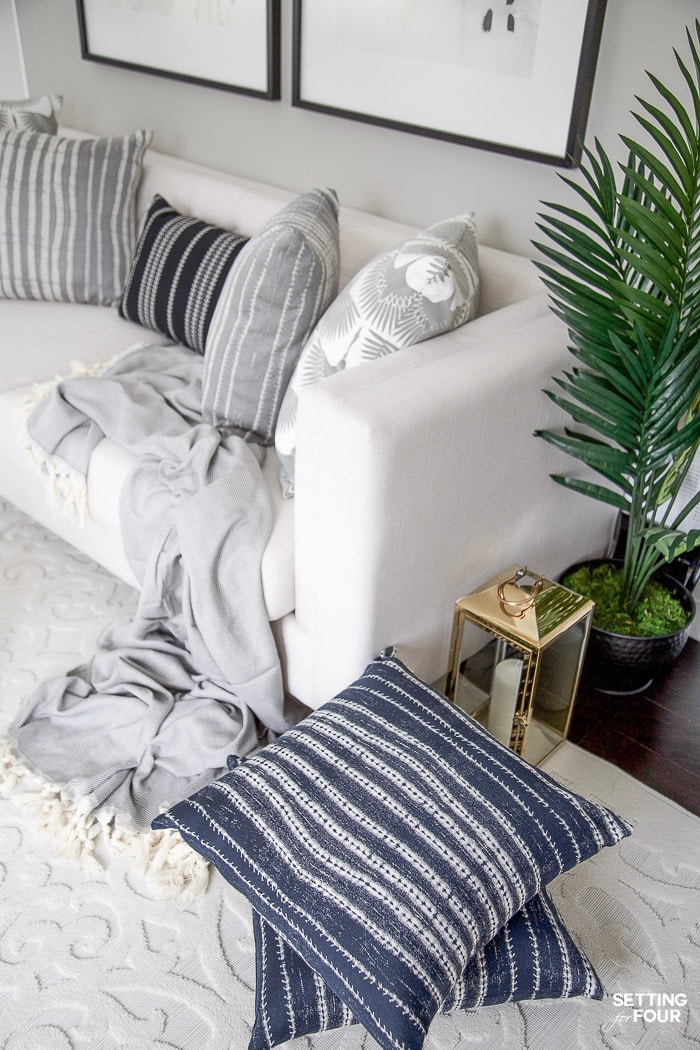 5. Area Rug
I replaced our blue, gray and ivory area rug with this gorgeous new ivory area rug and this cushy felt rug pad that's safe for our hardwood flooring.
This rug is soooo soft and has a gorgeous pattern that goes with everything.
It's very hard-wearing and cleans very easily.
It's actually an indoor / outdoor area rug that's built to withstand liquids and extreme outdoor conditions! So it's an excellent rug for a living room!
I love the texture and beautiful ivory color – it's adds a relaxing vibe to our living room and plays really well with our furniture and wall color.
We love it!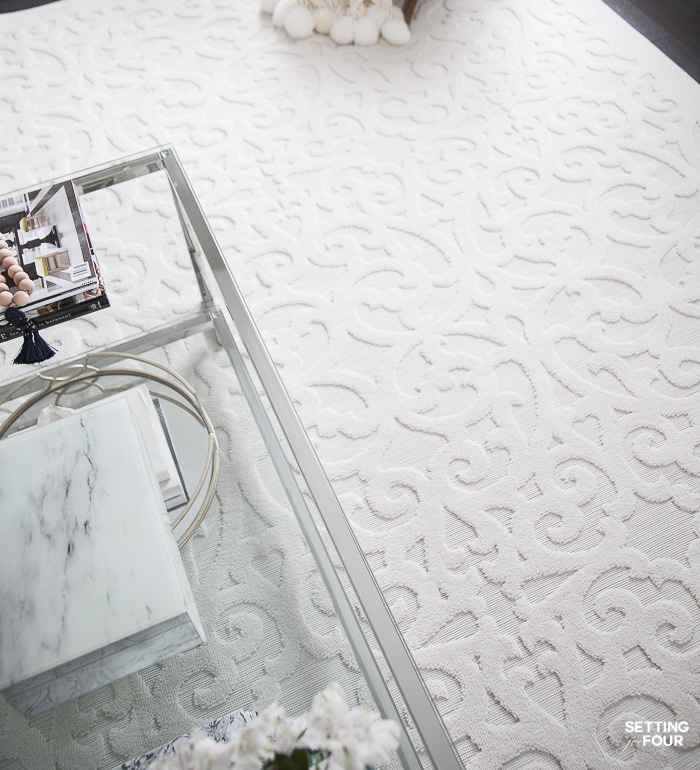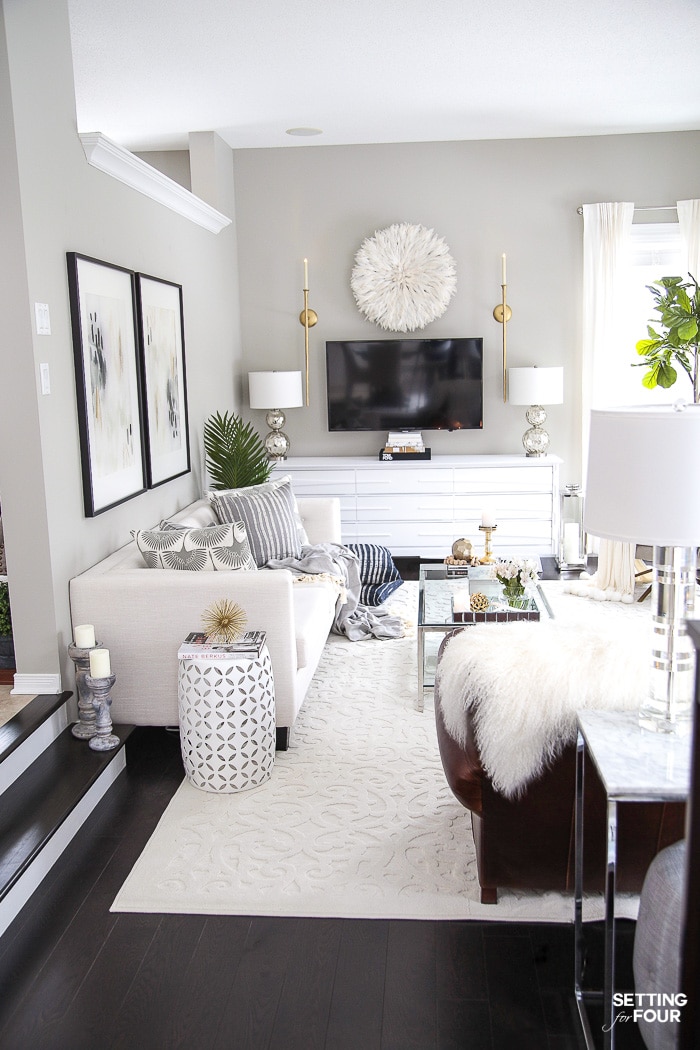 This is our fireplace – a warm fire on chilly days and nights is must for creating a cozy living room and getting that Hygge effect!
How to Paint Tile – Easy Fireplace Paint Makeover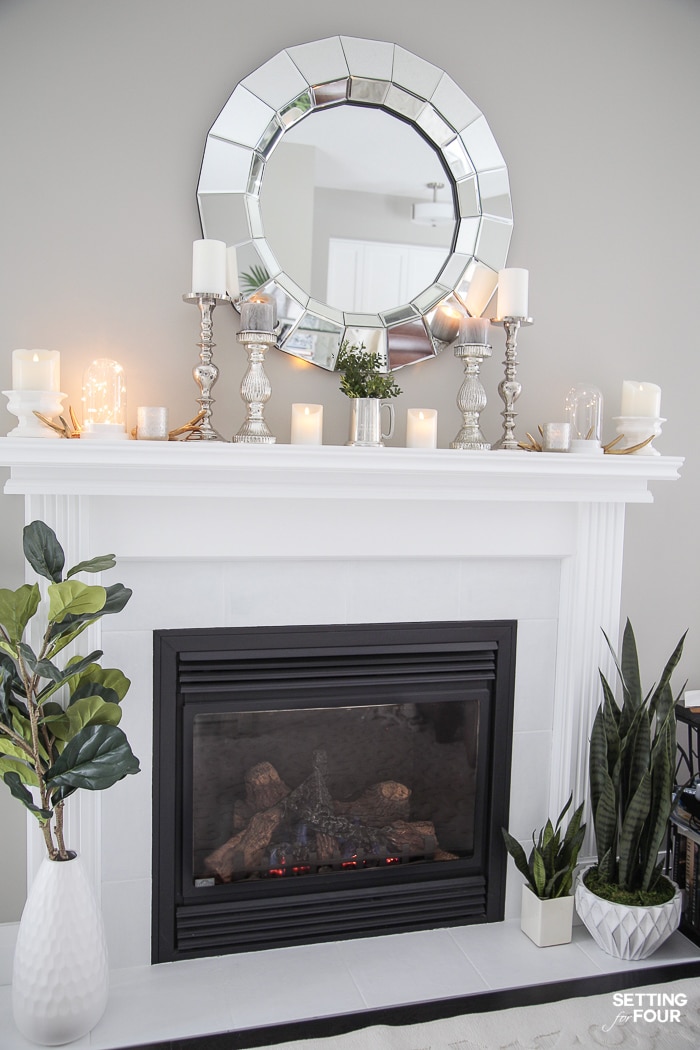 I love mixing real and artificial plants in our home.
 This small potted snake plant is real and is a fabulous lowlight and low maintenance plant. Thank you to my friends at The Sill that sent it to me – we love it!
The Sill has a ton of gorgeous tropical houseplants and they ship nationwide! Free shipping over $75. Their potted plants make wonderful gifts!

The larger snake plant is artificial and so lifelike!
Adding plants to a room gives it a touch of life and interest.
These snake plants have a gorgeous shape and color and are on trend for tropical houseplants.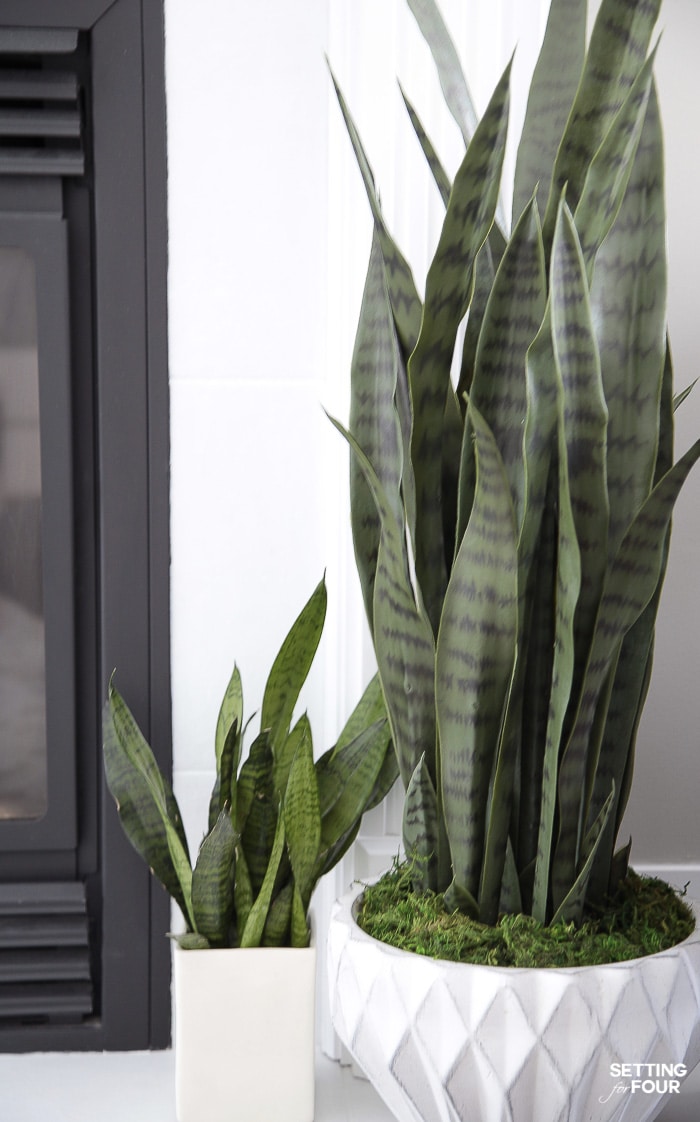 We are absolutely in love with the dreamy, relaxing colors and feeling that our new art, rug and pillows has given our living room!
Now our living room is functional for lounging, relaxing and TV watching and for entertaining guests!
Next up – I'm working on our kitchen makeover! Stay tuned!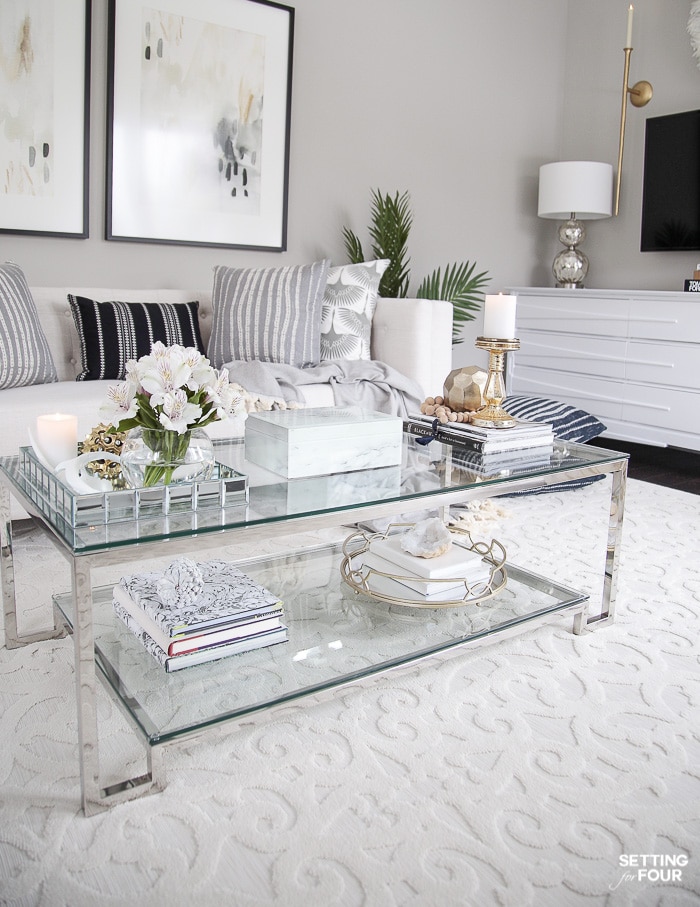 I hope you liked seeing our Living Room Makeover – New TV Stand, Wall Art, Rug & Pillows!
To see the  other updates we've made since we moved in check out these posts:
Updating the windows with new window coverings
How to Paint Tile – Easy Fireplace Paint Makeover
You can see also see our living room paint color here and my home tour here!
If you have any questions about our living room makeover leave me a comment below!
I offer affordable online Interior Decor Services and color advice! Email me at [email protected] with your decor problem – I'd love to help you out!

You may also like:
7 Ways To Make A Small Living Room Feel Larger Instantly!
Design Tip: How to Choose the Perfect Area Rug
35 Stylish and Affordable Headboards