In this post I'm sharing helpful design rules on how to arrange furniture in a small living room.
These design tips will show you how to arrange your furniture – the right way  – to create a cohesive layout that feels stylish, cozy and looks pulled together!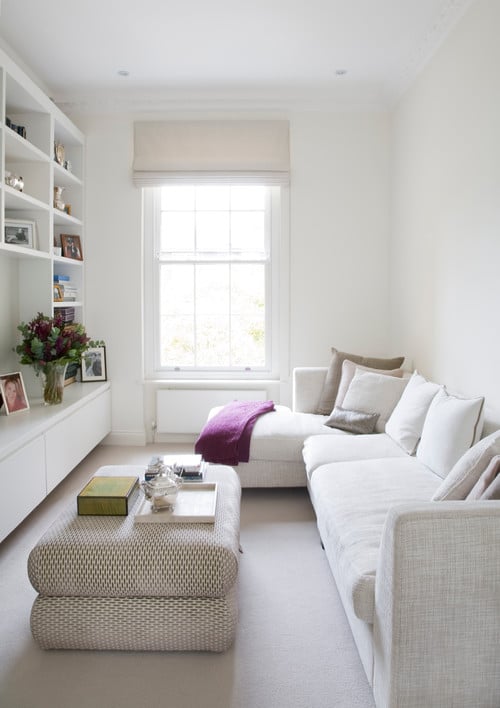 PLEASE PIN THIS AND SAVE IT FOR LATER!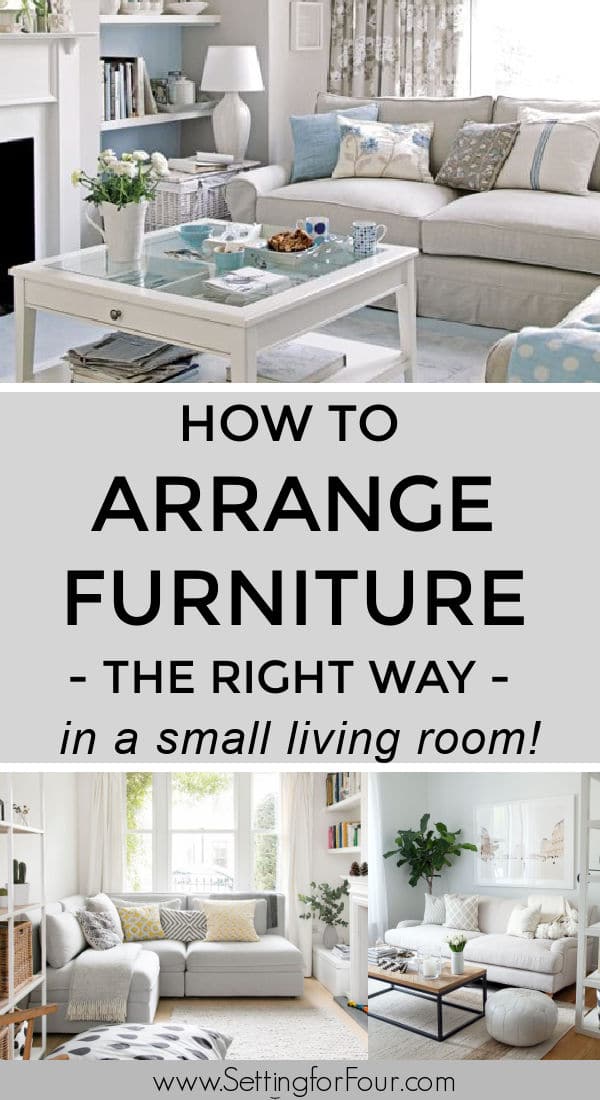 What Is A Small Living Room Size?
A small living room is typically defined as less than 130 square feet.
What Home Situations Have A Small Living Room Space?
You are probably reading this article because you have one of the following home styles:
a small living room in a bungalow
Victorian homes where the rooms are small
studio apartment
condo
small loft area living space
small cottage
small AirBNB
perhaps you have an open concept home but the living room area is small!
I've seen this so many times in my design clients homes – they buy a new open concept home or build one…. and then realize the living room area is actually quite small!
An open concept home's living room can actually be much smaller than a separate living room space.
Open concept living rooms have less wall space and lots of pathways, so the amount of space for the furniture can actually really be quite tiny with open floor plans.
For open concept small living rooms it's important to separate the living room zone from the dining room. Ensure the dining table and dining chairs have enough space to move around and to pull chairs out.
If any of these situations applies to you, then you need small space furniture arrangement ideas to create a gorgeous living room that fits the room's footprint!
More furniture arrangement tips:
What Is The First Step In Arranging Furniture In A Small Living Room?
The first step to take to get the perfect arrangement in a small living room is to edit your furniture and decor pieces!
Remove every piece of furniture and object that's on the living room floor that you don't use every day, doesn't meet your needs, have different styles that clash, or doesn't match your style.
Every piece of furniture in your small living room must be essential to the function of your room and your needs.
For example, if you need more storage get rid of end tables that don't have a shelf or drawer.
Move the chair you inherited, but don't really love, into another room – or sell it and let someone else enjoy it!
Get rid of the sofa that's dated and you don't love anymore.
Remove accents that take up a lot of floor space like large plants in pots.
Also remove rocking or gliding chairs from a small living room because they take up a lot of space! They have to sit out from the wall and away from other furniture pieces in order to glide/rock.
Edit, edit, edit your room!!
Many times my design clients come to me with living rooms that look like furniture showrooms – with too many pieces in it!
Here is a beautiful small living room with furniture sized to fit it. Also this room is beautifully edited and isn't stuffed with a lot of furniture. There is a sofa with ottoman, coffee table and chair – that's it!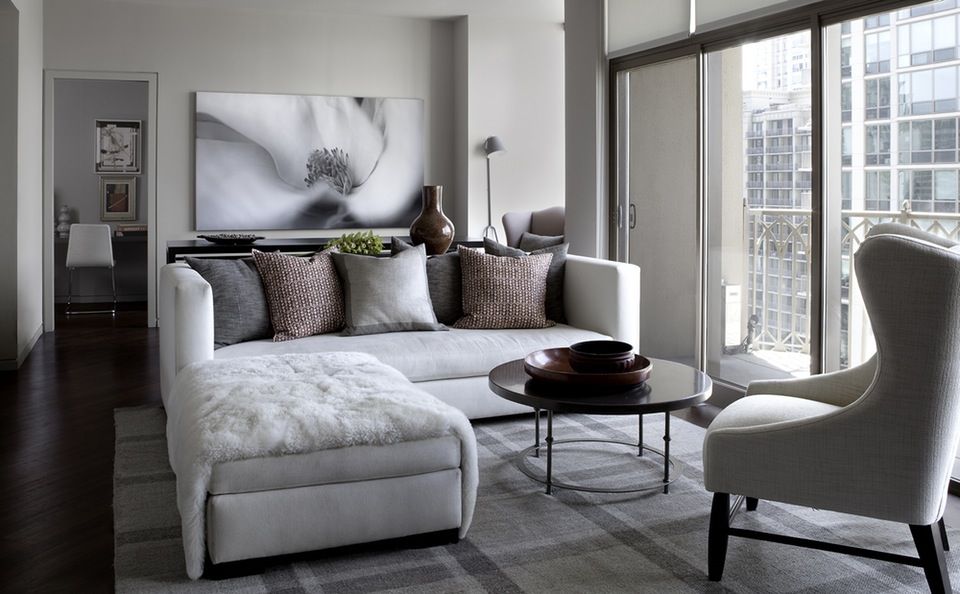 ---
Don't Design Your Small Living Room Setup For Occasional Entertaining
So many times my design clients ask me for a small living room design that will seat 4-10 extra people for the occasional BBQ get together or Christmas gathering.
They want living room sofas and chairs that are big enough and numerous enough to seat extra people that visit occasionally.
But the living room is so small that dedicated seating for 5-10 extra people just isn't realistic.
The reality is your living room should be designed for your every day needs, and how you use it everyday! Not for how you use it occasionally. You don't have company over every day.
If you need extra chairs for the occasional get together, buy some stacking chairs like these and store them in another room. Pull them out when you need them!
Measure Your Living Room!
Measure your room, length and width.
Also note where sliding glass doors, stairs and pathways are located – they can't be blocked by furniture.
You'll need these measurements when you're furniture shopping for new furniture pieces and to assess the furniture you have.
This picture shows how to arrange furniture in a small room to maximize wall space and accommodate a window: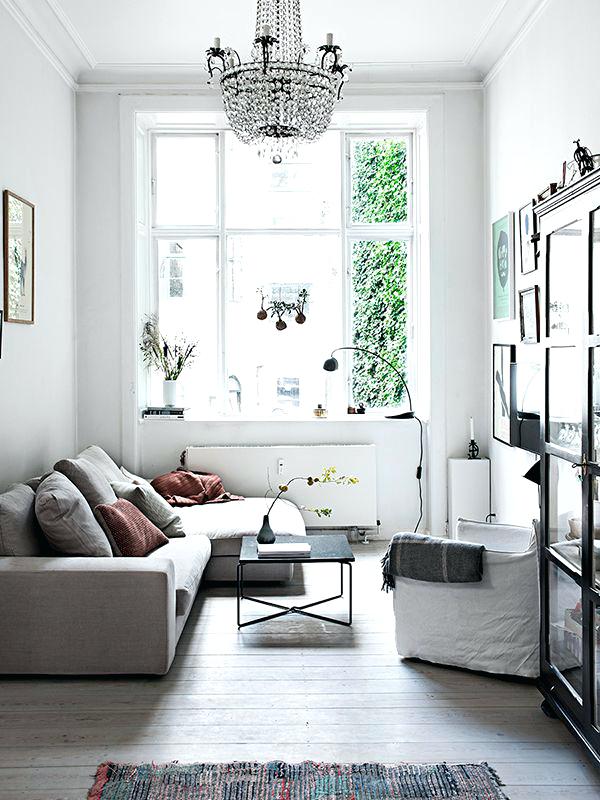 Factor in Traffic Flow and Spacing
The size of your furniture has to accommodate traffic flow and spacing.
Here are the size, distance and spacing design rules for a living room:
Allow 36″ for pathways and for traffic flow to stairs and doorways.
14-20″ is needed between a sofa and coffee table.
Sofa and chair pieces can be 2-10″ apart from each other.
The amount of space between a sofa and TV is 1.5 – 2 times the measurement of the diagonal width of the TV.
If your furniture blocks traffic flow to sliding doors and pathways and doesn't fit the above spacing measurements, it's time to remove them from the room and add pieces that fit.
This is a beautiful  example of how to arrange furniture in a small room to allow for traffic flow to separate doorways and around furniture:
Be Realistic About The Furniture You Have
Chances are, that if you are here reading this article your furniture is too big for your space or you have too many pieces of furniture.
Your living room foot print is what it is, and stuffing furniture that's too big into it will make it look even smaller and look cluttered.
Be realistic about the size of your living room and the size of your furnishings!
If your sofa or sectional is too big…. it's too big!
What To Do If Your Furniture Is Too Big For The Room Or You Have Too Many Pieces
Move furniture that's too big to another room or sell the pieces at your local buy and sell and use the money to buy furniture that fits your room.
You can also donate your furniture to charity! Some charitable organizations will even pick up the furniture at your home which is so convenient!
The Problems Created By Furniture That's Too Big
Furniture that's too big will make your living room look even smaller than it is, look cluttered and choppy.
It will always fight with the dimensions of your room and usability of it.
Also if your furniture has large overstuffed arms, it's time to part with it.
Large arms on a sofa can stick out into pathways and traffic space.
Large arms also take up valuable real estate space and can prevent you from adding a side table.
Here is an example of a beautiful small living room with a sofa that has small arms and a narrow end table: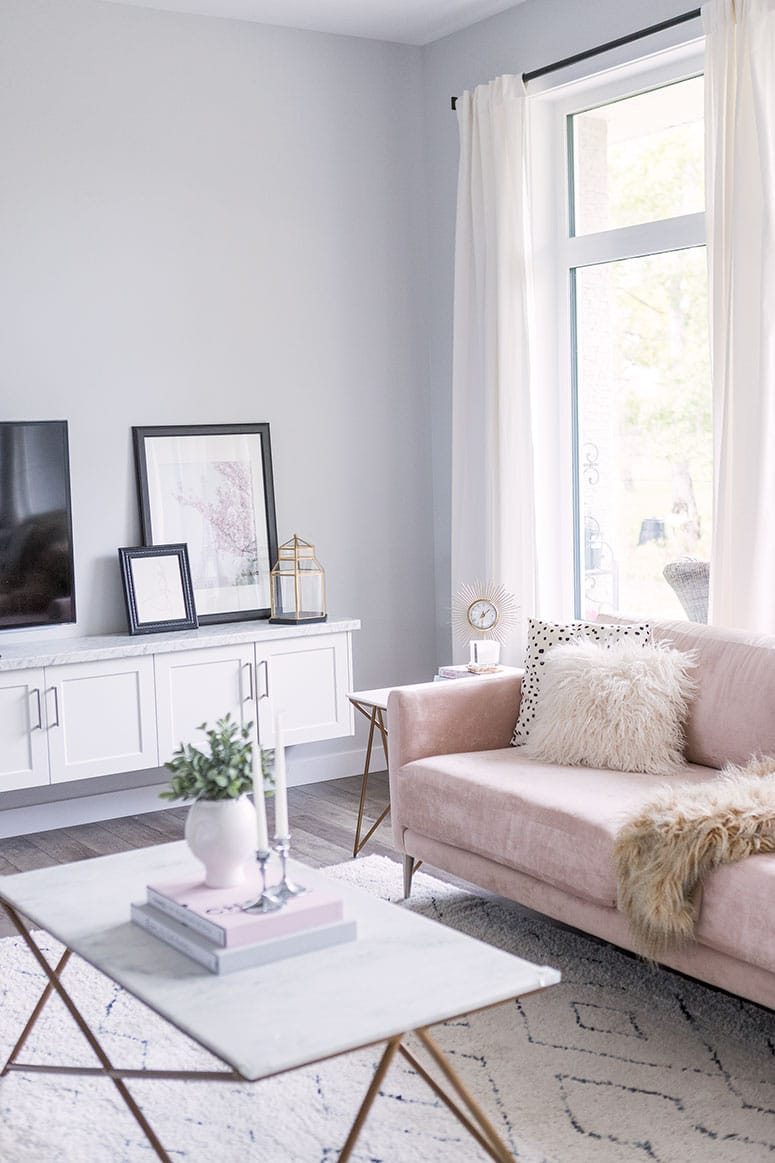 How To Avoid Buyer's Remorse When Purchasing New Furniture!
Many times my design clients come to me after they have purchased new furniture asking me for help because it doesn't fit their living room and they can't return it.
That makes me so sad to hear of these mistakes that can easily be avoided with good design planning, sticking to the room measurements and a proper furniture layout.
I can help you pick out the perfect size and shape of furniture that will fit your small living room's footprint! See my online design service information here and let's chat!
It's crucial to focus on your living room measurements and spacing when you are shopping for new pieces!!
And even if you fall in love with a piece that's too big, don't buy it! It won't look right in your small living room and you'll have buyer's remorse!
Also its easy to fall in love with a piece of furniture in a showroom setting or in an online living room photo… but if the piece is too big, it's too big and don't buy it.
Again, stick to your living room measurements and don't buy pieces without knowing for certain they will fit!
Which Sofa Is Best For A Small Living Room?
The best sofa style for a small room is to use an apartment or condo sized sofa.
Replace a standard size sofa with an apartment size piece!
A typical sofa is 84″ long. Sofas can also be longer than this.
However apartment sized sofas are smaller in length and can fit easily into a small living room.
Today's apartment sized sofas are smaller in footprint but huge on comfort and style!
You can also find sofas that are less deep than a regular sofa which frees up more floor space!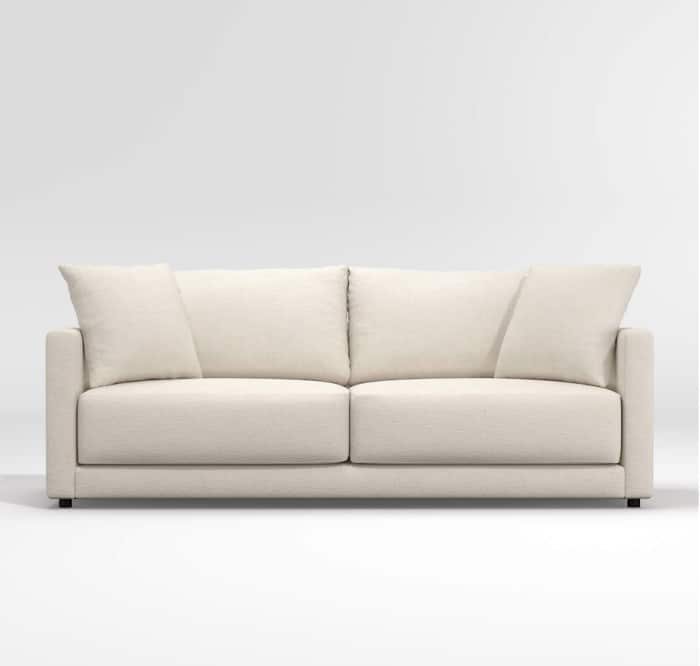 Click on the images below to shop beautiful apartment size sofas:

Get Rid Of The Sofa
Instead of a sofa, why not use a loveseat?
Or substitute the sofa with 4 chairs. A grouping of 4 chairs can be the best furniture arrangement solution for your small room.
Arrange 4 chairs around a small coffee table like the room below :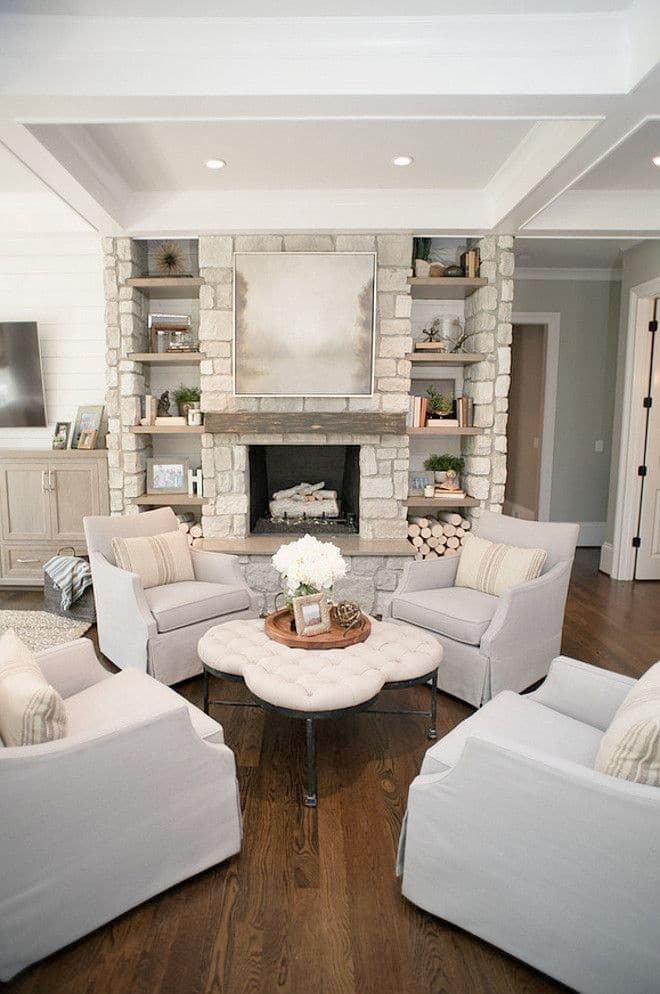 Are Sectionals Good For Small Living Rooms?
In some instances a small sectional sofa can be better than a sofa and 2 chairs in a small living room, because you'll have the same amount of seating but take up less floor space.
Here's an example of a small sectional sofa in a small living room basement area: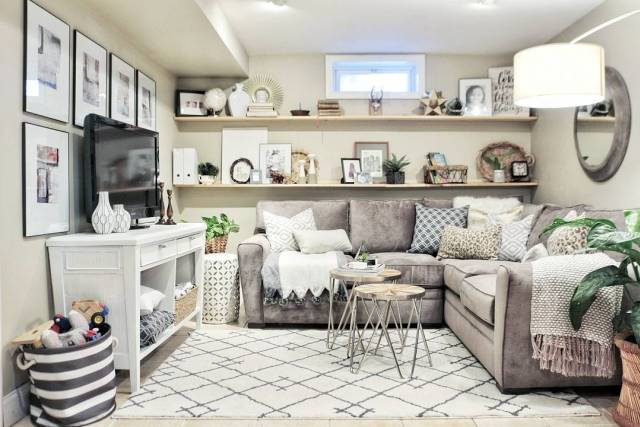 Get Rid Of Large Reclining Furniture Pieces And Large Armchairs
Remove reclining sofas and chairs that don't fit your small living room because of the amount of room they require to extend.
There are hybrid recliner chairs and hybrid recliner sofas, where the foot rest extends but the back stays stationary, that may work better in your space.
Selecting stationary furniture pieces (that don't recline, glide or rock) is typically the best style of furniture for a small living room.
Swivel chairs can also be the best idea in a small living room.
Also some armchairs, especially the pouffy leather variety, can be very large in width!
You can replace them with small armchairs that are still comfortable, but take up less space.
Here is a small living room arrangement with 2 small armchairs: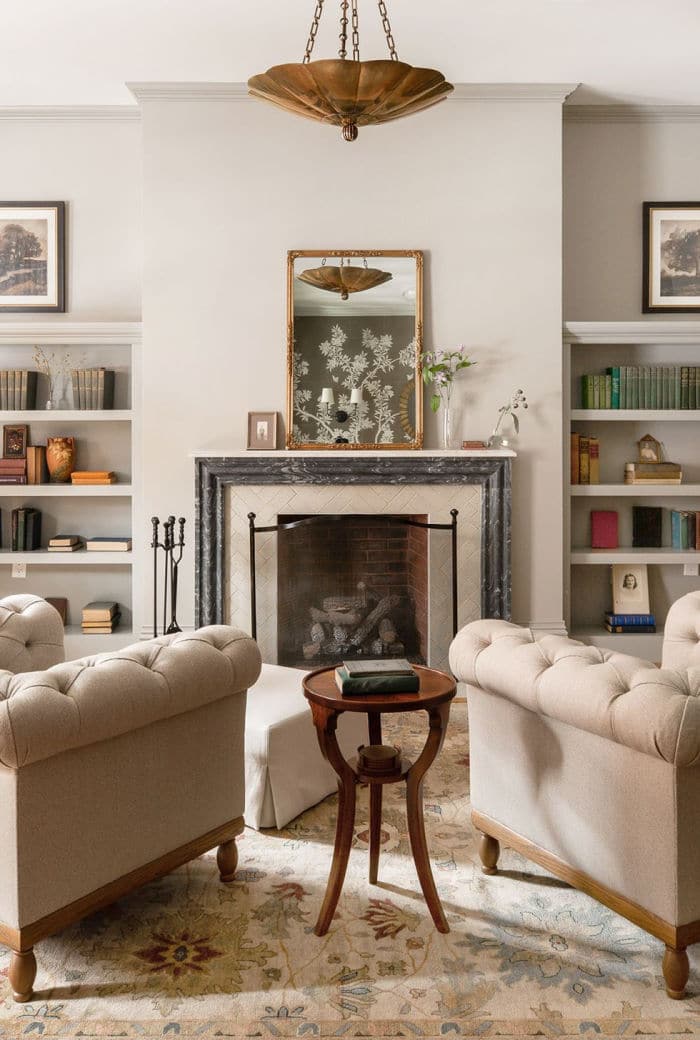 Pick A Focal Point In The Living Room
Typically the focal point in a living room is the TV or the fireplace.
It's possible to arrange your furniture in a living room that has two focal points: with the fireplace on one wall and the TV on another wall.
However in a small living room its best to pick just one main focal point.
Furniture needs to be arranged around a focal point to make it look cohesive and pulled together.
Here is a small living room furniture arrangement with a small modular sectional sofa placed across from the fireplace focal point:
You can create this look below using two of these modular armless chairs  and one modular corner chair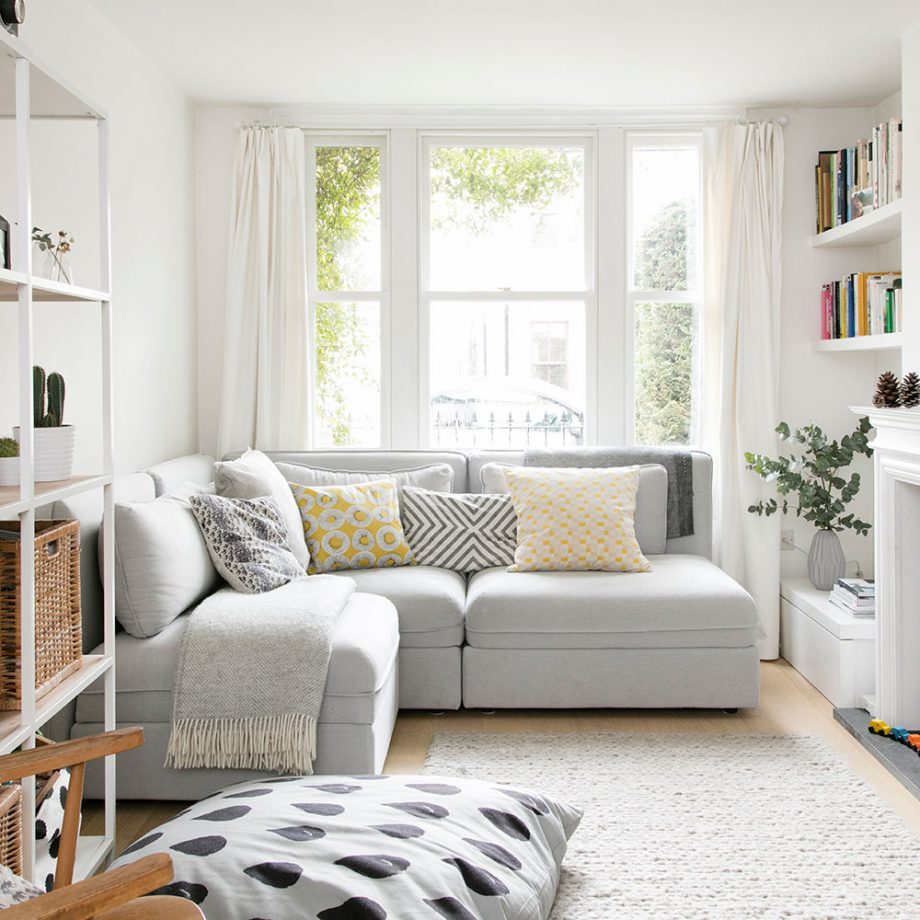 How Do You Layout A Small Living Room?
Here are several furniture layout options for a small living room:
1. If you have one sofa and two chairs place the sofa across from the focal point (fireplace or TV for tv-watching).
Place the chairs opposite the sofa to create a conversation zone.
I love how these slipper chairs take up less space than chairs with arms!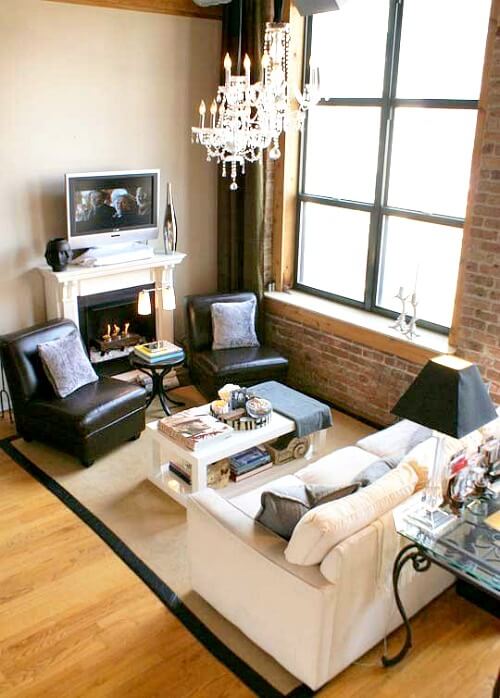 2. Or you can place the sofa 90 degrees from the fireplace (or TV) with 2 chairs facing the sofa.
3. If you own a sofa chaise place it across from the focal point with one or two chairs on either side.
4. A living room layout idea if you have a sectional sofa is to place one part of the L opposite the focal point. You can add one chair on the other side. Arrange the furniture in a small room to create a conversation zone. Like this small living room demonstrates: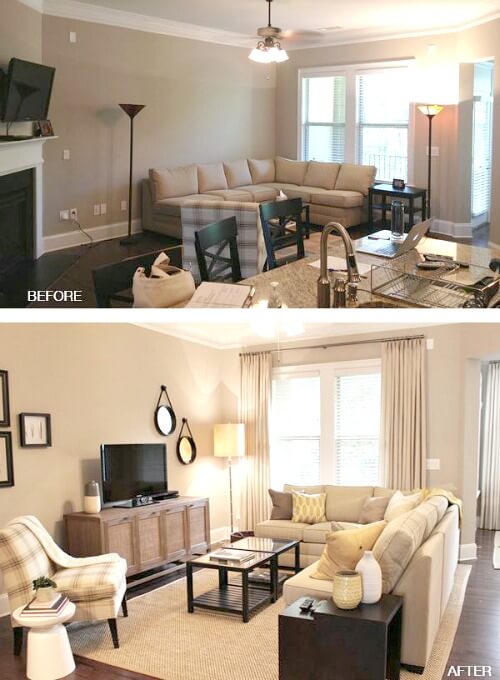 5. Place two small sofas across from each other. Arrange the furniture in a small room as a balanced configuration: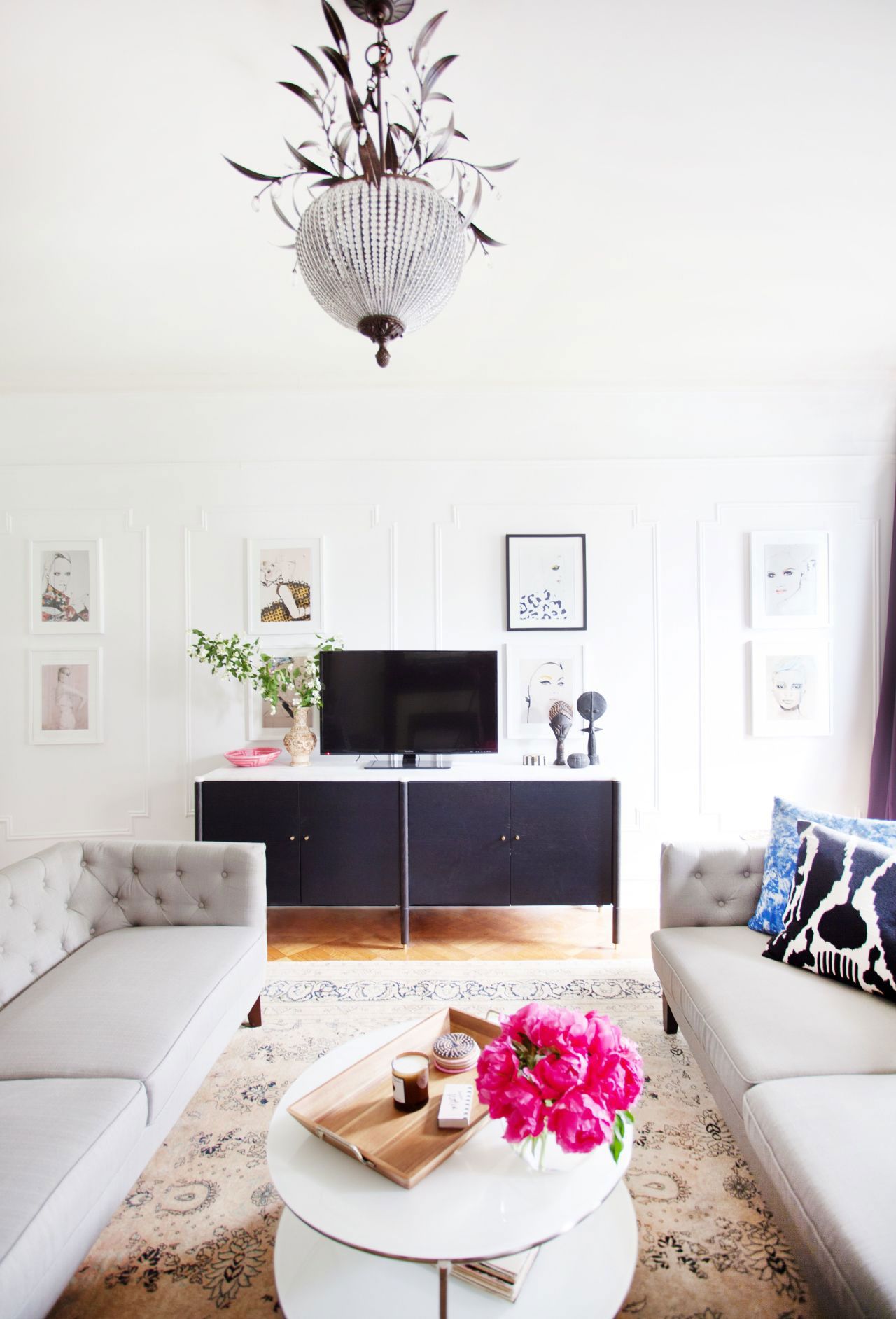 Where Is The Best Place For The TV In A Small Living Room?
In a small living room the best place to put the TV is above the fireplace instead of using a media unit that will take up floor space. This will free up a lot of floor space for seating!
If you must keep a media unit, replace large TV armoires and large bulky media units with small TV units that are under 48″ wide.
Floating media units that are mounted to the wall above the floor are a great option for small living rooms because you can use the space underneath for storing ottomans & poufs.
This small living room features a small TV unit:

Is it OK to put a sofa in front of a window?
Yes you can! IF and only if the sofa has a low back like the one below.
A sofa should never block the window but if it has a low back it can be placed in front of the window in a small living room.
Don't place the sofa right up against the window frame. Make sure there is enough room behind the sofa for the drapes to sit and be closed.
Once the sofa is placed in front of the window arrange furniture around it to create a zone grouping: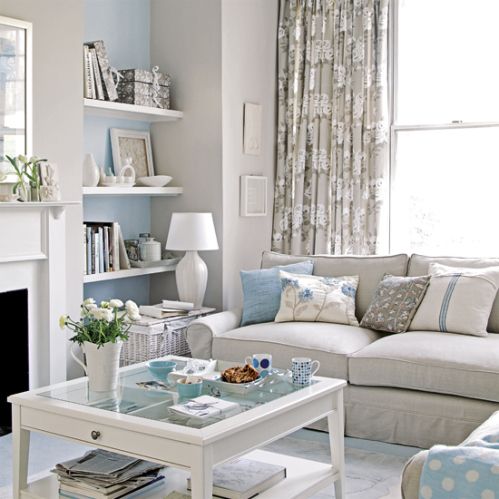 Should You Have a Coffee Table In A Small Living Room?
Replace large coffee tables with small nesting coffee tables, one or two small ottomans or a small upholstered bench.
Or omit the coffee table completely!
This small, narrow living room doesn't have a coffee table and looks gorgeous! A small rolling cart to the side is used to set drinks and magazines on: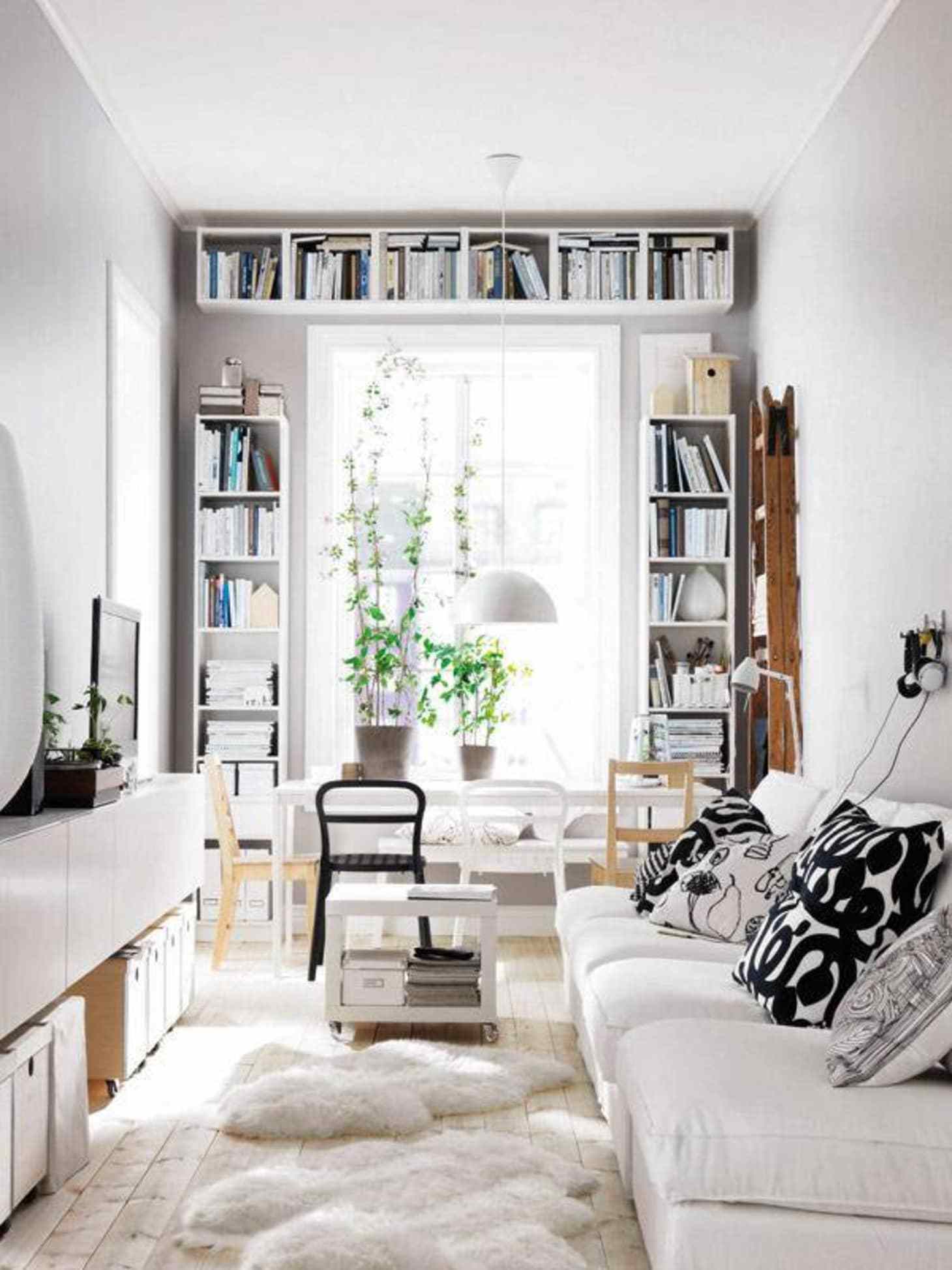 Interior Design Tricks and Hacks For Arranging Furniture In Small Living Rooms
Here are 6 interior design tricks and hacks for small living rooms that will free up even more space, make your small room look as big as possible and maximize your small living room square footage!
1. The Right Sized Area Rug
Use an area rug to ground your small living room furniture arrangement.
Make sure you buy a size big enough so that the front feet of all of your furniture is on the rug!!!
People usually make the mistake by buying a rug that is too small.  This makes the space look even smaller! It looks really terrible!
I'd rather see a living room with no rug than one that is too small!
Design Tip: How to Choose the Perfect Area Rug
This small living room sofa has an area rug that's the right size. The front feet are on the area rug: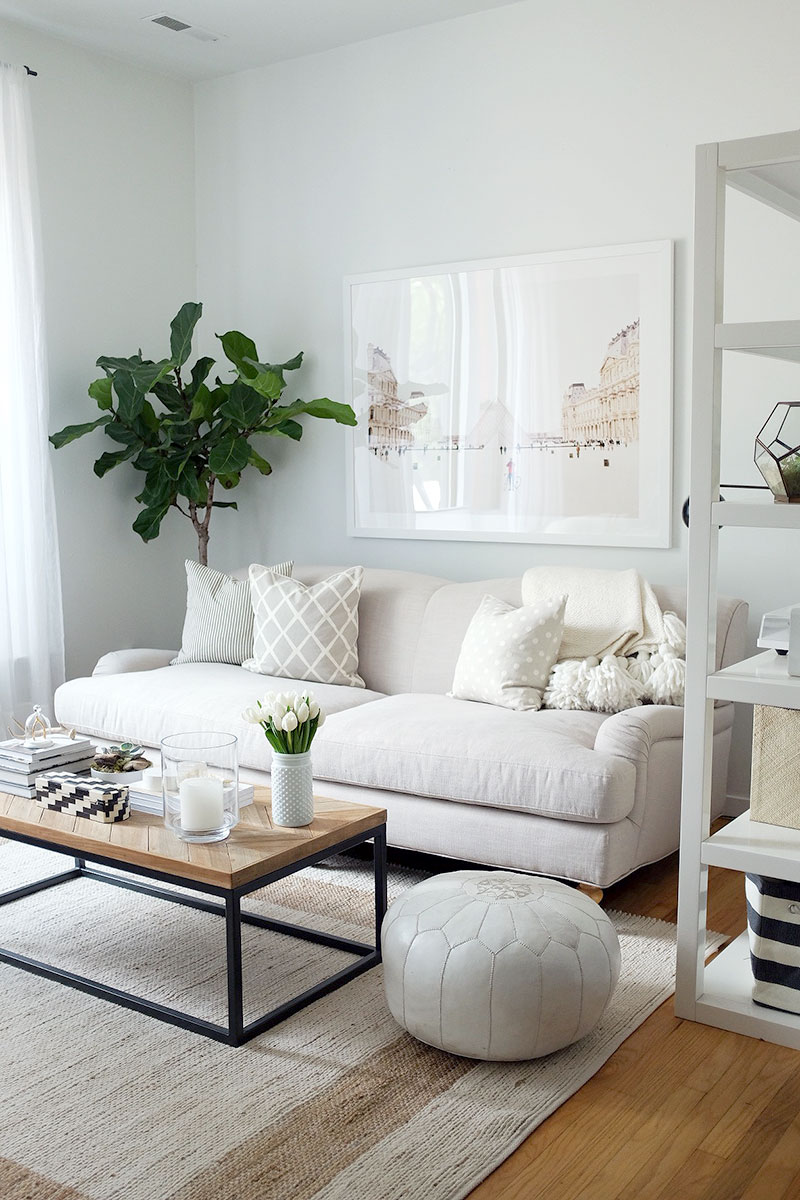 2. Lighting Tricks For A Small Living Room Furniture Arrangement
Add wall sconces instead of floor lamps and table lamps, to free up floor space! 
Also another tip is to add a beautiful chandelier or pendant light with daylight bulbs to add lighting to a small living room.
(Adding a dimmer switch to sconces and ceiling light will allow you to brighten and dim them as needed!)
I love these beautiful swing arm wall sconces  flanking a gorgeous piece of wall art above this sofa: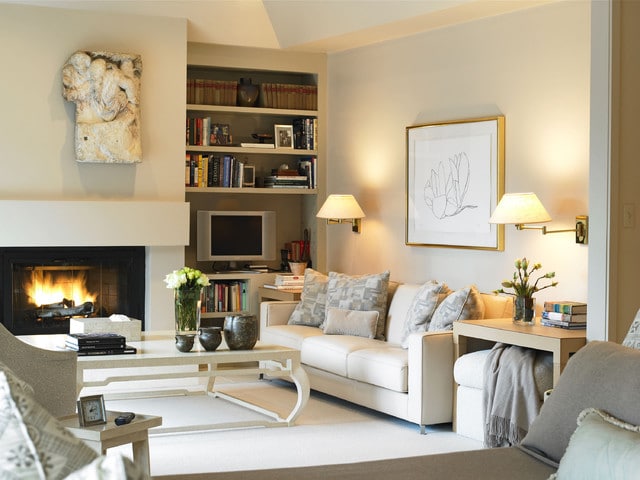 3. Use The Vertical Space
Use the vertical space in your small room and add floating shelves to display art, plants, books and decorative boxes.
4. Use Small Accent Furniture Pieces
Small accent furniture pieces are perfect for small living rooms!
Use a small side table like this one instead of a regular sized end table.
Use pouf ottomans instead of chairs in a small living room. They can be used in a pinch for seating and they are so beautiful!
This small living room uses a sofa chaise and two pouf ottomans as coffee tables: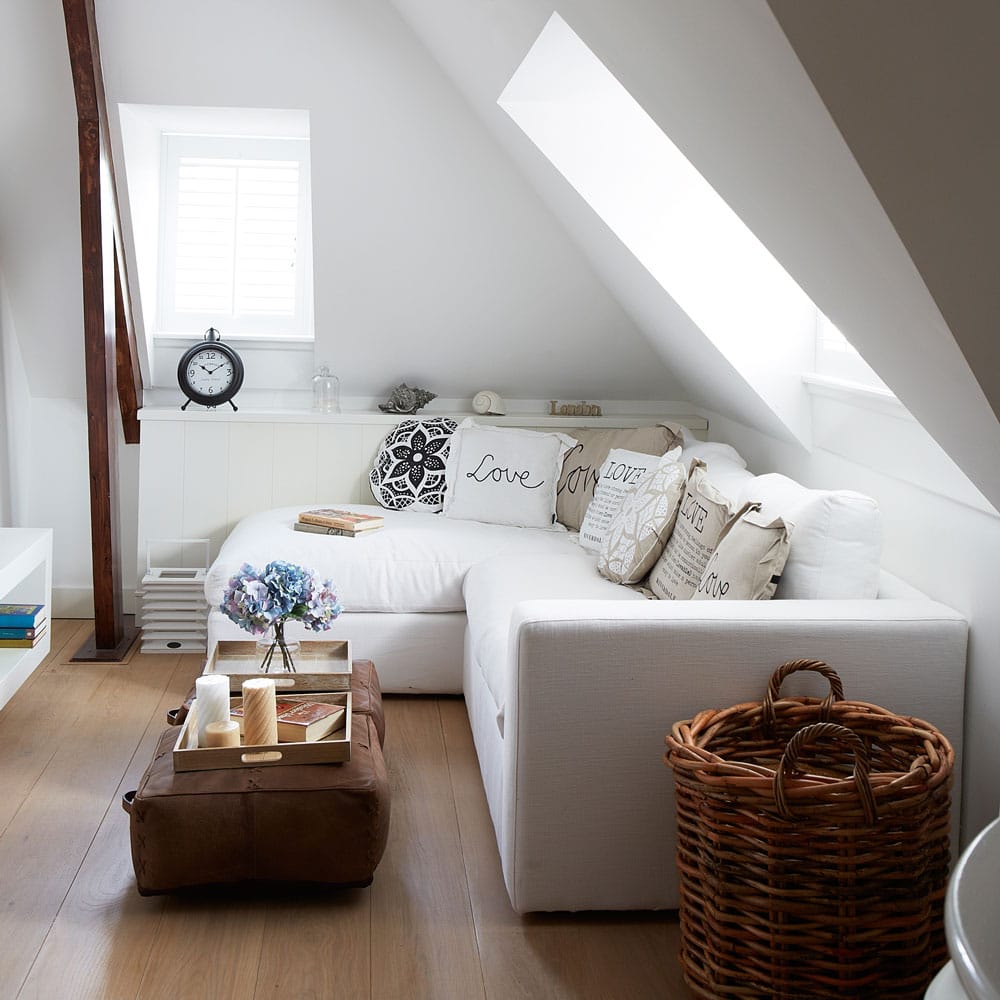 If you're looking for furniture layout help with your open concept design email me at [email protected] to book an online design consult! You can see more information about my online design services and client reviews here.
5. Scale Down Your Plants
Replace large potted trees and large bulky plants that sit on the floor with small potted plants that sit on floating shelves on a wall or can be contained in small plant pots, tucked into a corner. 
Avoid plants and trees like palm trees that spread out a lot and are wide. Use beautiful snake plants that grow upwards not outwards and are narrow in width.
Use beautiful wall planters like these to move your plants off the floor and off tables onto the wall.
6. Use Multifunctional Storage Pieces
If you need lots of storage in your small living room use furniture that is multifunctional, like a small coffee table with storage, small end tables with shelves and drawers, lidded storage ottomans.
Instead of two chairs and a sofa this small living room features a small sofa and two ottomans for seating, to create a gorgeous cohesive look that fits the room!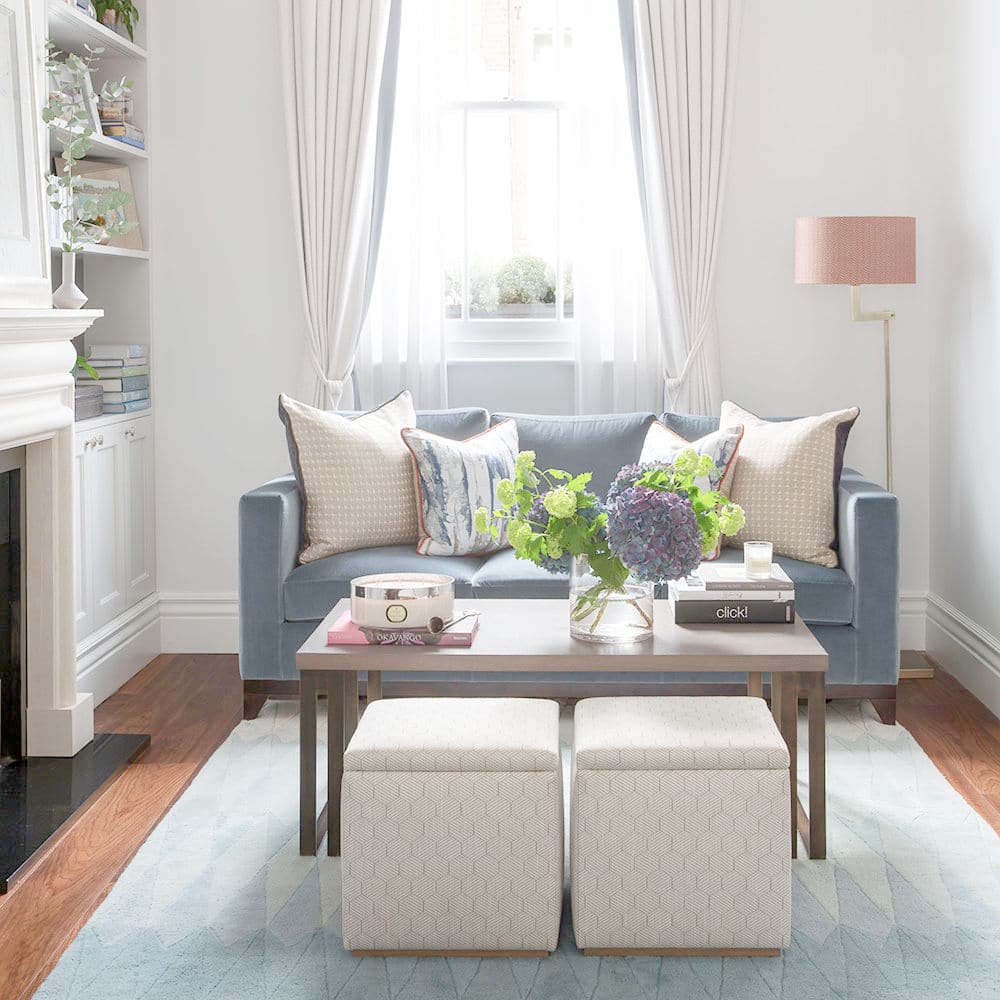 With these design tips your furniture will be arranged the right way to fit your small living room space!
Follow me on Instagram and TikTok for more Design ideas and inspiration!
PLEASE PIN THIS AND SAVE IT FOR LATER!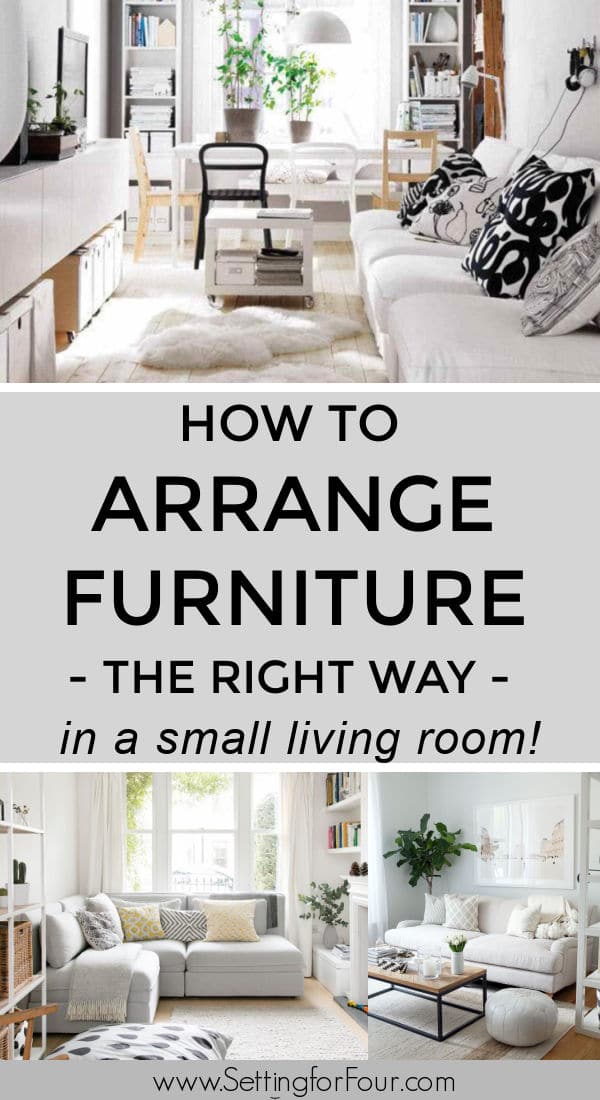 More Design Tips For You: