In this post I'm sharing helpful design rules on how to arrange furniture with an open concept floor plan.
These design tips will show you how to arrange your furniture – the right way  – to create a cohesive layout that feels cozy and looks pulled together!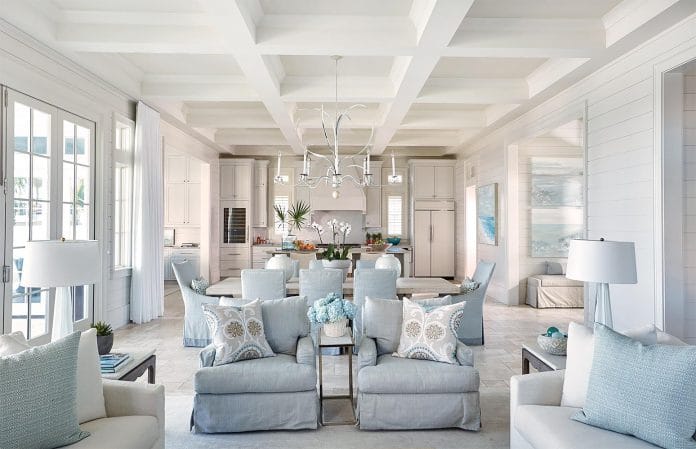 PLEASE PIN THIS AND SAVE IT FOR LATER!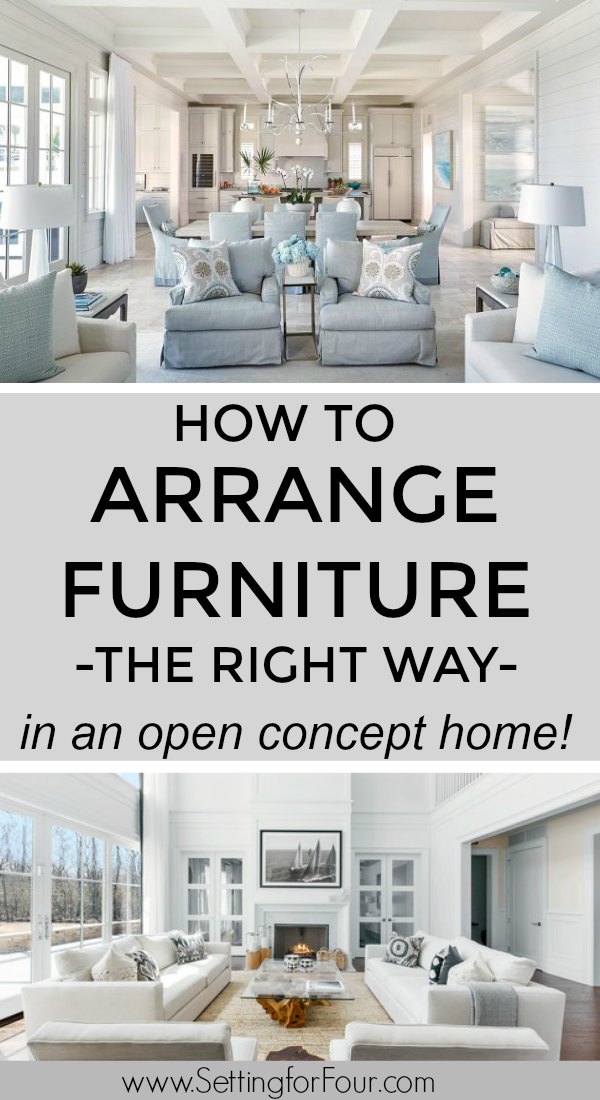 What is an open concept floor plan?
Open concept is an architectural and interior design term for a floor plan where walls and doors are eliminated between rooms.  It can apply to a home, townhouse, condo or apartment. Typically 2 or more rooms in a home open onto one another in an open concept design. Instead of each room being separate and having walls enclosing it, open concept rooms open onto each other and become one larger space. Open concept living room, dining room and kitchen is the common layout style. A semi open concept home has the dining room as a separate closed room with a regular doorway.
Why is furniture layout important?
Arranging furniture for a proper layout is so important for function, good movement and dictates how a home looks and feels. Arrange furniture so that it flows with all pieces and creates a pulled together look. The arrangement is placed around a focal point in the space….more on that below.
What are the mistakes people make with furniture layout in an open concept floor plan?
The biggest mistake people make is that they spread their furniture out in the spaces without clustering them in groups or zones.
They also don't use area rugs to define each zone which makes furniture look like a showroom, not a home. Rugs add coziness!
Not decorating the open concept rooms to tie them together with color and with pattern.
Another mistake is to have the wrong sized furniture or too much furniture. It's important to edit your furniture so that it fits in each space and is purposeful.
Also furniture that's too small will make an open concept home look empty and cold.
The wrong type of living room seating in the living room space will affect how all the other spaces look and feel. I recently had a client that bought a loveseat and a sofa with a chaise that just didn't work in her open concept living room- dining room.

---

Do you need help with your furniture layout, room design or picking paint colors?

See my online design & paint color services info and client reviews!  Email me at [email protected] to book an online design consult!

---
What are the best furniture pieces for a good furniture arrangement in an open concept home?
Typically a combination of the following furniture seating best works for an open concept living room and family room design:
two sofas and two chairs
two large sofas
sectional sofa and two chairs
4 comfortable arm chairs
For an open concept dining room:
dining table and chairs with buffet sideboard, large storage cabinet or built in cabinetry that's the same as the kitchen cabinetry
optional two host chairs on either side of the sideboard for extra seating during the holidays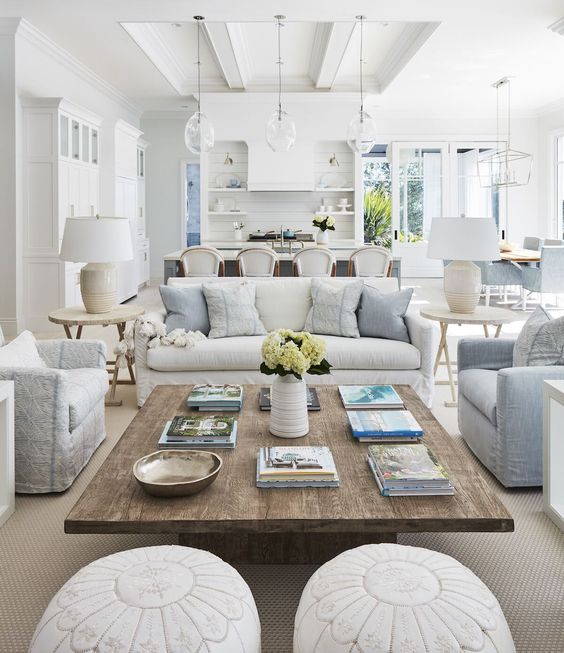 Supplies to arrange your furniture in your space:
How do you arrange furniture in an open floor plan?
The first step is to put your largest piece of furniture opposite a focal point. For a living room the focal point is the fireplace or TV unit. The largest piece of furniture is the sofa or sectional. Then arrange the rest of the seating around the sofa/sectional to create a conversation zone.
For an open concept living space that doesn't have a fireplace or a TV: arrange your furniture around one bookcase or etagere like these (you could also use two bookcases placed side by side):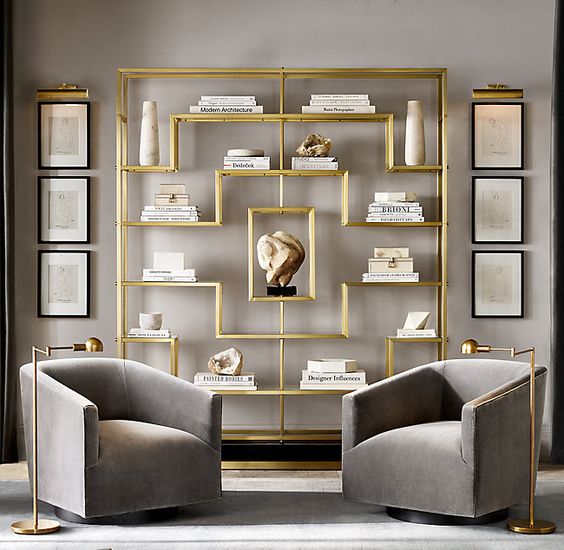 Shop bookcases and etageres – click on the images below!

For a sofa and two chairs – place the sofa opposite the fireplace and two chairs to the side of the fireplace, one on each side, or the two chairs placed side by side and perpendicular to the sofa, to create an L shape with the sofa. You can add two ottomans like these opposite the two chairs to create a symmetrical look or add a long bench.
One sofa and 4 chairs will create a beautiful balanced look: sofa faces the fireplace and two chairs perpendicular to the sofa. This creates a U shape conversation area.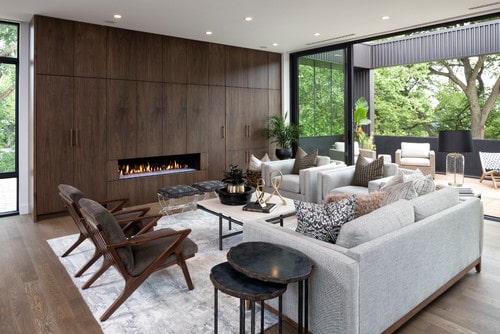 Photo by Housing First Minnesota
If you have two sofas they will be placed facing each other and perpendicular to the fireplace. Arm chairs will then be placed opposite the fireplace.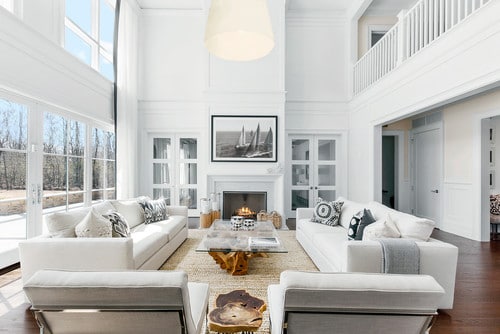 For two sofas: place them facing each other and opposite the fireplace.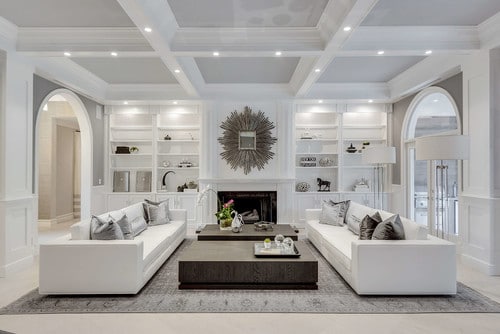 Another way to arrange two sofas and two arm chairs is to place one sofa opposite the fireplace, the other sofa perpendicular to the sofa and then place two chairs perpendicular, on the opposite side, to create a U shape conversation area. Like this: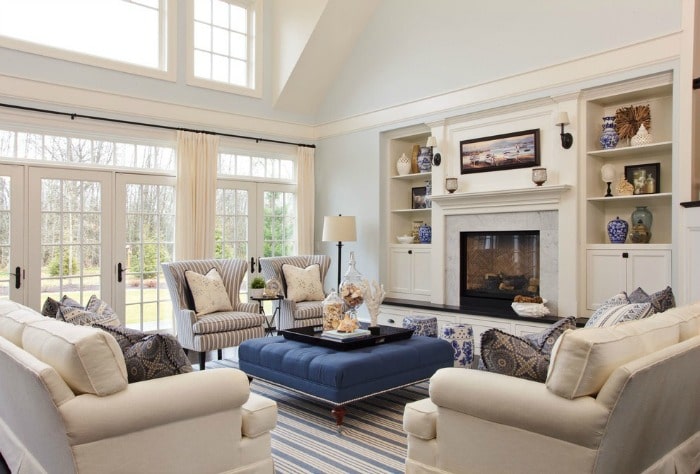 If you have a sectional place it opposite the fireplace with one side facing the fireplace and the other side facing the windows/sliding glass doors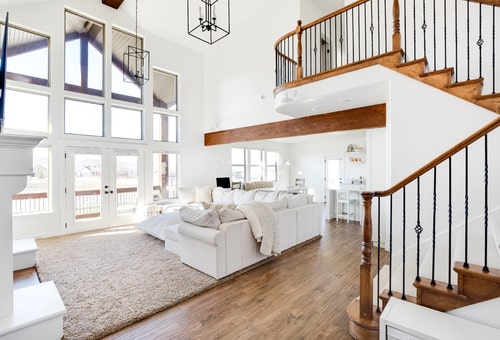 If you have a sectional and two chairs: place the sectional opposite the fireplace with one side facing the fireplace and the other side against a wall or windows. Place the two chairs side by side and perpendicular to the sectional like this: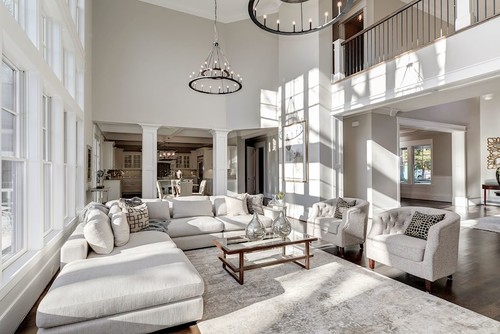 If you're looking for furniture layout help with your open concept design email me at [email protected] to book an online design consult! You can see more information about my online design services and client reviews here.
for an open concept dining room place the dining table across from the kitchen island.
How do you arrange furniture for a cozy feel?
A cozy feeling comes from clustering your furniture together in a conversation arrangement.
Adding an area rug that's large enough so that all the front legs of the furniture sit on the area rug, will add cozy texture and visual softness.
Layering ambient and overhead lighting will make an open concept space feel warmer and cozier. Add table lamps, floor lamps and a ceiling pendant/chandelier. This is really important for open concept homes that have tall ceilings! A chandelier or pendant in the correct scale will bring the ceiling down and instantly make it feel more cozy and less cavernous.
Placing the lighting on dimmers to create a cozy glow at night is another option.
Add an accent color that you love to your open concept spaces and repeat it throughout each space to create flow.
Add tropical trees real or faux to each open concept area. Trees add a pop of green, add liveliness and texture.
Pillows and throw blankets: Layer, layer, layer! Add lots of accent pillows and throw blankets to create coziness and that Hygge effect!
Decorative accents: Layer trays, orbs, vases, flowers, decorative boxes ect throughout all of your open concept spaces to give them that layer of texture and interest that only decor can provide!
Drapes/roman blinds: Add window treatments that coordinate with each other to all windows. Textiles are so important for any space!
Ceiling beams, planked/bead board ceilings or coffered ceilings will create coziness as well. The architectural detail these treatments add create a beautiful envelope for open concept homes.