See these 5 ways to create a whole home paint color scheme that will make your entire home feel pulled together! Anyone can learn how to pick paint colors for the whole house with these tips!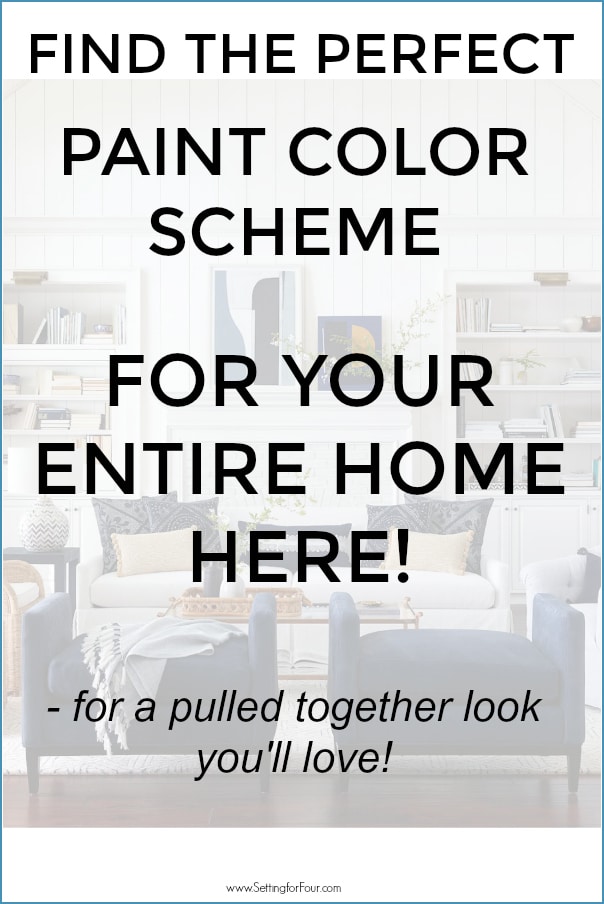 Why Is It Important to Create A Whole Home Paint Color Scheme?
When the entire home's paint colors flow well into each other, a home will feel pulled together, balanced, relaxing and have that designer look.
Gone are the days of each room being painted a different color! This just makes a home look cluttered, choppy, chaotic and disjointed.
5 Decorating Mistakes That Make Your Home Look Cluttered
---
Need help with furniture layout, room design or help picking paint colors? I offer online interior design and paint color services!
See my experience as a True Color Expert, my designs & client reviews here!

---
Tips On Where to Stop and Start A Paint Color
When you are using different paint colors in your home don't start a new color along a main wall.
Make sure there is a solid break in the walls, such as an obvious corner that defines a new space, before starting your next color.
It can be tricky using two or more colors in an open concept home.
Make sure there is no hard line where one color stops and the next color begins or else your space will look choppy.
What about Ceiling Color and Trim Color?
Always keep you ceiling color and trim color a white that has the same undertone as the wall's paint color.
If you have wood trim please, paint it white to create cohesion and flow in your home! Stained wood trim makes a home feel visually cluttered and disjointed.
See 5 Best White Trim Paint Colors
The only time I recommend not painting wood trim is if you live in an authentic Mid Century Modern Home, built by one of the MCM architects of the time like Philip Johnson, where wood trim is part of the interior design.
Or if you live in an authentic Mission style home, where wood trim is also part of the design
You can paint your ceiling a color other than white, but make sure it doesn't clash with the wall color or sight lines in the home.
Oh! And wood ceiling beams can be left stained or painted white as well!
---
Design Tip!
Use these large, reusable peel and stick paint samples to test paint colors in your home.
They're mess free! 
And they're made with real paint!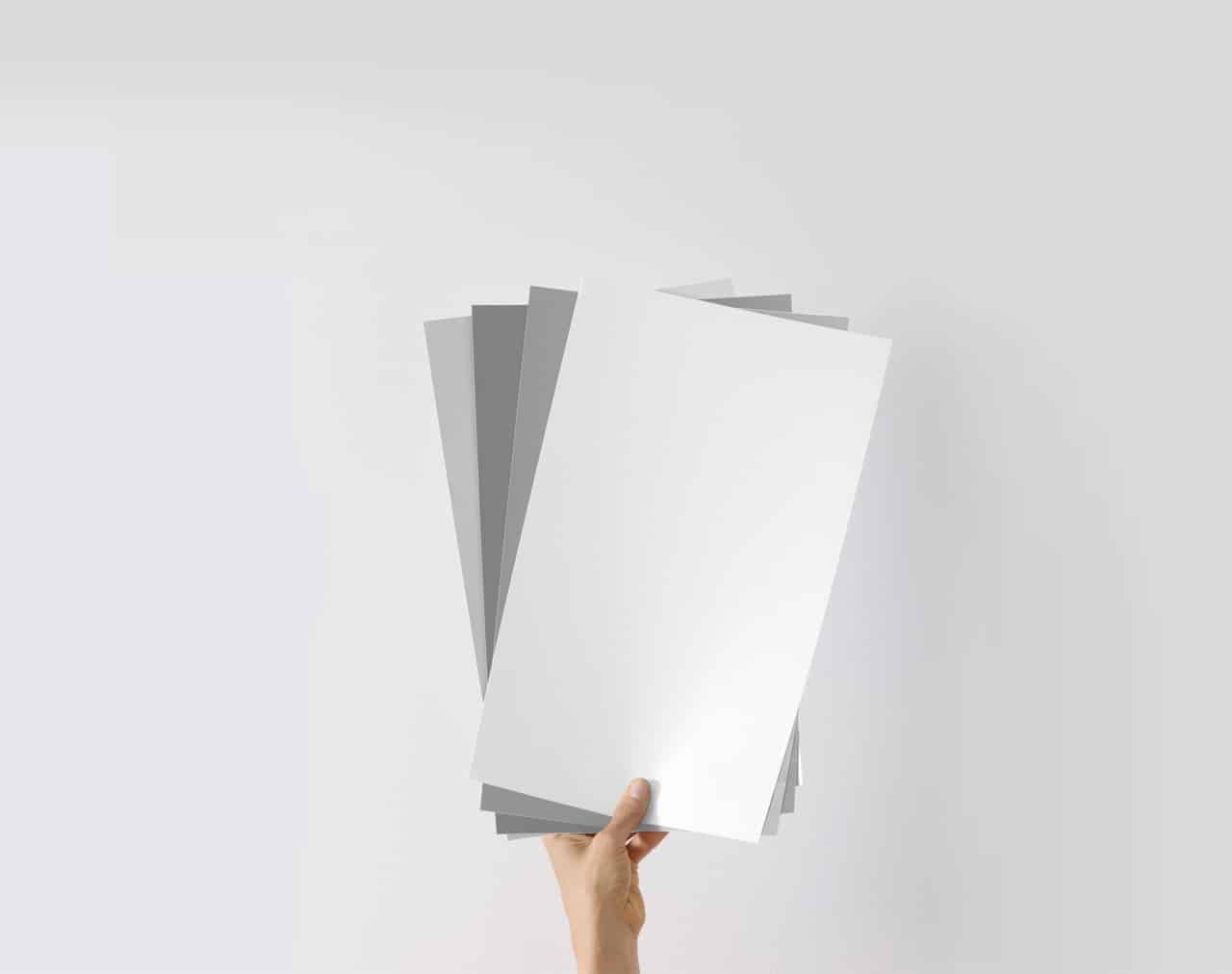 ---
Here are the 5 Ways To Create A Whole Home Paint Color Scheme
Pick the one that you love the most and feel's right for your home!
How to Pick Paint Colors With Confidence!
1. Pick One Wall Color For Your Entire Home
This is obviously the easiest way to create a color palette for all of the rooms in your home! It's also the best way for a home to feel pulled together and balanced.
Pick a neutral gray, greige or white paint color for this look.
Here are two popular white and gray paint colors:
The reason this method works so well is because all of the rooms will flow into each other beautifully and coordinate!
Plus the sight lines from room to room will be consistent for a cohesive look to your home!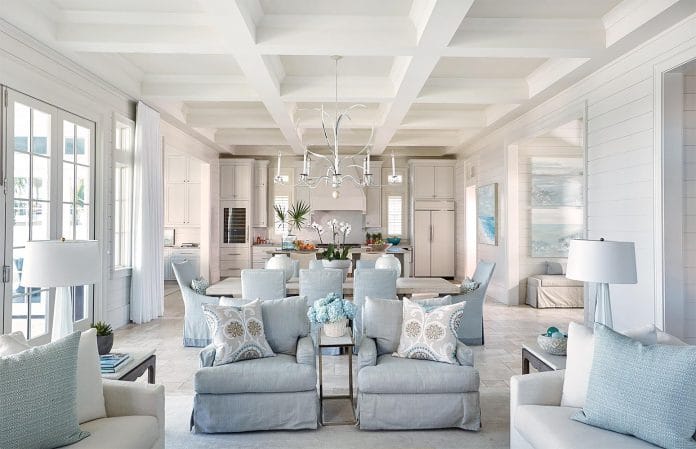 2. Pick Two or Three Coordinating Colors With The Same Hue But Different Tone
If you pick up a paint chip strip you'll see the colors on it range from lightest to darkest. All of the colors coordinate because they all have the same undertones!
Pick two or three paint colors from the same paint chip and disperse them throughout your home.
Sherwin Williams color strip of gray paint colors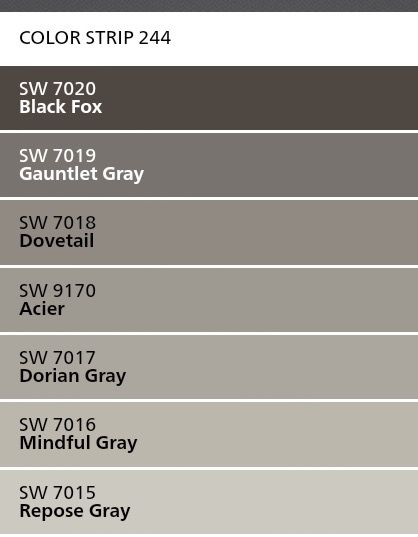 Pick up a paint color deck to help you pick paint colors! Click on the images below to shop.

Use these coordinating neutrals below to create a whole house color palette:
SW Snowbound for the main wall color in the kitchen, living room, laundry room and hallways
SW Mount Etna for a bedroom, dining room or home office
SW Chatura Gray for a bedroom or powder room
SW Emerging Taupe for a primary bathroom or bedroom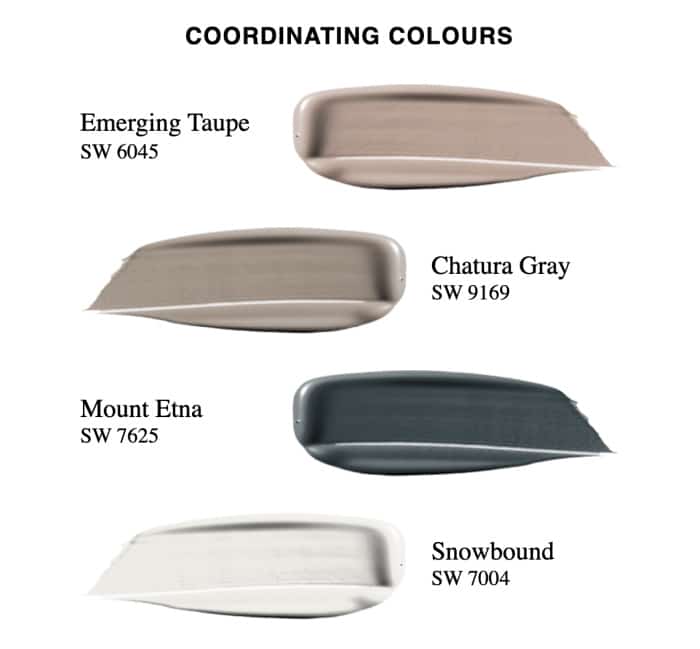 3. Pick Two Neutrals and One Accent Color for a Whole Home Paint Color Scheme
Pick two neutrals such as two whites, two grays or two greiges and add an accent wall color such as blush pink, navy, or green.
Make sure all three colors coordinate and have undertones that work well together!
Dark blue walls in bedroom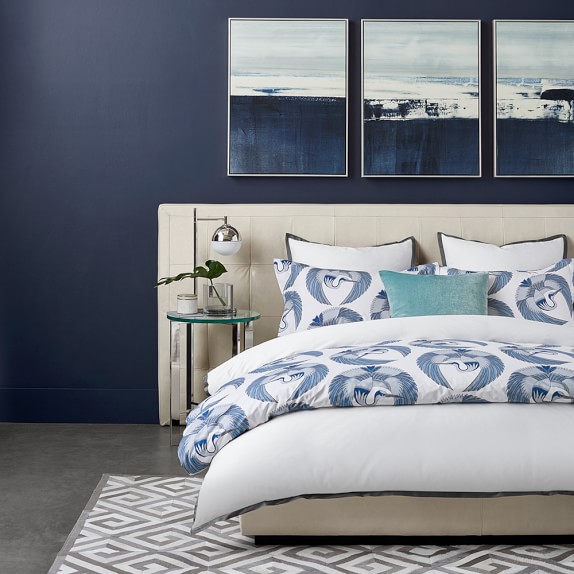 Lake House Bedroom Paint Color Ideas, Furniture & Decor Ideas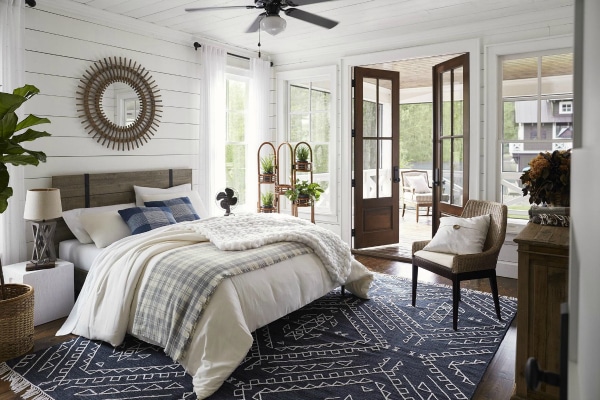 Click on the images below to shop this bedroom! Scroll using the arrows.

4. Monochromatic Color Palette
White and black always work well together and are timeless colors that never go out of style. Paint some of your rooms in white and some in black, such as a black powder room, black office.
White living room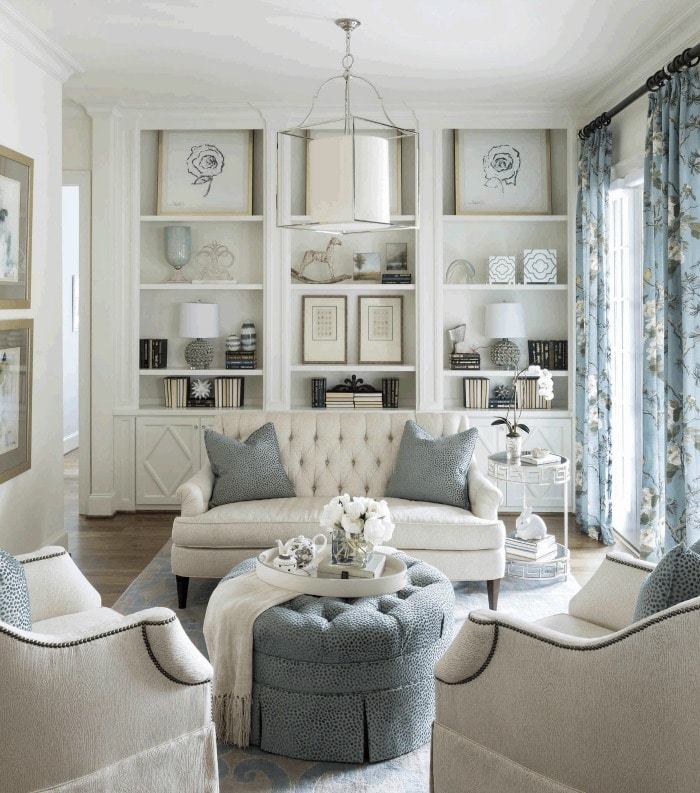 I just worked with a client, see my online design and color services here, where I advised her to paint their main living areas white, Sherwin Williams Chantilly Lace, and the husbands office a gorgeous sophisticated black paint color called Benjamin Moore Soot.
She absolutely loved this rich black color and told me " the second coat going up in his office. You NAILED it Heather, THANKS!!"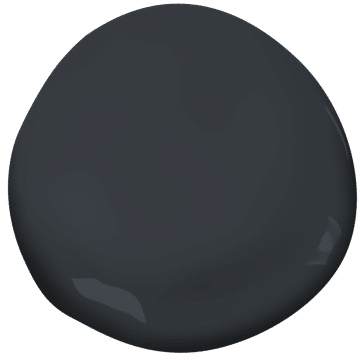 5. Pick one paint color and use it at full strength and 50% strength.
There are many gray and greige paint colors that look fabulous in a home when they are used at full strength and diluted 50%.
Benjamin Moore's Gray Owl is one!
Here is a view of Gray Owl lightened by 50%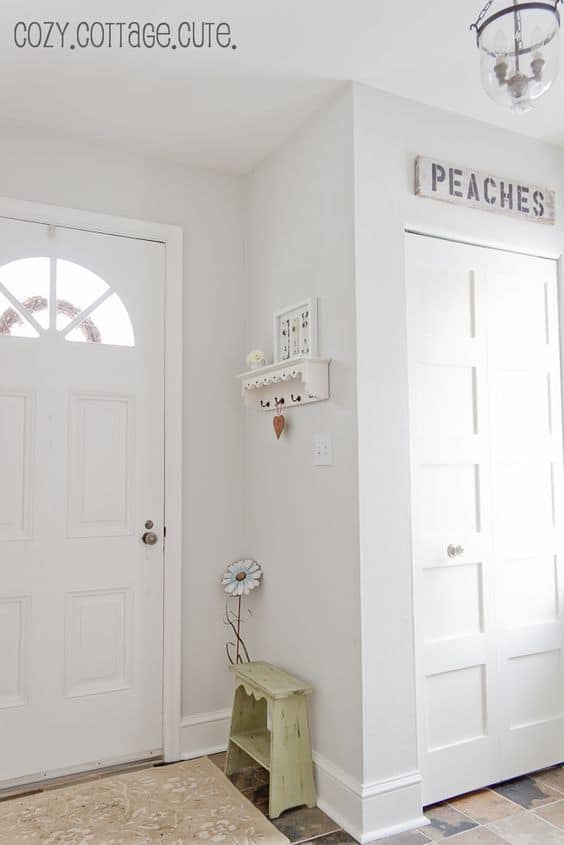 I hope you enjoyed my post and ideas on how to find the perfect paint color palette for your entire home!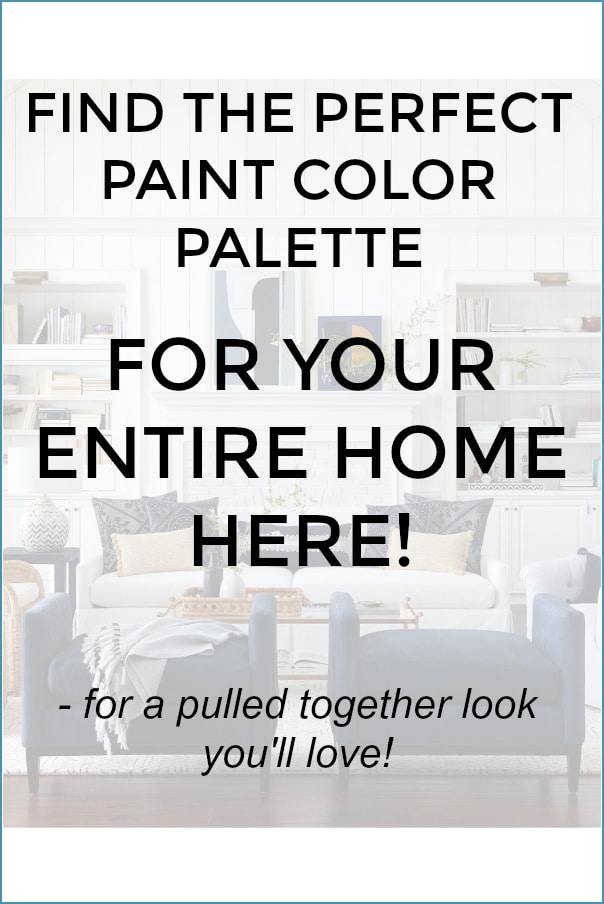 If you still need help picking paint colors, send me an email to [email protected]!
I'm a True Color Expert® and offer online paint color and interior design services!
See the info on my color and design services, my designs & client reviews here!

More Color and Design Ideas: