Modern Organic Living Room Design Ideas
See this beautiful Modern Organic Living Room eDesign I created!
Discover inspiration for your living room remodel, makeover or new build.
This design includes layers of gorgeous organic wood details, timeless neutrals, beautiful lighting ideas and decorative accents.
Modern Organic Design is a mix of modern, transitional, traditional & classic styles,  paired with organic elements like wood, stone, greenery and jute.
It's warm, inviting and so gorgeous!
PIN THIS AND SAVE IT FOR LATER!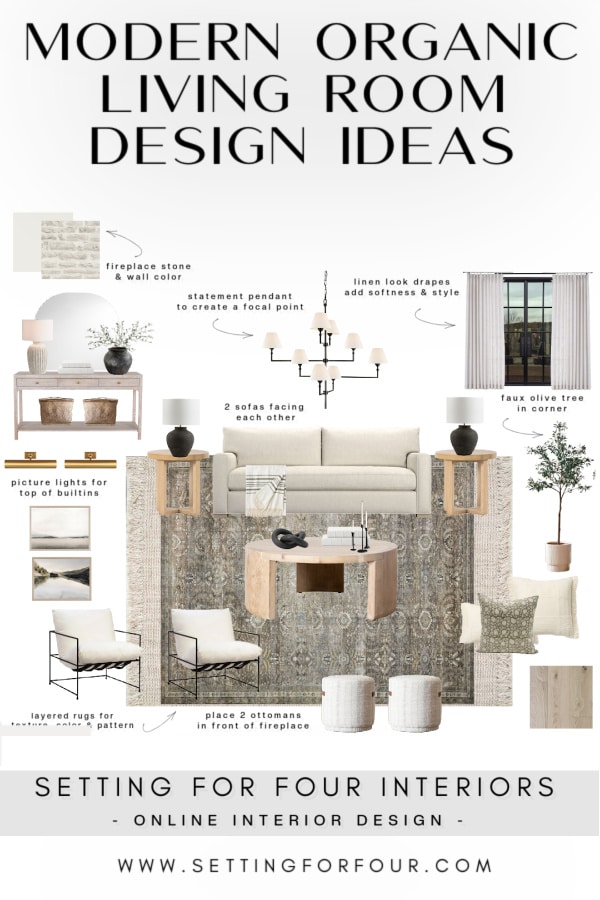 ONLINE DESIGN CONSULT: LIVING ROOM DESIGN
Today I'm sharing a look at one of my recent online designs!
I hope this living room design provides you with design and decor inspiration for your own home.
And shows you the types of online designs I create for my clients!
If you are interested in my design services, check out my INTERIOR DESIGN SERVICES PAGE for more information on my eDesign online design services.
You'll also find my client reviews there too!
I'd love to work with you to create a home you'll love!
In every design consult, I collaborate with the client to identify their design style and needs for the space.
I create timeless and stylish room designs that function and feel the way my clients have always dreamed about!
Let's talk about this living room design!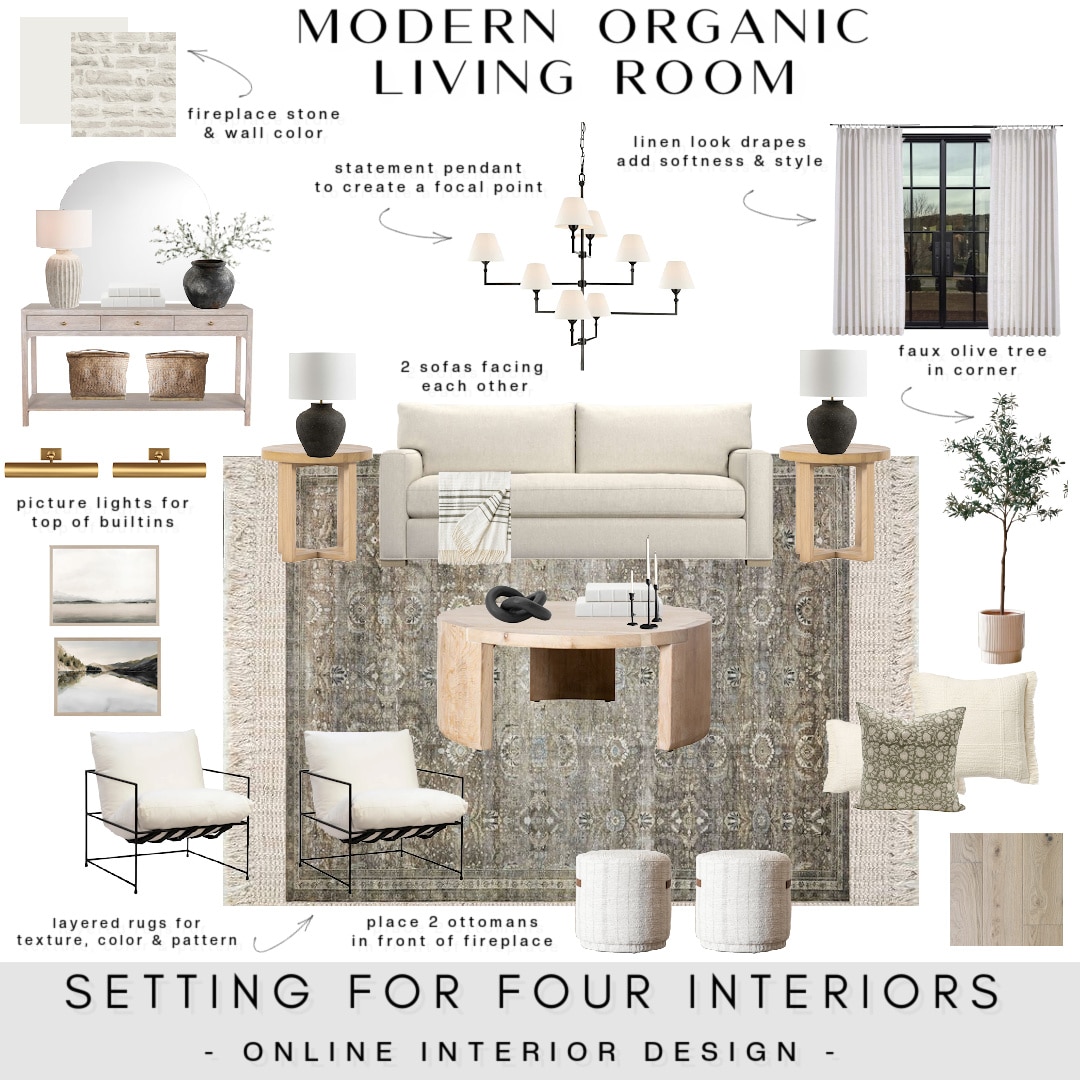 Modern Organic Living Room Design Ideas
Today I'm sharing a modern organic living room design for a family that loves to relax and entertain.
The living room is such a central part of the home – where we relax, congregate and entertain!
It's where we watch TV, read, catch up with family and friends and chill after a long day.
It's the place where cherished memories are made with family and friends.
Your living room should be functional, cohesive, beautiful and inspiring to you!
I love creating chic, timeless living rooms by combining warm neutrals with my client's favorite accent colors… and adding layers of texture and coziness.
This Modern Organic design style encompasses an overall neutral aesthetic filled with texture, warmth, and natural elements.
Natural decorative accents, organic finishes like stone, concrete and wood, as well as loads of texture for dimension are paired together for an inviting, stylish look.
I love a bright and airy space but also mix in a touch of black for contrast and warm greige/beige tones.
Transitional, traditional and timeless classics are cohesively blended to create a unique tailored design for each client's home.
This living features 2 beautiful sofas that will face each other, 2 accent chairs, stunning lighting, light colored wood accent tables as well as natural, organic accents for texture, interest and style.
It's pulled together and cohesive.
Gorgeous art and decorative accents add an abundant amount of personality and interest to the room.
Wow factor is achieved with the beautiful lighting and rug selections!
YOU CAN EASILY SHOP THIS LIVING ROOM BELOW:

You can find sources to my designs and home decor favorites linked directly above on my LTK page.
Be sure to FOLLOW me there to stay up to date on everything Setting for Four Interiors!
**This post contains affiliate links**

DO YOU LOVE THIS LIVING ROOM DESIGN?!
DO YOU HAVE SPACES IN YOUR HOME THAT NEED DESIGN HELP – BUT YOU AREN'T SURE HOW TO GET STARTED?
NEED HELP WITH FURNITURE LAYOUT OR PAINT COLORS?
SELECTING THE PERFECT FURNITURE, RUGS AND ACCESSORIES?
EMAIL ME AT [email protected] & LET'S GET STARTED DESIGNING YOUR DREAM ROOM TODAY!
FOLLOW THESE 3 EASY STEPS TO GET STARTED TODAY:
1. Email me at [email protected] with a brief description of the design help you're looking for
2. Include a couple of photos of your space
3. I'll email you the eDesign consult quote and you can sit back and watch your dream space come to life!
YOU WILL HAVE DIRECT ACCESS TO ME, YOUR DESIGNER, THROUGHOUT THE WHOLE PROCESS!
More Design and Decor Ideas: