Wondering how to make your home look cohesive and pulled together?
I'm sharing 14 design secrets to turn hodgepodge looking rooms into beautiful pulled together spaces – that anyone can do!
Let's fix the mistakes you may be making and get that 'designer look'!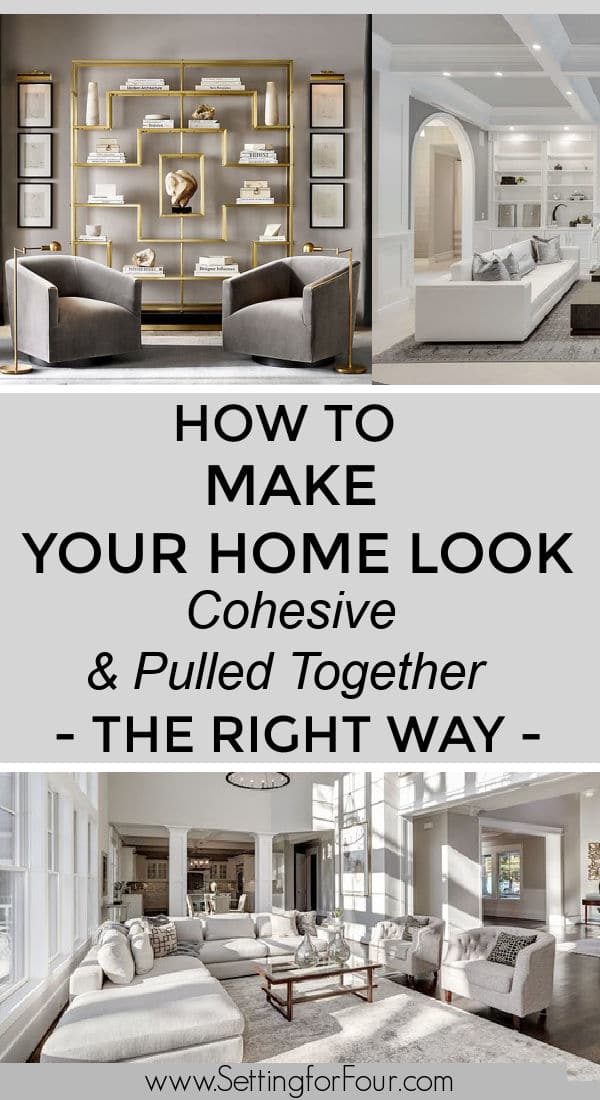 I love this cohesive open concept kitchen and living room!
The paint color, accent colors, lighting and furniture flow from room to room. This is a beautiful, look pulled together look!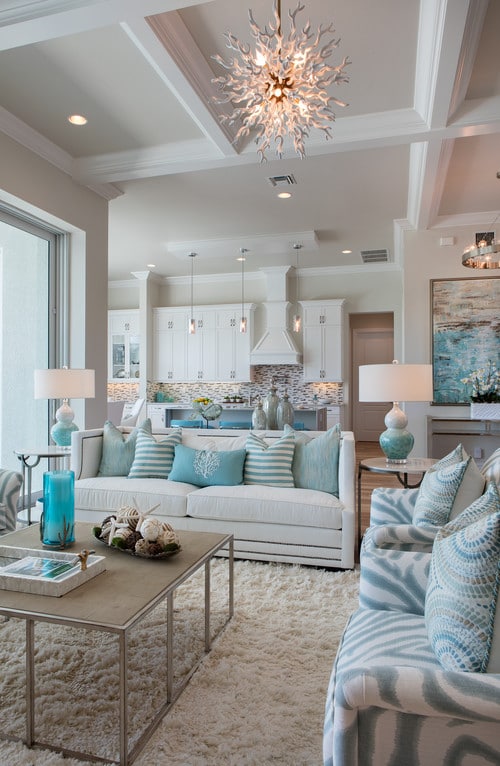 How to Make Your Home Look Cohesive and Pulled Together – The Right Way!
Here are 10 design secrets to make your home look cohesive and pulled together. Plus three more design tips to get a designer look!
I'll talk about the big mistakes people make and how to fix them for beautiful spaces to love and enjoy!
My Living Room Design for the La-z-Boy Design Dash Contest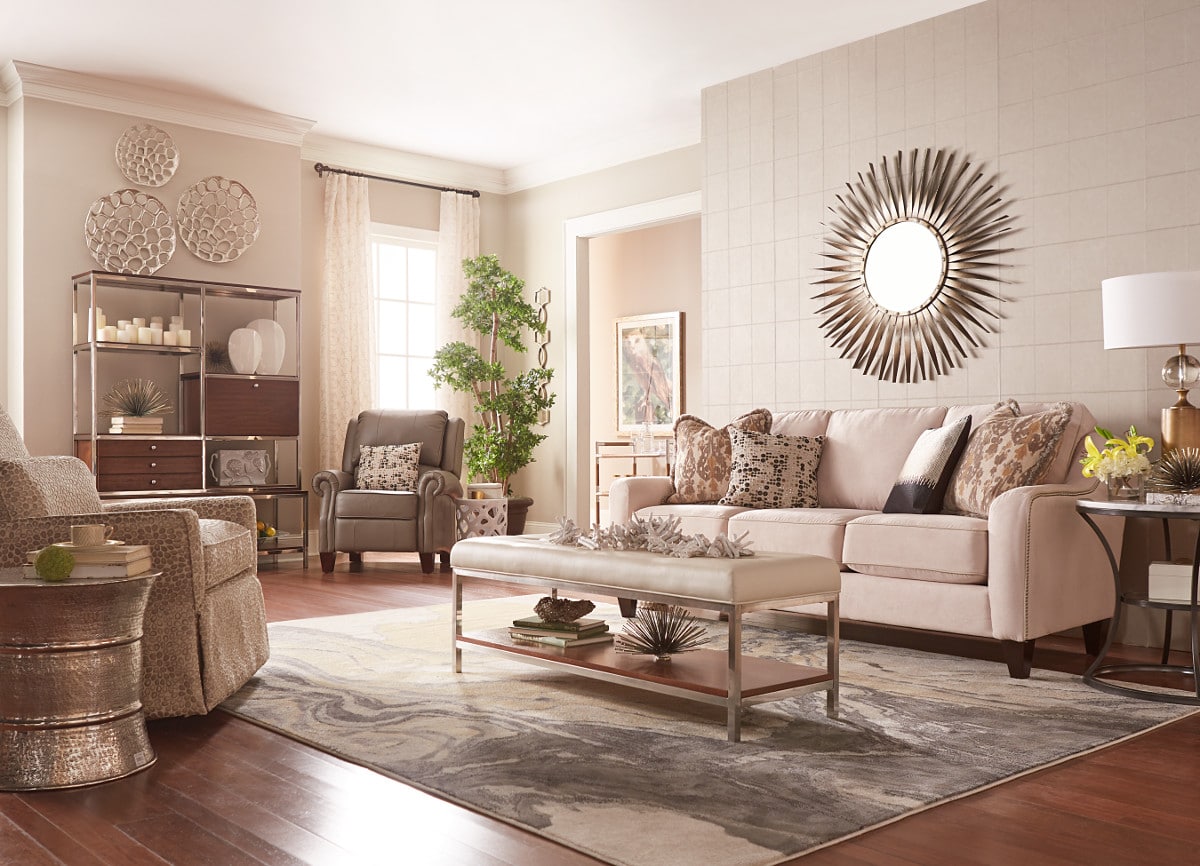 ---
Do you need help decorating your home or picking paint colors? See my online decorating & paint color services and client reviews! Email me at [email protected] for more info!

---
1. Define a room's function.
First, define the functions of each of your rooms. Then make sure every piece of furniture and decor in the room fits that function.
When you have furniture in a room that doesn't fit the room's function, the room will look strange and like a hodpodge.
Remove any furniture that doesn't fit the room's function!
Likewise, if you are missing furniture pieces that will make your room work the way you want it to, purchase new pieces and create spaces that work the way you need them to.
Too often I see people making the big mistake of adding chairs and accent tables into a room, that they've inherited or found on sale, that just don't function in the space…. and they cause the room to look like a hodgepodge!
The other mistake people make is that they buy a 3 piece sofa set (sofa, loveseat, chair) for their living/family room.
It makes sense to a lot of people to buy 3 piece seating sets like this because manufacturers sell sets this way. When you need comfortable seating for family and guests you may think this is the right way to go!
But too often these 3 piece furniture sets just don't work in a room, they don't function well at all…. and to be honest they don't look good clustered together as a 3 piece set.
There are much more beautiful looking and functional furniture arrangements to create such as a sofa and two chairs, two sofas with chairs, a sectional and two chairs…..
However you can make a room multifunctional! Need a desk in your living room? That's doable!
Just make sure the furniture in a space absolutely needs to be there!
A family room design with furniture for entertaining and TV watching: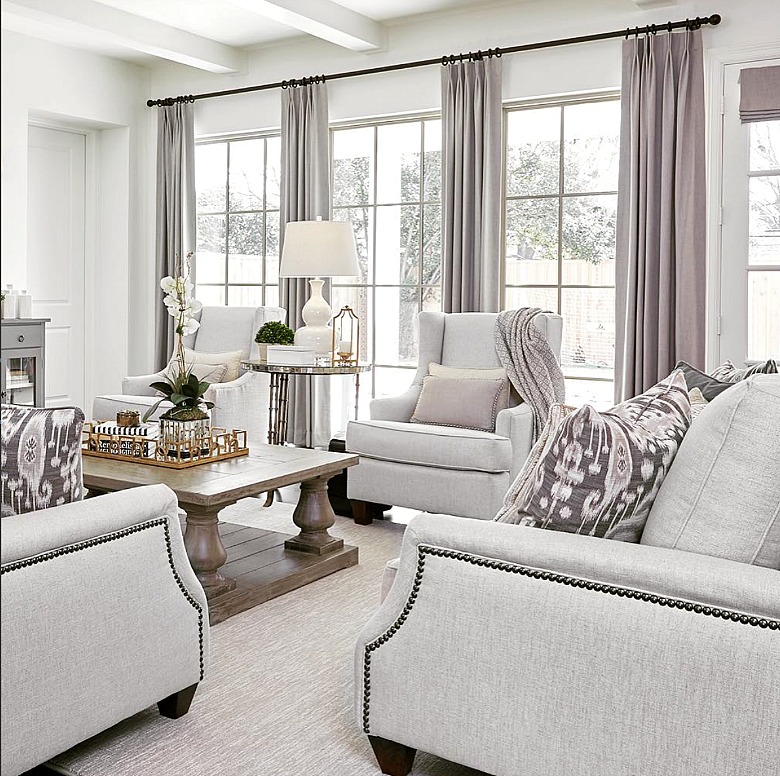 2. Create a furniture layout plan that functions and fits your room.
A big mistake I see people make with their furniture layout is that the furniture is all positioned against the walls or its blocking walkways and traffic flow.
When your furniture isn't arranged properly for the way you use a room, or for the room shape and size, it can make your home look disordered.
Make sure you have enough clearance and space for moving around furniture pieces and enough room to pull out a chair from a table.
Make sure your furniture is positioned around a focal point.
And make sure your furniture is positioned together in a 'zone' where everyone seated can have a conversation!
How To Arrange Furniture With An Open Concept Floor Plan
The living room's focal point is usually a fireplace or TV wall.
A bedroom's focal point is usually the largest wall that the bed and night stands are positioned against.
My open concept family room and dining room furniture layout: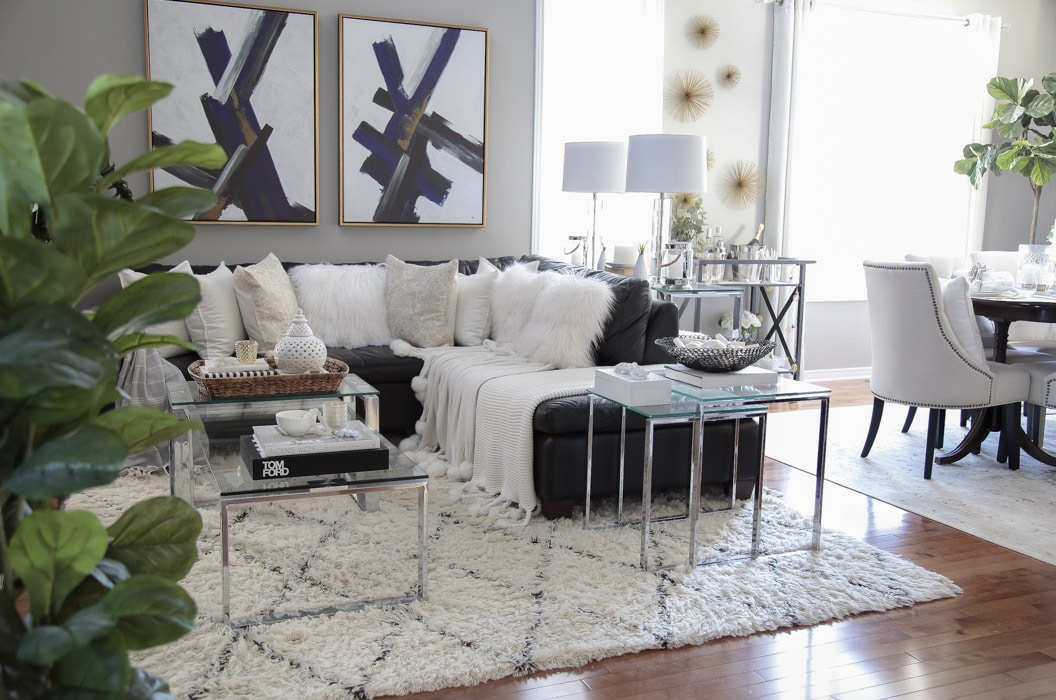 Click on the images below to shop my family room!

Click on the images below to shop my dining room!

This is a cohesive furniture arrangement: two sofas, and two chairs arranged with the fireplace as the focal point: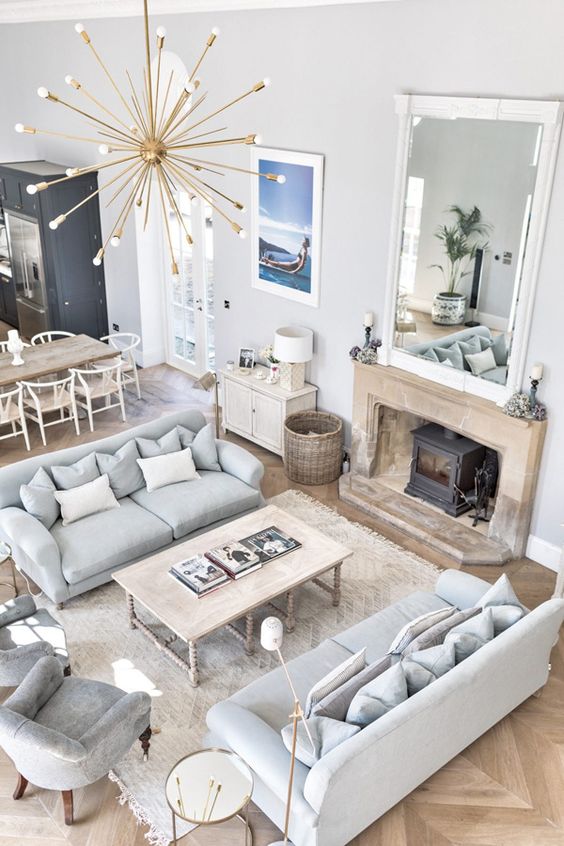 3. Make your home look cohesive: proper furniture scale.
Many of my clients have furniture pieces that just don't fit a room. The scale is not right for the room shape or size.
Their sectional is too big, or too small.
They've bought sofas and chairs that are just too big for the room, or they've downsized (or upsized with a growing family) and their furniture just doesn't fit the new spaces they've moved into!
A good furniture layout plan will ensure your furniture fits the room with enough space for movement and traffic flow.
If your furniture is too big it will make your rooms look stuffed and messy. If the furniture is too small in scale it will make your room look too sparse.
Make sure your furniture is the right size and scale for the room, so that you have enough space around the pieces to move around.
If you have a large room that you are finding it hard to decorate and furnish, make sure you have one really great sofa and two chairs or a generous sectional sofa and fill in the empty areas with trees and plants in baskets.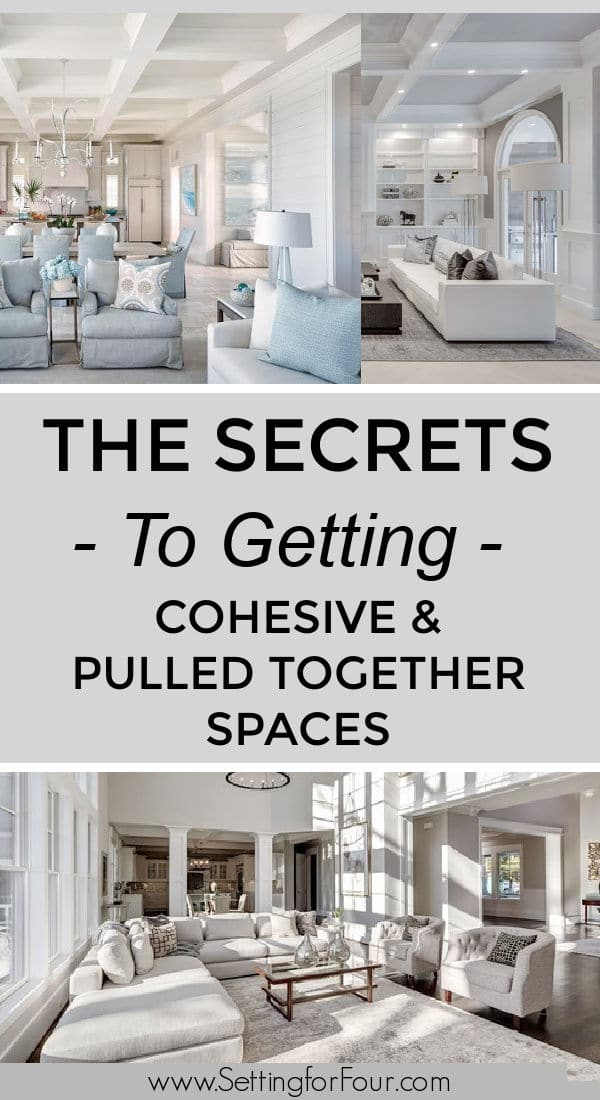 More Interior Design Ideas:
4. Number of furniture pieces.
Do you have too much furniture in a room?
I see this when people inherit furniture or downsize. They have too many furniture pieces stuffed in a room and it ends up looking like a furniture showroom, not like a peaceful relaxing space.
If you inherit a piece of furniture that doesn't fit any of your rooms (or that you don't love) feel free to give it to another family member, a shelter, habitat for humanity or other charity.
There are so many people that would gladly accept and use that furniture!
I'm a firm believer that you shouldn't feel guilty if you give away or sell furniture and decor you inherit that's not your style or taste.
The person that left it to you wants you to be happy after all….. and to be honest, sometimes family members leave items to others because they just want the furniture and decor to 'go somewhere' that will be used.
But if the inherited piece brings you joy – definitely keep it! Just make sure it has a defined place in your room.
Here's a task for you to do this weekend! Edit all the furniture pieces in your room.
If you have too many pieces, move some to other rooms or sell.
If you don't have enough pieces to make your room function, order what you need and get those spaces working the way you need them to!
This family room has 4 seating pieces and two side tables plus a coffee table for TV watching and movie nights.. and entertaining: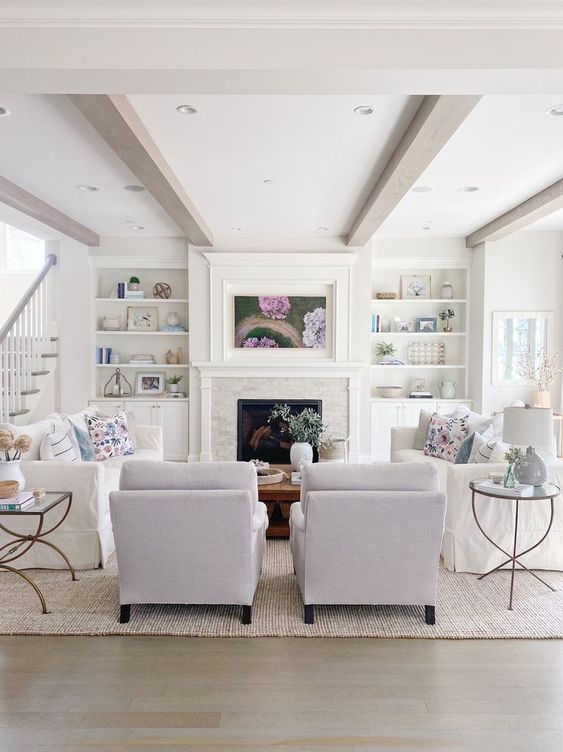 5. Updated furniture that coordinates in style.
Is your bedroom or living room a hodgepodge of furniture and decor pieces that have different design styles?
Is your furniture outdated?
Those 'marshmallow puff' recliner chairs can be replaced with chic and stylish hybrid recliners!
What's a hybrid recliner you may ask? It's a recliner where the footrest extends but the back stays in place!
So it takes up less space in a room and in my opinion looks much nicer than recliners where the back flattens out.
If your rooms are filled with furniture that you've inherited, old & dated furniture or furniture from college your rooms will look like a furniture store, not like a cozy, inviting, pulled together space.
Sell the pieces that dated and out of style and replace them with new pieces that have updated, coordinating styles and fabrics.
Design tip: Select one design style (traditional, modern, farmhouse, transitional) for your main furniture pieces (sofa, sectional).
You can layer in a second style, but those pieces should be smaller ones such as end tables, accent chairs.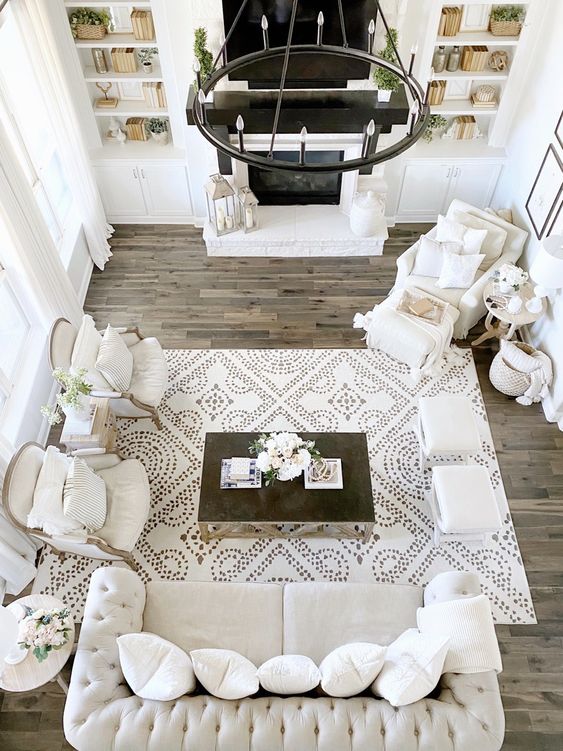 6. Coordinated flooring will make your home look cohesive.
Many people have homes that have many different flooring styles and colors.
Do you have hardwood flooring, vinyl plank, tile and carpeting? Are the flooring colors different?
I've seen a lot of homes where every room has different flooring and it causes a chaotic, disconnected look.
Cohesive homes have flooring that is all one type and one color. Such as all rooms with white oak engineered hardwood flooring.
This is especially important for the main floor. You can mix up the bedroom areas with wall to wall carpeting instead of the flooring in the main spaces, but make sure the colors coordinate.
Renovation tip: If you are updating one room's flooring consider waiting until you can afford to replace all of your flooring with one type.
This gorgeous white oak flooring runs through the living room, dining room and kitchen for a cohesive look: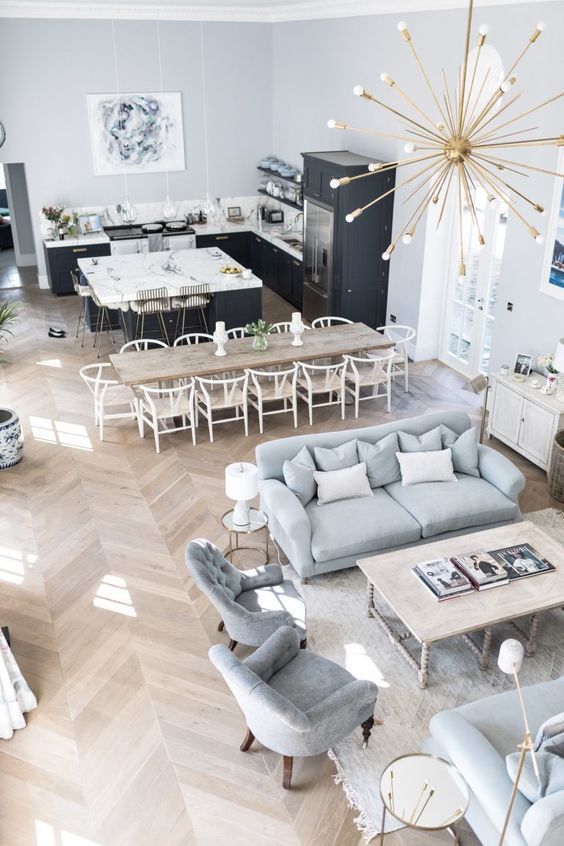 source
7. Coordinated paint color scheme.
A big mistake made is painting each room a different color or with colors that don't coordinate. This results in rooms that don't feel cohesive.
When your paint colors flow and coordinate, it will make your rooms look pulled together and so relaxing!
Create a paint color scheme for all the rooms in your home that coordinate and compliment each other.
5 Ways To Create A Whole Home Paint Color Scheme
The other mistake I see people making is that they pick paint colors that don't coordinate with the fixed elements in a home, like the undertones of their kitchen cabinet color and flooring color.
Please make sure your wall colors flow with your cabinetry, tile and flooring fixed elements!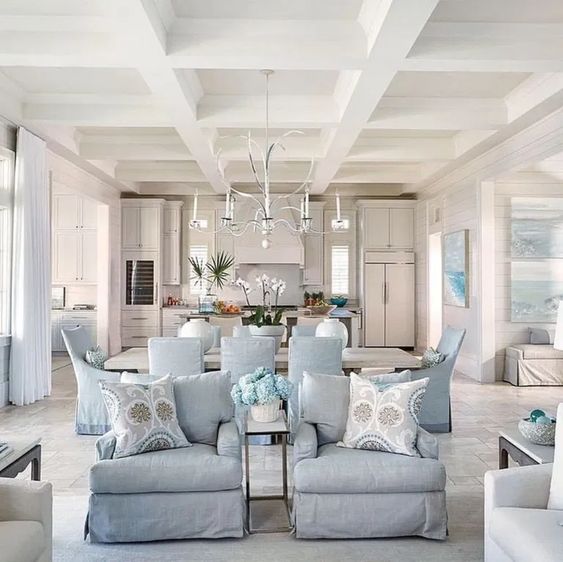 8. Coordinating accent colors
If your rooms don't have coordinating decor colors your home will feel choppy and disjointed.
Select a couple of coordinating accent colors for example (blue and gray, blush pink and white, sage and ivory or blue and white) to sprinkle throughout your rooms.
Keep your furniture colors neutral (gray, beige, ivory, white).
When your accent colors are consistent and flow then your rooms will be cohesive and have that designer look!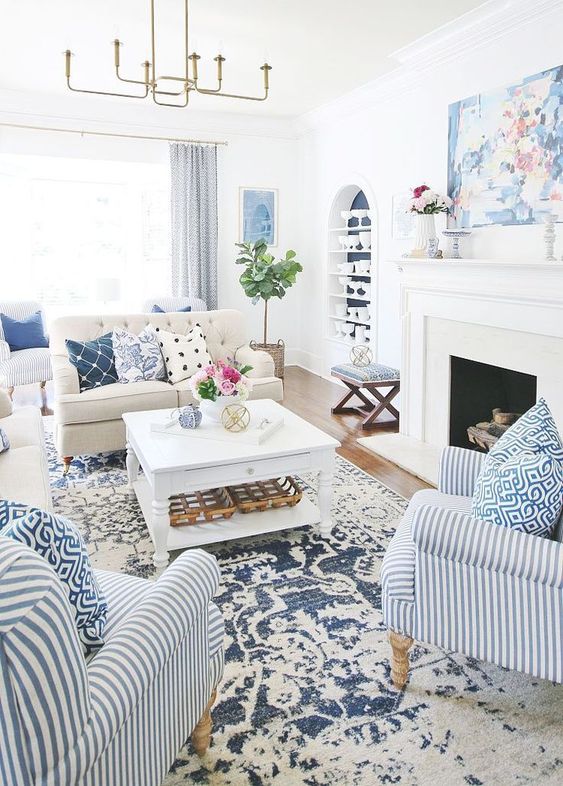 9. Family photos with coordinating frames
Do you display lots of family pictures with different frames?
I see this mistake make with many of my design clients!
Believe me, I love my family to pieces! But displaying family pictures in frames (that don't match) that sit on every table and are on every wall, make rooms look cluttered and messy.
Also – don't fill glass door cabinets with framed family photos! Photos should be displayed on table tops and on walls, not behind glass doors.
Instead – do this: Create one gallery wall of family photos in a bedroom or hallway wall. Buy new frames (with matting!) that match and hang your favorite pics to create a stylish gallery wall.
A grid wall like this is gorgeous and looks so stylish and pulled together!
Even better – schedule a family photo session outdoors with a photographer and create some gorgeous black and white photos of your family with mother nature as the backdrop.
Black and white photography is so stylish and will create a coordinated, cohesive look in a gallery wall.
Design tip: Take iPhone pictures of all your mismatched family photos, print them off and keep some in a bowl on your coffee table to look at and put the remaining photos in photo albums!
A gorgeous family photo gallery wall with matching frames: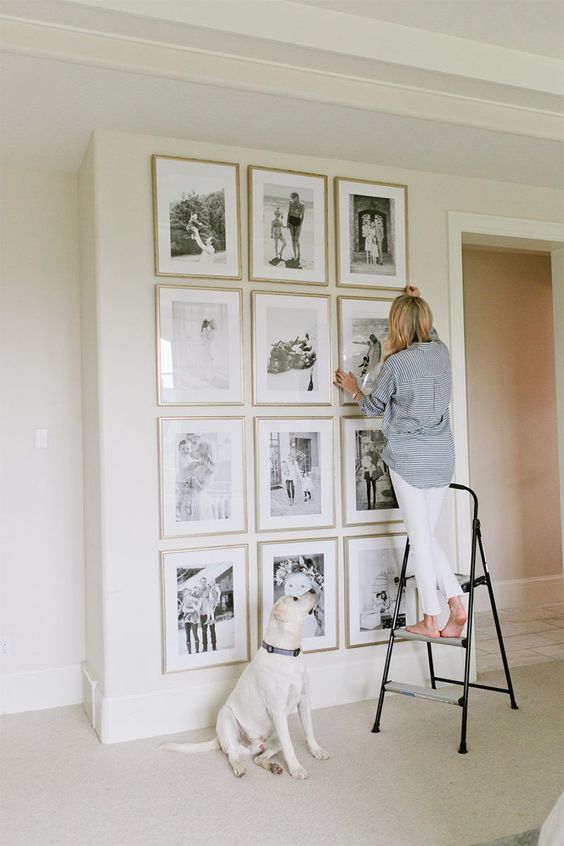 10. Area rugs for cohesive design.
If your rooms don't have area rugs, or the right sized rugs, your home will look disjointed.
Area rugs in every room just make a space not only look cozy but they create flow and cohesion.
Area rugs ground a room. Make sure they are coordinated in style and color.
A big mistake people make with rugs is that they buy rugs that are too small for their furniture arrangement!
See Design Tip: How to Choose the Perfect Area Rug
My Kitchen with coordinating breakfast nook rug and kitchen sink rug: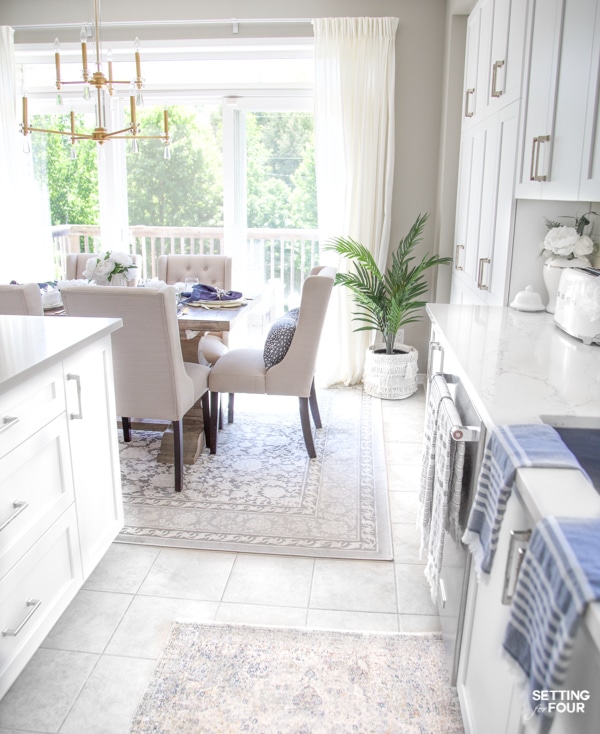 Click the images below to shop my kitchen and breakfast nook:

11. Cohesive lighting.
If your home's lighting is dated or doesn't match in style, your lighting fixtures can really fight with the flow and look of your spaces.
For example if you have a contemporary, transitional pendant in one space and a tuscan chandelier in another room, it will interrupt the flow of styles and feeling.
Lighting needs to be consistent across all rooms, especially open concept spaces where you see many light fixtures at once.
This doesn't mean all finishes or styles have to match exactly.
An easy way to create a cohesive lighting look is to pick lighting with all the same metallic finish, for example all the lights have a satin nickel finish.
Some lighting manufacturers make it really easy for you to get a cohesive look by selling lighting in collections.
When we remodeled our tuscan kitchen we selected pendants for the island and a dining table chandelier from one collection called the Milan collection: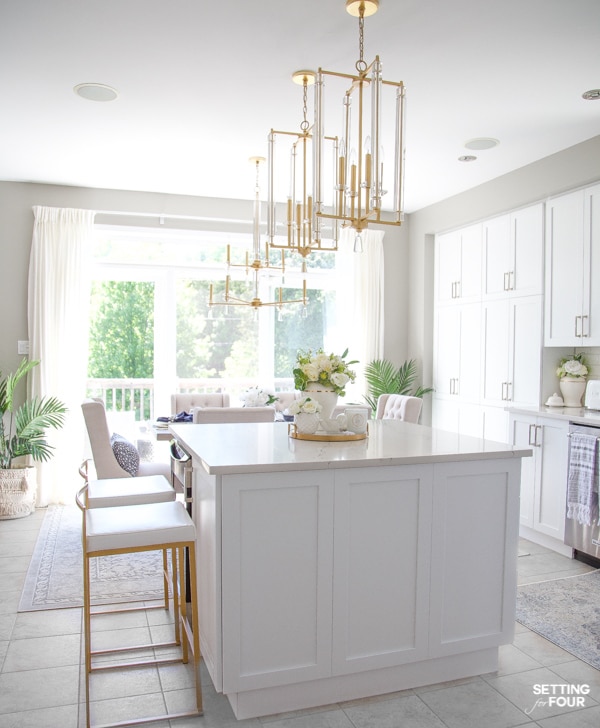 Click the images below to shop my kitchen and breakfast nook:


An example of a lighting collection is this gorgeous 4 light pendant that is part of a collection which includes a 6 light and 8 light chandelier and a linear pendant!
You could add the linear pendant over a dining table, two of the 4 light pendants over your kitchen island, a 6 light pendant in the foyer and the 8 light chandelier in your stair well.
The other way to make your lighting cohesive is to buy lighting pieces that all have some white in them (the shade, or using decorative round white bulbs) like this space has: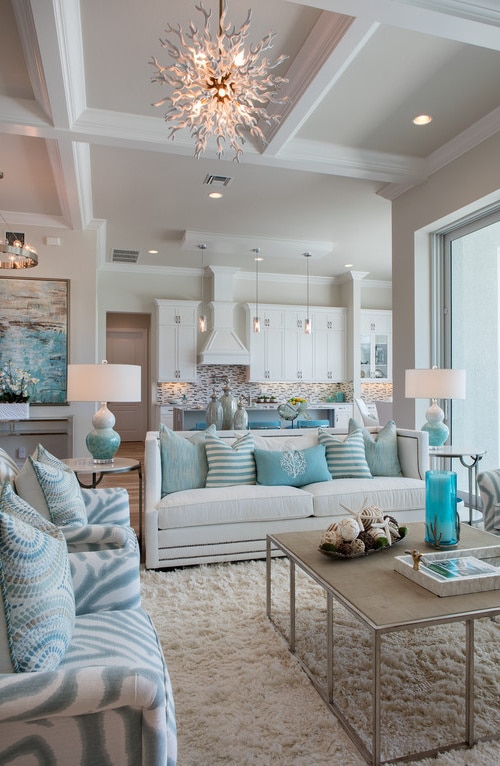 12. Make your home look cohesive with great storage solutions.
Another big mistake people make is not having enough storage in their rooms! A room can't look and feel cohesive when there is too much 'stuff' laying everywhere!
Do you need more storage in a room? Buy furniture with integrated storage (sideboard with cabinet doors and shelves) and baskets to make your room functional and beautiful!
Need someplace to store kids toys in a living room? Add a beautiful cabinet or sideboard with both drawers and doors and use it for a TV stand.
Or buy lidded baskets like these to store toys.
How about buying an etagere for shelf space and displaying decorative boxes and baskets on it for extra storage?: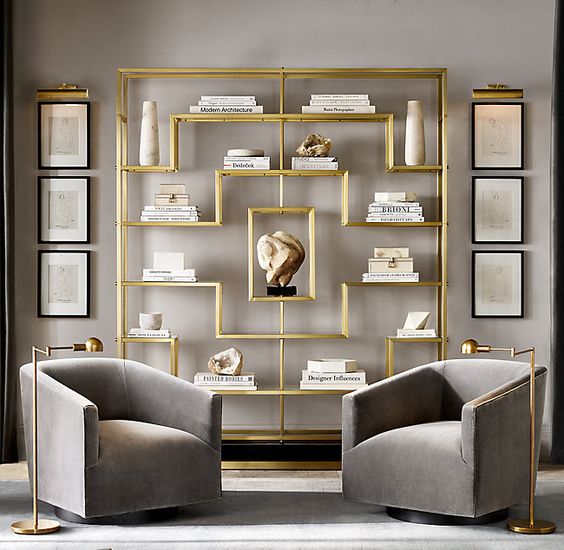 Shop bookcases, etageres and decorative storage boxes:

I LOVE this wall mounted bookcase for a bedroom, family room or bedroom! It's so affordable and comes in many colors!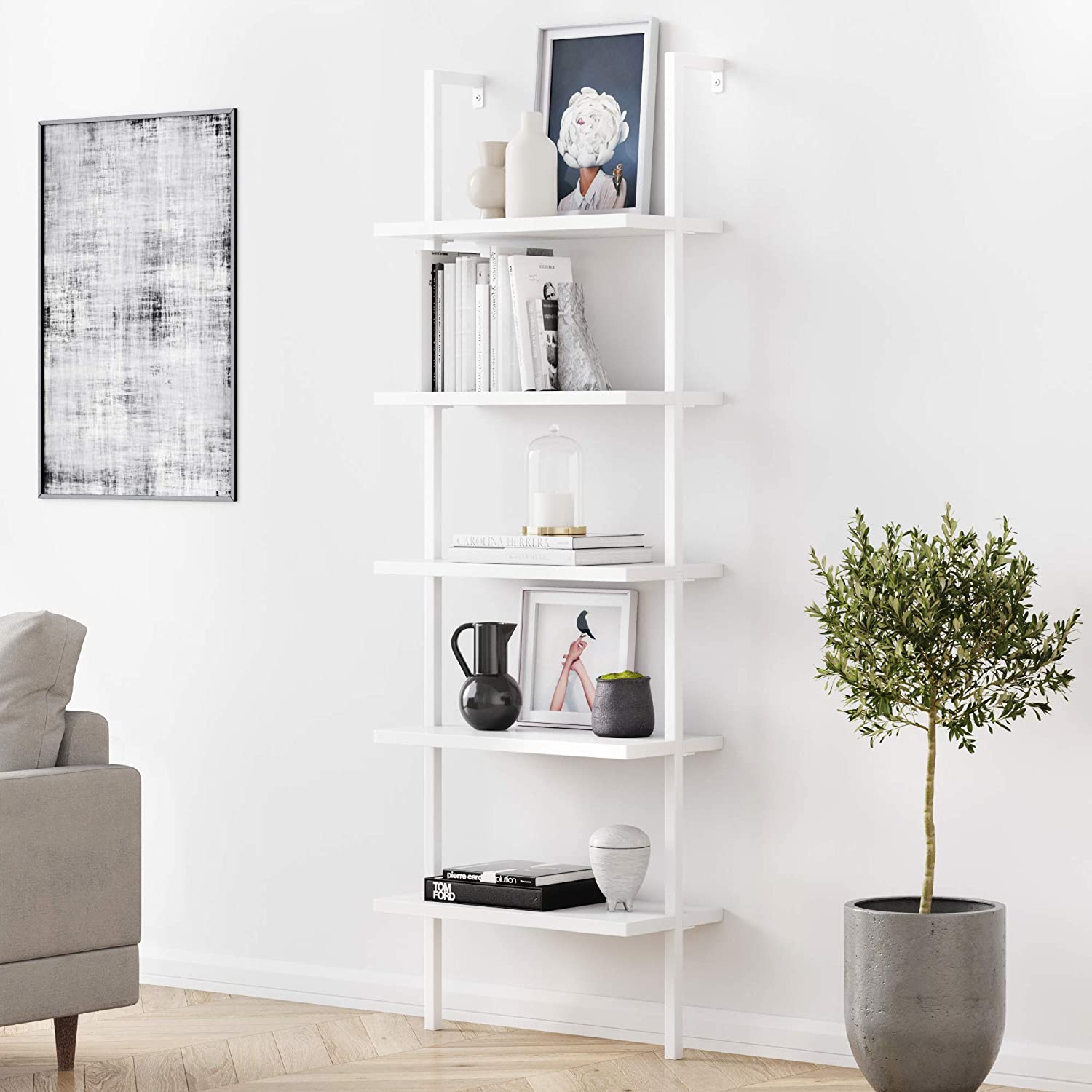 13. Window coverings.
Do you have horizontal blinds in one room, vertical blinds in another room and drapes in another space?
Are they different colors and patterns?
This mistake will make your spaces look choppy and chaotic.
Add window treatments that coordinate in color and pattern for a seamless look that flows.
Need horizontal blinds in your rooms? Make sure they are all the same color and style.
Roman shades or plantation shutters are always a winning window treatment look for cohesive rooms!
I'm a big fan of buying neutral colored drapes, white is my favorite because it blends in with wall baseboards and white window trim.
Another trick is to coordinate patterned curtains with the room's accent color!
The drapes in my guest bedroom are a blue trellis pattern, which coordinates with the room's navy accent color and creates a cohesive look.
New Bedroom Updates- Juju Hat Wall Decor, Duvet Cover and Lamps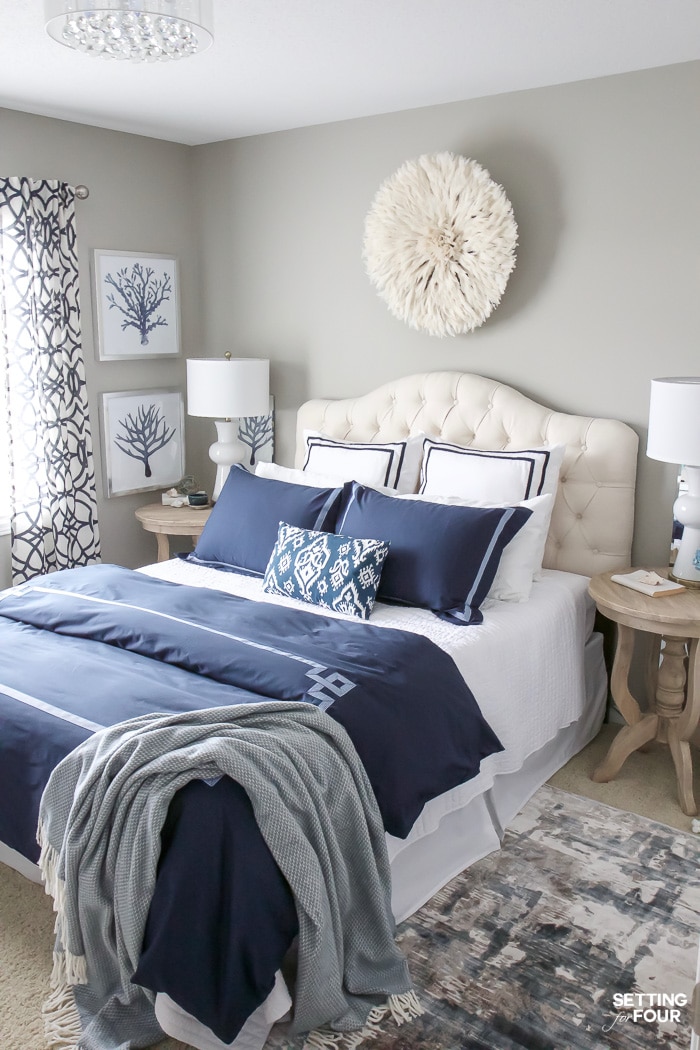 Click on the images below to shop my guest bedroom:

14. Make your home look cohesive with decorative accessories and pillows.
The sure fire way to make a room look pulled together and cohesive is to layer in decorative accessories and pillows that replicate your accent color and room style.
If a room is under accessorized it will look bleak and boring.
On the other hand too many tchotchkes will make a space look cluttered.
If you have a collection of ironstone, ginger gars or other collectibles, group them together and display them in one area such as on a table, sideboard, in a book case.
Adding a few new decor accents and pillows will instantly update your room!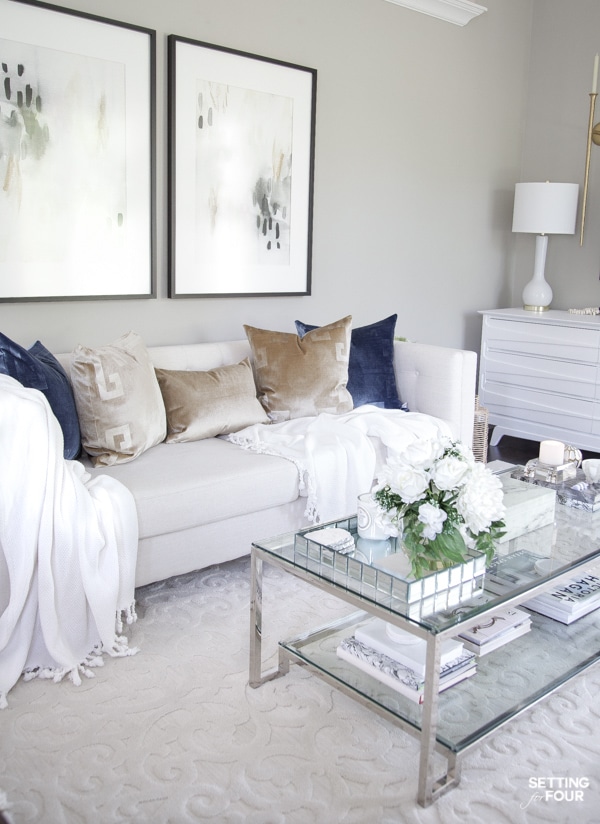 Click on the images below to shop my living room:


Here is a list of the 10 Design Mistakes Your Making – Why Your Rooms Don't Look Cohesive or Pulled Together:
You haven't defined the room's function. You don't have furniture in the room that fits those functions.
You have a bad furniture layout that doesn't work.
Your furniture is too big or too small.
You have too much furniture or not enough.
The furniture, rugs, curtains or decor is dated or doesn't blend in style.
Your flooring is a mixture of types/colors.
Every room is a different color. You don't have a cohesive whole home color scheme.
Your accent colors aren't coordinated . You have different accent colors in every room.
Family photos are scattered in many places in a room and don't have coordinating frames.
You don't have area rugs in the right size for the furniture arrangement.
Your lighting pieces have different finishes and styles.
You don't have enough storage pieces for your room.
You have different window covering colors and styles throughout your home.
I hope you enjoyed these design tips on how to make your home look cohesive and pulled together – the right way!