Learn these easy tips on how to mix design styles so they don't clash or feel chaotic! By mixing different design styles in the right way your spaces will feel super stylish and interesting!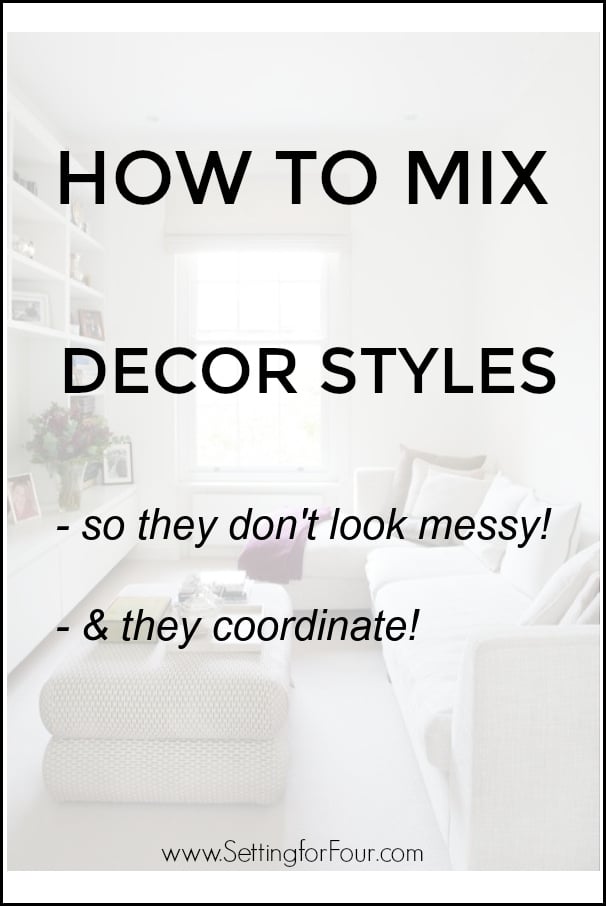 Why do you need to mix design styles so they don't clash and look messy?
Sometimes we have to combine design styles and different tastes when our partner's furniture is added to our own.
Maybe you've inherited a piece of furniture that's not your style! How do you add it to your home and make it fit in with your style?
Also, our design style changes over the years! Just like our fashion style, our design style changes with time.
So we'll be adding different styles to our home over time.
All of these situations will end up with rooms in a chaotic, hodge podge mess if you don't mix design styles in a way that lets them compliment each other!
Professional Designers will intentionally mix design styles to create a curated 'professional' designed room using these techniques.
Here's how to combine design styles the right way so they don't look messy and so they coordinate: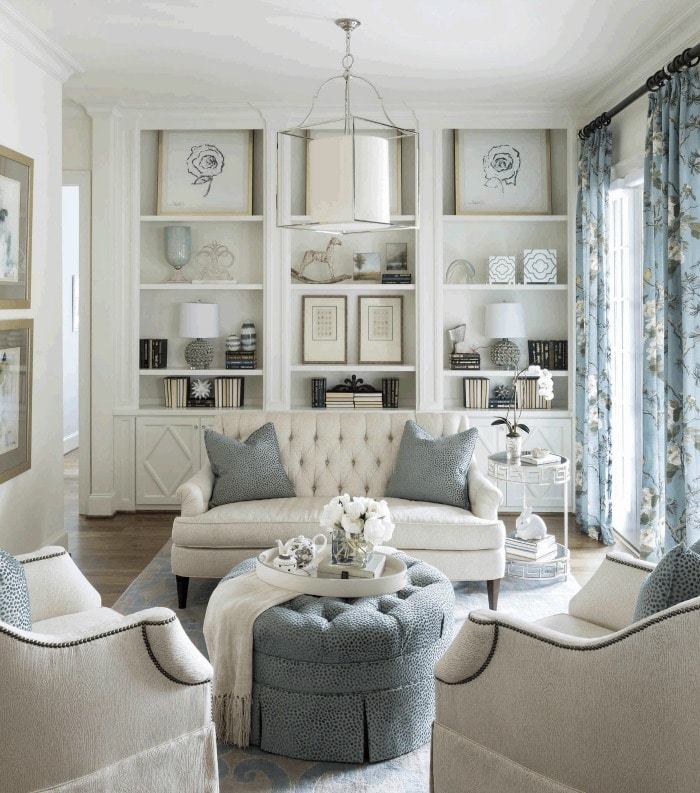 Mixing design styles creates beautiful Design and Interest in a space
A room filled with items in just one single design style makes a space feel flat, boring and uninteresting.
By mixing different design styles they play off each other and make a room more stylish and layered.
Interior Design Advice: Do's and Don'ts Every Beginner Should Know
For example a contemporary modern room with one antique piece, like this mirror in the picture below, looks amazing and inviting!
Having a room filled with only contemporary modern furniture and decor can look boring, flat and cold.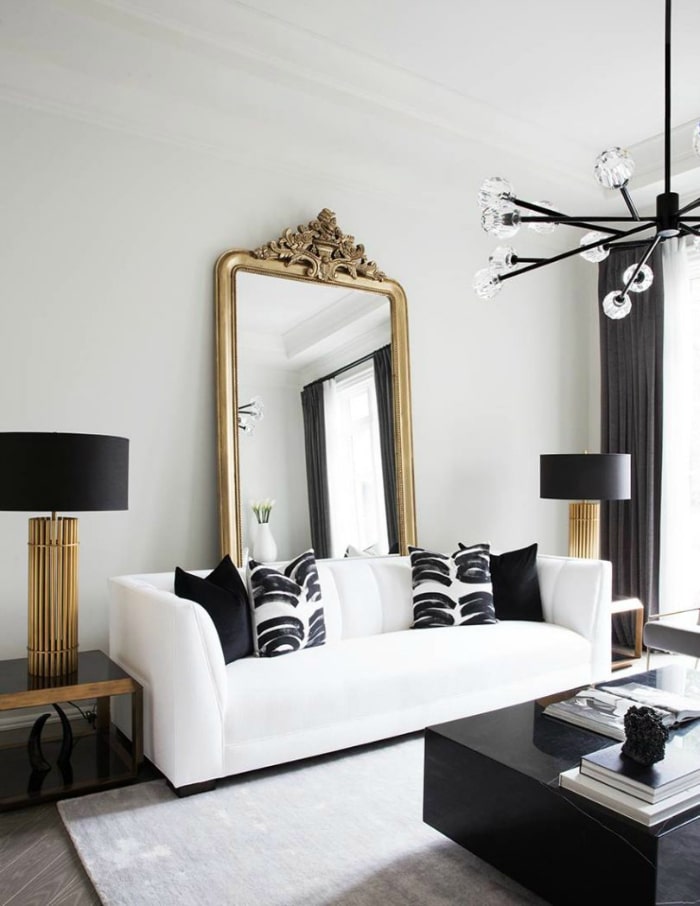 ---
Need help decorating or help picking paint colors? I offer online design services and paint color advice!
See the info on my services, my client designs & client reviews here!

---
80/20 Rule
Use the 80/20 rule and assign 80% of the room to one design style ( the style you most love ) and assign 20% of the room to the other style.
This ratio will allow the different styles to compliment each other, not fight each other.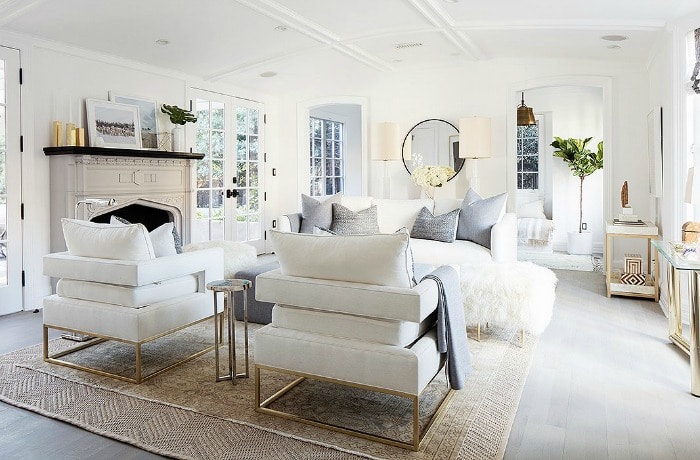 Repeat the Colors when mixing design styles
When I added a gorgeous vintage wood veneer Mid Century Modern dresser to our transitional living room, I painted it white to match my sofa color and ivory rug.
By painting the MCM dresser white it now flows with my transitional glam style.
If I had left it the brown wood stain, it would have stood out like a sore thumb and dictated the entire room.
White paint and wood is a magical combination!!!
If you are blending your partner's pieces with yours, reupholster or paint pieces to repeat other colors in the space.
If you are buying a new piece that has a different style from what you have, make sure it's color/upholstery is similar to your existing pieces.
Use repetition of color to make different styles coordinate.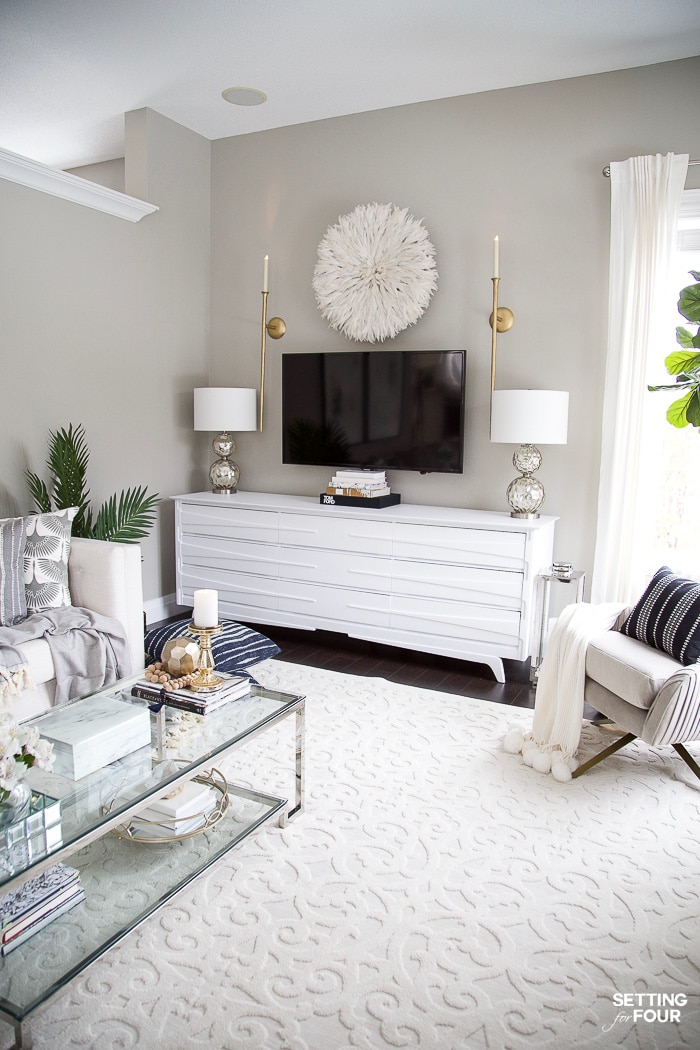 Choose a Limited Color Palette
Limit the color palette to create flow and balance.
By limiting the color palette different styles will clash less and coordinate with each other.
You should limit the colors in a room and limit the colors throughout your home to avoid a hodge podge look.
That means picking only one – three paint colors in your entire home and using only two or three accent colors for your decor.
See the paint colors in my home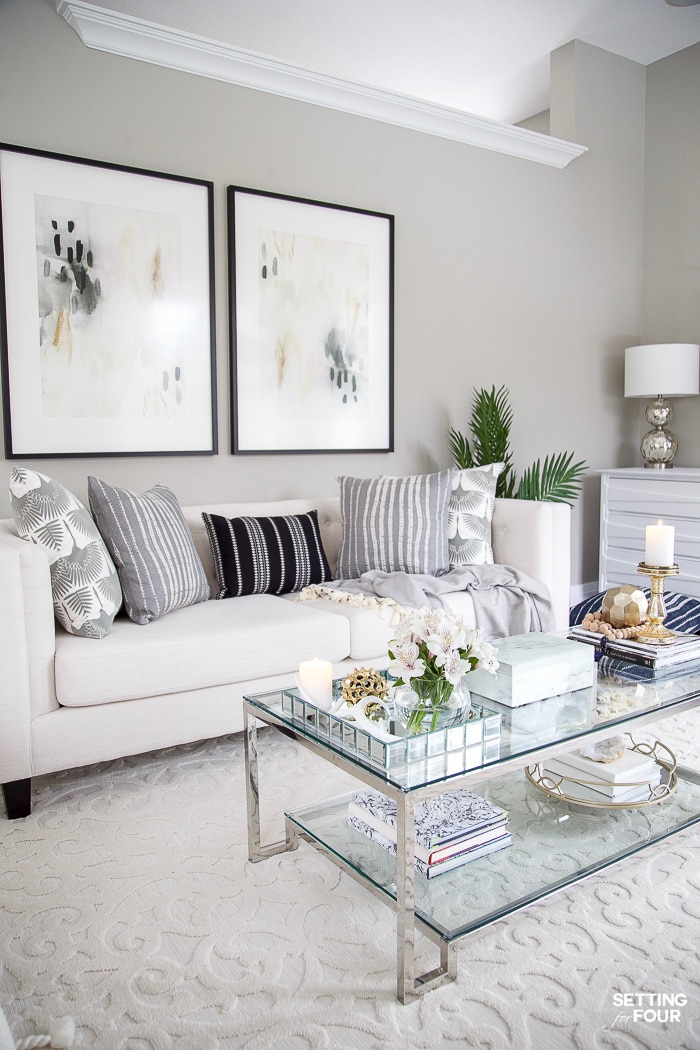 Choose a Unifying Pattern
This applies to any space, but especially with rooms that contain different styled furniture, lighting and decor.
Choose one pattern to unify the room: it can be plaid, ikat, chinoiserie, florals…. pick a pattern you love!
One pattern will bring a room together and connect different styles.
Make the Odd Item the Focal Point as the room's inspiration piece
If you have one furniture piece, rug or light that doesn't seem to fit the rest, don't try to hide it.
Draw attention to it by using it as the focal point of the room.
Furnish and decorate the rest of the room around this piece.
Add some pieces with similar shape and color to make that odd piece appear as if it's an intentional choice.
Match wood types
I see this so often in my design consults! A space looks cluttered and a hodge podge because the wood types don't coordinate and there are too many wood colors & undertones.
The rule of thumb is to have no more than three different wood types in one room.
Take your different styled pieces and if you can, group the ones that have matching wood types into one space.
It's remarkable how two completely different period furniture pieces will coordinate when they are the same wood type!
If you have mismatched wood pieces that you can't part with, consider painting them white, ivory or another color that is in the space or refinish them so that their wood stain colors match.
Our dining room table, console and chair legs are all dark brown.
How To Update Dining Room Furniture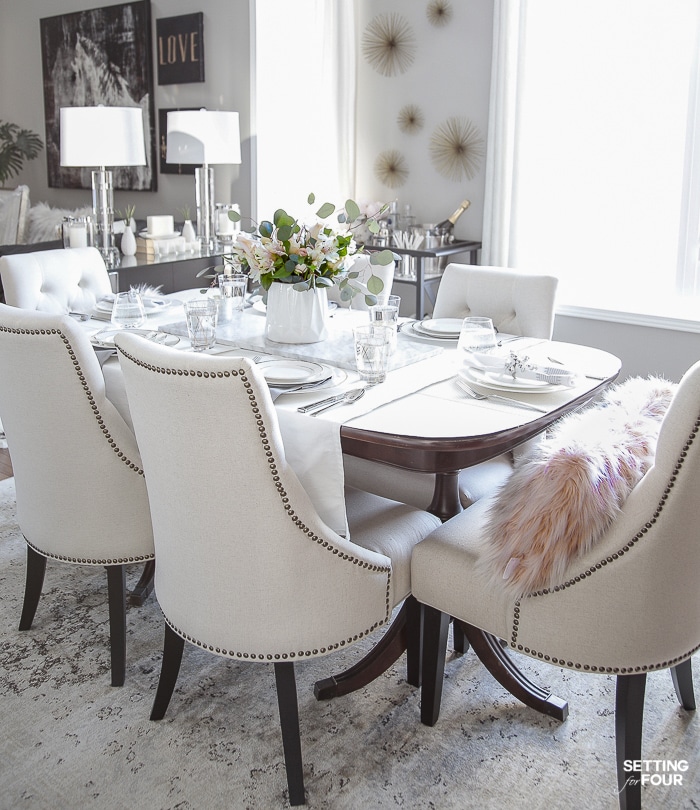 Mix in a few current, on trend pieces
Add a few pieces of furniture that are in a current style.
How To Update Dining Room Furniture
The addition of on trend (not trend-y!) pieces will make the different design styles you have look fresh and current too!
This may mean purchasing a few new pieces to make the other different styles in your home work.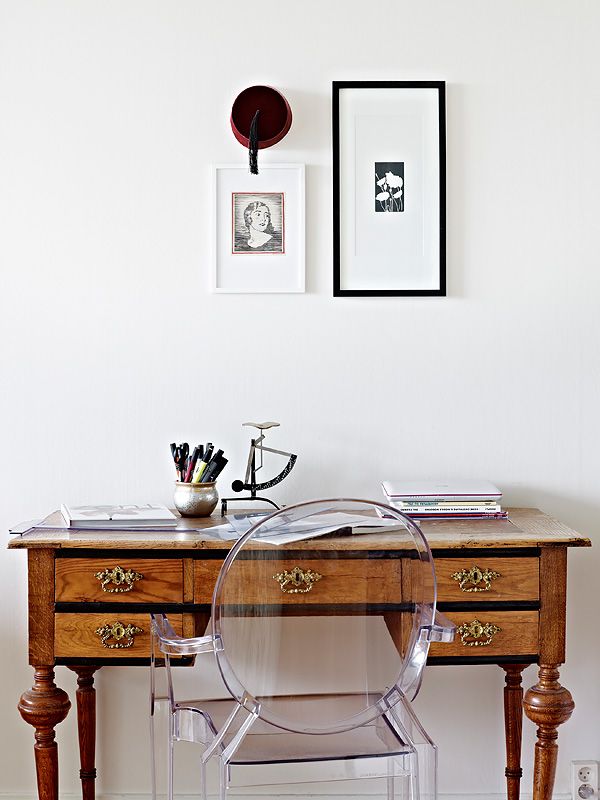 At the end of the day, do this when mixing design styles
At the end of the day there may be pieces that just don't work because they are simply dated or the style just doesn't mesh.
Consider selling them and using that money to buy something you love that will work better in the space!
Our style changes throughout the years – with our experiences and with time.
I'm a firm believer that you should LOVE the home that you're in.
Life is too short to live with furniture and decor you no longer love.
It's so important that our home, our furniture and decor fulfills our hearts and our minds with interest, beauty and happiness!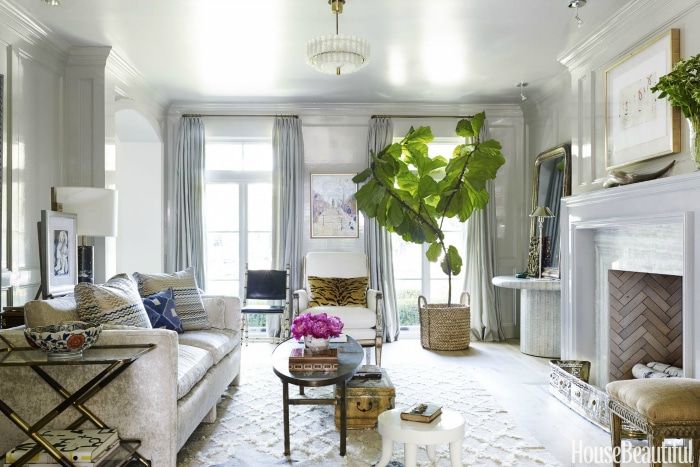 I hope you enjoyed my post on How to Mix Design Styles So They Don't Clash!
You may also like: