Learn how to arrange furniture in a rectangular living room!
These design tips will show you how to arrange your furniture – the right way – to create a cohesive layout that feels inviting and looks pulled together!
Living rooms come in all shapes and sizes. Some are more difficult to design than others.
The challenge with a rectangular living room is knowing how to create a balanced layout that flows and looks cohesive.
In this post – I'll show you how!
PLEASE PIN THIS AND SAVE IT FOR LATER!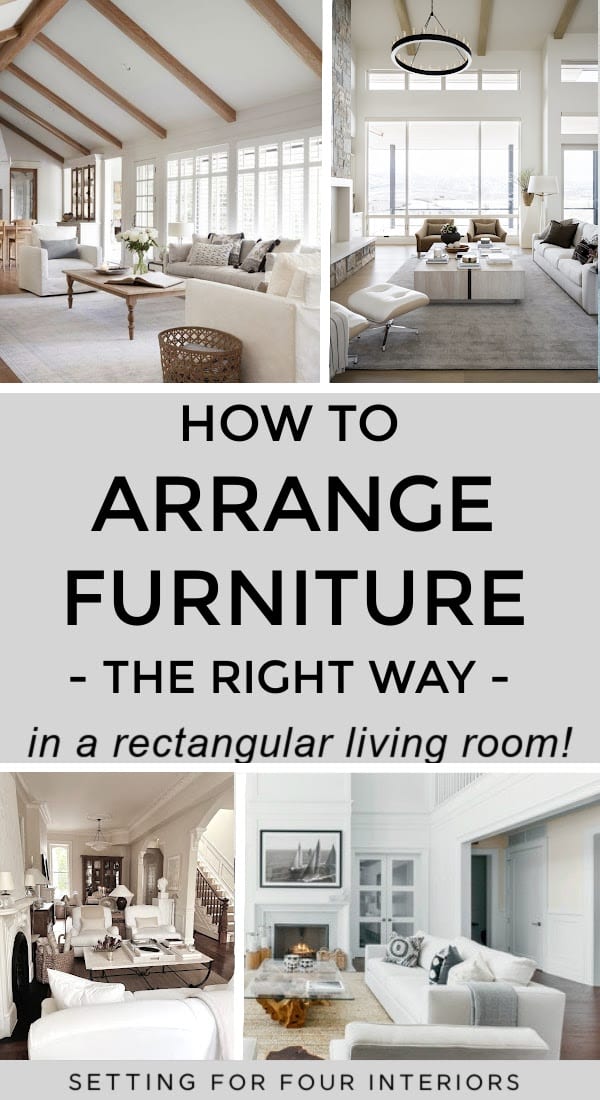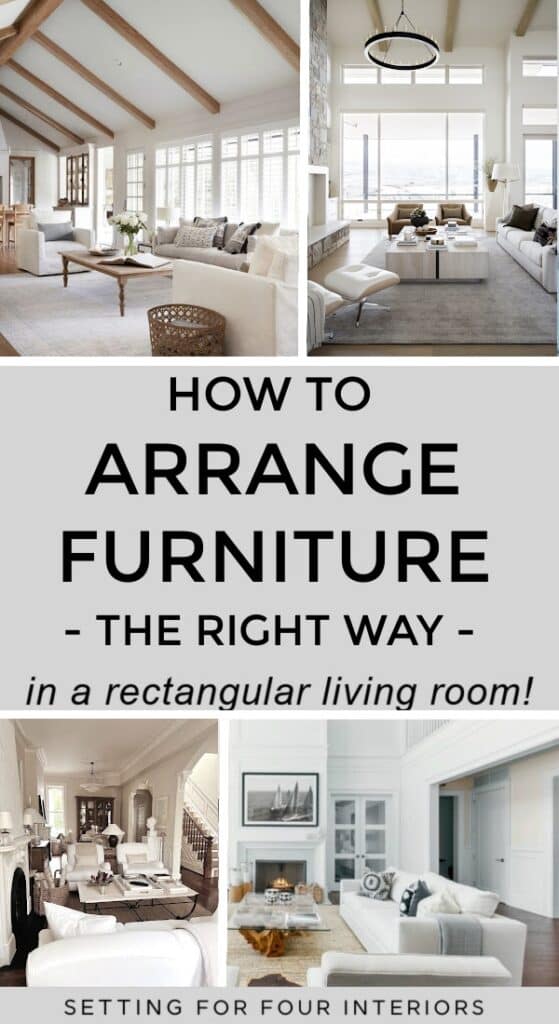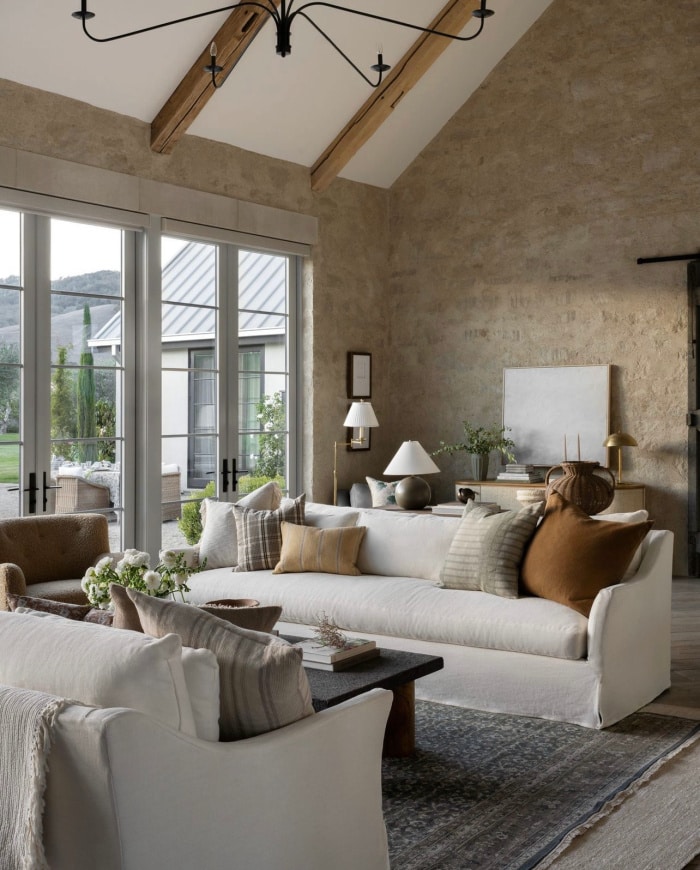 Source: McGee & Co.
Interior Design Rules For Arranging Furniture In Rectangular Living Rooms
1. Create multiple zones
Don't arrange all of your furniture at one end of the rectangle!
You have to create zones so that each end and the whole space is balanced.
At one end arrange your sofa, coffee table and end tables
At the other end add a writing desk and chair or a console table with art above it.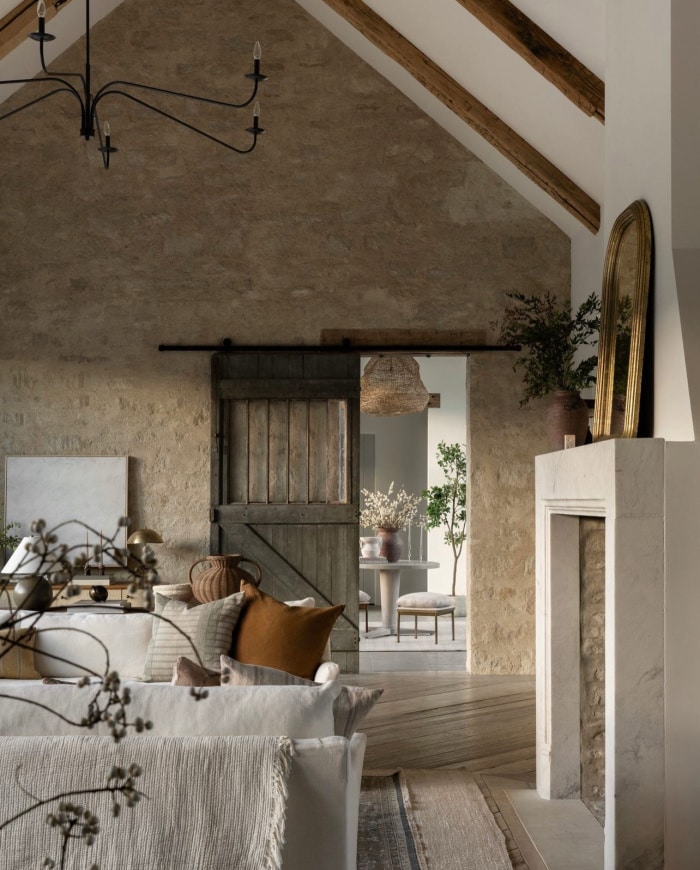 Source: McGee and Co
---
Need help with furniture layout, choosing paint colors, room design, selecting furniture or updating your home?
I'm a Designer and True Color Expert® – I can help!
See my Online Interior Design & Paint Color Services and client reviews.
Email me at [email protected] for more information and rates!
I'd love to work with you!


---
2. Determine the traffic flow
Look at the living room and determine how the traffic flows through it.
Do you enter at one end through a front door and walk along one wall to get to the kitchen?
Do you enter at the middle of the room to get to the upstairs stairway?
Once you have the traffic flow determined you can place your furniture accordingly.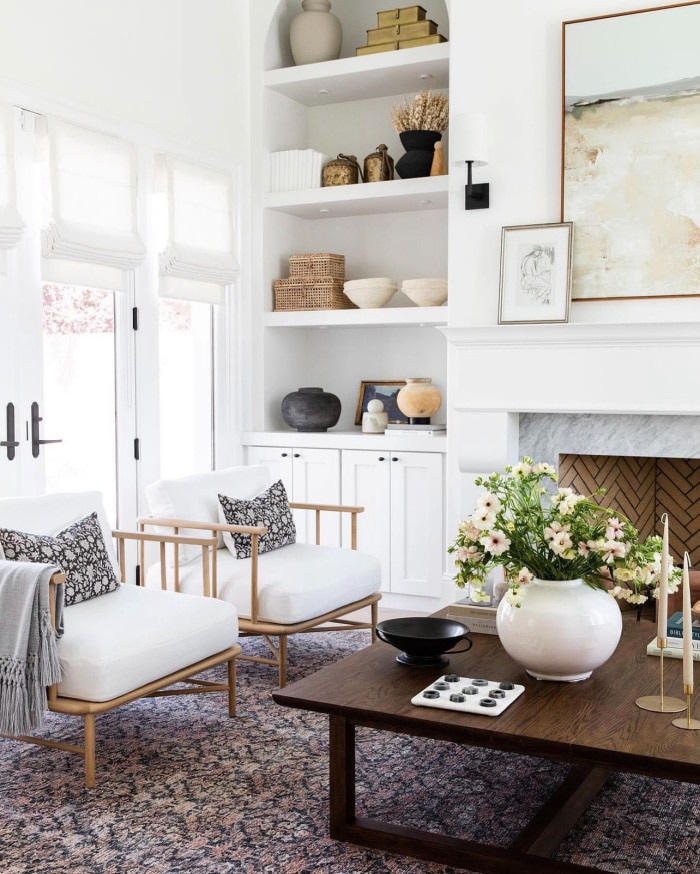 Source: McGee & Co
3. Provide adequate spacing around furniture
Make sure you arrange your furniture so that there is enough space to walk and move around.
You don't want to be bumping into furniture or walls to squeeze through the space.
Pathways require a minimum of 3 feet.
A walkway between two pieces of furniture should measure at least 2.5 feet.
The coffee table and sofa should be 18″ apart or 12 inches between the coffee table and an armchair.
If you have an open layout, consider the traffic flow in and out of adjacent spaces, like the dining room.
4. Maximize the width of the living room
Use the narrower width of the room to your advantage!
A narrow space will feel cozy and chic when there is wall art added to each wall, drawing the eye up.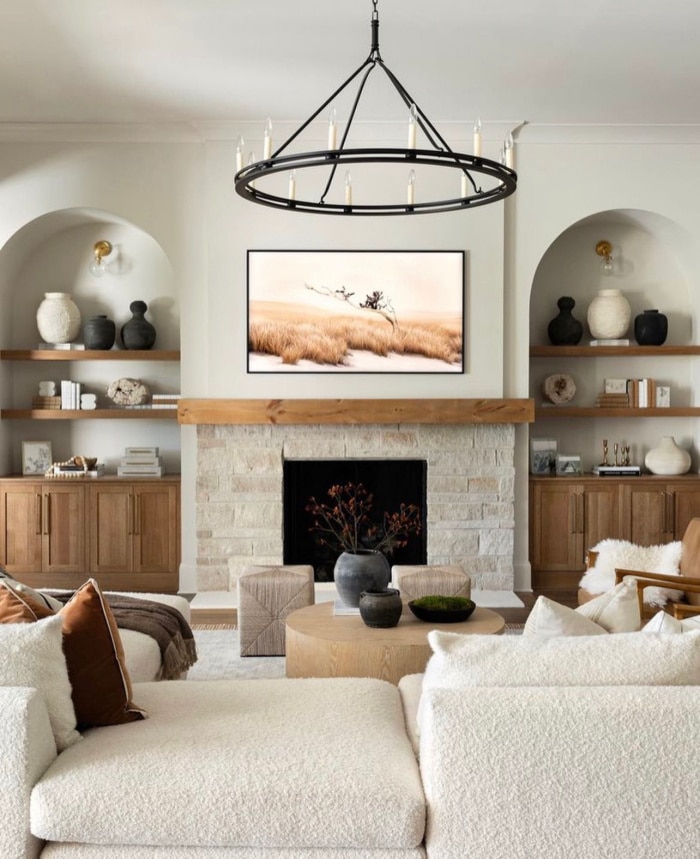 Source: JFY Designs
4. Create a focal point
Typically the TV or fireplace in a living room is the focal point.
If your living room doesn't have either of those you can use a large piece of art, a wall mirror or floor mirror as the focal point.
Or if your living room has a large window, make that the focal point.
Make sure you cluster 2 sofas, 1 sofa and chair or 2 accent chairs around the focal point to create an inviting primary conversation area.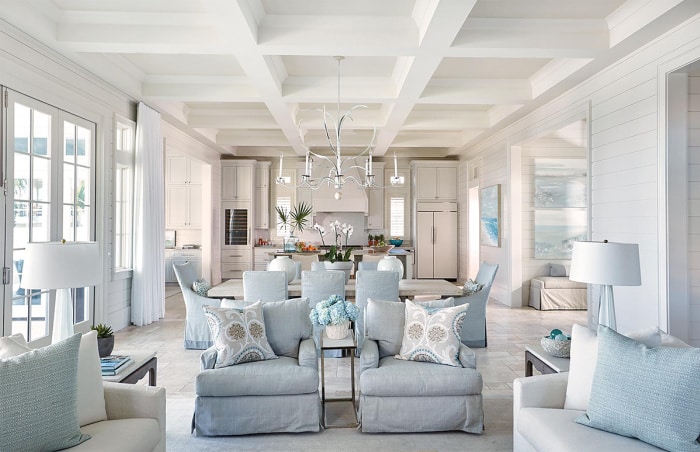 5. Furniture layout for rectangular living room with fireplace and TV
For a narrow room, I recommend placing the TV above the fireplace.
This will optimize the amount of space available for furniture.
You can also hang the TV on a wall over a TV unit placed perpendicular to the fireplace.
However, make sure your TV unit is as narrow as possible, to allow for other furniture pieces, sofa/chairs to fit the narrow room.
6. Repeat accent colors for a rectangular living room furniture arrangement
To create a cohesive look and feel repeat the accent colors throughout the rectangular living room.
For example if blue is your accent color repeat it in the accent pillows, coffee table decor, mantel decor, bookshelf decor and in the art.
I recommend repeating an accent color at least 3 times in a room to make it feel intentional.
Any less than 3 makes a space look unfinished and incomplete.
Avoid adding too much accent color.
You want the accent color to stand out but not overpower the room.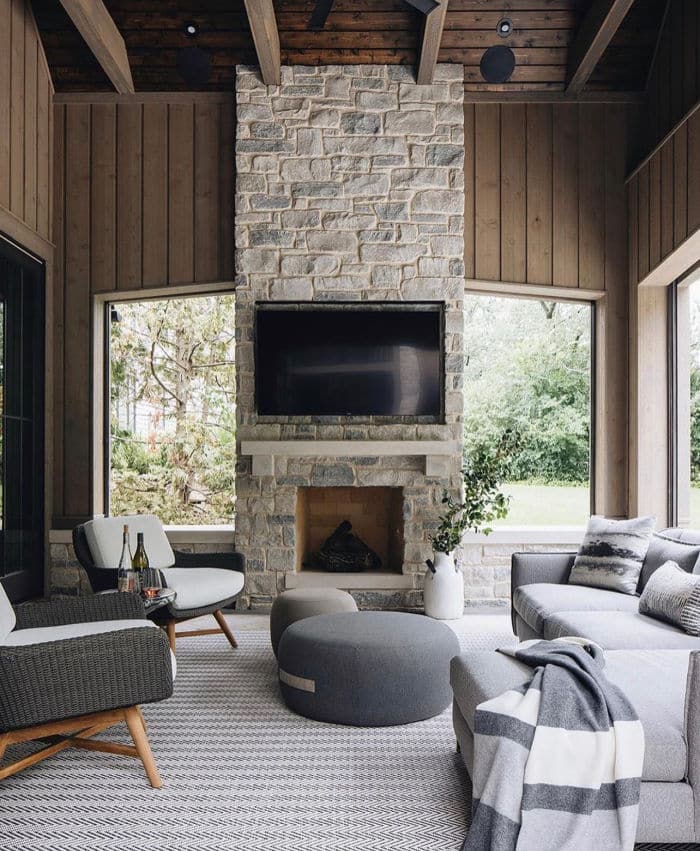 Source: Amy Storm & Co.
7. Area rugs
Rugs are one of the most powerful design tools you can use in any space.
Add rugs to your rectangular living room to establish seating zones, add visual warmth and texture.
Make sure your rugs are big enough so that the front 2 legs of a sofa or chair are on the rug.
Preferably all 4 legs of each furniture piece should be on the rug.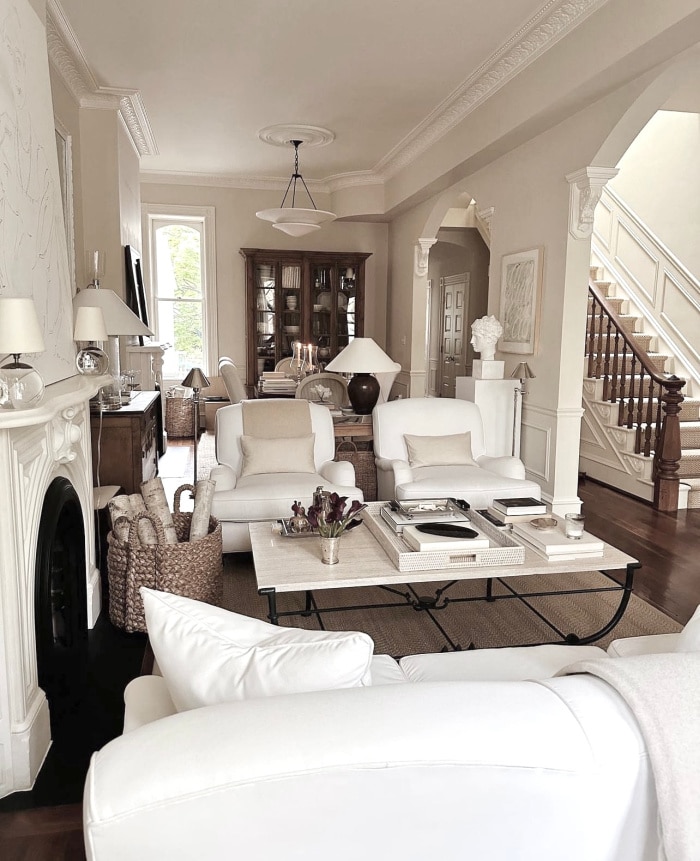 Source: Josh Young Design House
8. Use one paint color
Don't use 2 or more different pant colors in a rectangular living room.
This will make a rectangular shaped room look choppy and visually cluttered. It also will impede flow and balance.
Use 1 paint color in the entire livingn room and any adjoining open space.
---
The best way to sample paint? Peel & Stick paint samples!
Get these reusable peel & stick paint samples here!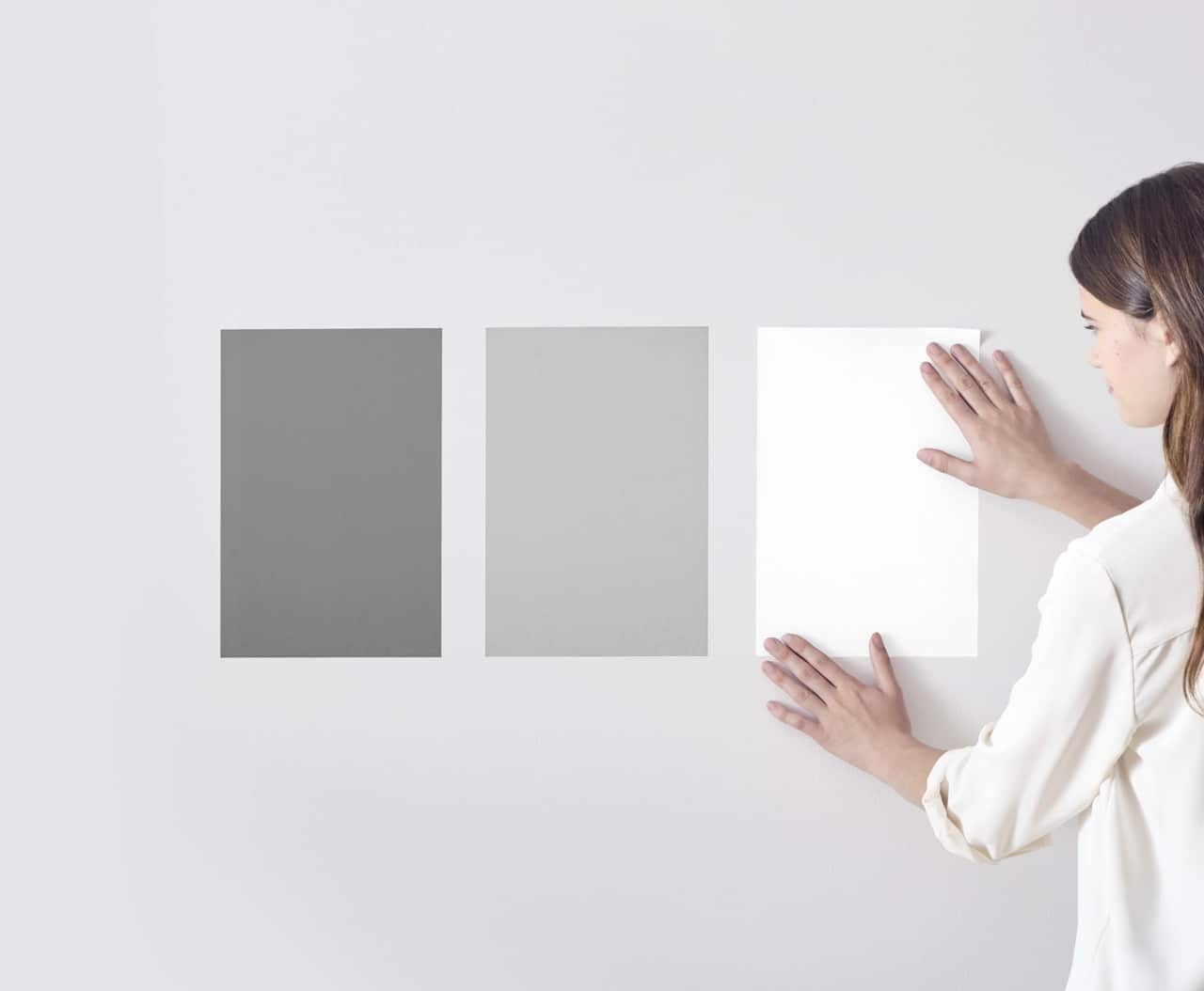 ---
9. Scale of the furniture
In a rectangular living room its very important to add furniture that's the right scale.
Furniture that's too small will create a bowling alley look
Furniture that's too big will make the room feel cluttered and can hinder movement.
Make a floor plan and select furniture that's the right length and width for your space, also allowing for movement.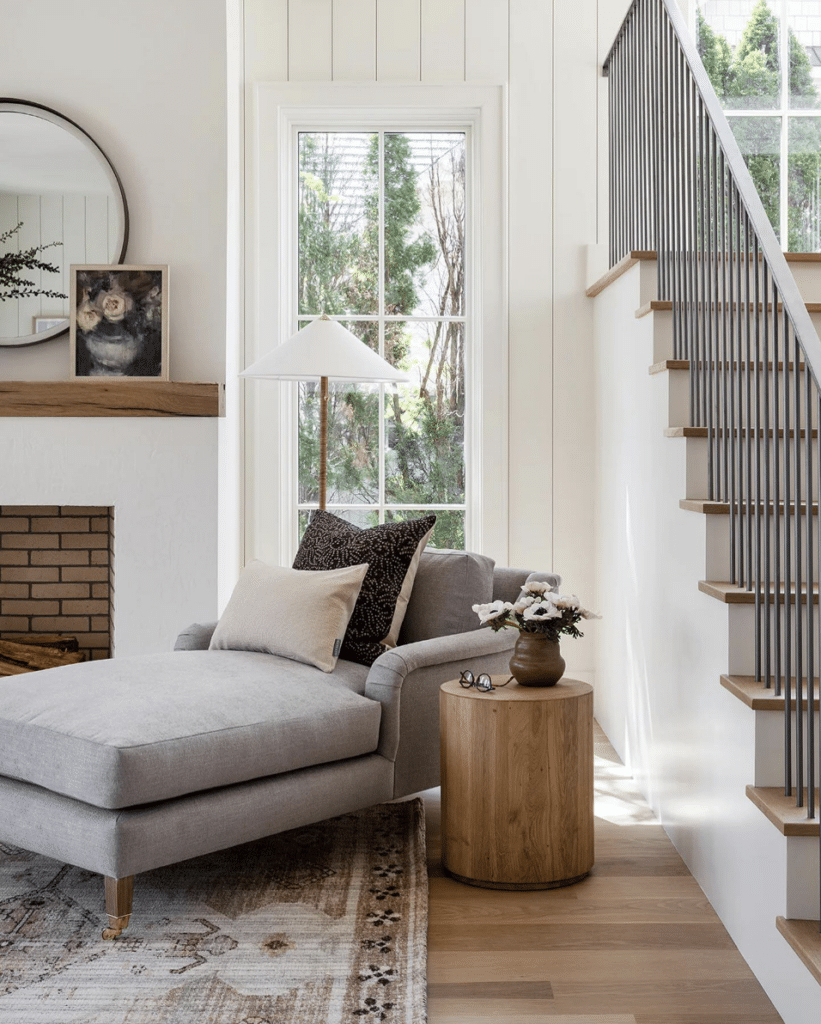 Source: McGee & Co
---
Need interior design help with your remodel, room refresh or new build?
See my Virtual Interior Design & Paint Color Services – and client reviews!
Email me at [email protected] for more information about my online interior design consults!
I'd love to help you create spaces that function well and bring you joy!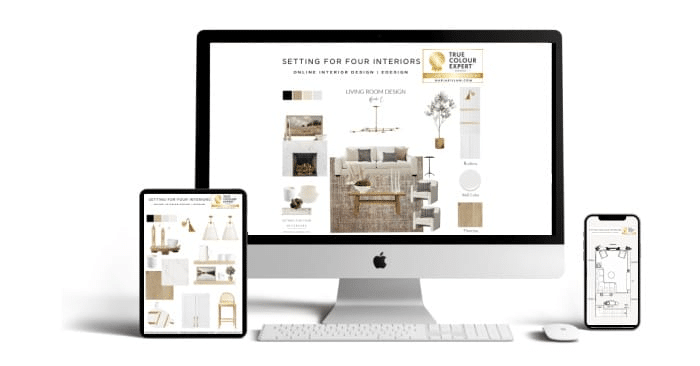 ---
10. Alternative seating and furniture solutions
Consider the following seating and furniture ideas to fill out the rectangular living room shape:
A chair and an ottoman pouf with a sofa
A chaise and sofa
2 poufs
A console table with art or a mirror above it
Small end table with a chair and floor lamp
A bench
A sectional chaise sofa and coffee table
A desk with art above it and a chair
I hope this gives you some ideas and strategies on how to arrange furniture in a rectangular living room!
Here are some Frequently Asked Questions and answers to Arranging Furniture in a Rectangular Living Room that may apply to you!
How do you use a rectangular living room?
Create a primary seating/lounging zone that will take up the most space.
This area will be used for reading, watching TV, lounging and entertaining friends and family.
Create a smaller secondary seating area, desk/study zone in the remaining space.
This area can be used for paying bills, storing paperwork, a child's homework area, a spot to sit with a cup of coffee or tea!
This will create a balanced furniture layout for a rectangle living room shape.
How do you arrange a long rectangular living room?
Add as many seating zones as possible! Take into consideration the amount of space to move around furniture. Create d a primary seating area and then add as many separate small seating areas as possible.
Make sure that the long rectangular living room isn't cramped or cluttered.
Fill in corners with a potted faux tree or tall potted plant to make the long space feel cozy.
Where to put the TV in a rectangular living room?
Place the TV in a spot where there is the least amount of traffic.
It should be placed where you want to create a focal point, to base the primary seating arrangement on.
How to place furniture in a small rectangular living room?
Make sure your furniture pieces are not bulky and are clean lined to maximize the small rectangular living room space.
If the living room has a fireplace I recommend placing the TV over it and not on a separate TV unit, to allow the most space possible for sofa and chair placement.
Use an area rug that's as large as possible to make the room feel bigger and anchor the furniture on.
How to arrange a narrow rectangular living room layout?
The focus should be on furniture that's as narrow as possible.
Don't use sofas and chairs that have deep seats.
Add a narrow coffee table to optimize the space needed to move around furniture.
Apartment sized furniture pieces are a great idea to maximize the narrow footprint of the room.
Use a single large wall art piece or two large wall art pieces over the sofa to draw the eye up and visually expand the narrow room.
Adding grid style wall art gallery of art prints or photographs on an empty wall will also make the narrow room feel bigger.
More Design & Decor Ideas: