See this modern classic living room – design & styling ideas!
This is a recent living room e-Design I created for a design client.
And I thought I'd share some of the design details that you can copy in your own living room!
Read on to discover all the details and inspiring styling ideas for this inviting, layered room.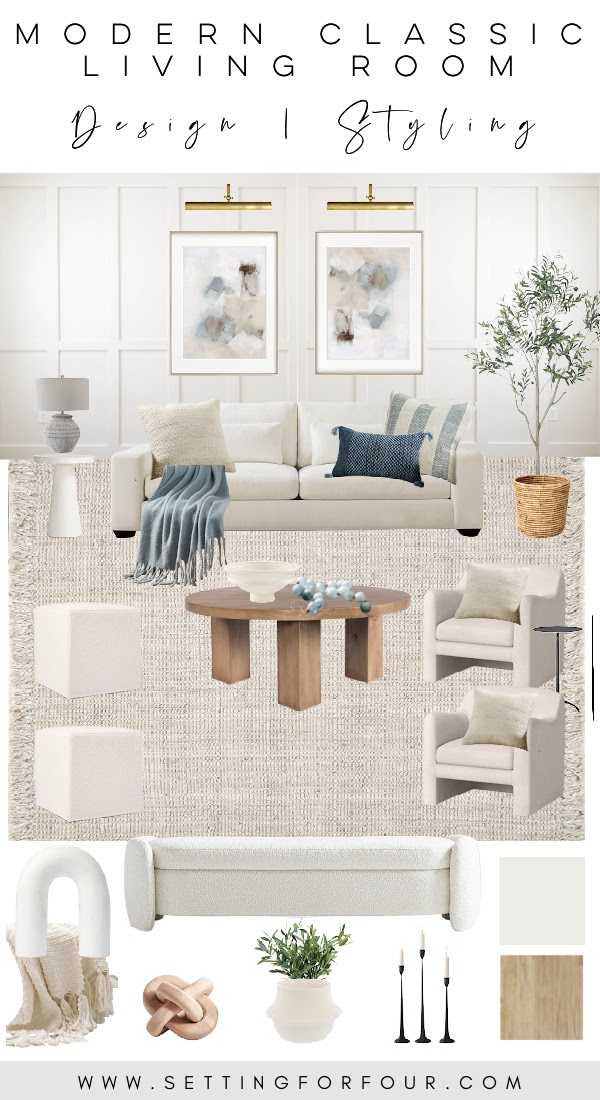 This post may contain affiliate links. Please read our disclosure policy.
Modern Classic Living Room – Design & Styling Ideas
Create a welcoming, stylish and timeless living room that's full of texture and beautiful neutrals.
Cozy and comfortable furniture and beautiful accents are combined to create this on trend look.
What is modern classic design?
This design style is a combination of modern design and classic design.
It's a big trend right now because it's so fresh, comfortable, functional and beautiful!
Modern design incorporates simple, clean lines of modern design.
It embraces a simple color palette.
Classic design incorporates timeless, traditional furniture and finishes.
It mixes wood with stone and marble.
There is also an organic element with fabrics like cotton & jute as well as gorgeous botanicals.
Features of this modern classic living room
Classic design is incorporated with updated traditional furniture mixed with modern decorative accents.
The arms, back  and seat cushions are simple and clean lined.
Choosing a neutral colored sofa allows you to change your accent color from season to season and year to year!
Repeating the sofa color in the accent chairs and decor creates a pulled together look.
Organic style is added with natural woods in the coffee table and decorative knot as well as the greenery.
Organic materials such as jute, stone and woven natural fibers are also layered into the room.
Layer, layer, layer!
The envelope of the room
White oak flooring and white board and batten walls create a chic and neutral canvas.
White oak is the most popular type of flooring right now.
Light colored LVP floors and hardwood floors are the most popular color for main spaces.
They also are the best for hiding dirt and dust!
Board and batten wall molding and picture frame molding is a big trend now because it adds dimension and interest to a space.
These beautiful elements of the room create the envelope of the space.
5 Best White Trim Paint Colors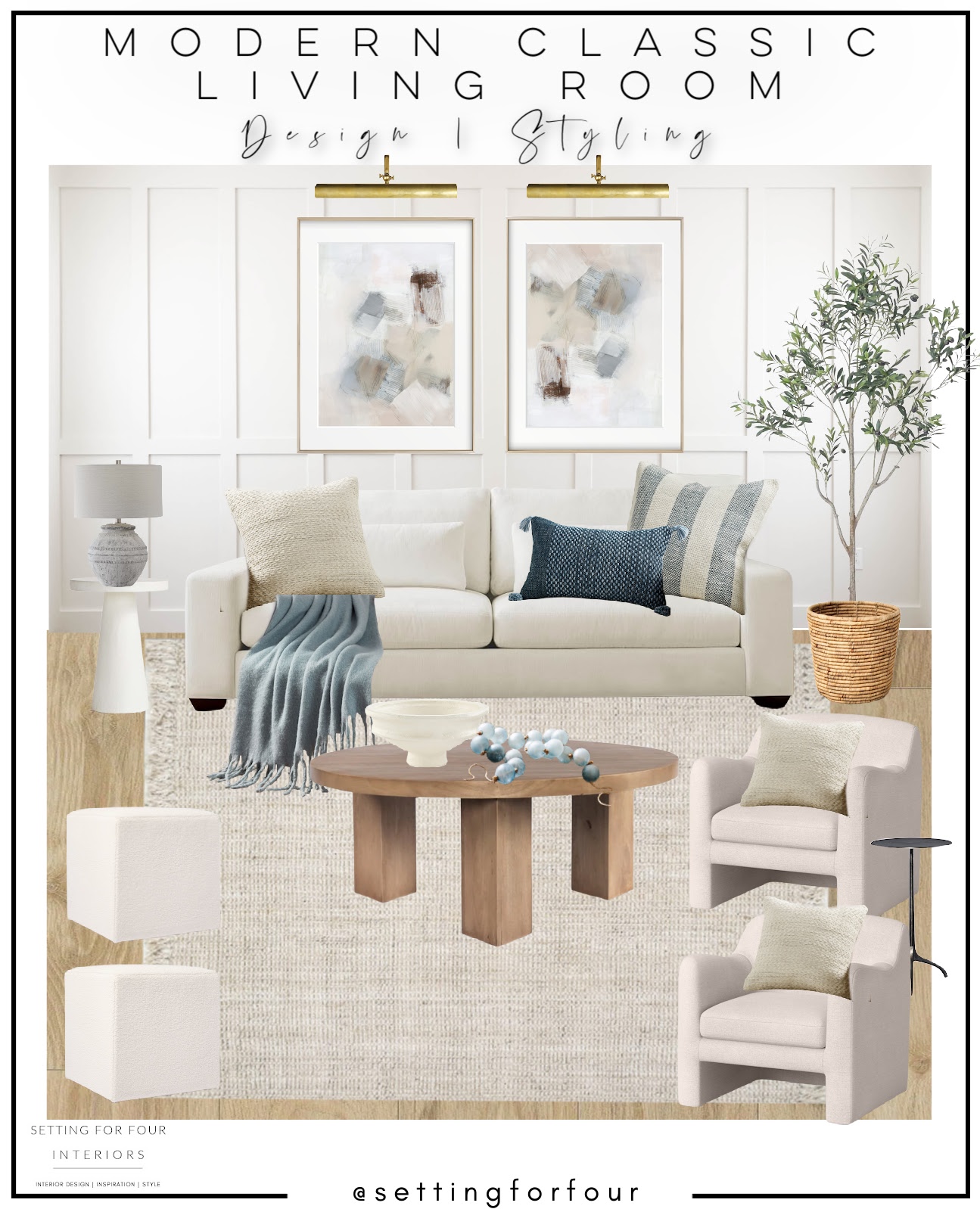 YOU CAN SHOP THIS LIVING ROOM BELOW:


---
Do you need help with furniture layout, room design, selecting furniture or choosing paint colors?
See my e-design & paint color services info – and client reviews! 
Email me at [email protected] for more info!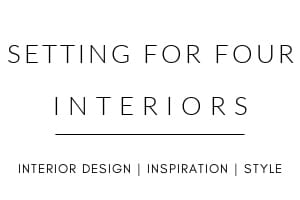 ---
Seating
When selecting seating focus on comfort, timeless and classic styles and cohesive upholstery selections.
I selected  this timeless sofa which is made for lounging in comfort.
It's durable –  upholstered in stain resistant fabric for kids and pets – and unrivaled comfort!
I also chose two beautiful neutral accent chairs to provide more seating and a balanced furniture arrangement.
Anchor the room with a beautiful area rug
This jute rug adds gorgeous texture and visual softness to the space.
It also anchors the furniture arrangement.
Jute rugs are beautiful on their own and are also gorgeous layered under another rug!
Don't buy a rug that's too small! It makes a room look small and cheap.
Make sure the rug is big enough so the front legs of the sofa and chairs are on it. The best size is one where all of the furniture legs are on it.
Artwork
Two gorgeous framed art pieces in beautiful sand, gray and creams are hung above the sofa to create a focal point and add color, pattern, style and interest.
Notice how the light wood frames repeat the light wood flooring, light wood coffee table and wood knot?
This makes the room flow and look cohesive.
I highly recommend repeating wood colors and accent colors in a space to get that wow look.
Atmosphere and ambiance
Lighting is an essential element in any room for function and ambiance.
These stunning brass picture lights are hung above the art to add interest and style!
They also create a balanced 'frame' for the sofa and art.
The table lamp is breathtaking with it's texture, color and shape!
It adds lots of style and atmosphere to the room.
Functionality
Coffee tables are a living room staple.
Add character and functionality to the room with this gorgeous wood coffee table!
It has such such beautiful legs and round shape.
Make sure your coffee table length/diameter is 2/3 the length of your sofa for a proportional look.
Greenery
One of the quickest and easiest ways to refresh a room is adding a faux or real tree in a beautiful pot or basket.
I can't stress enough how important faux or real trees are to a room.
They add life, texture, height and pattern to a room.
They give a space that designer look.
Decorative Accents
Decorative objects, bowls, blue and ivory accent pillows and a cozy blue throw add the final layers to create a welcoming, stylish and cozy living room.
Again as I mentioned above, repeat the colors in your sofa, area rug and art for a pulled together look.
Personalize your space with decorative home accents that capture your style!
Avoid lots of small decor pieces.
Choose pieces in a variety of sizes, textures, heights and shapes.
I hope you like these Modern Classic Living Room – Design & Styling Ideas!
LIVING ROOM DESIGN INSPO:


Follow me on Instagram for more Design and Decor inspiration!
More Design and Color Ideas:
**This post contains affiliate links**