See The 5 Best White Trim Paint Colors, their undertones and coordinating wall colors.
When it comes to picking the perfect white paint color for trim and baseboards, there are a handful of go-to white colors that designers use.
These are the 5 BEST whites that work with a wide range of other colors.
They are the white paint colors for trim that I recommend to my design clients!
These gorgeous white paint colors can be used for door trim, baseboards and crown molding.
They are also the best white paint color when painting wood trim!
PLEASE PIN THIS AND SHARE IT WITH OTHERS!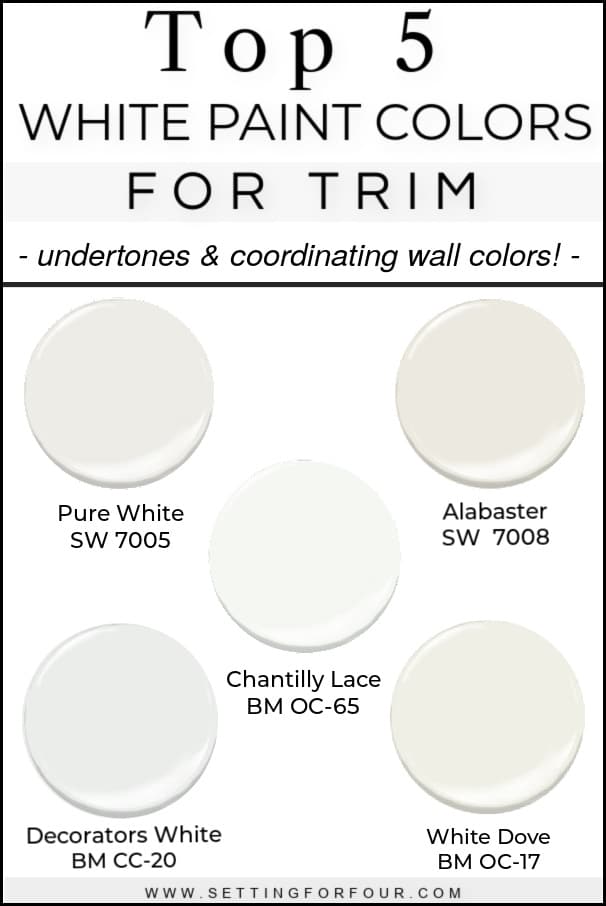 This post contains affiliate links for your shopping convenience.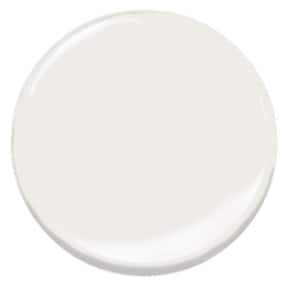 Sherwin Williams Pure White
This is my favorite white paint color!
Undertones
The reason I love Pure White SW 7005 so much is because it's a 'clean' fresh white with no undertones.
I often use this color for walls too!
Coordinating Wall Colors
SW Pure White on trim goes with any wall color.
See: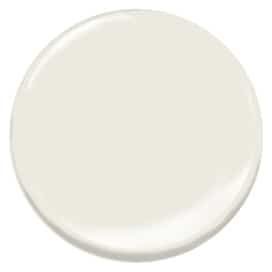 2. Sherwin Williams Alabaster
Alabaster SW 7008 is another gorgeous white color for trim.
Undertone
It is a warm white and  has a slight creamy, yellow undertone.
Coordinating Wall Colors
It's a beautiful white to pair with warm wall colors such as Sherwin Williams Urbane Bronze SW 7048.
It also looks gorgeous with SW Accessible Beige and green wall colors such as Sherwin Williams Evergreen Fog  and SW Acacia Haze
SW Alabaster also looks gorgeous as a wall color in a matte finish with SW Alabaster trim in satin or semigloss.
Check out:
---
Do you need help with furniture layout, room design or choosing paint colors?
See my online design & paint color services info – and client reviews! 
Email me at [email protected] for more info!

---

3. Benjamin Moore Chantilly Lace
Undertone
Chantilly Lace is a crisp, clean white with the slightest yellow, cream undertone.
Coordinating Wall Colors
It pairs well with paint colors that have yellow undertones as well as wall colors with blue, purple or green undertones.
It's very versatile and chic.
Here are some wall paint colors that pair with Chantilly Lace trim:
Benjamin Moore Stonington Gray
Benjamin Moore Chelsea Gray
Benjamin Moore Gray Owl
Benjamin Moore Hale Navy
SW Tricorn Black

4. Benjamin Moore White Dove
BM White Dove is a light, luminous white that is timeless and classic.
Undertone
It's a creamy, warm white with a slight green-yellow undertone.
Also see: Benjamin Moore Simply White
Coordinating Wall Colors
BM white Dove as a trim color pairs with these wall colors:
BM Wrought Iron
BM Kendall Charcoal
BM Balboa Mist
BM Hale Navy
SW Quietude

5. Benjamin Moore Decorators White
It's a classic, timeless white with a fresh look.
Undertone
BM Decorators White is a cool white with a slight blue gray undertone.
Coordinating Wall Colors
Decorator's White is versatile since it pairs with all design and decor styles.
It also pairs well with cool paint colors that have a cool undertone such as:
BM Bluenote
BM Raindance
SW Tricorn Black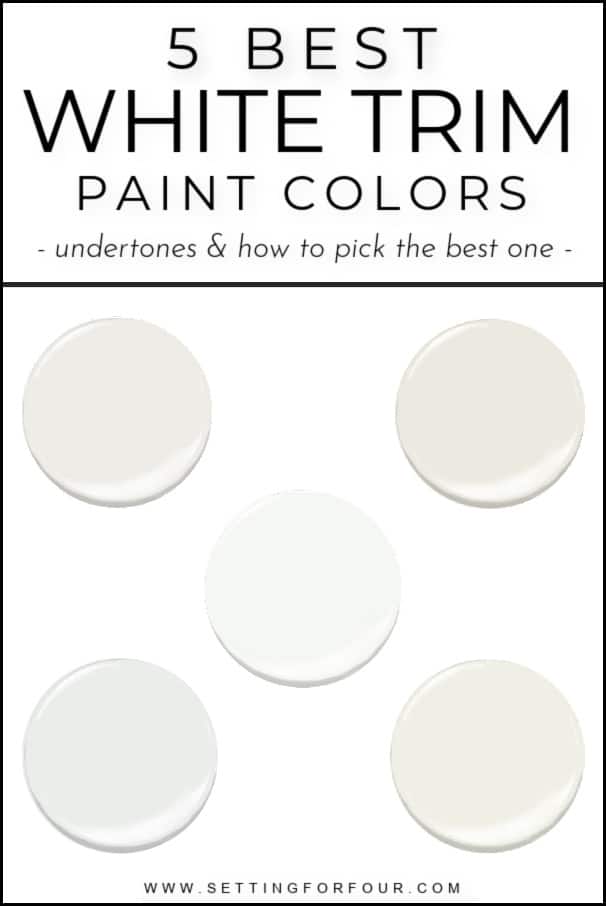 FAQ – Frequently Asked Questions
Here are the top questions I get asked about trim colors, and their answers.
What paint sheen should I use for trim?
I recommend satin, eggshell or semi gloss for trim.
Use the sheen that provides you with the amount of glossiness that you visually like the best.
Also be sure to pick the sheen that provides that amount of washability and durability that you want.
I personally prefer lower sheen levels for trim.
How To Pick The Perfect Paint Sheen
How do I choose the right white paint color for the trim in my house?
The best white paint color for wood trim and painted trim is a white that has the same undertones as the wall color.
If the wall color has yellow undertones, choose a white color with yellow undertones for the trim.
If the wall color has blue undertones, choose a white color with blue undertones for the trim.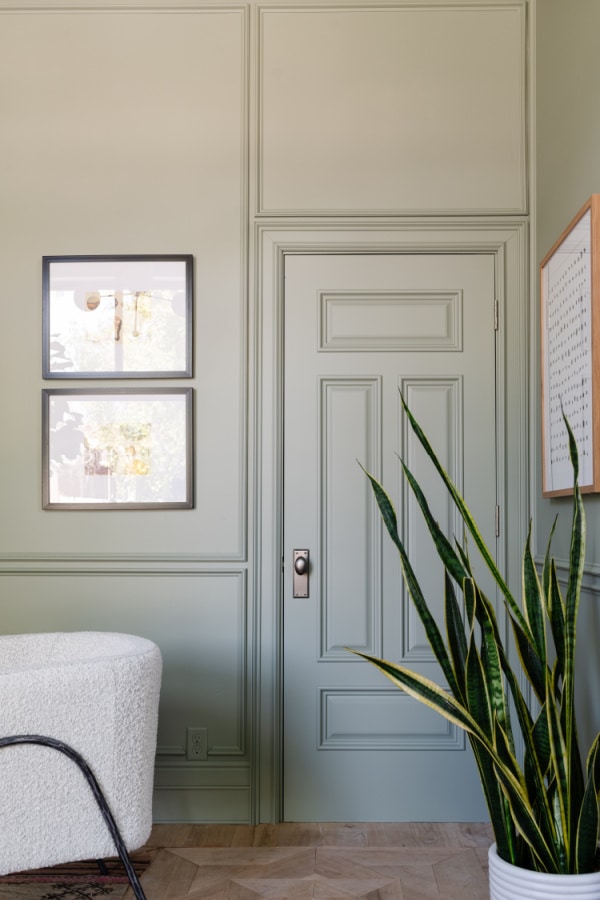 Sherwin Williams Evergreen Fog Color Of The Year 2022
Is it OK to paint walls and trim the same color?
Yes! Walls and trim can be the same color.
This gives a room a high style, designer look.
For instance if you use SW
Sherwin Williams Evergreen Fog 
on the walls you can use the same color on the trim and baseboards, as shown in the photo above.
(The doors in this room are also painted the same color for a gorgeous high style look.)
However a more timeless and long lasting look is to paint trim white.
Should ceilings and trim be the same color?
Yes – ceilings and trim should be the same color for a unified, cohesive, pulled together look.
Should you match your trim color and white kitchen cabinet color?
Absolutely! Matching trim color with your kitchen cabinet color will make your kitchen flow and look cohesive.
Should trim be darker or lighter than walls?
Trim should be the same color as the walls or lighter.
Do you paint the walls or the trim first?
Paint the trim first, then the walls.
It's easier to tape off the trim than the walls so it's easier to paint trim first.
Should all the trim in a house match?
Yes.
For a pulled together, cohesive look all of the trim should be the same color.
Does dark trim make a house look smaller?
Yes, dark trim makes rooms looks smaller and more visually cluttered.
I don't recommend dark trim unless it's with a dark wall color and the trim should match the wall color.
Wood trim can really make rooms look disjointed and smaller so I recommend wood trim be painted.
Except if the house is an authentic MCM home built by a renowned MCM architect or sometimes Victorian homes with wood trim look best if the wood trim is not painted.
What color white to paint wood trim?
The white that pairs best with wood trim is the white paint color that coordinates with the wall color undertones.
What is the difference between ceiling paint and trim paint?
Ceiling paint is typically not washable and  absolutely flat/matte.
Trim paint needs to have some washability and durability to it.
There are washable flat paints you can use for trim and baseboards if you like the matte look, but don't use ceiling paint on trim.
More Design and Decor Ideas