Welcome to my Online Interior Design and Paint Color Services at Setting for Four!
Need design help? Stuck with a room's decor or furniture layout?
Need staging advice to sell your home?
Or maybe you need advice on the perfect paint color for your exterior or interior spaces?
I can help solve your design and decorating challenges!
Together we can create the beautiful home you've dreamed of!
Ready to kick up your home's style up a notch?
Let's create a home you'll love!
*** Scroll down to read my client reviews! ***
MODERN CLASSIC LIVING ROOM CLIENT EDESIGN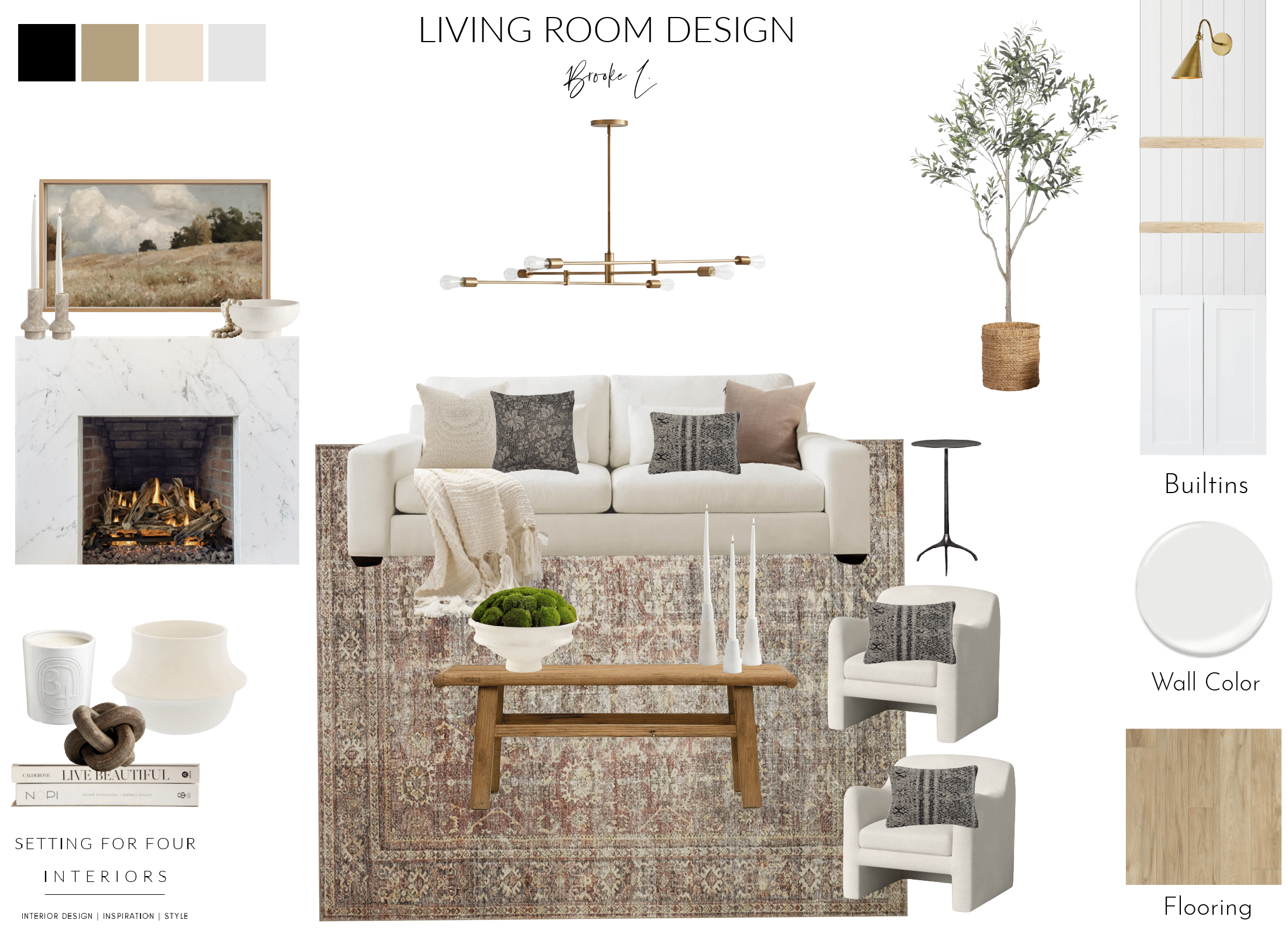 Online Design Services and Color Advice
Here's my design background:
I am a Designer and an Interior Stylist for top decor brand's such as Wayfair, Birch Lane, Mikasa and Capital Lighting.
As a military family that has moved numerous times, I have staged many homes to sell quickly and at a profit.
On this Design and Lifestyle website I share the rooms that I have designed and decorated in my home as well as helpful design tips and guides. See my House Tour page for a look at my home.
You can also see my design inspiration on Instagram (and I'd love it if you'd follow me on IG too!)
My home has  been featured in design and decor magazines in print and online such as Inside Out magazine and BetterHomesandGardens.com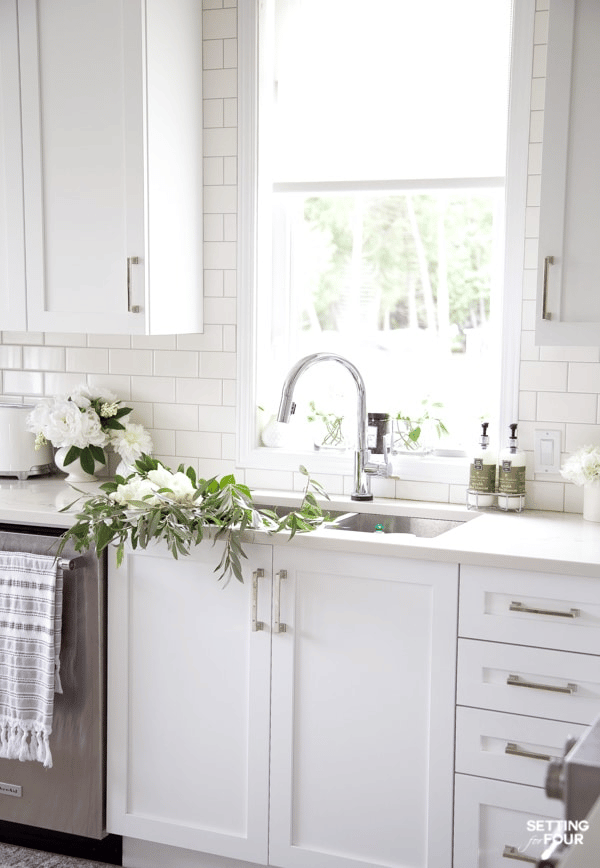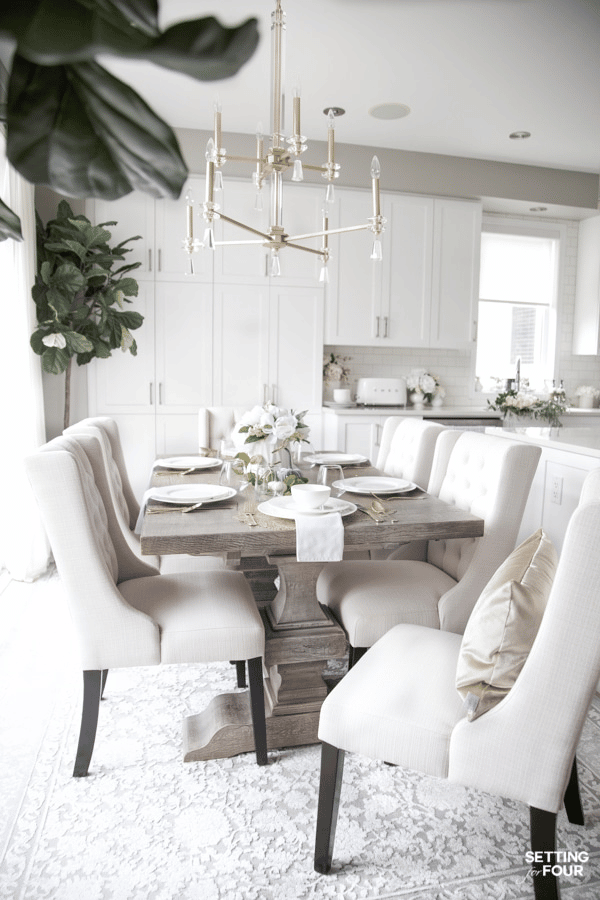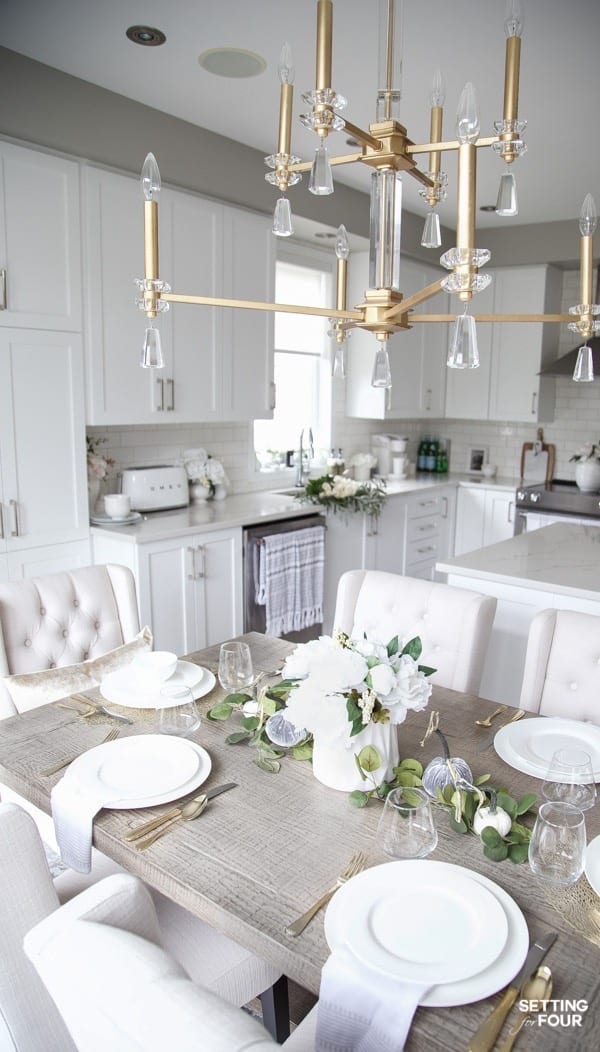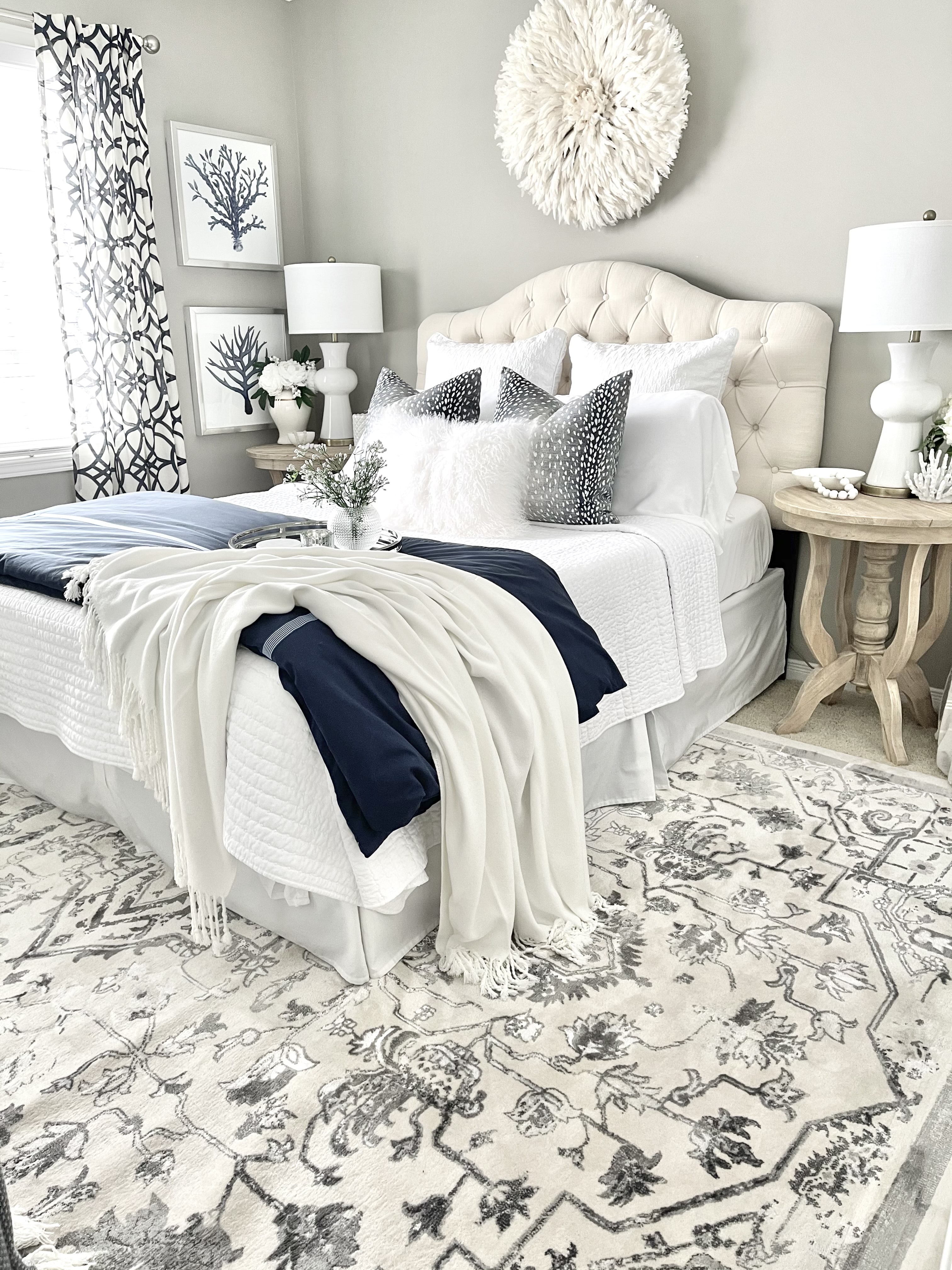 I have also been a La-Z-Boy Design Dash contestant where I designed a room in just 36 hours! You can read all about it here.
This is the living room I designed!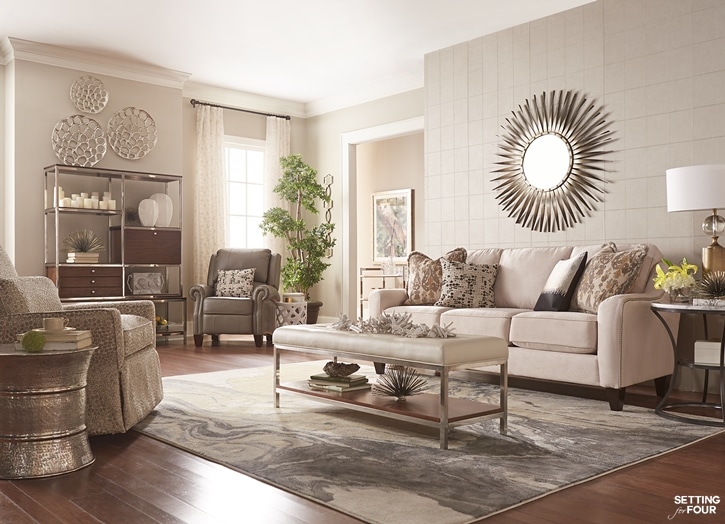 I have also been a Design Trend Scout for AmericasMart Design Market in Atlanta – the largest furnishings, lighting and housewares market in the United States!
You can read about my experience and my trend report here.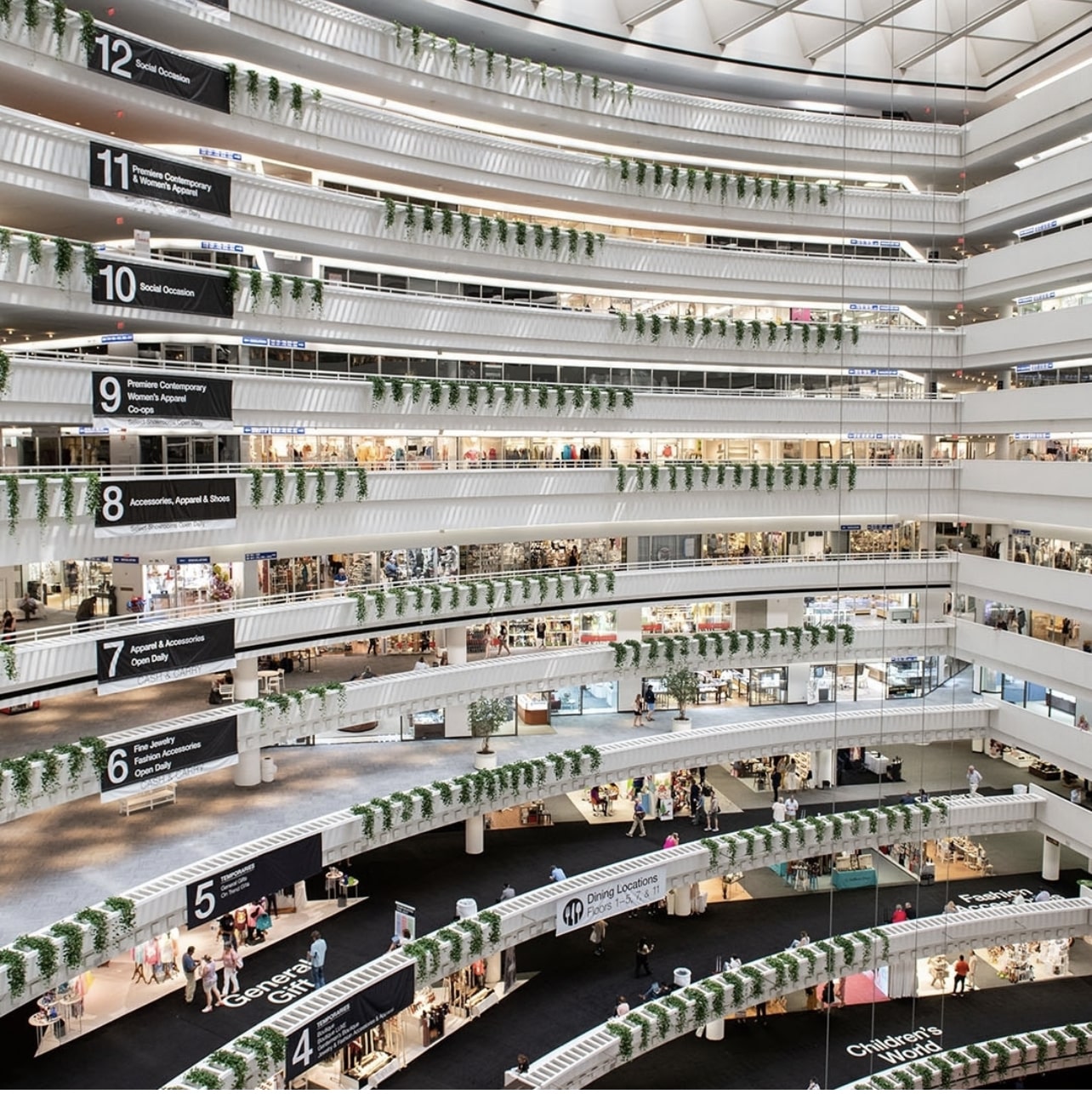 I am also a Better Homes and Gardens Stylemaker!
I've attended their exciting Design Influencers events in New York City.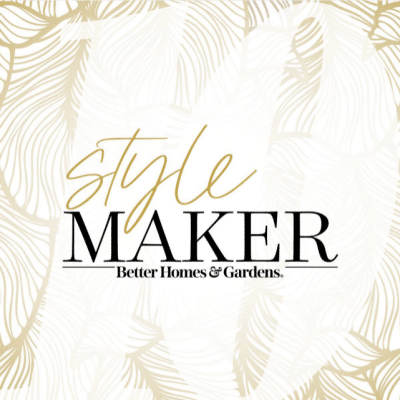 Also, I'm a military wife that has moved A LOT! I have a lot of real life experience with various floor plans, furniture layouts as well as paint colors.
I'm passionate about the profound joy that beautiful design brings to our lives and our home!
MODERN CLASSIC NEUTRAL LIVING ROOM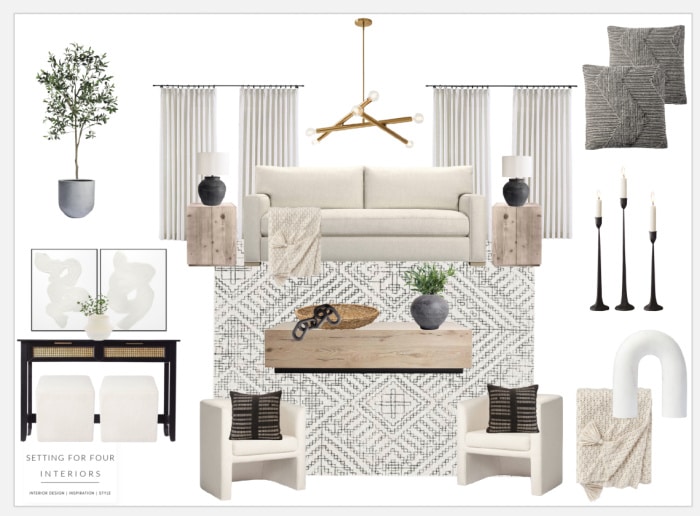 MODERN CLASSIC BEDROOM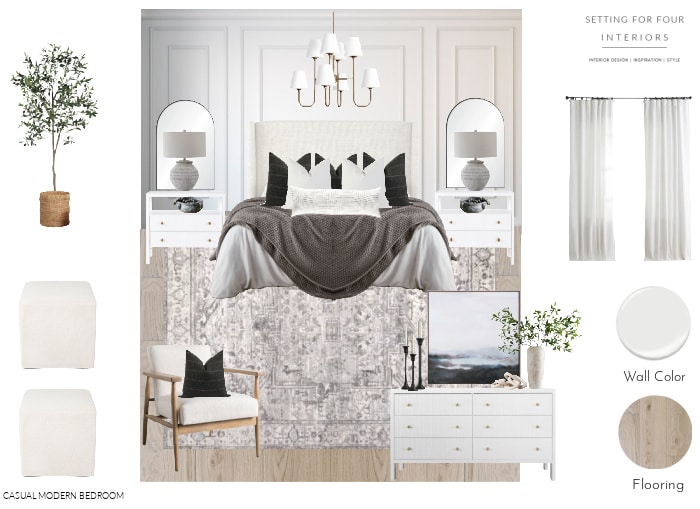 KITCHEN STYLING IDEAS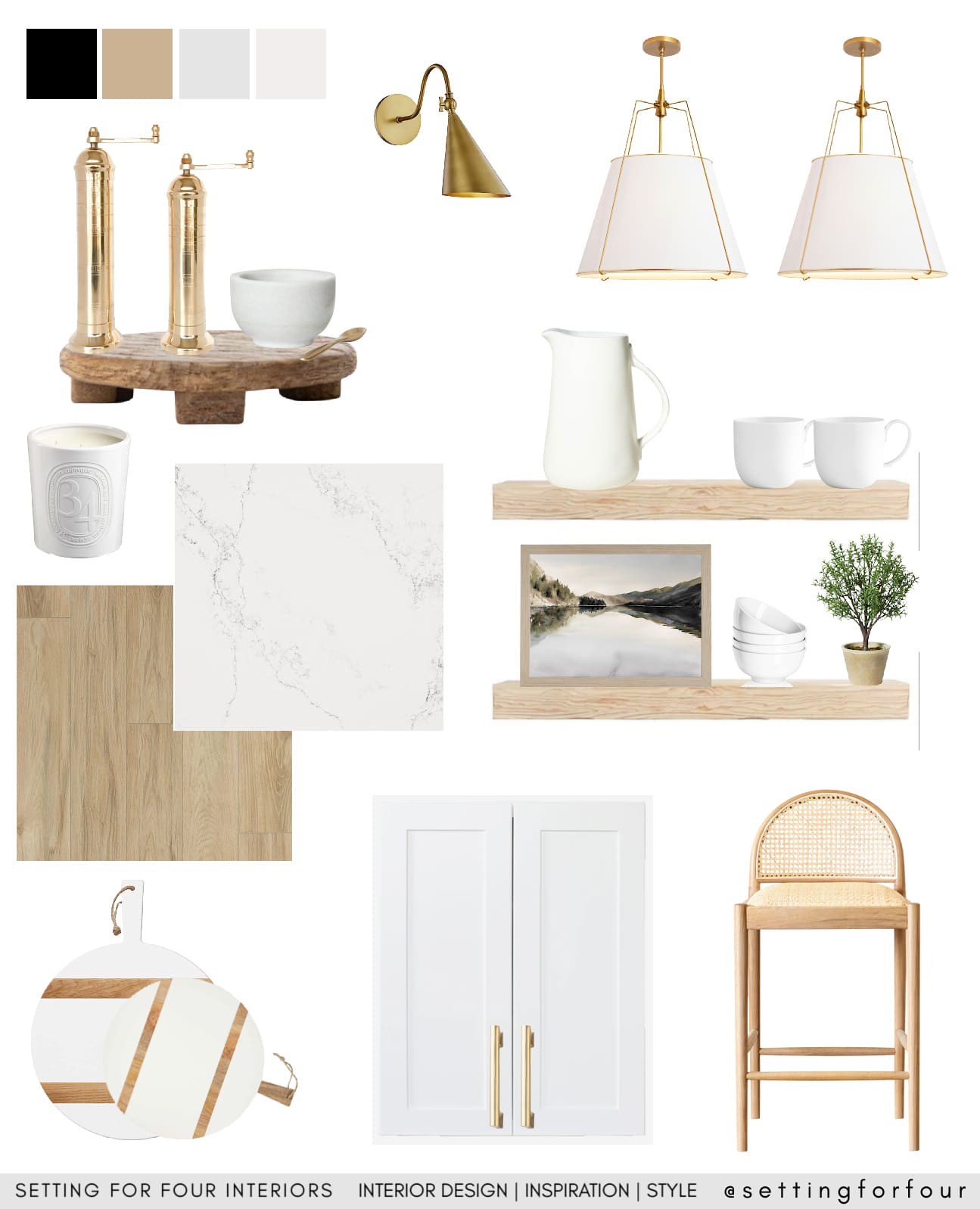 MODERN CLASSIC LIVING ROOM DESIGN AND STYLING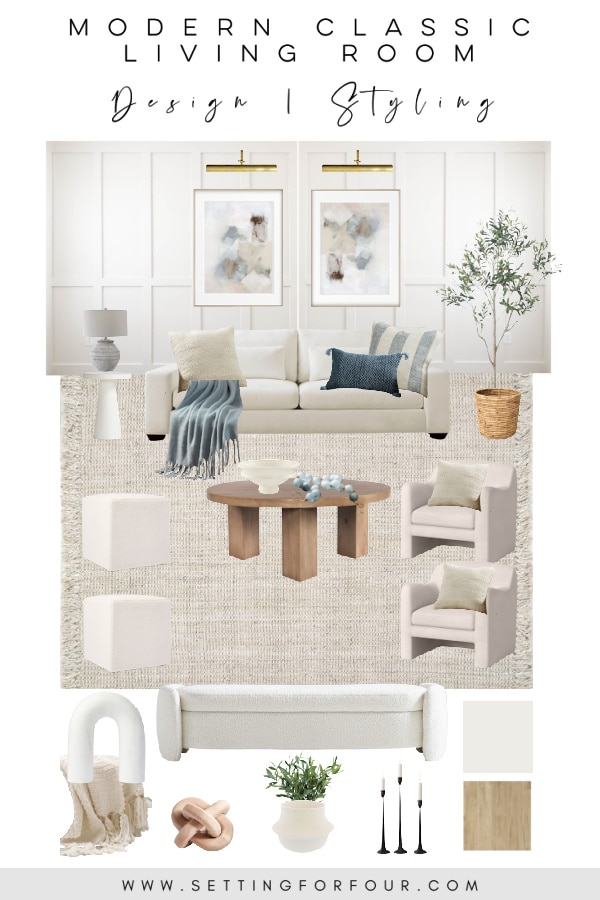 FAQ's
Do you work with international clients? 
Yes! I've worked with clients around the world: in the USA, Canada, UK, Europe, Dubai and Australia!
All of my design consults are done online, so we can work together no matter where you live!
Do you still provide online design consults?
Yes! I work on interior design and color consults every day!
My online design business has grown immensely and it's my full time career which I love!
I don't know my design style! Can you still help me?
Yes, of course! I'll guide you to determine your design style and create a look you'll absolutely love!
My design style is different from your's. Can you still help me!?
Yes I can! As a designer I love creating room designs of all styles and will create a look that embraces your design style!
I've created designs for clients that fall into all design styles: Farmhouse, Mid Century Modern, Boho, Scandinavian, Traditional, Cottage, Modern, a mix of many styles and more!
How do your e-design services work?: 
1. First, you email me at [email protected] with your decorating questions/concerns and include a few photos of the rooms that you'd like help with.
2. Next, I'll ask you some questions about your space and what exactly you want to change, so that I can better understand your project to send you a quote. 
3. Once I receive your answers I'll send you my design consult rate with detailed information of what the design consult includes.
4. If you decide to work with me, you'll complete payment, then I'll email you a design questionnaire so I can better understand your likes and dislikes.
I'll also send you instructions on additional photos I'll need, if required.
You'll answer the questionnaire, send me additional photos of your space and any inspiration photos you may have.  
5. I work on your design and create a design plan for you that will solve your decorating concerns to create a space you'll love!
I analyze everything in the space including existing flooring, cabinetry ect to make sure your design works with what is staying in the space.
You're consult may include clickable shopping links to items, so you can shop them yourself!
Your consult may include a 2D Design board and/or a 2D floor plan. These are visual graphics that show you how the design and furniture layout will look.
6. I'll email you the complete design plan with full instructions on how to put everything in place…. and the solutions to fix your design problems.
You'll have this email information forever and you can refer to it forever!
Let's get started!
Email me at [email protected] with the subject title "Online Design Service" and let's create a home you'll love!
If you have any questions about the online design process, please feel free to email me!
~ ~ ~ ~
   ~ Online Design Services Testimonials ~
What my clients are saying:
Heather, your thoughtfulness and thorough diligence using your questionnaire created a GORGEOUS new exterior look for our home. We just LOVE seeing the end results!
Cil R. – Exterior Paint Color Consult
~ ~ ~
I am so glad I found Heather.  Before hiring Heather, I hired another online designer to help me pick a color for my kitchen walls but it didn't work with my kitchen cabinet color or the other colors in my kitchen. Then I spent weeks on the internet researching colors and spent lots of money on paint samples.  I was very confused and all of my research made it worse.  Heather sent me a very detailed, easy questionnaire to fill out and I sent her pictures of everything in my kitchen.  She put together a design board, and when I had questions about the board, she responded beautifully.  She is super helpful and I would definitely recommend her services.
Candy B. – Kitchen and Dining Room Paint Color and Kitchen Cabinet Paint Color Design Consult
~ ~ ~
Heather created a beautiful and cozy design for my living room.  I loved the design board and furniture layout.  I absolutely love the furniture and decor she chose for my space.
Liz F. – Living room design consult and furniture layout plan
~ ~ ~
I became aware of Heather's design service through my sister, who had recently completed a bedroom makeover consult. When I complimented her on the design of the room, she told me she had contracted with Heather. Very impressed with the new decor, I decided to contact Heather for a design for a guest bedroom. Our communication was done entirely online. Her questionnaires concerning my needs and directions for room measurements were clear and easy to follow. After submitting the required information to her, she submitted her plan with design board and layout in a timely manner with clickable shopping links to where I could purchase the recommended products.
I am very pleased with Heather's design!
Christine D. – Guest Bedroom
~ ~ ~
Heather has been a huge help with changing my home from a blah, dark vibe to a fresh, coastal, light feel. Lately she helped me with how to arrange the flow of furniture from dining room to hall and reading room (open plan, which I had no idea where to start). Some new pieces she selected were added to pieces I still liked and it all came together and looks really great. Her choice of wall and floor color materials was spot on. Heather has helped me in the past with this open floor challenge and I am reaching out to her again to do an outdoor patio project. She is most definitely the designer you want to help with your home.  Thank you Heather! You really made a difference, we really enjoy our updated home.
Anna T. – Entryway, Staircase, Living Room, Kitchen, Dining Area and Reading Room Design Consult
~ ~ ~
Heather is amazing, she nailed the design and layout. The design worked with my request keeping certain furniture pieces and all the new pieces were reasonably priced, she even came under budget . She is very good at communicating with you and very responsive. I honestly had no clear vision of what I wanted and she was able to transform my son's bedroom into a beautiful guest bedroom.
Heather has great style I would definitely use her again!
Joanne D – Bedroom Design and Paint Color Consult
~ ~ ~
Heather really helped me to bring some life into my space. Her design guidance was what I needed to overcome my decision anxiety. Communication was responsive and precise.
Kevin K. – Great Room Design Consult
~ ~ ~
I love working with Heather. She is a complete professional and delivers the most creative designs that integrate all of her clients comments and wishes and are cohesive and amazing.
Her process is quick and efficient.  She listens and interprets your goals into a fabulous design.  I will continue to work with her.
Shannon M. – Bedroom and Bathroom Design consult
~ ~ ~
Heather created a beautiful and functional design for my living room. I love the design  board and furniture layout graphic she provided, it made it so easy to visualize her ideas! She provided a link to every item I needed to purchase and stayed well within my budget. Heather is creative and very detailed oriented. I would definitely contact her again!
Trish B. – Living room paint color and design consult
~ ~ ~
I spent weeks searching the Internet, Pinterest, TikTok and Instagram for ideas to update my laundry room but found myself completely confused and unsure of my style. During one of my endless searches I found Heather and her website SettingforFour.com and am so glad I did! Heather was able to take bits and pieces of different styles that I liked and put it into a cohesive plan that fit my personality, style and budget! She does amazing work and just through pictures and emails she was able to design a room that both my husband and I absolutely love! The process was simple and Heather made it easy and provided links to every product we needed to renovate and decorate the room! She even helped with paint colors and flooring that would be best for hiding finger prints and dirt from children and pets! Heather is very knowledgeable and helped me make the best choices for my space and lifestyle! We hope to use Heather and her design services in the future for some larger projects and cannot wait to see what she designs!
Jamie S. – Laundry room and Mudroom design consult and paint color consult
~ ~ ~
Heather saved me from the pine box I am living in!   My husband and I became empty nesters  this past year and moved from our house of 25 years to his family's log home on the lake.  I had been struggling with coming up with a design plan for the open concept living space as I could not get pass the yellow-orange log walls and knotty pine ceiling. I was looking for a floor plan for corner fireplaces when I found Heather's site settingforfour and reached out to her.  I provided Heather with my photos, what I wanted for this space as well as my inspiration photos.  She was very responsive and quickly  provided me with a floor plan layout and detailed design board with an explanation of why she chose each item and  paint colors.  She created the cozy inviting space I requested under budget!  This was exactly what I needed to clear the log jam I had been struggling with.  I am currently in the process of ordering my furniture and all I have to do is click on the link Heather provided me and it takes me right to the site to place my order.  I can't wait to brighten up the space with paint and put it all together.  I look forward to working with Heather again.  Thank you Heather!
Mindy C. – Log home living room design consult and paint color consult for kitchen cabinets, tongue and groove ceiling, log walls
~ ~ ~
Heather saved the day for me!  I had been unable for two months to choose a roof color for my house. There were so many colors in my current design, so many roof samples to choose from, and I had become overwhelmed with it all.  I found Heather's settingforfour site and reached out to her.
Heather received all of my photos, commentary, and angst and promptly came back with her recommendation. Not only did she provide her color choice, she provided the reasoning behind the choice.  She addressed each of the 4 choices and told me why three wouldn't be as appropriate as her top pick. This kind of analysis is exactly what I need in order to move forward. 
She also looked at some inspiration photos I had sent to her in order to get a total picture of who I am, what trends I like. She was able to weed through the clutter in order to provide a great solution that added a touch of the current design trends as well. 
I heartily recommend Heather's services for any design help needed.  It is such a relief to be confident my home will look great with a fresh new feel. 
Thank you Heather!
Kathy F. – Roof shingle color design consult
~ ~ ~
Thank you so much for all of this! It is absolutely beautiful! I couldn't be more excited or happier to start this project! 
Jamie S. – Laundry Room and Mud Room design consult and furniture layout plan
~ ~ ~
Heather created a great design plan and she was easy to work with! The design board and furniture graphic were curated well and easy to follow! 
Ashley T- Living Room furniture layout plan and design consult
~ ~ ~
I love it! I've gotten a lot of compliments. The best looking house on the block!
Steven K. – Exterior Design including roof color, siding and facade colors, new front door, door hardware and exterior lighting
~ ~ ~
Heather is a very creative designer. She helped me to create a beautiful, elegant and welcoming design with my dining room and entryway. She easily worked within my budget. I would definitely recommend Heather to anyone who would like to create a beautiful home. Thank you so much for making my living space so elegant and beautiful. 🤩
Elna M – Dining Room and Entryway Design and Furniture Layout
~ ~ ~
I am so incredibly blessed to have worked with Heather in helping me create a living space that I love.  My husband and I moved from a house with many separate rooms to an open concept townhouse.  Finding a way to integrate my furniture and various decorative pieces from a more traditional home into a more modern space was such a challenge for me.  Heather helped me see the value of making some hard decisions and I was able to purge items that no longer worked and to purchase beautiful new pieces which helped to create an elegant, serene space.  Heather was patient with me throughout my struggle and gently encouraged me to set my sights on the goal I was looking to achieve.  She was extremely responsive and quick in designing my space and provided all the links to the various items that I could easily purchase.  If you think that obtaining the services of a designer is only for people with "extra" money, you couldn't be more wrong.  Heather is able to provide her expert help in a way that worked nicely within my modest budget.  Thank you, thank you, thank you!!!
Deb K. – Living Room Design and Furniture Layout
~ ~ ~
Heather is an absolute color guru! I needed help with my living room and bedroom accent colors, furniture colors and wall color and she was able to find the perfect colors to go with my flooring and existing pieces! She explained it all clearly and helped me find the perfect items online which I've received and they all look amazing! Thank you Heather for creating gorgeous spaces for me- we really love our home now!
Brooke D – Living Room and Bedroom Design, Color Consult and Furniture Layout
~ ~ ~
Our kitchen and breakfast nook design is absolutely gorgeous! Heather helped to design our kitchen so it was a light, bright, kid-friendly space where we can gather for meals and entertain. She also incorporated the items we wanted to keep in our kitchen and made a layout design mood board and a floor plan drawn to scale, that showed me exactly where to put all the kitchen items we already had on the counters plus the new beautiful ones she suggested. Each item she suggests comes with a shopping link to it so it totally takes out the guesswork for you, AND she worked within our budget.  I can't wait for our friends and family to come over and see it, I LOVE it!
Alexis V. – Kitchen & Breakfast Nook Design and Furniture Layout Plan
~ ~ ~
I just love the living room design Heather created! It's cozy, welcoming and elegant. I cannot wait to get all the furniture and decor to put my room together. I am so pleased with the overall design and layout that Heather created. The layout floor plan graphic is well presented. It was a pleasure to work with Heather and she is a good communicator!
Erin M – Living Room Design and and Furniture Layout Plan
~ ~ ~
Heather helped to design an entryway for us that I love looking at each time I walk in. It brings me joy every time I walk through the door and look at it. She perfectly captured the colors and feel I wanted it to have. She took the elements of the space I didn't like and turned them into this gorgeous space! She linked all the products and made a mood board as well as a floor plan so I could see exactly where to put each item and what the finished product would look like. She transformed our entryway into a  livable luxurious space that is welcoming, warm, and bright. If you are looking for an entryway design you will love coming home to each day I can't recommend her design services enough! 
Alexis V. – Entryway Design and Furniture Layout Plan
~ ~ ~
Working with Heather was wonderful from start to finish! Her incredible attention to detail and precise plans have helped me to get a fresh perspective with the floor-plan and overall design of a challenging great-room and I can't wait to dive in!
Kelley M.  –  Living Room Furniture Layout and Design
~ ~ ~
I am absolutely in LOVE with the look and feel of my family room design from Heather! She has captured perfectly the family-friendly, livable luxury look I wanted. She was wonderful to work with and I really appreciated how dedicated she was to making sure she understood exactly how I wanted the room to look and feel. She created a design board for me with pictures of each and every piece of furniture and decor so I could easily see how beautiful they would all go together in my room and she created a furniture layout graphic too that shows me exactly where to place everything in the room.  I can't recommend her design services enough!
Alexis V. – Living Room Design and Furniture Layout Plan
~ ~ ~
We are more than pleased with our paint color consultation.  My husband and I knew that we needed to contact a professional to make a color choice.  We live in our family room and kitchen, with these two rooms being connected and all the coordinating colors we needed help.  Your professionalism, great communication and color choice expertise was our answer to our concerns. Never in a million years did we think we would be choosing to paint our walls white, but we were amazed at how bright and updated our rooms look.  We love our new paint!
Thank you so much for all your help!  
Patty W. Kitchen and Family Room Paint Color Consult
~ ~ ~
It was great to work with you again, Heather, and have another great design plan to execute here at home.  I waited with great anticipation for the finished product and wasn't disappointed.   I love the design board, which gives me the overall plan at a glance, along with all the product links.  It's all so easy and fun! 
Sue B. – Guest Bedroom Design and Furniture Layout Plan
~ ~ ~
This will be the third time I have worked with Heather and I was not disappointed. She helped with my outdated open space at my FL home which contains the kitchen, den and cafe. Heather brought it up to date with new paint colors for the kitchen cabinets and walls and new tile flooring.  OMG, what a transformation!  Why stop there, her suggested great furniture pieces were just what the rooms needed.  I'm at home again. Thank you!
Ann Marie T. – Open Concept Kitchen & Living Room Design, Kitchen Cabinet and Wall Paint Colors
~ ~ ~
I loved working with Heather! I was amazed at what she came up with based just on my room measurements and answers to her questions. She worked on a space I've found challenging for years – she turned it into a beautiful room that exceeded my expectations.  Her process is professional and efficient – and I really appreciate all the detail that came with her recommendations.
Shannon M. – Dining Room Design Paint Color 
~ ~ ~
It was a pleasure working with Heather! I am updating the facade of my house and needed directions and inspiration.  Heather was instrumental in everything from choosing the appropriate color scheme to picking out hardware and lighting fixtures.  She definitely took the time, understood what I wanted and was able to translate that to a tangible vision.
Steven K. – Exterior Design including roof color, siding and facade colors, new front door, door hardware and exterior lighting
~ ~ ~
As you can tell, I am so excited about what you have put together for me.  I love it and have purchased a bunch of things already this morning.  I am really excited to get the rug and try out the paint color.  I love how detailed you have been in your recommendations.  I will be referencing your email as I pull this all together.  The instruction is so helpful!
Shannon M. –  Dining Room Design and Paint Color
~ ~ ~
Heather came up with a beautiful and functional design for our small front porch. I can't believe how much she was able to do with the budget I gave her. She put together some gorgeous pieces that captured the essence of what I wanted in that space with a layout that will work perfectly! She listened to my needs and even incorporated UV resistant plants in the design–something I never would have thought of. This is the second project I've collaborated on with Heather, and whatever my next project turns out to be, I won't do it without her help.
Leslie G. – Front Porch Design and Front Door Paint Color
~ ~ ~
I wanted to update the entryway, dining room, and living room space with a more contemporary feel, incorporating all of my artwork that I had collected through the years. Heather builds a distinct living space that is uniquely your own. Now that I have started my project, I am excited to see the finished results! Heather is flexible and her professional attitude to every interaction gives you a feel that you made the right choices.
Gia L. – Living Room, Dining Room, Entryway Paint Color, Furniture Layout and Design Consult
~ ~ ~
I was hesitant to try an online decorating source, however, I'm grateful that I reached out to Heather.  The idea board that she put together for my dining room update is incredible!  She provided all of the shopping links and gave a thorough explanation of the pieces that she chose and why.  Can't wait to put it all together! Will definitely utilize her services as I continue to update my home.
Dawn V.  – Dining Room Design
~ ~ ~
The living room is finally finished, and it's exactly what I had hoped for! I love opening the front door and seeing this inviting, calming and cohesive room where every piece has a purpose and looks like it belongs.
We regularly use it now, where we didn't before.
Please know how grateful I am for your help. I couldn't have pulled off such a beautiful space without you.  
With much thanks,
Leslie G. – Living Room Furniture Layout, Paint color and Design
~ ~ ~
Heather was a pleasure to work with. I enjoy designing/decorating myself but she gave me ideas that I would never imagined. She pulled  the room together with a cohesive/designer look.
She provided links which I requested. Every link was like opening a Christmas present. Thank you, Heather
Dianne B. – Family Room Furniture Layout and Design
~ ~ ~
Heather created a beautiful design board for my living room. I was stuck on picking a paint color and wanting to update my living room when I came across Setting For Four.
She was able to capture my vision and helped me understand why certain decor choices that I made didn't work within the room. Very knowledgeable, patient and great to work with.
Tanya P – Living Room and Entryway Paint Color and Design 
~ ~ ~
Wow, I LOVE everything about the furniture layout and design plan. It was just like Christmas when opening your email and shopping links!!!
Dianne B. – Family Room Furniture Layout and Design
~ ~ ~
Heather was a pleasure to work with. She asked questions to understand what my style, design and budget was so she could provide me with what I was looking for. Her expertise gave me the look that I was needing for my new kitchen remodel. I am glad that I contacted Heather and that she could assist me with decorating my new kitchen that I absolutely love!!
Vicki – Kitchen Paint Color and Design
~ ~ ~
This is the second time I've worked with Heather and it won't be my last.  Her attention to detail and her listening skills revamped another great space in my home. The compliments I receive from family and guests are numerous.  
Thank you Heather!
Ann Marie – Loft and Home Office Furniture Layout and Design
~ ~ ~
It was wonderful working with Heather.  I really, really love the room she put together. Up front, she asked a lot of great questions that helped us decide on the look and feel of the room and how it would best be used.  Her response time was super fast to all of my inputs and questions.  Her finished product was a work of art, pulling everything together with an organized visual and explanations for each item, as well as links to where I could purchase each one.  I love that she kept to my budget too! So easy and fun.  I look forward to working together again!
Sue B. – Boys Bedroom Paint Color and Design
~ ~ ~
Working with Heather was an amazing experience.  She listened to what I wanted for my kitchen and breakfast room and provided beautiful pieces that I could not have put together myself.  Looking forward to working with her on other projects very soon!
Ann B. – Kitchen, Breakfast Nook Design & Paint Color
~ ~ ~
When I wanted to remodel my downstairs half bathroom, I did not know the first place to start. The room was extremely small and everything about it was outdated. I knew the vibe/design of my house, but I did not know how to transfer that vibe into this bathroom. Heather walked me through every step of the process! She asked me great questions that helped explain my style and then she sent me a design board for the project. It was an elevated version of my own style and the best part was that she included links to every item I would need for the project! She saved me so much time and stress and I am really glad she was my partner on this. Thanks, Heather!
Annaleah M. – Powder Room Bathroom Design & Paint Color
~ ~ ~
Great experience! Efficient service- even completed ahead of schedule! Offered more than one option for my living room layout! Would highly recommend Heather's design services! 
Krista W. – Living Room Layout and Design
~ ~ ~
Heather caught the spirit of what I was looking for and came up with a living room design that was perfect! I love that she even included details like beautiful coasters and a gorgeous bed for the dog!We love it! It turned out beautifully!
Leslie G. – Living Room Design & Paint Color
~ ~ ~
Love love love it! The second coat of paint is now going up. You NAILED it Heather, THANKS for the color advice! We LOVE this paint color!!  I cannot thank you enough and I am sure to be back in touch needing more design advice and also recommend you to friends and family.
Bree L. – Family Room and Home Office Paint Color
~ ~ ~
Heather came up with such great ideas! Things I never would've thought of on my own. She was kind and patient and listened to my every need. I will definitely be contacting her again for the next part of my house.
Mary S. – Open Concept Entryway And Living Room 
~ ~ ~
What a HUGE relief it was to stumble across Setting For Four online! I was down to the last couple days before the painters were to arrive at my new out of state home. I, living in another state temporarily, had little time in the house and quickly threw up some paint samples I "thought" I might like. Then the panic hit….. Heather was able to look at the photos I had of the rooms and also took the time to look the property up on the real estate sites. In less than a day she not only put my mind at ease about a couple of the colors I had chosen and told me why they would be great in that particular room, but she also suggested paint colors that I would not have dreamed of for another room.  She was spot on. The color she suggested, I know I will love! Had I chosen it on my own, I would have doubted it, panicked and ended up with a boring color all wrong for the light in the room. Heather also looked at photos of a rug my husband insists on keeping and made suggestions on where he can put it, LOL!! It is no longer going in my master bedroom!
I now have Heather helping me choose a sofa, chairs and lighting. Her prices are so reasonable and well worth the piece of mind.
Kimberley M. – Paint Colors, Home Office, Living Room and Entry
~ ~ ~
Heather created a beautiful design for my dining room.  I have always struggled with decorating, had good intentions in my head, but could never make them come to fruition. She asked perfect questions about my likes and dislikes, what in the room was staying, things I couldn't part with, and worked with that to create a beautiful, well designed  board for me to follow.  I now know where to buy the furniture, decor, pictures and how to put it into my room. 
The satisfaction of having a design to follow takes such a heavy burden off my shoulders. I have stopped spending countless hours on the internet, Pinterest, and other sites looking for inspiration!  Heather put it all together for me.  You have no idea how happy I am.  (my husband too).
I look forward to working with her in the future on other projects!
Eileen P. – Dining Room
~ ~ ~
I absolutely love EVERYTHING about this design, Heather!! Completely blown away!!
I will start shopping for the items this weekend and can't wait to pull the space together. Thank you so so much!
I love every single thing about this living room design!!!! You've nailed it again!!! 🙂
Heather asks the right questions and has consistently incorporated my responses into the room's e-design with detailed steps for implementation. We have completed my lounge room and living room so far and I look forward to working with her on future rooms in my home.
Kristina B. – Lounge Room and Living Room
~ ~ ~
I love the design! Thank you for sharing your talents with me and getting back to me so quickly with such a lovely design. I appreciate your detailed email sharing with me the specifics of the design as well. It was so very helpful. Thanks again! I am off to start shopping!
Kristy D. – Living Room and Bedroom
~ ~ ~
See examples of  the rooms I've decorated and the online design services I offer including:
1.  Advice on specific decorating questions. This is my most popular service and VERY affordable!:
Do you have a single question regarding the correct size of area rug you need? Choosing the right color drapes for a room? The right paint color for your room or front door?
….. Or is your husband's opinion conflicted with your opinion? 🙂
I can help you with that!
2. Paint color advice
Did you know that 40% of paint sold is the wrong color the first time? Eeeek! What a waste of time and money!
I can advise you on exterior and interior paint colors for your home with my online decorating services!
3.  Kitchen design assistance
We recently remodeled our own kitchen and I love designing kitchens for my clients!
Let me help you pick out cabinets, lighting, bar stools, tile and backsplash!
Our Dark to White Kitchen Remodel Before and After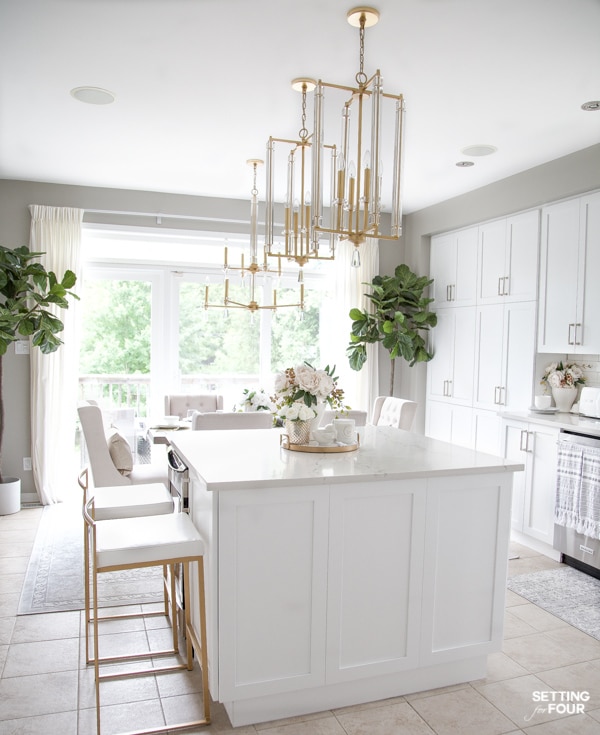 4.  Room layout assistance
I'm a military wife who has moved MANY times into homes that have had all kinds of room sizes and shapes…..and have found solutions to make my furniture fit and flow in every one!
So I've developed an experienced 'eye' for room and furniture layout and can find fabulous solutions for your furniture placement dilemmas in open concept homes, small spaces and odd shaped rooms.
My online decorating services are an affordable way to get the perfect room layout plan!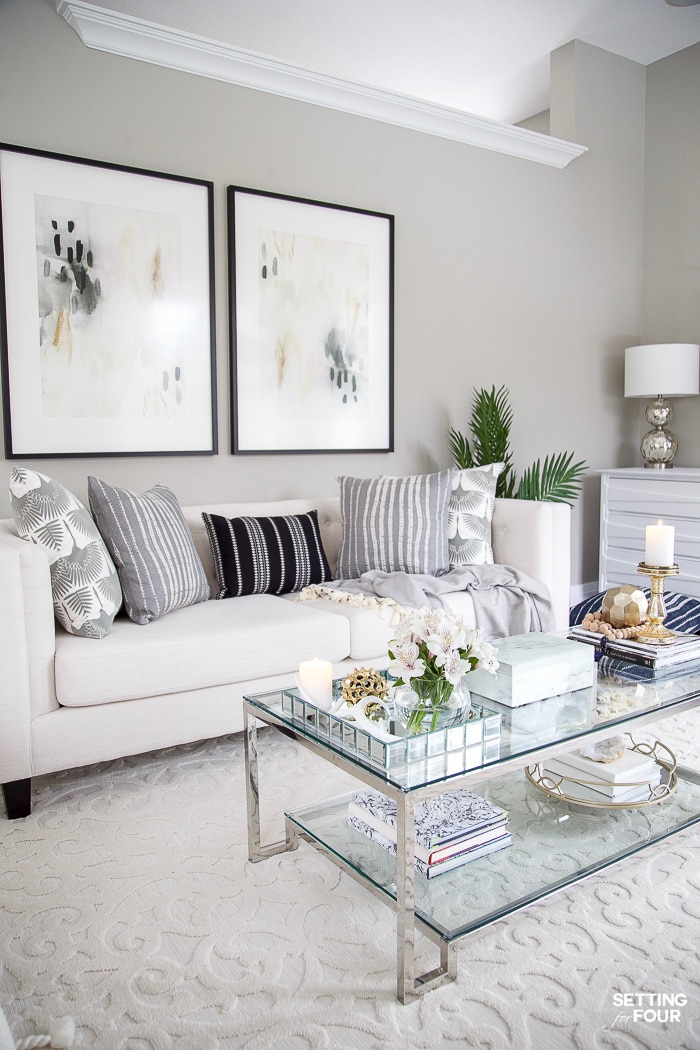 5.  Fabric Selection – online decorating service
I can help you choose the perfect fabrics to make drapes, pillows or help you choose what drapes, bedding, accent pillows and throw blankets to buy for your room!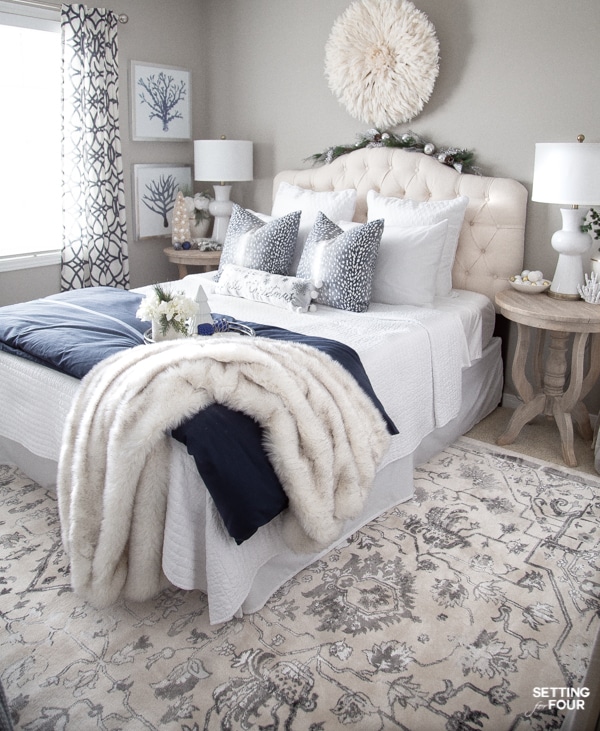 6. Design Boards with Resource List
I create Design Boards with Itemized Resource Lists so you can shop for the items yourself to give your room a new look!
MODERN CLASSIC LIVING ROOM -CLIENT DESIGN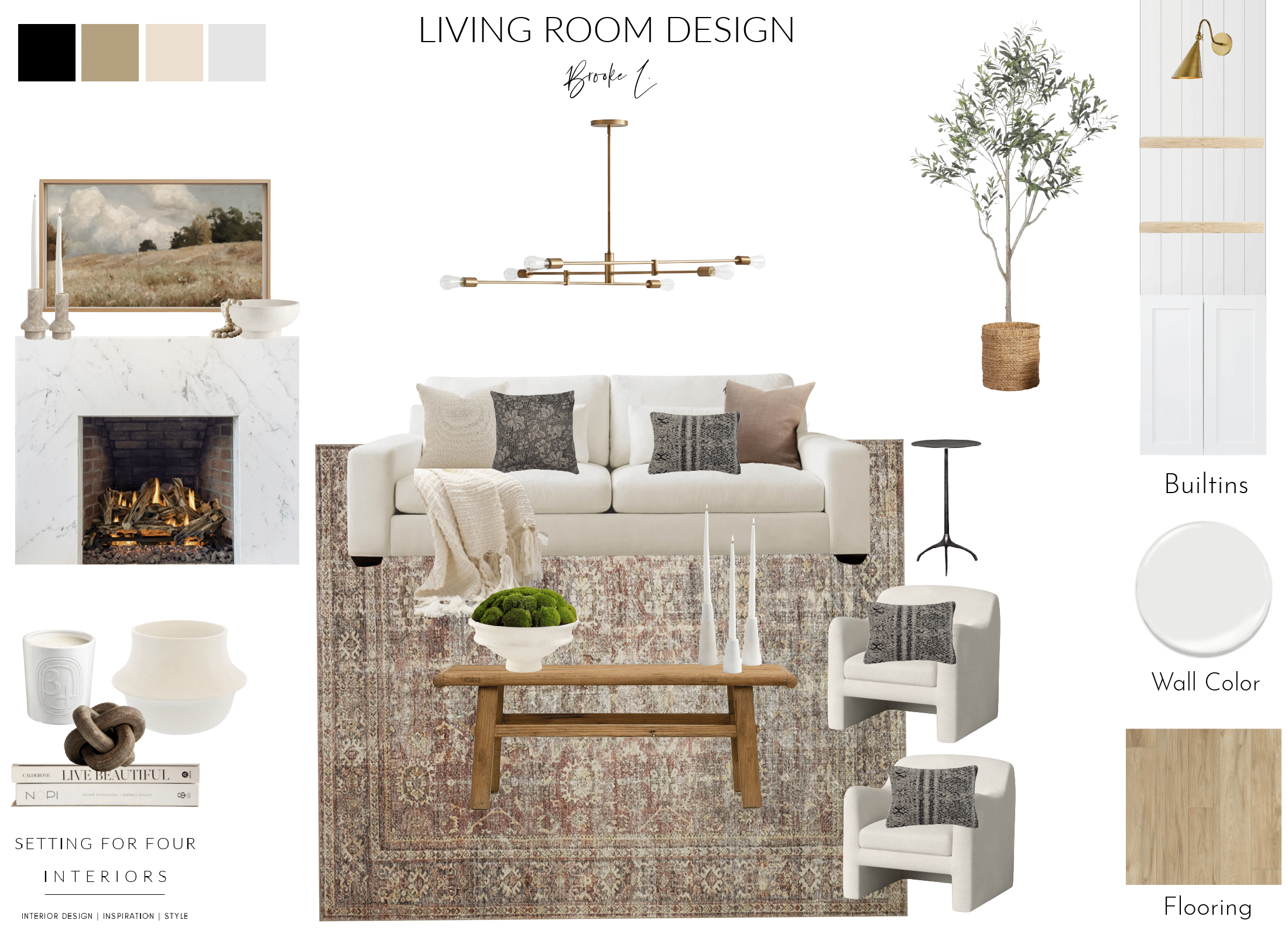 6. Holiday and Seasonal Decor Ideas:
Need help decorating your home and Christmas tree for the holidays? I can help you do that based on your holiday colors and your style!
My online decorating services are an easy way to source your holiday decor, that won't consume your time searching online or in stores! 
Elegant Crystal, Gold and White Christmas Tree Decor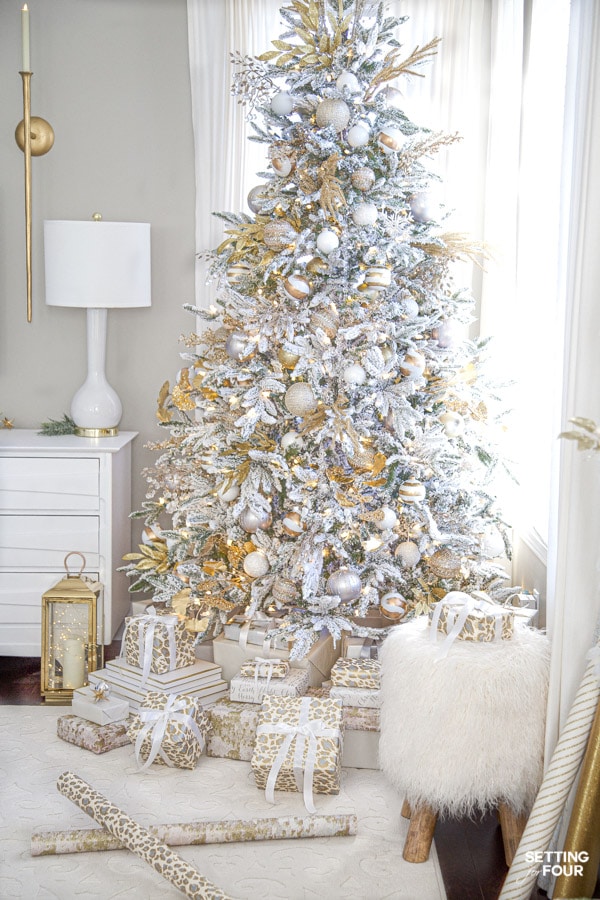 Christmas Mantel Decorating Ideas: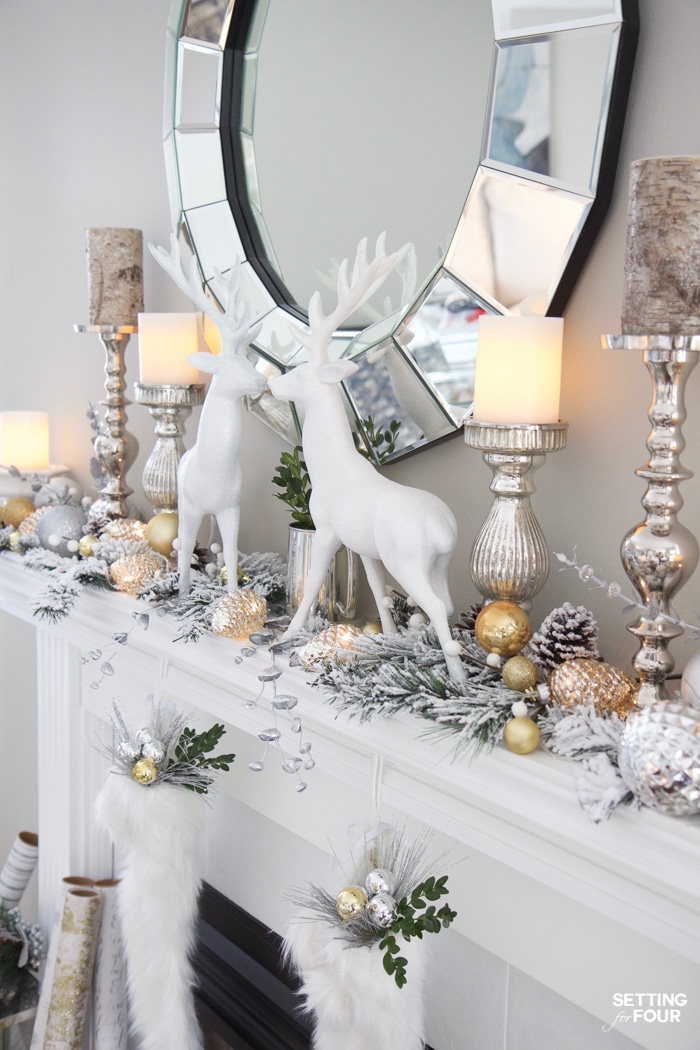 Email me at [email protected] with the subject title "Online Design Service" and let's create a home you love!
More Design and Decor Ideas:
The web links provided in the design consult may include affiliate links, which means I earn a small commission from your purchase at no additional cost to you.