In this post I'm sharing the Top 5 Home Design Trends to Crush On.
 I've scouted the International Gift and Home Furnishings Market at AmericasMart Atlanta to find the best home design and decor trends!
It's all here in my trend report: Top 5 Home Design Trends to Crush On!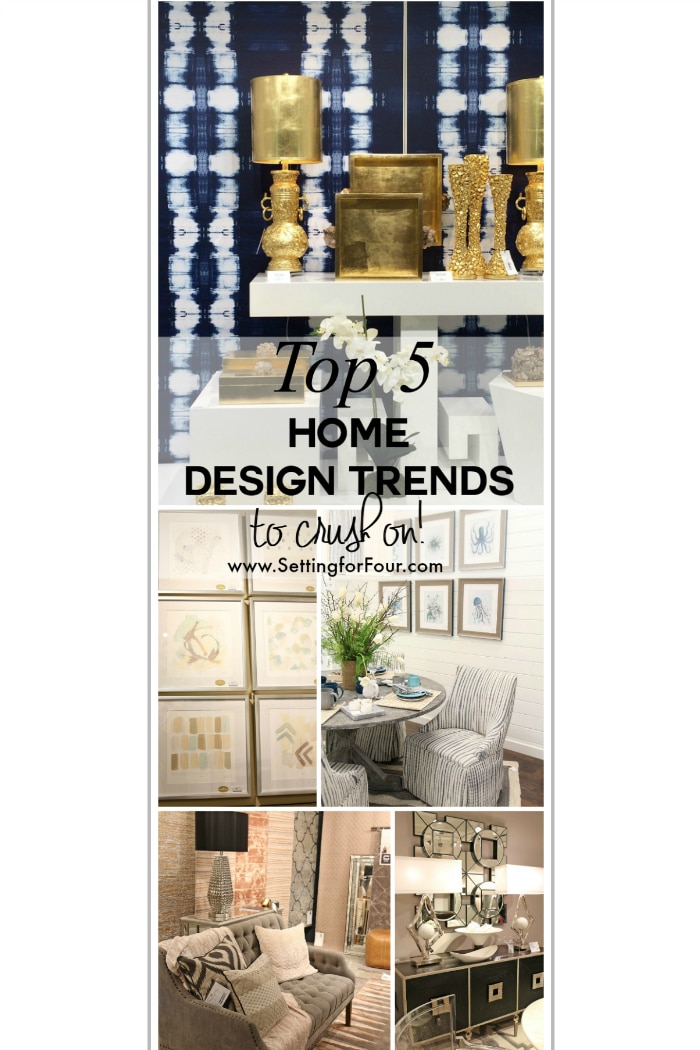 Top 5 Home Design Trends to Crush On
Being a Designer, influencer and blogger I've certainly had some incredibly exciting opportunities along the way!
Being asked to be a Trend Scout for the inaugural #StyleYourSeason tastemaker program with AmericasMart Atlanta, preview the sensational International Gift and Home Furnishings Market and select my top design trends for the year is certainly one of the most fun and rewarding experiences I've had as a professional influencer and Designer.
 I scouted the newest products and design trends in the interior design world!
I also toured the gorgeous showrooms and exhibitor spaces of the top home furnishing, decorative accessory and gift brands from around the world.
And today I'm sharing with you the Top 5 Home Design Trends to crush on!
I scoured the Market for three days (and much of it's 7 million square feet!) curating the top design trends that will shape our interiors this year.
I discovered fascinating designs that were showcased in dazzling vignettes and visual displays.
Here are my top five design trends to look forward to this year…. all looks that I love and am excited to see more of!
No. 1 Design Trend Of The Year – Rose Quartz Rapture:
Gentleness, compassion and composure – these are all the sentiments and sensations that Rose Quartz, the blush hued Pantone color of the year 2016, evoke.
I predict Rose Quartz will be a big trend we will be seeing a lot more of this year ranging from wall colors to textiles and hard surface materials.
These stunning area rugs from Jaipur demonstrate how Rose Quartz joins easily with other colors such as taupes, whites, grey and materials such as wood and leather.
Adding one of these rose quartz hued area rugs to a room will instantly create a warm, inviting space.
When layered with metallics these rugs create an aura of quiet luxury.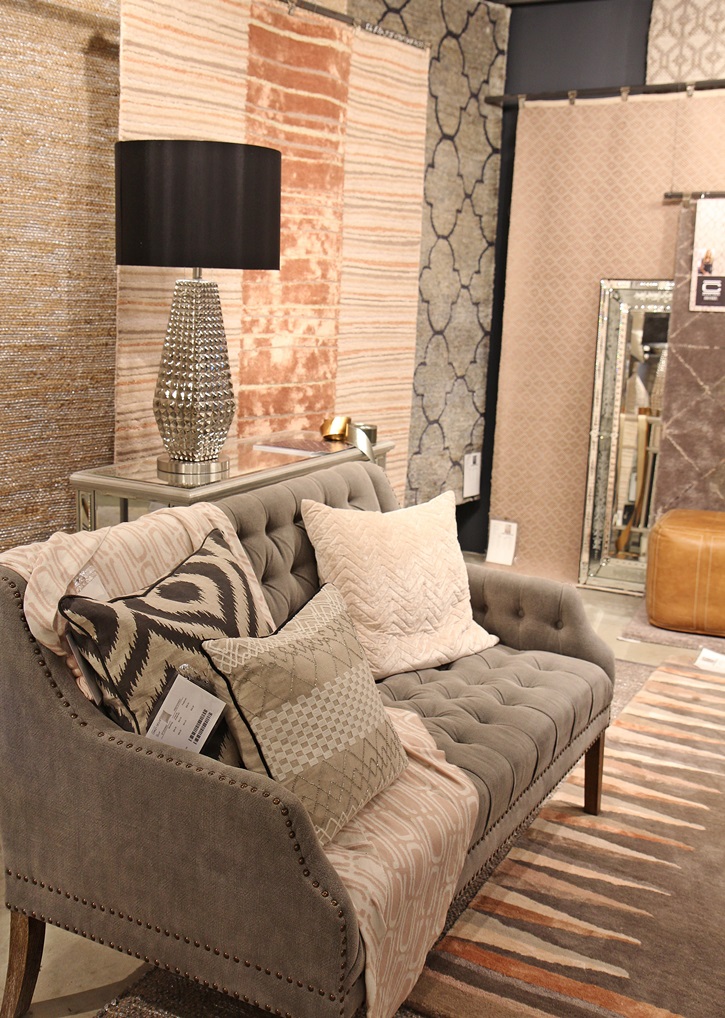 Rose Quartz colored area rugs from Jaipur Rugs at AmericasMart Atlanta
Photo: Heather Luckhurst Setting for Four
#2 Home Design Trend Of The Year – Black And White Embraces Metallics:
Black and white is a classic color duo that has been around forever but now this palette forges an exciting design trend as a result of its combination with metallic finishes.
Adding silver, gold and aged bronze metallics transforms a monochromatic ebony and ivory palette into an edgy, cosmopolitan look.
The result is dramatic and vibrant, the perfect recipe to uplift our moods and add excitement to our mundane day to day routines.
Global Views showcases this look by layering an abundance of black and white with silver metallic finishes.
I love these nickel and black iron based table lamps topped with ivory silk shades and white marble sphere accents.
They look stunning  on top of a black wood and silver iron framed media cabinet. So elegant!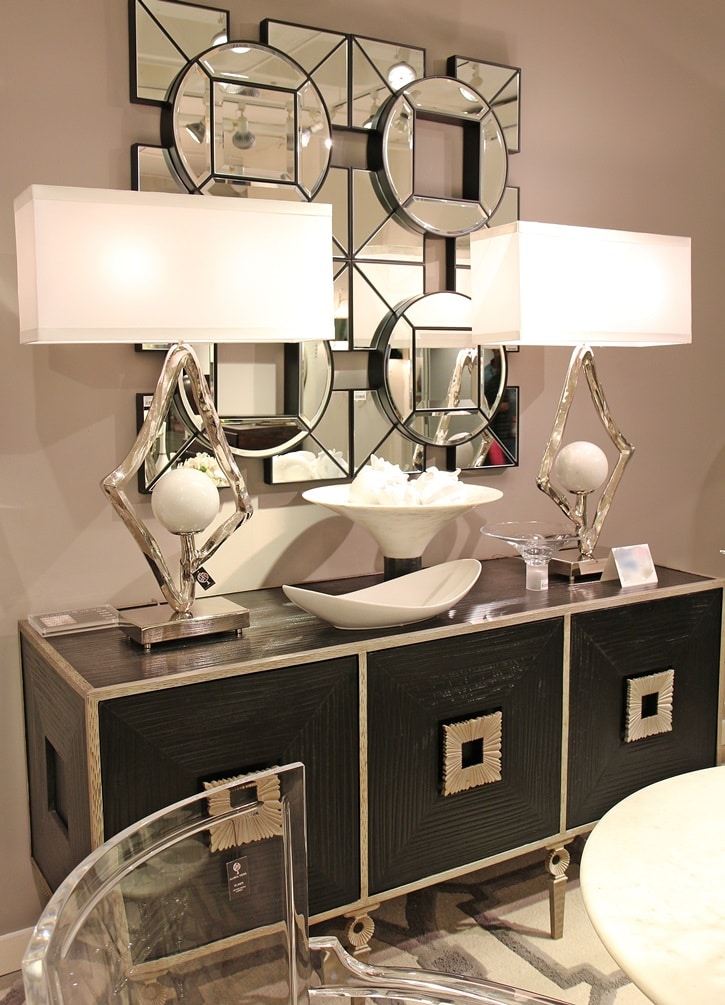 Lamps and media cabinet from Global Views at AmericasMart Atlanta
Photo: Heather Luckhurst Setting for Four
Home Design Trend #3 Of The Year- Serenity and Beyond:
The weightless and airy aura of Pantone's other color of the year 2016, Serenity, is one that I personally deeply connect with.
This color reminds me of lapping waves and watery relaxation.
Pantone has paired it with colors such as navy Snorkel Blue and aqua Limpet Shell reinforcing that blue hues such as Serenity are a design trend we will see more of in the coming months.
This room by Imagine Home ties handcrafted artisan textiles with Serenity as well as lighter and darker blues to create a tranquil, relaxed space that invites us to take a pause in life and enjoy some quietude.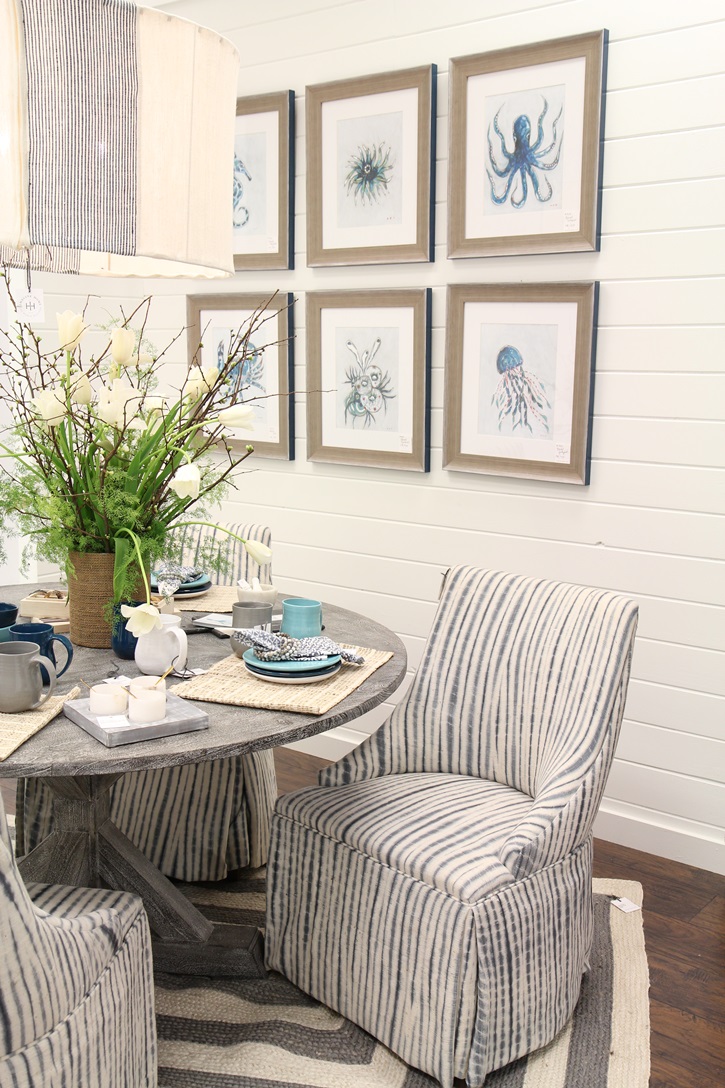 Handcrafted textiles used for upholstery from Imagine Home at AmericasMart Atlanta
Photo: Heather Luckhurst Setting for Four
Home Design Trend Of The Year # 4 – Soft Focus:
With the advance of technology in this informatics age, we've been surrounded with electronic information, data and analysis.
This combined with the unstable times in the world we live in, 'the politically clashing of ideas and our hurried lives has resulted in us losing connection for ourselves" says Laurie Pressman , VP of the PANTONE Color Institute.
To remedy this we will be adding soft palettes to our interiors in 2016 to create the calm, serene environment we crave.
Muted and quiet, these pastel colors include the washed neutrals of Pantone's Rose Quartz, Serenity blue, hushed grays and taupes mixed with soft greens and yellows.
It's time to unplug and these soft palettes aim to create the relaxation and peaceful contentment our minds and spirit savor.
These muted pastel colored prints from W. King Ambler are a fabulous way to introduce this soft palette trend into our homes and tap into our inner Zen.
These prints combine sophisticated hushed hues with a playful graphic mix of patterns.
Hung in a gallery wall layout they will create the perfect vibe of calm and airy tranquility we are seeking.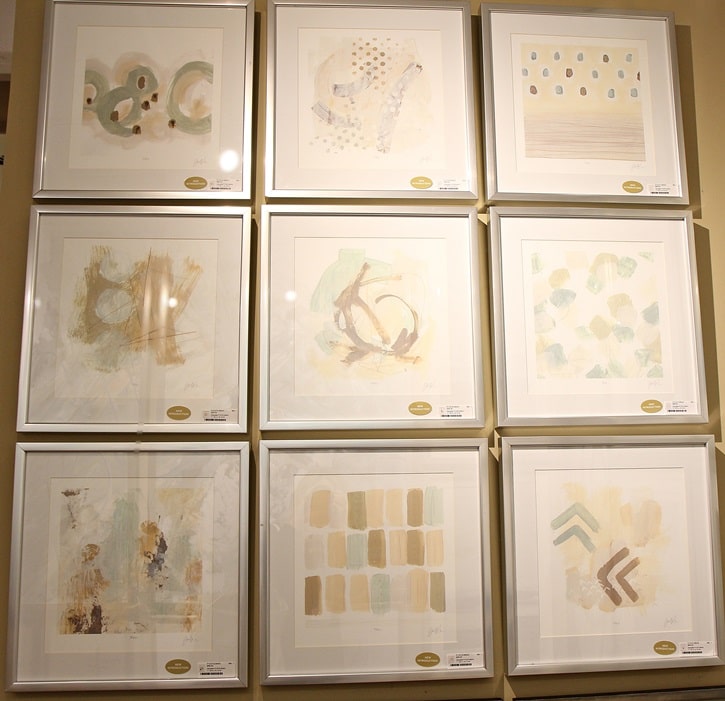 Wall art from King Ambler at AmericasMart Atlanta
Photo: Heather Luckhurst Setting for Four
5. Shibori Scene:
It's true that the world really is getting smaller and we are embracing global influences for our homes.
In particular the art of indigenous hand dyeing techniques is a design trend that was showcased at AmericasMart ranging from upholstery to wall coverings.
These artisnal patterns embrace both the handmade craftsmanship and the connection to the 'maker' feeling we want in our homes, to balance all things mass manufactured in our lives.
This stunning Japanese Shibori style indigo wallpaper at CODARUS perfectly embodies this design trend.
This wallpaper can instantly send a traditional or modern dining room from ho-hum to cool and chic.
Copy this vignette's look and add gold metallics to create the worldly and curated look of an adventurous, well-travelled life.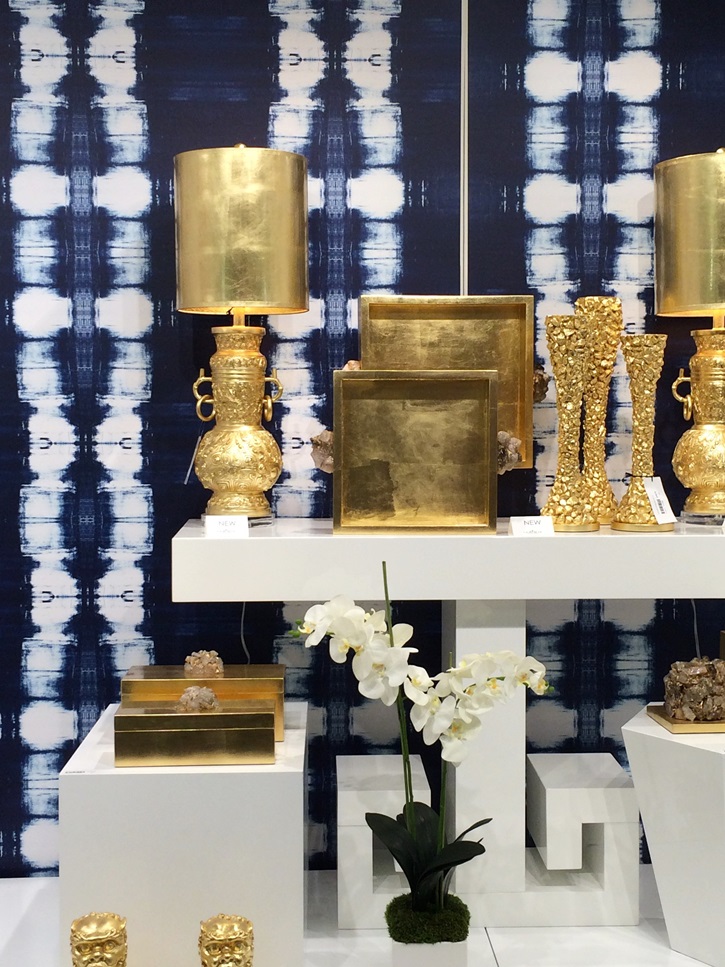 Indigo shibori style wallpaper in an oversize print and gold accents from CODARUS at AmericasMart Atlanta
Photo: Heather Luckhurst Setting for Four
All in all my top 5 design trend predictions for the year embrace tranquility, well-being, creativity and serenity.
They foster feelings of reassurance in the uncertain, turbulent times we live in and a balance to all of the ever-evolving technology in our lives.
I look forward to the reflection and feelings of wellness these design trends will infuse into our interiors and our lives!
I was so inspired to scout the top home design and decor showrooms featured at Market this year!
 I hope you enjoyed seeing my Top 5 Home Design Trends to Crush On!
PLEASE PIN THIS AND SAVE IT FOR LATER!

You may also like: