See these winter mantel decorating ideas to refresh your fireplace mantel for the season!
As I sit here now the wind is howling outside and the temperature has dropped.
More snow is on it's way and winter is in full force!
It's this time of year that I love to add layers of shine, texture, glimmer and visual warmth to my home and to balance the forces of nature embracing our home.
I recently redecorated my mantel and today I'm sharing my winter mantel decorating ideas with you – I hope you like my tips!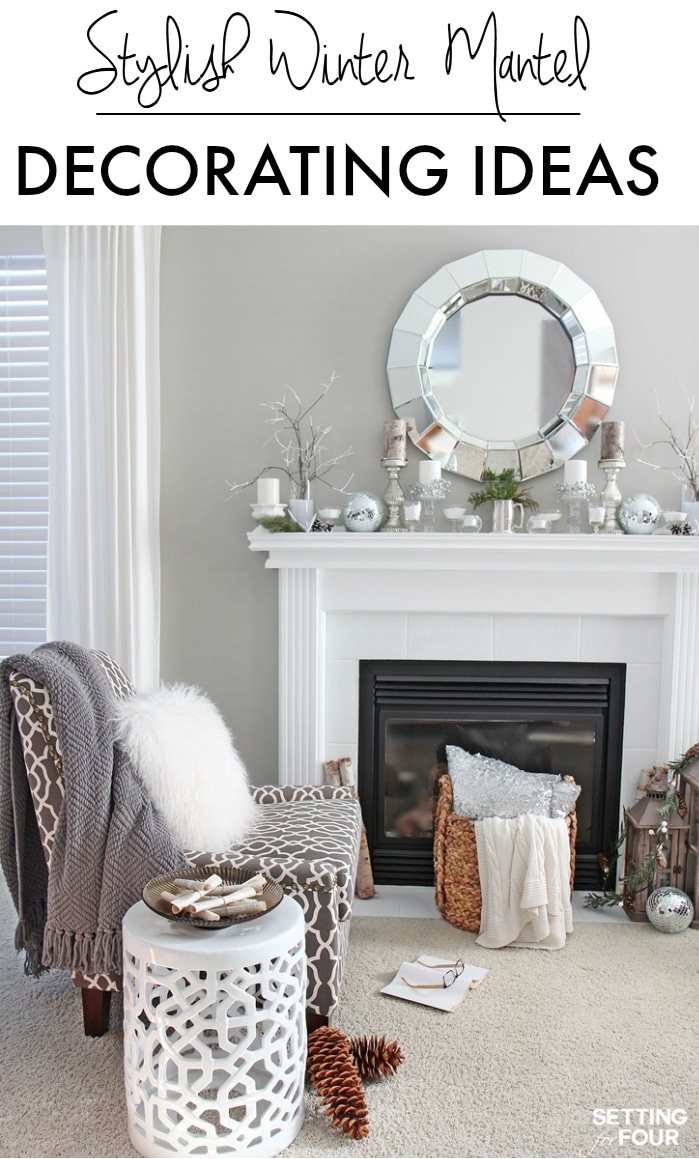 Winter Mantel Decorating Ideas
I absolutely love decorating our mantel!
We painted the mantel shelf white and painted the fireplace tile white as well.
It's such a fresh, bright canvas to decorate now – it's amazing the power of paint and some DIY!
I love to cuddle up in my comfy grey trellis patterned accent chair – It's my cozy reading spot by the fire!
A garden stool is the perfect spot to put a drink.
I have a vintage french glass bowl on it to display my DIY Pottery Barn page scrolls (so, so easy to make!)
Wall color: Sherwin Williams Mindful Gray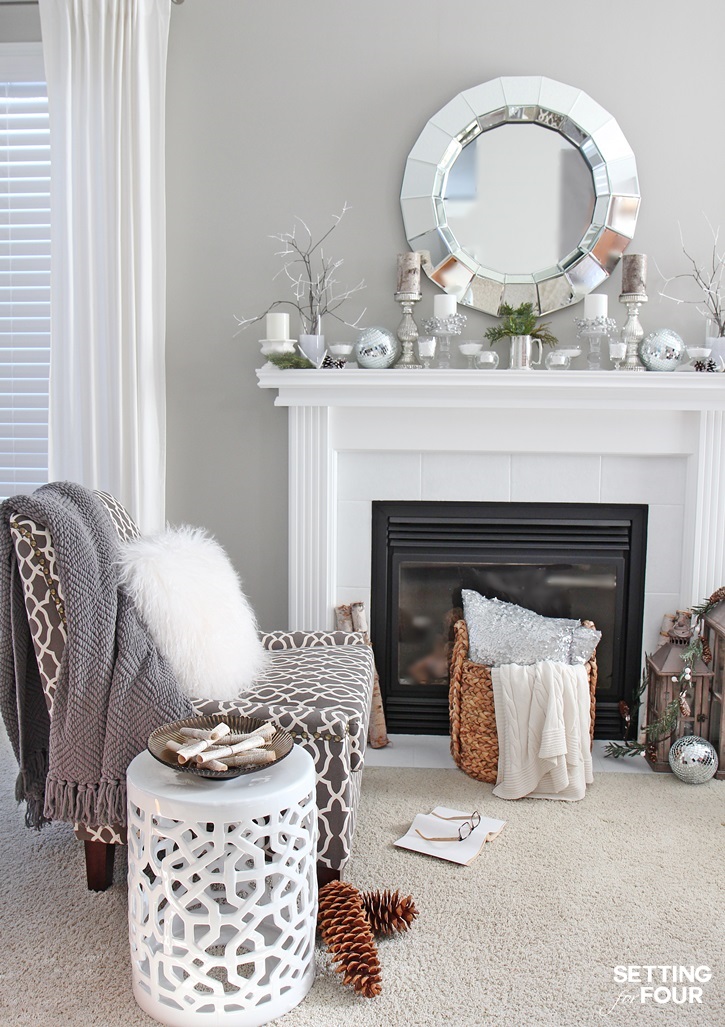 To add a wintery look to my living room and mantel area I looped a faux frosted pine cone garland around my lanterns – I love using boughs, leaves and branches in my home decor!
Using natural elements real or imitation creates such a casual relaxed and comfy look I think.
We are surrounded by woods -pine trees, maples, cedars and fir trees so our home just begs to be decorated with flowers and woodland elements that I find in the trails around our home.
Speaking of branches I placed a few birch branches from our back yard in the lanterns – don't you just love the black and white beauty of birch bark?
And yes – I decorate with disco balls!
They are fun and fabulous!
When the winter sun shines on them my living room explodes into prisms of gorgeous white lights! I'll have to take a picture of it sometime to show you!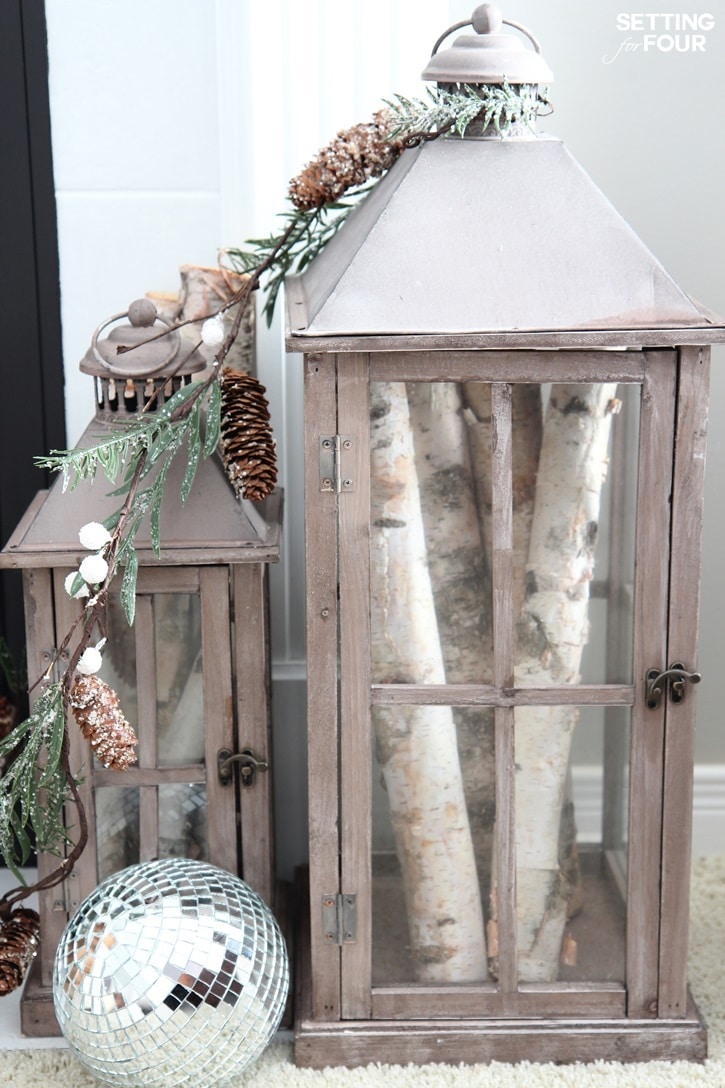 I have a small, just small, obsession with baskets too.
I love their simple texture…plus they are a great way to store extra pillows and throws!
These grey sequin pillows are so gorgeous – they are matte sequins not shiny – so glam and right up my ally!
This cable knit throw get's used every night and is so soft!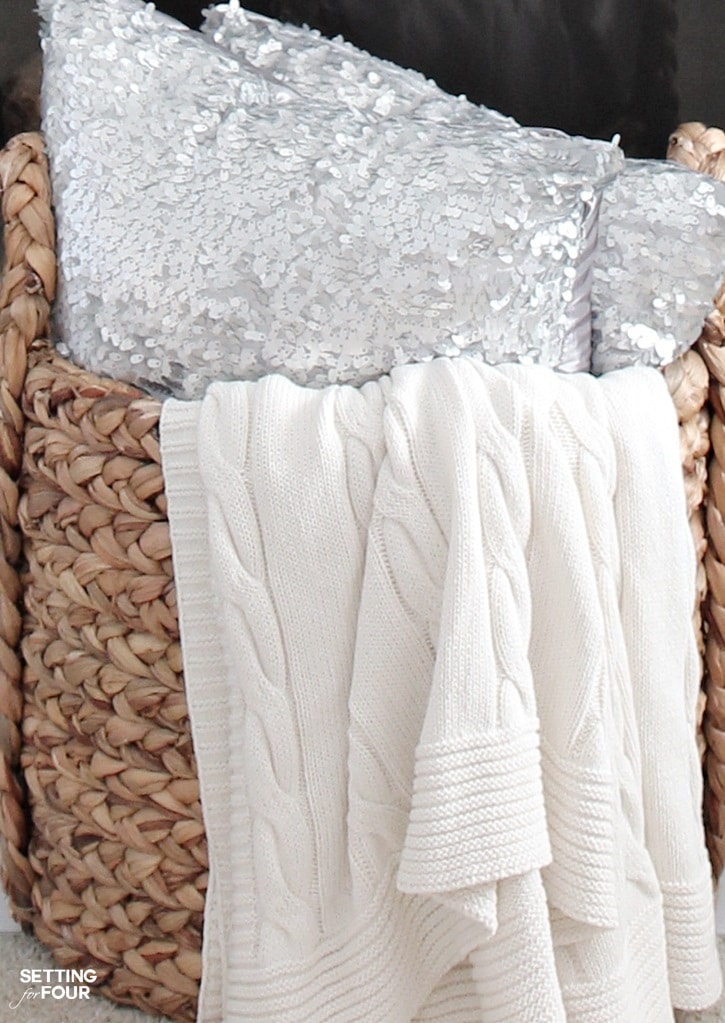 Another touch of winter is this quick and easy DIY.
I gathered up some branches from my back yard and just dipped the ends in white chalk paint….then popped them in a clear vase filled with 'ice' vase filler!
I collected a few vintage crystal compote glasses from a thrift store and use them as votive holders on my mantel – they are shimmery and are etched with flowers. So pretty.
I filled them with some Epsom salts to hold the candles and for another wintery, snowy look.
I also have an obsession with mercury glass! I love the distressed metallic style of these mercury glass candlesticks!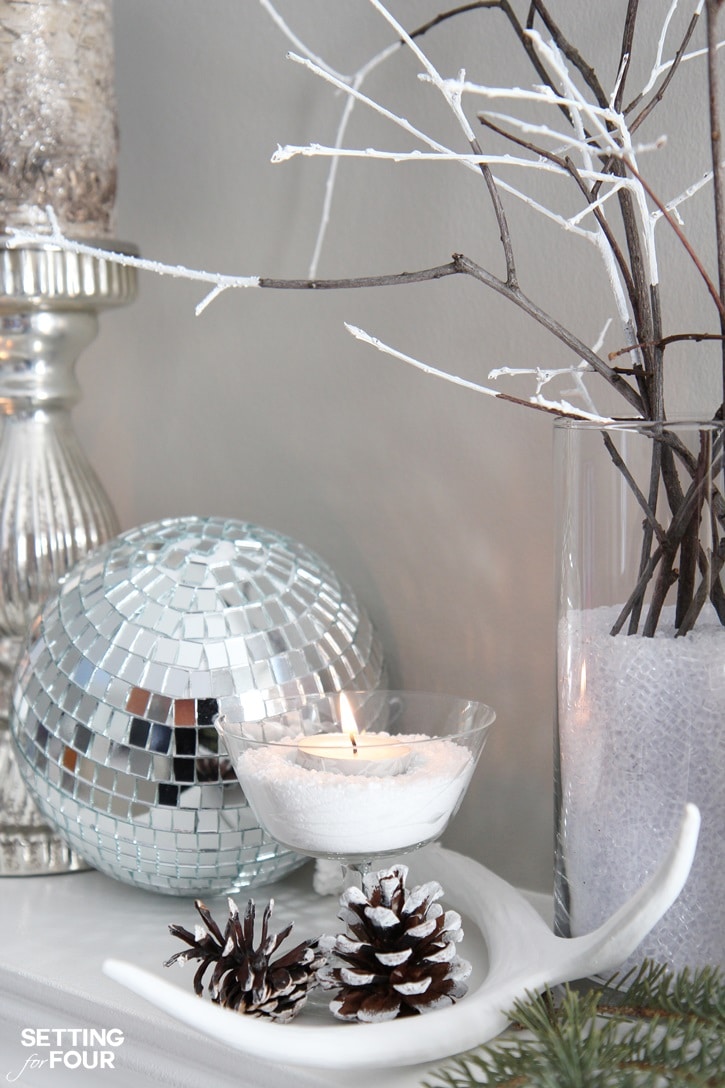 A few real pine boughs and deer antlers add more layers of texture to this winter style.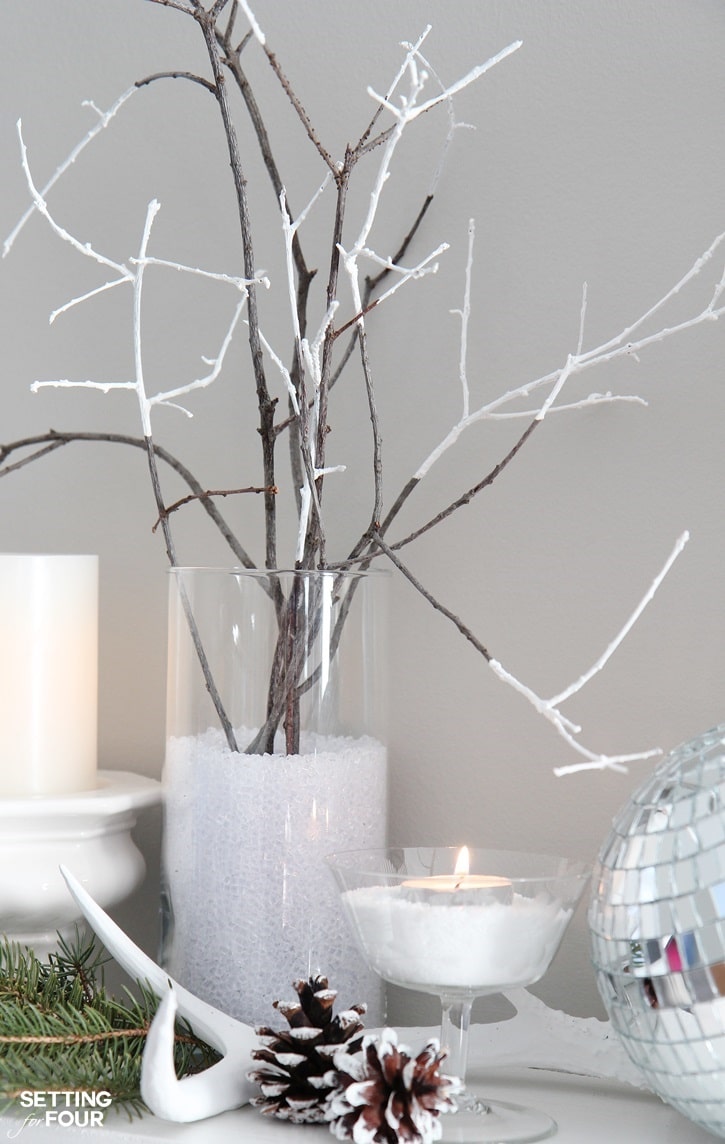 I have lots of flameless wax pillar candles in my home too!
These have a timer and shut off on their own!
So convenient – love that!
Candlelight in the winter add such a cozy feel to a room!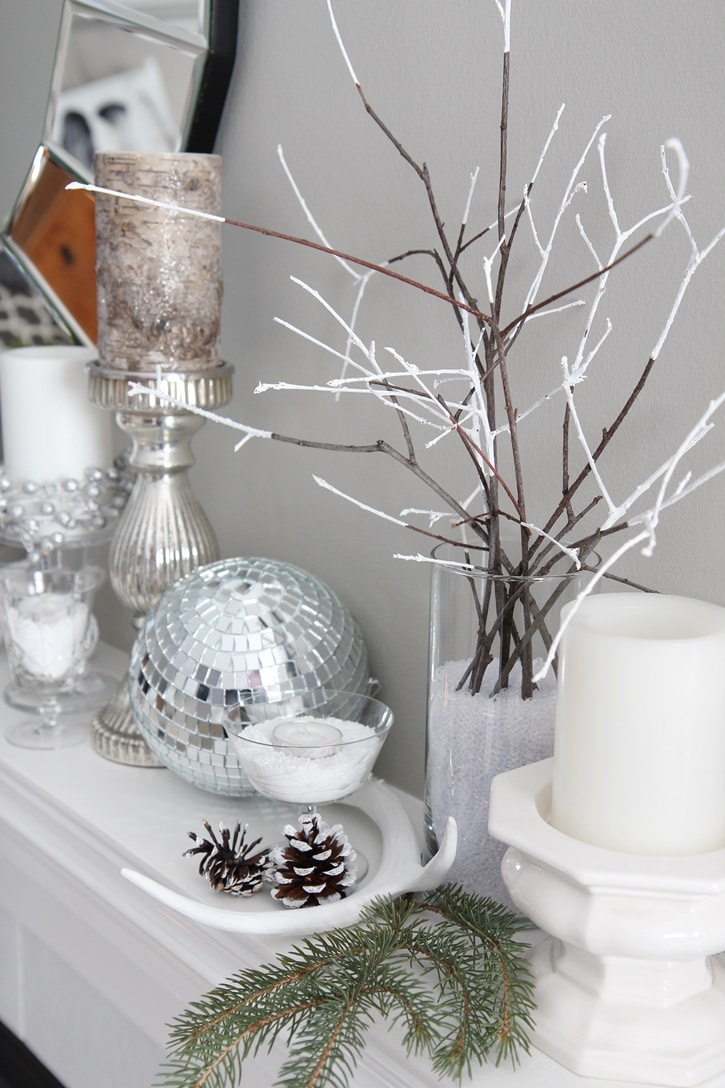 Winter Mantel Shopping Sources:
I hope you enjoyed my Winter Mantel Decorating Ideas!
Do you decorate your mantel for winter?
Don't forget to pin this to your winter board or mantel board and see all of the beautiful decor I'm pinning here!

Click on the images below to get this look in your home!

You may also like:
How To Arrange Furniture In A Small Living Room
Winter Entryway and Curb Appeal Ideas