Is your home looking cluttered and chaotic? Sure it could be messy from a lack of storage and organization – and everyday 'life' – but did you know it could also be the result of some common decorating mistakes that you may be making right now? Eeek!
See the 5 decorating mistakes that make a home look cluttered and how to avoid them!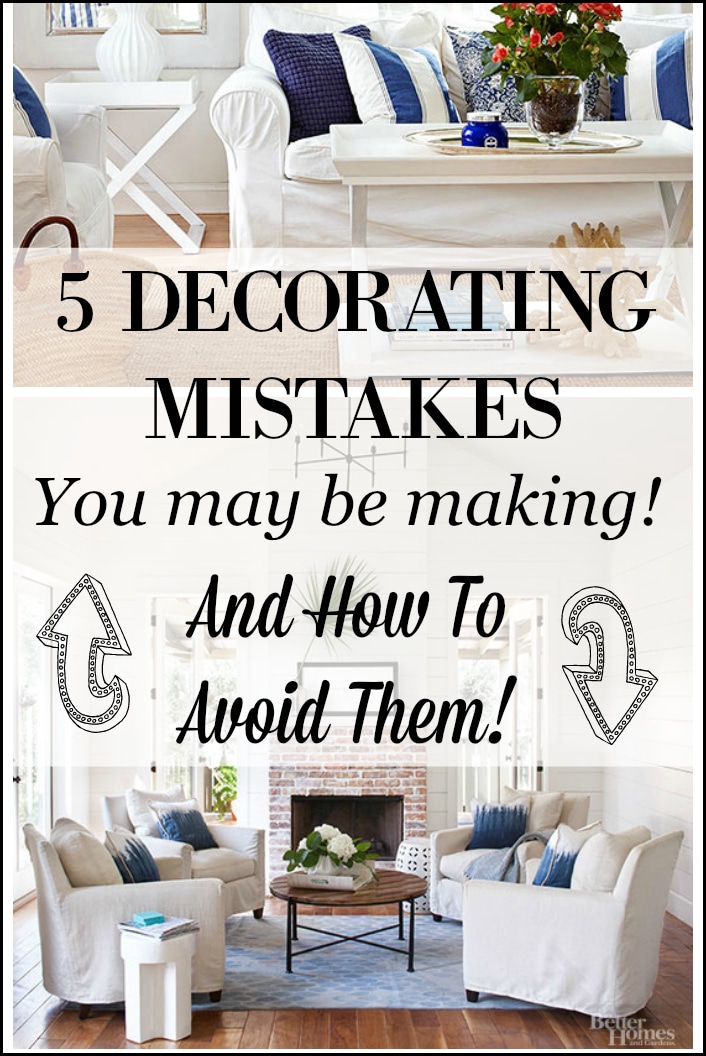 5 Decorating Mistakes That Make Your Home Look Cluttered
---
Need help decorating or help picking paint colors? I offer online design services and paint color advice! See the info on my services, my client designs & client reviews here!

---
In this post you will learn:
~ How using too many colors can actually make your home look cluttered and messy.
~ We all love pillows but how many is too many?
~ Why you should stop pushing your furniture up against the wall and a clever room layout tip.
~ How to prevent your table tops from looking cluttered with an easy decor solution.
~ How hanging pictures randomly without a plan will make your space look disorganized and chaotic – and the answer!
Take a look at all 5 mistakes – the pictures show you what you SHOULD do!
1. Arranging Furniture Against The Walls – Decorating Mistake #1
Pushing all of your furniture up against the walls is guaranteed to make the space look cluttered and messy.
Instead do this: Pull the furniture out from the walls and arrange them in a grouping toward the center of the room as in this seating arrangement in the picture below.
This grouping of armchairs around a coffee table creates coziness, great traffic flow and the perfect conversation area.
Ground the furniture with an area rug.  See my Design Tip: How to Choose the Perfect Area Rug to calculate the best size of rug that you need for your room!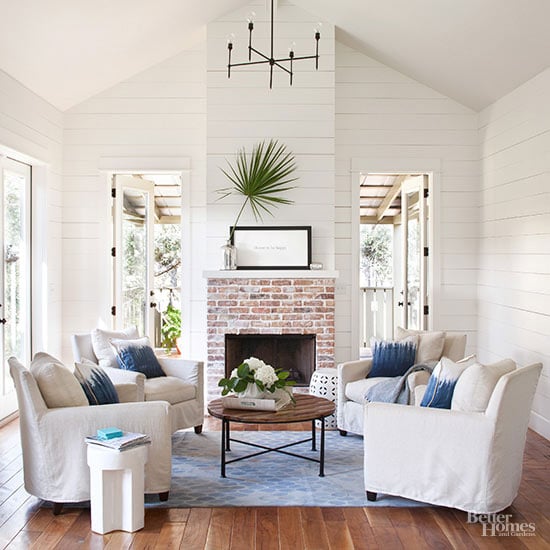 source: BHG
2. Too Many Accent Pillows – Decorating Mistake #2
Adding loads of throw pillows in un-coordinating patterns and colors on a chair, sofa or bed makes the room look messy and chaotic.
Do This: The living room below demonstrates how to get a well-decorated look that's not cluttered because the sofa has just the right amount of decorative pillows. Th pillows also have coordinating patterns and colors that flow with the room.
Using two accent pillows at each end adds beautiful color and pattern, while keeping the space clutter free.
If your sofa has a deep seat you can add a row of pillows (4 or 5) along the back as long as they coordinate in color and pattern. See these rules on how to mix color and pattern!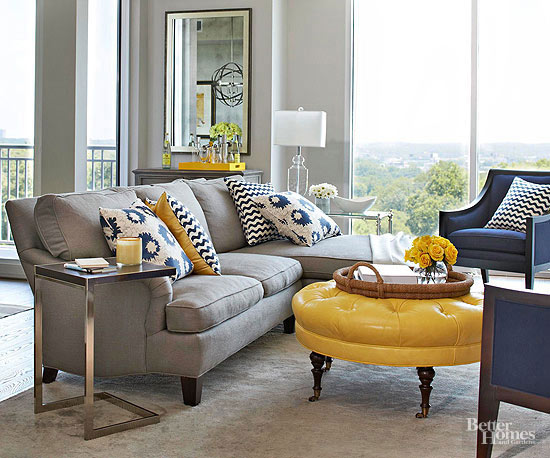 source: BHG
3. Hanging Pictures And Mirrors Haphazardly On A Wall – Decorating Mistake #3
Pictures and art hung in a random all-over-the-place fashion makes a room look messy.
The solution? Group pictures in a gallery wall arrangement to give your room an organized look.
The art hung in our family room hung above our sofa, demonstrates how several canvases can be hung to create a balanced, decluttered and visually pleasing look.
Horse Art Decor: 20 Stunning Looks!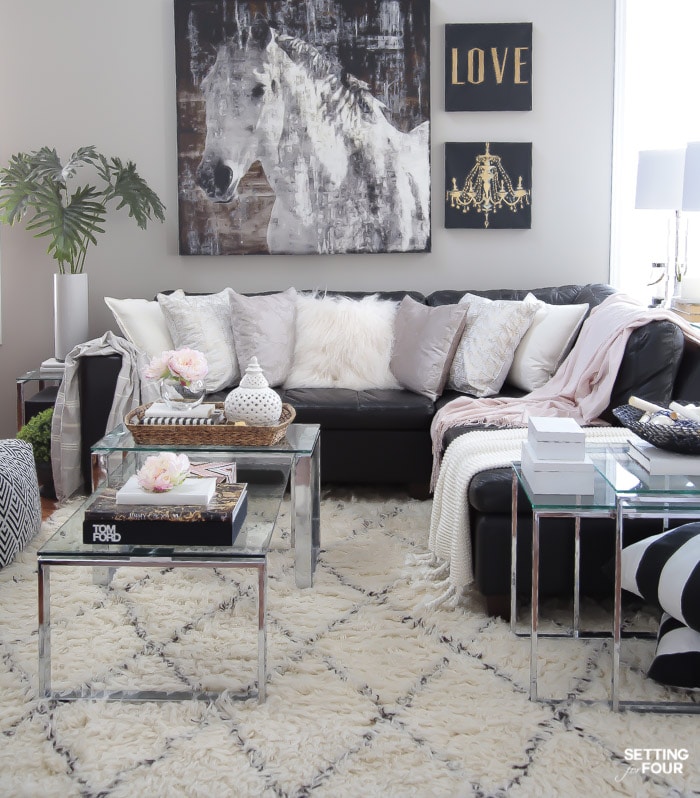 4. Having Too Much Decor On A Table – Decorating Mistake #4
Filling the entire surface of a console table or coffee table with decor will make a room look really untidy.
Instead, take stock of your decorative accessories and edit the number of them that you use. Then create a vignette (one grouping) or create two groupings as demonstrated in this photo.
First, edit what you already have on the table top. Only display what you absolutely love and remove the rest.
Group many small objects on a decorative tray or bowl then create your vignettes. One styling trick I love is to use a stack of books to elevate small objects to add interest – like in the picture below.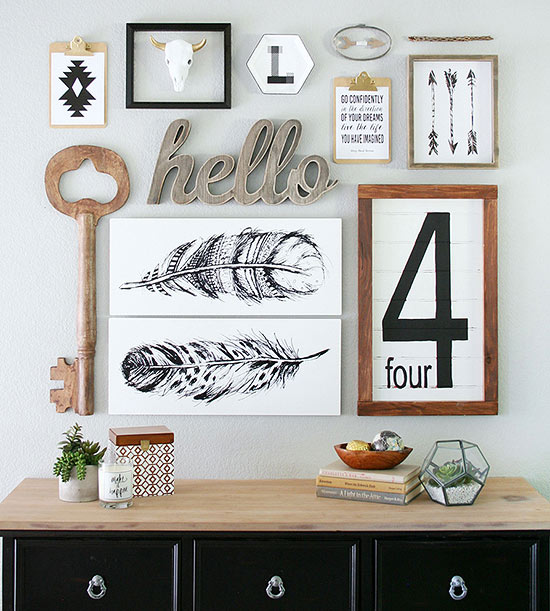 source: BHG
5. Using too many Colors – Decorating Mistake #5
Decorating with too many colors is guaranteed to make a home look cluttered and messy.
The solution is to use one or two accent colors combined with neutral hues to give your home a cohesive, relaxed look.
This beautiful living room in the picture below using many shades of blue and a pop of red in the flowers combined with neutral whites and tans to create a cohesive space.
The neutral color walls, curtains, rug and furniture allow the room to breathe as well as make the room look more spacious and open.
Natural fiber rugs are a great way to add neutral color to a space and calm down color overload.
How to Pick Paint Colors With Confidence!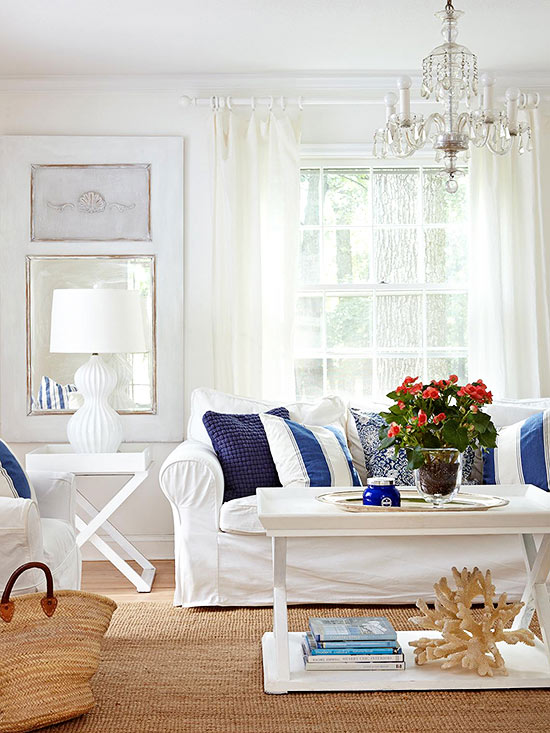 source: BHG
PLEASE PIN THIS AND SHARE IT WITH YOUR FRIENDS!

I hope you enjoy this declutter and decorating post!
More Design and Decor ideas:
Our Dark to White Kitchen Remodel Before and After
Online Decorating Services & Color Advice
Top 50 Bestselling Paint Colors At Sherwin Williams
How to Pick Paint Colors With Confidence!
Interior Design Advice: Do's and Don'ts Every Beginner Should Know
Light and Bright Spring Kitchen Decor Ideas
This post contains affiliate links. Click here to read my full disclosure policy.