Have you heard? Indigo Blue is THE HOT color trend this fall and it's a color I'm absolutely in LOVE with! I'm so excited to try this must-have, fresh color in my home this season and today I'm showing you all the phenomenal ways it will add pizzazz and wow to your home! Want to know why I love it?
It's a current yet timeless color to mix with our gray, cream, black and white neutrals.
It's a color that will also will look amazing with my mercury glass, silver and gold metallics but still look timeless, not 'trendy'!
Indigo Blue is taking home decor by storm and this is why!: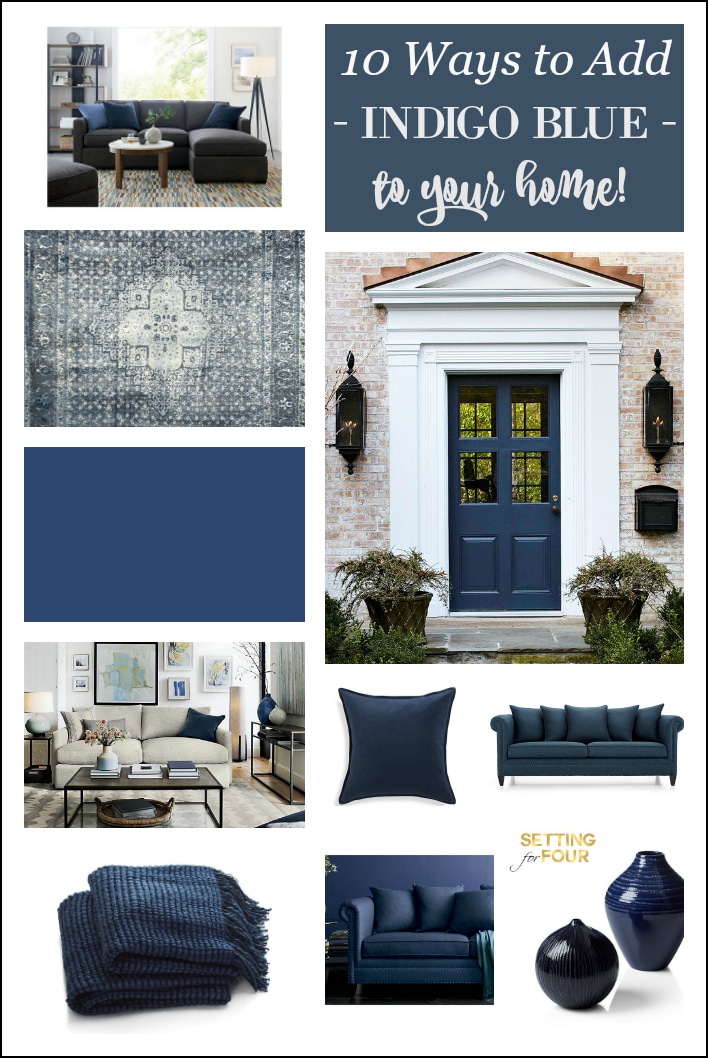 I've done the 'typical' fall colors many times before – the oranges and rust hues which are still beautiful I think….
But this fall I'm looking for something different to spark up my space. Something to give our home some punch and pow, something classic with some edge – but is still comfortable to live with and is family friendly.
This post contains some affiliate links for your convenience. Click here to read my full disclosure policy.
If you're like me and are looking for a stylish color to update your home this fall, you'll love all of the gorgeous indigo decor ideas I've put together for you! 
As I was researching this sumptuous color for my own home I thought I'd share with you all the incredible looks and ideas that I found  – plus all the beautiful places and ways we can add this stunning blue color to our home decor.
Check out 10 amazing ways to add this elegant, dramatic yet livable Indigo blue color to your home:
As you can see in the rooms below – Indigo Blue truly looks amazing with wood accents, rattan, gray, ivory, cream, black and white!
This blue color looks amazing with greenery like fiddle leaf fig trees and vases of green stems: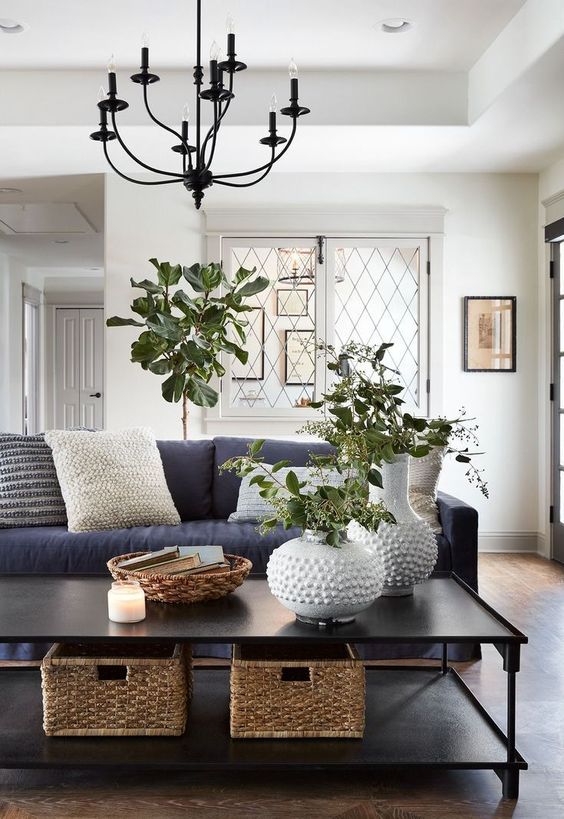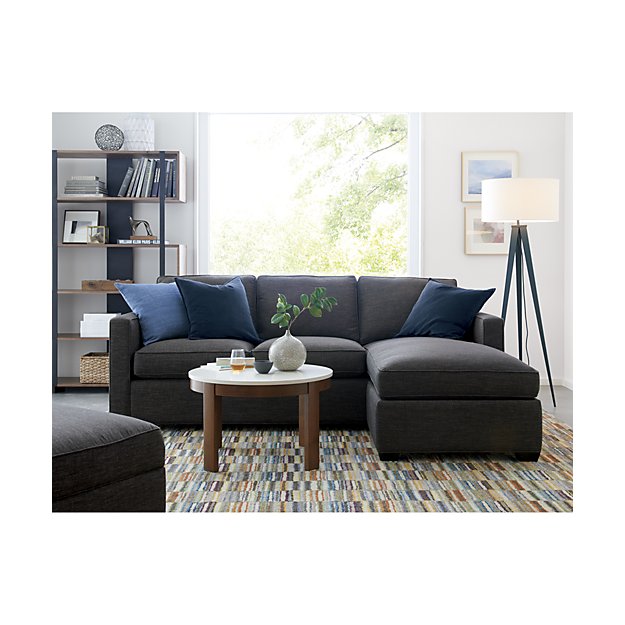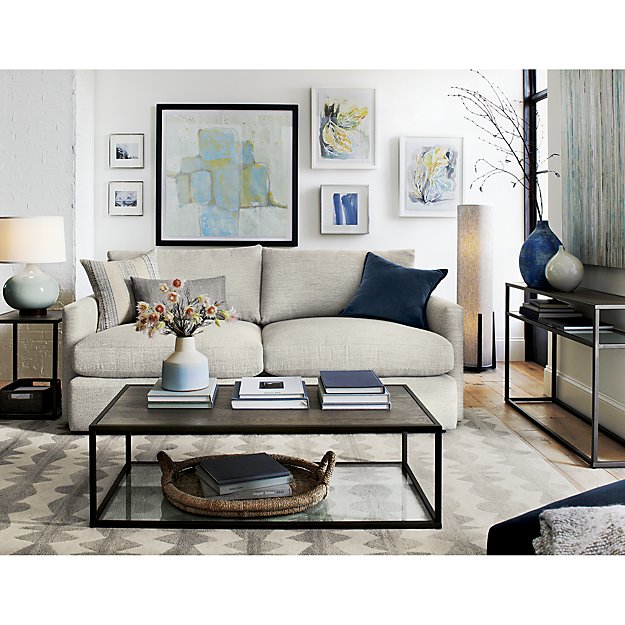 It's no wonder that Indigo Blue is all the rage this season! This color is guaranteed to add a shot of rich color, personality and updated style to our homes!
It's true that Indigo Blue is a big trend right now….and why is it even important to consider trends? Trends open our eyes to new possibilities and we can learn a lot from them about our own personal style!
 So what EXACTLY is indigo blue?: It isn't navy or cobalt blue.  It's a rich, dark blue that's between blue and violet.
 Its one one of the colors of the rainbow. No wonder it's such a popular color! 
 10 gorgeous ways to add indigo blue to our homes 
 1. Paint Color:
Use it for a beautiful front door color and wall color.
SW 6531 Indigo

 W 7602 Indigo Batik 

 Front door: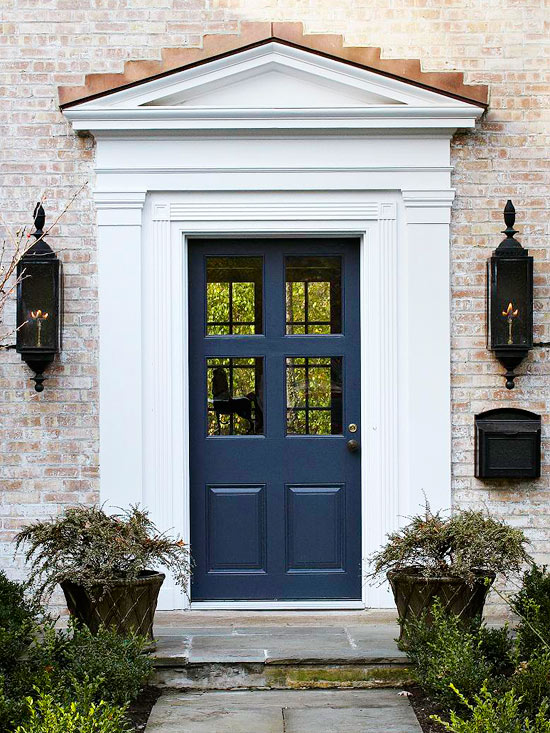 Wall Paint Color: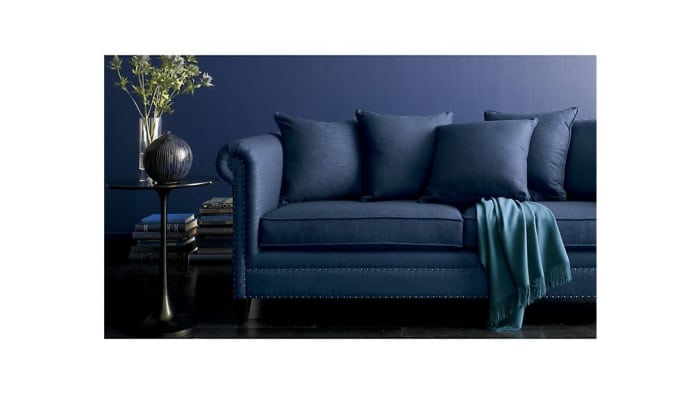 2. Pillows:
Indigo Blue Velvet Pillow – I'm crushing on this velvet pillow!  The color…the texture!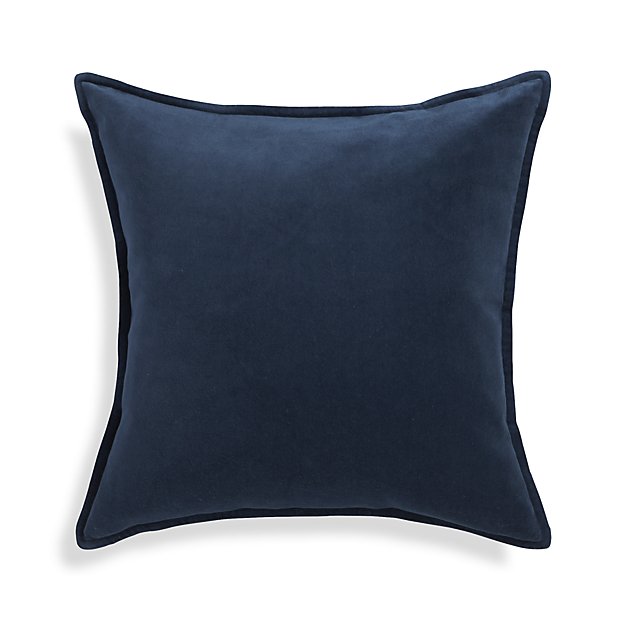 3. Area rug:
 Indigo Blue Area Rug – I'm SMITTEN with this area rug – I'm seriously thinking of getting it for our living room!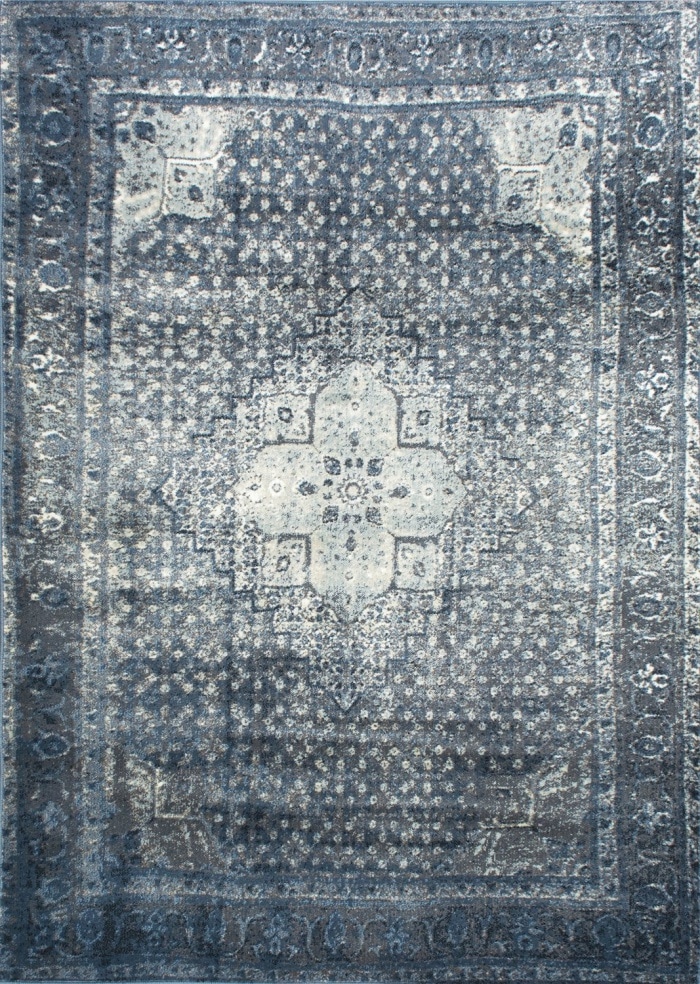 4. Dinnerware:
Indigo Swirl Dinner Plate – stunning! This will go fabulous with the white dinnerware I already have.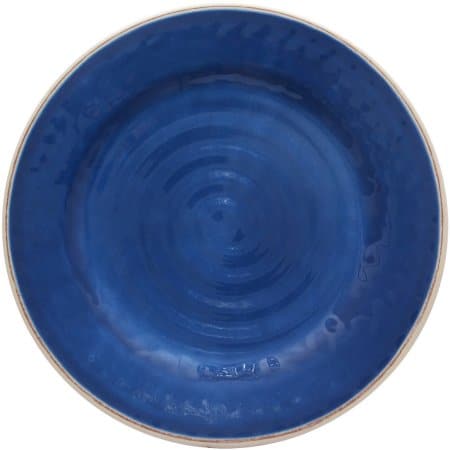 5. Sofa
So so stunning: 3 cushion, roll-arm sofa with nailhead trim!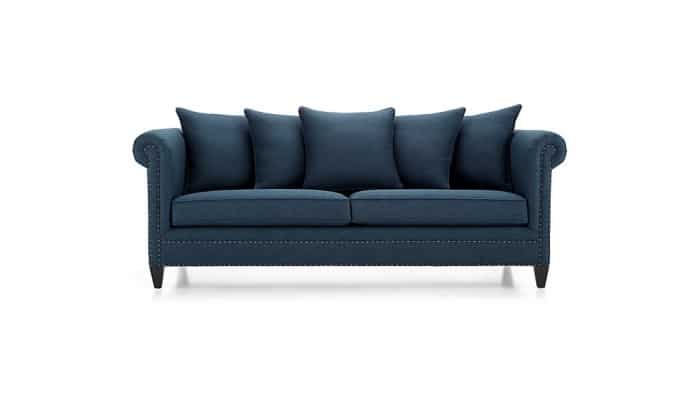 6. Art Print
Abstract art print – I'm a sucker for abstract art.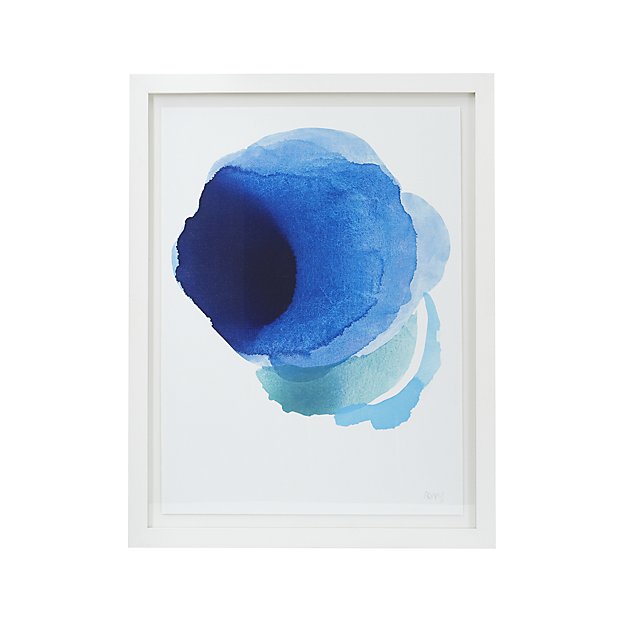 7. Window treatments
Indigo Curtains – these will look fabulous in a den, living room, home office and bedroom.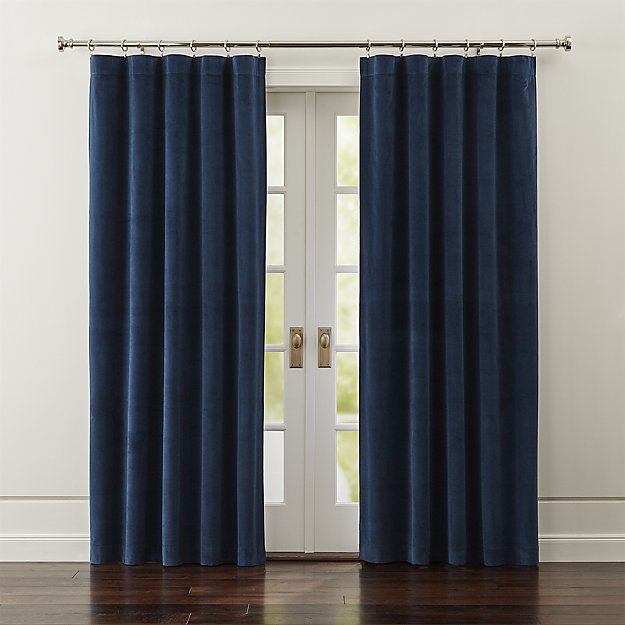 8. Vase
Ceramic Vase – add one or two to a bookcase, kitchen open shelving, mantel, end table.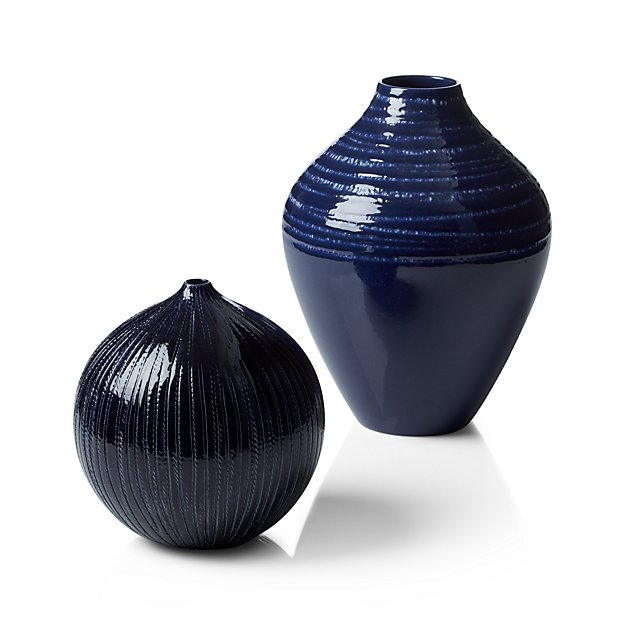 9. Wallpaper
Wood Grain Indigo Blue wallpaper – this is peel and stick … and removable!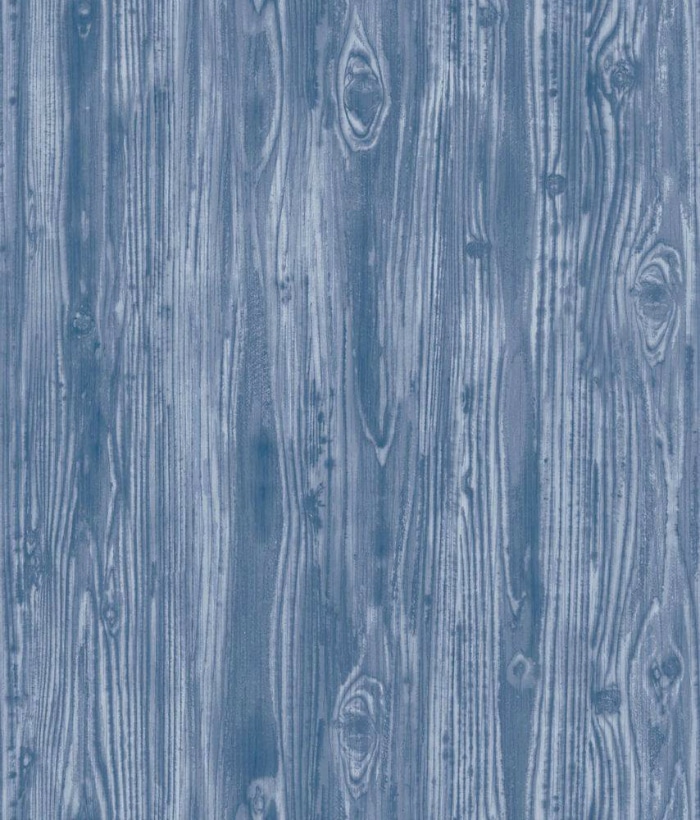 I LOVE this as an accent wall for a living room or bedroom. This wallpaper will work with traditional style, farmhouse style and modern styles too!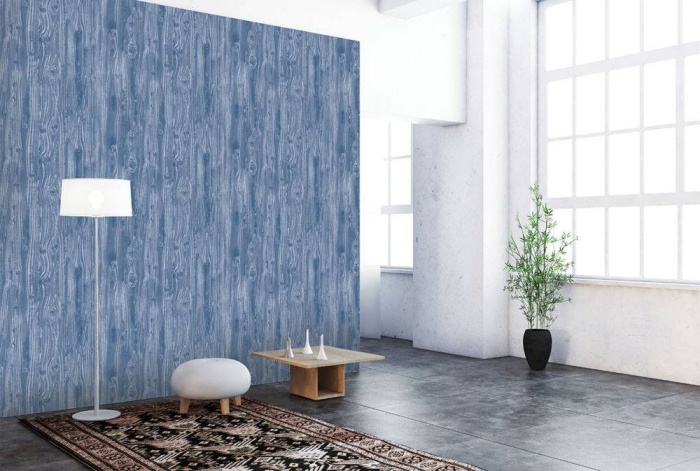 10. Throw:
Chunky knit throw – can't have enough throws! This itself will add a whole new look to your sofa or accent chair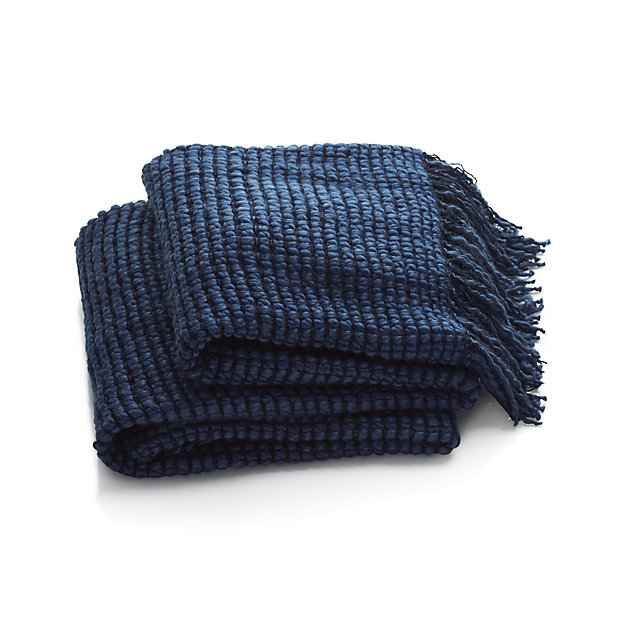 Have I convinced you to join me and add some beautiful Indigo Blue to your home this season?? I hope so! 🙂
What are your thoughts on indigo blue? Do you like it? Will you be adding it to your home decor?
You may also like:
My Favorite Painting Tips and Tools
How to Prepare a Room for Painting – for best paint adhesion and to save time!
How to find your signature style – like I did!