Soothing Bedroom Color Schemes: Looking for color inspiration to refresh your bedroom?
See these relaxing paint colors and color palettes to inspire sweet dreams!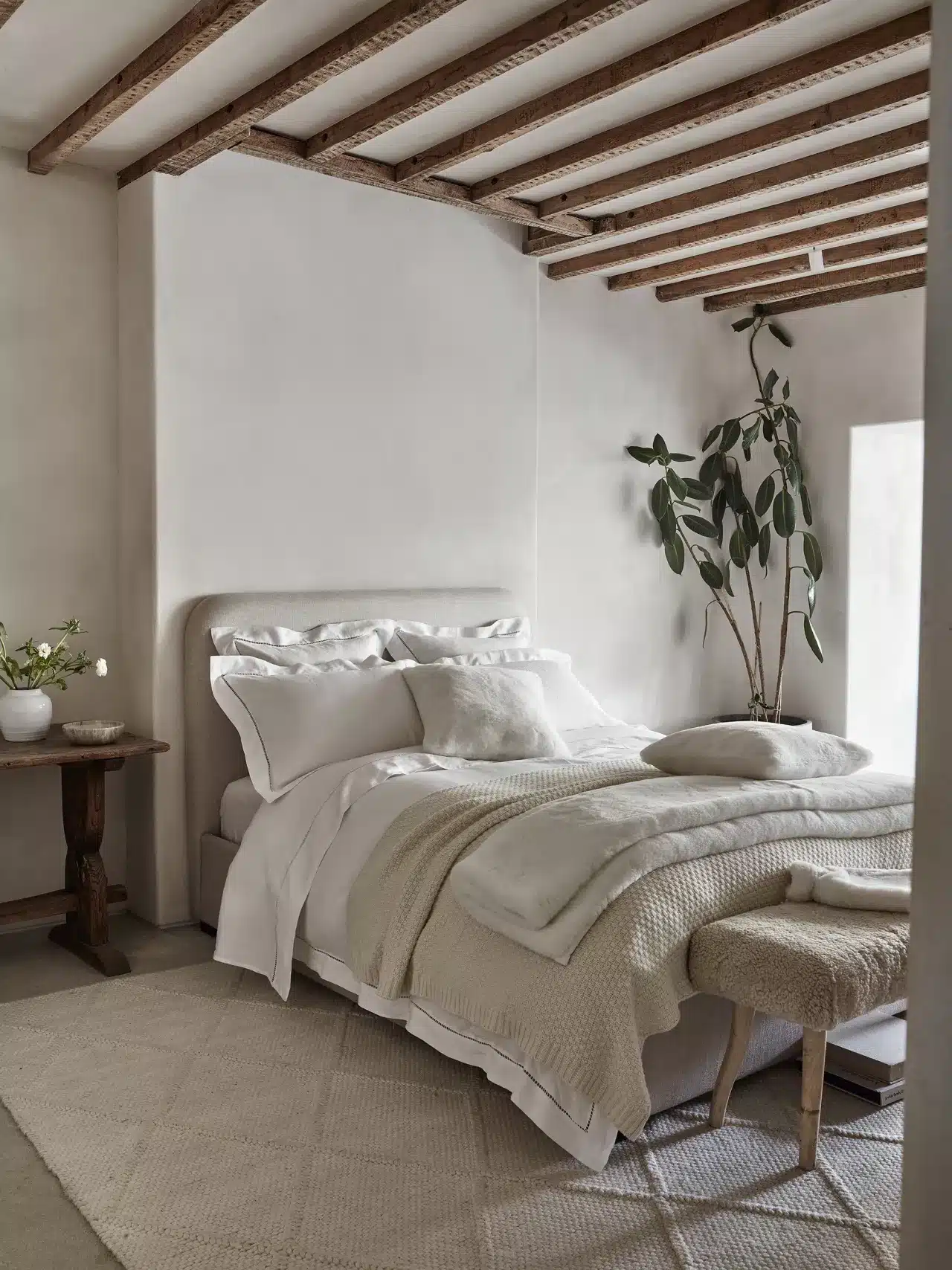 (source: The White Company)
Is your bedroom is a little lackluster?
A bit dated and needs a little sprucing up?
Change your color scheme and infuse your bedroom with new color accents and a new wall color!
It's so important to create a relaxing oasis in your bedroom so you can recharge your batteries after a long day of work!
Warm or Cool Color Scheme
Decide on whether you want a warm or cool color scheme in your bedroom.
A warm color scheme is good for south facing rooms that get warm natural light.
A cool color scheme works with north facing rooms that receive cool northern light.
Warm color schemes are achieved with orange, yellow and pink paint colors, warm wood tones (blond wood) and warm metallics.
Blue, plum, and green paint colors as well as cool metallics, cool wood tones (gray, black wood) will create a cool color scheme.
---
How to test paint colors in your home with zero mess and zero cleanup!
 Samplize Peel & Stick Paint Samples are an easy, mess-free way to test paint colors
Accurate colors – large 9″ x 14″ paint samples with two coats of real paint, guaranteeing 100% color accuracy
Peel & Stick and re-positionabl !
Quick – samples are delivered the next day!
All the top paint brands – Benjamin Moore, Sherwin Williams, PPG, Farrow & Ball
---
Find The Perfect Soothing Bedroom Paint Colors
First decide on the mood and design style you want your bedroom to have.
What is the best color for your bedroom?
The best bedroom colors are the ones that make you feel the best and create the design style that you love!
Mood Ideas:
soothing, calm, relaxing
comfort, cozy
lively, energetic, playful
moody, dramatic
Whether you prefer a dreamy greige hue like Sherwin Williams Agreeable Gray , light and airy whites like Sherwin Williams Pure White, or soothing gray like Sherwin Williams Reflection these feel-good favorites provide a tranquil retreat.
How to Pick Paint Colors With Confidence!
Understand The Color Wheel & Color Schemes To Become A Better Decorator
White Paint Colors for a bedroom
A white bedroom is very popular right now and is timeless and calming!
White walls are a gorgeous canvas to add pops of color with accents.
White walls also make bedroom furniture look stylish and chic!
Two of my favorite white paint color shades are:
Grey Bedroom Color Ideas
Sherwin Williams Agreeable Gray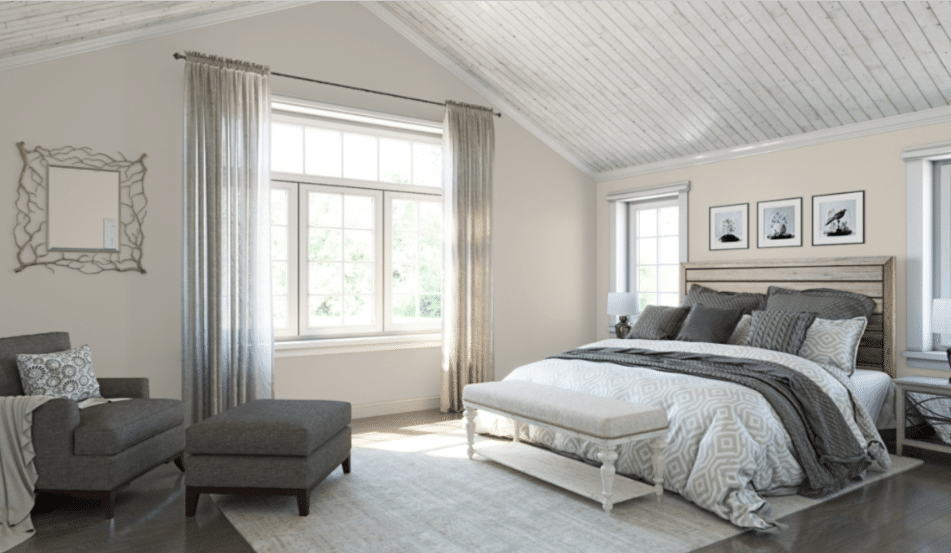 SW Agreeable Gray is an elegant neutral  light grey that mimics the color of early morning and pebbles on a beach!
---
You can easily move it around your room, it's mess free and delivered right to your front door!
---
Gray paint colors also provide a restful backdrop for pattern and texture.
One of my favorite gray paint colors is Sherwin Williams Mindful Gray-  here it is in our guest bedroom: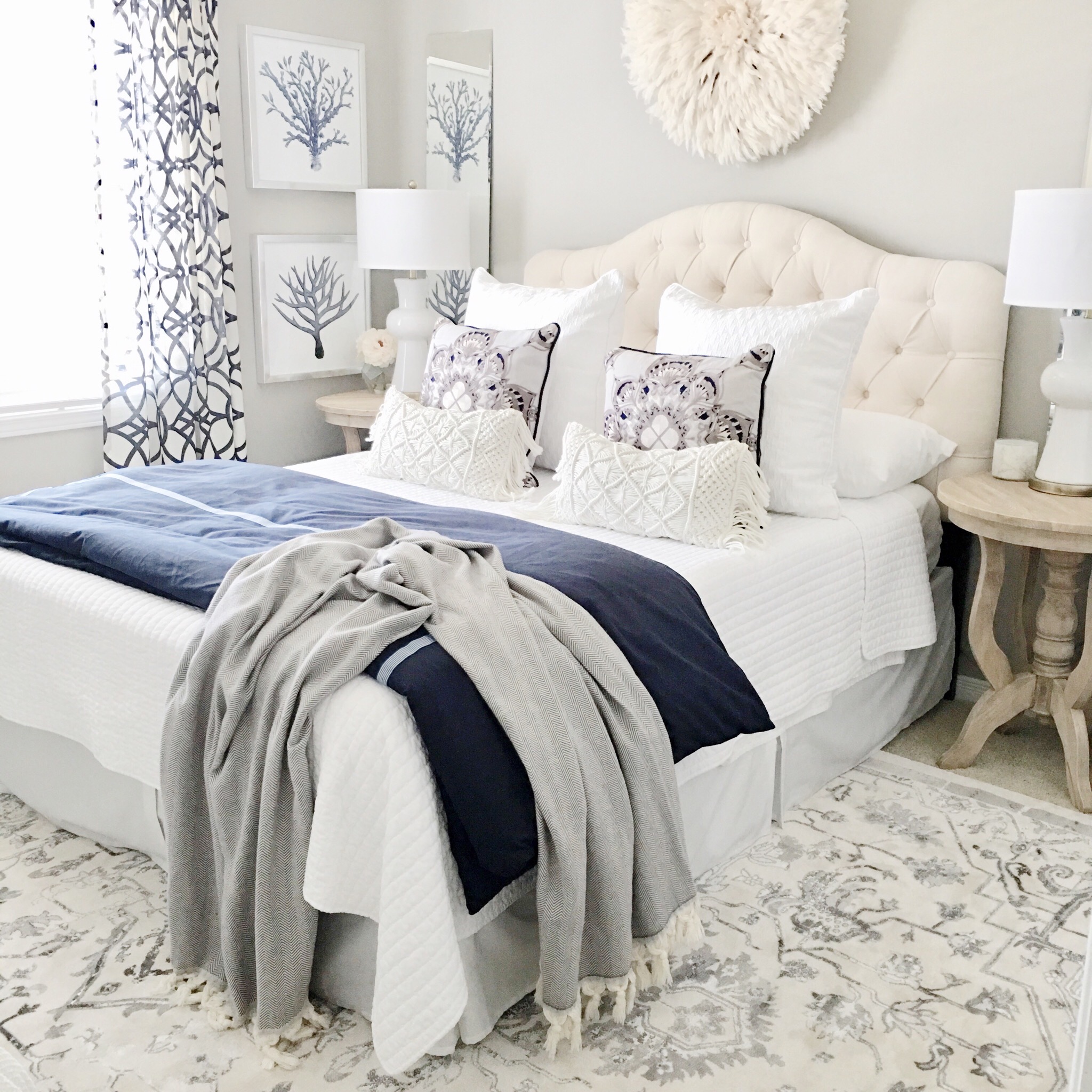 Shop this bedroom! Click on the images below:

---
Need help with furniture layout, choosing paint colors, room design, selecting furniture or updating your home?
I'm a Designer and True Color Expert® – I can help!
See my Online Interior Design & Paint Color Services – and client reviews.
Email me at [email protected] for more info about my online interior design consults!
I'd love to work with you!

---
Blue Paint Color Interior Design Inspiration
See these blue bedroom paint color ideas, pictured below:
Also, take a look at Sherwin Williams Oceanside.
It's a beautiful dark turquoise blue color that will add a pop of color to your bedroom.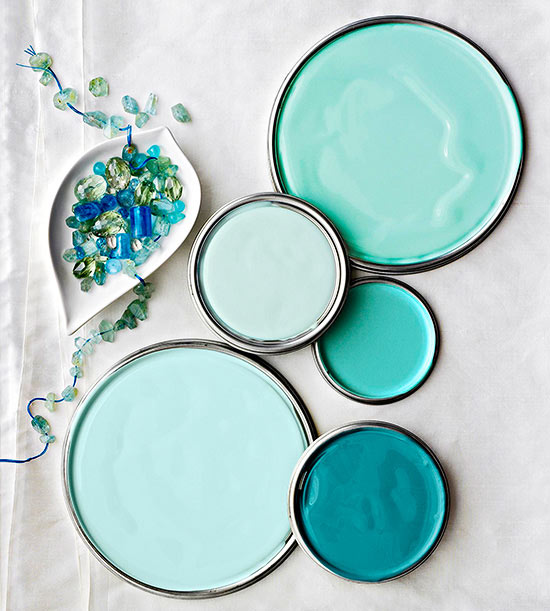 Bedroom Ceiling Paint Color Ideas
Don't forget about the color of your bedroom ceiling!
The ceiling is the 5th wall and a great way to infuse another layer of color like light blue, misty gray or a bold color like black or deep blue.
Just make sure the ceiling color coordinates with your wall color!
Add Color To The Bedroom with Metallic Finishes
You bedroom color scheme isn't complete without metallics!
Pick your favorite metallic finish for your lighting, furniture pulls/knobs, door knobs and curtain hardware.
Brushed nickel, and black finish will create a cool color scheme.
Brass, bronze and gold will create a warm color scheme.
The most popular metal finishes right now are matte black, brass and nickel.
Bedroom Furniture Color Ideas
A bedroom color scheme must include the color of your furniture: bed, nightstands, dressers, bench ect.
Popular furniture colors are:
white oak
medium toned brown stains such as walnut
white painted wood
black painted wood
Bedroom furniture is obviously one of the first things to select when designing your bedroom.
Keep these colors in mind when selecting new bedroom furniture pieces.
Design tip: Do not buy matching bedroom furniture sets! That's a dated look that isn't popular today. 
The on trend bedroom furniture look is:  an upholstered bed, wood nightstands, wood dressers, upholstered or wood bench at the end of the bed and upholstered accent chairs.
Keep the bedroom furniture colors cohesive, but not matchy-matchy, for a pulled together look.
Design tip: How to Make Your Home Look Cohesive and Pulled Together – The Right Way!
Note – If you have a matching bedroom furniture set I recommend breaking it up.
Add the bed to a guest room, keep the nightstands and dressers in the primary bedroom and buy a new upholstered bed or wood bed in a different stain/color that coordinates
A metal bed will also update your bedroom and break up the matchy-matchy bedroom set look
Alternatively you can replace the nightstands in the set with new ones in a color that works with your new color scheme
Lastly you can remove a matchy-matchy dresser or two by adding a new organizational system to your closet and storing the majority of your clothes there. This may also open up room in your bedroom for a small seating area!
Or buy a white or black dresser to break up the set
Don't miss this! 7 Ways To Make A Small Room Feel Larger Instantly
Bedroom Color Scheme Tips
Is your bedroom color scheme blah? Or a hodgepodge of colors?
Don't feel stuck with your existing bedroom color scheme!
It's easy to switch up your space with these quick design tips to create a cohesive color palette.
Start with a new rug or duvet cover that coordinates with your wall color
Repeat the colors that are in the rug (or duvet cover set) throughout your bedroom
Be sure to use different shades of the accent color to create an interesting look!
Add a few new accent pillows to your bed in these colors
Repeat with a new throw blanket in a color that's in your area rug
Layer with decorative accents like a vase, decorative accessories, jewelry box that coordinate color wise
Use the The 60-30-10 Color Rule to create a balanced bedroom color scheme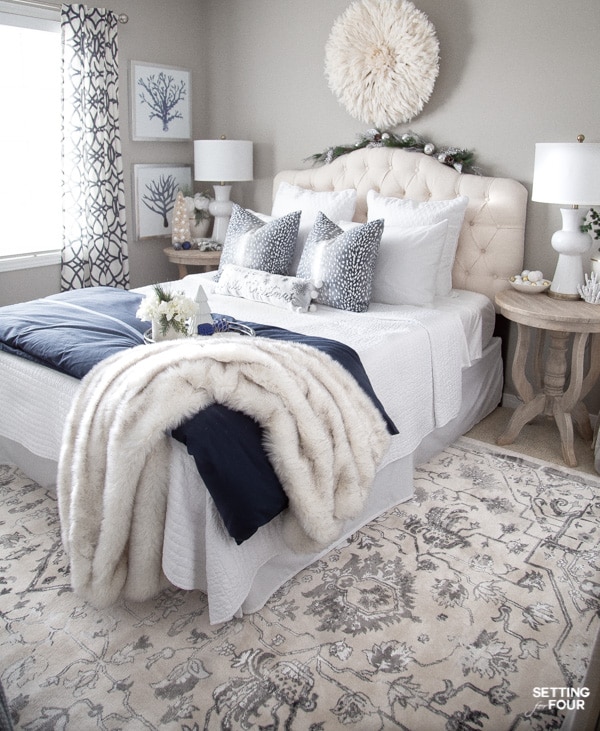 Click on the images below to shop this bedroom:

This blue and white duvet & sham set is a beautiful starting point to creating a cohesive color scheme!
This duvet set is also a best seller and a beautiful jumping off point!
If you like stripes, this gorgeous striped duvet set is also a fabulous way to create a pulled together bedroom color palette.
Repeat the colors in it with accent pieces like art, area rug, curtains, throw pillows, and bedroom decor like a tray, fresh flowers.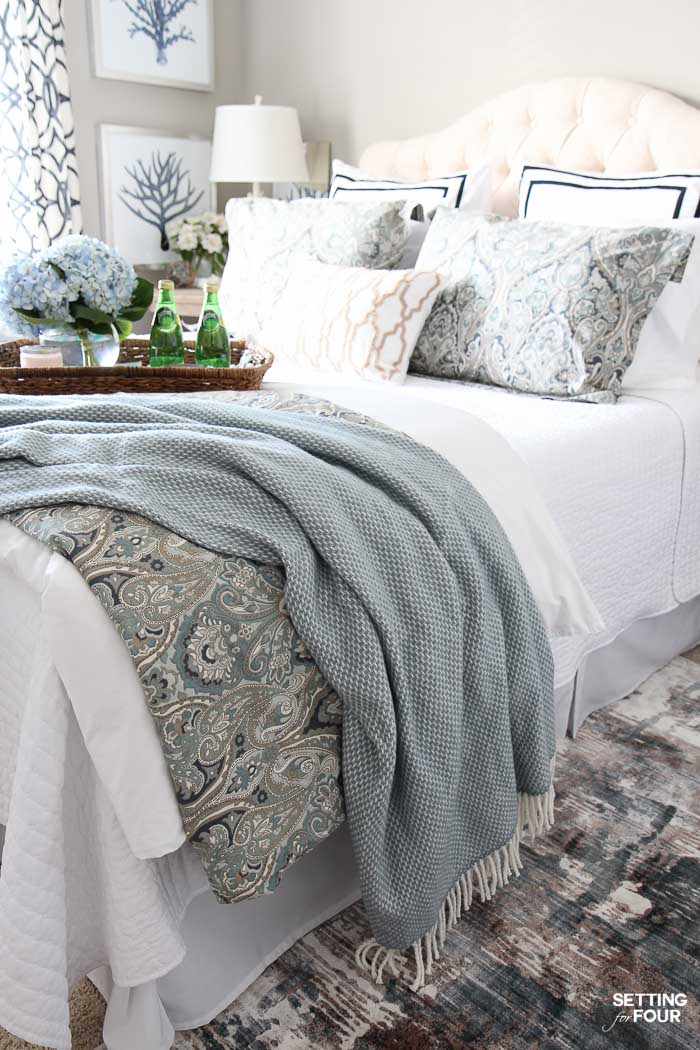 Lake House Bedroom Paint Color Ideas, Furniture & Decor Ideas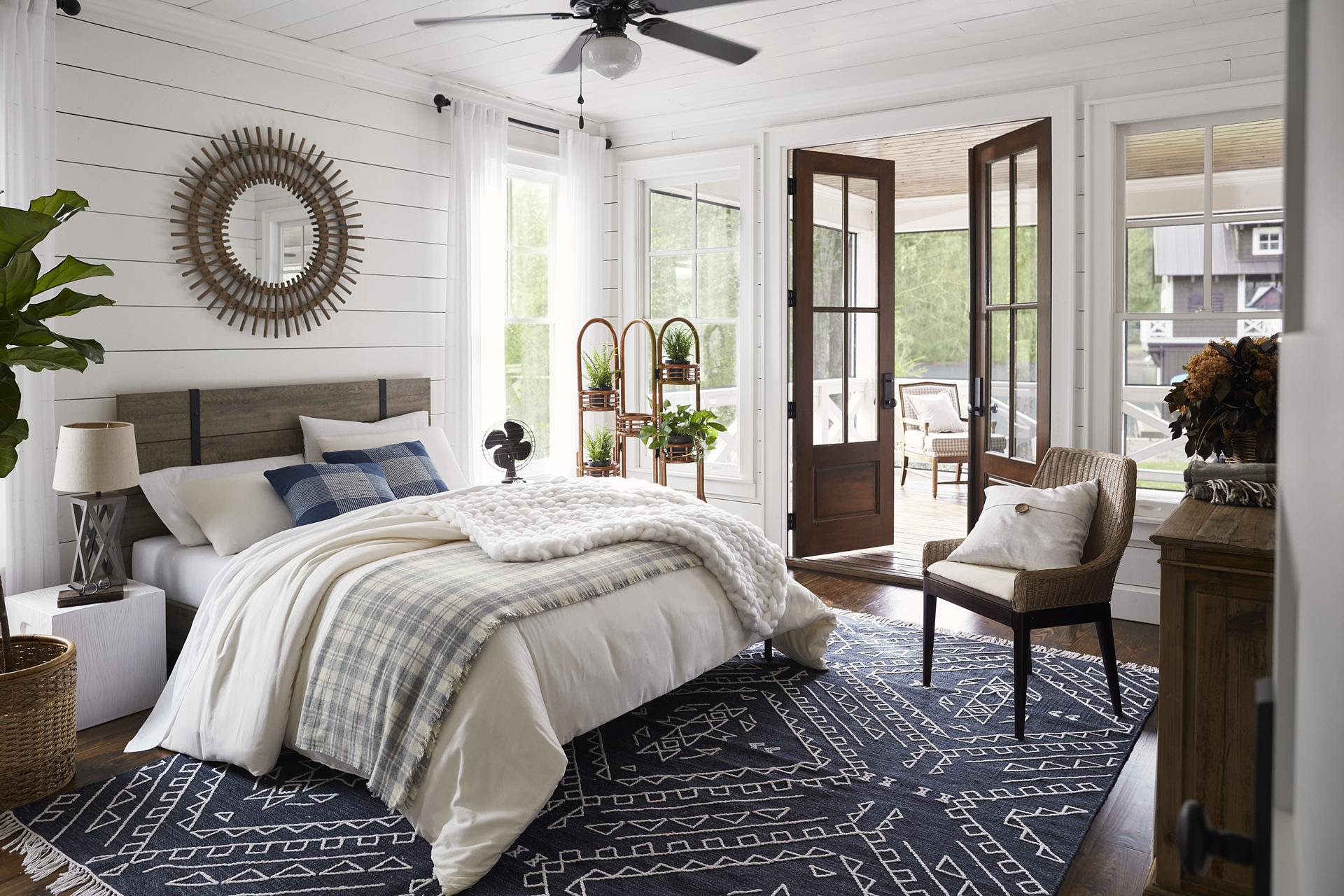 More Color Scheme Tips:
Soothing bedroom color schemes are also created with:
your bedroom flooring – white oak LVP (luxury vinyl plank) is a big trend right now. Beige wall to wall carpet in a low pile will also create a soothing bedroom color palette
layers of soft bed linens in white
a bed frame in a light wood or upholstered fabric
soft furnishings like upholstered accent chairs – creamy white boucle accent chairs are a big trend right now and will make your bedroom feel calm and soothing
lighting – be sure to use soft white lightbulbs and put your ceiling light and table lamps on dimmers
Anyone can create a restful, peaceful bedroom retreat with these color and design ideas.
Creating a gorgeous bedroom that reflects your style will make your home feel more like you!
Adding your personality and interests will create a haven that you'll love to spend time in.
Remember – all of our rooms today have multiple uses. The bedroom is no exception!
Function is very important in design – so go ahead and create a beautiful bedroom space to read in and watch TV in!
However I advise to not add a home office space in your bedroom!
It can create a cluttered, stressful environment that's best reserved for a separate room.
5 Decorating Mistakes That Make Your Home Look Cluttered
Soothing Bedroom Color Schemes

More Home Design Ideas + Inspiration