In today's post I'm sharing Restful, Stylish Bedroom Refresh Ideas!
Create a relaxing, stylish bedroom with these gorgeous furniture and decor finds from Walmart Home – so affordable and available online now!
This entire bedroom look is from Walmart!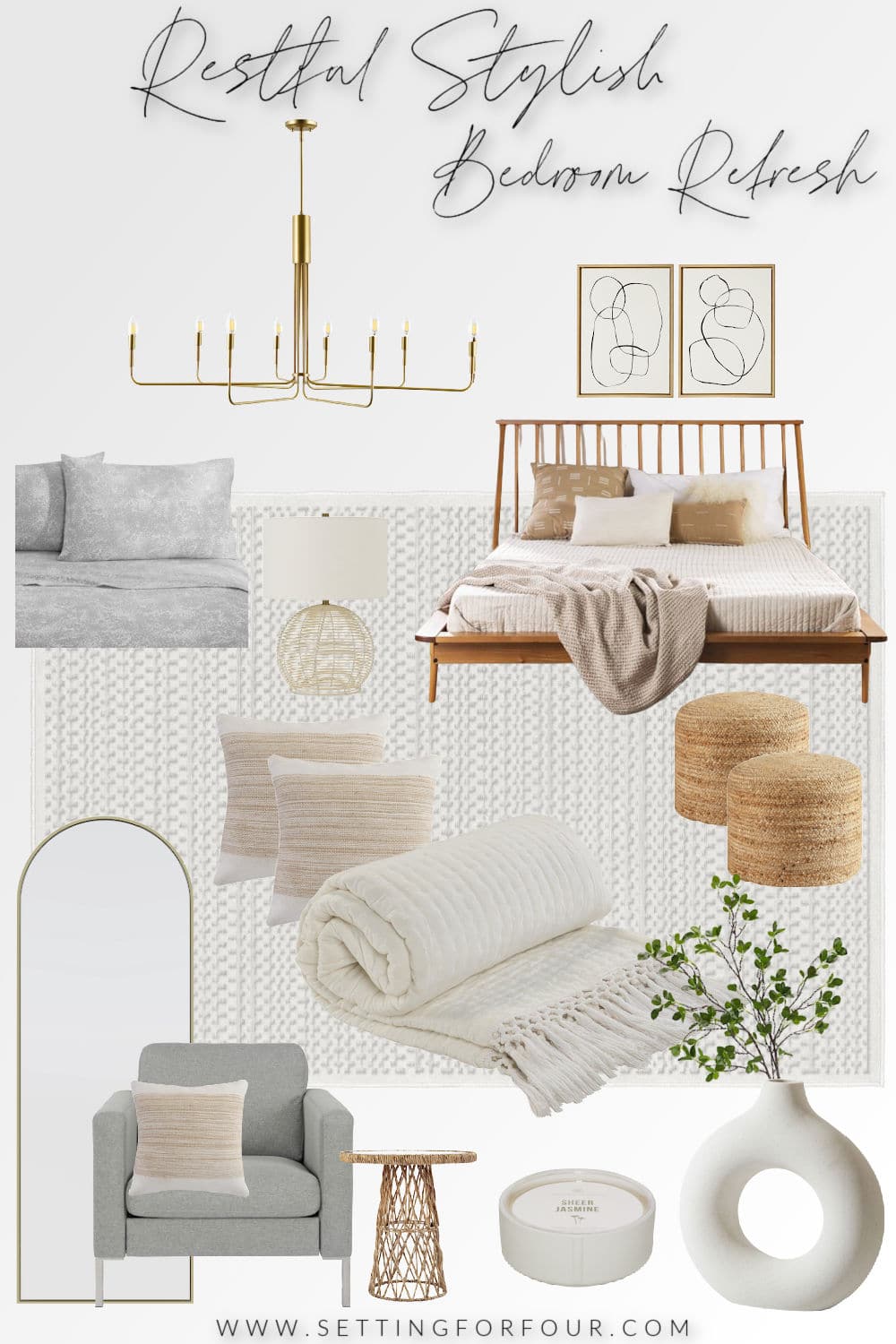 This post is sponsored by  Walmart and contains affiliate links for your shopping convenience. Click here to read my full disclosure policy.
Stylish Bedroom Refresh Ideas
Walmart's bedroom look book is live and filled with so many gorgeous ways to reset and refresh your bedroom!
Prioritize You! Upgrade your bedroom with calming, updated looks that help you feel relaxed and recharged.
Getting a good night's sleep to take on the day, and all of it's challenges, is the best self care you can give yourself!
Make your bedroom beautiful and functional so that it brings you joy and happiness.
Walmart carries all of the furniture, lighting, area rug and decor pieces in this bedroom design ( all linked below) – so you can refresh your room from top to bottom inexpensively!
---
Need help with furniture layout, choosing paint colors, kitchen/bathroom design, selecting furniture & decor or updating your home? I can help!
See my online design & paint color services!  Plus my client reviews!
Email me at [email protected] for more info!

---
Here are 8 steps to create a stylish & updated bedroom oasis:
1. Bedroom Color Scheme
This relaxing and peaceful bedroom color scheme features neutrals with a pop of caramel and gray.
Layers of relaxing cream, white, beige serve as a gorgeous backdrop that's timeless and chic.
To add interest and style add brass metallics and lots of texture and pattern!
If you prefer silver or black finishes you can definitely add that instead of brass!
2.  The Bed
The focal point of any bedroom is the bed – so make it one that's beautiful!
This gorgeous solid wood bed with geometric lines is a showstopper and just $359 for a queen! Wow!
(Also comes in black, white and walnut!)
It also doesn't require a box spring or foundation mattress which is a big money saver!
If you prefer upholstered beds, this one is a stunning option!
This memory foam mattress ships straight to your door. I have this mattress and it's so comfy!

3. The Chandelier
Ditch the ugly ceiling fan and replace it with this gorgeous brushed brass chandelier! Just $149! Wow!
This will create such a stunning statement in your space!
( If you need to cool your room down add a Dyson air purifier fan!)
Of all of the bedroom refresh ideas listed in this post, this is one not to skip!
A new chandelier will completely transform your space!
4. The Seating Area
Every bedroom needs a seating area if there's space, to create cozy, inviting ambiance!
The stunning accent chair adds a pop of soothing gray- and also comes in ivory and blue!
The lines of this chair area so gorgeous – it's a versatile design.
Add this arched full length mirror to the wall behind it. The arch trend is very popular right now!
The mirror will help your room look bigger  and a dark bedroom look brighter too.
Add this gorgeous woven side table beside the chair for a place to set a drink or book on.
I love the beautiful texture of the natural material and the shape of this table!
The caramel color repeats the accent color to create a cohesive, pulled together look.
You can also add this beautiful traditional floor lamp or this chic brass and marble floor lamp  to the seating area for additional lighting.

4. Nightstand and Table Lamp
Add one of these chic 2 drawer white nightstands to each side of the bed for storage and to display these gorgeous rattan table lamps for night time reading.
The rattan adds texture to the room and the simple shape of this lamp keeps the room feeling soothing and restful.

5. Bedding and Accent Pillows
Complete the bed with this gorgeous mini dot sheet set. This gray abstract mini dot pattern compliments the neutral color scheme making the room look cohesive and pulled together.
It's essential that bedroom refresh ideas include comfort and coziness!
Add a white quilt to layer in more white and give the bed a finished look.
If you want warmth add a duvet and duvet cover to keep folded at the end of the bed.
Next add these ivory and tan striped accent pillows to the bed for another layer of beautiful comfort, pattern and style!
I love the detailed woven stripe design and warm tan and cream color.
Lastly, add this beautiful fringed throw blanket to the end of the bed for another pop of texture and comfort.

6. Area rug
This timeless natural hued area rug is so stunning and is stain resistant too!
I'm obsessed with the texture and pattern.
Design tip: You can absolutely layer this gorgeous rug on top of wall to wall carpeting!

7. Wall Art
Add this beautiful abstract two piece art set above the bed for a pop of subtle pattern!
Bedroom refresh ideas should be affordable – this art definitely is at just $78.99
This art's abstract pattern and neutral color ties in perfectly with this bedroom's color scheme!
8. Instant Bedroom Refresh Ideas: Decorative Accessories
Don't skimp on your bedroom decor! It's this last layer of design that will make your bedroom look so cozy and stylish!
This ceramic vase is so gorgeous – I love the shape! Place a few faux greenery stems to it to give your bedroom a fresh, new feeling!
This ceramic candle will also make your bedroom feel tranquil.
Adding these two hand woven jute poufs to the end of your bed will add another pop of caramel to make the room cohesive and pulled together.

I hope you enjoyed these bedroom refresh ideas!
Click on the images below to shop these restful, stylish bedroom refresh ideas!

I really hope you like these bedroom refresh ideas!!
Follow me on Instagram for more decor ideas, design trends and more!
You may also like these decor and design ideas: