See these cozy guest bedroom ideas to give overnight guests a wonderful experience and make their stay a happy one! Tips to be a gracious hostess.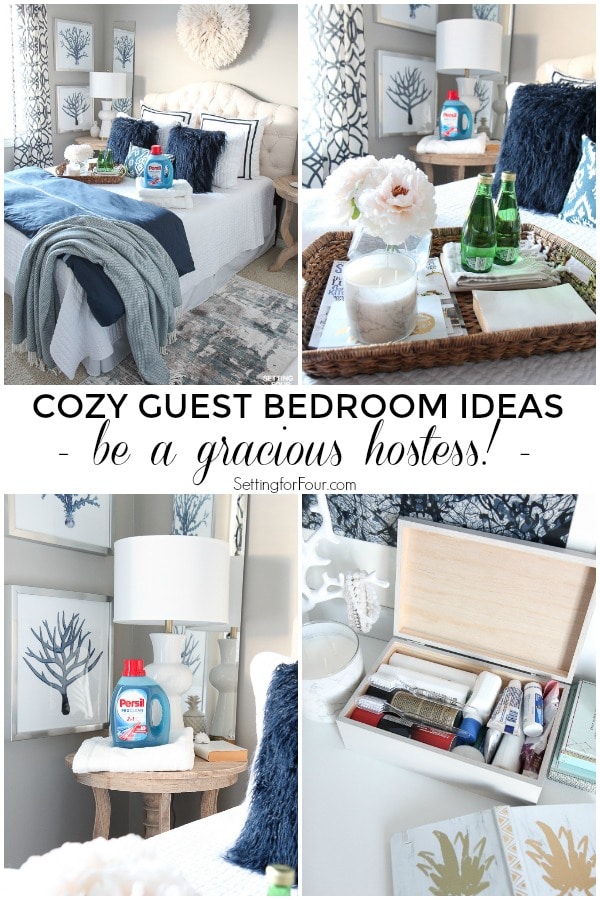 11 Cozy Guest Bedroom Ideas
As a good and gracious hostess, creating a cozy guest bedroom for overnight stays is important when friends and family are visiting from out of town!
You love your guests and the best way to show it is to make them feel cozy and comfortable in their guest room!
Here are several ways to create a beautiful guest bedroom no matter what size it is! Most guest bedrooms are small which actually makes it easier to create that cozy, warm feeling!
---
Before I talk about these tips – check out how you can get completely organized for the holidays with this gorgeous Ultimate Holiday Planner!
You won't forget a place to be at, a card to send, a gift to get or groceries to buy with these 27 printable pages including:
Dated calendars, menu planners, gift tracker and Christmas organization! It's saving my sanity this year prepping for the holidays!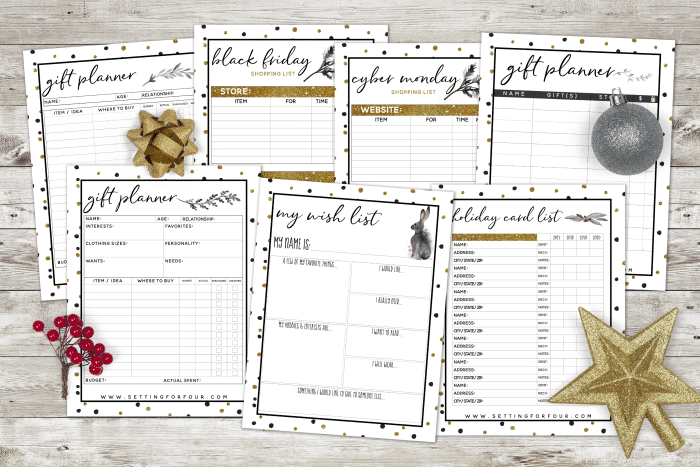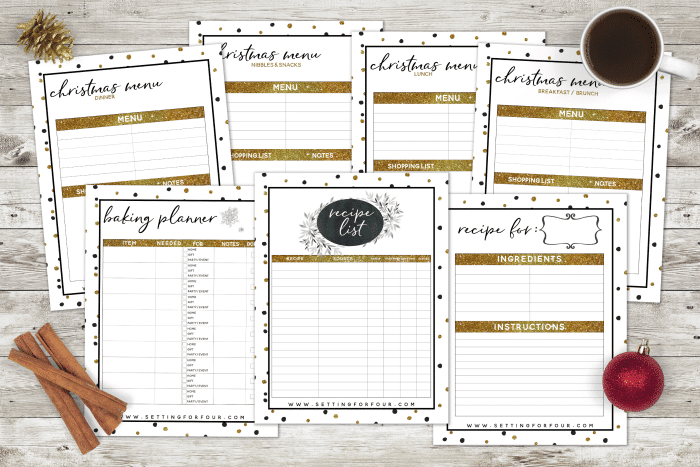 ---
1. Freshly washed bedding and towels
The first thing to do is to remove the bedding that's already on the guest bed or select bedding and towels that are stored in your closet and give it a fresh wash. ​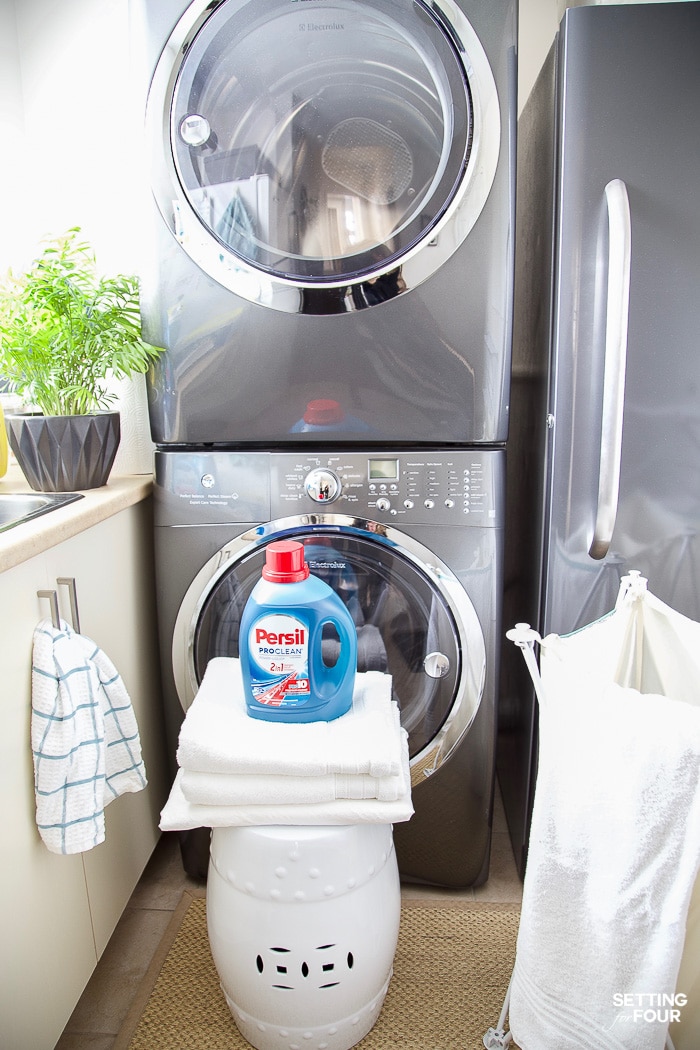 We all know that there is nothing worse for a guest than sleeping in sheets that have a stale musty smell that comes from being stored in a linen closet for a while!
Pop your sheets, pillowcases, blankets, accent pillow covers, throw blankets and duvet cover in the wash with Persil® ProClean® Laundry Detergent and you'll have clean, fresh smelling bedding for your guests to enjoy!
Persil is my go-to laundry detergent for amazing cleaning power and a beautiful fresh laundry scent!
I particularly love Persil laundry detergent since it removes stubborn stains so well. Persil laundry detergent has stain fighting enzymes that actually break down stains for a superior clean!
They also make Persil® Proclean Discs, which are convenient, pre-measured, single-use discs that you toss right into the washing machine!
I think those clean, fresh smelling sheets makes a person sleep better, which is important for your guests.
That's another reason why I love Persil laundry detergent! It breaks down any built-in odors to keep clothes and bedding smelling great!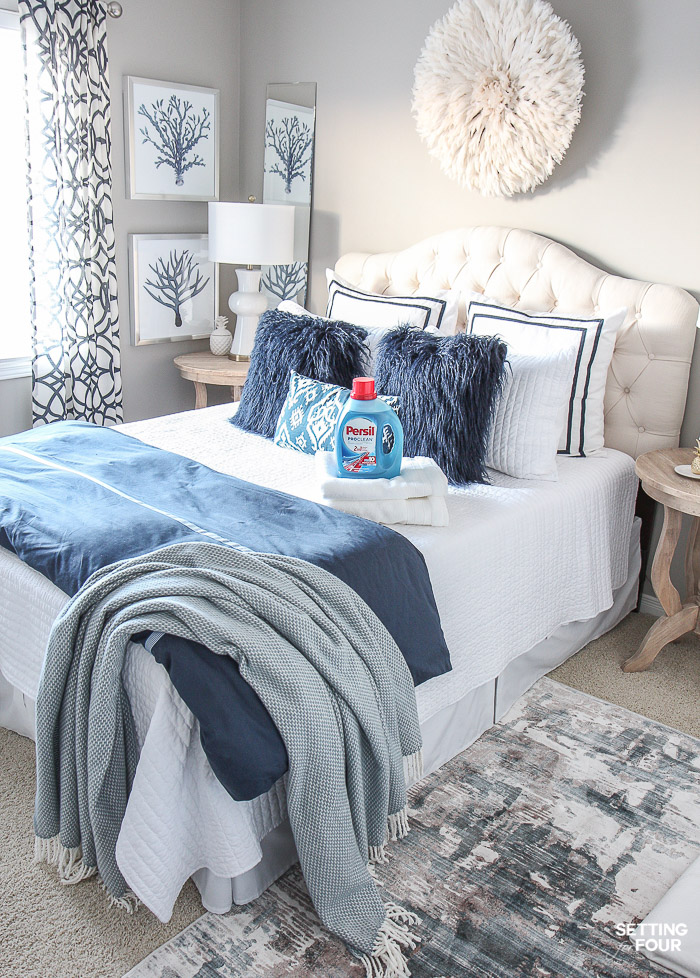 SHOP THE LOOK! CLICK ON THE PICTURES BELOW AND SCROLL USING THE ARROWS TO SHOP EACH ITEM TO COPY THE LOOK OF THIS ROOM!
Update: my headboard is currently not available but this tufted headboard in beige is similar and has really high customer ratings!

2. Vacuum and Dust
A quick, thorough vacuum and dusting off the end tables and the dresser is important! Do that one or two days before your guests arrive! See this post on Getting your Home Guest Ready Clean for all my cleaning tips!​
3. Toss pillows and throw blankets
Adding a toss pillow or two and a throw blanket will give your guest bedroom that layer of love and coziness, pattern and color that will make your guests smile!
4. Nightstand
Having an end table for your guests to store their watches, jewelry, books etc is important so that they aren't 'living' out of their suitcase! If you don't have night tables, think out of the box and use a bar cart for an end table, pouf or a rolling cart! 15 Creative Ways To Use and Style A Bar Cart! 8 Ways To Use A Pouf In Your Home
5. Lighting
Whether​ you have wall sconces on each side of the bed or table lamps on the end tables, add some accent lighting to the guest bedroom in case they want to read or surf their tablets​.
6. Wifi code
Make sure your guests have the wifi code so they can access emails or surf their tablets​. You can write it on a pretty sheet of paper or on a note card and keep it in the guest bedroom for all of your guests to have on hand.
7. Guest tray
I love to have a guest tray on the bed for my guests' arrival! To me, it says 'welcome, I'm so glad you're here!' Here are some things to add to your guest tray:​
magazines
bottled water
notepad/notebook and pen
fresh flowers in a pretty vase
candle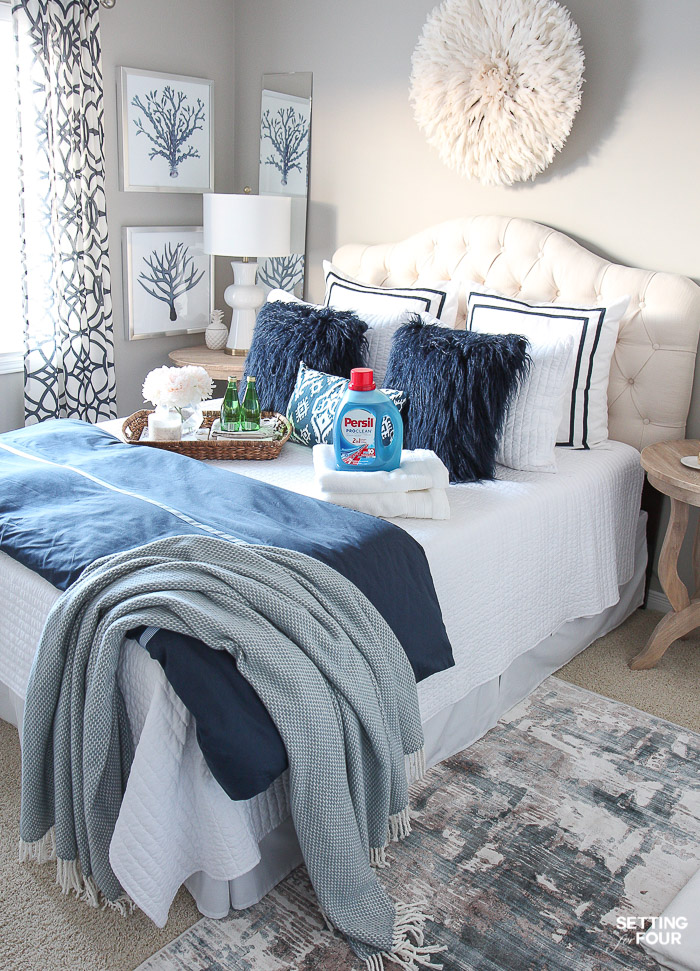 SHOP THE LOOK! CLICK ON THE PICTURES BELOW AND SCROLL USING THE ARROWS TO SHOP EACH ITEM TO COPY THE LOOK OF THIS ROOM!
Update: my headboard is currently not available but this tufted headboard in beige is similar and has really high customer ratings!

8. Guest box of toiletries
I also love to make up a little box of travel size toiletries for our overnight guests in case they forget something! I use a lidded jewelry box and add toothbrushes, toothpaste, shampoo, conditioner, and wipes. You could also use a wicker basket or a lidded glass jar!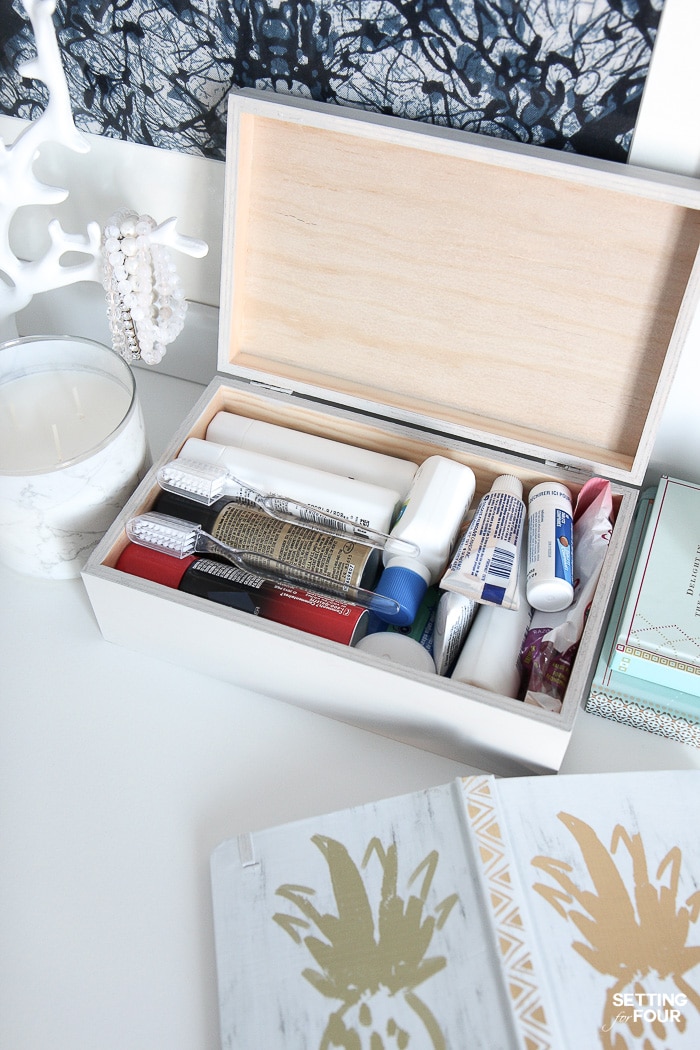 9. Dresser or Suitcase stand
It's really considerate to have a dresser in the guest bedroom so guests can put their clothes in if they are staying for a few days. Or add a suitcase stand or two to make accessing clothes easier.​​
10. Wall art and mirror
Adding a mirror above the dresser or nightstand or full-length mirror on the back of the guest bedroom door is handy for guests to use to check their clothing and makeup. Adding art to the walls will give a guest bedroom that final layer of coziness! Wall art can be as inexpensive and simple as some big box store frames with online prints placed in them or some framed photos of your travels! Our guest love these indigo coral prints and the juju hats I added to our guest bedroom! They give our guest bedroom that cozy, oasis escape feel that I want our guests to have! ​​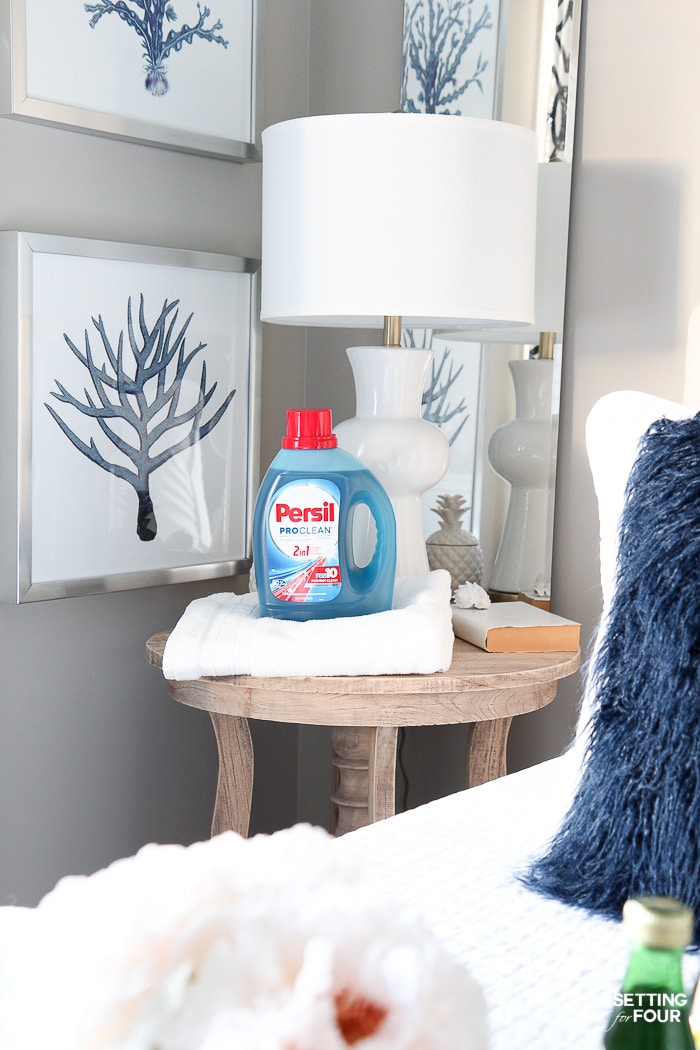 11. Give your guests the okay to relax in the guest bedroom
Tell your guests how much you are thrilled to have them stay at your home. Also, let them know that you have the wifi card for them and the guest box of toiletries and they are free to use anything in it! Let them know that it is perfectly fine if they want to stay in their guest bedroom and relax for a while. Pass on to them that they don't have to be with you every minute of their stay! Sometimes guests will feel obligated to sit in your living room or kitchen, but if they know they can hang out in their guest bedroom that will make their stay more pleasant and less 'forced'!​
I hope you enjoyed my 11 Cozy Guest Bedroom Ideas! How do you like to welcome your overnight guests?
SHOP THE LOOK! CLICK ON THE PICTURES BELOW AND SCROLL USING THE ARROWS TO SHOP EACH ITEM TO COPY THE LOOK OF THIS ROOM!

You may also like:
Guest Preparation Ideas To Host Friends & Family
Guest Room Refresh & Bedroom Decor
9 Gorgeous Master Bedroom Design Ideas With Virtual 3D Design
This shop has been compensated by Collective Bias, Inc. and its advertiser. All opinions are mine alone.