Lighten and brighten your bedroom for summer with these 7 simple summer bedroom decorating ideas!
Read my design tips on selecting summery color palettes, bedding, fabric patterns and art!
No matter what your style or budget you'll find plenty of  bedroom inspiration here!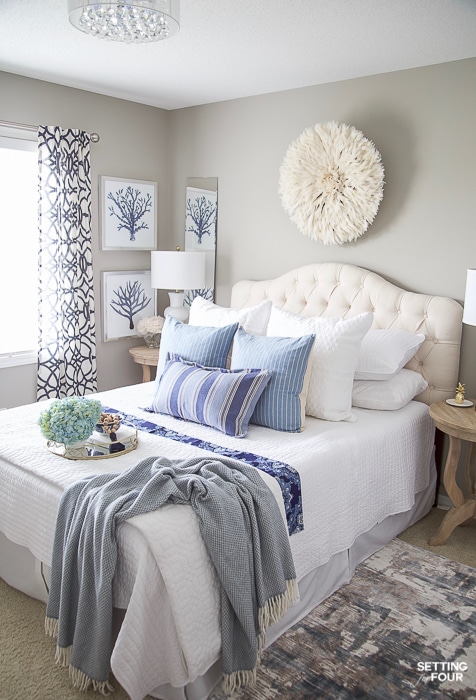 7 Simple Summer Bedroom Decorating Ideas
Inspiring bedroom design ideas to celebrate the beauty of summer!
1. Summer Bedroom Color Palette
Choose a color palette for summer that is lighter than you would use in the winter and incorporate coastal colors like sandy beige, beach pebble gray, watery blues and summer whites.
Design Tip: Create a versatile bedroom design plan using a neutral color base (black, white, gray, beige) in your furniture and wall color then add summer accent colors.
Instead of a coastal sea-inspired palette of blues, you could also go with a summer garden color palette of yellows, greens, pinks or mauves!
Understand The Color Wheel & Color Schemes To Become A Better Decorator
If you are thinking of painting your walls, why not use a light and bright neutral shade instead of a dark paint color? How to Pick Paint Colors With Confidence!
Using a lighter wall color is one of the most effective small bedroom ideas because it will make your bedroom appear larger and airier.
The newest color of the year Chinese Porcelain blue is a beautiful choice for a bedroom if you like bold colors and would be gorgeous as an accent wall.
Of course chic white walls are always a winner for a bedroom!
Check out these two popular white paint colors for interiors: Simply White and Pure White.
See my bedroom go-to gray wall color that I absolutely love and all my paint colors here!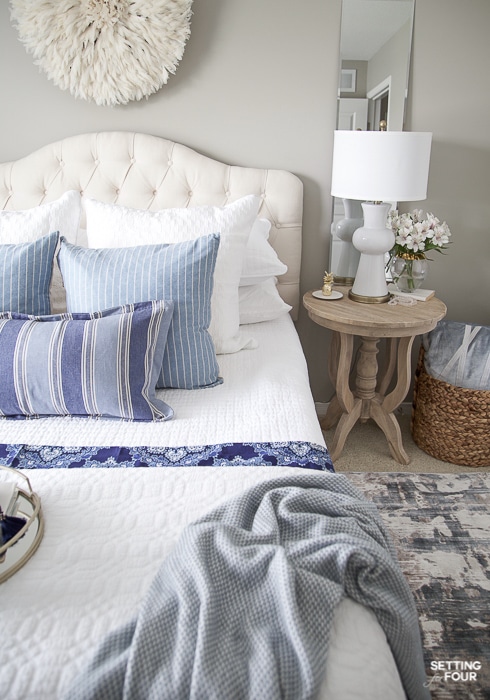 CLICK ON THE PICTURES BELOW AND SCROLL USING THE ARROWS TO SHOP MY GUEST BEDROOM!




---
Need help with furniture layout, decorating or help picking paint colors? I offer online interior design services and paint color advice! See the info, my designs & client reviews here!

---
2. Add Coastal Style
A summer bedroom looks amazing with coastal design style added to it!
Even if your bedroom has an overall traditional, boho, farmhouse or glam design scheme, you can add coastal accents to it with bedding, throw pillows, art and decor.
I added coastal style to this bedroom with the beachy blue colors and also with shell decor.
I have a huge collection of starfish and shells – summer is the perfect time to display them on night tables and dressers! 
Framed Prints:  Indigo Coral I  ,  Indigo Coral II  ,   Indigo Coral III  ,  and   Indigo Coral IV 

CLICK ON THE PICTURES BELOW AND SCROLL USING THE ARROWS TO SHOP EACH ITEM TO COPY THE LOOK OF THIS ROOM!



3. Bedding
Replace heavy duvets and flannel sheets with lightweight breathable cotton blend linens and a quilt. I love using white quilts! I place one on the bed and a second folded quilt at the end of the bed instead of a duvet to add warmth on cooler nights.
How to keep white bedding looking white: A reader asked me how I keep my white quilts looking so white – this is the laundry white revive and stain remover product I use on my white quilts! It's amazing!
I put a scoop of it in with my white quilt and wash on cold and delicate cycle!
If you really love duvets you can add a lighter summer weight duvet.
Add a throw blanket or two to the bed and a side chair.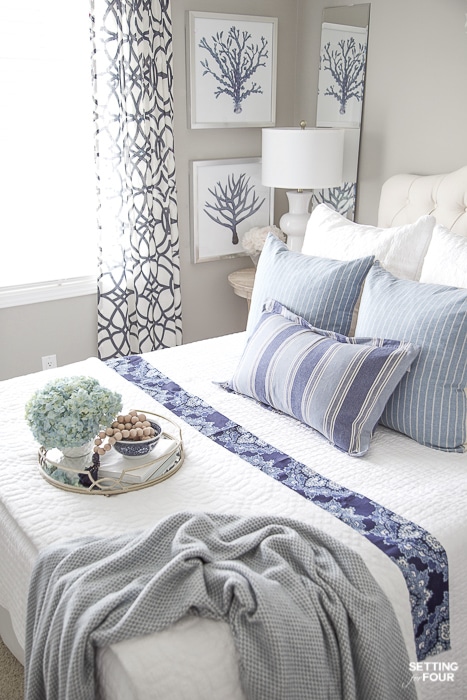 We added a gorgeous tufted headboard to a simple metal bed frame.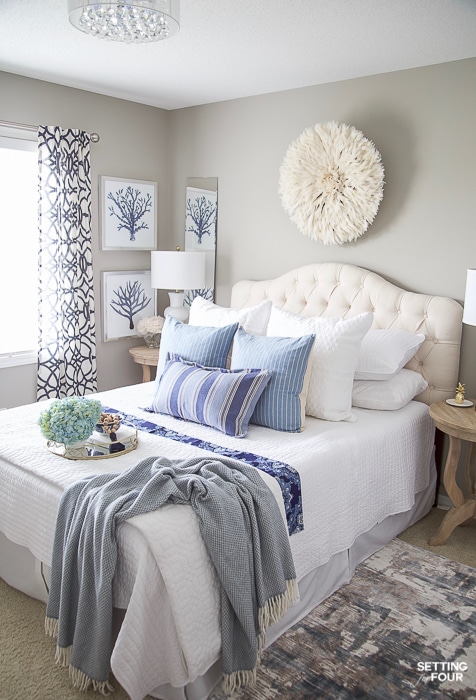 4. Accent Pillows
Accent pillows are where you can really make a summery statement to your bedroom and bring in layers of  gorgeous color and pattern!
For patterns, stripes are perfect for summer! Pin stripes, awning stripes and chunky stripes all work!
I love these two chambray blue and white pin striped throw pillows paired with the wider awning stripe lumbar pillow – I picked these pillows up at HomeGoods.
Incorporate summertime watery blues, blue-greens and nautical navy to your accent pillows.
Accent pillows are essential accessories for a cozy bedroom so make sure you add a few to your bed, bench at the end of your bed and bedroom accent chairs.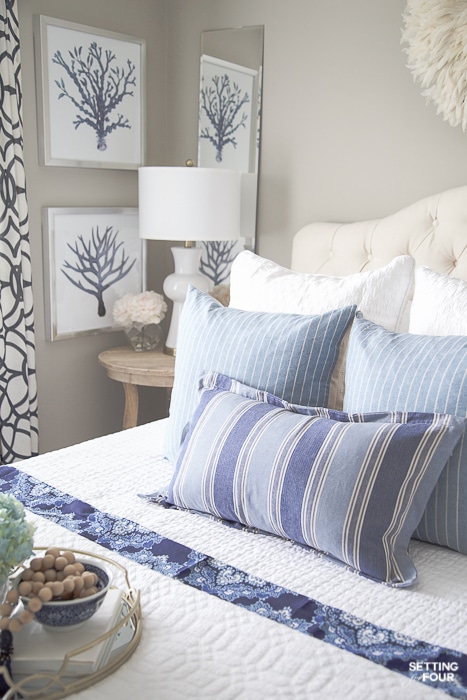 Display a vase of flowers next to your table lamp on your bedside table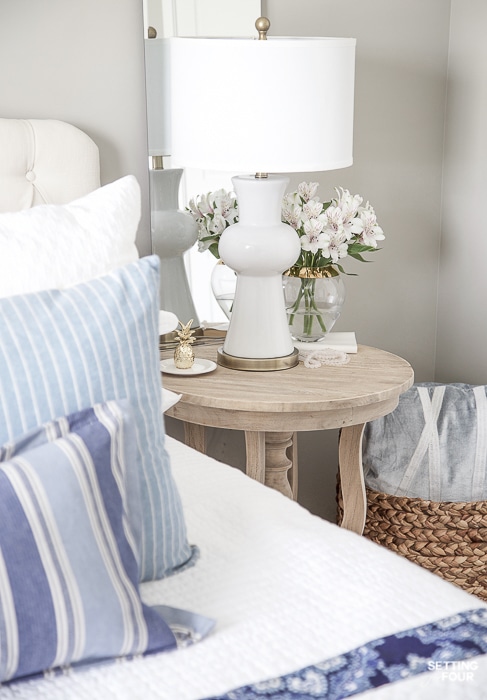 5. Baskets
Use baskets that are made from natural materials like wicker, sisal and hyacinth grass to lighten and brighten your bedroom for a fresh summer feel!
Baskets can be used for bedroom storage to contain clutter (and are essential in a tiny bedroom!), to store extra throw blankets and are perfect for a tree like this gorgeous faux fiddle leaf fig tree.
I love the thick, pliable leaves on it and the pop of greenery that it adds to our bedroom! At just 4 feet tall it's perfect for small bedrooms and larger ones too!
I love this basket that I put my fig tree in – it has a beautiful tassel hanging from one of the handles! So fun! I'm also loving the white stripes too for another nod to summer.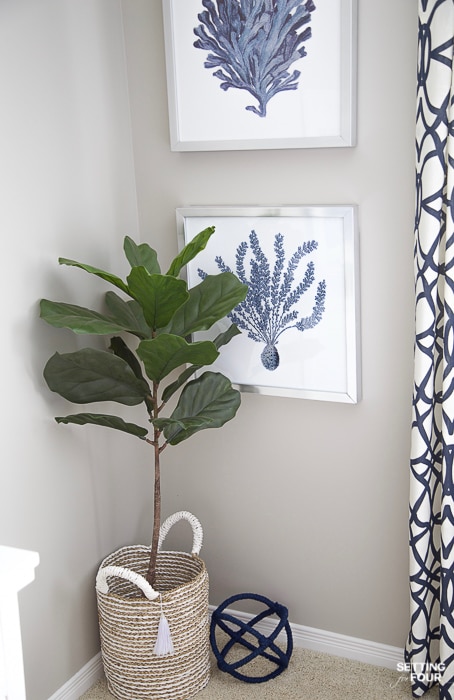 6. Wall Art
When it comes to decorating the bedroom most people wonder 'What can I put above my bed?'
My advice? Hang a juju hat above your bed!
I'm OBSESSED with this gorgeous white juju hat! It absolutely 'makes' the room and is such a stunning focal point!
Hanging a juju hat over a headboard is the easiest way to add that 'designer' look! Just fluff it, hang on a nail and you're done!
It's so so gorgeous – if you buy one you will literally gasp when you hang it! I know I did! The feathery texture just give a cozy vibe to a room too!
See my juju hat that I hung over my living room media unit and TV here.
I kept the beautiful  Indigo coral framed prints  on the walls – because I'm obsessed with these coral prints and the indigo color!! Plus they fit in perfectly with the white and blue summer look I'm going for.
To add another touch of blue and white to the far wall of the bedroom I made some simple DIY piece of artwork.
This super quick and easy DIY art project literally took less than 5 minutes to put together!
I pulled a large white frame out from storage, took it apart and wrapped a beach sarong in a blue shibori print around the backer board of the frame! I've had this beach sarong since I was a teen and still love it today!
You could also frame a beautiful scarf.
I wanted to reuse my beach sarong later so I didn't cut the fabric and I found a trick to disguise all the extra fabric too.
I simply folded the fabric behind the frame and clipped it using bulldog clips! This tidies up all the loose fabric behind the frame.
See my dining room DIY marbled wall art here! 
65 plus Photo Gallery Wall Layout Ideas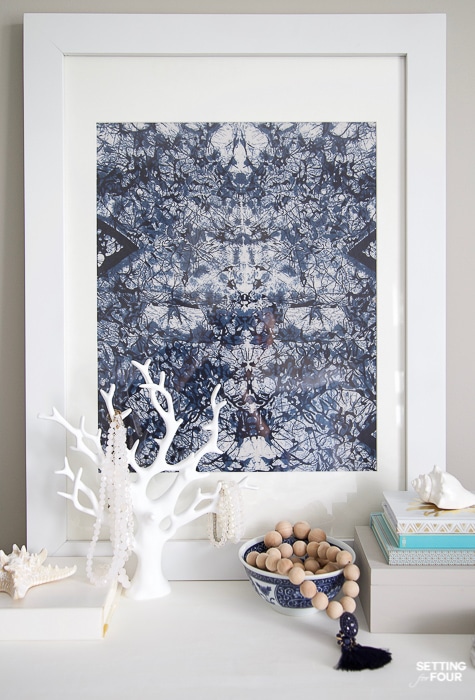 7. Fresh Summer Flowers
Of course a summer bedroom wouldn't be complete with a bouquet of beautiful blooms! Head to your garden and snip off some fresh flowers or head to your grocery store to pick up some!
Having a fresh bouquet of flowers on your nightstand is a gorgeous look.
How To Grow A Cut Flower Garden
I bought these blue hydrangeas at our local grocery store and added them to a white vase!
Of course you could use faux flowers for a similar effect.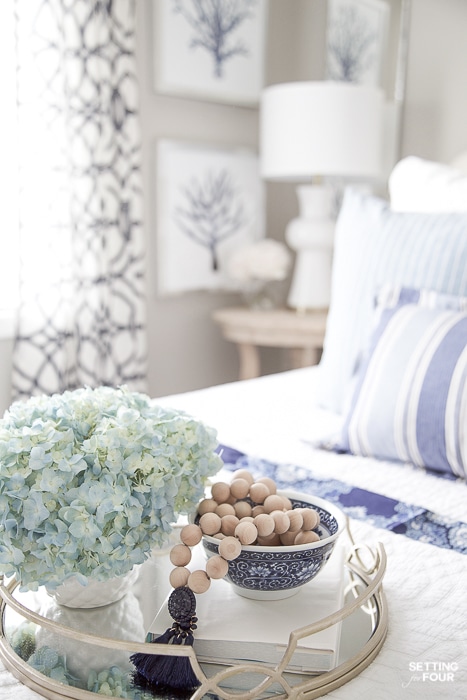 CLICK ON THE PICTURES BELOW AND SCROLL USING THE ARROWS TO SHOP MY SUMMER GUEST ROOM!




I hope you like these 7 Simple Summer Bedroom Decor Ideas! How do you give your bedroom a summer sanctuary look?
PLEASE PIN THIS AND SHARE IT WITH YOUR FRIENDS!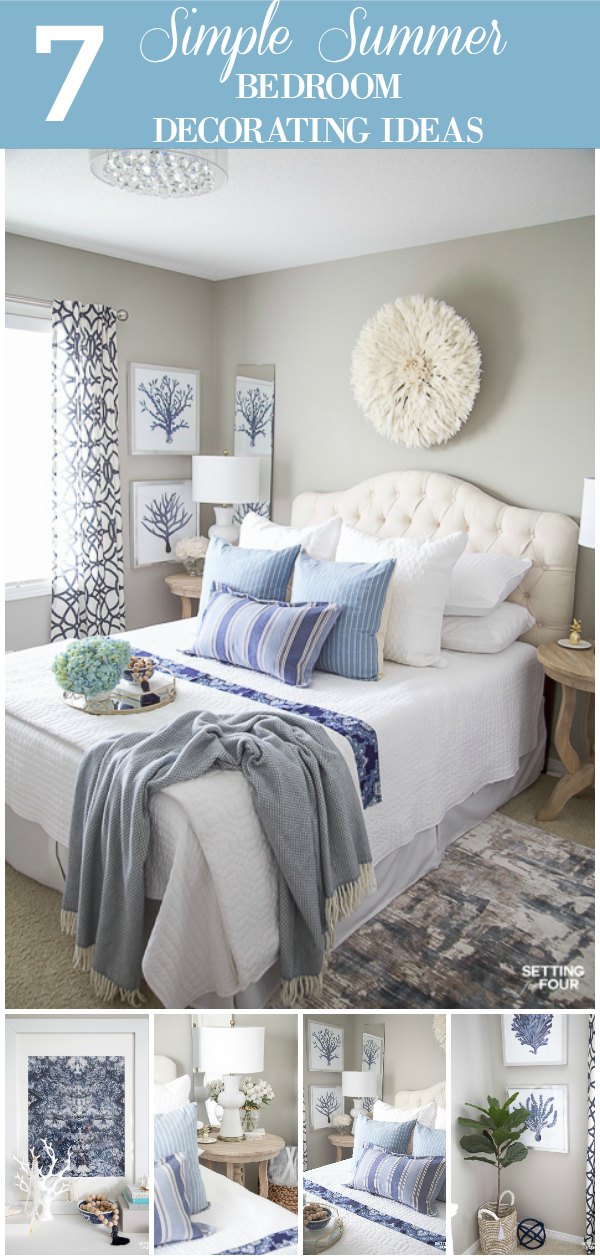 ….and check out these 11 Cozy Guest Bedroom Ideas For The Hostess!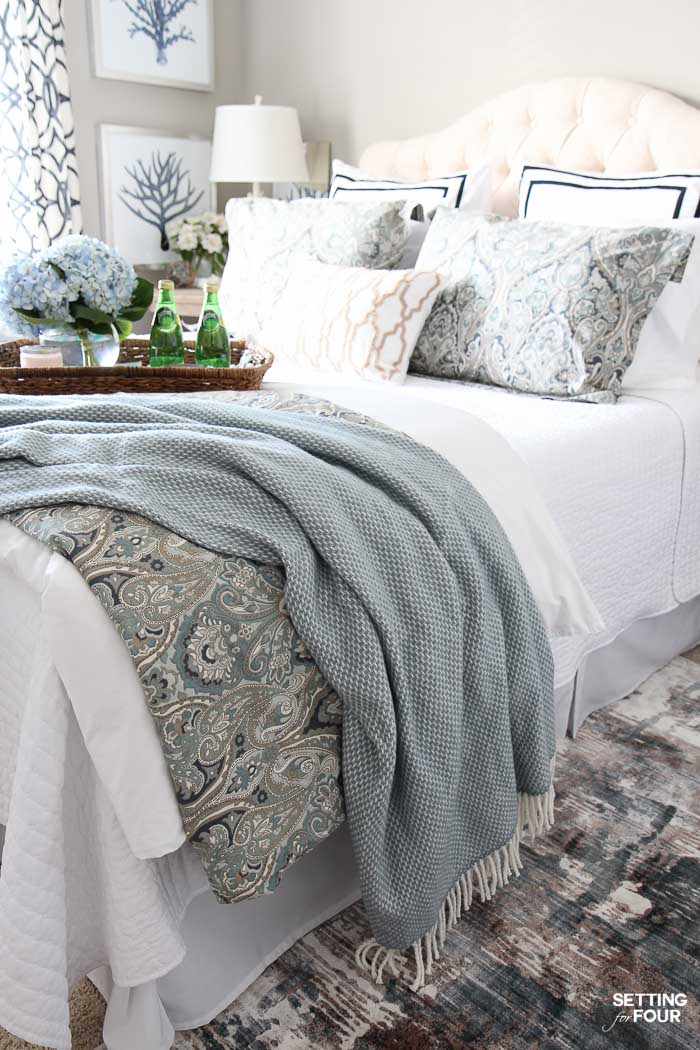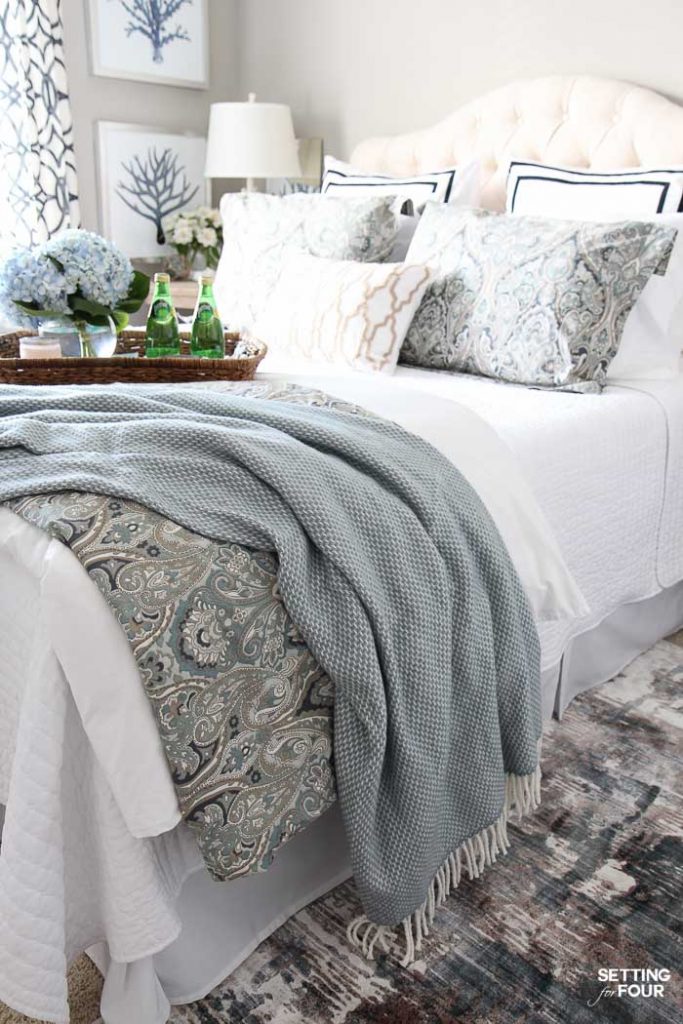 Love decorating? Get your FREE Decorating Guide: How to Get the Designer Look on a Budget!
More Design and Decor ideas:
This post contains affiliate links. Funds from affiliates help pay for web hosting, domain registration, email delivery, and other fees to keep settingforfour.com up and running.  Thanks for your support! Click here to read my full disclosure policy.