See 9 gorgeous master bedroom design ideas with the virtual 3-D design service Modsy! See pictures of all the beautiful designs and which one I picked!

9 Gorgeous Master Bedroom Design Ideas With Virtual 3D Design
Let me walk you through the changes to our master bedroom so far and the new designs. I'll be sharing with you my design strategies too and the steps to go from blah to beautiful!
THE FEELING FOR OUR NEW BEDROOM AND A NEW PAINT COLOR
As you know we are updating our master bedroom and giving it a big dose of design love!
I showed you our paint makeover here and explained why I chose to paint over the dark green paint with fresh bright white! It's a gorgeous start to a new look and feeling of relaxation and calm!
Here's our bedroom painted white and our current bedroom furniture.
What's Staying and What's Leaving
Our bedroom furniture pieces are quality wood pieces made in North America – we've had these pieces a long time but I'm ready for a change.
Some of the pieces we are removing will go into our son's room.
I'm keeping our dressers – since they are the perfect storage for our clothes and I love their contemporary, transitional design.
I want to mix up the dressers with pieces that are upholstered and pieces painted white to inject a brighter updated look to this room and provide contrast and interest.
The ceiling fan will be removed and I want to add some more storage, art, textiles and lighting.
So now that I know what's staying and what's leaving plus the feeling I'm looking for it's time for design planning and injecting some style and personality into our bedroom!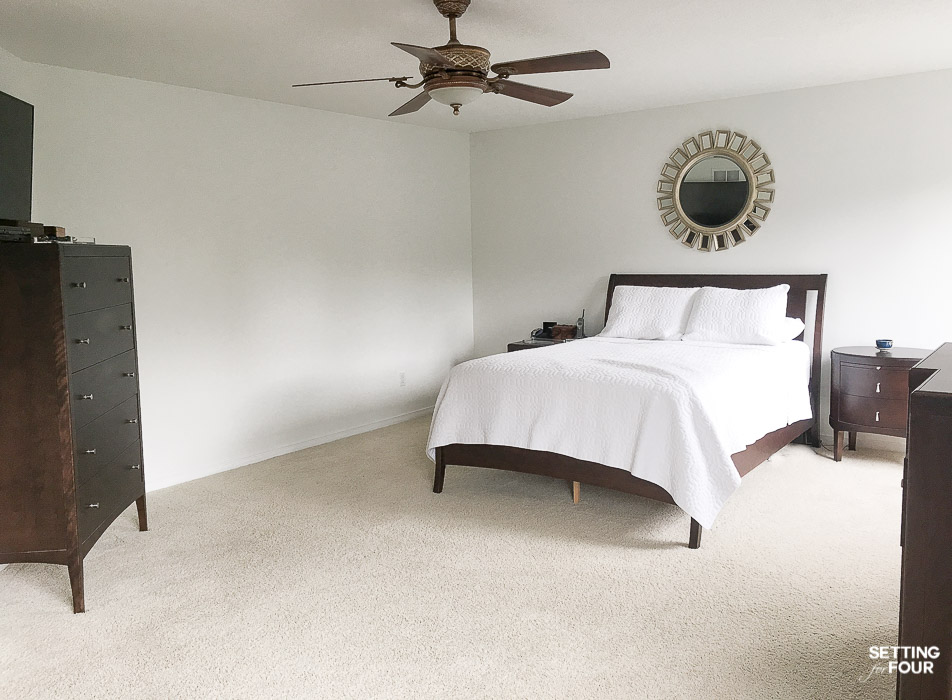 Shop our bedroom look! Click on the pictures below to see more about each item!

This post was completed in partnership with Modsy. As always, all opinions are 100% my own.
Design Planning
When Modsy reached out to me I thought it would be fun to try out their amazing 3D design service and I was curious to see what designs they could come up with for our master bedroom!
Modsy does all the design work and selecting of furniture, art and decor for you!
Based on your needs, wants and budget they'll create and send you design plans that include several pictures and a 3D design rendering.
You work with a designer, answer some questions about your space and then designs are emailed quickly to you.
They link all the items in your design so you can click and shop and recreate the exact look in your home.
I am thrilled with the gorgeous design plans they created for me, how quickly they sent them and how stunning the 3D designs are!
With Modsy I can see the bedroom designs in 360 degrees to get a fabulous feel of what they would look like in real life!
So let me show you how it works! It's simple and easy!
Your Room Right Now
The first step with Modsy is to go to their website and start your project. Share information on the room you are working on, your budget, what stage it's at now and why you are redecorating.
Style Quiz
Next, take their easy style quiz!
Don't worry if you're not sure about your style or don't know your style at all – in the quiz you are shown pictures of rooms and you pick out the ones you like – simple as that.
This helps to define your decor style so their designer can create a look that you'll love.
Take Pictures & Measurements Of Your Room
With your cellphone take some pictures of your space, clutter and all (they edit that out!) and upload them onto Modsy.com.
Next you upload a few simple measurements of your room onto their site.
Pick Your Design Package
Modsy has 3 affordable design packages:
Modsy Essential – $59/room
Modsy builds your room in 3D
2 initial design plans based on your project details and Style Quiz results
Unlimited revisions
Send feedback to the Modsy Design Team
Shop directly from your designs in one cart
Designs delivered in < 3 weeks
2. Modsy Plus $79/room and includes these extras:
Insider Rewards membership: Shop more, save more
3. Modsy Premium $149/room and includes these extras:
1:1 sessions with your dedicated Modsy Designer.
Ongoing support to fine-tune your designs
The Designs and Revisions
Your Modsy Designer goes to work and creates a couple of design plans including lots of pictures, the 3D design in 360 degrees and links to everything in the design plan so you can shop them.
The plans are emailed to you and you can make revisions if you wish.
You can use their style editor to make changes yourself and you can consult with your designer and tweak the space. You can move the furniture and replace an item with something else!
When you're happy with the design you can click on the product links to shop everything in the design plan – super easy.
My Initial Designs
My style quiz showed my style to be Elegant Connoisseur and that the plan was for an Elegant Connoisseur Master Bedroom!
My Modsy designer focused on a layout that optimizes storage, a reading zone and TV viewing.
They kept my vision notes in mind to suggest two different designs and layouts, while making sure that the space works perfectly with my existing dressers.
In Design 1 they opted for larger nightstands with drawers to give that extra storage I am looking for and balance out the headboard wall!
In Design 2 they utilized a similar layout, tried several options but felt this worked best to maximize TV viewing, keep walkways open into the space and allow for a seating area in the room.
They did opt to show a king size bed in this design, to take full advantage of the large space.
I was amazed at how exactly my room looked in shape and look in their designs!
Design 1
I love the seating area area rug and art!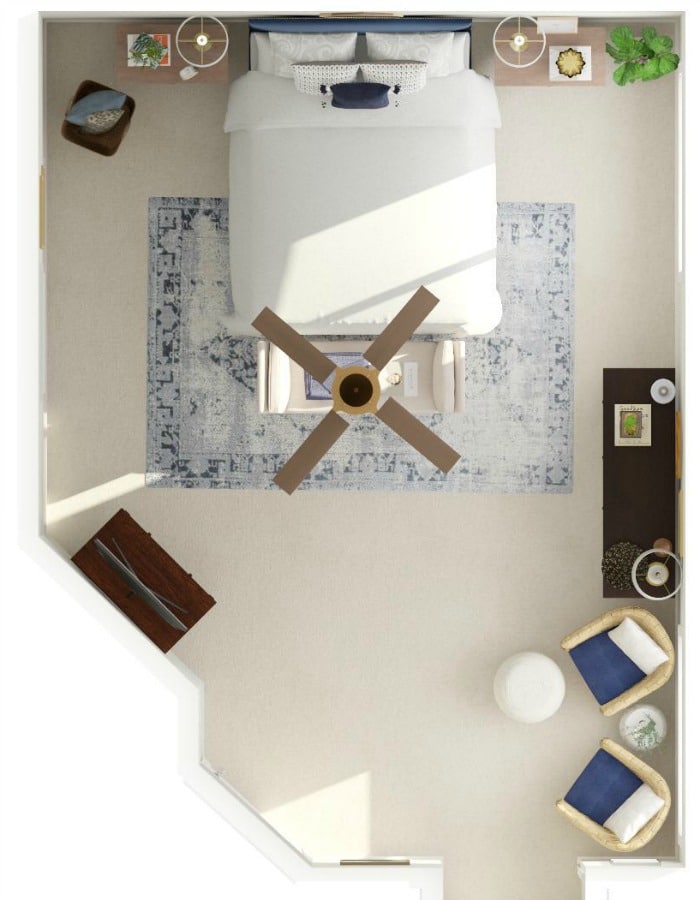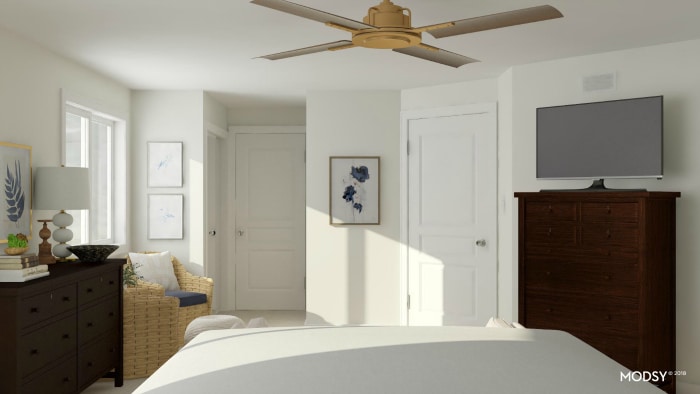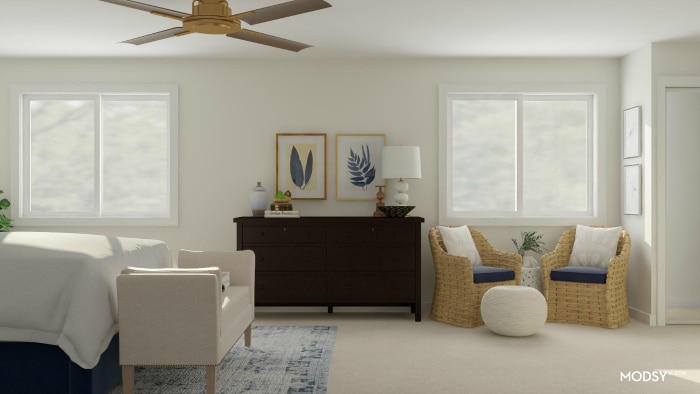 Design 2
I love this one more than Design 1. I love the tufted headboard, the shelving unit for display and the white nightstands!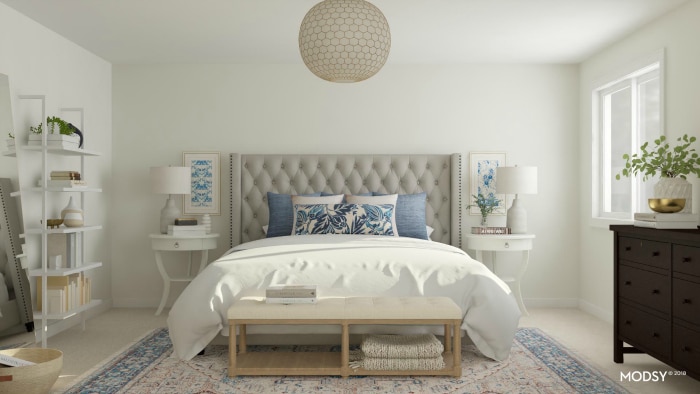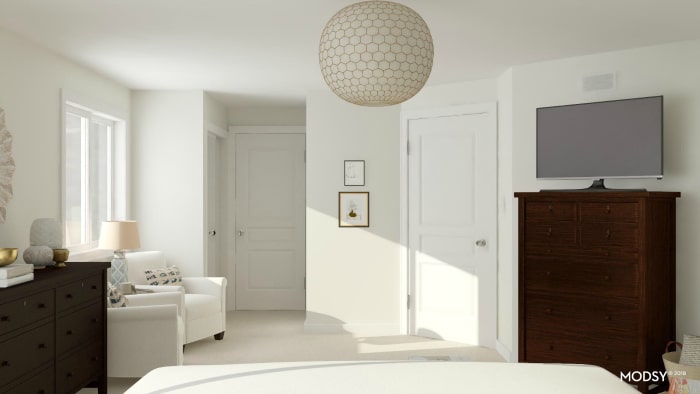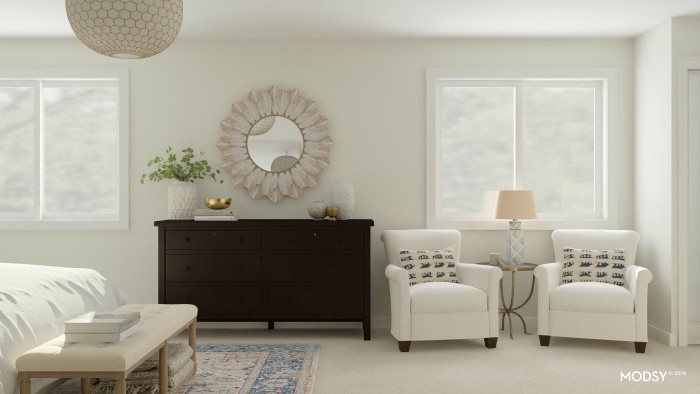 The Revisions
I requested a few tweaks: switching the light gray upholstered headboard to ivory, adding a more glam pendant & mirror: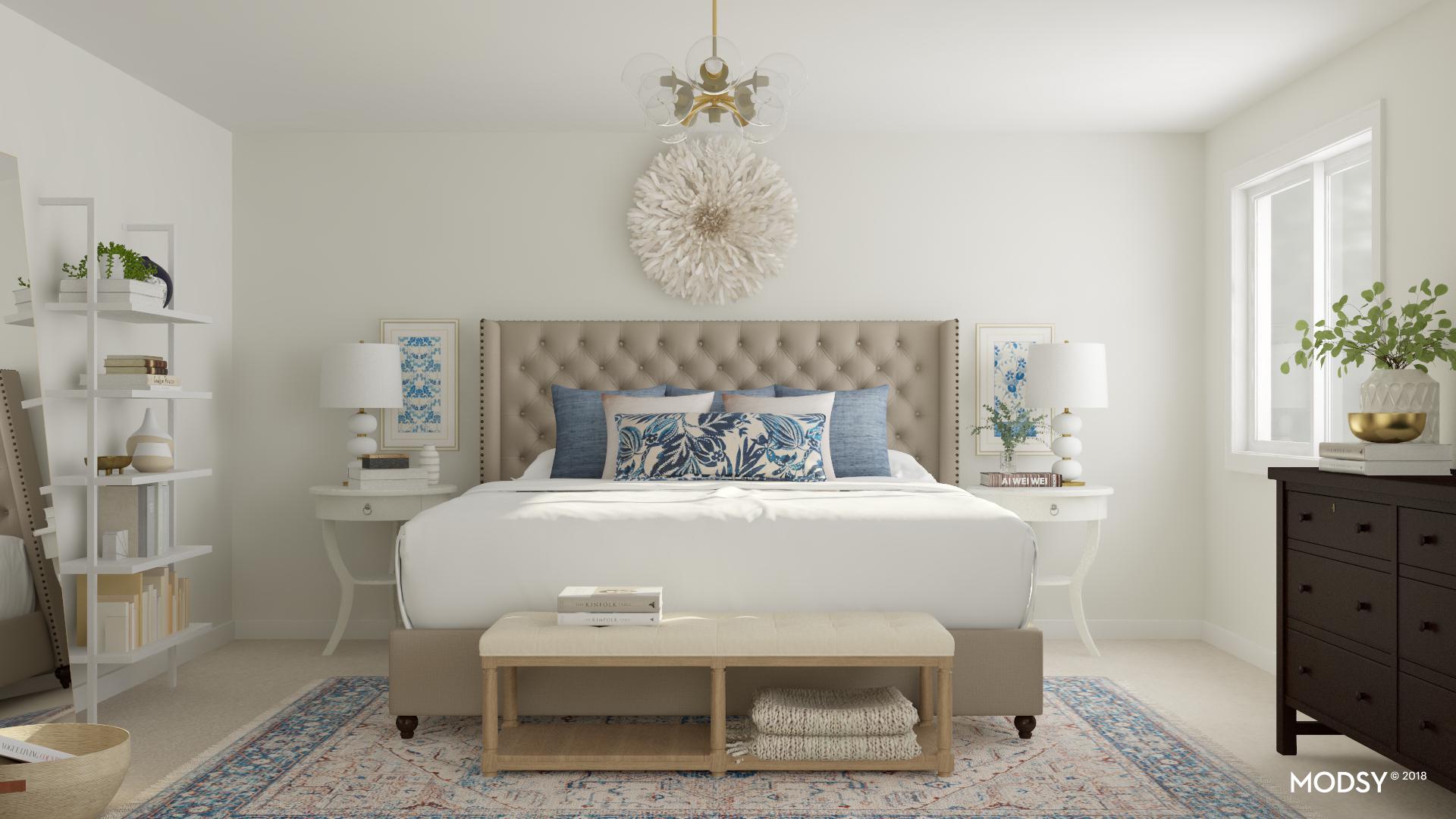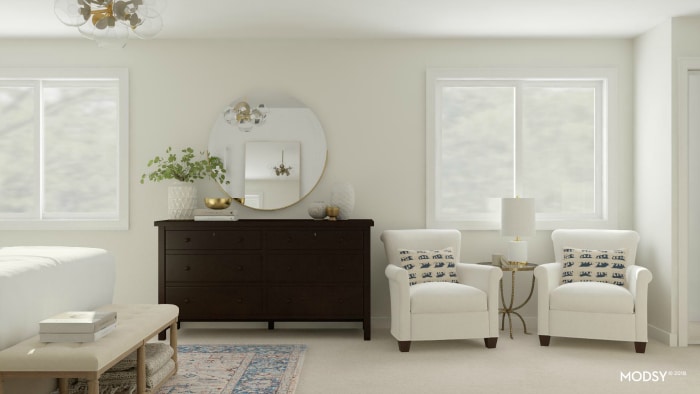 Then I requested to add my existing nightstands in to see what they looked like in the design.
After seeing them in this design I prefer the white nightstands.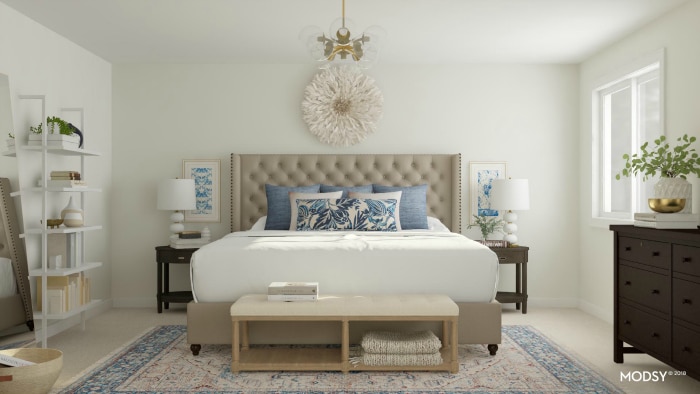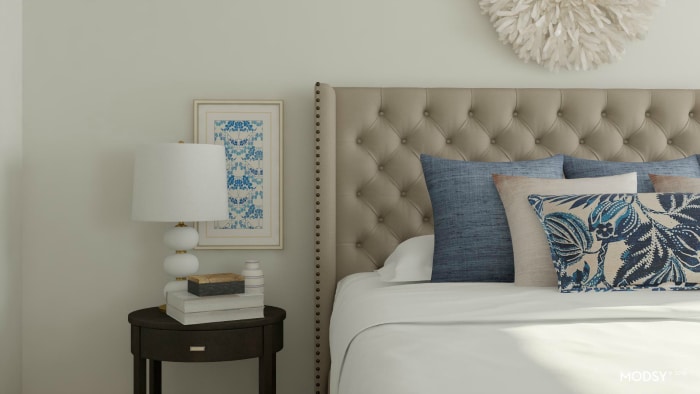 They also sent me this design to show me another version of a light headboard, glam pendant and glam floor mirror:
I love the mirror but the headboard and the pendant weren't exactly what I was looking for.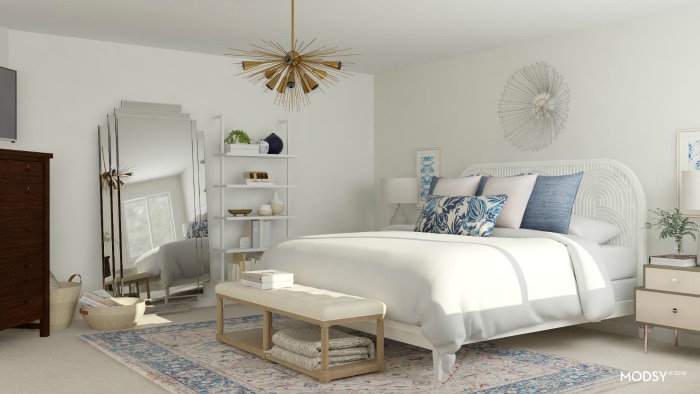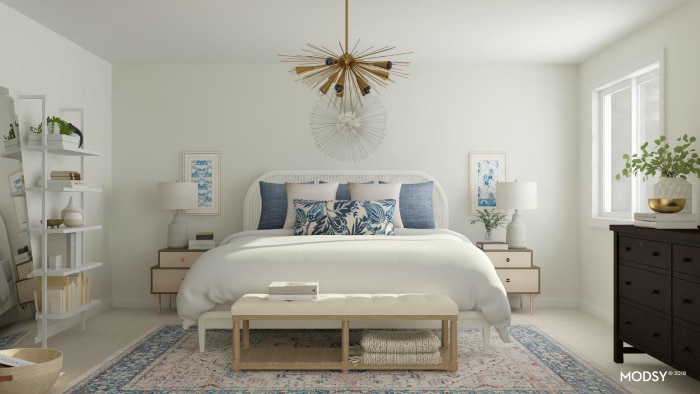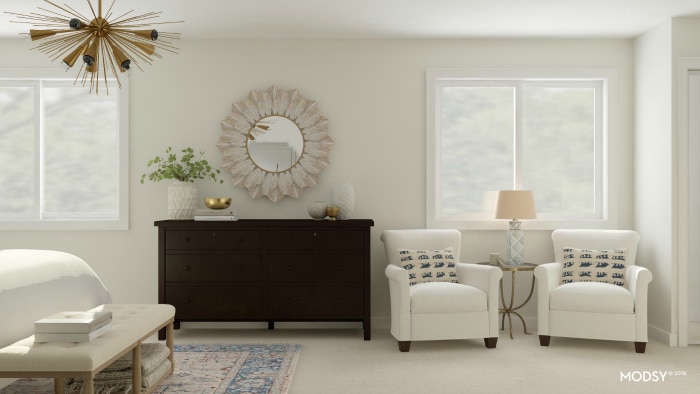 This Design plan is beautiful – I love the pendant and the white nightstand with the drawers!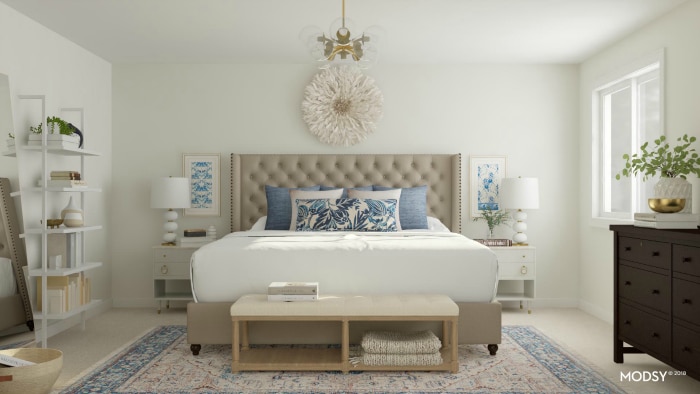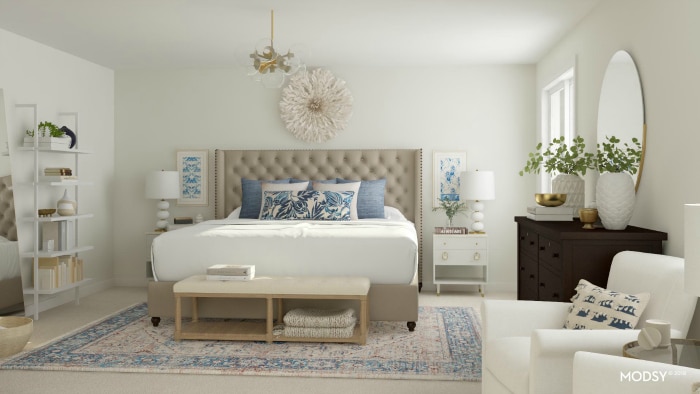 My Favorite Design Plan
This is my favorite design!
I love the transitional bench with gold legs, juju at above the bed, the white nightstands and glam mirrors!
The light gray tufted headboard is so gorgeous too – tufting and nailhead are two of my favorite things!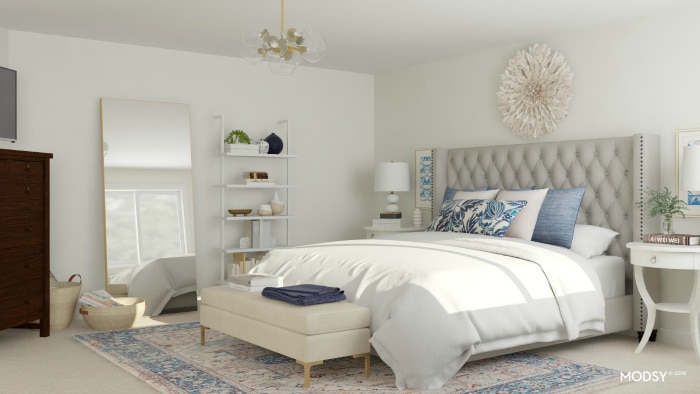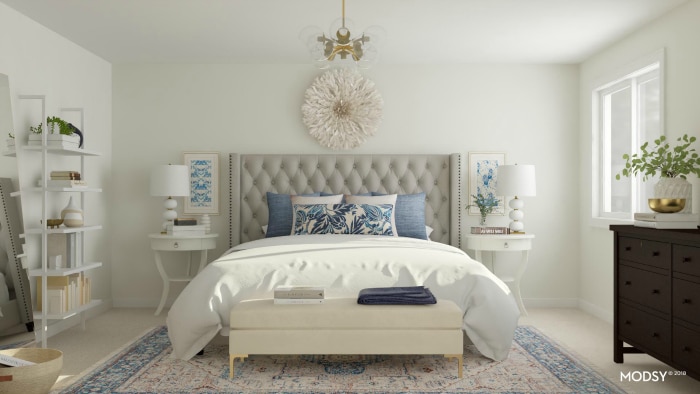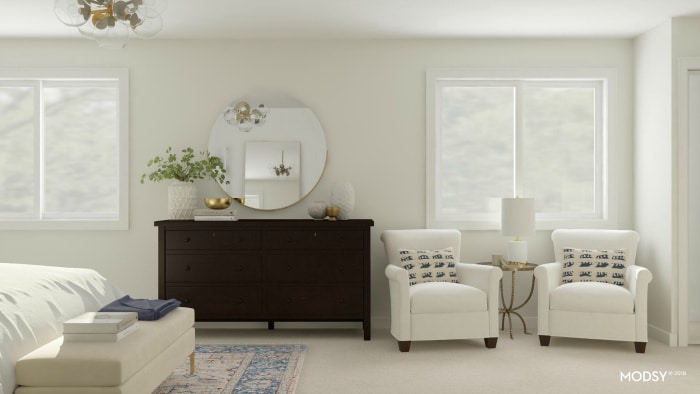 GET STARTED ON YOUR OWN MODSY ROOM DESIGN WITH THIS DISCOUNT CODE
Do you have a room or two that is just in dire need of a refresh? Do you have furniture layout that's not working? Need help meshing your style with your husband's? Maybe you having a child and need help creating a nursery?
Get started on your own Modsy room design and head on over to their website and check out their packages!
My friends at Modsy are even offering you a 20% discount on any design package using code SETTING20 at checkout!
Modsy will help you create the room of your dreams all from the comfort of your home.
If you have any questions about my experience with them – shoot me an email and I'd be happy to answer!
I hope you love the designs as much as I do!
I can't wait to get started on putting the design into place! I'll be sharing with you progress of our master bedroom transformation – stay tuned!!
AMAZING GIFT IDEA!
Modsy offers gift cards too! Wouldn't this be an amazing gift to give someone? With the holidays right around the corner – a Modsy gift card is an easy quick, easy gift to get – that anyone would love to receive.
This is a great gift idea for those hard-to-buy for people!! Give one as a wedding gift, to someone that is down-sizing, someone that's moving into their first apartment or a gift to a new homeowner!
I hope you like my post today and these 9 Gorgeous Master Bedroom Design Ideas With Virtual 3D Design! Which design is your favorite?
You may also like:
Design Tip: How to Choose the Perfect Area Rug
12 Ways To Create A Cozy Guest Bedroom Your Company Will Love
New Guest Bedroom Updates – Juju Hat Wall Decor, Duvet Cover and Lamps