See 12 ways to create a cozy guest bedroom your company will love! See all of the beautiful home decor, bedding and furnishing essentials to create an welcoming oasis for your guests that's filled with personality, hospitality and relaxation!
This post is in partnership with Casper, as always all opinions are my own.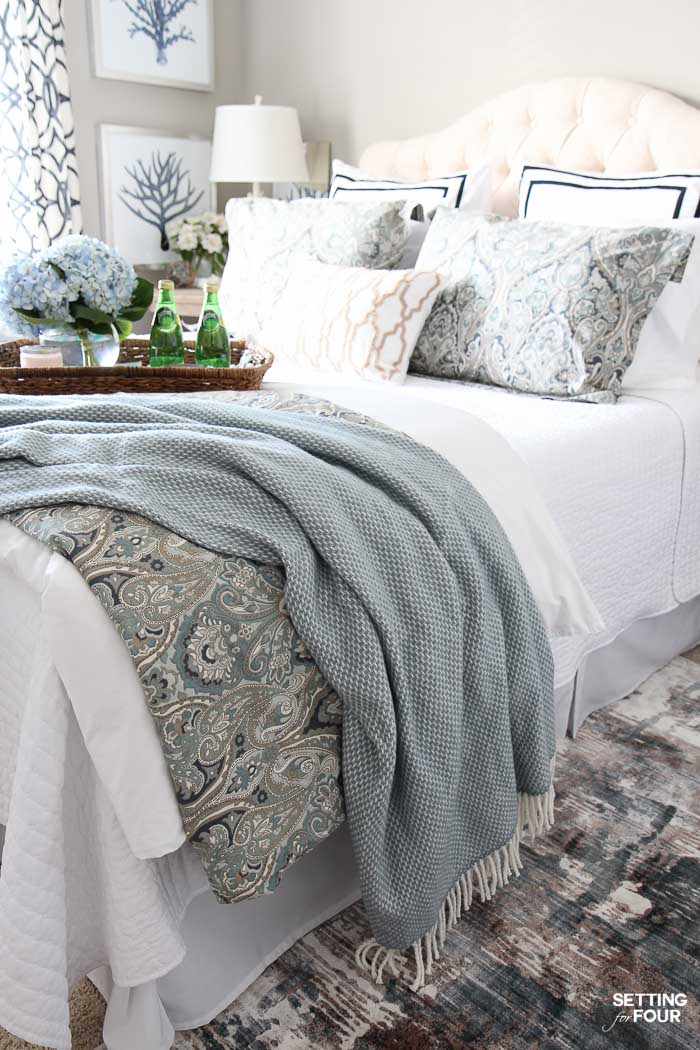 This post contains some affiliate links for your convenience (which means if you make a purchase after clicking a link I will earn a small commission which helps keep my blog up and running but it won't cost you a penny more)! Click here to read my full disclosure policy.
I think it's so important to make sure our summer visitors and holiday guests feel right at home with all the creature comforts I can possibly add! Making their stay as enjoyable as possible not only makes me feel good but makes me feel like a wonderful hostess and friend!
I know when I'm visiting overnight or for a few days just how much I appreciate a nice, comfortable room to stay in! I want my guests to feel that way too!
Here are 12 Ways To Create A Cozy Guest Bedroom Your Company Will Love!
All items in our guest bedroom are listed at the bottom of this post!
1. A COMFORTABLE MATTRESS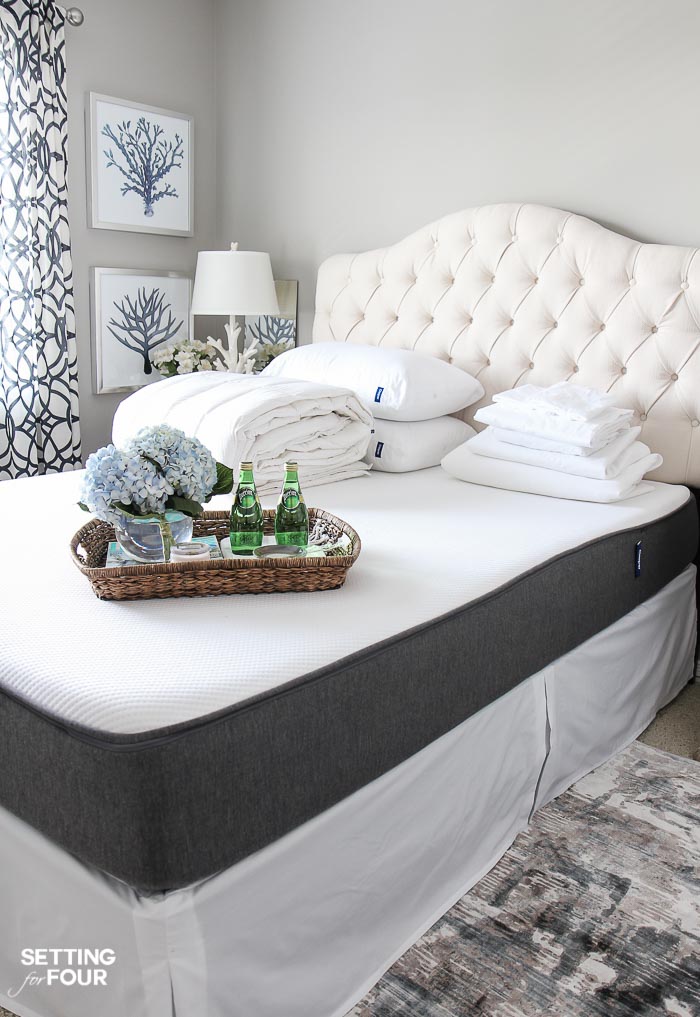 SHOP THE LOOK! CLICK ON THE PICTURES BELOW AND SCROLL USING THE ARROWS TO SHOP EACH ITEM TO COPY THE LOOK OF THIS ROOM!
Update: my headboard is currently not available but this tufted headboard in beige is similar and has really high customer ratings!

If you saw my guest room refresh post – you'll remember just how sad our guest room started out!
Like most people we had an old saggy mattress in it that was really uncomfortable! Our guest bedroom was also the place we tended to toss cast off furniture pieces and mismatched bedding.
Because we're a military family and often have friends from abroad as well as family visiting us, I thought it was HIGH time we replaced our saggy mattress with a new memory foam mattress from Casper! Now our guests can sleep in comfort and not toss and turn all night!
This mattress has incredibly comfortable pressure-relieving memory foam so you feel perfectly supported no matter which sleep position you prefer.
It's also cleverly designed to help you sleep cool which makes for a better night's sleep!
Look at the breathable, springy top layer!
Believe me this mattress is the most comfortable mattress I've ever had!
I tested it and slept on it last week – and had an amazing night's sleep. I woke up completely rested and I didn't toss and turn all night.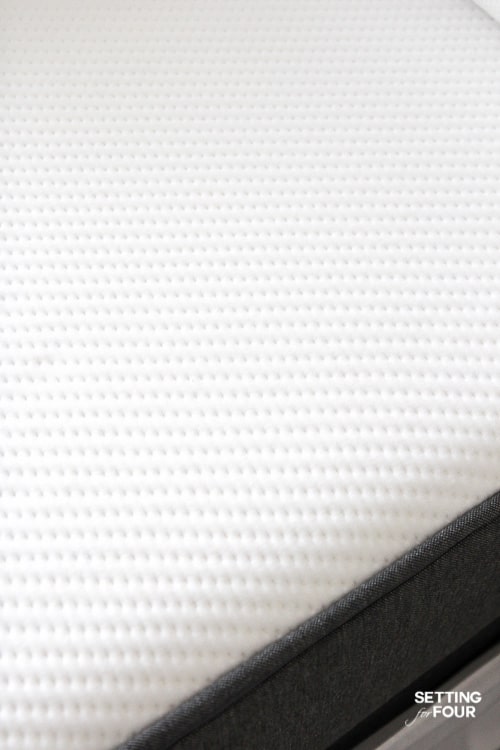 And it even has a zippered removable cover that's easier to clean!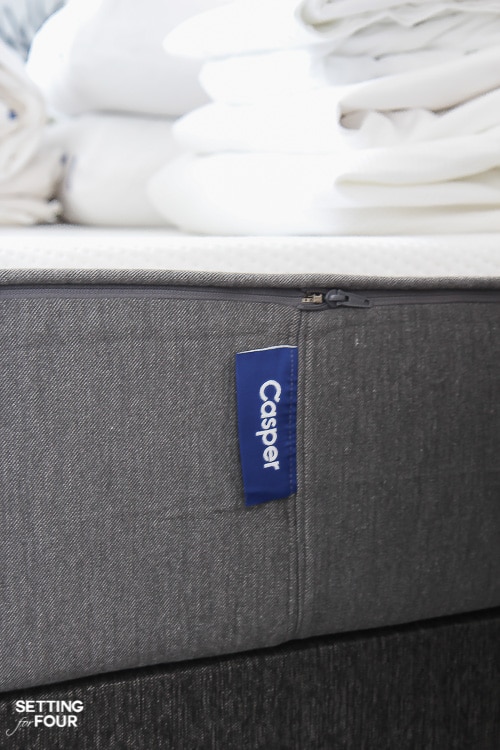 If you need a new mattress or know of someone moving into their first apartment or home – I highly recommend Casper.
Casper makes mattress shopping so convenient – it's even shipped right to your door.!
Plus they sell the complete bed components: the foundation, bed frame, bedding, pillows, duvet and duvet cover too!
It's super easy to set up – this mattress is vacuumed sealed so it only takes minutes to set up a cozy, comfortable bed.
2. AN UPHOLSTERED HEADBOARD

A neutral colored headboard creates a beautiful focal point, adds comfort and coziness.
A soft padded headboard is perfect for guests to lean up against to read or check their email on their devices.
3. SOFT BEDDING AND A DUVET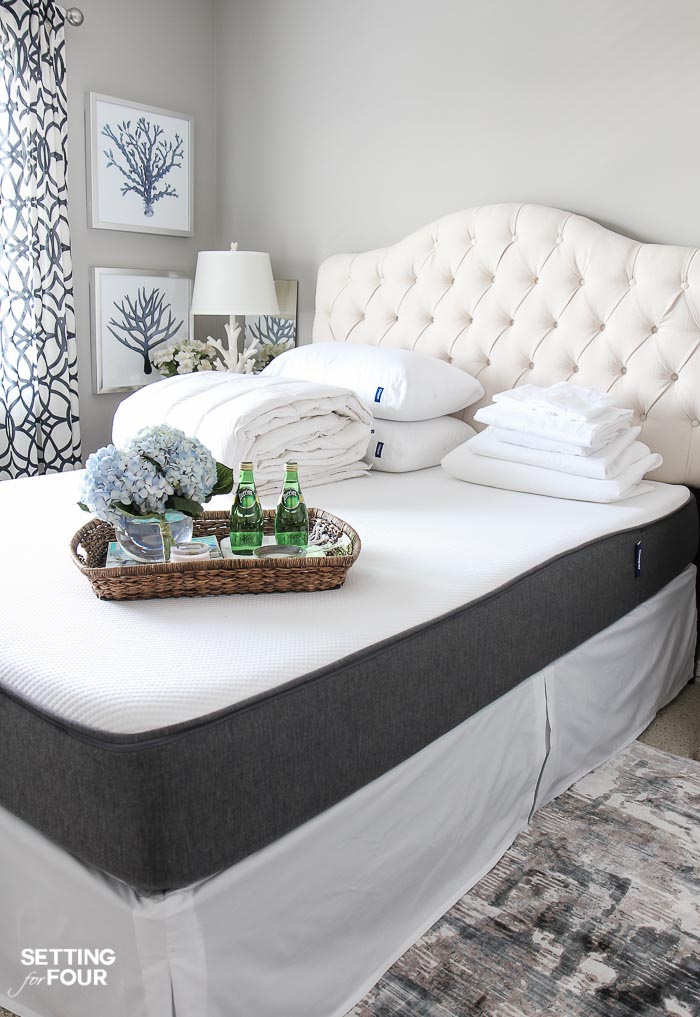 Bedding essentials include sheets and pillowcases.
I highly advise you to add a waterproof mattress protector to your guest bed! It's peace of mind for me to know that I only have to clean a waterproof mattress cover….. not the entire mattress if an accident should ever happen!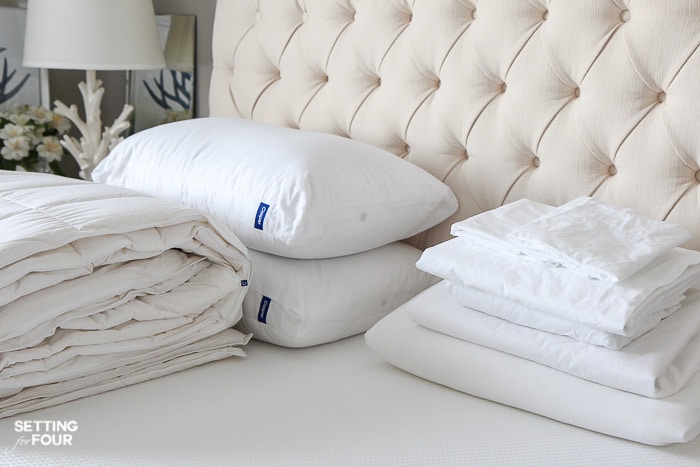 Along with the bedding basics every cozy guest bedroom needs:
a throw blanket, patterned pillow shams, a white quilt and (as a splurge) Euro pillows in a pattern and color that coordinate with the bedding.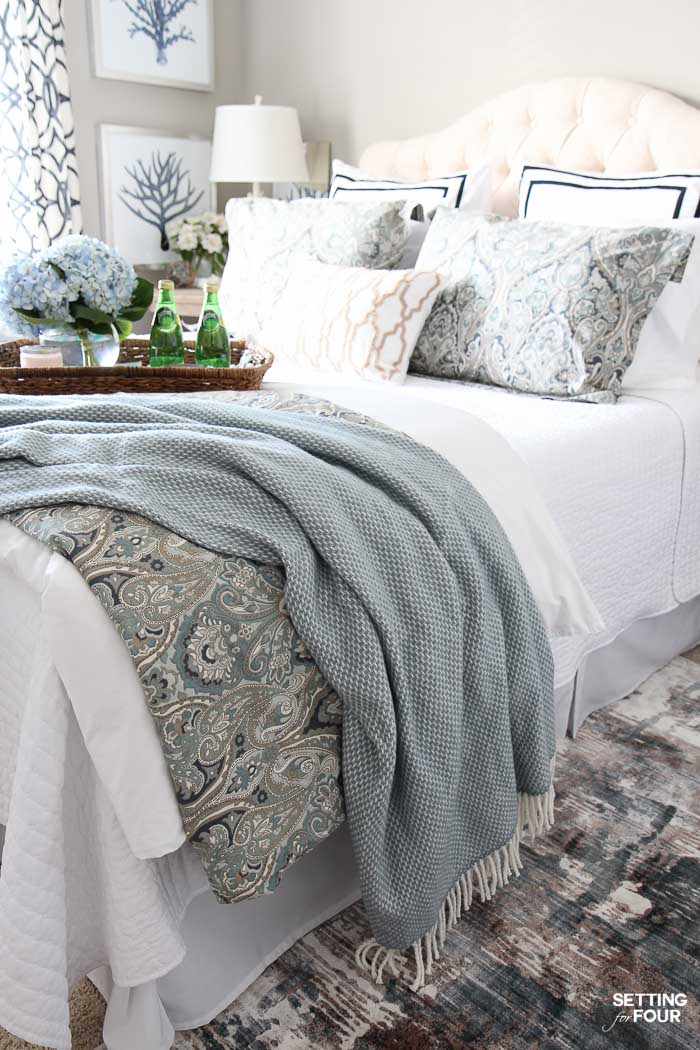 4. A HOSPITALITY TRAY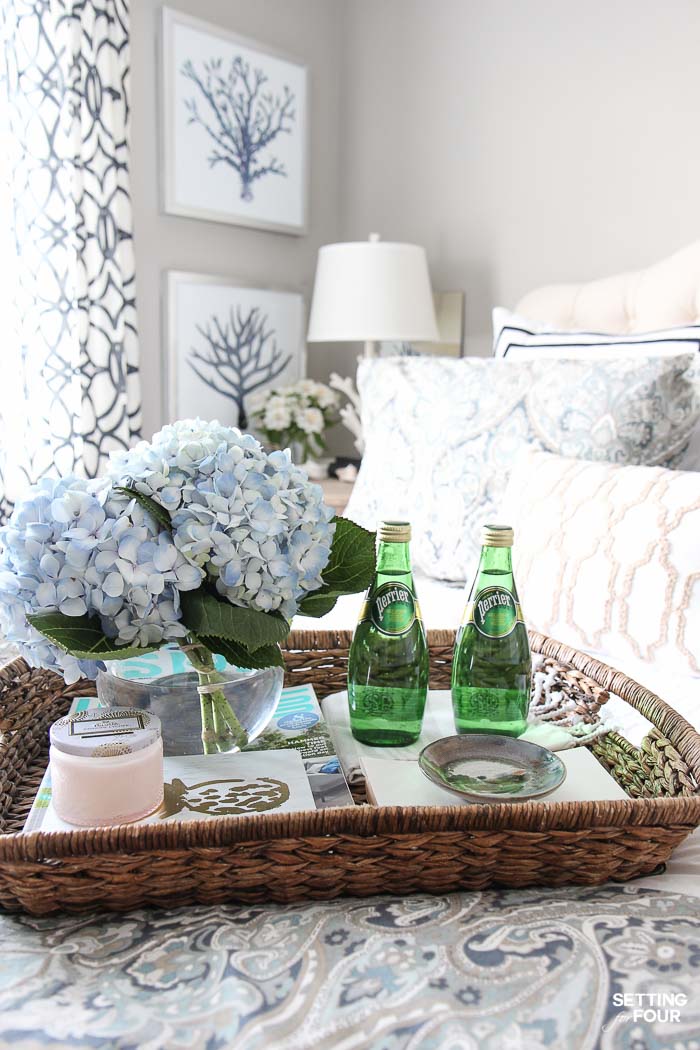 Be a great hostess and set out a hospitality tray filled with a beautiful candle, some bottles of water, a ring dish and a welcoming vase of flowers!
5. BEAUTIFUL BLOOMS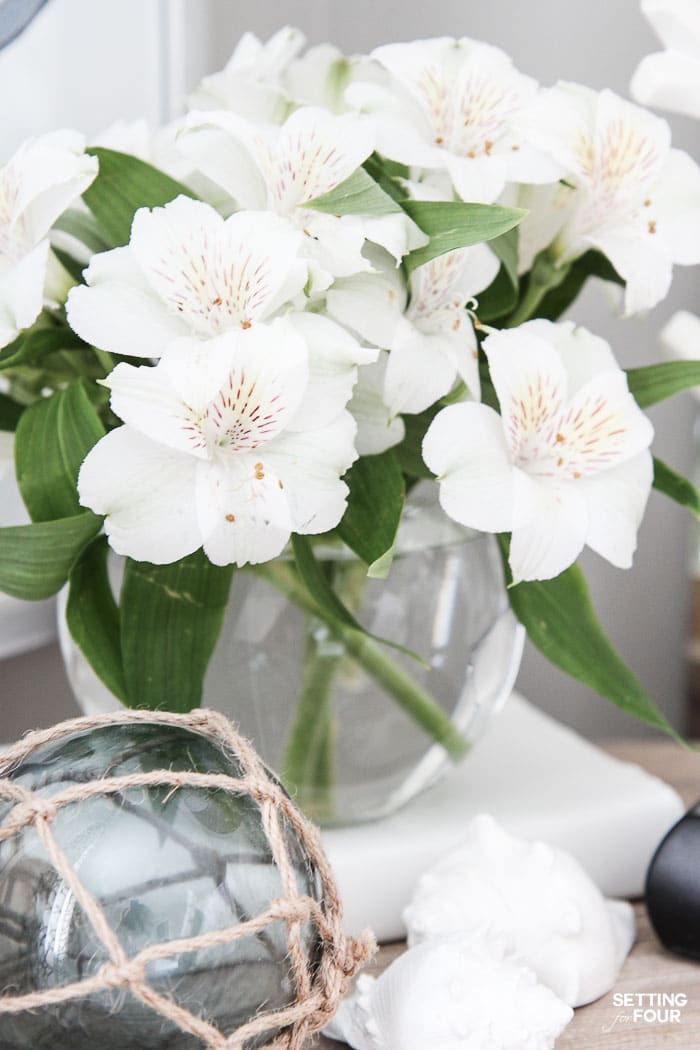 A vase of beautiful flowers on the night table is a welcoming touch and will really make your guests feel spoiled!
6. MAGAZINES / READING MATERIAL

I love to give my guests a few magazines to have on hand – in case they want to just relax in bed before going to sleep. I add a couple home decor magazines for the girls and outdoor magazines for the guys to the hospitality tray.
7. AMPLE SIZED NIGHT TABLES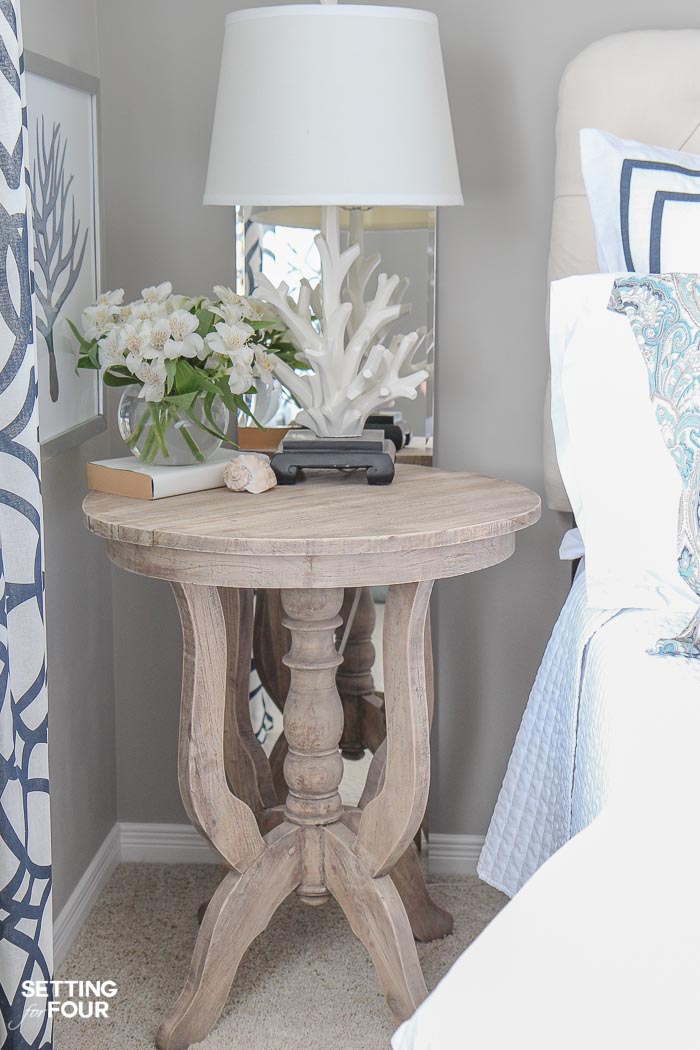 Get rid of the skimpy night tables and add a couple of sturdy tables to your guest bedroom! You don't have to use typical bedroom night tables either!
8. LIGHT BLOCKING BLINDS AND DRAPES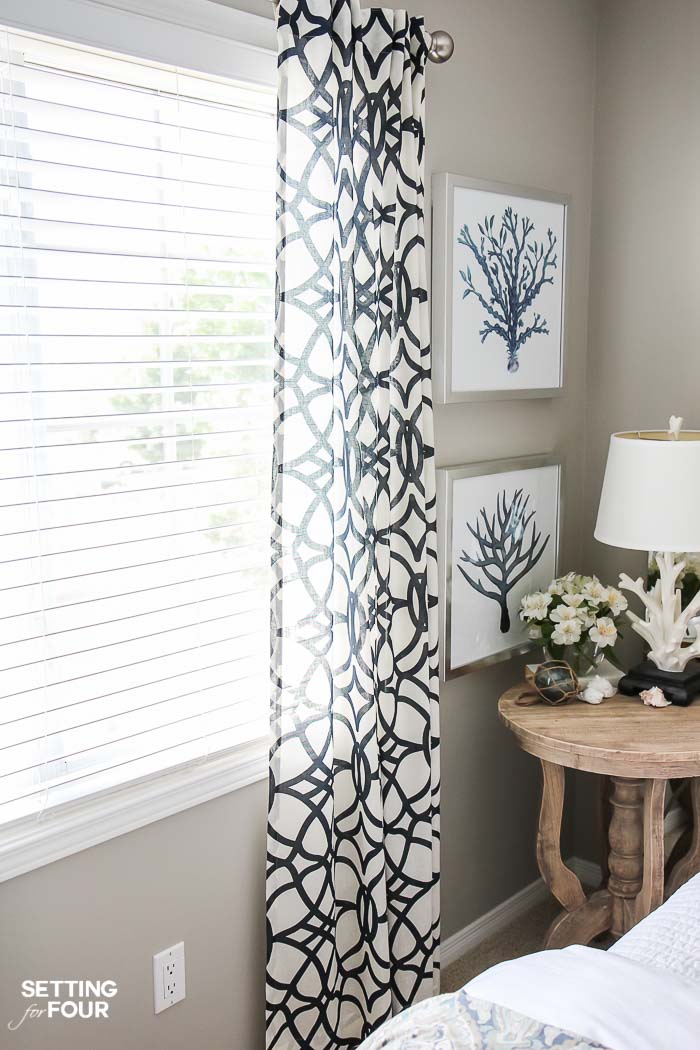 Add a set of faux wood blinds to the windows to block the light. Adding a beautiful set of patterned drapes adds a pretty touch of color and pattern to the bedroom.

9. A COZY RUG FOR THE TOOTSIES

A beautiful rug like this stunning abstract patterned blue, gray and white rug will add softness and amp up the wow factor to your cozy guest bedroom! This rug is sooooo soft and GORGEOUS!
10. DECORATIVE PILLOWS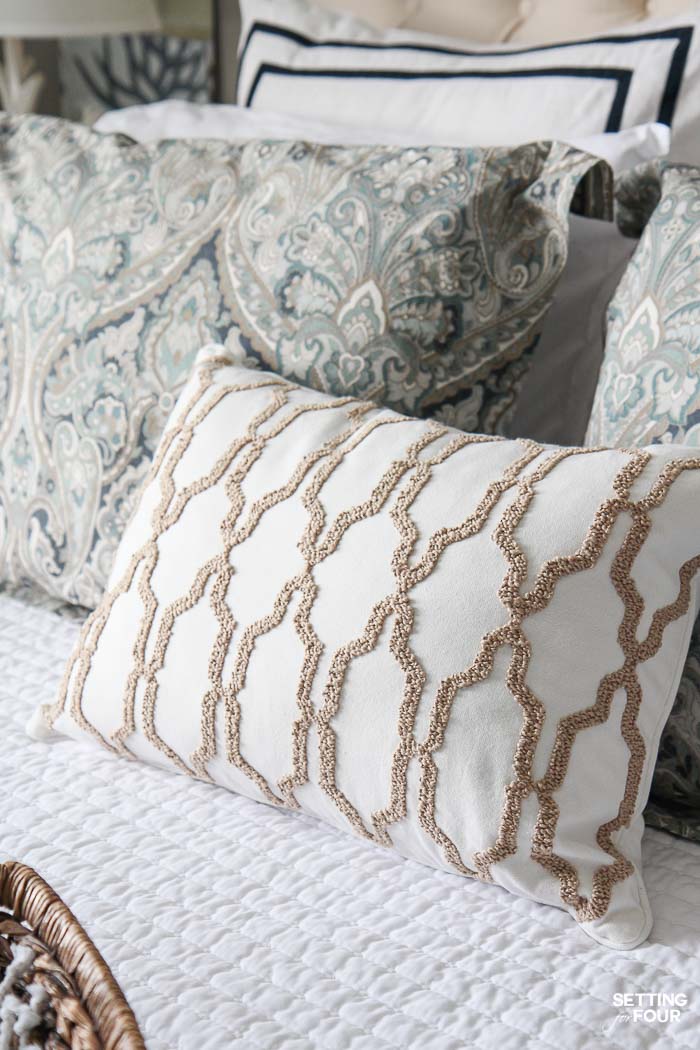 Adding a decorative lumbar pillow to the guest bed is a gorgeous decorative touch and is perfect to prop up on when reading a book!
11. GOOD LIGHTING WITH TWO TABLE LAMPS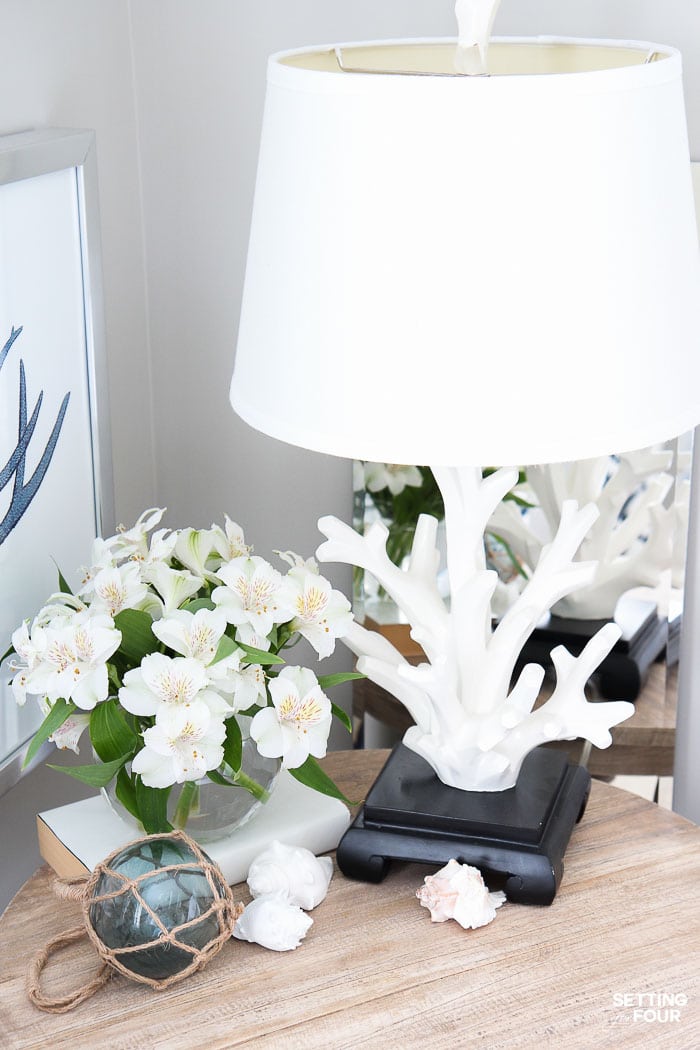 Adding a table lamp to both sides of the bed allows your guests ample lighting to read at night and dress.
12. BATH ESSENTIALS
I'm always forgetting something when I travel and I bet your guests do too! Make life easy for them and keep these bedroom essentials in a tray that they can carry to the bathroom if needed.
extra toothbrushes & floss
toothpaste
mouthwash
shampoo – this is my personal favorite!
conditioner
blow dryer
lotion
shower gel
disposable razors
towels
hair ties
face cleanser – how about some DIY Coconut Lime Sugar Scrub!
pain reliever, tums
So there are my 12 ways to create a cozy guest bedroom that your company will love!
Do you have any other's that you love to add to your guest bedroom?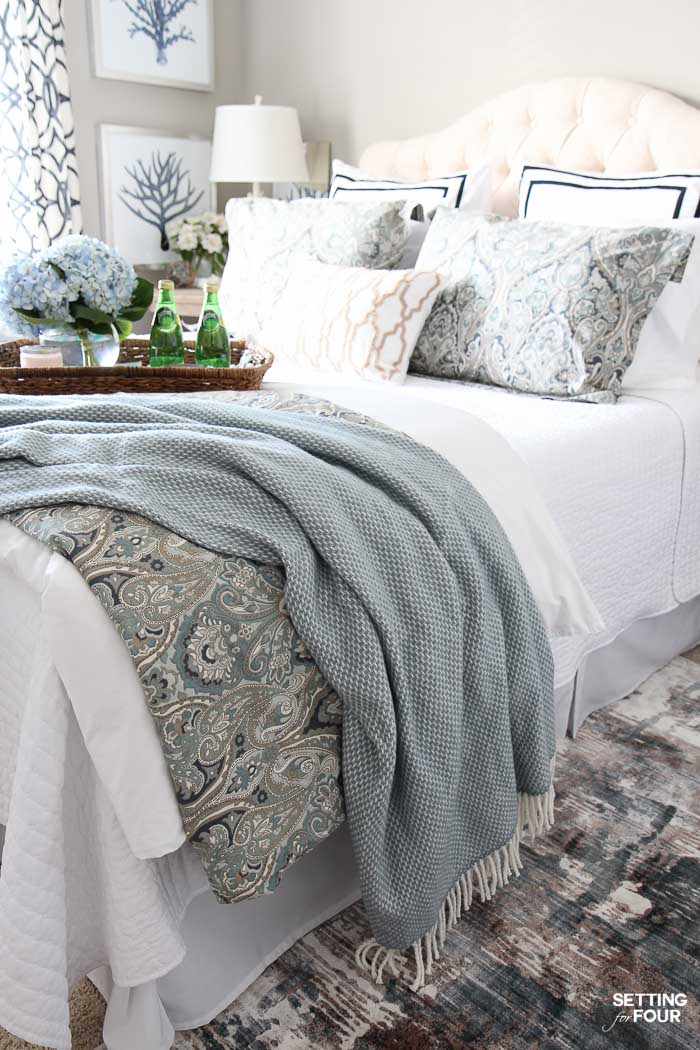 Sources and Guest Bedroom Details: Click on the links and pictures below to see more about each item!
Update: my headboard is currently not available but this tufted headboard in beige is similar and has really high customer ratings!
Casper memory foam mattress
Navy and White Euro shams – similar here and here

SEE ALL OF MY HOME PAINT COLORS HERE
Guest Room Paint Color – Sherwin Williams Mindful Gray
You may also like:
Decorating with Indigo Blue, Black and Gray : Shades of Summer Home Tour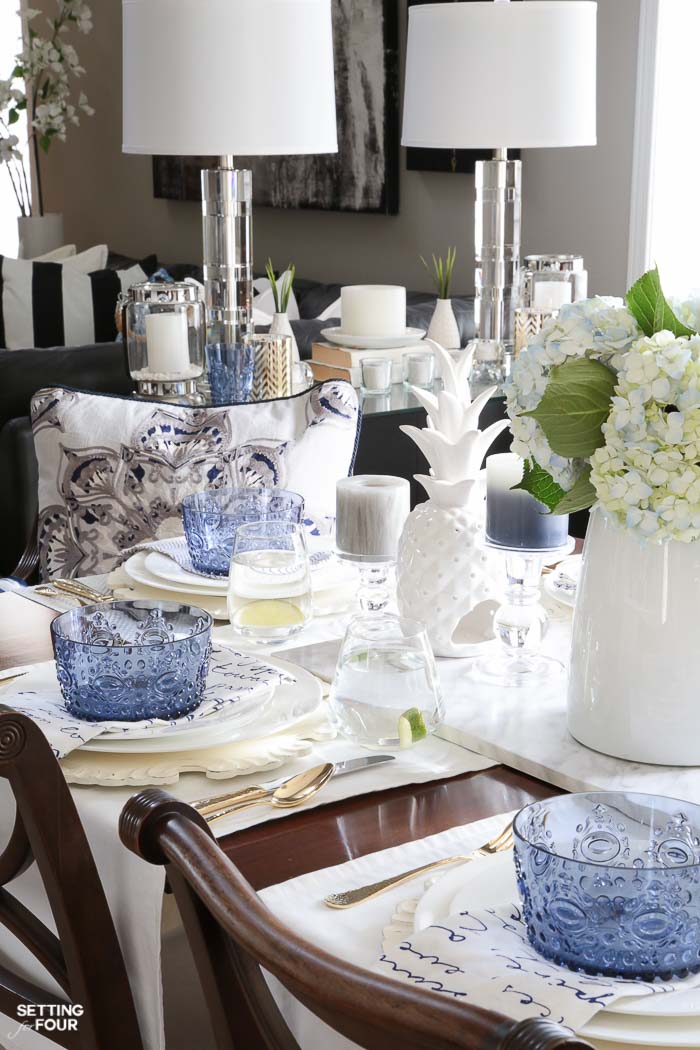 Soothing Bedroom Color Schemes