How to get paint color help from a True Color Expert®!
As a True Color Expert® I can select the perfect color with the right undertone for your space.
Looking for the perfect paint color for your walls or kitchen cabinets? Bathroom vanity or exteriors?
I can help!
I'm a True Color Expert®!
I've completed the Color Academy certification and color training to pick the perfect color for your space!
I'm so excited to provide expert paint color consult services and color advice in addition to my interior design services!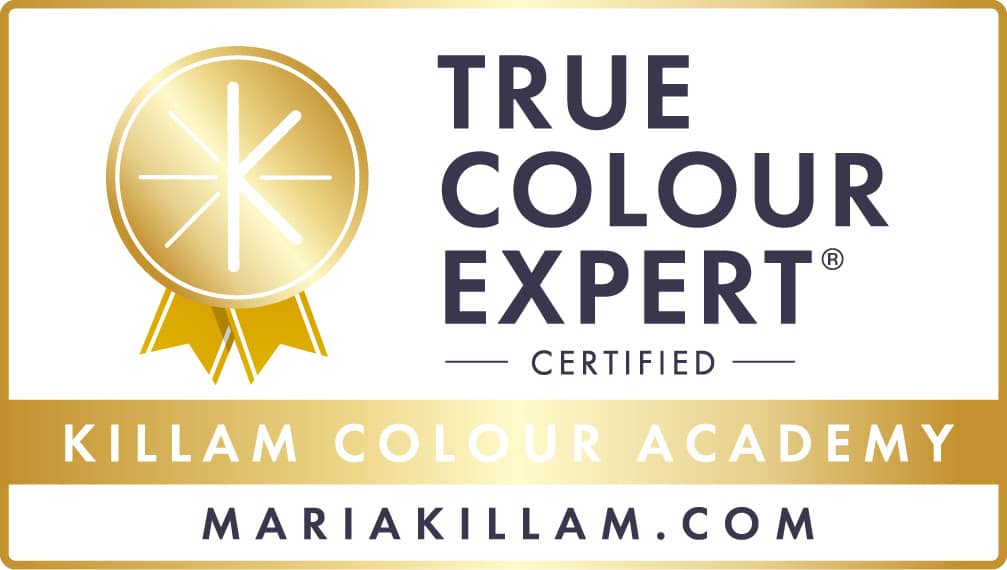 PLEASE PIN THIS AND SAVE IT FOR LATER!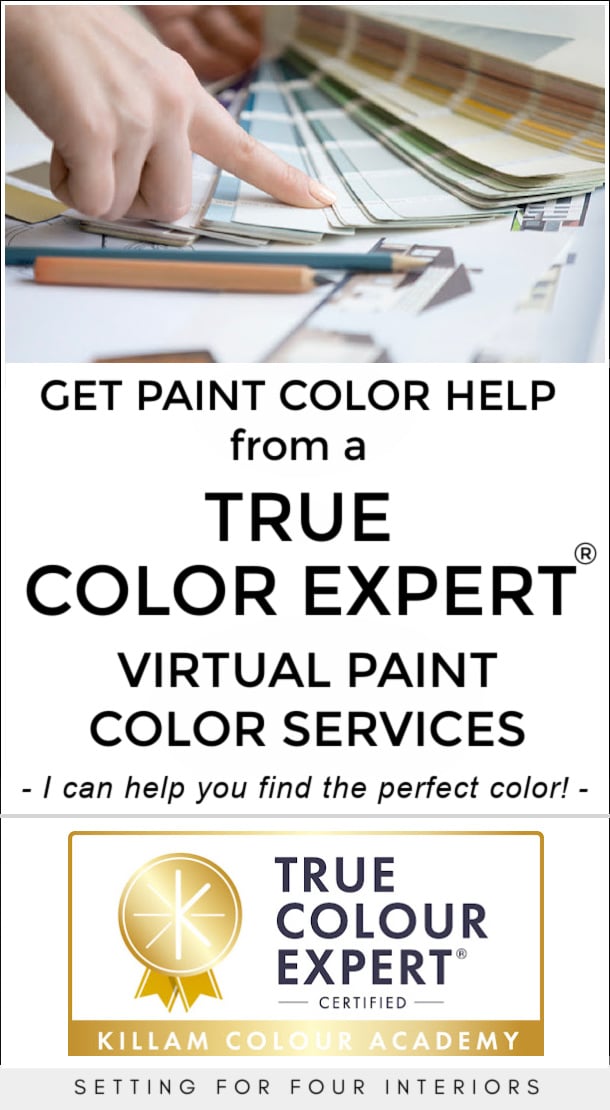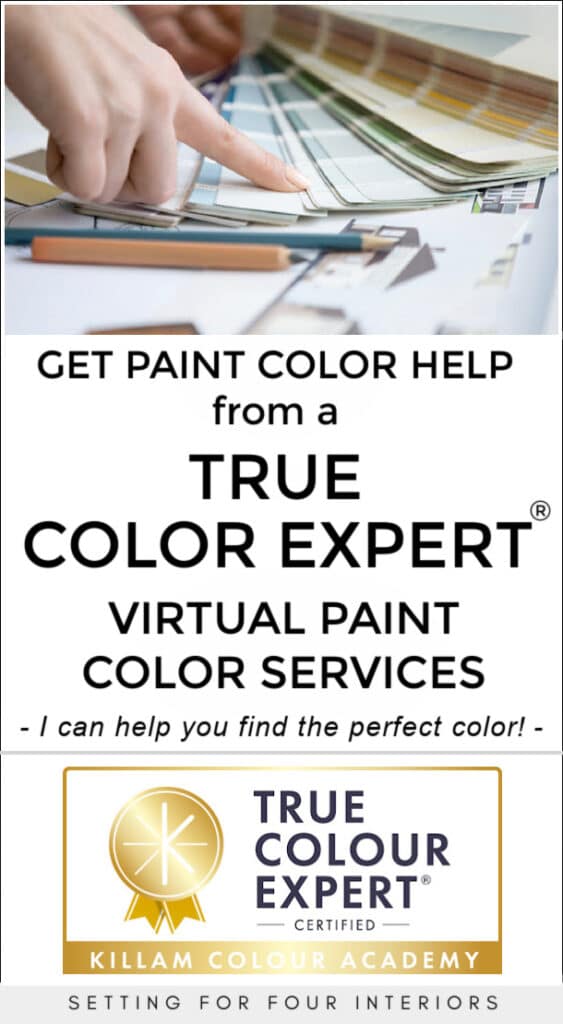 Why is it so hard to choose a paint color?
Choosing paint colors is complicated!
And for most people it can be really confusing!
There are light color and dark colors.
Warm colors and cool colors.
Then there are paint color undertones! Every paint color has layers – undertone and overall tone.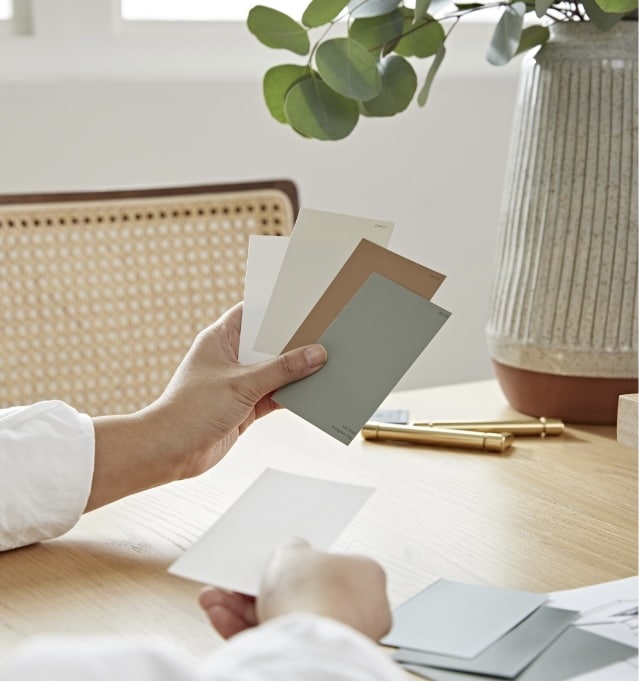 Skills of a professional True Color Expert®
In my certification I learned all about color and how it behaves.
With this True Color Expert® Certification I have the training and education to:
assess paint colors as they relate to each other
see paint color as a professional
select the perfect white paint color for walls and cabinetry
select the perfect paint color for any space
select neutrals, rich colors and trim colors for any space
choose interior and exterior paint colors expertly and with confidence
describe and compare paint colors
confidently explain why the colors in a space are right or wrong
how to effectively communicate the design rationale, the 'why', behind the paint colors I select so clients are satisfied and eager to recommend my paint color services to friends and family!
select cohesive paint color palettes that flow and transition from one room to another!
The training and certification is taught by internationally renowned color expert and interior designer Maria Killam! She's a color guru! I wanted to learn from the best of the best.
I'm so excited that this True Color Expert® Certification gives me additional tools as a Designer!
My True Color Expert® Certification provides me with:
certification as a color professional
training in the 9 most common and useful undertones to identify the undertone of anything and everything (not just paint color! This includes undertones of flooring, countertops and more!)
how to interpret and assess paint colors
how to specify paint color with confidence
the foundation, rules, principles and guidelines of comparing and describing color
what order to select colors in a room when renovating
the best place to start to create perfect color schemes for decorating a room
how to coordinate the color of everything – from tile to furniture for a cohesive look
how to create a pulled together, color palette for client's homes
solve challenging design situations with the most flattering color choices.
select neutrals, trim colors, ceiling colors and vibrant paint colors
the precise way to identify, compare and choose paint colors and neutrals with a simple, organized system for describing and choosing color that works every. single. time
the language and terms to explain why the paint color in a room is wrong, and how to fix it with the ones are right
the tools, and education required to create color harmony in a room or entire home in a way that ACTUALLY works
specialize training on white paint colors
how to design timeless chic kitchens and bathrooms with beautifully coordinated combinations of finishes. How to avoid a trendy finish that has an expiry date, and use trends the right way
how and when to work with existing and dated finishes in a space
the undertones in tile, flooring and cabinetry. How to select the best combination of cabinetry, countertops, flooring and backsplash to create a gorgeous, cohesive design in any kitchen, bathroom, mudroom or laundry room
---
The best way to sample paint? Peel & Stick paint samples!
Get these reusable peel & stick paint samples here!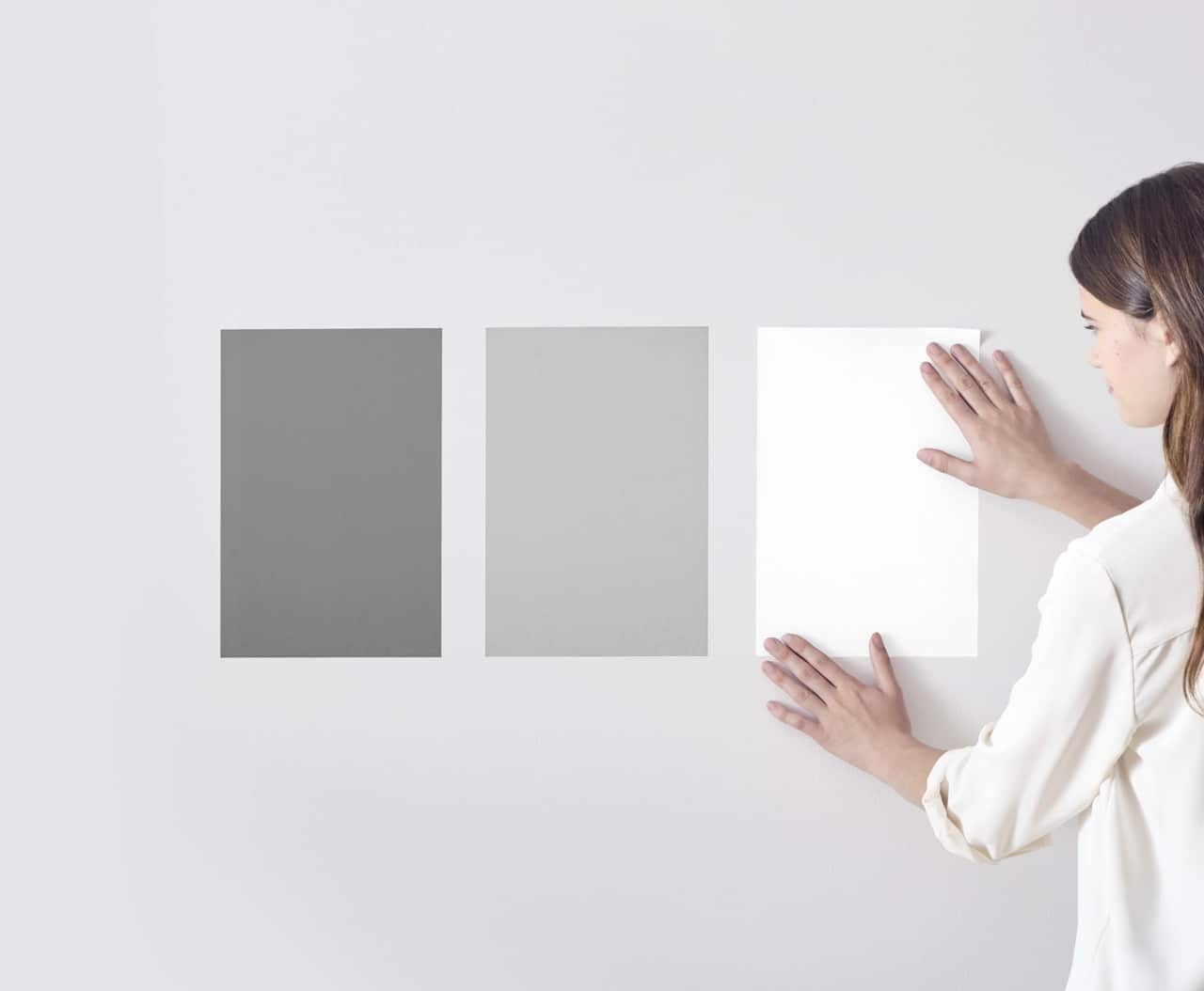 ---
For the certification I sharpened my color skills with hands on exercises as well!
I completed fully immersive in-class exercises and analyzed real rooms to develop my eye for color.
My eye is trained to see paint colors and undertones in an entirely new way!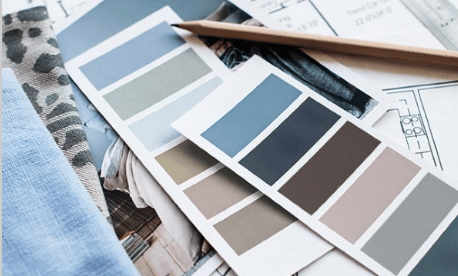 I also learned past paint color trends, the color trends that are currently here and the new paint color trends that are on the horizon.
Credibility matters in the design industry.
With my True Color Expert® Certification my clients can be assured of my trustworthiness on the subject of paint color, my professional knowledge of color and expert ability to specify paint colors!
Get expert paint color help to select the perfect color for your space.
---
Need help with furniture layout, choosing paint colors, room design, selecting furniture or updating your home?
I'm a Designer and True Color Expert® – I can help!
See my Online Interior Design & Paint Color Services and client reviews.
Email me at [email protected] for more information and rates!
I'd love to work with you!


---
Why is color so important in a room design?
Color is one of the main elements in a room and it makes the biggest impact.
Get it wrong and your entire room will look and feel off.
Color sets the tone and mood.
And color is the foundation of every great design plan.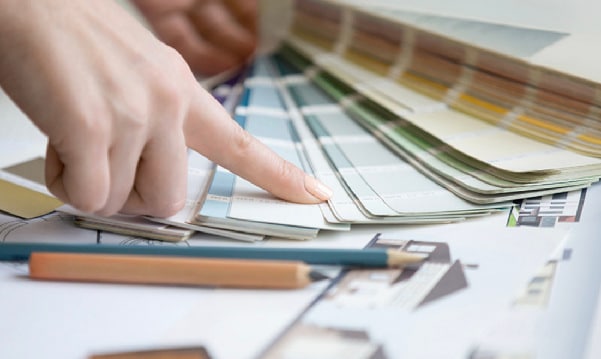 When the paint color is right in a room, it looks beautiful.
When it's wrong it's the first thing you notice.
The wrong paint color can also make a room look dated, drab and dreary.
That's why getting the paint color right, not wrong, is so important!
Paint color mistakes are expensive and a hassle
No one wants to pay a painter based on a guess that turns out wrong… and then have to pay again to repaint!
That's an expensive mistake!
And a big hassle.
Let me save you time and money – as a color expert I can select the RIGHT color based on a color system.
And I can explain clearly the rationale and how I came to that decision.
I know WHY a room feels off & the exact steps to take to fix it.
Also, I know the right paint color to work with your flooring, countertop and backsplash.
I can eliminate the overwhelming paint color decision making process for you and I can pinpoint the perfect paint color for your space.
To take your design stress and worry away.
Get paint color help from a designer with professional training.
You can alleviate your concerns with my expertise, to make beautiful and accurate design selections that work for your space and you!
I can get you unstuck and moving forward to create a beautiful room that you will love and enjoy!
Email me at [email protected] for a free quote for a paint color consult!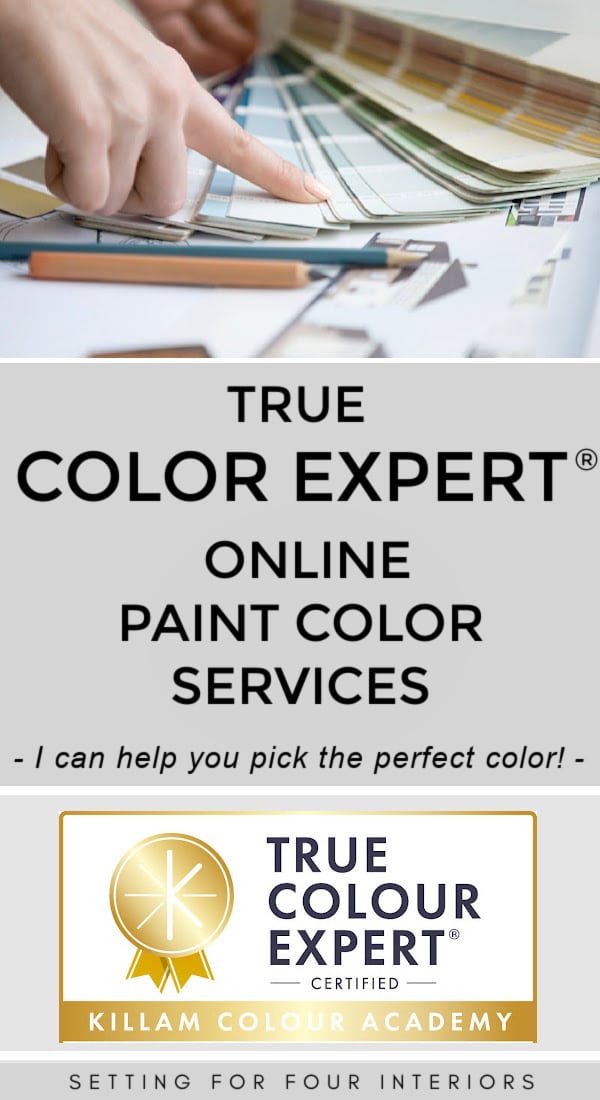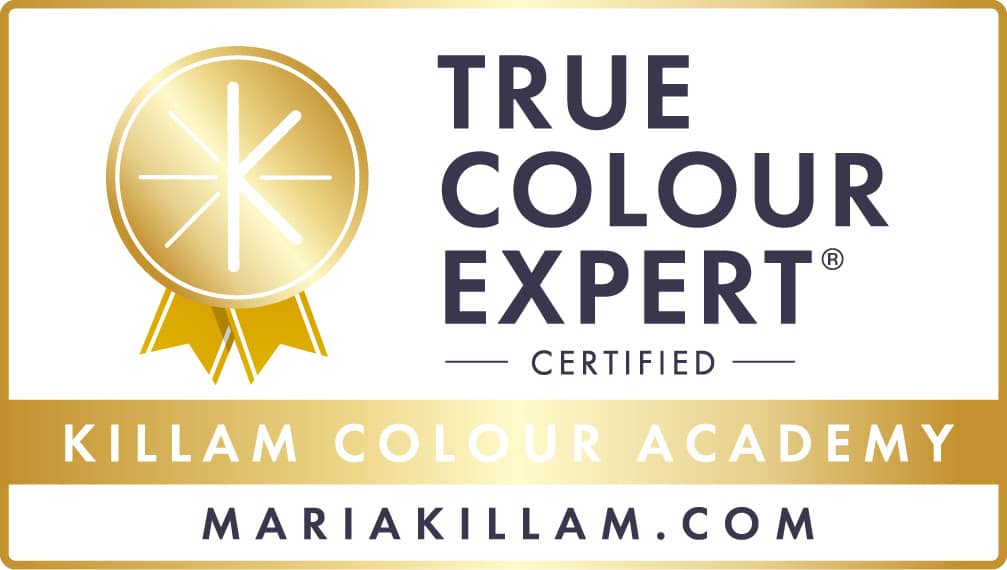 More Color and Interior Design Ideas: