Modern Classic Kitchen Design
See this beautiful modern classic kitchen e-Design I created!
Discover inspiration for your kitchen remodel or kitchen refresh.
Layers of dreamy neutrals, timeless finishes, gorgeous lighting and counter stool ideas.
Read on on how I can help you design the kitchen of your dreams!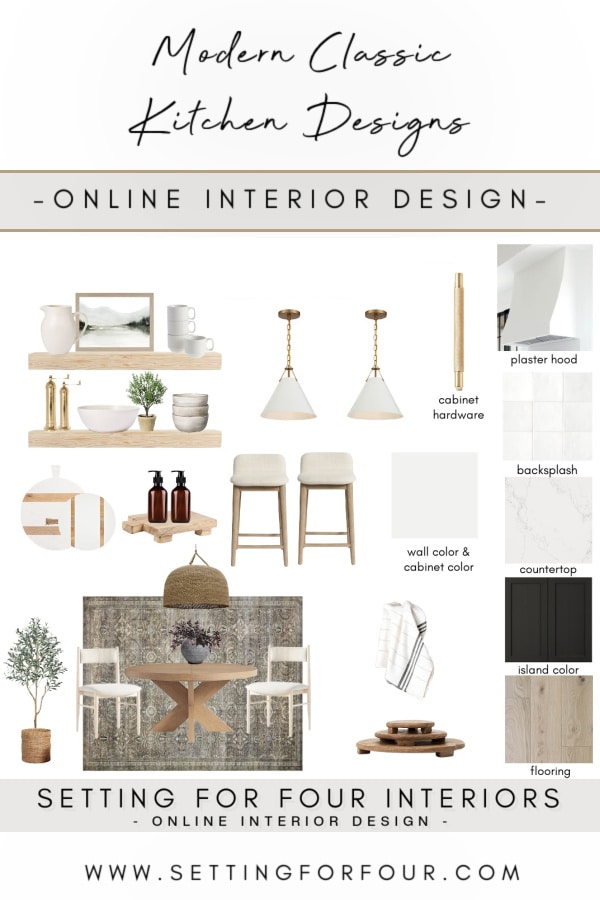 ONLINE DESIGN CONSULT: ROOM DESIGN WITH 2D DESIGN BOARD
Today I'm sharing a look at  one of my recent designs.
I hope this kitchen design brings you design and decor inspiration for your own home!
If you are interested in my design services, check out my INTERIOR DESIGN SERVICES PAGE for more information on my eDesign online design services.
You'll also find lots of client reviews there too!
I'd love to work with you to create a home you'll love!
In every design I create, I collaborate with the client to identify their design style and needs.
I create timeless and stylish room designs that function and feel the way you've always dreamed about!
Modern Classic Kitchen Design
Today I'm sharing a cohesive modern classic kitchen design.
The kitchen truly is the heart of the home!
It's the place where cherished memories are made with family and friends.
Your kitchen should be functional, beautiful and inspiring!
A place to prepare meals, catch up with family and entertain.
I love creating chic, timeless kitchens by combining warm neutrals and layers of texture.
This kitchen features beautiful quartz countertops and light woods paired with woven materials for texture, interest and style.
Have fun with open shelving, displaying vases, stacked plates and adding items that bring personality to the entire room.
And the backsplash is so chic!
YOU CAN EASILY SHOP THIS KITCHEN DESIGN BELOW:

You can find sources to my designs and home decor favorites linked directly above on my LTK page.
Be sure to FOLLOW me there to stay up to date on everything Setting for Four Interiors!
**This post contains affiliate links**

DO YOU LOVE THIS KITCHEN DESIGN?!
DO YOU HAVE SPACES IN YOUR HOME THAT NEED DESIGN HELP – BUT YOU AREN'T SURE HOW TO GET STARTED?
NEED HELP WITH FURNITURE LAYOUT, PAINT COLORS, SELECTING THE PERFECT FURNITURE, RUGS AND ACCESSORIES?
EMAIL ME AT [email protected] & LET'S GET STARTED DESIGNING YOUR DREAM ROOM TODAY!
FOLLOW THESE 3 EASY STEPS TO GET STARTED TODAY:
1. Email me at [email protected] with a brief description of the design help you're looking for
2. Include a couple of photos of your space
3. I'll email you the eDesign consult quote and you can sit back and watch your dream space come to life!
YOU WILL HAVE DIRECT ACCESS TO ME, YOUR DESIGNER, THROUGHOUT THE WHOLE PROCESS!
More Design and Decor Ideas: