In this post I'm sharing helpful small bedroom ideas to maximize space and style!
These design tips will show you how to design your small bedroom – the right way  – to create a cohesive look that feels stylish, cozy and looks pulled together!
Including small bedroom storage ideas, furniture arrangement and layout tips.
Here are 25 Small Bedroom Ideas To Maximize Space and Style
PIN THIS AND SAVE IT FOR LATER!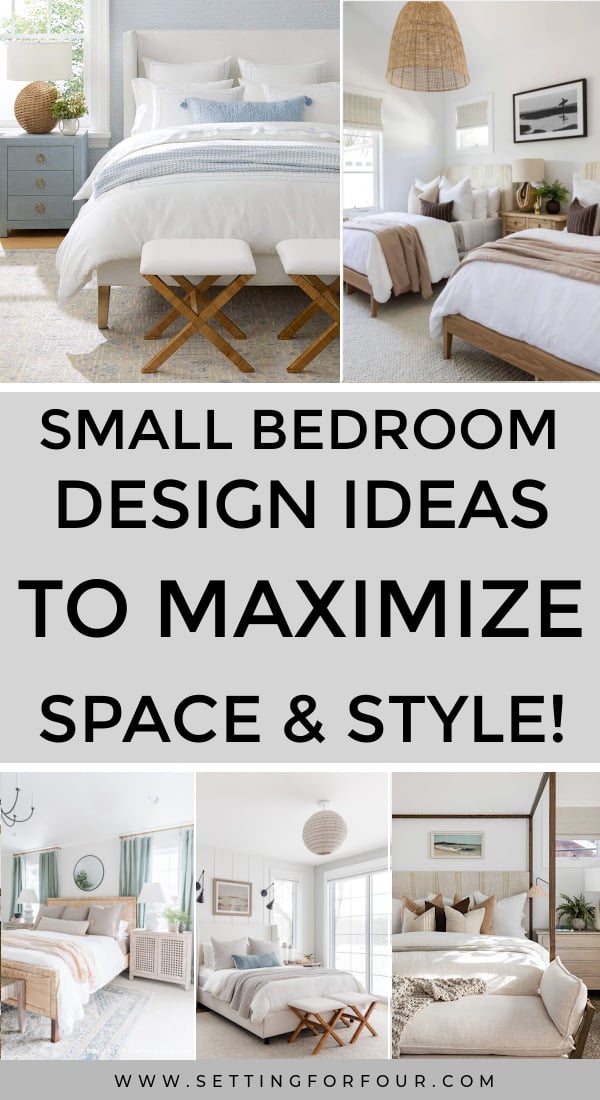 Small Bedroom Design Ideas:
Do you have a small bedroom?
Moving into a small dorm room?
Living in a studio apartment, studio condo?
No worries! I'll show you lots of solutions and ways that you can create a beautiful & functional bedroom in a small space!
The biggest question regarding a small bedroom is how do you fit a bed, nightstands and a dresser in it?
When your bedroom is teeny tiny it can feel next to impossible to fit the bedroom furniture into it and make it look stylish!
There are a LOT of design solutions to make a small bedroom work!
Let's get started!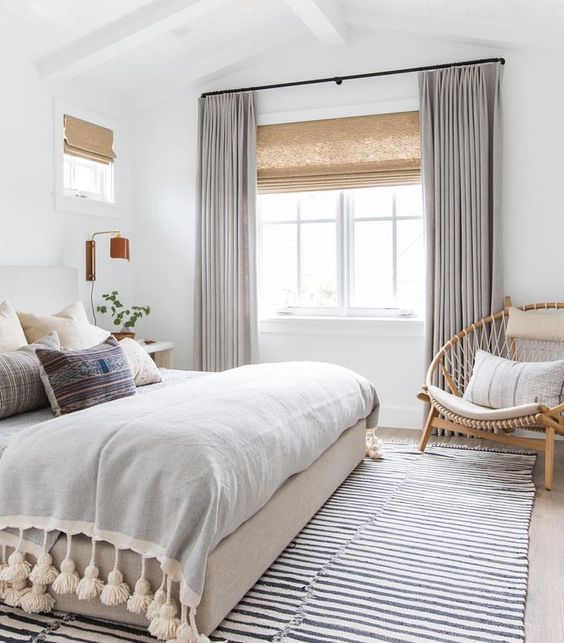 source: Amber Interiors
---
Do you need help with furniture layout, room design, selecting furniture or choosing paint colors?
See my e-design & paint color services info – and client reviews! 
Email me at [email protected] for more info!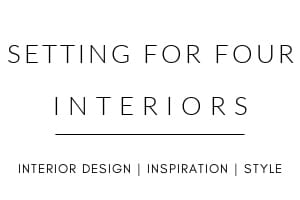 ---
1. Bedroom floor plan
The first step is to create a floor plan drawing of your bedroom.
Draw your bedroom's size and shape on a piece of graph paper.
Include windows and doors so that you know how much wall space you have below windows and beside windows and doors.
Also measure the ceiling height so you know how much vertical space you have to work with.
See How to Make A Mood Board For Interior Design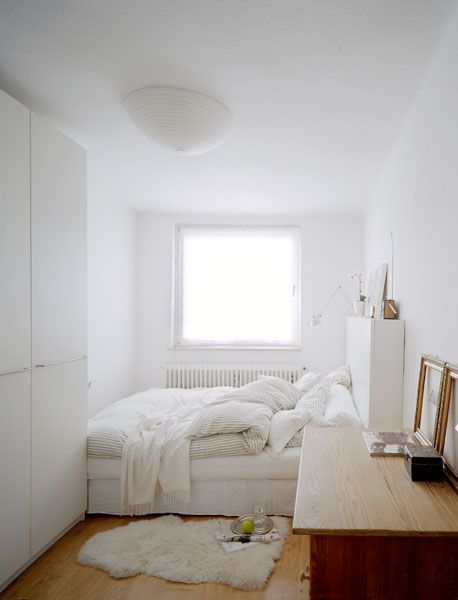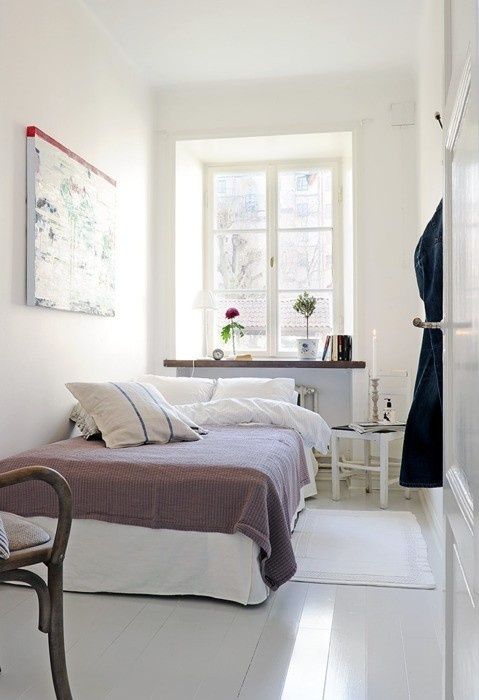 2. Bed location and bed size
Now that you have your measurements determine which wall your bed will go on.
Also determine the biggest sized bed that can fit.
It's best for a bed to go on a blank wall area, but if the bed headboard is low it could go under a window frame or in front of a window.
Note: When locating your bed remember that a bed needs a hand's width minimum, on each side, to arrange the bedding when making the bed. Don't put the bed right up against a wall!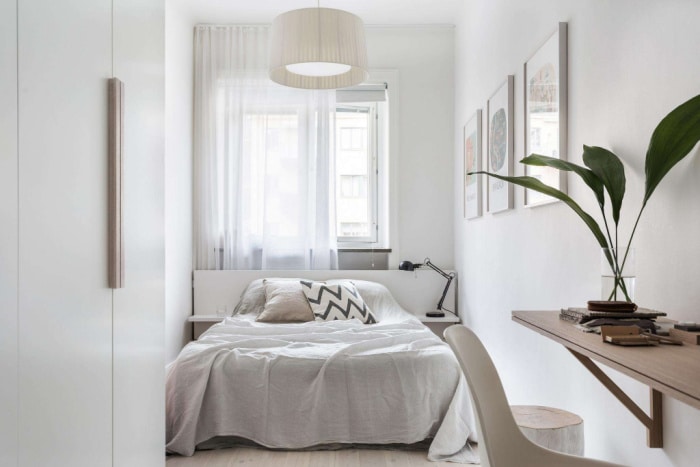 3. Is it Ok to put a bed in front of a window?
Yes, you can put a bed in front of a window!
Just make sure that there is room behind the bed for the window drapes (if you have drapes) to move across the rod.
Also ensure there's room for the drapes to hang when they are opened and pulled back to the ends of the rod.
Note: A bed with a low headboard looks better in front of a window compared to a tall headboard.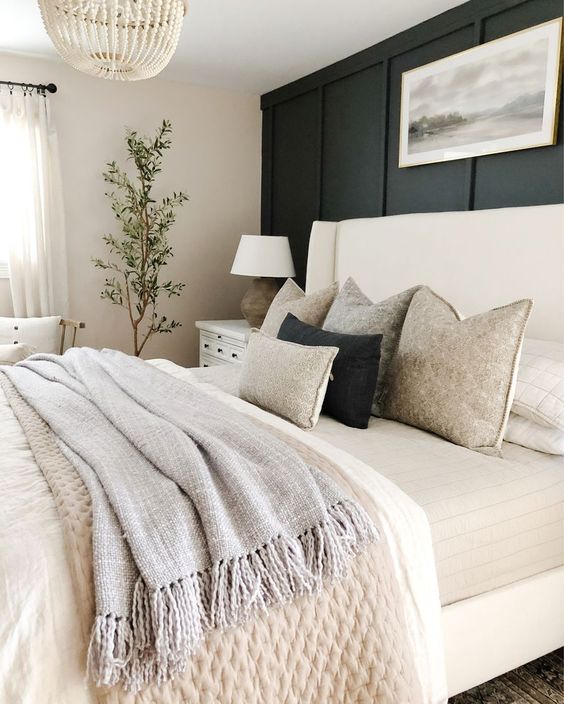 4. How do I arrange my small bedroom?
This may be obvious, but it's critical to practice restraint in a small bedroom.
Keep your furniture pieces to a minimum and eliminate clutter.
Eliminate bulky beds, chairs, cabinets and desks.
Use sleek, clean lined pieces that take up as little space as possible.
Keep as much as possible off of the floor too.
Your bed is the first piece of furniture to be arranged in your bedroom.
Once you have that decided you can add one piece of furniture at a time until you have maxed out the square footage of the room.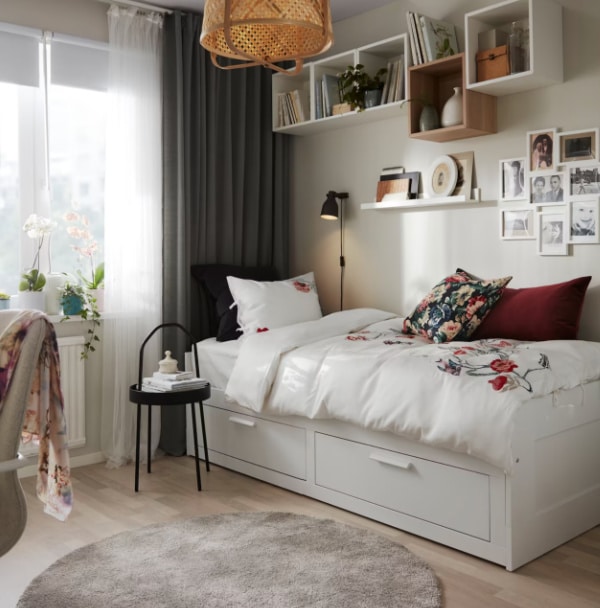 Bed with Pull-Out Drawer Storage at end of bed and USB outlet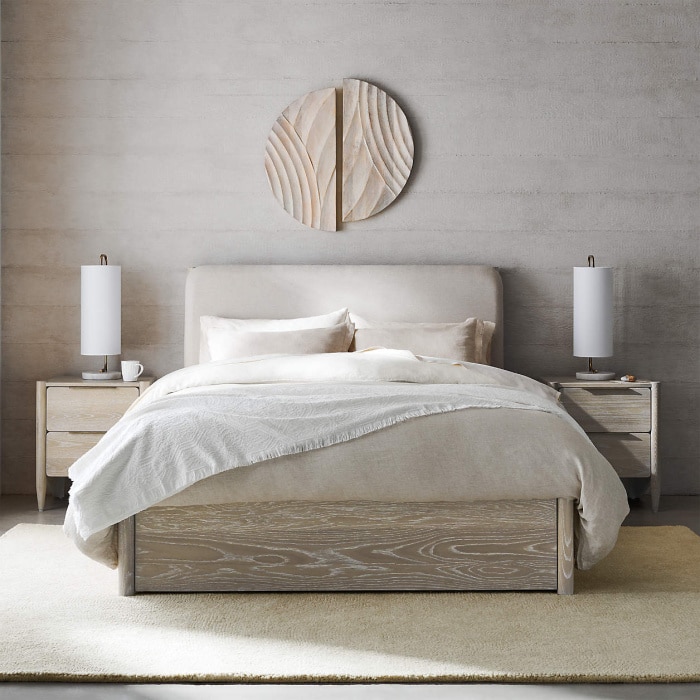 5. Storage beds with pull out drawers
When you have a small bedroom you need to make your bed as functional and versatile as possible.
This means having a bed with storage built into it to store clothing, shoes, linens ect.
A storage beds with pull out drawers underneath the bed frame, built right in, is the perfect solution!
This will allow you to eliminate a dresser or chest of drawers and maximize the foot print of your small bedroom.
Here are my favorite stylish storage beds :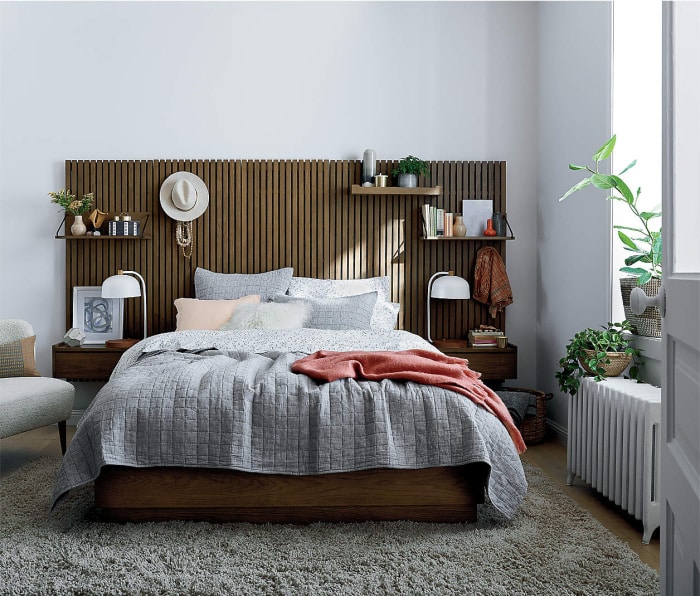 6. Turn your headboard into storage
Another storage bed idea is this Space Saving Bed With Storage Panels!
Such a clever design!
It's part of the space-saving Batten modular storage system.
Five slatted Batten back panels add loads of storage options to the Batten plinth-base bed.
Add a pair of floating nightstands, hooks and floating shelves to the panels to maximize storage and display.
The components work together in a customizable arrangement!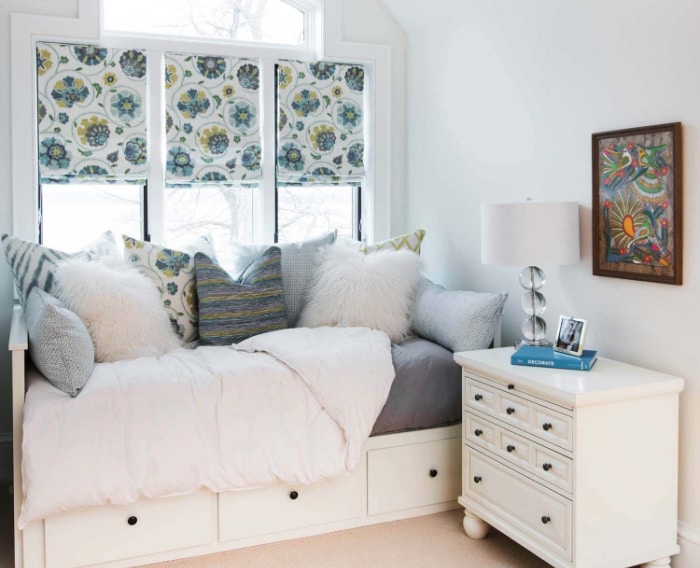 7. Swap the bed for a sofa bed or daybed
Barely have space to move in your bedroom?
Add a sofa bed or day bed!
Here are a ton of gorgeous sleeper sofa ideas!
They take up less square footage and can sit right against the wall.
For sofa beds- just make sure that you have room to completely pull out the sofa bed!
See these beautiful day beds: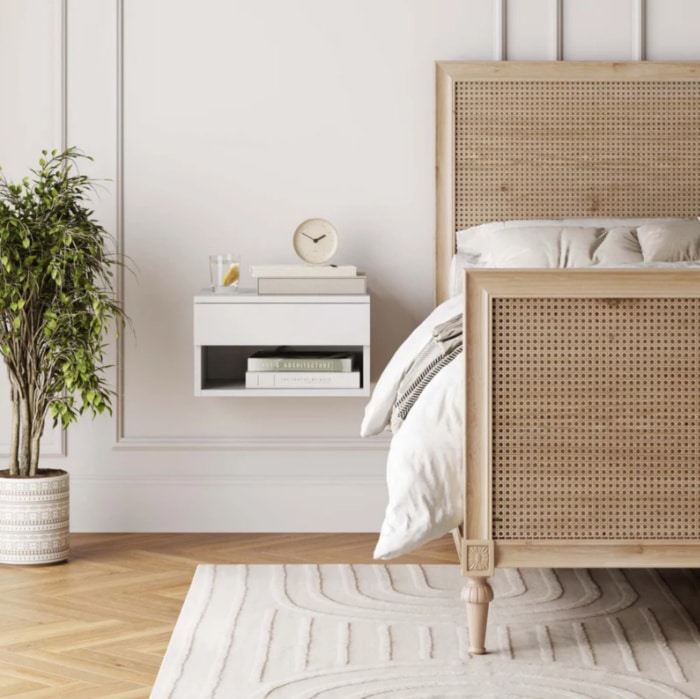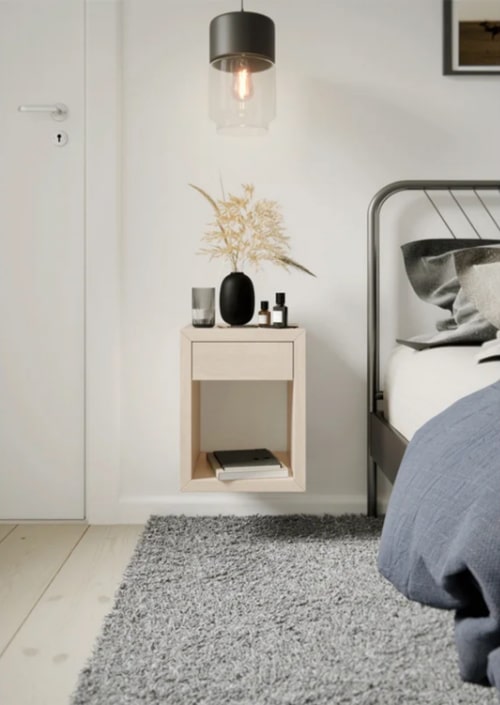 8. Floating nightstands and shelves
Skip the regular nightstand and add a floating nightstand or shelf instead!
Because they don't sit on the floor they take up less space.
These are my favorite floating nightstand and floating shelf options:


This bedroom is filled with lots of small bedroom design ideas!
Wall shelves, wall sconce, hanging ceiling pendant light, storage drawers under bed, table for a nightstand!
9. Skip the nightstand
When space is tight, skip the nightstand altogether and use something else instead!
Garden stools, wood stools and cocktail tables add just the right amount of surface to display your device, a glass, plant or book!
Here are some ideas: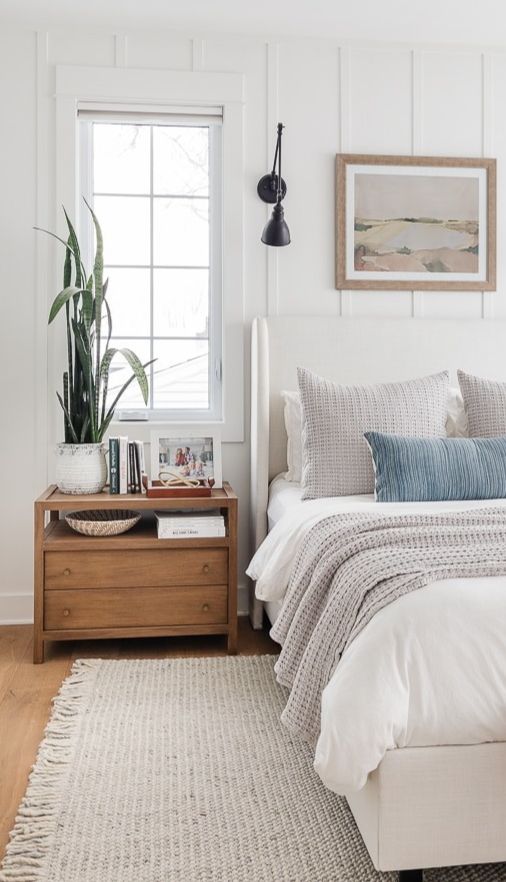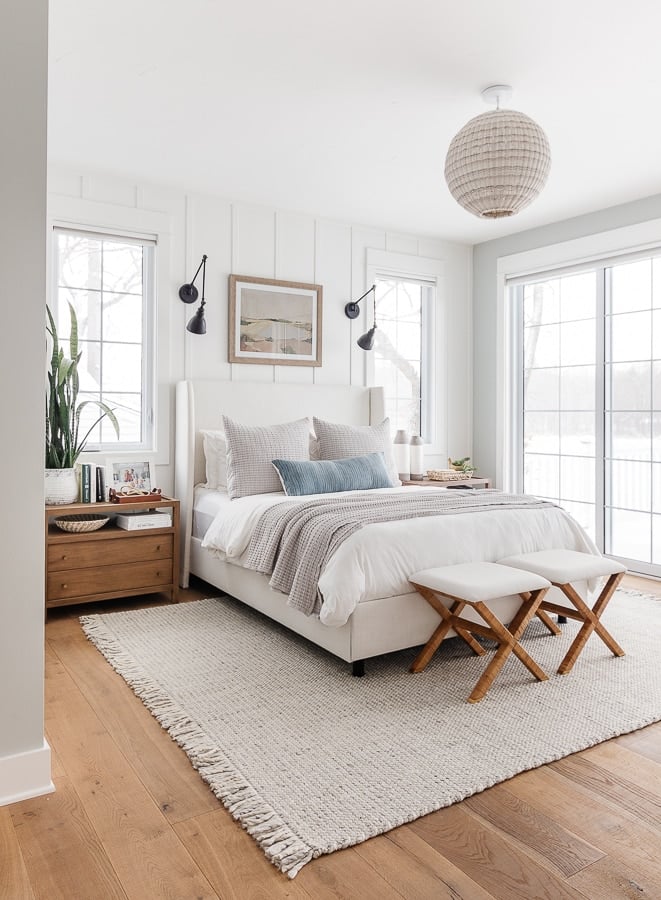 10. Use wall sconces instead of table lamps
Table lamps can require a large surface to sit on.
Skip the table lamps and add plug in wall sconces beside and above the bed.
Wall sconces that have a head that pivots or pivoting arms will allow you to move the light where you need it.
It's always essential to have good lighting beside the bed for reading or surfing your devices.
This beautiful wall sconce has a built in shelf with a USB outlet, so you can charge your devices!
So genius!
See these gorgeous wall sconces- 2 are hardwired but there are also plug-in and battery operated sconces: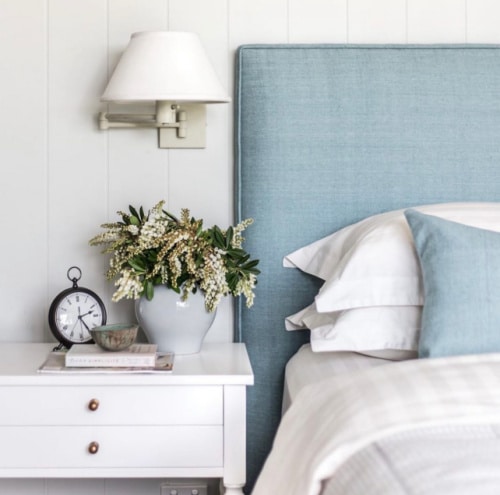 How far should sconces be hung from the bed?
Design tip: Place the wall sconce so the middle of the light bulb is 5′ above the floor.
Or 30-36″ from top of the mattress.
Hang it 10-12″ from the edge of the bed.
Adjust these measurements if you are tall.
Overall,  you want the lightbulb to be at a position where it comfortable lights your book or device when you are sitting and laying in bed.
These are my favorite plug in wall sconces:
See these gorgeous battery operated and plug in wall sconces: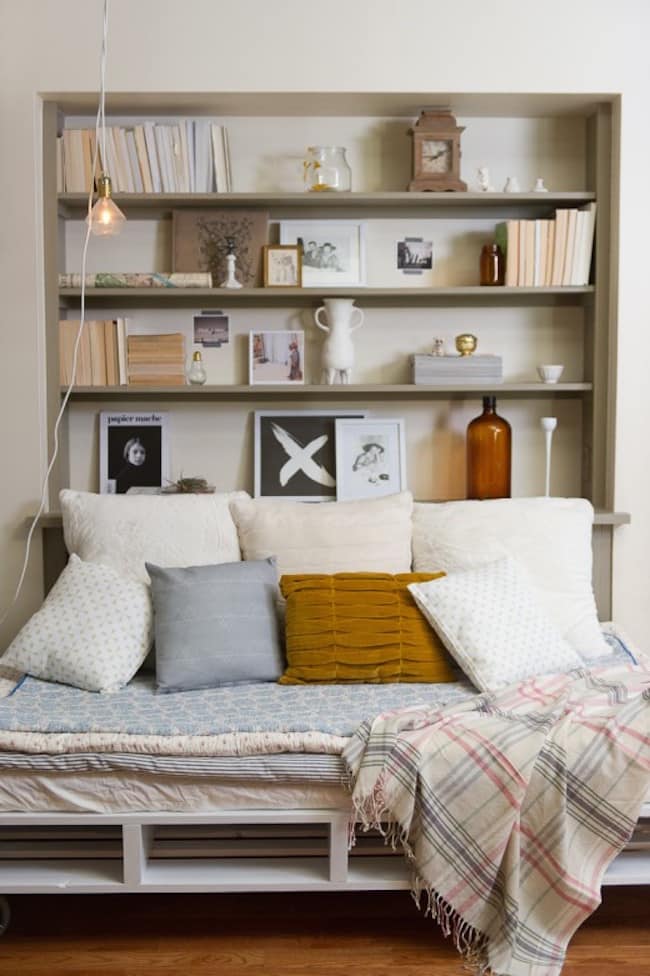 11. Use hanging pendant lights instead of table lamps
The other lighting option is to hang pendant lights from the ceiling and skip the table lamps.
This looks so chic!
This looks best when the pendant shades are slim in shape.
Here are some hanging pendant light options that will look beautiful hanging on each side of the bed.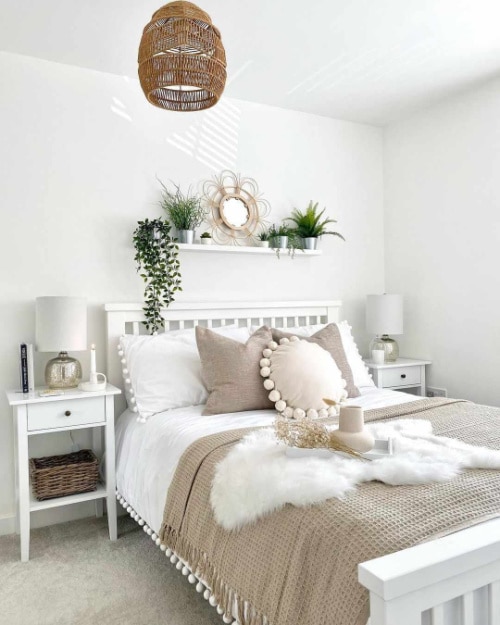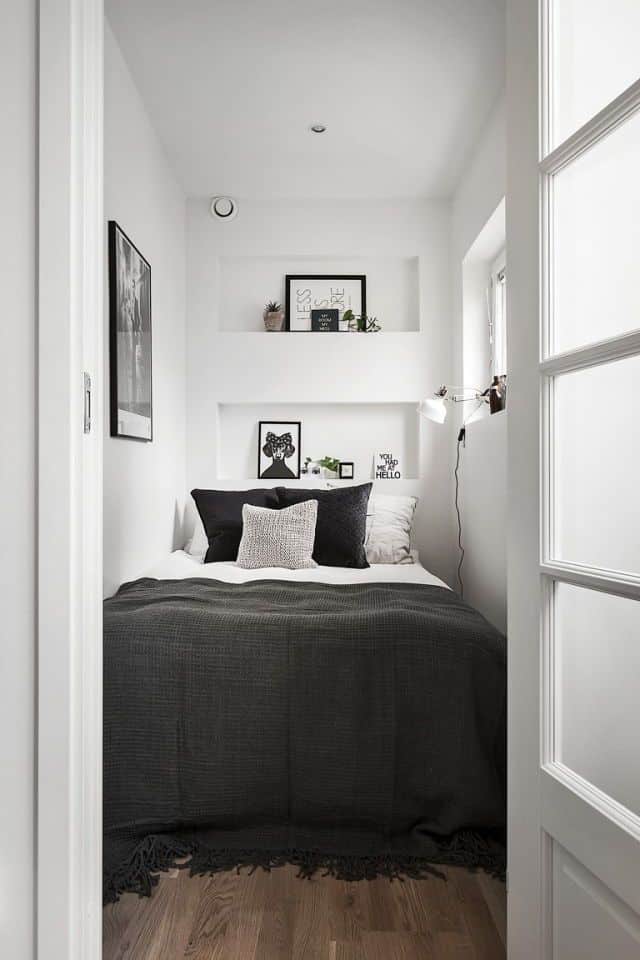 12. Use the vertical space
In a small bedroom using your vertical space is essential!
From the floor to the ceiling, use your walls as much as possible!
Even if you have very little wall space, with clever design it's possible to create a beautiful, serene bedroom.
Add baskets to the top of a wardrobe cabinet.
Add a few floating shelves to display decor and decorative boxes.
An etagere or bookshelf is a beautiful way to add extra storage and style too!
A cubby bookshelf filled with gorgeous baskets will give you more storage to tuck away everything you need.
Plants displayed in hanging wall planters will add style and texture to the bedroom.
Hang narrow art shelves to display art, small candleholders and sculptures
Here are some beautiful shelves, etageres and bookcases: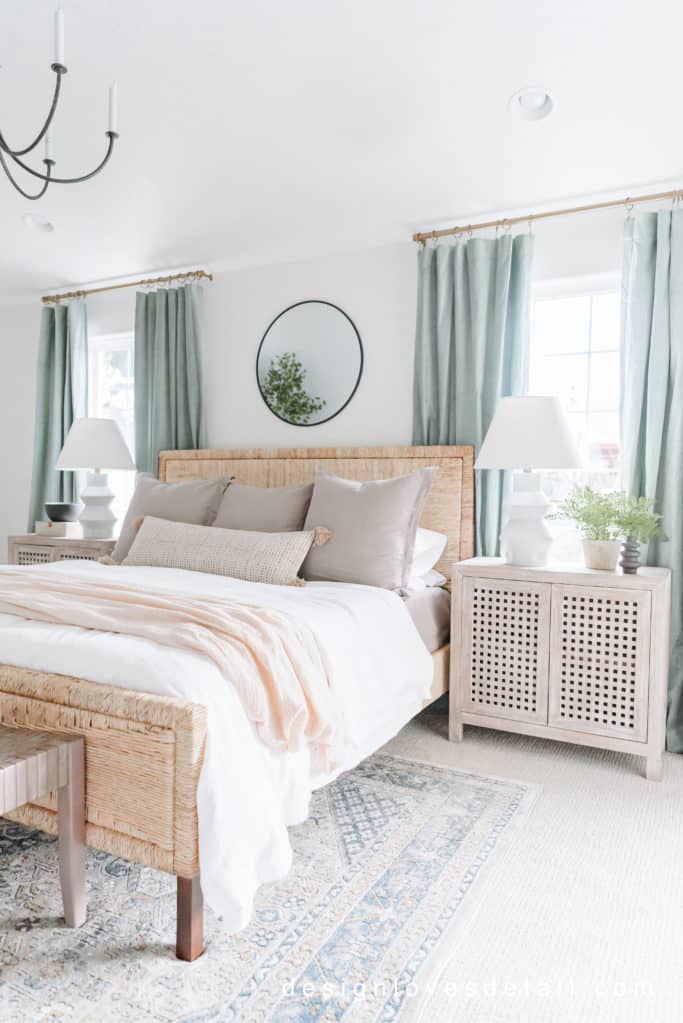 13. Mirrors for a small bedroom
Adding a mirror or two to a small bedroom will make it feel bigger and brighter.
It will bounce the light around which will make your space feel larger.
See 5 Design Tricks To Brighten A Dark Room
Lean a floor mirror against a wall or hang a wall mirror above the bed.
Here are some gorgeous floor and wall mirrors: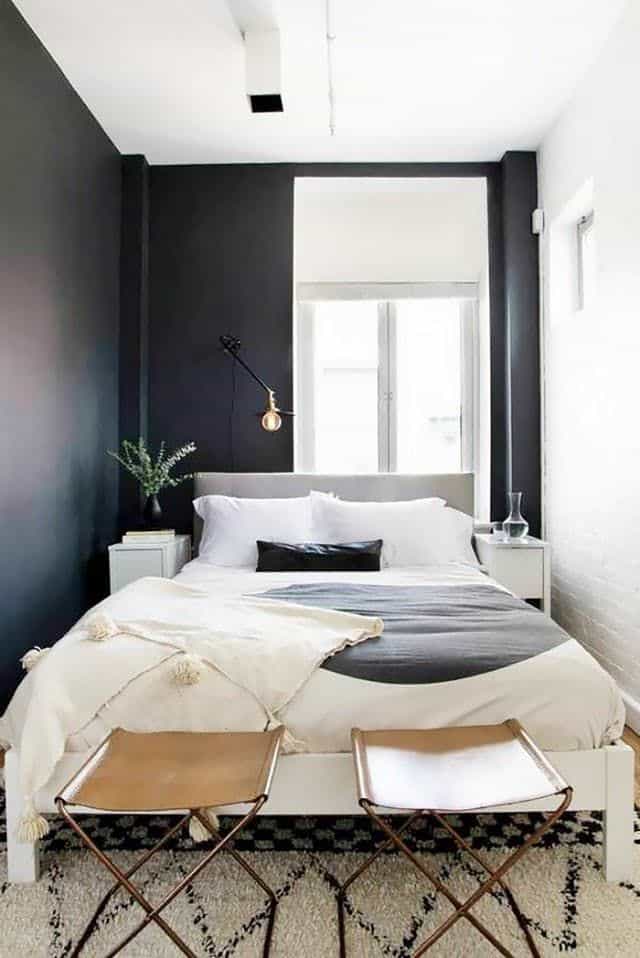 14. Skip the drapes
If your small bedroom doesn't have room for drapes to hang from the wall – use roman shades or horizontal blinds!
They won't take up any floor space and will keep your small bedroom looking neat and clean-lined!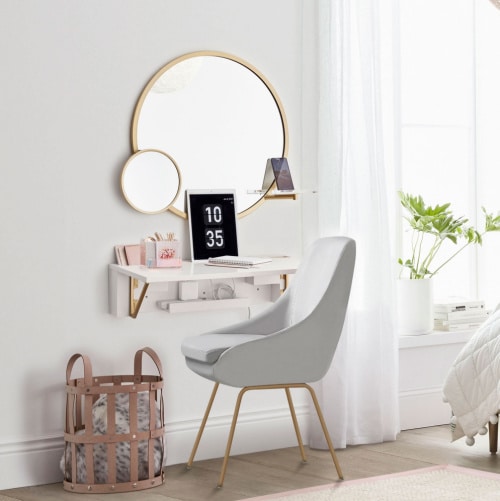 15. Small bedroom desk ideas
Skip a traditional desk and add a wall desk!
This folding desk with USB port takes up very little space.
Check out these beautiful wall desk ideas: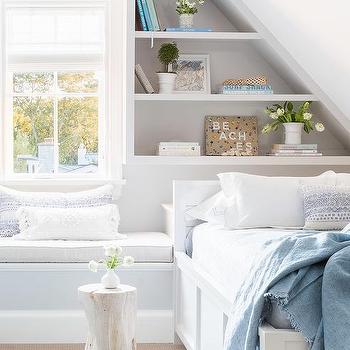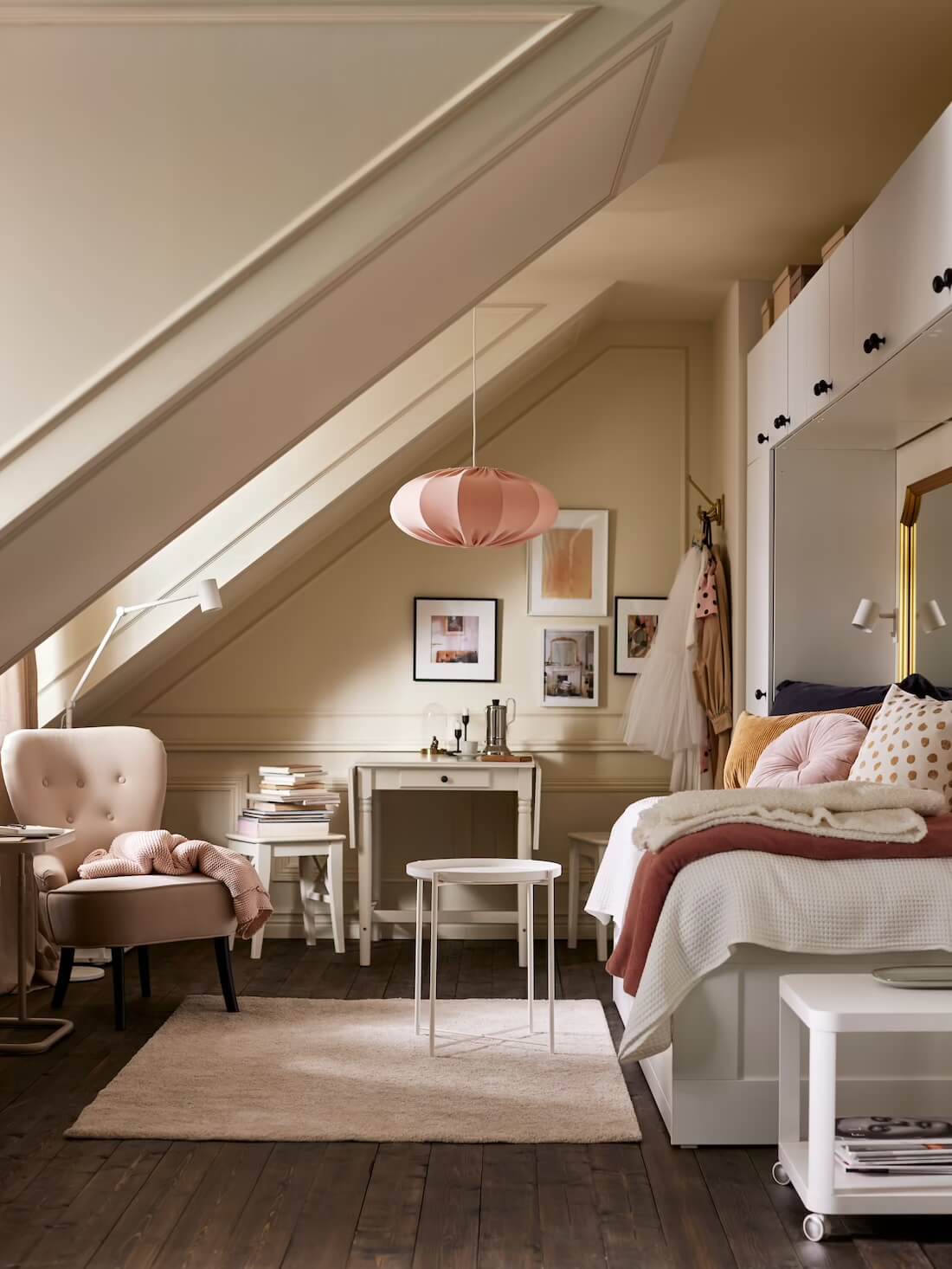 16. Turn awkward corners into storage
If you have an angled ceiling or awkward nook turn it into built in storage or add a small chair.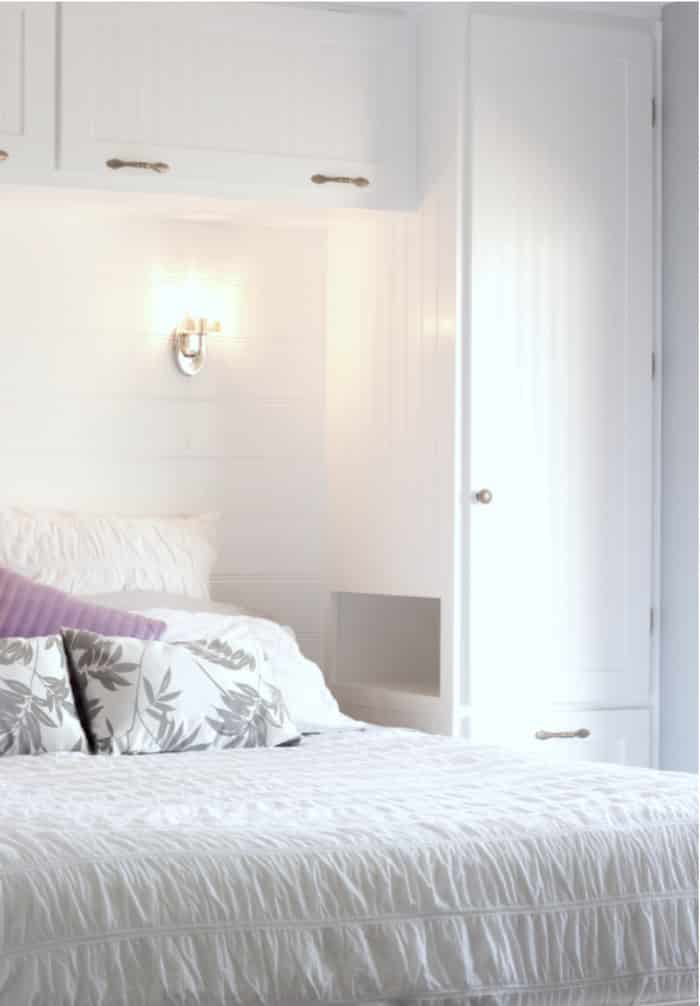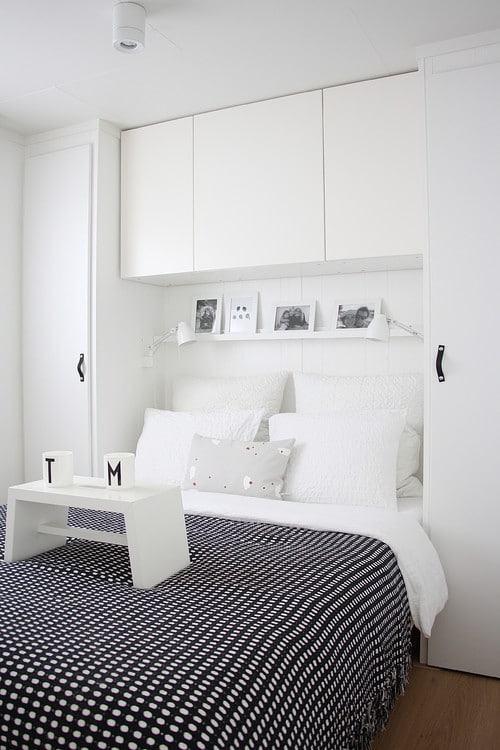 17. Add closet storage on each side of the bed
When your bedroom is tight add a wardrobe cabinet on both sides of the bed
You can paint it the same color as the walls for a chic 'built-in-look'!
This is a great idea if you don't have a dedicated closet or just need more room to hang clothes and other items.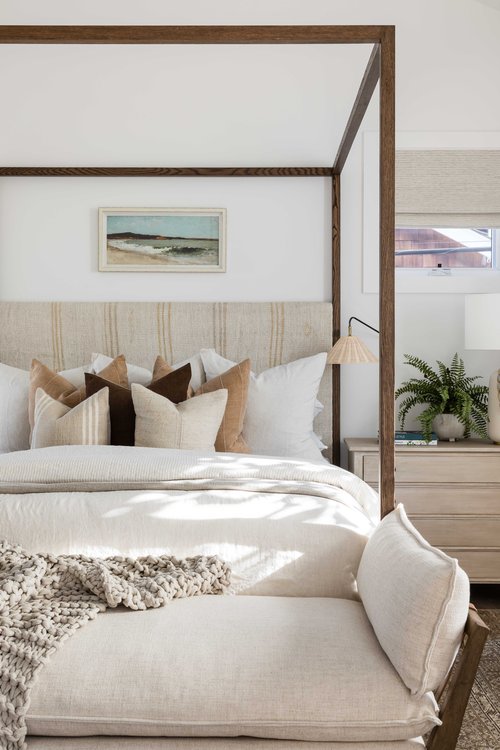 18. Use a storage bench
When space is at a premium you need all of your furniture pieces to be versatile!
Use multifunctional furniture pieces like a storage bench instead of a regular bench to store seasonal clothing, shoes, extra bedding, towels ect.
Here are some beautiful storage bench options:

See these amazing under bed storage drawers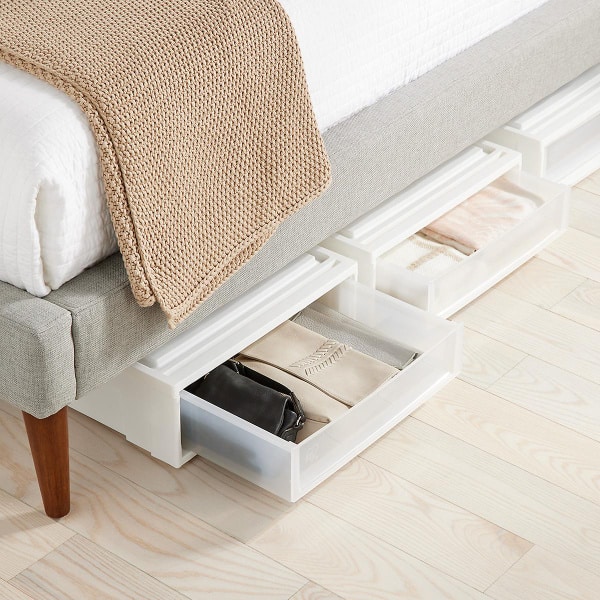 19. Under the bed storage bins
Keep one or two of these functional hardworking storage bins under the bed.
They are perfect for storing clothing, towels and bedding!
Here are my favorite under the bed storage bins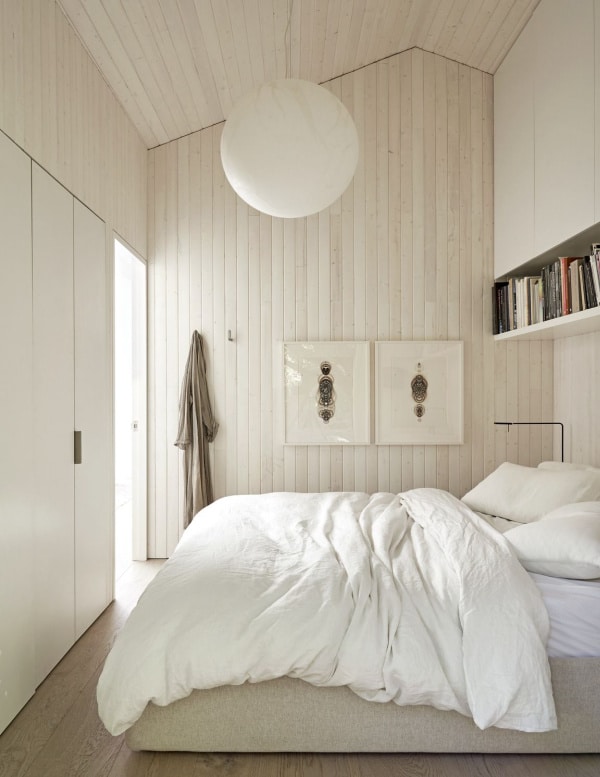 20. Paint color
Yes! The color of your small bedroom is a big design moment!
Which color is best for a small bedroom?
I recommend using light airy colors like white, cream or ivory to make your tight bedroom feel as big as possible.
See Top 50 Bestselling Paint Colors At Sherwin Williams
See How To Identify Paint Color Undertones – To Choose The Right Color
These are my favorite white/ beige neutrals:
SW Pure White
SW Alabaster
Benjamin Moore White Dove
Chantilly Lace
Sherwin Williams Reflection- a light Gray Paint Color
Other popular neutrals are:
Agreeable Gray – Undertones & Coordinating Colors
Repose Gray – Undertones & Coordinating Colors
Even a light-medium tone sage green will look beautiful.
2 beautiful and popular greens are:
Sherwin Williams Evergreen Fog 
You also can use a dark dramatic color like black or a jewel tone to make your small space feel cozy!
My favorite black paint color is:
SW Tricorn Black
For a bold dramatic jewel tone try: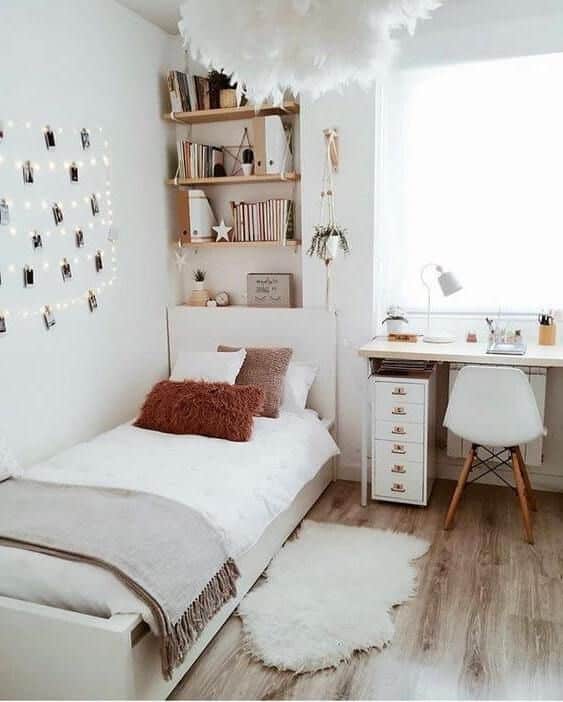 21. Desk space
Create a beautiful functional work zone with these design tricks.
If you need a desk in your small bedroom you can cleverly add workspace with a floating desk
Add hanging magnetic panels to hang cups to store pens/pencils ect
Hang a plug in wall sconce or even a battery operated picture light for desk lighting.
Here are some small bedroom desk ideas:

See – 11 Essentials To Create A Beautiful Small Home Office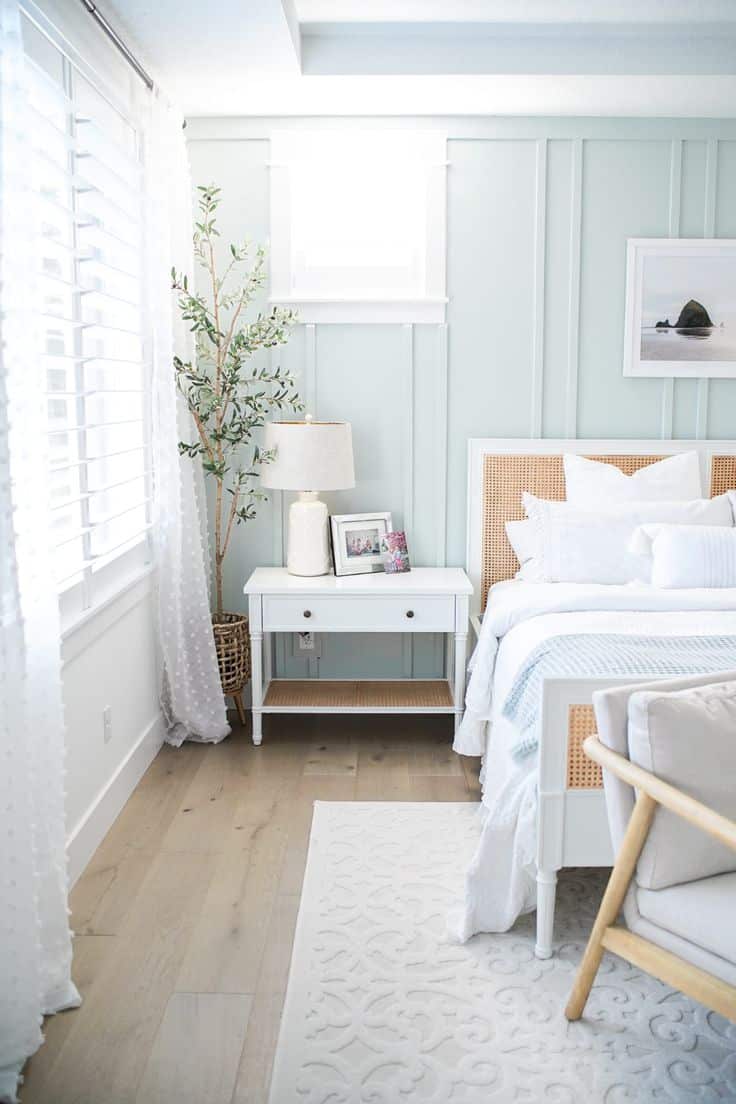 22. Tone on tone color scheme
Create a restful bedroom by duplicating the wall color in your bedding and decor.
A neutral on neutral color palette will feel serene and make you room look bigger.
5 Ways To Create A Whole Home Paint Color Scheme
Soothing Bedroom Color Schemes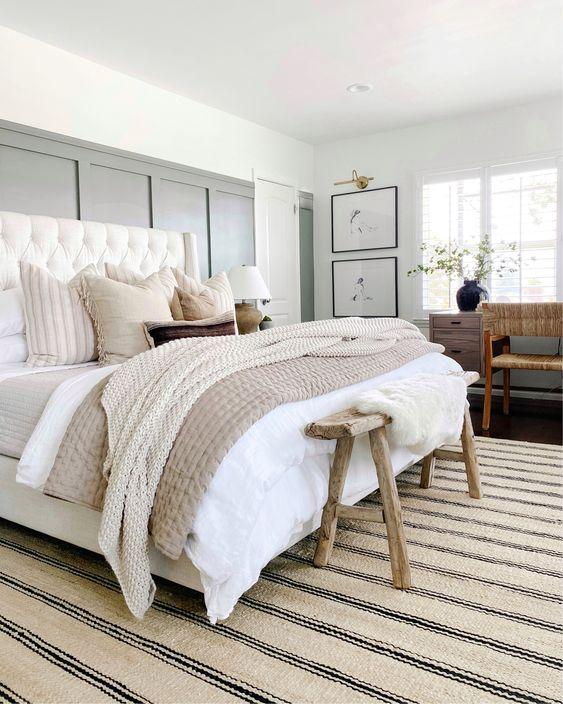 23. Area rugs
In a small bedroom adding an area rug is essential.
You can even layer an area rug on top of wall to wall carpeting!
An area rug will make your bedroom feel cozy and will add style and pattern.
Most importantly it will ground your bed and add visual interest to the room.
Here are my favorite area rugs: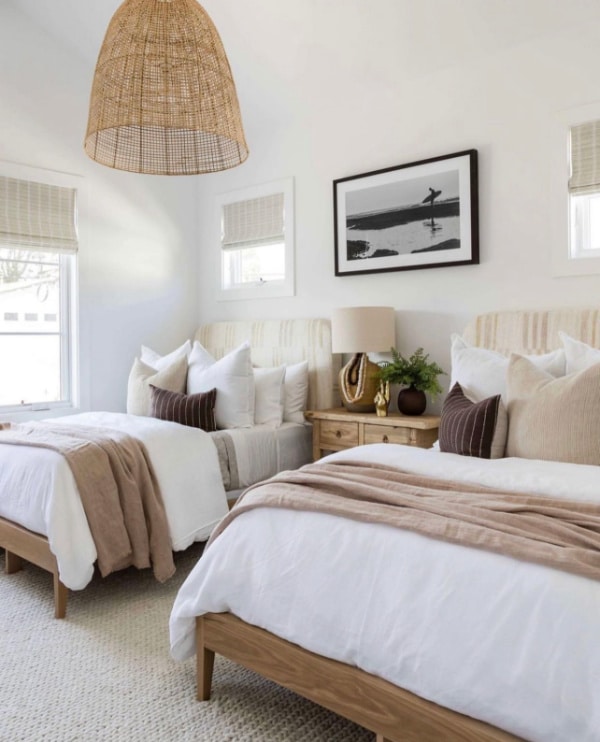 24. Can you fit 2 beds into a small bedroom?
Yes you can! Use 2 twin beds and add a small nightstand or wall shelf in between.
Add roman shades or woven blinds to windows instead of curtains to free up as much space as possible.
Add a beautiful pendant light to add wow factor.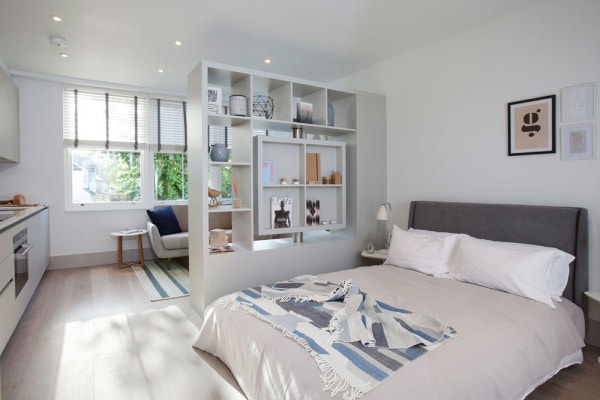 25. Visit stores that cater to apartment and condo living, dorm living and container stores
Visiting stores that cater to small spaces will give you lots of inspiration for your small bedroom!
These stores often display room vignettes so you can get tons of great ideas.
Apartment sized furniture is designed in smaller shapes and sizes – to fit small condos and apartments.
So they are perfect for small bedroom furniture selection!
Here are some of my favorite stores for small space inspiration:
I hope you enjoyed these small bedroom design ideas!
Do you have any other design tricks that you use in your small bedroom to make it feel bigger and more functional?
More Design and Decor Ideas: