6 small space landscaping plants for small yards! Do you have grand landscaping dreams but are limited on space? Living with a small yard or even absence of a yard doesn't mean you have to live a landscape free life! There are plenty of plants you can grow in your yard even if you are working with a tiny piece of land. Look below at these 6 landscaping plants to grow if you are limited on space, so you can see how simple it can be to get a great looking yard no matter how small it may be.
This post contains affiliate links. Funds from affiliates help pay for web hosting, domain registration, email delivery, and other fees to keep settingforfour.com up and running. Thanks for your support! Click here to read my full disclosure policy.


6 Small Space Landscaping Plants
1. Morning glories.
Morning glories can be easily grown from seed costing them just pennies per plant. Plant them against a fence, mailbox, or trellis and these beauties will grow vertically! When limited on yard space, vertical growing blooms can add tons of color without taking up much room.
2. Clematis.
While we are talking about vertically growing plants, let's talk about clematis! These big and beautiful blooms also grow upwards, and do well against an arbor or trellis of some type. You don't have to worry about them bushing out, which helps you make the most of your space.
3. Seasonal bulbs.
The nice thing about planting seasonal bulbs is you can control their growth. You can plant the bulbs exactly where you wish for them to grow, and know you will only get 1-2 blooms for each bulb. Each year, you can easily thin them out and help keep them under control. Some seasonal bulb ideas include dahlias, daffodils and tulips!
4. Dusty Miller.
Dusty Miller is an annual that can be purchased by the flat and used to make beautiful borders. It is quite affordable, doesn't grow every big, and does not spread. This is an easy way to control where the plant goes and stays! The silver foliage of this plant is beautiful, and can be ripped out and replanted from season to season. This allows you to change things up each season if you wish.
5. Ivy.
The nice thing about growing ivy is although it spreads, it can be trained. You can contain it to a flower bed or border, or even trail it to grow vertically. You can choose from many shades of green and even white, and use ivy to fill in spaces so the yard looks full.
6. Allium.
These are blooms that pack a bunch! Grown from bulbs, allium will grow a single tall bloom, with most measuring at least 3 feet tall. At the end of the stem a bright purple puff blooms, creating quite a visual impact! These tall and slender flowers take up little space with their vertical growth, but offer quite a bit of color and fun.
As you can see, you have many options when it comes to landscaping even in the smallest of spaces. Consider these 6 landscaping plants to grow if you are limited on space, and see how beautiful they can be!
I hope you liked my post on 6 Small Space Landscaping Plants! Do you have any other plants that you recommend for small spaces?
PLEASE PIN THIS AND SHARE IT WITH YOUR FRIENDS!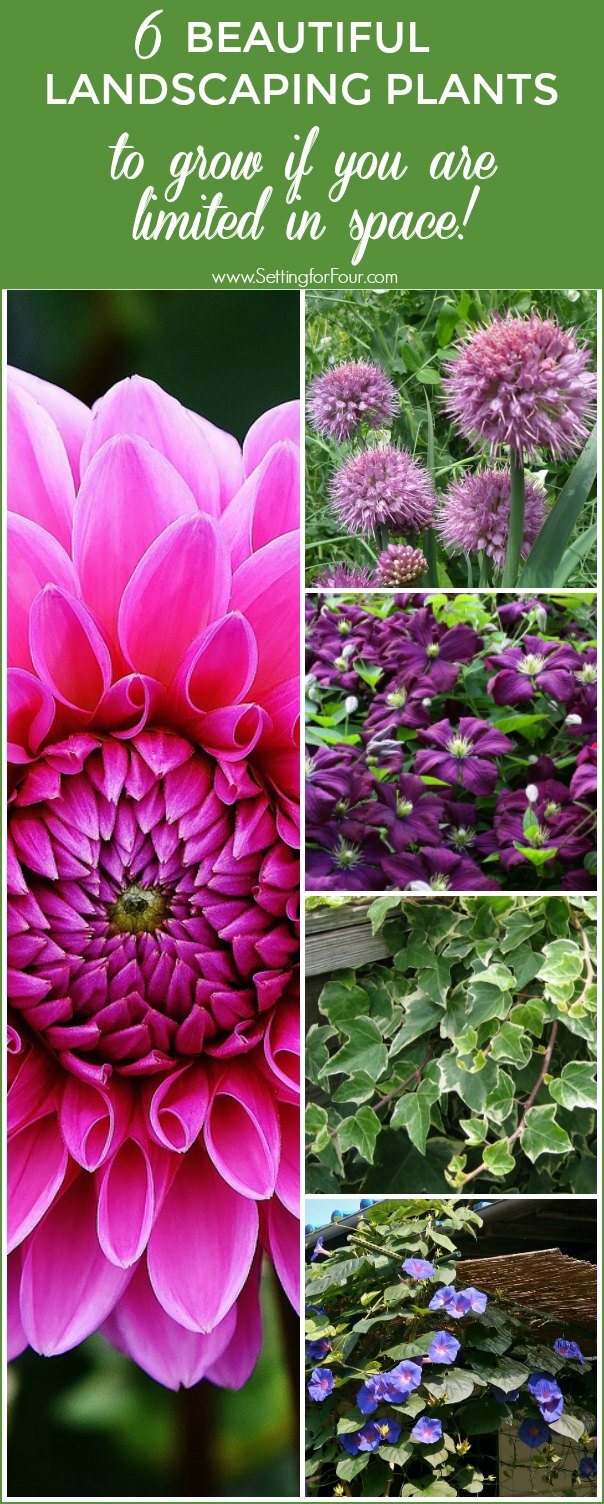 Other outdoor and gardening ideas:
Landscaping Around A Lamp Post
How to Make Your Small Outdoor Space Look Bigger