See my landscaping around a lamp post tips and tricks to blend a lamp post into the front of your home and improve it's appearance! Lamp posts tend to stick out like a sore thumb and look bare – especially if they are in the front yard – but there are ways to garden around it by adding flowers and plants to increase your home's curb appeal!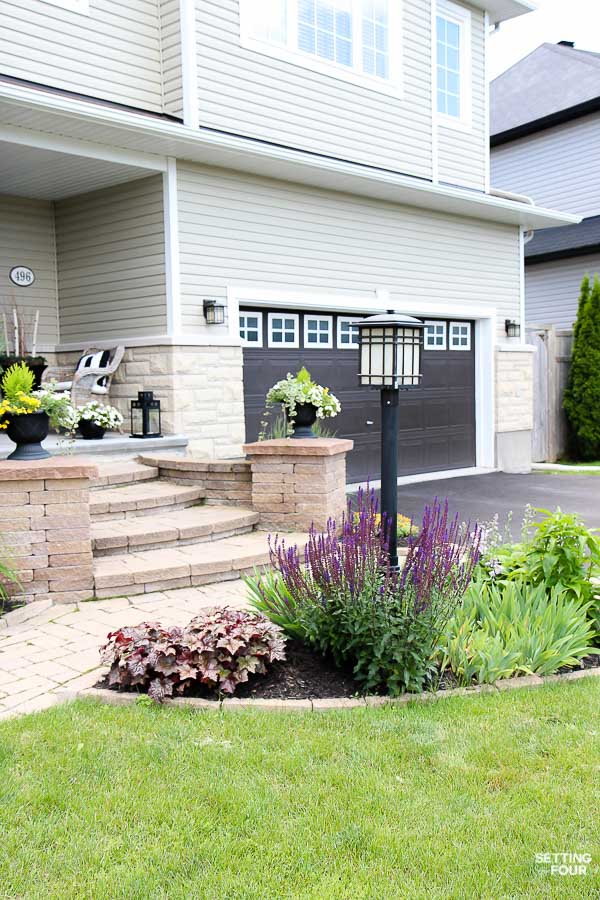 Landscaping Around A Lamp Post
Lamp posts are important for lighting pathways and for safety – especially at the front of your home. But their tall black poles can look bare and cold as well as detract from the overall look of your home.
This is the solution! By adding a flower bed filled with strategic species of flowers and plants you can absolutely improve a lamp post's looks and blend it into your yard!
Here's what we did to camouflage our lamp post and make it look as beautiful as possible.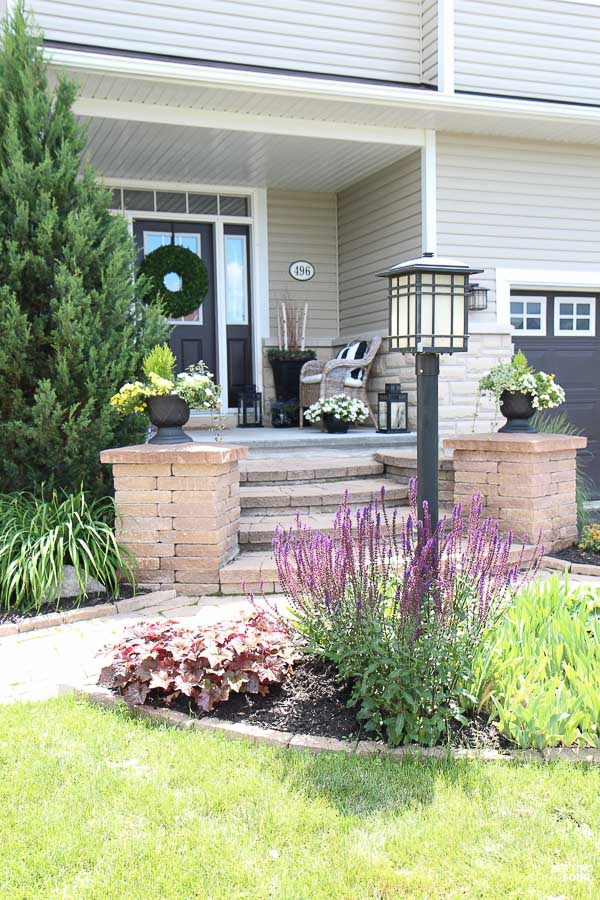 We have a flower bed that goes all the way around the lamp post. It's a pie shape with the lamp post off center. This pie shaped flower bed adds a beautiful organic curvy look to the straight lines of the post.
The plants and flowers that we added are both tall and colorful – so they hide the base of the lamp post perfectly and make it look beautiful!
The flower garden is big enough to really detract from the lamp post itself.
We used plants that have showy flowers and leaves in cool colors: blue and purple. These cool flower and leaf colors look stunning with our home's tan siding, brown roof and brown front door (see our front door color here!)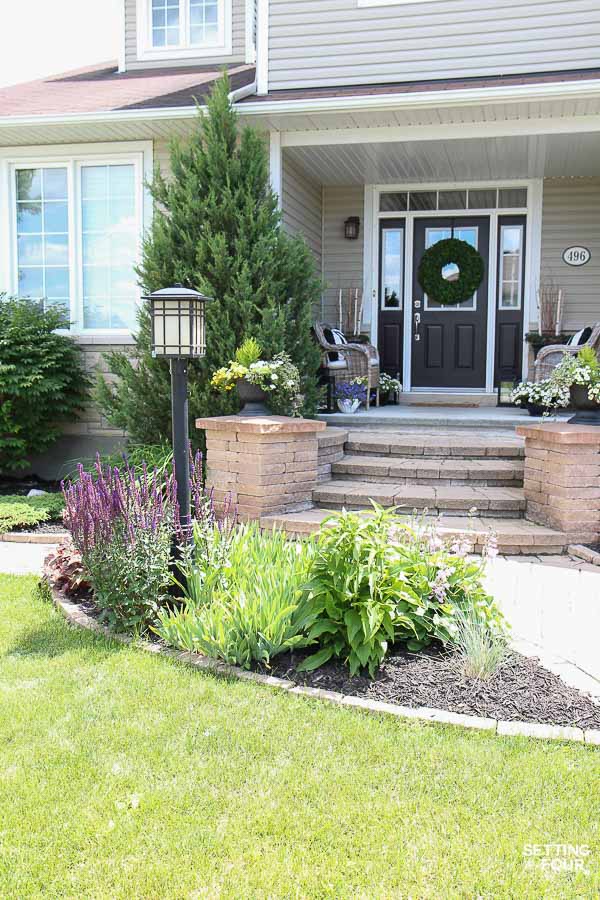 We added:
8 Blue Iris (they aren't in bloom any longer unfortunately!) – they are to the right of the lamp post
2 purple Salvia plants – one on each side of the lamp post so that the flowers envelope the post
1 White Coneflower – that's the tall one in the front – it hasn't bloomed yet!
1 Heuchera Coral Bells – at the far left of the flower bed.
1 Blue Oat Grass-the spikey plant at the far right of the flower bed.
I highly recommend planting salvia at the base of the lamp post – the tall spiky flowers look stunning around the pole – with a breeze they wave and bend beautifully!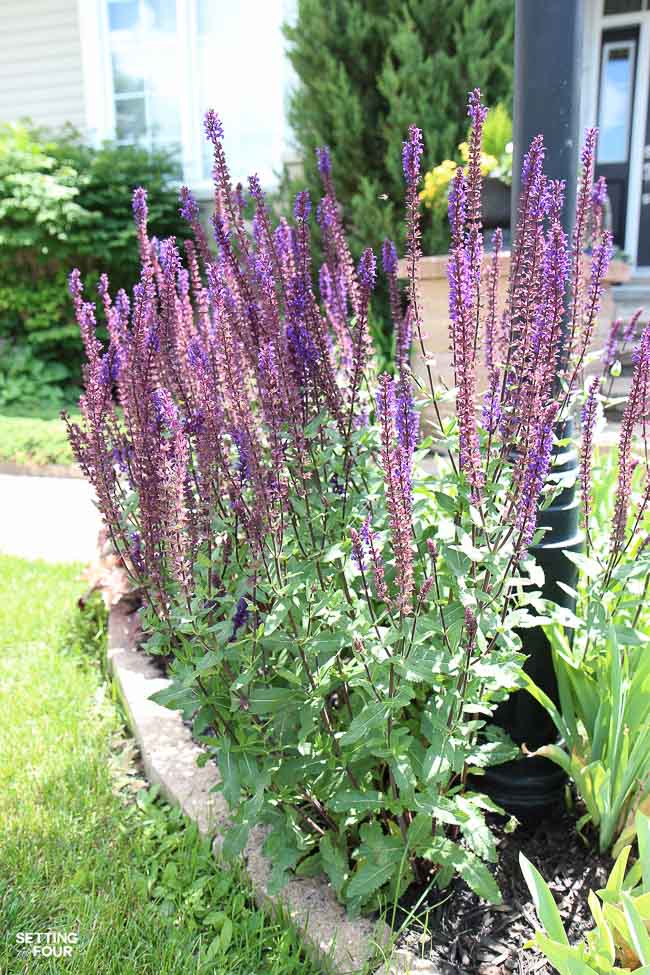 All of these plants give color and texture to the lamp post and add beautiful curves to the straight lamp posts shape!
Hostas: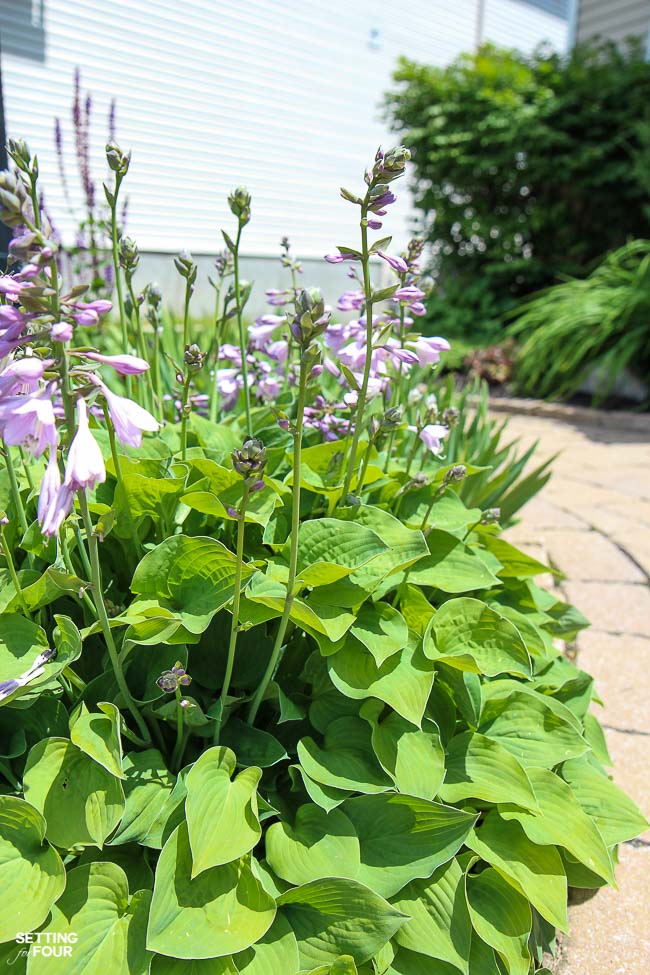 Salvia attracts pollinators like butterflies and bees!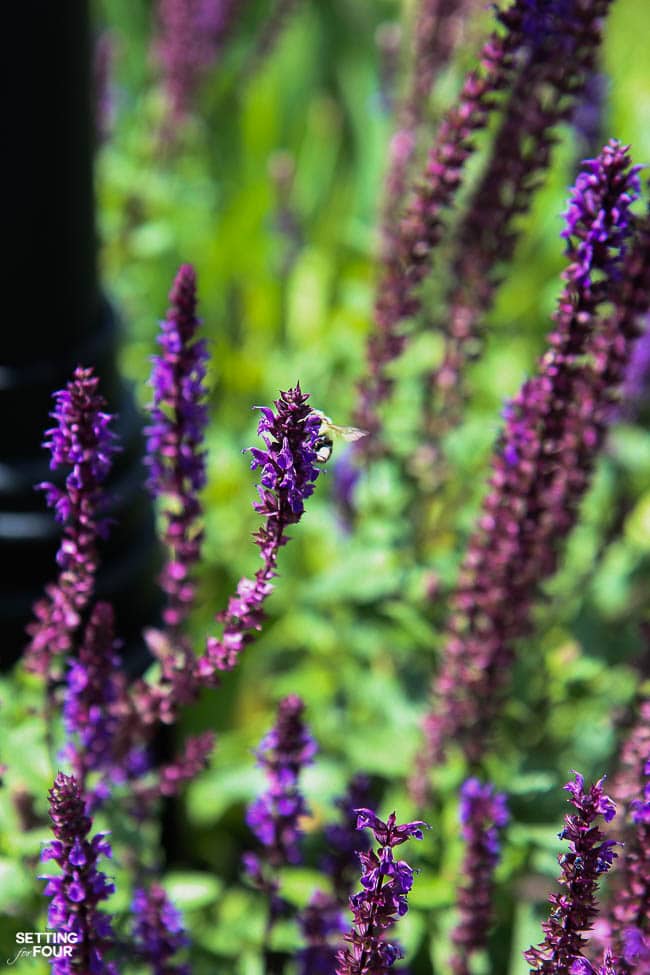 Doesn't our flower bed really improve the looks of the lamp post?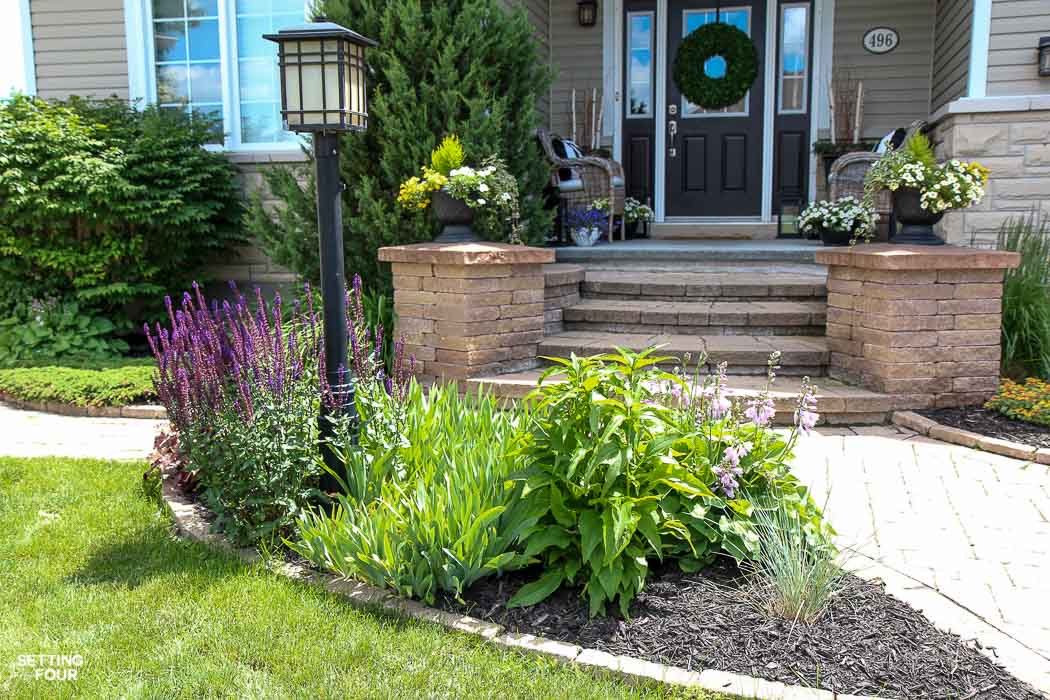 What a huge difference landscaping around a lamp post can do for your curb appeal!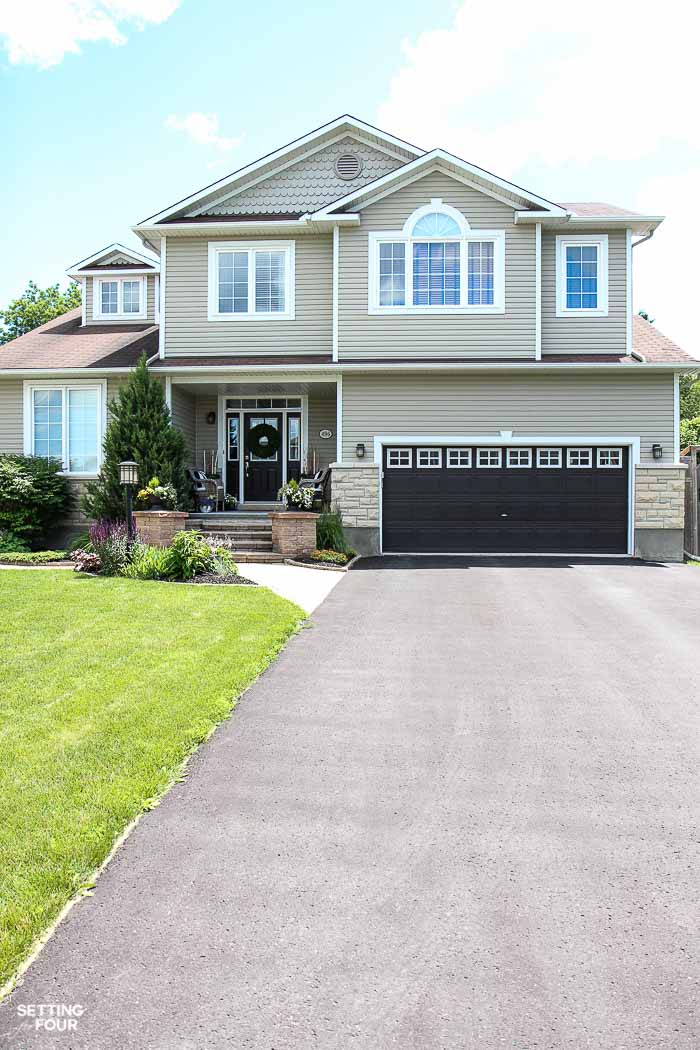 Our lamp post lantern needs to be replaced since the finish is starting to deteriorate. This is the one I'm looking at – I really love the hammered glass! Do you think it works with our home?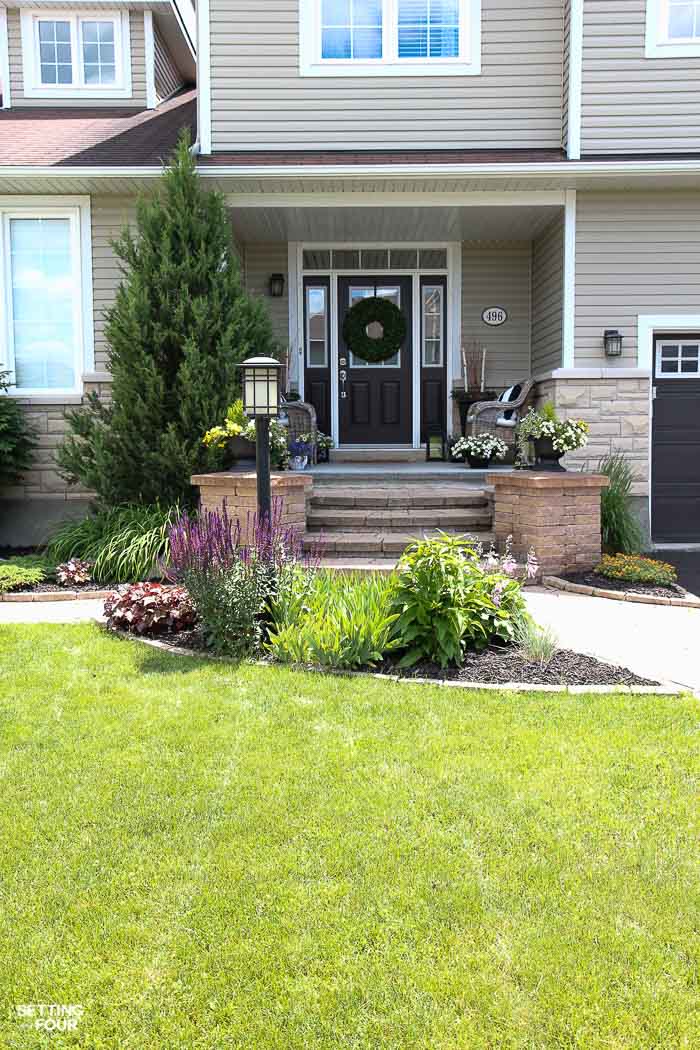 I hope you enjoyed my gardening ideas and tips!
Do you have any other ideas on how to hide a lamp post? Please share in the comments below – I'd love to hear them!
PIN THIS AND SHARE IT WITH YOUR FRIENDS! 🙂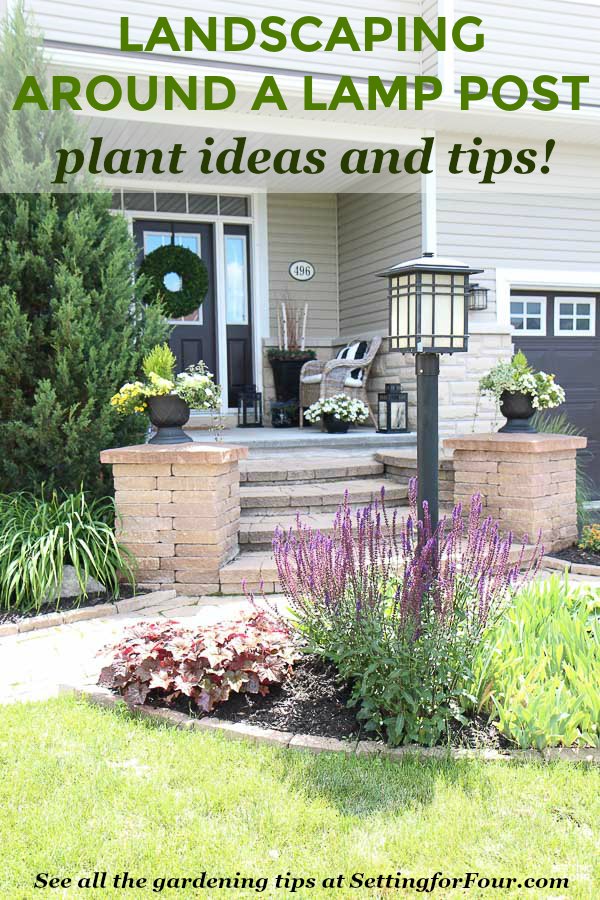 This post contains affiliate links. Click here to see my disclosure policy
You may also like:
How To Grow A Cut Flower Garden
10 Front Porch Decor Ideas To Add Beauty To Your Home