Spring and summer is coming our way! What better way to enjoy it than with cut flowers grown at home? There is nothing more beautiful than a vase of fresh cut flowers on a coffee table, dining table or kitchen counter! This year I'm determined to grow a cutting garden so I can decorate my home this summer with gorgeous colorful blooms! Will you join me? Let's do it!

This post contains some affiliate links for your convenience. Click here to read my full disclosure policy.
* * *
Before getting to this gardening lesson – I have something fun, fabulous and FREE to give to you to help you with your gardening design and decorating your outdoor spaces!
GET YOUR FREE PRINTABLE BEGINNER'S GUIDE TO INTERIOR DESIGN AND DECOR!
Learn the basic principles of decorating that will make you a better interior decorator.
This beginner's guide includes the formula to creating inviting outdoor and indoor spaces that you, family and friends will love spending time in!
Enter the information in the form below and it will be emailed to you immediately.
Then print it off and keep it handy!
I also offer online decorating services so if you'd like some help with your home, check out the information here.

* * *
How To Grow A Cut Flower Garden
Choose Your Flowers
What types of flowers do you want to grow? Make a list of annual and perennial flowering plants that you want to grow.
These are gorgeous flowers to pick from:
Perrennials:
Shasta Daisy
Coreopsis
Phlox
Coral Bells
Salvia
Purple and White Coneflower
Veronica
Aster
Peonies
Iris
Lily
Blazing Star
Annuals:
Dahlia
Cleome
Ageratum (floss flower)
Cosmos
Dianthus
globe amaranth
baby's breath
Marigold
Zinnia
Snapdragon
Nicotiana (flowering tobacco)
Pansy
Phlox
Sunflower
Sweet pea
Verbena bonariensis
Buy Seeds
Buy the seeds for your cut flower garden a few weeks before Spring and keep seeds in a cool dry place until you plant them.
Prep the Planting Area
Choose the spot in your garden you will plant the seeds. Most cut garden flowers like sun so choose a sunny spot for your cut garden. Till the soil, replant any plants that are there and augment the soil with organic matter if required. Make sure the soil is aerated and not compacted as well as free of weeds. Keep pets away from this spot as well.
Plant the Seeds
Plant the seeds after the last frost in the Spring. Plant them in rows at the depth that's stated on the seed package.
Identify
Add plant markers to each row so that you'll know what they are once they start growing.
Water and Fertilize
Water frequently and thoroughly. Fertilize with a water soluble fertilizer so that you are watering and fertilizing at the same time!
Replant
Once the plants get bigger and develop good roots you can replant them to thin the plants out if they are crowding each other.
Harvest
Once the plants develop flowers you can harvest them and create beautiful arrangements! Bring a bucket of water with you to place the cut flowers into so that they don't wilt. Cut flowers early in the morning.
Create Cut Flower Bouquets
Once you have all of your cut blooms indoors make a fresh cut on each stem and place immediately in a vase or container that you are displaying them in. Don't forget to add ornamental leaves from other plants you have in your garden like hostas, or branches from shrubs and trees. You can display your cut flowers in bowls, bottles, basically anything that is leak proof! Remove any leaves that will be in the water to discourage bacteria growth. Add floral preservative to your arrangement to allow it to last as long as possible. Change the water every other day to keep water fresh and prevent growth of bacteria.
If you're a book lover like me, here's an amazing gardening book and guide including more tips and tips from Expert farmer-florist Erin Benzakein (who I met at BHG Stylemaker event last year in New York City) shows us how in this beautifully illustrated NEW gardening book, Floret Farm's Cut Flower Garden, out now!
Erin shares tips on growing, harvesting, and arranging stunning blooms all year-round and provides all the tools to create a stunning flower garden and style eye catching arrangements.
This book is loaded with tips for growing in a variety of spaces and climates as well as step-by-step instructions to make colorful floral garlands, centerpieces, and floral décor for every season.
Erin Benzakein is a leader in the local farm-to-centerpiece movement and owner of internationally renowned Floret Flower Farm. She's completely brilliant!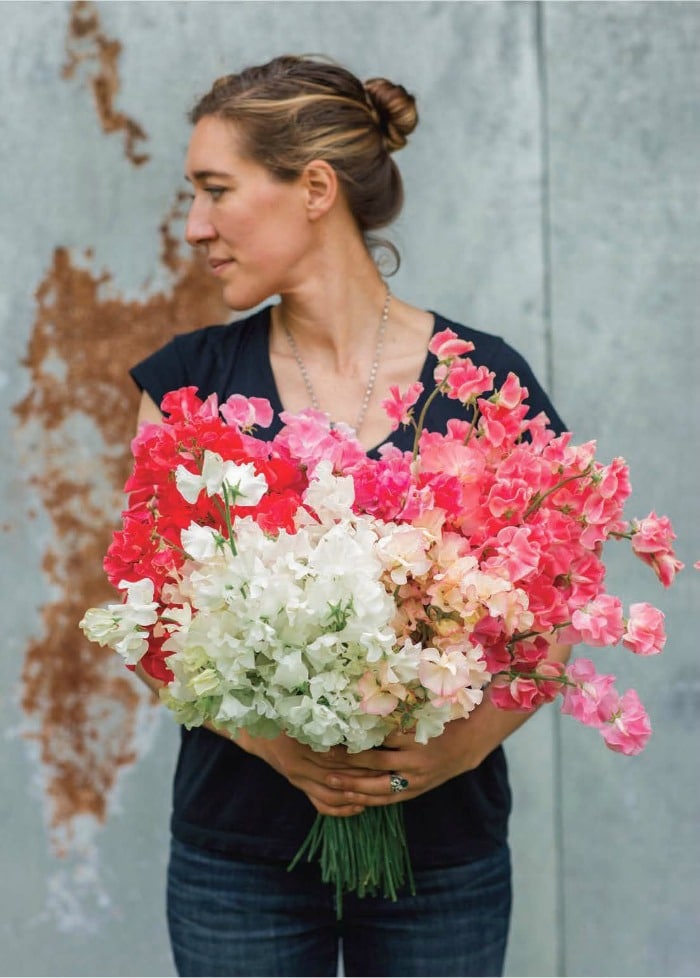 Bouquets of home grown cut flowers have such a beautiful simple and casual look to them I think! And that's why I love them.
They aren't as formal or fussy as the florist arrangements you can buy from a flower shop.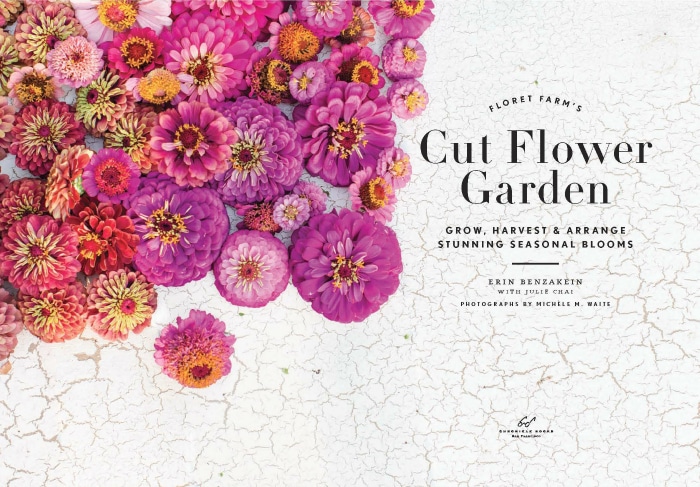 Cut flowers from your garden displayed in a vase is an inexpensive way to decorate your home too – fresh botanicals always breath life into a room and refresh the decor in an instant!
For the cost of a few packets of seeds we'll have stunning flower arrangements to admire all summer long!
Mason Jar of Flowers in a Tea Towel Wrapper – gorgeous gift within a gift idea!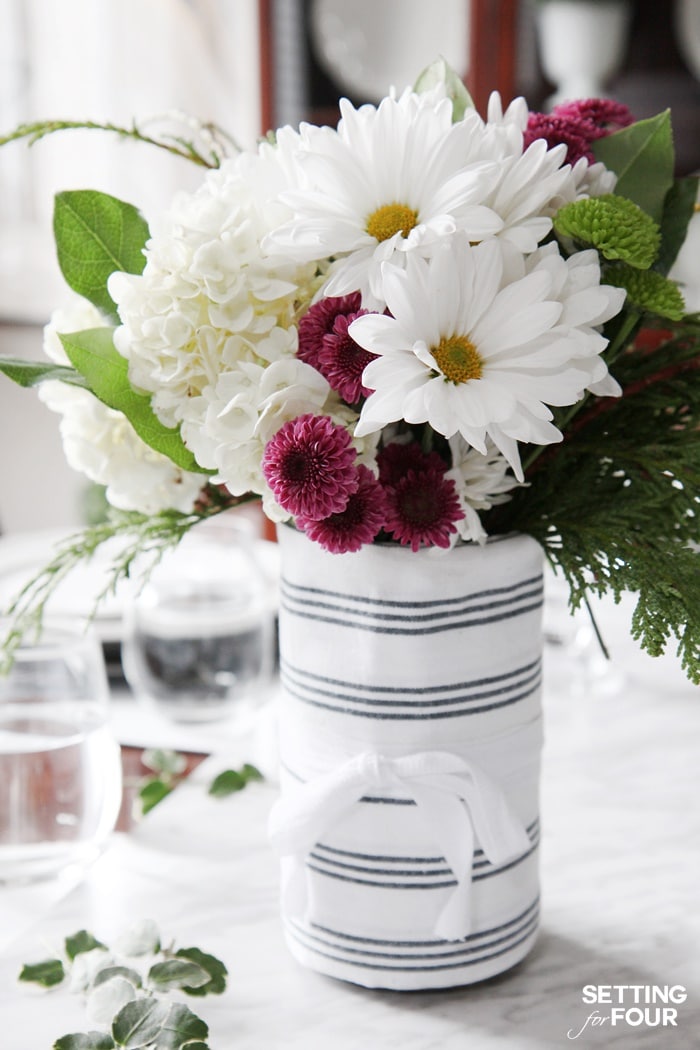 I plan on planting zinnias, snapdragons and cosmos flowers. What will you grow?
How To Grow A Cut Flower Garden

You may also like:
Tips on How to Grow the Perfect Garden to Add Curb Appeal To Your Home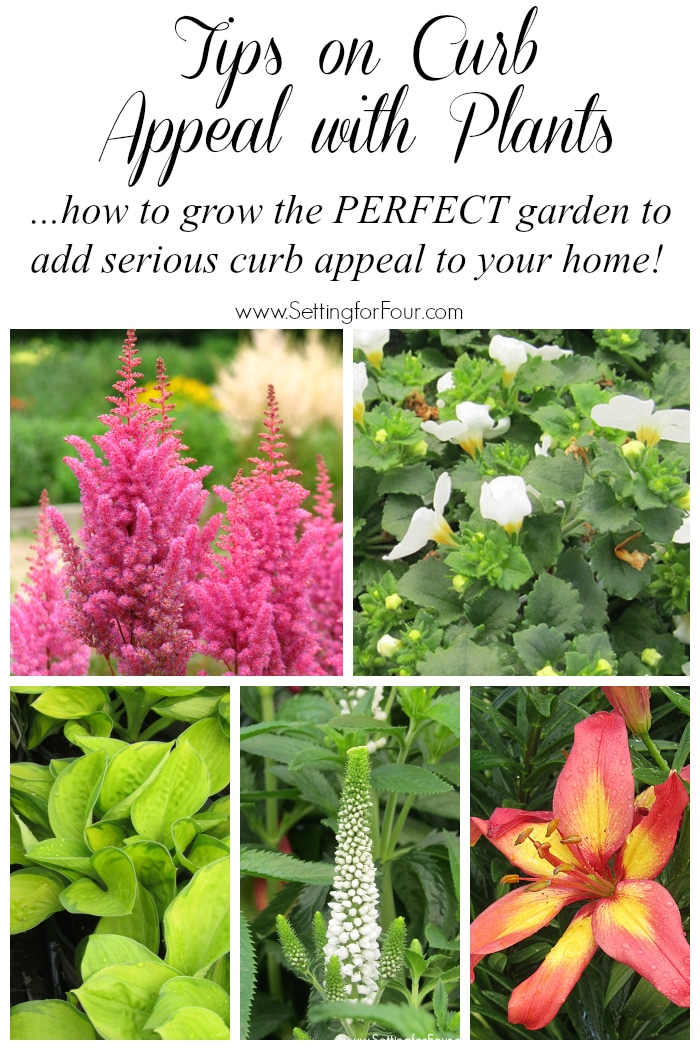 How to Build a Water Garden Feature – enjoy a relaxing pond oasis!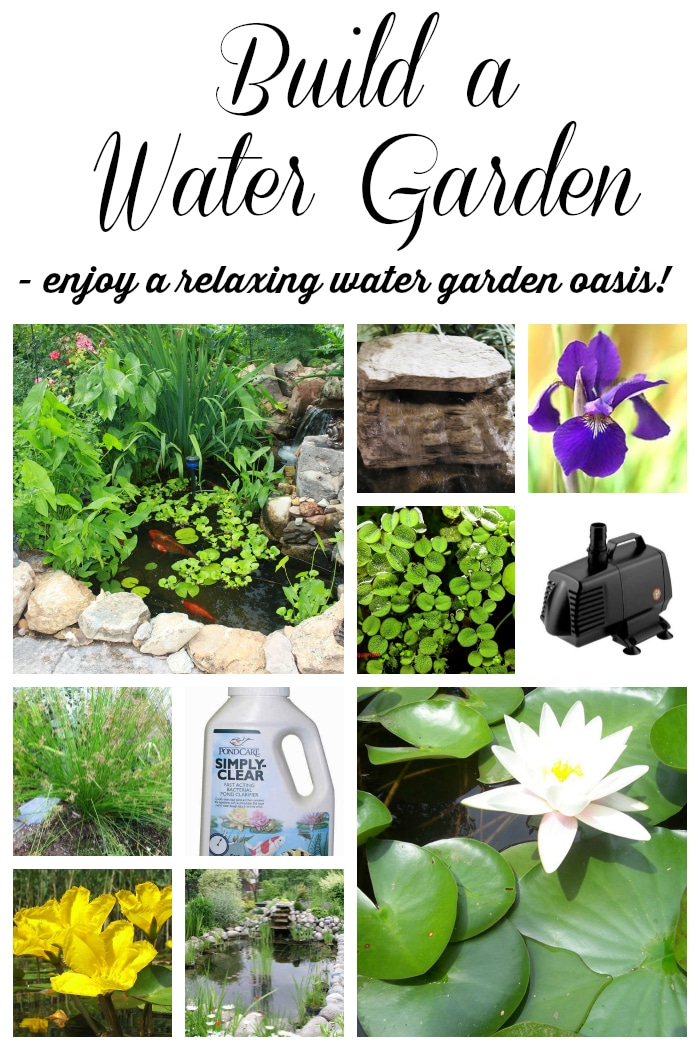 Curb Appeal Ideas and Porch Decor Tips