I love spending as much time as I can outdoors in our back yard – soaking up the sunshine and enjoying Mother Nature! While we do have lots of beautiful flower beds around our home, I've always dreamed of creating a pond style water garden in our backyard filled with water irises and lily pads, frogs and goldfish! My Mom had a pond in her yard that she built herself and it was breathtaking!
Did you know it's not that hard at all to build one?! Here are 10 tips to build the perfect pond – in case you'd like to add one to your yard this year!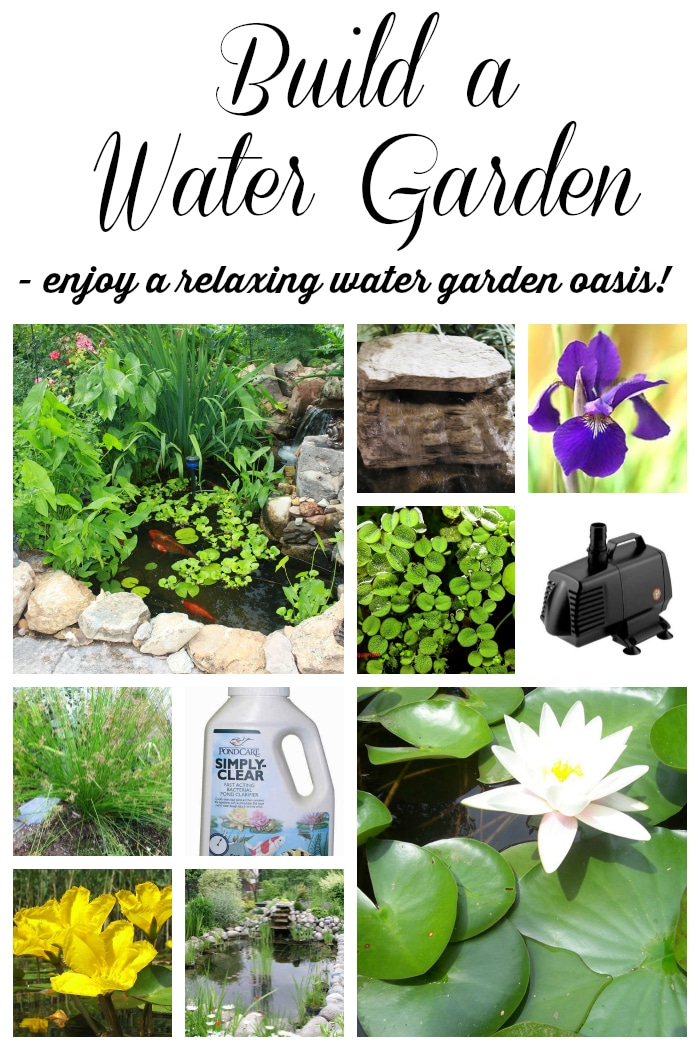 How to Design and Construct a Pond Water Garden:
Build a water garden feature in your back yard and enjoy the relaxing sound of water and beauty of pond plants! Design and construct one yourself with these items to create your own private water garden oasis.
1. The first step to building water gardens is to create a plan including choosing the size and location in your yard.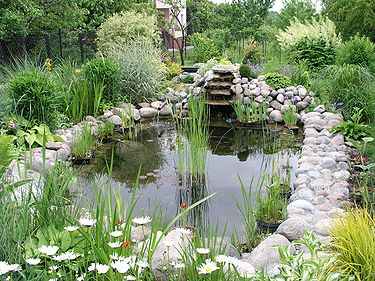 Location: Selecting a flat area , not a sloped spot, in your yard will make it easier for you to build it.
Size: How much space you have will dictate how large of a water garden you can accommodate. A larger pond will require more plants and care than a smaller one.
This post contains some affiliate links for your convenience. Click here to read my full disclosure policy.
Dig the water garden to the desired shape and add a pond liner – a pond kit will come with all the basic parts you'll need to create your water garden.
2. A submersible pond pump and filter unit will keep your water garden healthy, the water moving and clear of algae growth.
3. Adding a bacterial based pond cleaner quickly cleans murky cloudy water and keeps your pond plants healthy and the water clear.
4. A waterfall rock feature is a great place for frogs or turtles that visit your water garden to rest!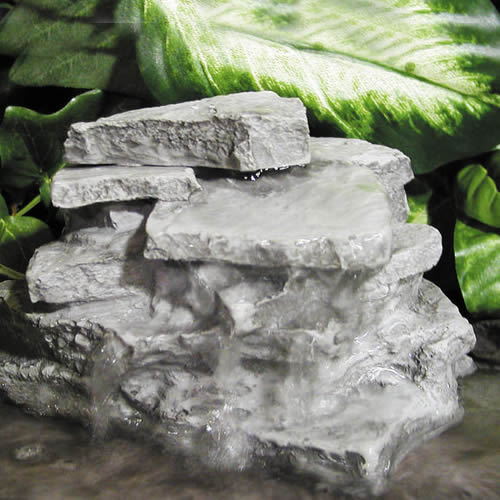 5. Flowering plants like this beautiful blue water iris add a gorgeous pop of color.
6. Green pond plans act as biofilters and not only naturally clean the water but look beautiful too! The lily pad is a quintessential water garden plant!
7. Select plants with a variety of colors to create a natural pond effect.
8. Grassy water garden plants add height and texture to your water garden environment.
9. Every water garden needs flowering lily pads! Isn't this white water lily stunning?
10. Seating – Add an Adirondack chair or a garden bench beside your water garden so you and your family can sit by it and enjoy it's beauty!
See my DIY Adirondack chair instructions if you'd like to build one or two yourself (for cheap!)
Your water garden is now complete and ready to enjoy! Ahhhhh!
I hope you liked my 10 tips to build the perfect pond!
Do you have a water feature in your yard?