How To Make an Adirondack Chair! Make this comfy DIY Wood Adirondack Chair in one weekend!
See below on how to get the build plans which include: Printable paper template of all chair pieces to trace onto wood – making this so easy to cut out!!
Also includes 3D diagram of chair, step by step instructions, material list and paint color included!
My family and I love relaxing in our backyard! The perfect way to hang out is to lounge in a comfortable Adirondack chair.
This is the perfect project for a beginner or an experienced DIY'er – you can make one or more in just one weekend!
We made two of these gorgeous chairs in just two days: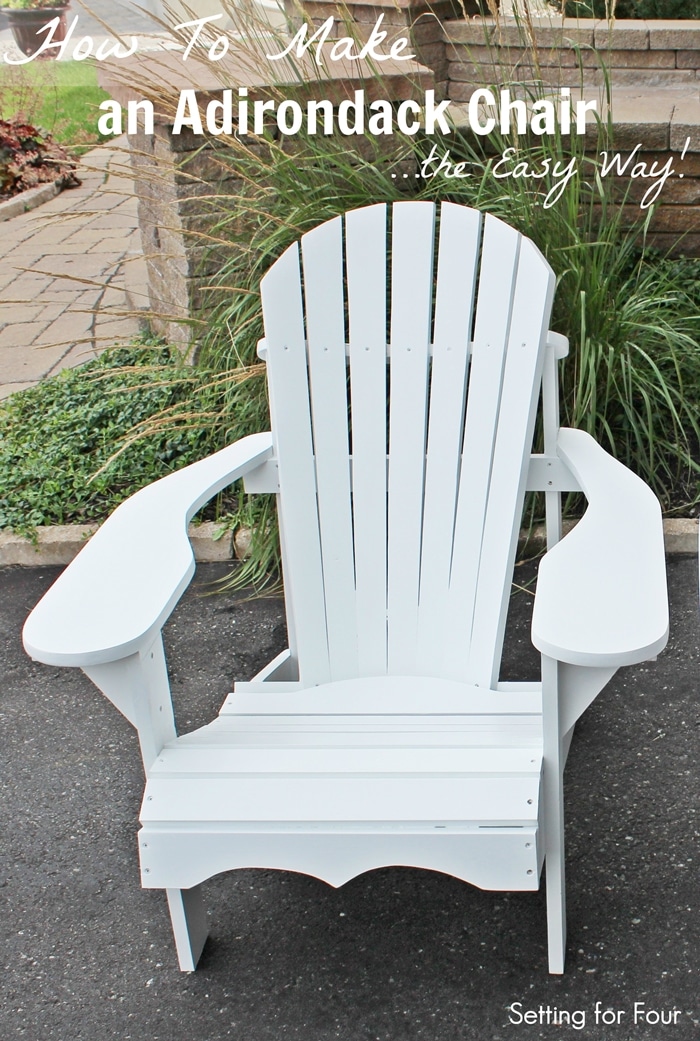 How to Make an Adirondack Chair
The arms are the perfect shape for sitting a drink on!
And talk about comfy!
The slight angled back on these chairs are perfect for rest and relaxation around the fire pit or fire table in the backyard…..or on your patio or front porch!
This post contains some affiliate links for your convenience.  Click here to read my full disclosure policy.
Don't forget to follow me on Instagram to see how we enjoy our patio and backyard!
Supplies for Adirondack Chair:
60 -1 1/2″ deck screws
Carpenter pencil
2 – 12′ x 6″ x 1′ white pine – (cut out the two arms, the two leg bases/runners, upper and lower back supports, and matching curved seat slat)
3 – 12′ x 4″ x 1″ white pine – (cut out four legs, arm brace pieces, back slats and remaining seat slats, including front shaped one)
Exterior semi-gloss white paint (or use whichever paint color you like)
180 grade, 220 grade and 80 grade sandpaper
Safety equipment – Hearing Protectors and Safety glasses
** NEW UPDATE!!!**
The build plan for this gorgeous, comfortable Adirondack Chair is for sale and includes: 
Printable templates of ALL chair pieces to trace onto the wood! These templates make it so quick and easy to cut out the chair pieces!
The build plan also includes a 3D diagram of chair, step by step assembly instructions, the tool and supply list and also the paint color we used!   
To purchase the $19.99 chair plans send me an email titled "Adirondack Chair Plan" to [email protected]
Instructions:
1.  Using the safety equipment cut out all pieces from the wood.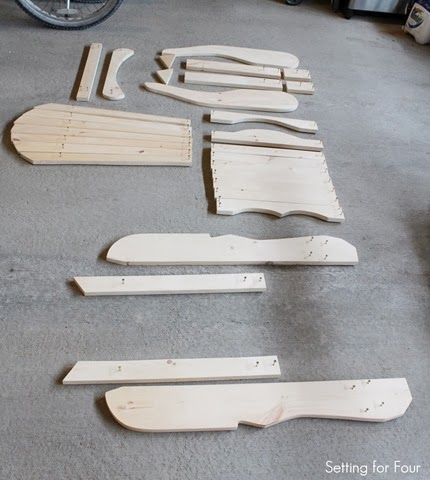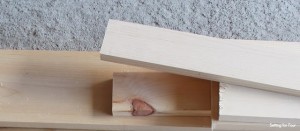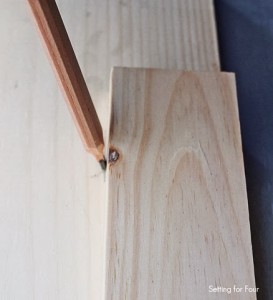 2.  We cut out each straight piece on the table saw and curved pieces with the jig saw, sanding all sides and edges.
(The arms on one chair are routered, but to save time we skipped that step for the second chair and now we have 'His and Her' chairs! One with routered arms and one without! )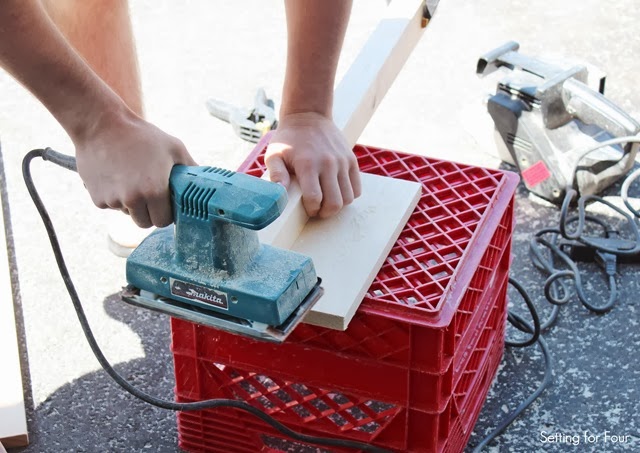 3.  Lay out all the pieces: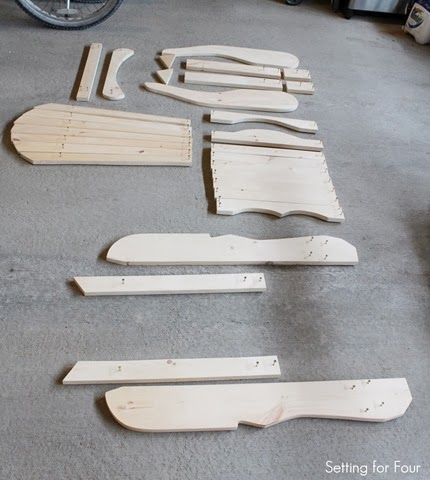 4.  Next we screwed all the pieces together with the new screws and assembled each chair.
(Helpful Tip: We recommend pre-drilling holes with a drill bit slightly smaller in diameter than the screw. This reduces the chances of the wood splitting when the screws are twisted in.)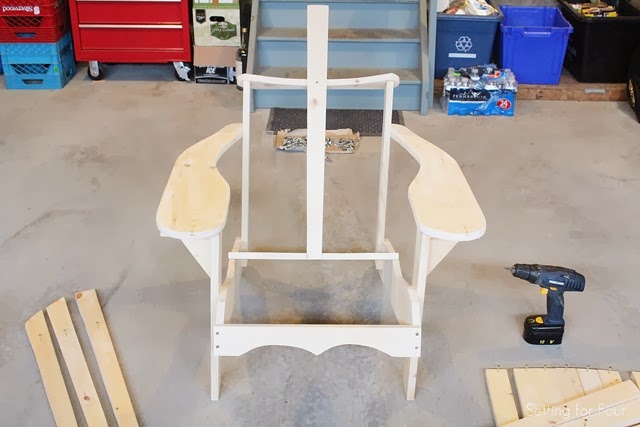 We made this one with a routered edge on the arms:
5.  For the final step we painted each chair with one coat of wood primer and two coats of outdoor latex white paint, sanding in between coats lightly with 220 grade sandpaper.
You can paint the individual pieces before assembling or after…we chose to paint after the chairs were assembled.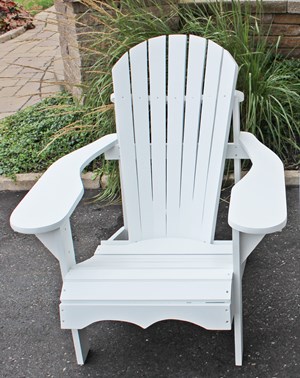 I love how they turned out!
We even use them in the winter around the fire pit!
You can create the perfect lounge and outdoor party environment with these beautiful classic Adirondack chairs!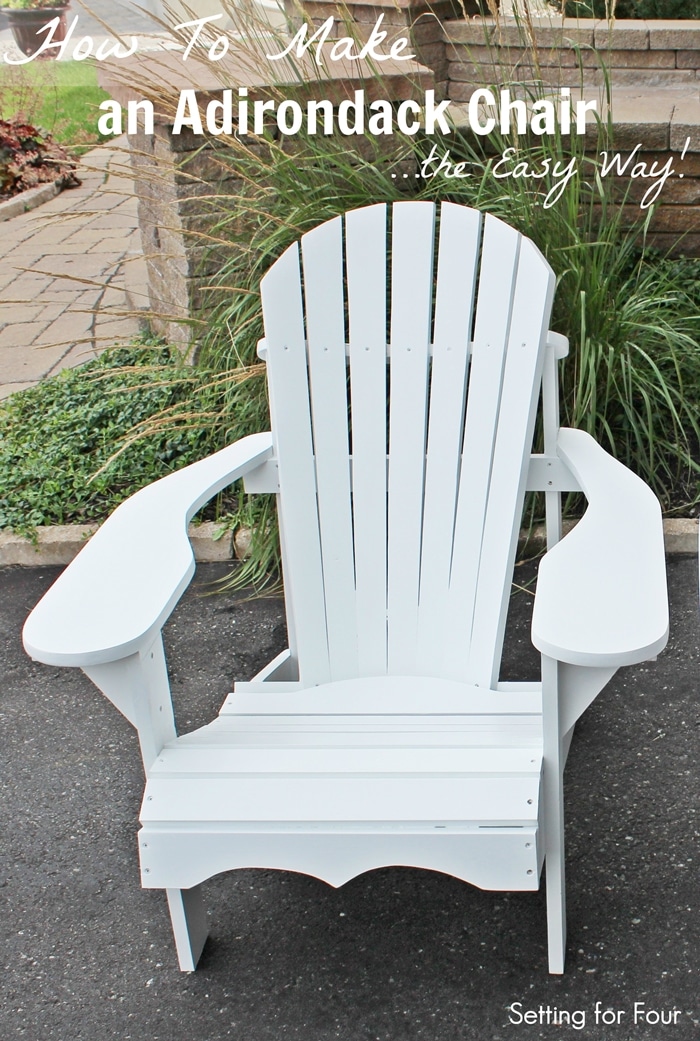 You may also like:
Make it! DIY Potting Bench with Sink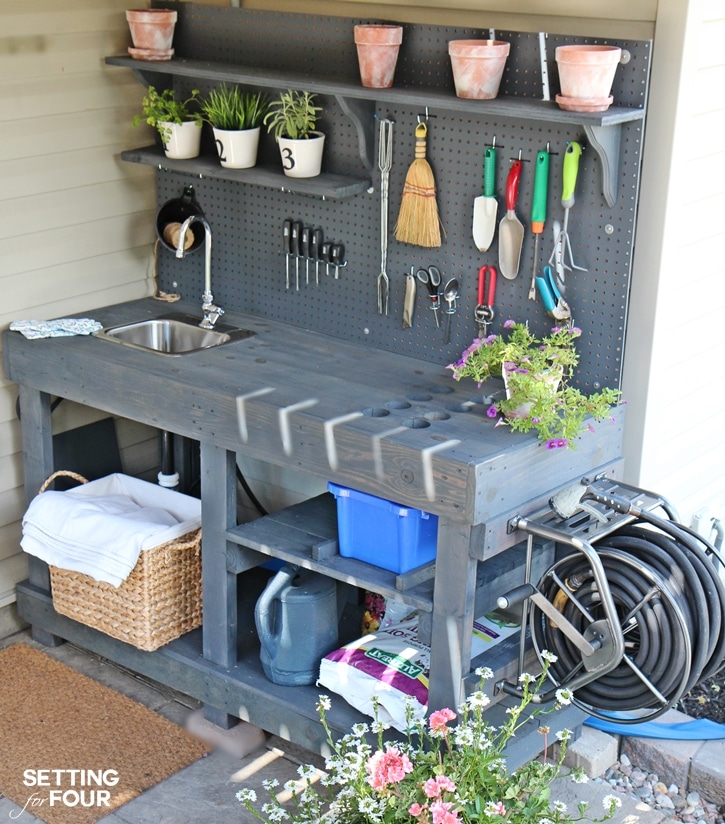 DIY Restoration Hardware Inspired Farmhouse Table with Bolted Plank Top
DIY Outdoor Sideboard with Build Instructions
for outdoor display and serve drinks and snacks!