Elevate your outdoor living experience with a comfortable, stylish conversation set! These affordable 3 piece conversation set ideas will have you spending more time in your outdoor spaces, relaxing with family and friends.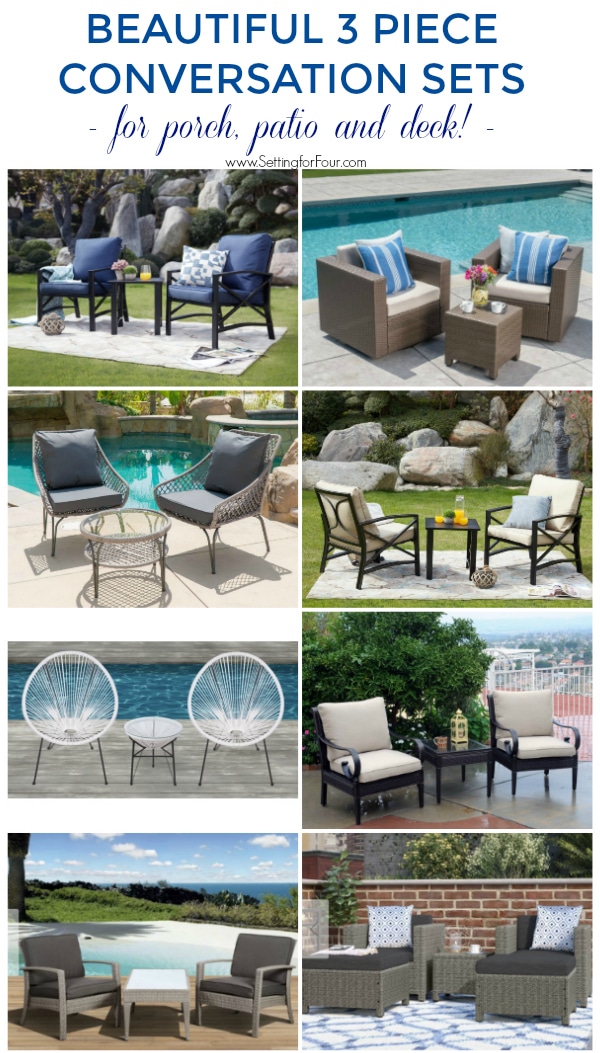 Shop these looks here:


OUR OUTDOOR CONVERSATION SET
I love our outdoor conversation set! Our set is on our backyard upper deck, right off of our kitchen. We sit out here almost every night right after dinner and on the weekends for morning coffee.
(This affordable 3 piece conversation set is sooooo comfy! I love the gray resin wicker, goes so well with our gray deck! The all weather gray cushions are so forgiving too and gorgeous!)
One of the many reasons I love conversation set is because they come with a small side table that's perfect for keeping a drink within reach and perfect for decorating with a plant pot too!
Check out my DIY white washed terra cotta plant pots to decorate your patio and porch with this summer!
WHERE TO USE A 3 PIECE CONVERSATION SET
These chat sets are perfect for the porch. Picture yourself sipping on a glass of ice tea, lemonade or summer drink while you enjoy a sunrise or sunset!
They are idea for a small patios too since they don't take up much space at all!
Have a large patio? A conversation set is ideal for creating another seating zone!
CONVERSATION SET INSPIRATION
Take a look at the beautiful conversation sets I found – all of them are gorgeous! There are wicker, metal and wood options, sets with comfortable cushions.
You'll also find brown and grey conversation sets – pick the perfect color for your outdoor space!
Shop these beautiful 3 piece conversation set ideas! Click on the pictures below to see more information on each item!