See our Dark to White Kitchen Remodel Before and After!
I'm sharing the details of our kitchen refacing project, how we changed our dark cabinets to new white cabinets, quartz countertops, new lighting, paint, dining table and chairs! Lots of kitchen remodel ideas to give a dated kitchen a modern look!
Isn't it beautiful?! We are in LOVE with the remodel!!
All the product sources are listed in the post!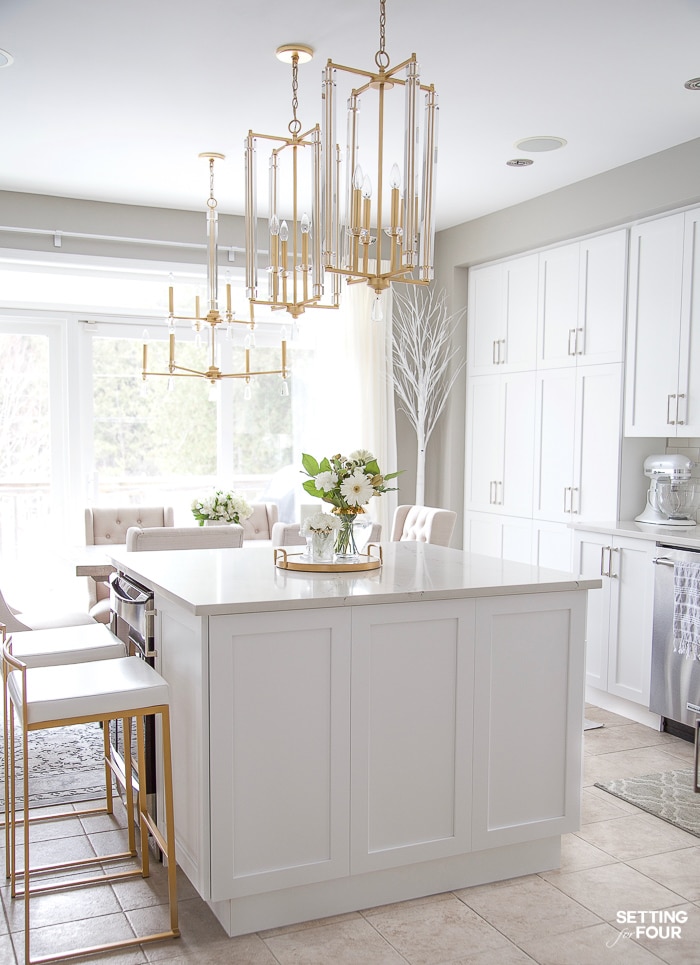 This post contains affiliate links, which means that if you make a purchase after following a link I may receive, at no cost to you, a commission on the sale. Funds from affiliates help pay for web hosting and other fees to keep settingforfour.com up and running. Thanks for your support! Click here to read my full disclosure policy.
A Dark To White Kitchen Remodel Before And After
Today I'm going to share with you all the details and sources, decisions and changes we made to our dark, drab and dated kitchen.
I would have shared the remodel earlier with you but my computer crashed and I lost all the photos on my computer of the remodel!
I had my photos recovered by a data recovery specialist and then my computer crashed a second time and I lost everything again!! So crazy and stressful!
To say I was breathing in a paper bag is an understatement!
Anyway the good news is that I finally have had my photos recovered so now I can share our beautiful kitchen remodel with you!
I'm super excited to share with you today our kitchen reno with gorgeous new white shaker cabinets, quartz countertops and new paint color!
Before I show you the 'after' pics, let's take a look at the 'before' situation!
Before the remodel:
As many of you know we are a military family. When hubby received his posting message to move here we were living in Virginia and had a week to fly here to look for a good school, find a new home and complete the real estate and legal paperwork. Yes – it was an insane paced week!
When we bought this house there were so many things I loved about it and a few I didn't love so much!
Our home is a semi custom home built by the previous home owners. We are the second family to live here.
It had gorgeous curb appeal, a stunning backyard with lots of mature trees, a three tiered deck, pergola, patio &  hot tub, professional landscaping front to back.  I love the cathedral ceilings in the family room as well as the size of the bedrooms and the entryway.
It also backs onto a greenbelt that will never be built upon so we'll never have rear neighbors which gives us more privacy too!
The price was also incredible and it's in a very good neighborhood surrounded by pretty parks and walking trails!
However the kitchen was dated and we knew that remodeling it would be on the short list of things we would tackle after we moved in.
It had dated dark wood cabinetry in a hazelnut stain ( with a heavy orange undertone) that's common here. The dark green and bright yellow paint colors and kitchen countertops were dark and dated too. The backsplash was a boring beige. The pendant lighting was really dated too.
I wanted to live in our home to get a feel of it before changing things, plus we had zero time to renovate and remodel before we moved in.
Here are the BEFORE pictures (not our furniture by the way) so you can see what I mean: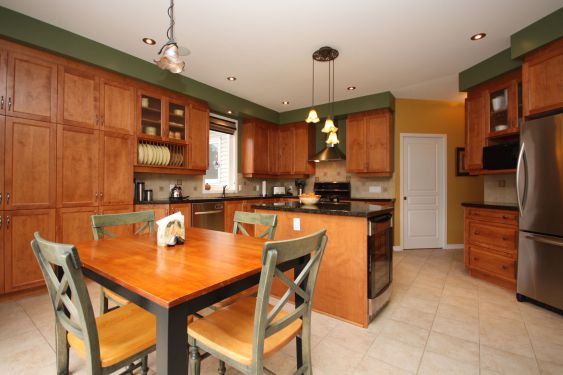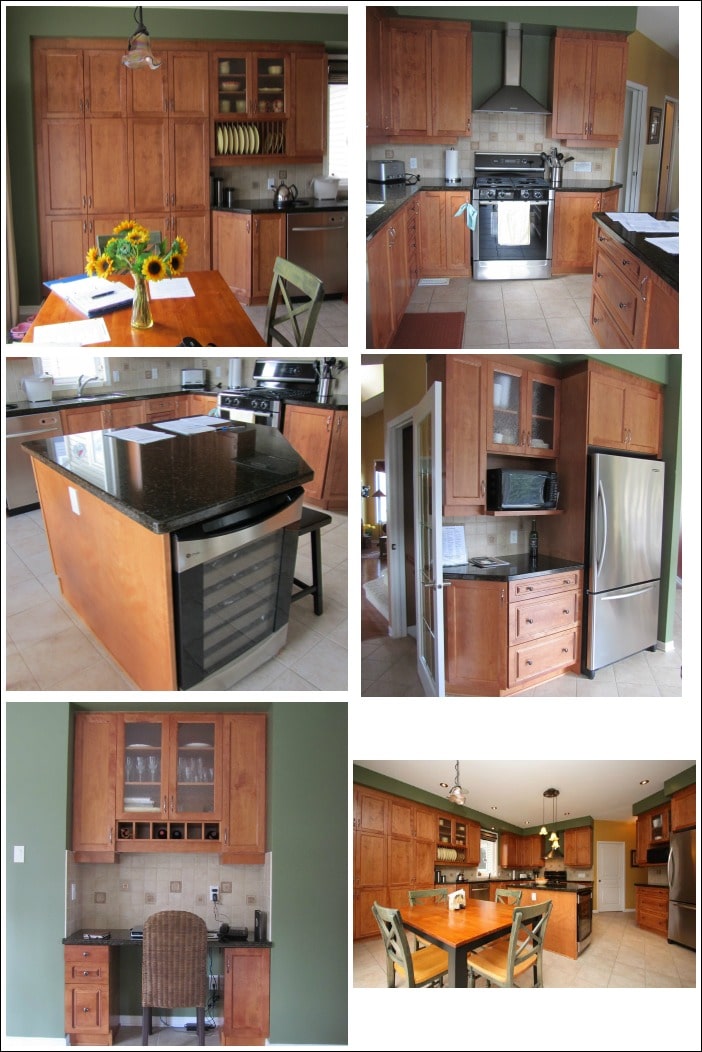 So before the remodel we made a list of the things we liked and disliked about our kitchen.
Here is what we loved about it:
The overall layout.
The open concept to the living room.
The island with pot drawers and cupboards.
The overall amount of cupboards.
The pot lights in the ceiling.
The built in ceiling speakers with adjustable wall controls.
How bright the kitchen is with the window above the sink and the sliding glass doors.
Things we didn't like about our kitchen:
The pony railing between the kitchen and living room
The dark cabinets which made the kitchen feel dark despite the windows and were hard to keep clean.
The plate rack
The wine bottle rack
The cut off angle in the kitchen island
The appliances.
The lack of some organization we wanted in the cupboards like a spice drawer.
Because we liked the layout of the kitchen and the cabinet boxes were in fabulous condition, we decided to do a cabinet refacing project that included new countertops, backsplash, paint and lighting in our remodel instead of a total kitchen gut renovation.
Kitchen remodel before and after: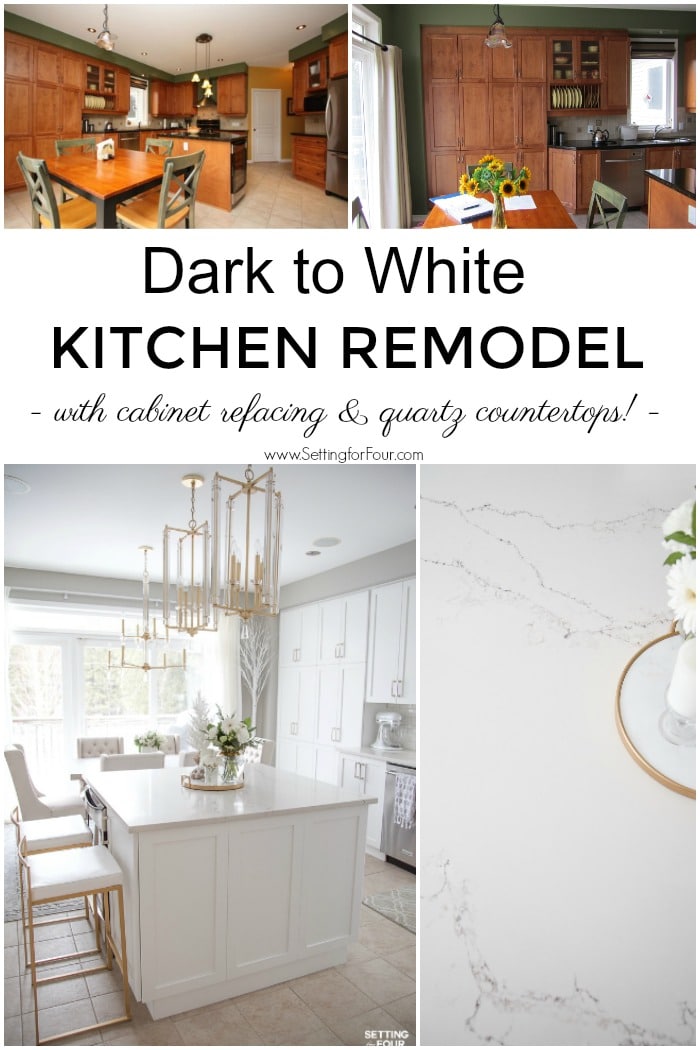 ---
Do you need help designing or decorating a room in your home? Stuck on paint colors? Want your room to look and feel pulled together, stylish and finished? I can help you!
Read all about my online decorating services here! Email me at settingforfour.com and tell me about your design and decor problem – I'd love to help you create a home you'll love!

---
Shop my kitchen! Click on the images below and scroll using the arrows to see all the product sources!









After the Remodel:
Ta-da!! Isn't it gorgeous? We are so thrilled with how our kitchen remodel turned out!!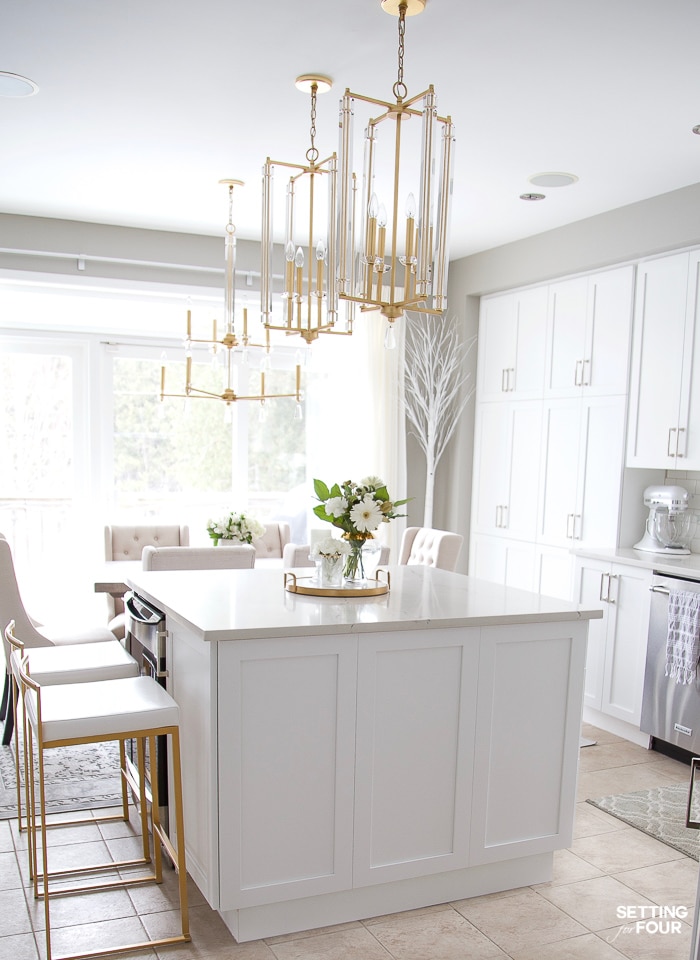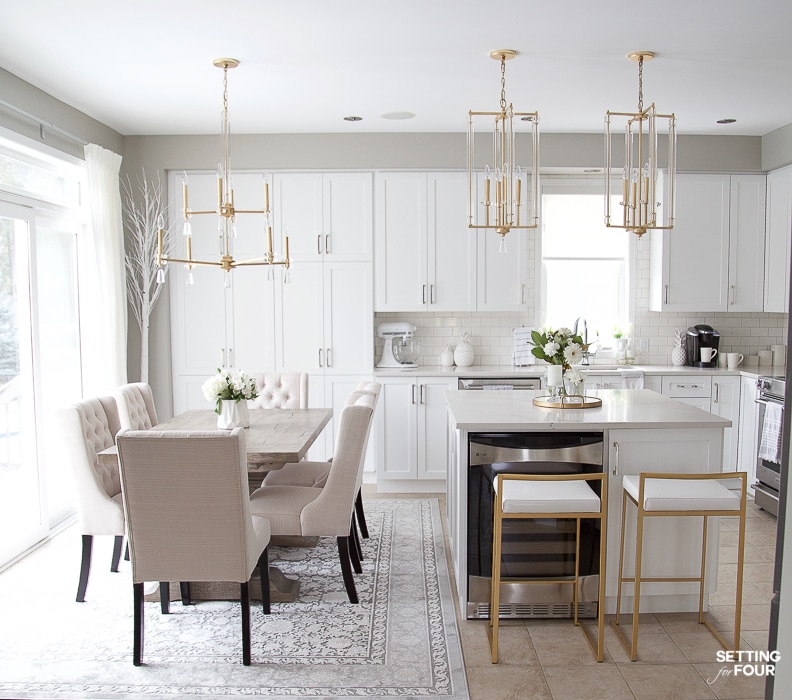 I'm so excited about the design decisions I made to turn this frumpy dark and dated kitchen into a light, bright, modern kitchen with so much more functionality and style!
The other benefit of our refacing project is that it saved us a lot of money compared to a total renovation.
Cabinet refacing offers so many beautiful possibilities!
If you're not familiar with how cabinet refacing works this is what's involved: the cabinet box is kept but the door is replaced with a new door and any cabinet sides are surfaced with a thin layer of the cabinet material for a seamless look.
You can completely change the look of your kitchen by refacing the cabinets! You can change the color and profile of your cabinet doors as well as the color and profile of a kitchen island!
We also made some adjustments to the interiors of the cabinets and added some fun and fabulous organizational elements too.
We had our refacing remodel installed by a local company that only does kitchen renovations and specializes in refacing.
Here are the details on our new kitchen and what I chose:
Kitchen Remodel Before and After – Cabinet doors
We chose a white shaker style door – I love the shaker style so much because it's timeless. This color is called 'lacquer white' but it has a satin finish not a gloss lacquer finish.
This shaker style is also easier to clean because it doesn't have a lot of molding detail on it! It's simple but chic and very on trend right now.
We chose PVC doors instead of thermofoil ( which is a flexible vinyl material that is applied by heating the vinyl then molding it over medium-density fiberboard (MDF) or engineered wood) because PVC doors last longer, are easier to care for and are more durable to heat and steam.
Thermofoil doors can split and the thermofoil material can peel off.
These PVC doors are more expensive than thermafoil because they are more durable than thermafoil.
Our PVC cabinet doors have a 5 piece construction which gives it a more elevated, classy look compared to a solid panel door.
Another reason we chose PVC is because it's cheaper than solid wood doors which helped our kitchen remodel on a budget goal.
The one thing that has the biggest impact on a kitchen remodel before and after is the color and style of cabinet doors.
So make sure you lock this element down first in your kitchen remodel!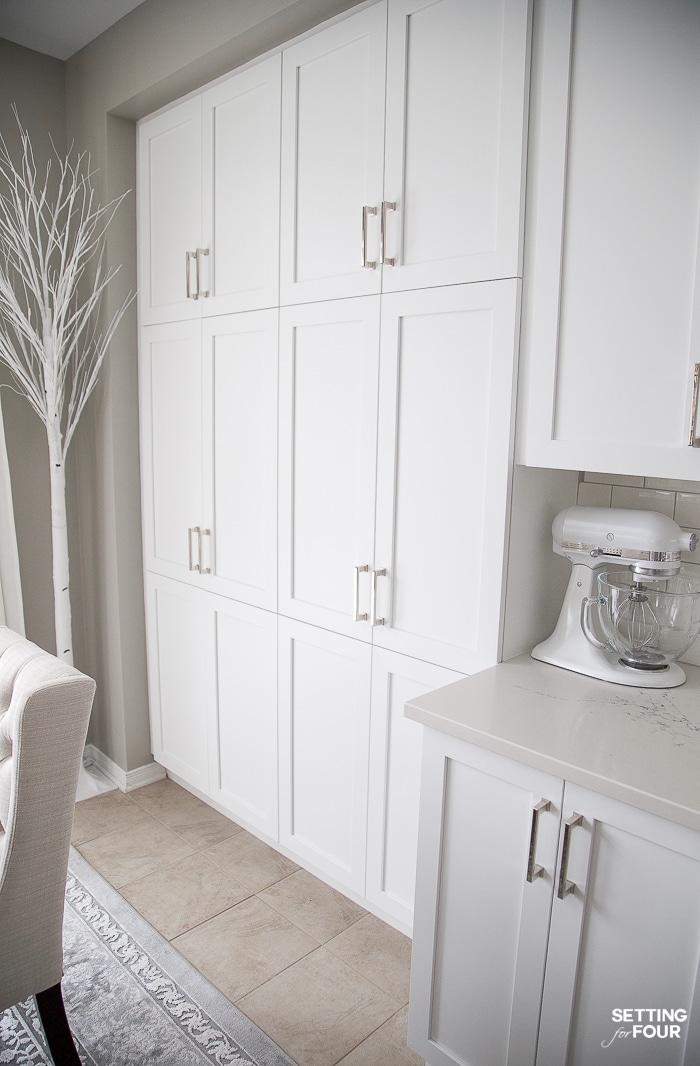 We refaced our kitchen island as well in a shaker panel look to match the shaker cabinet doors. I'm in love!! We also had the company add a lower cabinet box on the left side of the island – it was angled on that side.
So you can actually change your cabinetry boxes and island configuration when you reface as well!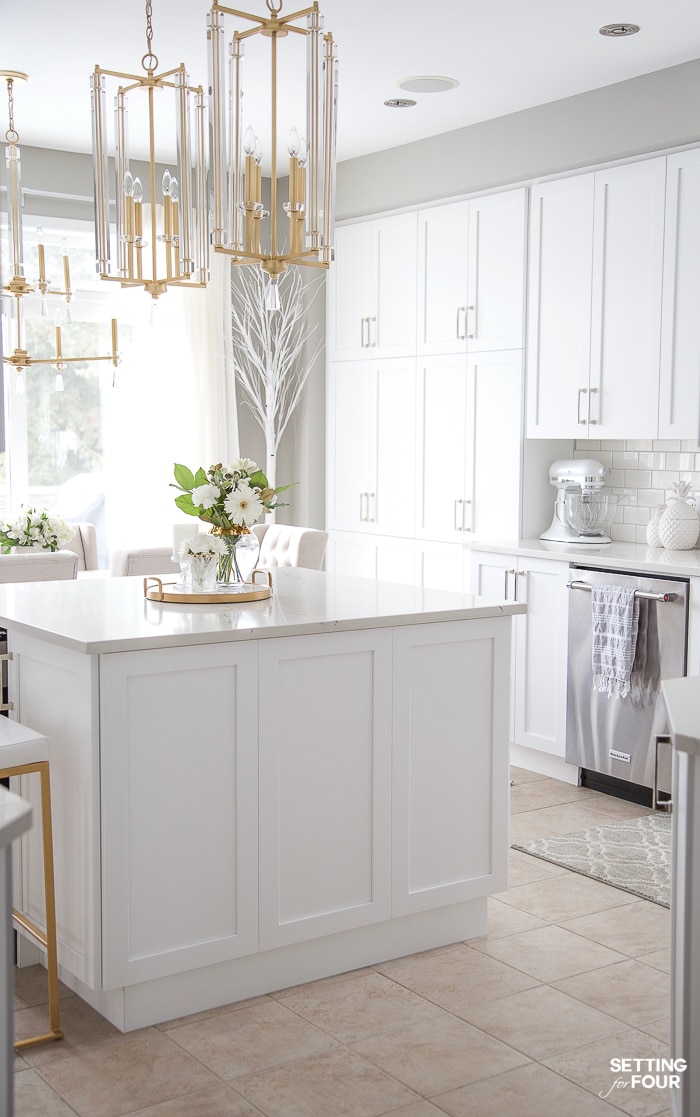 We also installed a few new organizational elements to the lower cabinets like pullout shelves and this spice rack by the oven – which we love!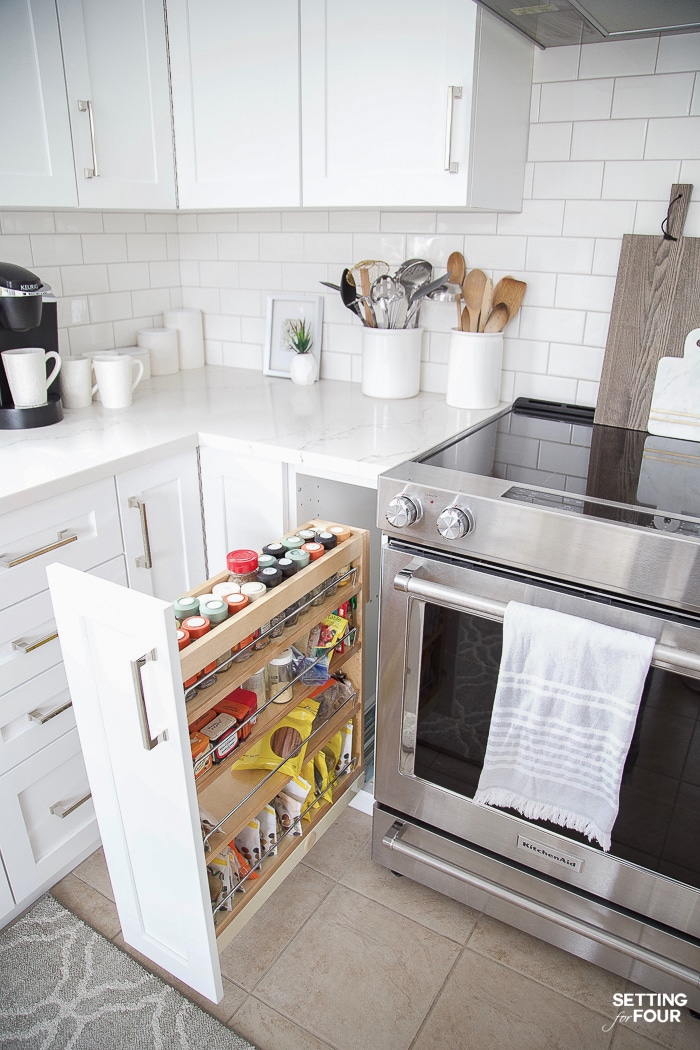 Cabinet Hardware
Our cabinet hardware came FREE with our remodel! The company offered a selection of handles for our new shaker doors and we chose these gorgeous 5 inch center to center cabinet handles in brushed nickel.
I'm hoping to change these to gold cabinet handles soon.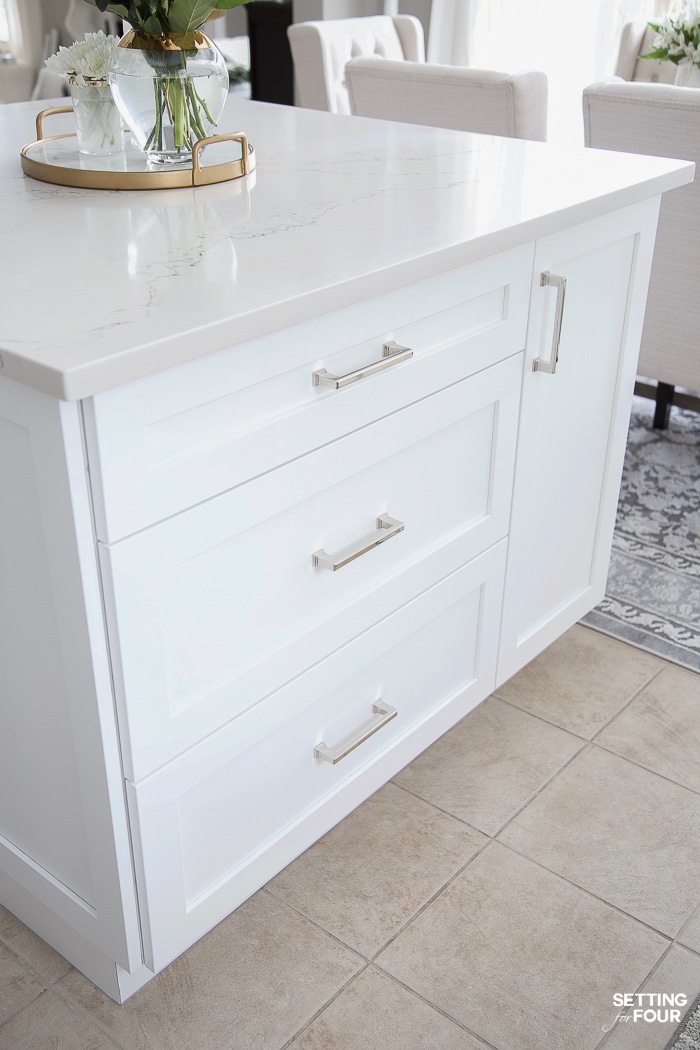 Countertops
The countertops in the kitchen were a dark brown-black colored granite with metallic flecks in it called 'Ubatuba' . It's quarried in Brazil and it's commonly used in kitchens in our area.
It's a strong natural stone that resists heat, scratches, and stains but it's very heavy and dark looking.
We wanted a countertop that's lighter in color with marble-like veining.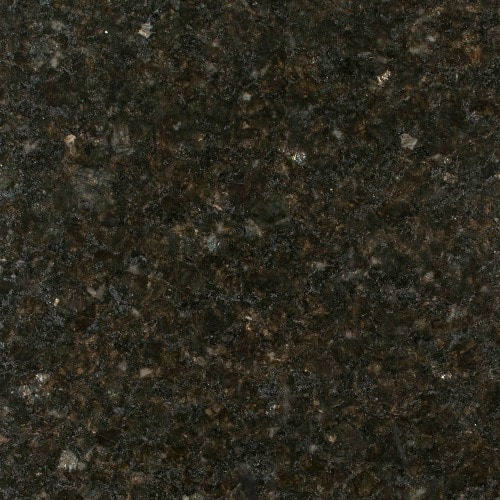 We knew we didn't want marble because it etches and stains easily.
So we replaced the dark Ubatuba granite with gorgeous Caesarstone Statuario Nuvo quartz countertops!
This Caesarstone quartz is absolutely stunning!
We looked at many stone, granite and quartz countertops before choosing this one and we fell in love with it immediately.
Caesarstone Statuario Nuvo is a white quartz that has a gorgeous charcoal gray and light gray organic looking veining in it. There is a touch of gray-brown in some spots.
Overall it has the look of natural stone and has a marble feel, but it has the benefits of quartz! It's stain resistant, heat resistant and very durable.
We have 2 boys and we use our kitchen a lot so I wanted something beautiful yet fuss free.
The veining in this Caesarstone is so beautiful – it literally makes me smile every day! I love how it flows naturally across the surface!
We chose a standard eased edge for a traditional meets contemporary look.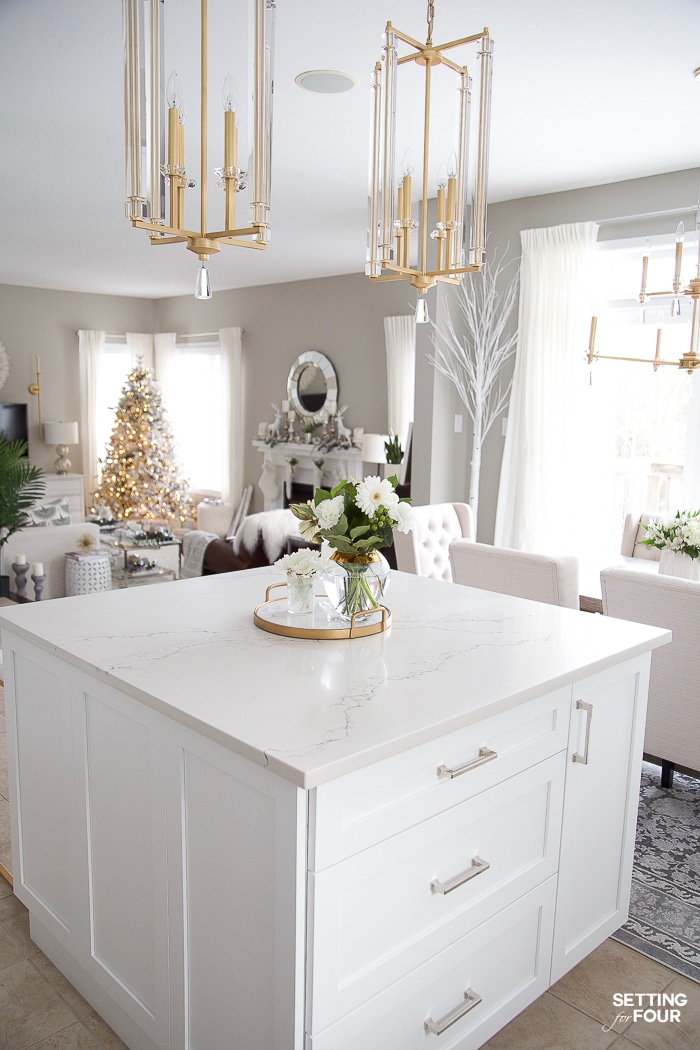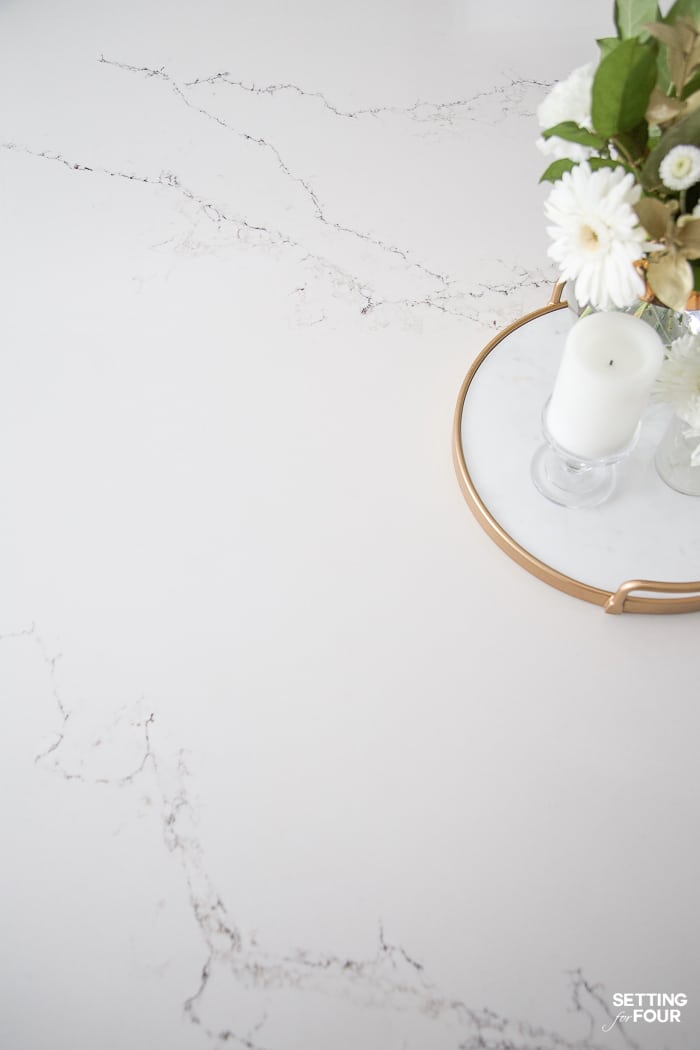 Sink
We received a sink FREE with our countertop – more on that later! I chose a stainless steel double bowl style – I'm still personally love the double bowl style!! This sink is wide and deep which fits our needs perfectly for cleaning big pots and roasting pans.
Faucet
We tore out the old faucet as soon as we moved in and replaced it with this gorgeous chrome Delta Trinsic Pull-Down Kitchen Faucet with Magnetic Docking Spray Head
I'd love to get a gold colored faucet to go with our pendants and hope to get that installed soon.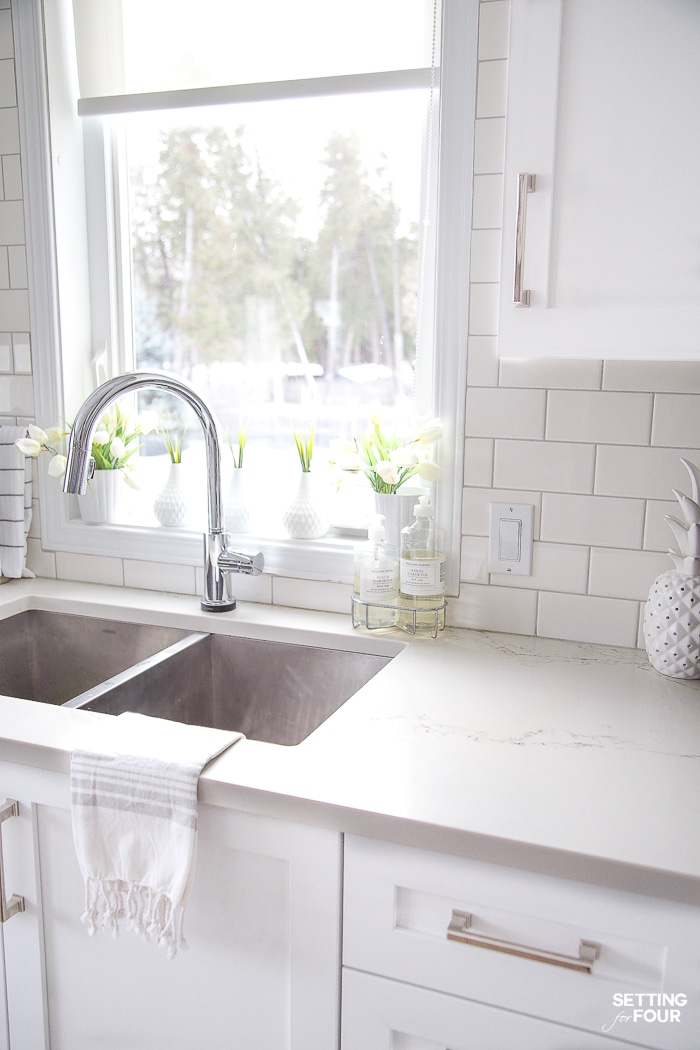 Backsplash Subway Tile
We replaced the beige ceramic tile with beautiful white 3″ x 6″ subway tile in Bright White and laid it in a regular subway pattern.
We ran it up the wall above the sink, around the window right to the top of the ceiling.
At the oven area we ran it down partway behind the stove to save costs instead of running it completely down the wall.
Then ran it around the oven hood to the top of the ceiling.
We also laid it in the backsplash area of the kitchen's built in office nook.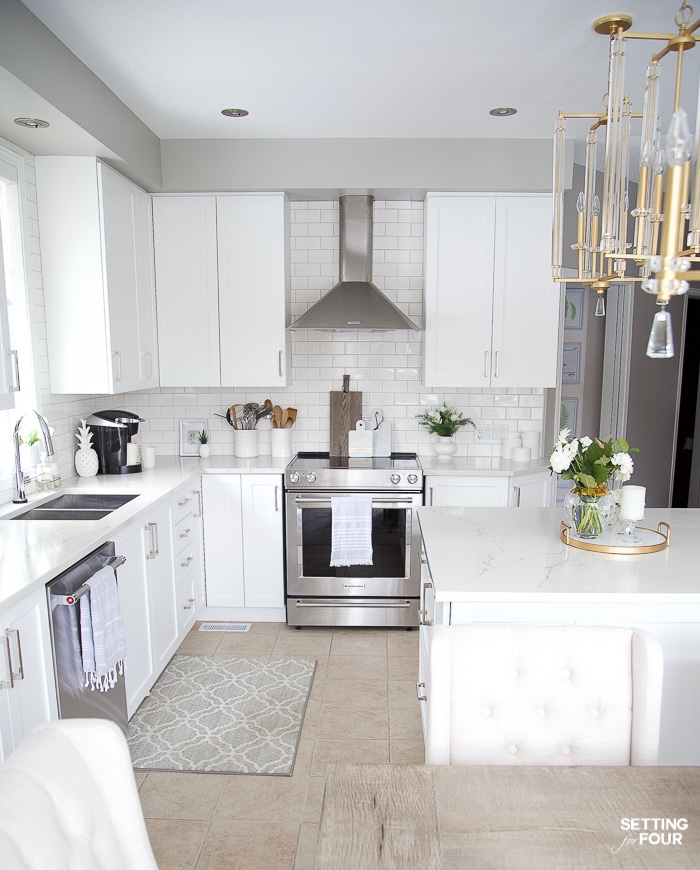 Grout
I knew I wanted a light gray colored grout to go with the Mindful Gray paint color. I didn't want white or black colored grout. So we used this one called Mapei sanded grout in Warm Gray color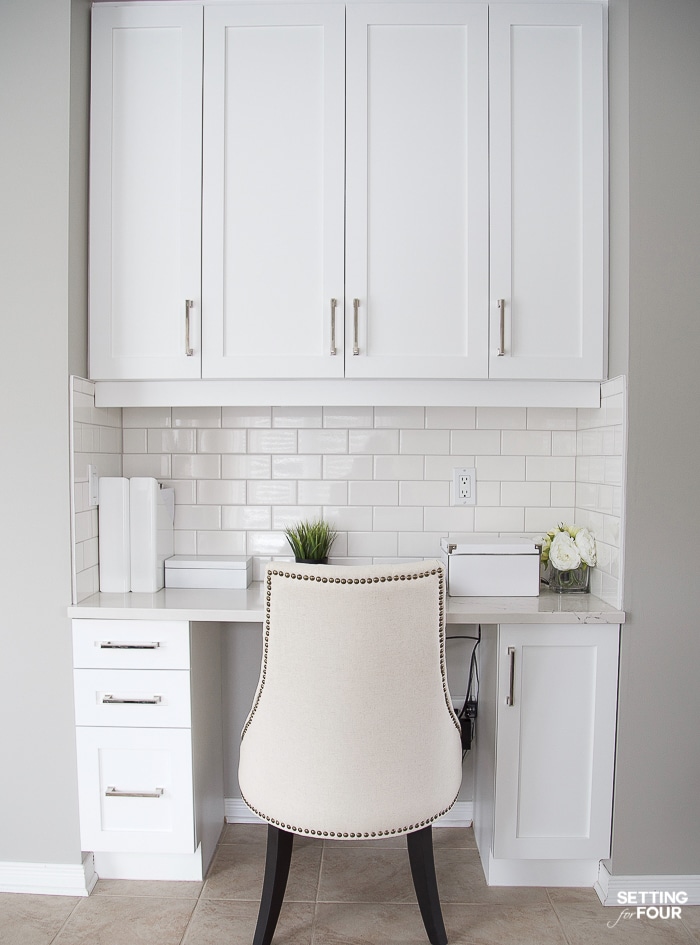 Appliances
We replaced the old appliances with new ones:
KitchenAid 30 Inch Wide 6.4 Cu. Ft. Slide-In Electric Range with 5 Cooking Elements in Stainless Steel finish
KitchenAid  24 Inch Wide Energy Star Rated Dishwasher with ProScrub and Third Level Rack in Stainless Steel finish
Frigidaire 36 Inch Wide 26.8 Cu. Ft. Energy Star Rated French Door Refrigerator with Store-More Flip-Up Shelves in Stainless Steel finish
We love them all and they've been very durable and hardworking for us!
This dishwasher is so quiet when it's running and I love the top tiered rack it has for utensils. We can load lots of dishes and glasses into it.
KitchenAid  24 Inch Wide Energy Star Rated Dishwasher with ProScrub and Third Level Rack in Stainless Steel finish
We replaced the worn out gas stove that wasn't working with this electric solid surface cooktop range with convection oven.
We absolutely love it! My mom had a gas stove and some of our other homes have had gas ranges too.  We prefer electric ovens with solid surface cooktops over gas.
This one has a solid surface cook top that cooks really quickly – much more quicker than gas so it's fabulous for energy efficiency! Plus its so easy to clean.
I hate cleaning gas stove grates! I'm a messy cook so this is such a dream to keep looking nice and clean!
The new style of solid surface stoves that are becoming very popular are induction stoves. They are the best stove for energy efficiency.
KitchenAid 30 Inch Wide 6.4 Cu. Ft. Slide-In Electric Range with 5 Cooking Elements in Stainless Steel finish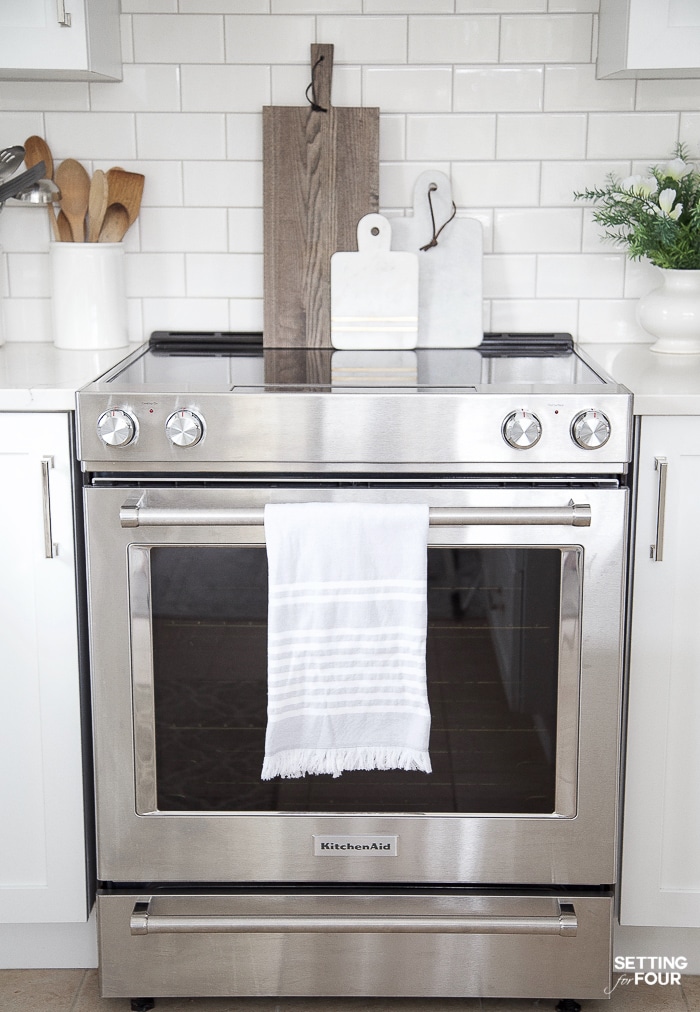 I'm loving our Frigidaire french door style refrigerator! It has a no-smudge stainless steel finish so it always looks great and not covered in fingerprints!
Frigidaire 36 Inch Wide 26.8 Cu. Ft. Energy Star Rated French Door Refrigerator with Store-More Flip-Up Shelves in Stainless Steel finish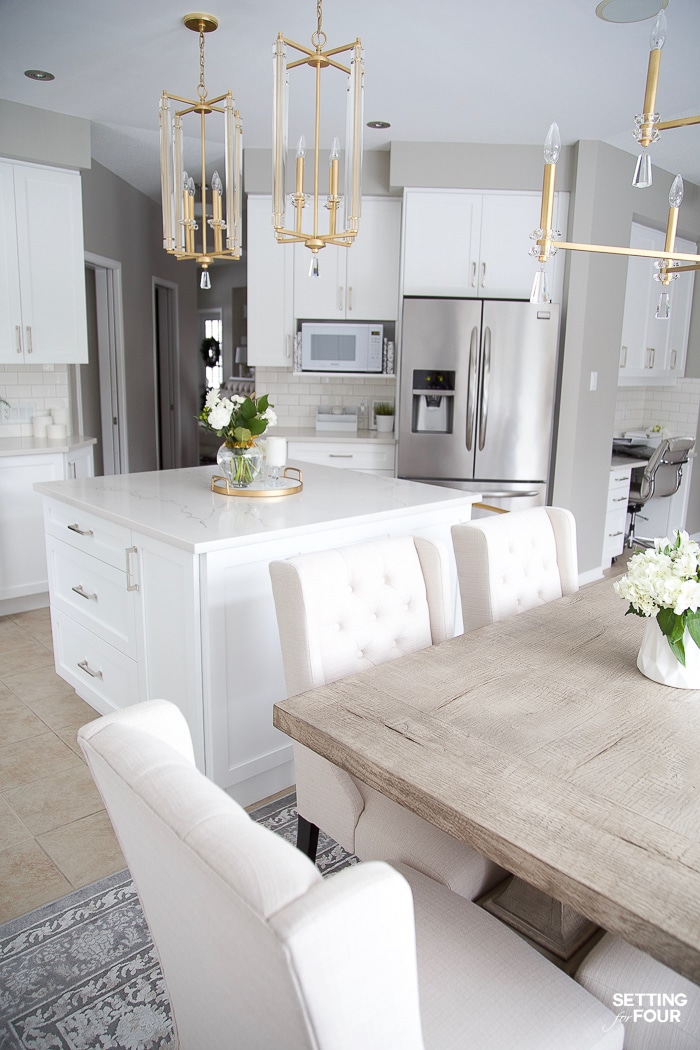 Paint Color:
We painted our entire kitchen my go to gray color – Sherwin Williams Mindful Gray! I've used this on most of our main floor and it's stunning in the kitchen.
It's a warm looking gray and brightens our kitchen so much compared to the dark green and yellow that was there before!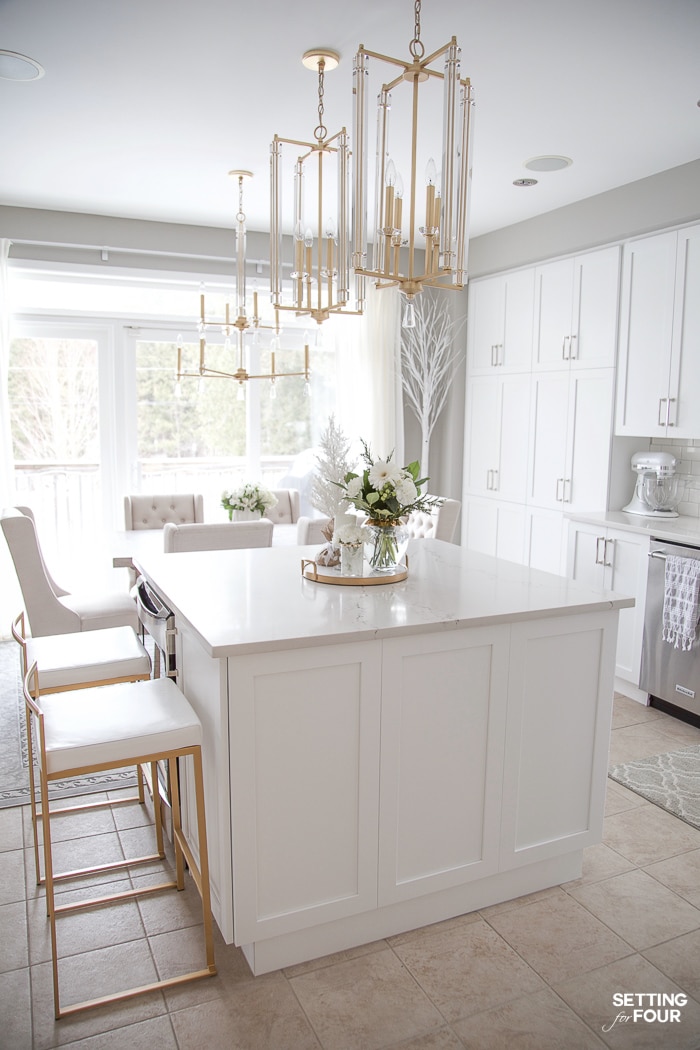 Here's our hallway that leads to our family room and entryway – painted in Mindful Gray as well for a cohesive look and flow.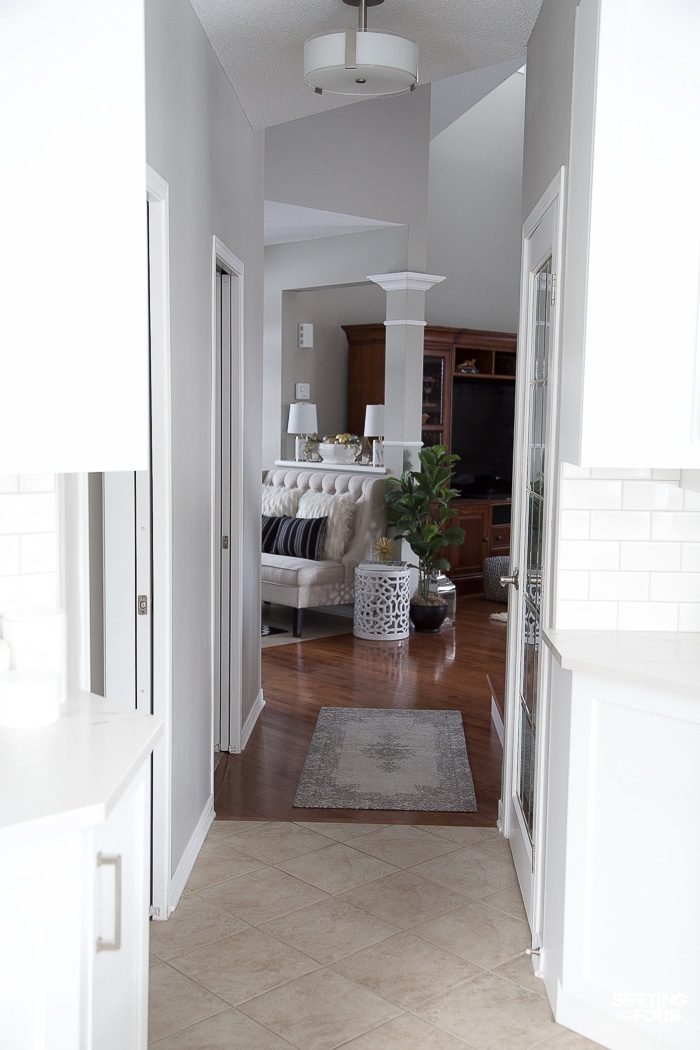 Lighting
I decided on lighting with a gold finish for our kitchen to repeat the gold accents I've been adding to our living room. I love this gold finish so much for the warmth it has and it's so on trend right now.
I'm so thrilled that my friends at Lighting Design and Capital lighting partnered with me and sent me these two stunning gold and crystal pendants  and this breathtaking gold and crystal chandelier !
I'm obsessed with them! I love their chic, contemporary lines, the scale of them and the modern glam crystal style! Each column, bobeche candle ring and hanging drop is crystal! It has such a gorgeous sparkle at night.
Head over Lighting Design and check out all their stunning lighting designs! They have a huge sale on right now! They and Capital lighting have an incredible selection, price points and stellar service!!
I hung them 30 inches over the island countertop.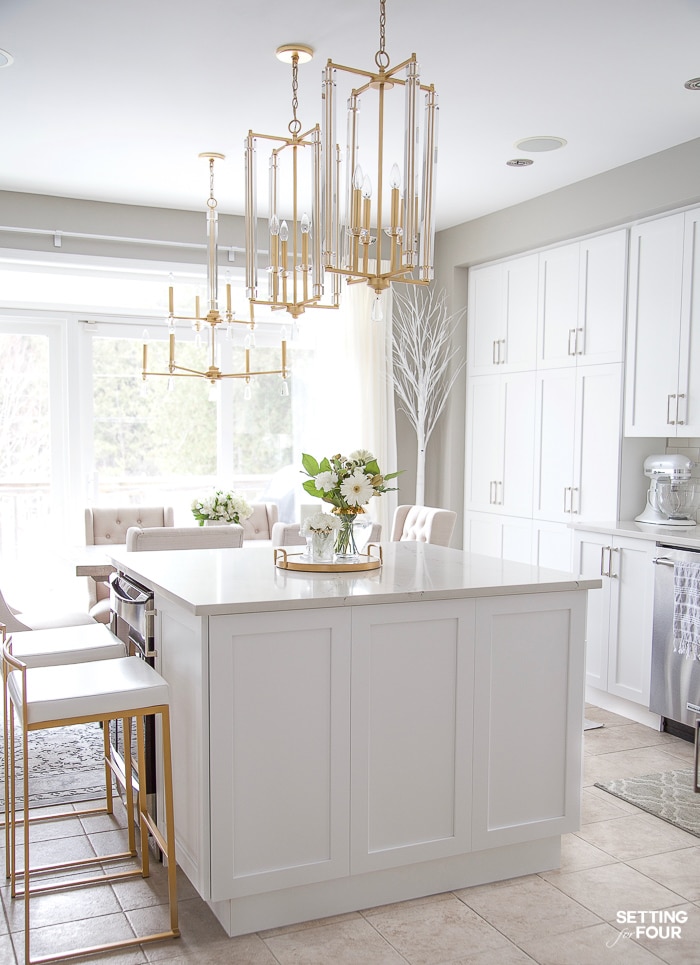 gold and crystal pendants above the island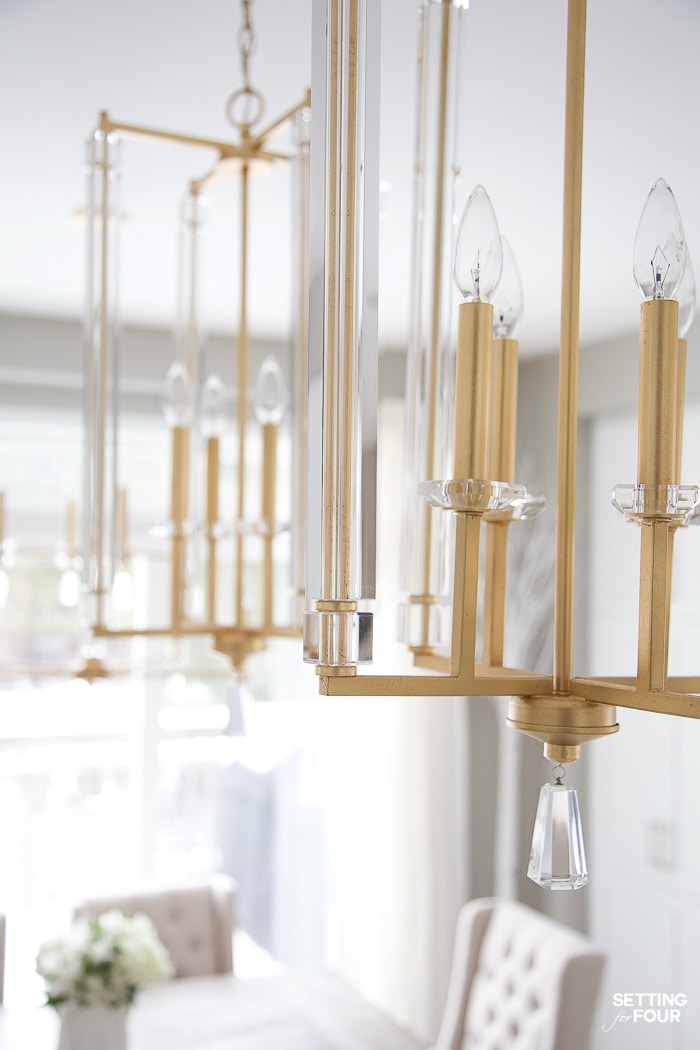 This elegant chandelier takes my breath away! I love this two tiered style and modern take on a traditional style.
We put our new lighting on dimmers so that we can adjust the light easily!
I hung it 30 inches above the table.
gold and crystal chandelier above the dining table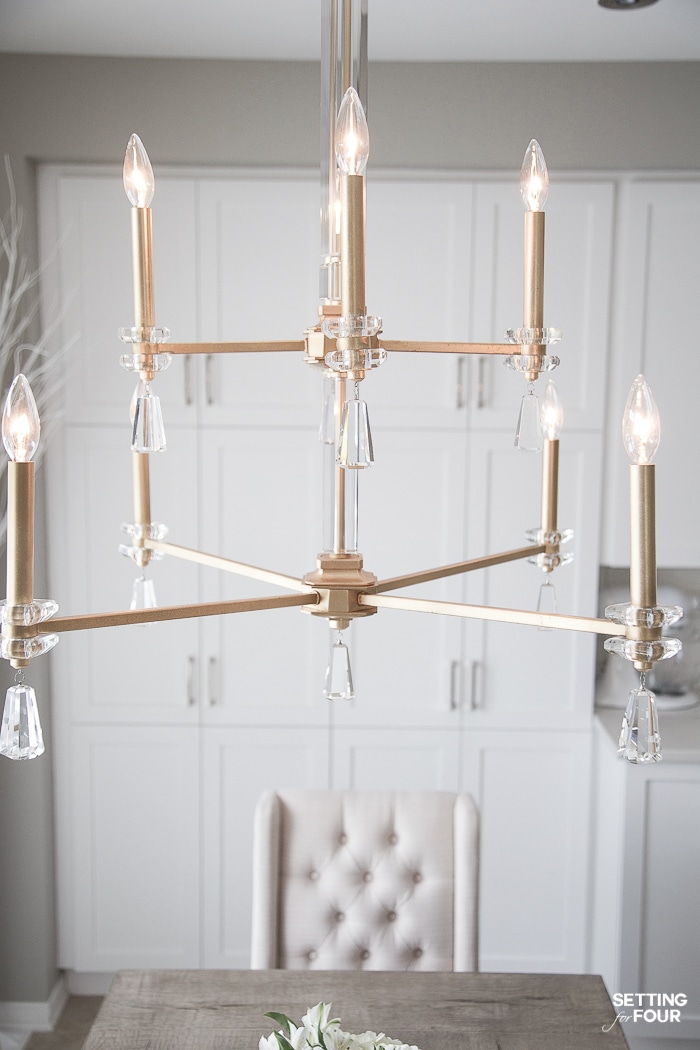 Dining Table
Our new kitchen reveal continues with this new table that I purchased on sale (watch those sales everyone to save money!!)
It's the Reclaimed Russian Oak Baluster Rectangular Extension Dining Table in Reclaimed Grey Oak finish!
We love the style of the baluster legs so much and the reclaimed grey oak color is stunning!
I love the weathered appearance of it! It looks so beautiful with our dining chairs, brass and crystal chandeliers and white cabinets.
This is the livable glam look that I love!
I sealed it with a matte clear sealer to make it more durable (it has an unfinished surface) and to keep the gray oak color the same – I'll share a tutorial for that soon!
See my roundup of 36 Gorgeous Farmhouse Trestle Table Favorites!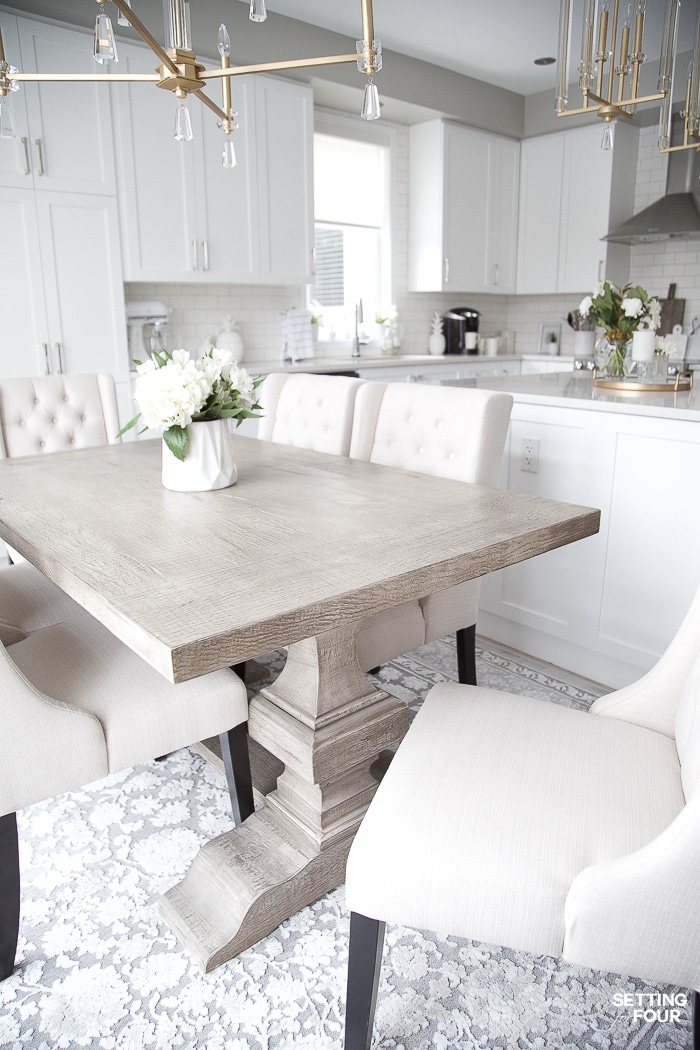 Dining chairs
I knew that I wanted upholstered dining chairs with a contemporary look. After some searching online I found the perfect ones! Thank you to my friends at Bellacor for partnering with me! They sent me these gorgeous, affordable beige tufted upholstered dining chairs for our dining area.
They look gorgeous with our dining table.
Head to Bellacor to see lots of gorgeous furniture designs at affordable prices! The quality and service is amazing!
I scotch guarded them myself using this technique and they are now stain resistant and spill proof!
YES!! You can have light colored chairs with a family!
One of our son's loves Franks RedHot sauce on his food – it's is a bright red hot sauce condiment – and accidentally spilled it on our chairs.
Because I treated them with my DIY scotch guard method, the red stains came easily disappeared with just a damp cloth!
tufted upholstered dining chairs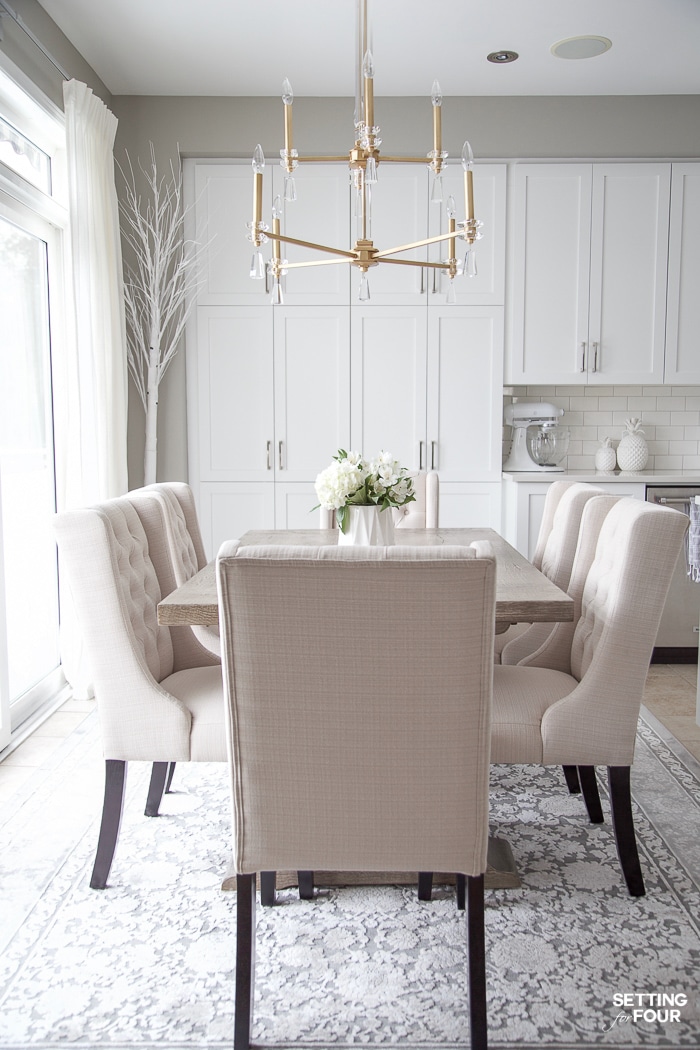 Area rug
A big thank you to my friends at Home Dynamix for sending me this gorgeous gray area rug in Infinity by Nicole Miller area rug!
It's a 5'1″x7'2″ size and so soft! It has a gorgeous print to it and a low pile so it's perfect for a dining area!
It's very durable and I love the color of this rug! The grays in the rug look beautiful with our Mindful Gray wall color and the gray veining in our Caesarstone counters!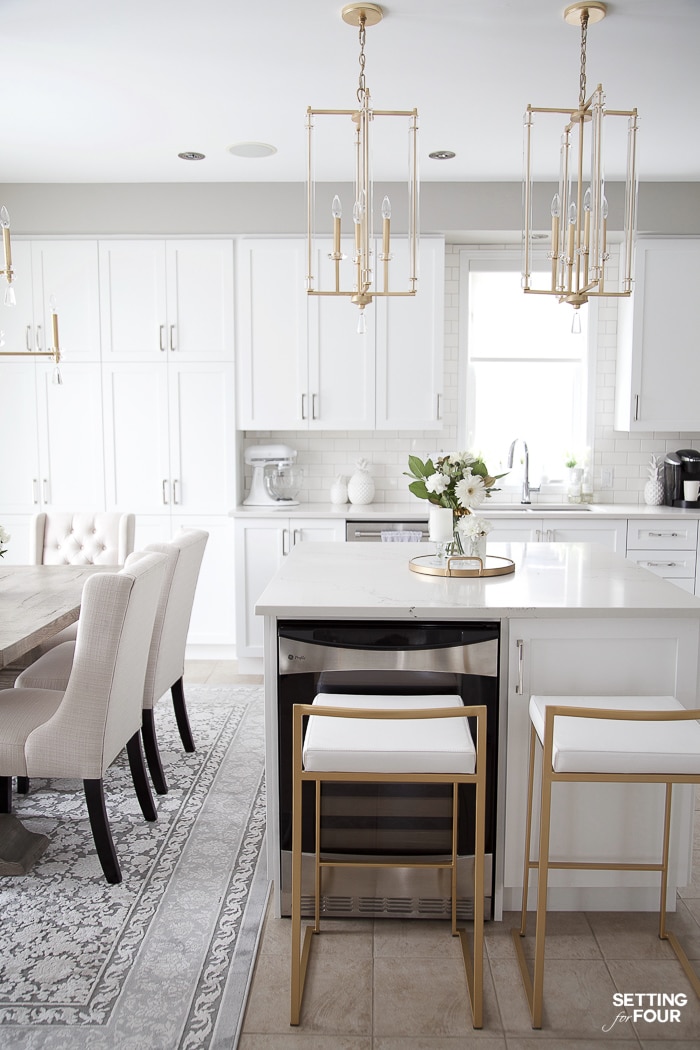 Counter stools
I also purchased two of these stackable gold and white counter stools for the island. I love how they go with our new gold lighting and gold touches in our living room that our kitchen opens onto!
The seats are wipeable vinyl which makes them easy to keep clean.
They also come in silver and other seat colors too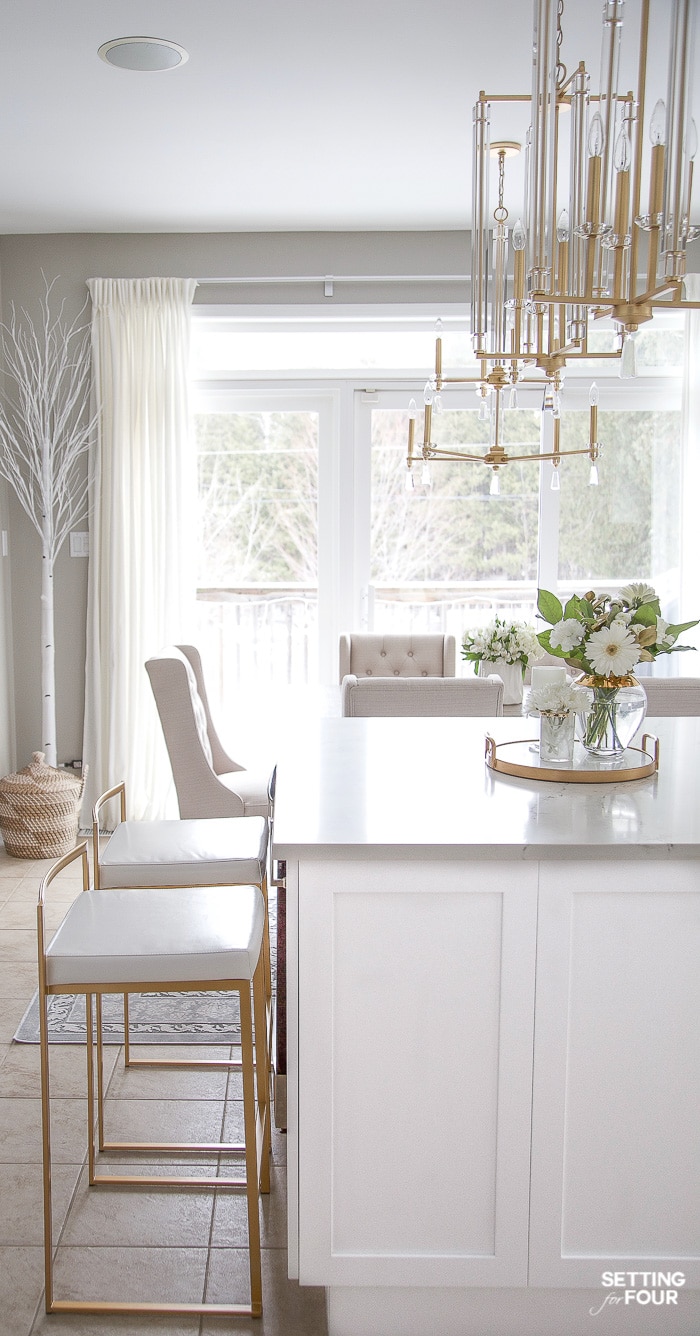 I love decorating my new white kitchen, especially the kitchen island!
A gold and marble tray with candles and flowers is a simple centerpiece idea.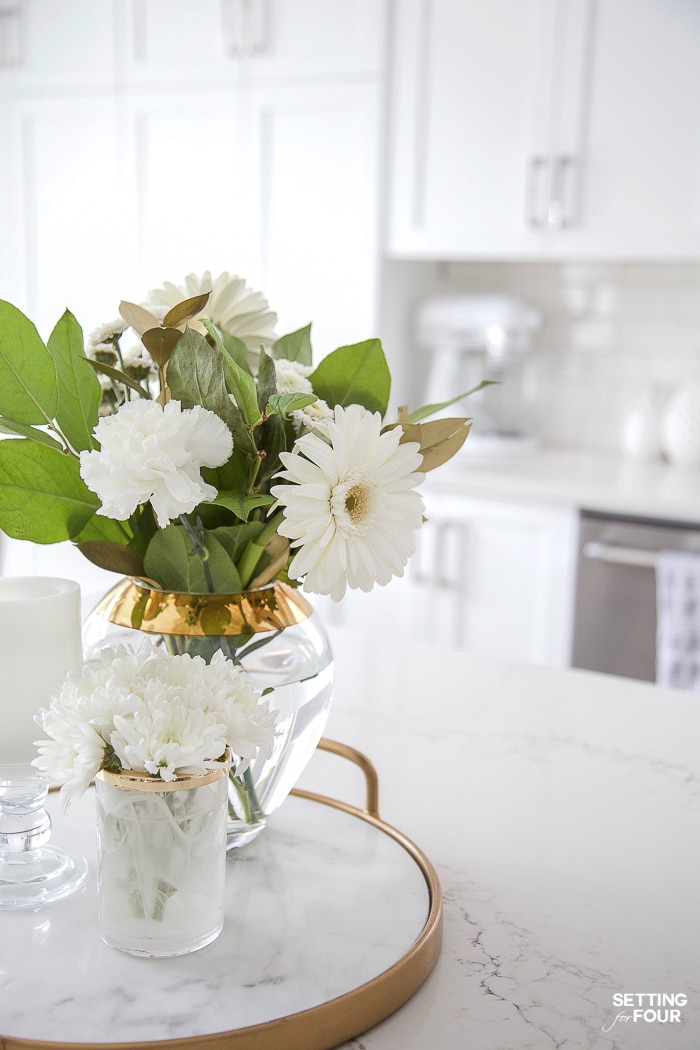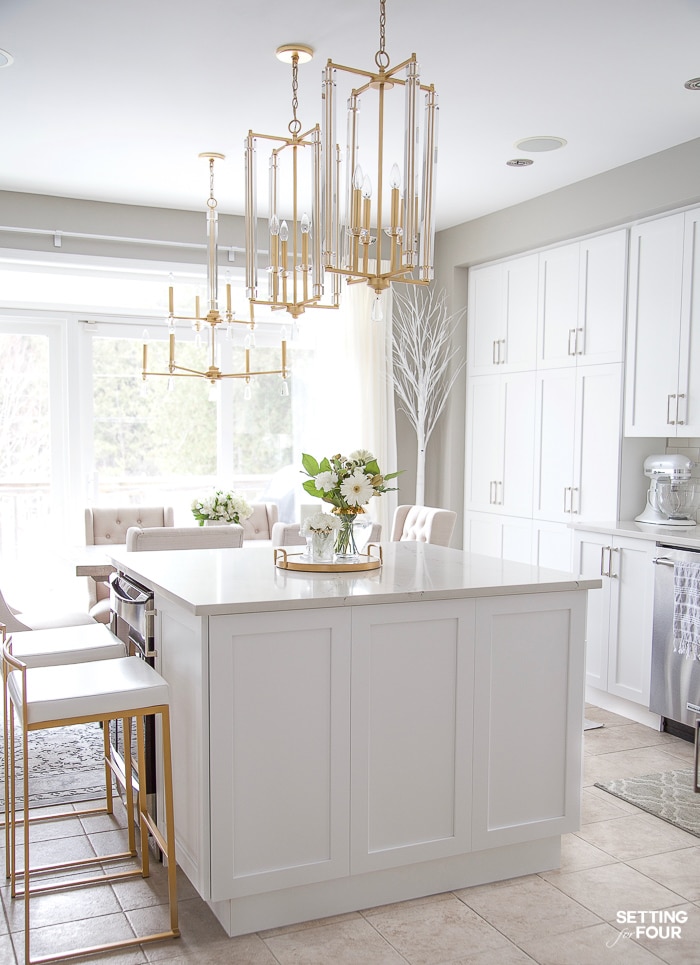 Shop our new kitchen! Click the  images below to see more about each item!





I hope you liked seeing our Dark to White Kitchen Remodel Before and After!
Thank you to Bellacor, Capital Lighting and Lighting Design for partnering with me on this project! All opinions are 100% my own.
If you have any questions about our remodel leave them in the comments below!
You may also like:
Your Guide to Choosing Cabinets For Your Kitchen & Bathroom
20 Delicious KitchenAid Mixer Recipes
An Elegant Kitchen Coffee Bar Idea for Fall