Learn How to Make Outdoor Waterproof Cushions in a jiffy with this DIY Hack!
Turn indoor seat cushions and pillows into outdoor waterproof versions in just minutes with this easy DIY treatment!
If you can't find outdoor pillows in the color or pattern you like, simply modify your favorite indoor pillows.
Make them waterproof, fade resistant plus super durable in just one step.
You can use them on your outdoor patio chairs, sectional sofas, chaise lounges, benches and outdoor swings and gliders!
This is also a great way to make indoor cushions stain proof and waterproof for indoors if you have kids and pets.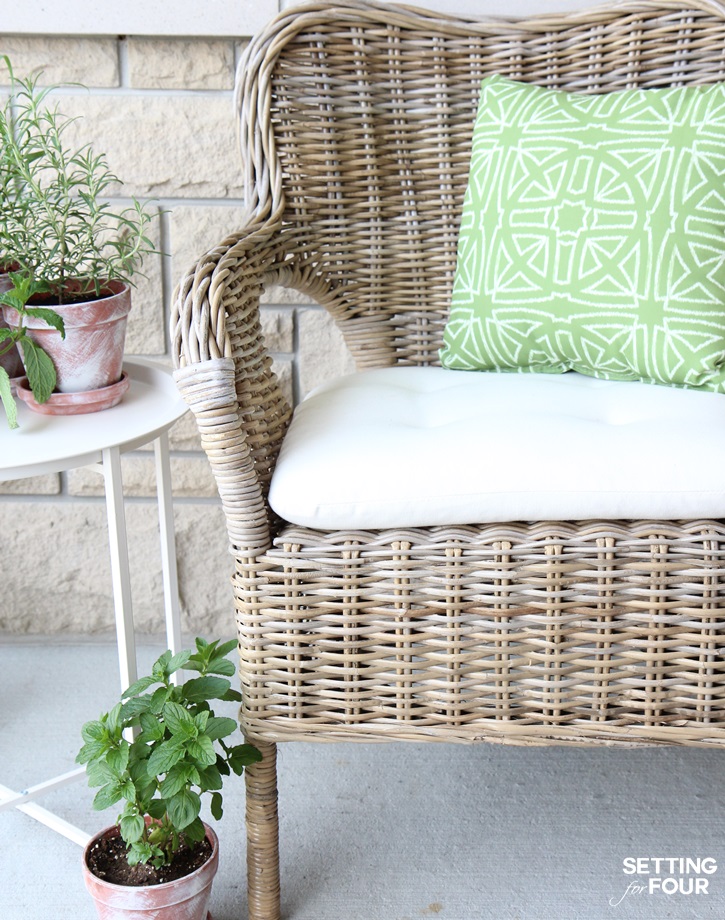 I had some indoor seat cushions I wanted to use outdoors on our wicker chairs – but was afraid they'd end up soaking wet from the rain.
Luckily I ran across this water seal product that makes fabric waterproof, stain resistant, fade resistant and durable!
But don't worry – the fabric still remains soft to the touch! No crunchy, stiff fabrics at my house – no way! We're all about comfiness here!
This post contains some affiliate links: These are either the same as the items featured in this post, or are similar options for your shopping convenience. Click here to read my full disclosure policy
How to Waterproof and Stain Resistant Fabric
 I used this waterproof spray.
I gave both sides of my cushions two coats of spray.
AND It doesn't leave any odor!
You can use it on pillows, tablecloths and patio umbrellas too!
I love this amazing waterproof spray!!
It doesn't make the fabric stiff or crunchy so it's still super soft to sit on! It's super quick and easy to use!
This is such an amazing way to use beautiful indoor pillows and textiles outside and make them super durable!
I love that it's fade proof so it protects fabrics from sun and UVA/UVB damage.
Now our outdoor seat cushions on our front porch will remain nice and dry!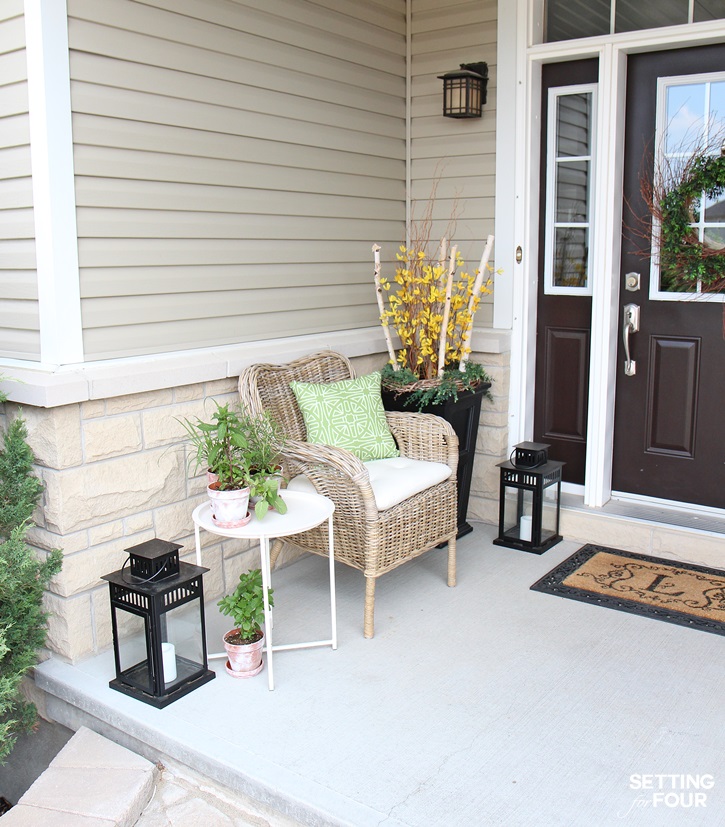 Look at how the water beads on the fabric! It's not soaking in!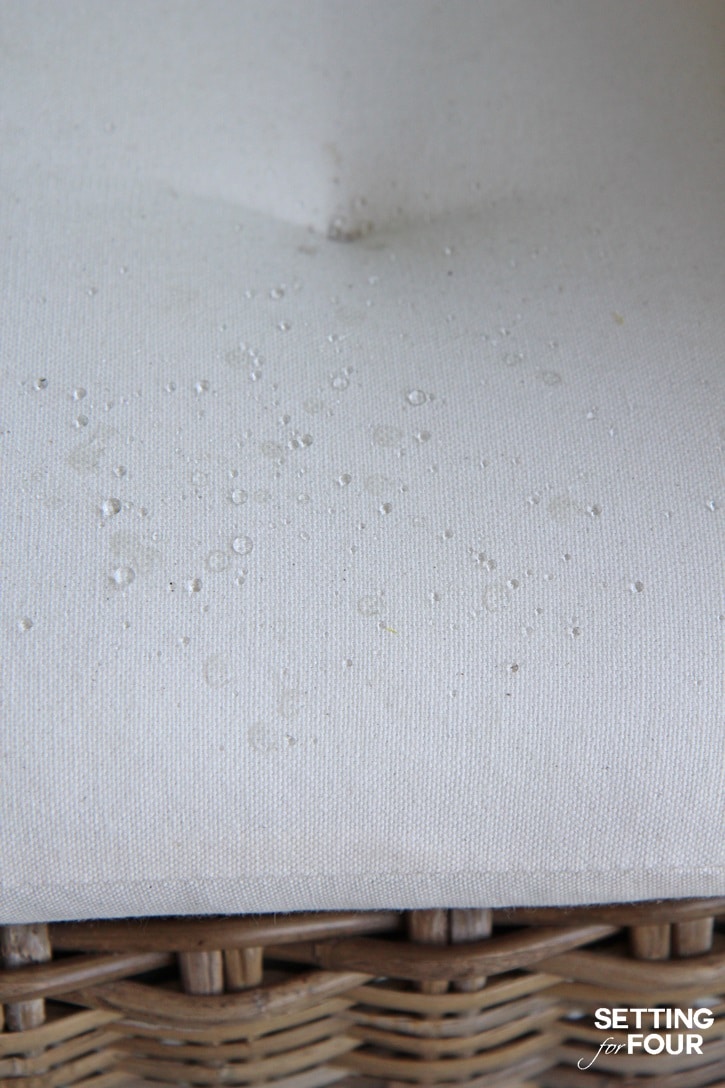 Also – if you're a sewer you can sew up your own pillow covers from fabric, spray them with the waterproof spray and then use them outside.
What an ideal way to make indoor upholstered dining chairs and ottomans stain resistant too!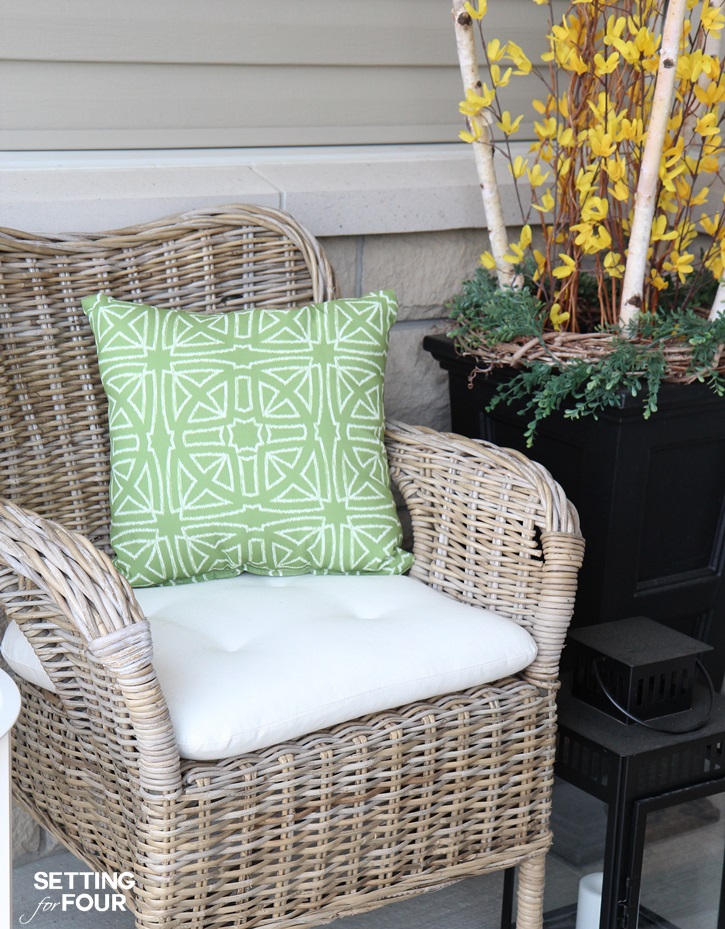 I hope you like my tip on how to waterproof indoor cushions!
SHOP MY FRONT PORCH!
CLICK ON THE PICTURES BELOW TO SEE MORE ABOUT EACH ITEM: 

You may also like:
How to Make A Potting Bench! Instructions and supply list included! Plus the gorgeous grey stain finish instructions are included too.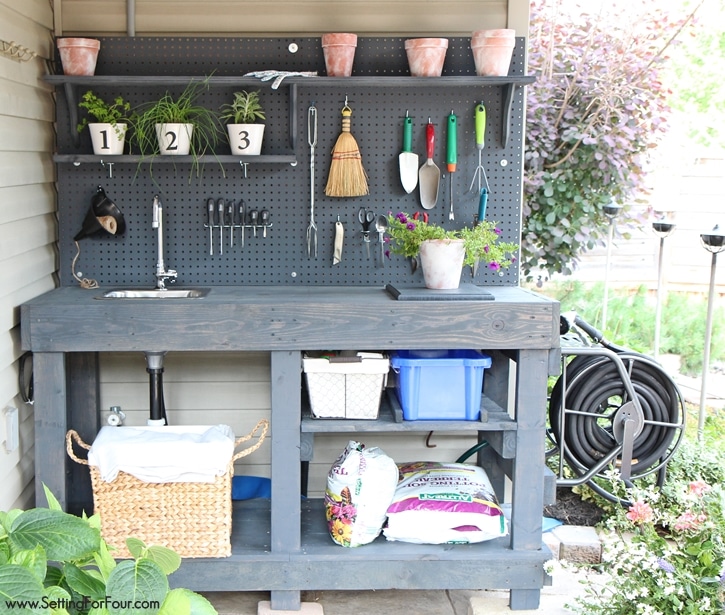 Outdoor Pallet Bar DIY – a place to keep your outdoor drinks and snacks handy!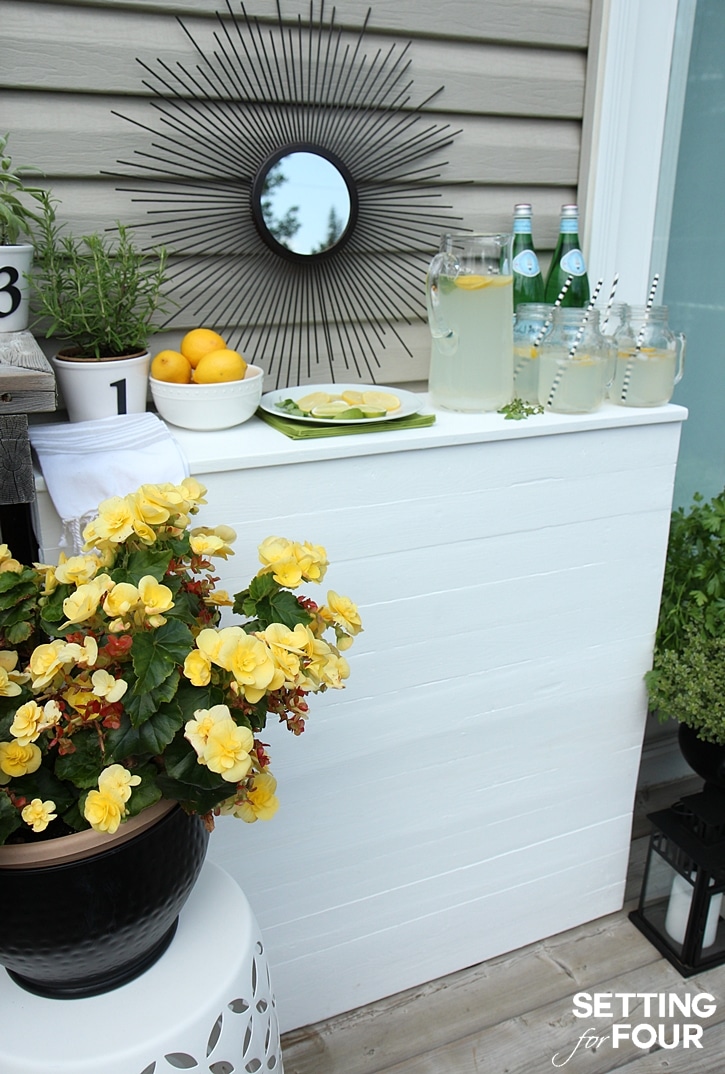 How To Grow A Cut Flower Garden