Hello friends!! Today I'm sharing our DIY Potting Bench with a sink and lots of bells-and-whistles! This post begins with an apology…. I'm so sorry everyone. I promised I would post this tutorial a few months ago after I gave you a sneak peek at the finished results…. and the summer just got away from me. But great news! I have the full tutorial and photos finished – so today I'm sharing all the details on how you can make our gorgeous DIY Pallet Potting Bench! I hope you love it as much as we do!
Even though the weather is cooling here, it's a great time to make potting bench so that it's all ready for spring planting and gardening….and for fall gardening if you still have your garden in – lucky you!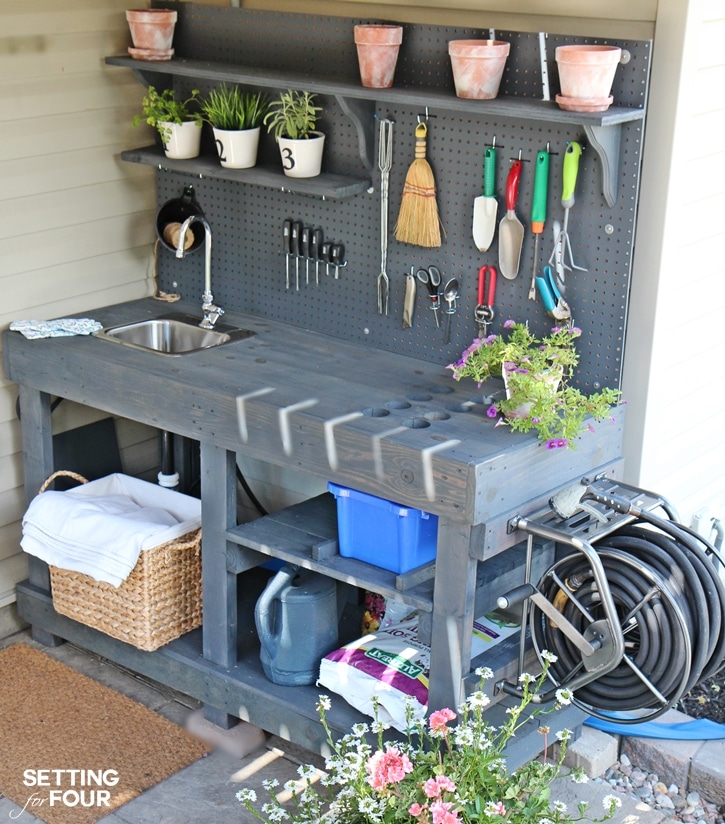 Thank you for ALL of your compliments that you shared in my sneak peek post on the design and stain color! We LOVE that it came together just the way we wanted it to from my hubby's original design and especially love the fact that our potting bench is almost completely built with upcycled and FREE materials!
This potting bench is an original design created by my hubby! Thank you Shawn for your ingenuity and clever building skills! You are a ROCKSTAR!

I'm also sharing with you the supply and materials list, so that you can build your very own potting bench! We truly hope you'll be inspired to make one of your own!
Here's our finished Potting Bench with pictures of all it's amazing bells-and-whistles and features!
1. Sink and faucet with water drainage into flower garden: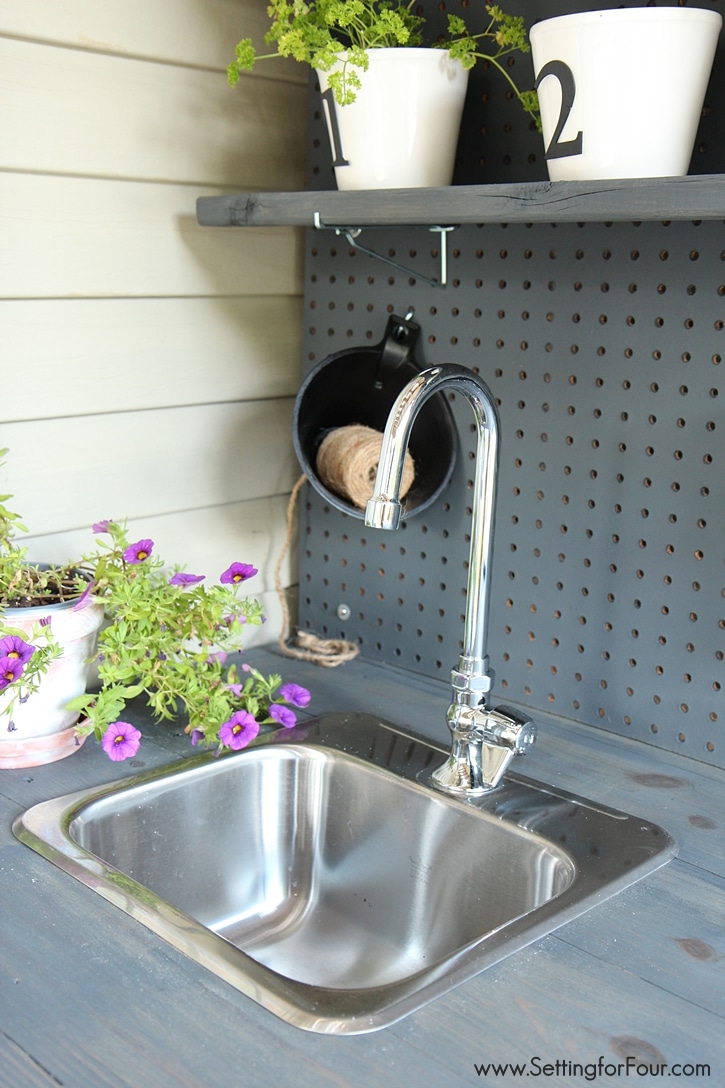 2. Mounted Hose Reel with Gardening Hose connected to the water supply at the side of the house: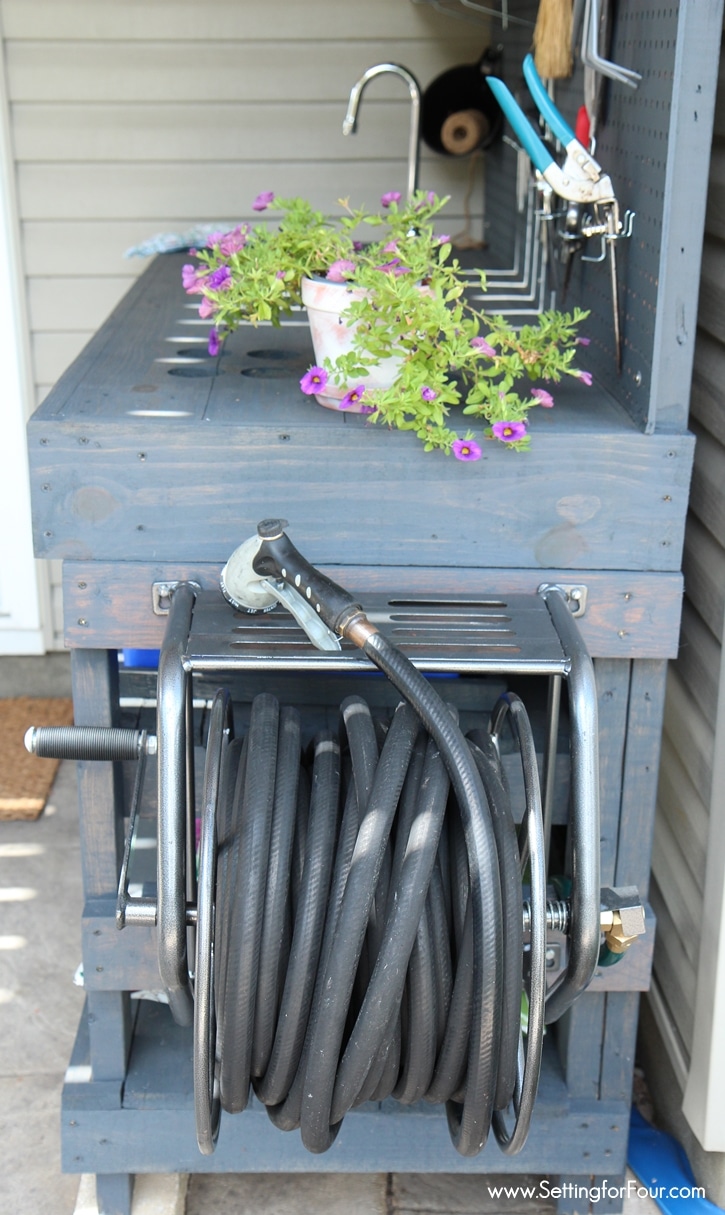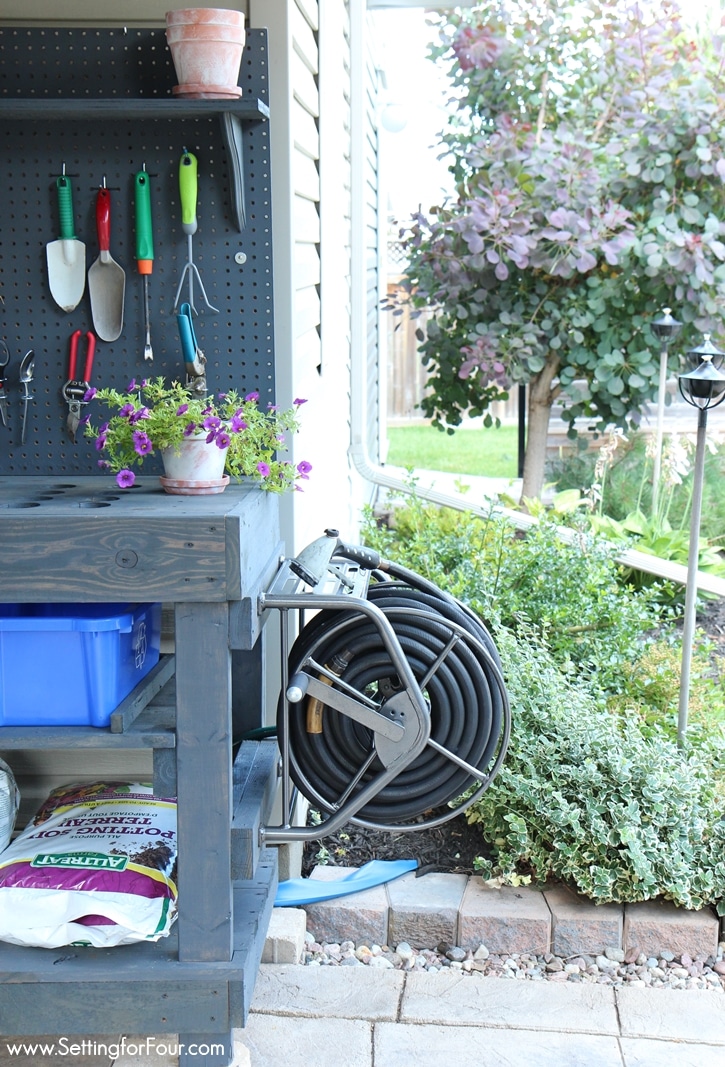 When I want to water the plants on our deck and patio I just unroll the hose and water away! I can also easily hose off the potting bench if I want!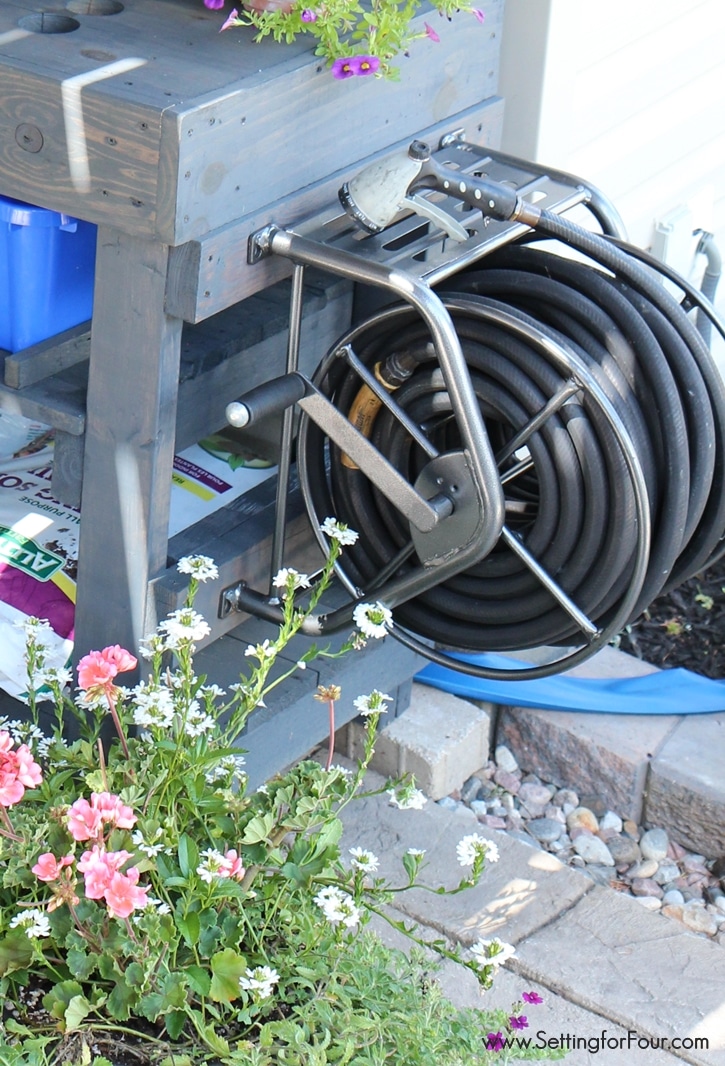 3. Bench cleanup holes for excess soil and a cleanup container: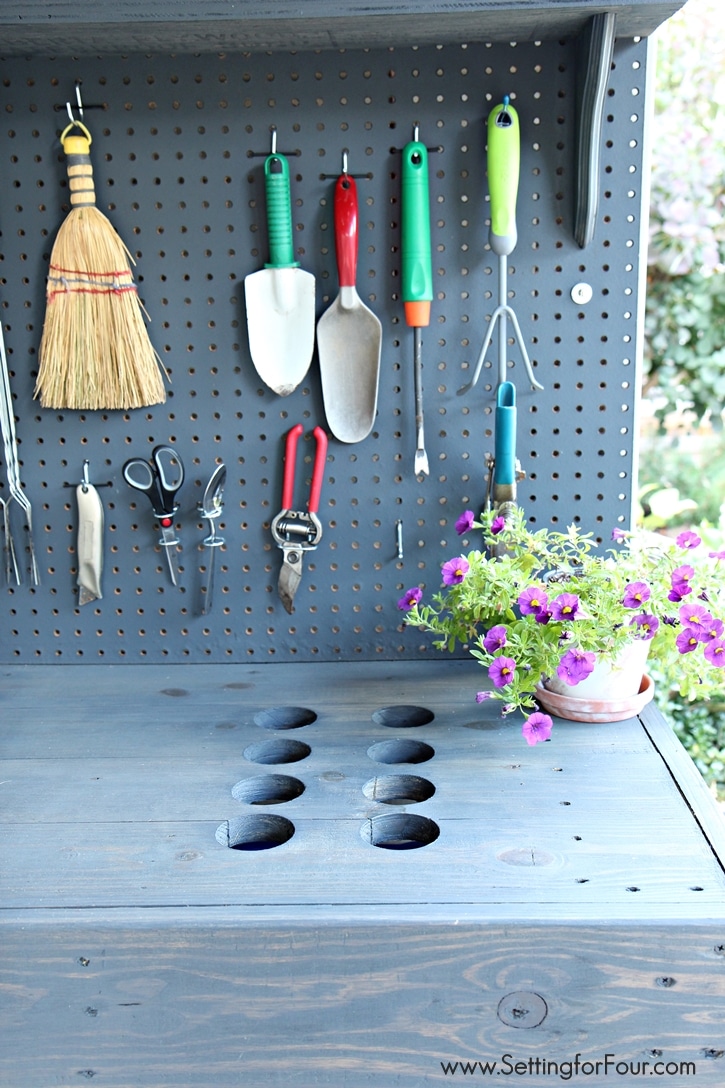 Excess soil falls through the cleanup holes into the container below for quick and easy cleanup when potting plants!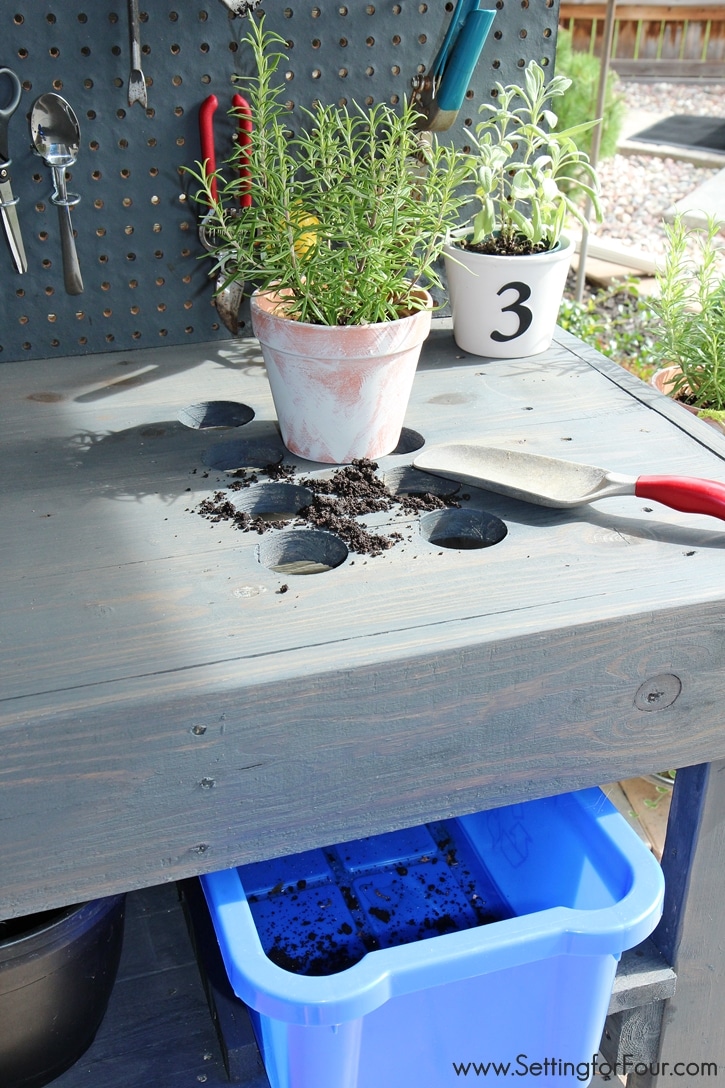 4. Here's another fabulous feature that I added to our DIY potting bench – see below! A cover for the bench cleanup holes: I stained an old cutting board with the same stain that I used for the potting bench… and use it to cover the cleanup holes when we use the potting bench for entertaining and holding drinks and snacks ect!
5. We also added pegboard and hooks for organizing and storing gardening tools: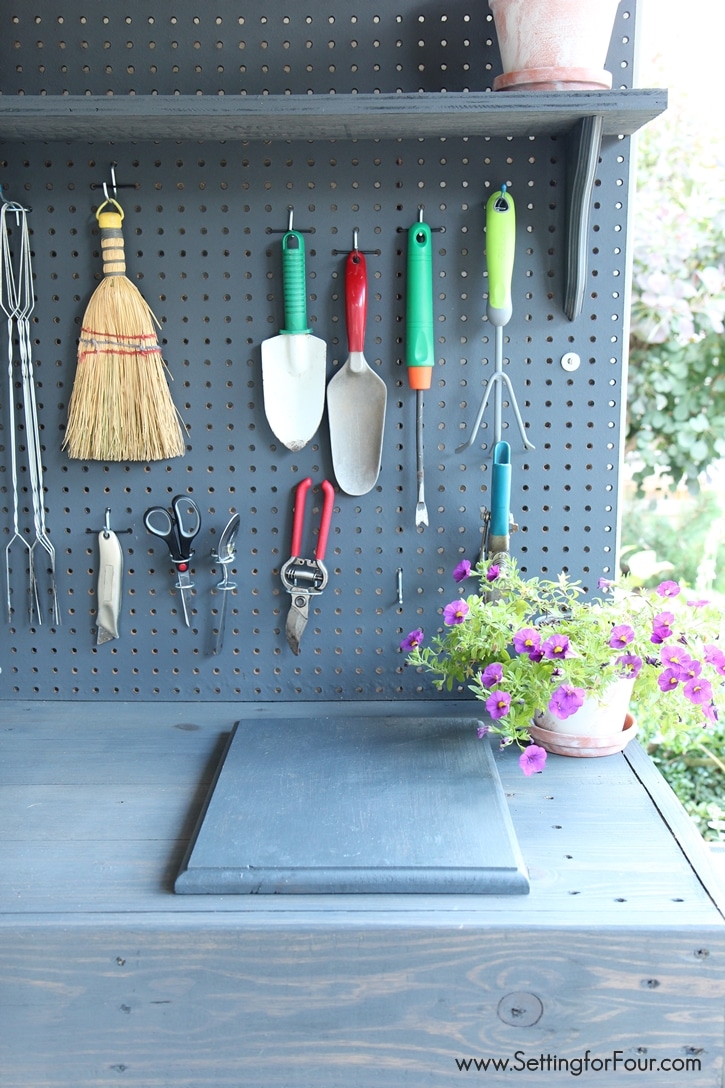 6. We also added this amazingly simple DIY twine dispenser! Just hang a funnel on a hook to hold and dispense twine: String the end of the twine through the end of the funnel and pull the end of the twine to dispense as much as you need!
This is such a handy storage and organization idea!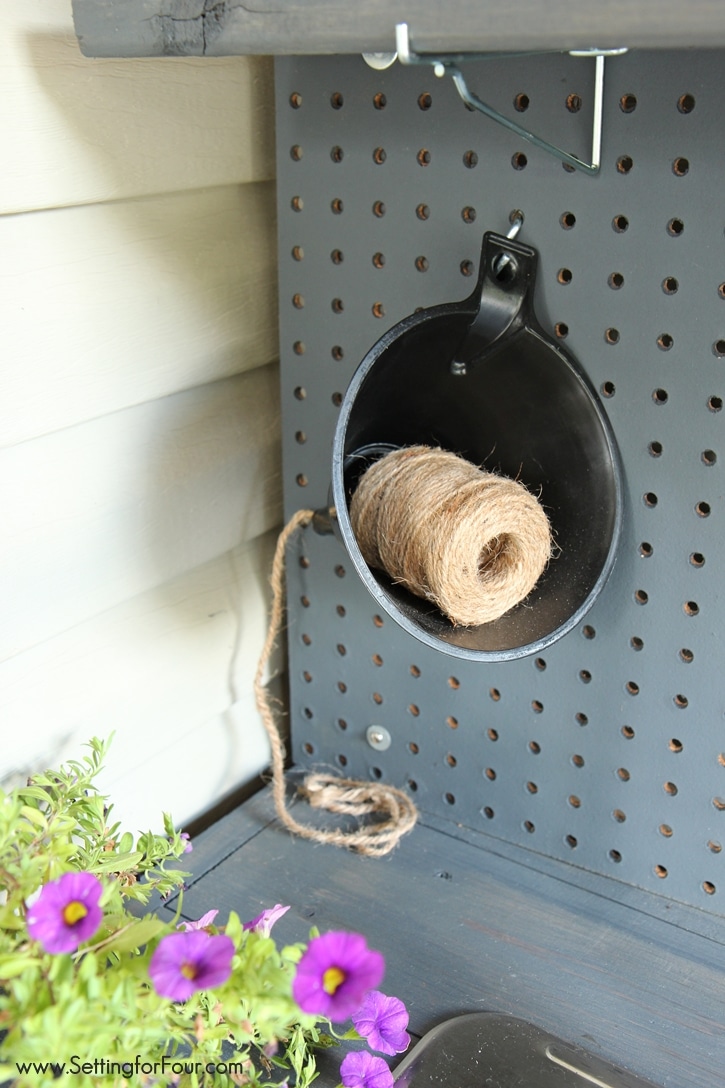 7. Upper and lower shelves for storing and organizing pots, gardening containers and soil: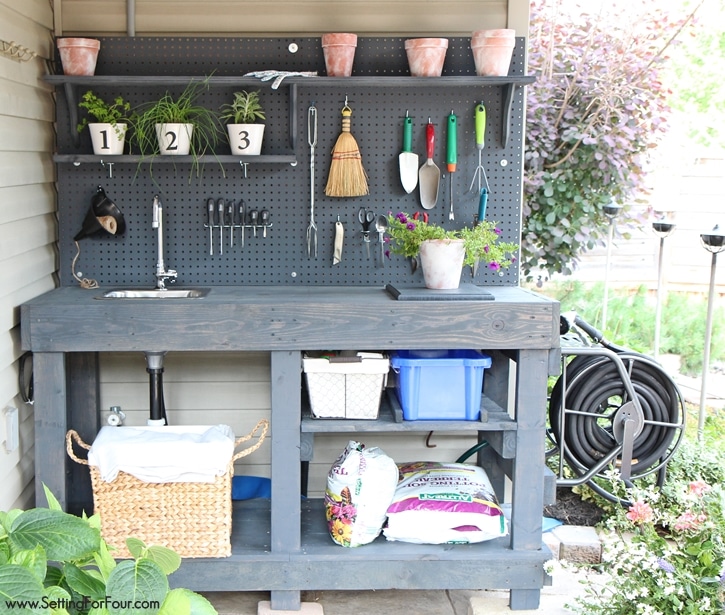 Click the arrows below to see the instructions and supply list to make this beautiful DIY potting bench!