Discover gorgeous, inexpensive ways to make your outdoor space look expensive!!
You don't have to spend a lot to add fresh updates to your outdoor space and make it look expensive!
These design tips will show you how to make your backyard look expensive on a budget.
From incorporating plants and greenery to finding affordable furniture and more!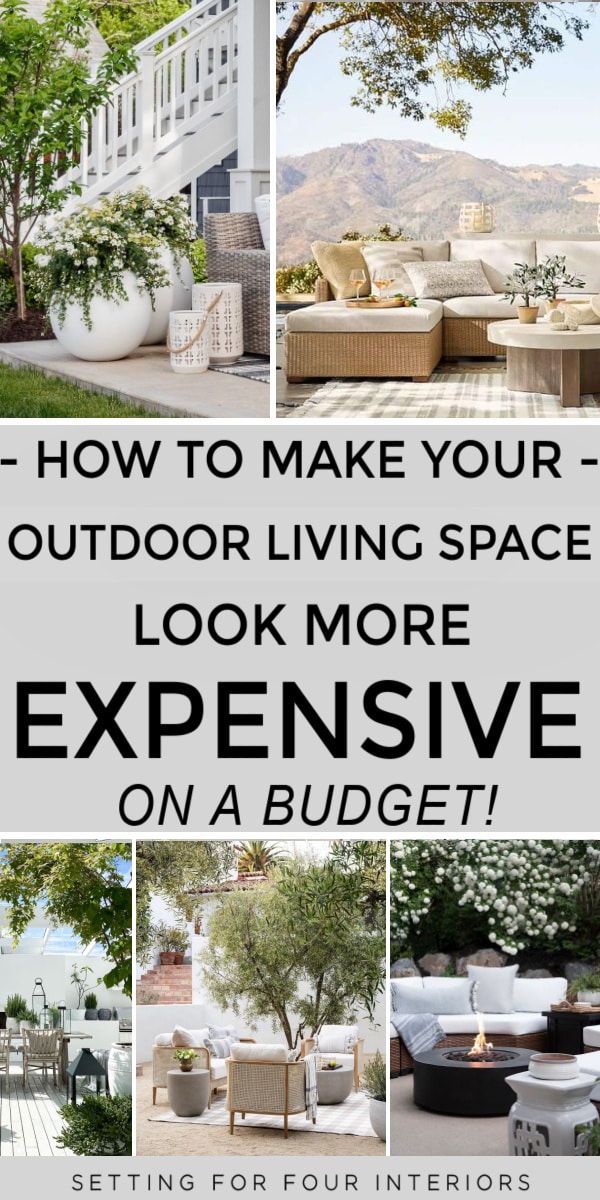 This post may contain affiliate links. Please read our disclosure policy.
How can I maximize my outdoor living space?
The key to maximizing outdoor living space is to incorporate functional and aesthetically pleasing elements in multiple outdoor 'rooms' or 'zones'.
This includes features such as an outdoor dining area, a fire pit or fire table area and comfortable seating areas that are designed for relaxation and enjoying nature and the outdoors.
Bonus – upgrading your outdoor living space doesn't have to cost a fortune!
You can create an inviting and practical space on a budget and enjoy your outdoor living areas year after year!⁠ I'll show you how!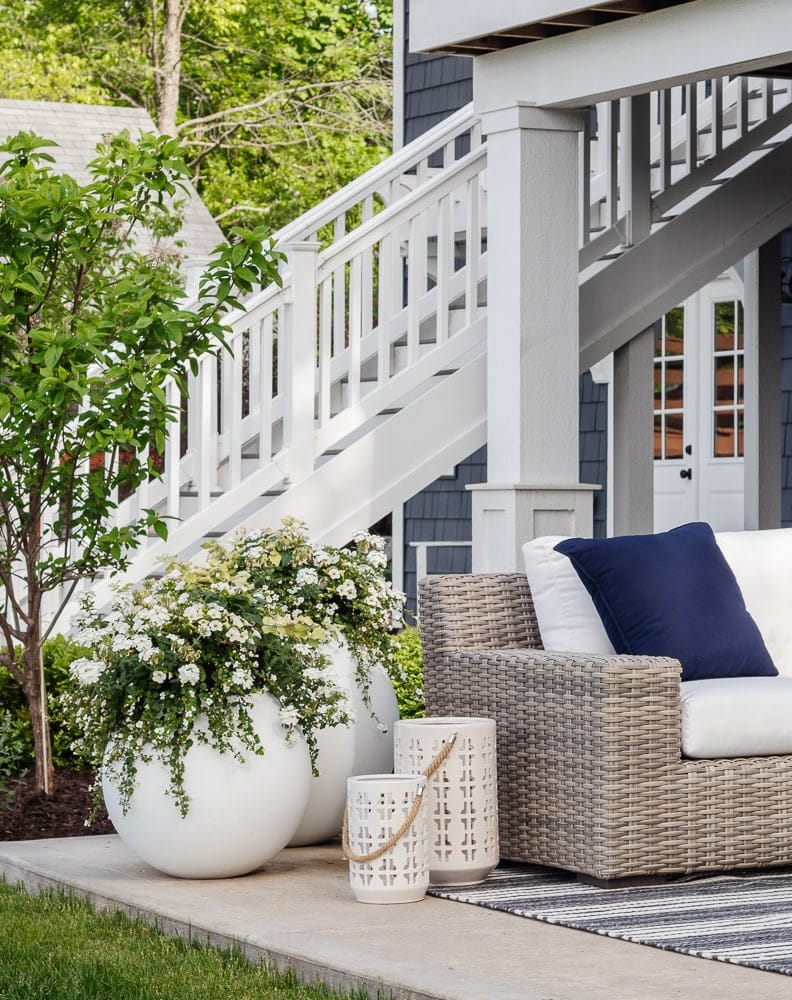 Here are my best design secrets on how to make your outdoor space look expensive on a budget.
Spending Strategy
Your spending strategy for creating an outdoor space on a budget should consist of:
Outdoor Furniture
Area Rugs
Greenery
Outdoor Lighting
Decor / Accessories
Put the most amount of your budget on outdoor furniture and save on decor, area rugs, lighting and greenery!
Now let's talk about budget friendly outdoor furniture for a high-end look for less.
Best selling, inexpensive 5 piece outdoor dining set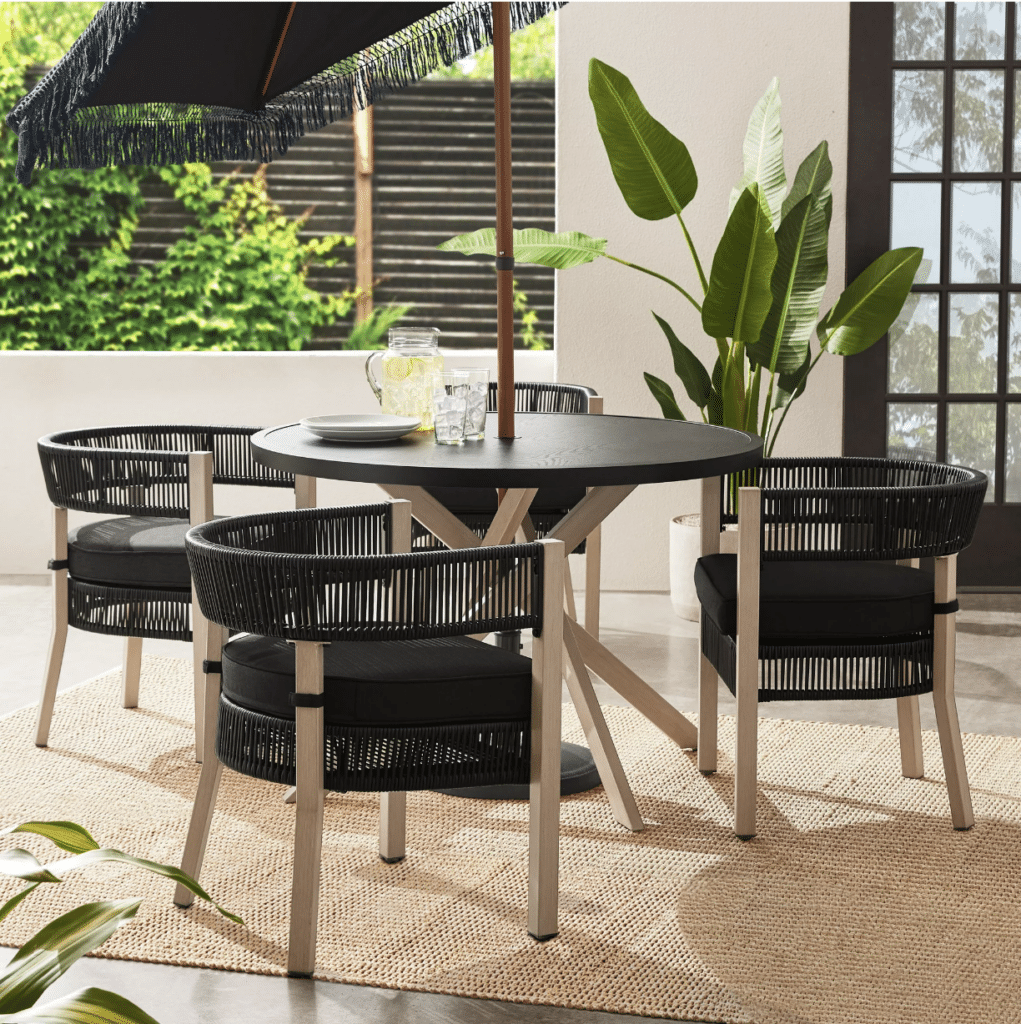 Outdoor Furniture
Outdoor furniture is the star of the show when it comes to creating a beautiful, relaxing outdoor living area!
To truly make your outdoor living space feel luxurious, you need to create a cozy seating and dining area that's perfect for relaxing and enjoying the great outdoors.
Luckily, you don't need to break the bank to do that!
Start with comfortable, neutral colored outdoor furniture that fits your budget, style and space.
Look for options that are weather-resistant and durable, so they can last through all seasons, year after year.
Outdoor furniture can be expensive but I've found pieces that are inexpensive and beautiful.
I created a few design boards, below, showcasing gorgeous outdoor dining, lounging and poolside looks with various budgets to inspire you!
I've linked all the items below the design board pictures, so you can shop these inexpensive looks to create your own dream outdoor space: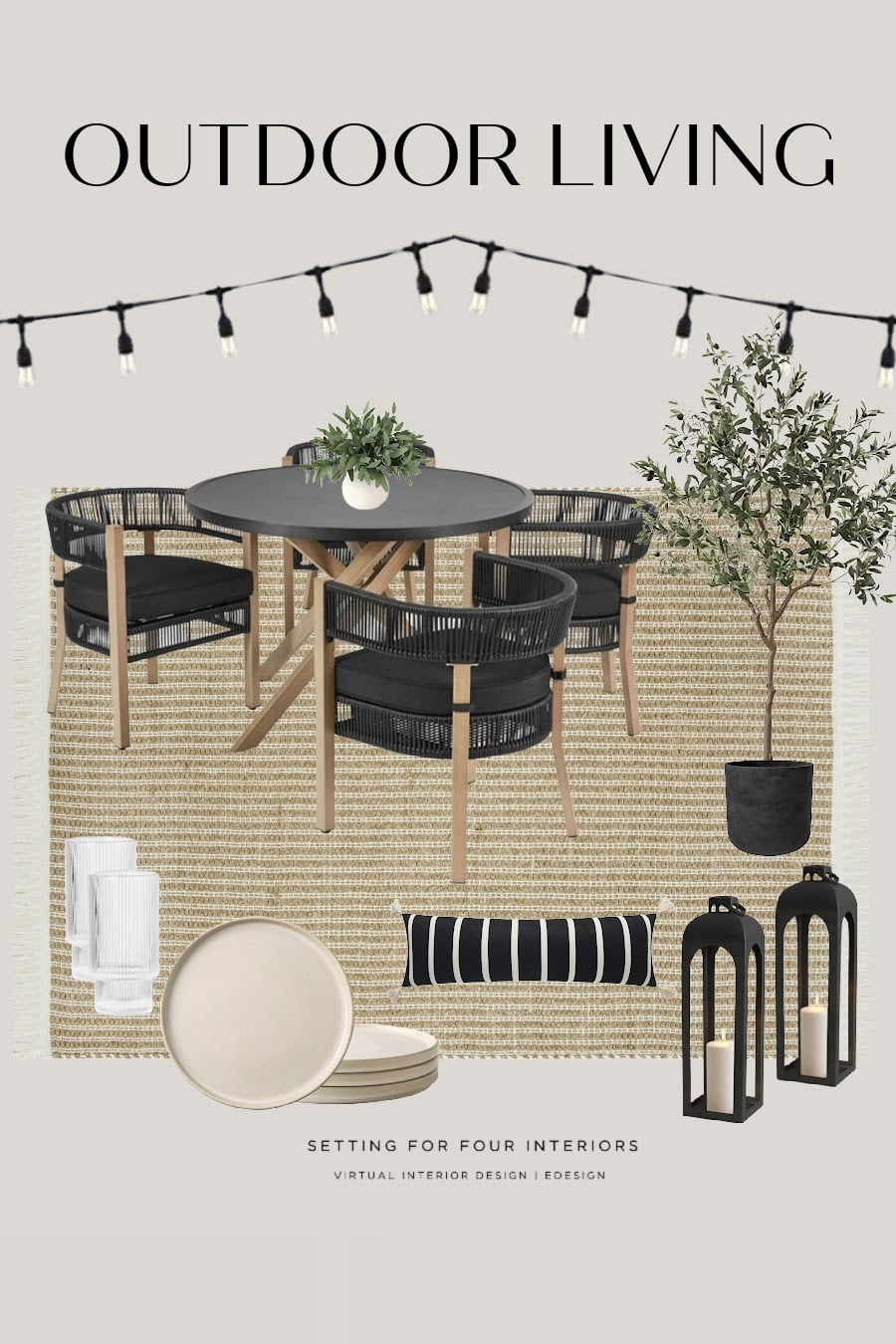 Here are the links to this outdoor dining look: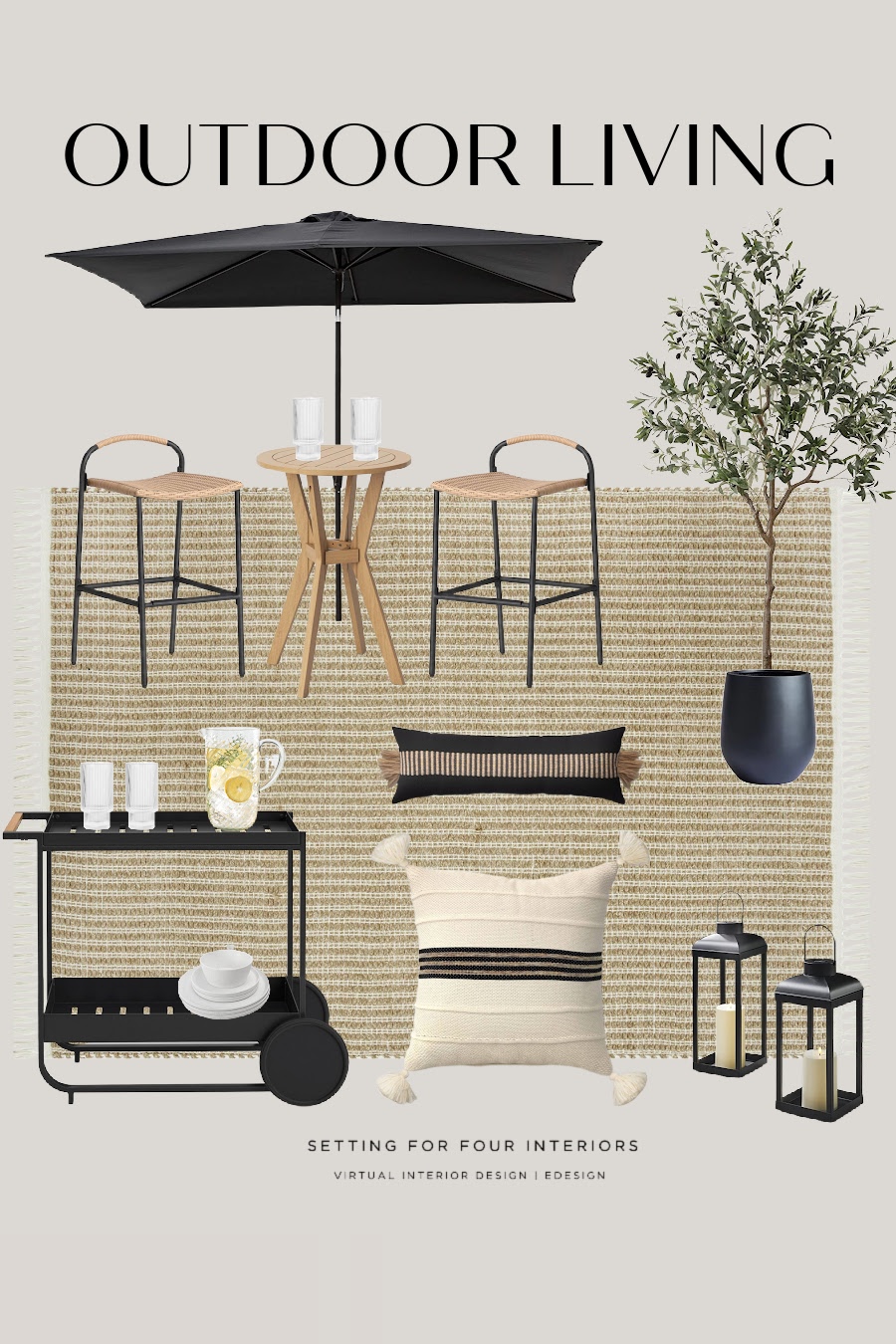 Shop this outdoor bar look: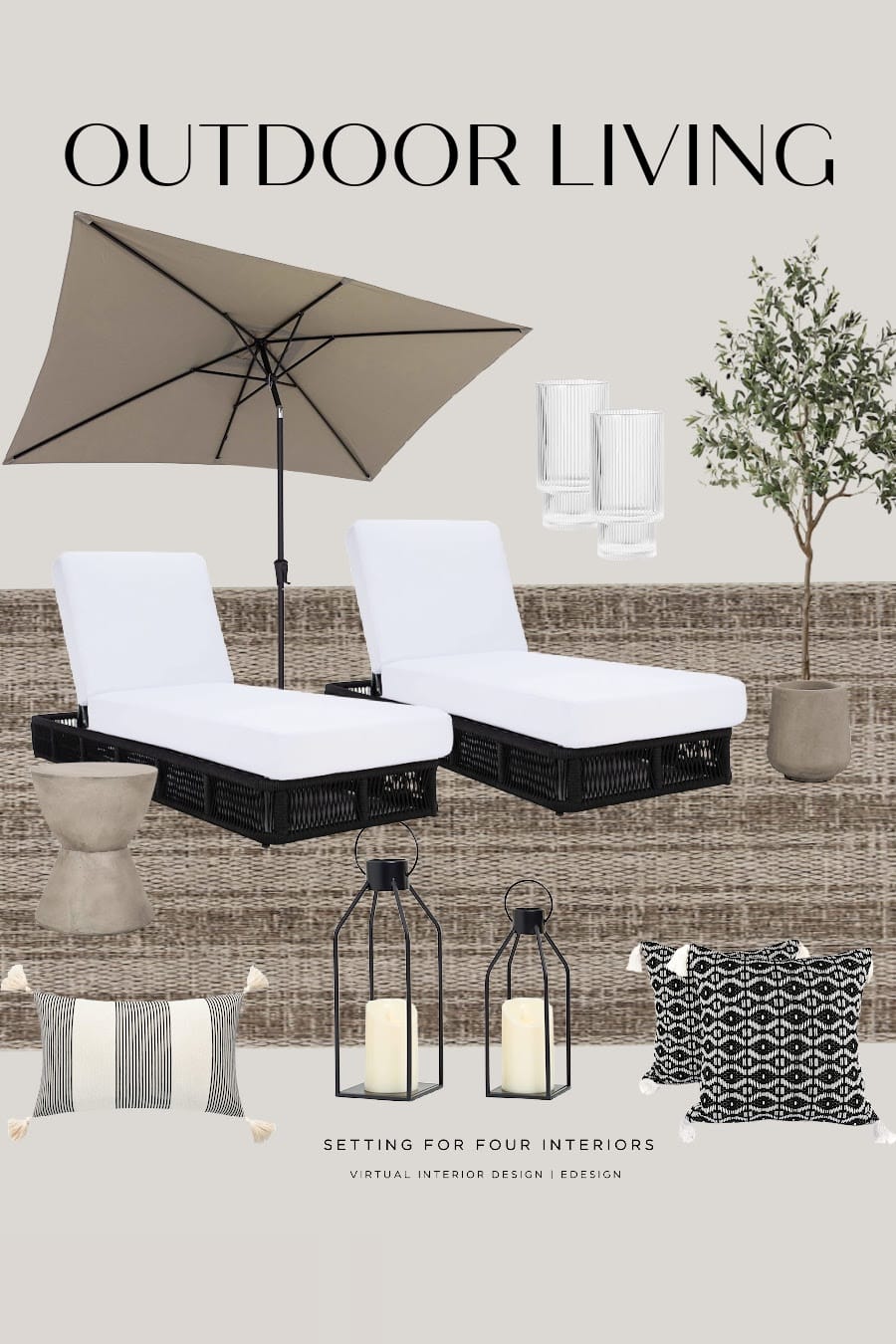 Shop this poolside lounge chair look: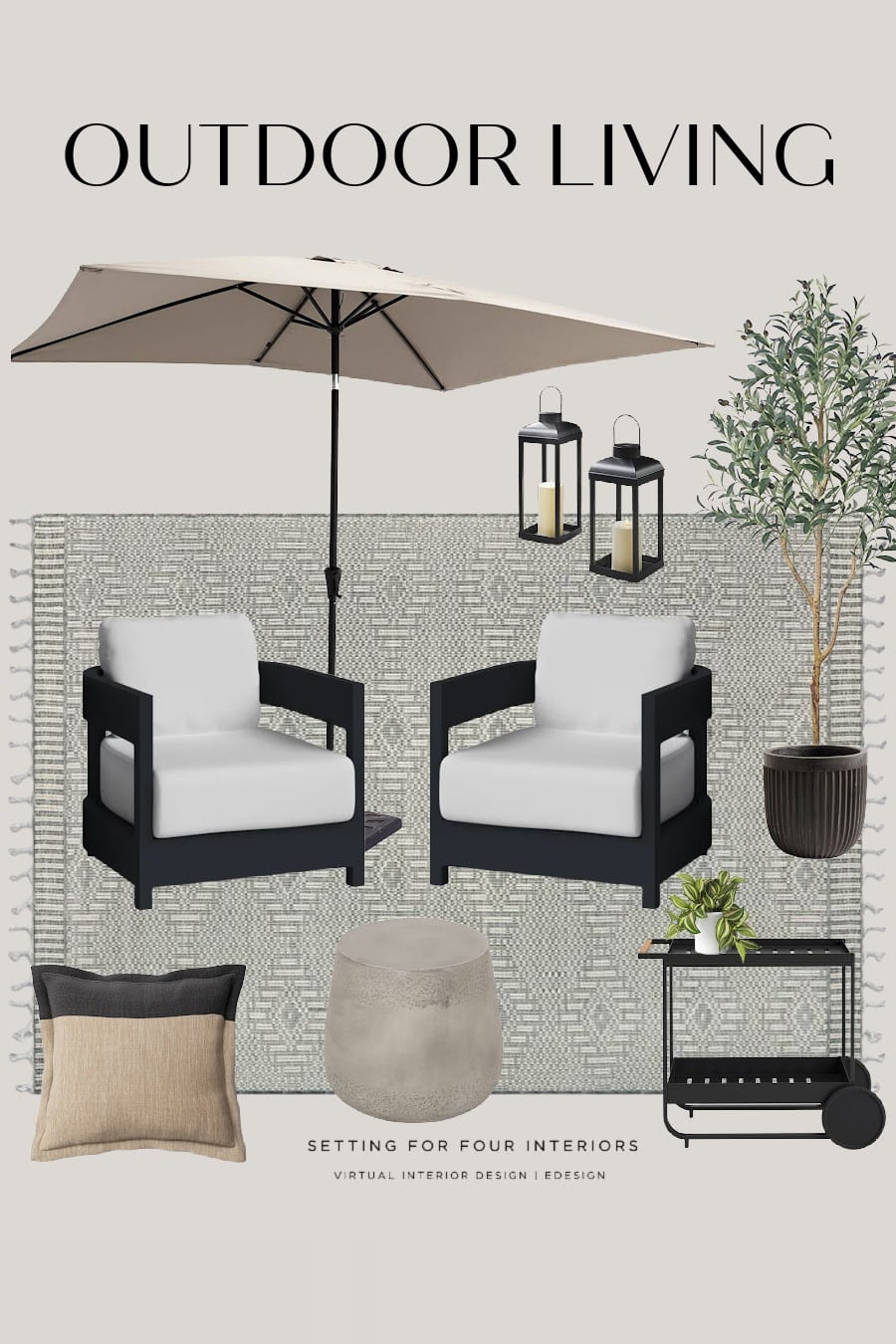 Shop this outdoor seating look:

The Right Color Scheme To Make Your Outdoor Space Look Expensive
Your outdoor space will stand out and look more expensive with a timeless color scheme.
A timeless color scheme is a big money saver because it stands the test of time and you only have to tweak a few decorative items to refresh it and make it look new!
To create an outdoor color scheme – use neutrals with one accent color or a monochromatic color palette (variations of one color).
I recommend that you select your outdoor furniture and area rug in classic neutral colors such as white, black, beige, tan, green and earthy colors.
Then add an accent color in your pillows and accessories.
Here are a few outdoor color palette ideas:
mix neutral earthy colors such as beige, tan, gray, greige, black and white with an accent color such as green, light blue, navy or caramel
layer earthy colors for a tone on tone look
a black and white color palette is timeless, expensive looking and classic
Next, let's explore how adding an outdoor area rug can take your outdoor living space to the next level.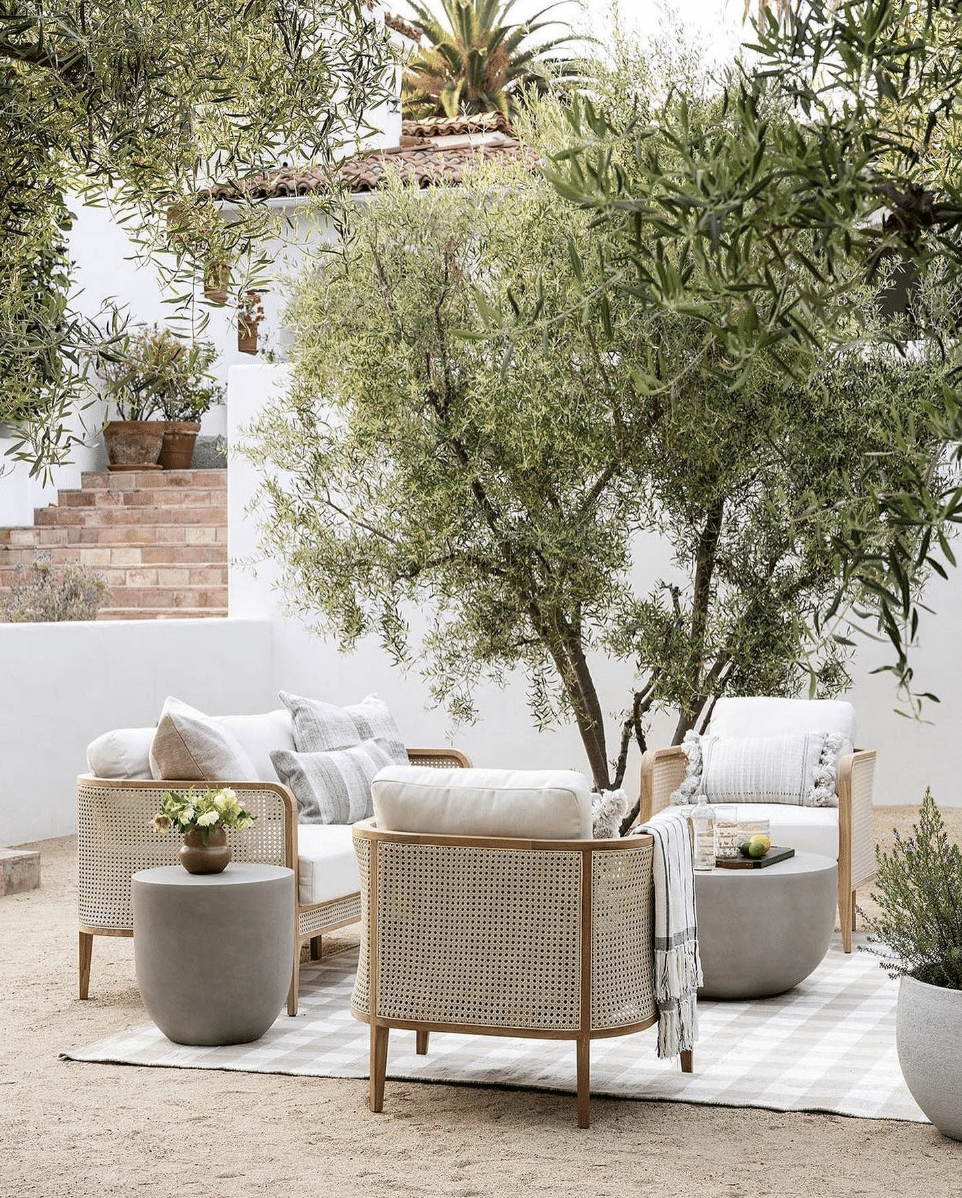 Outdoor Area Rugs Will Make Your Outdoor Space Look Expensive
Rugs are the anchor for a space, but don't have to break the bank.
They make any space look luxurious, cozy, inviting and expensive.
Make sure your rug is big enough so that the front feet of the furniture are on the rug.
For dining spaces make sure that the rug is big enough so that the chair legs are on the rug when you pull the chair out to sit down.
I love outdoor rugs in natural earthy colors: beige, tan, brown, green and black.
The rug patterns that are on trend right now are: vintage/distressed, plaid, Moroccan and geometric patterns.Here are some of my favorite budget friendly outdoor rugs:

Now that you've added furniture and a rug it's time to think about how to showcase that.
This is where plants, flowers and greenery comes in.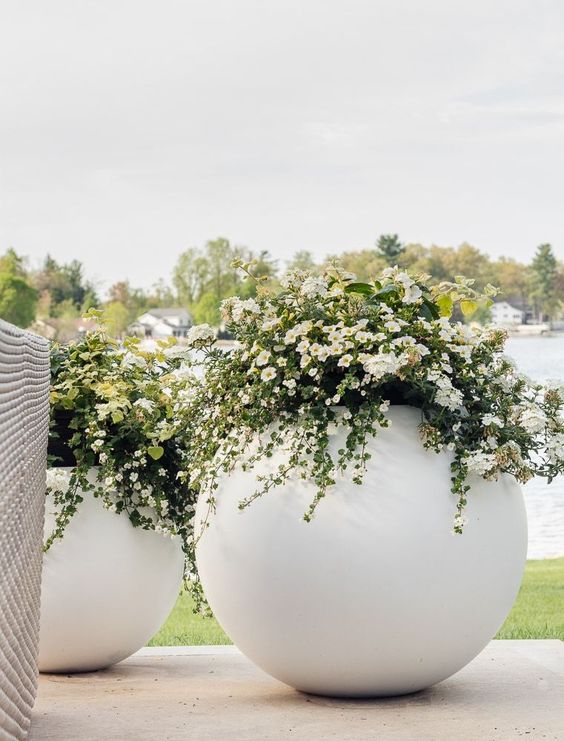 Add Plants, Flowers and Greenery
Adding a few plants to your backyard or in pots on your patio will add beautiful texture and pattern – and is a budget friendly way to give your outdoor space a high end look!
Hostas are my go to plant!
They're no maintenance, are annuals (they grow every year) and have a big 'wow' factor.
And you can divide them every spring, for free plants!
You can even buy them online here!
They come in lots of gorgeous green colors, from dark green to lime green, and create such a lush look.
Plant them around the back of your home along the foundation, around your patio or deck.
You can add them to plant pots on your patio and deck too!
Other plants that are easy to maintain and inexpensive are:
boxwoods
geraniums
petunias
rosemary
thyme
Check out local plant sales in your neighborhood for inexpensive plants.
Next, let's explore how adding faux greenery can take your outdoor living space to the next level.
Potted Faux Greenery Will Make Your Outdoor Space Look Expensive
I love use faux greenery, artificial trees, shrubs and plants to my outdoor spaces!
They are a great way to save money because you can use them year after year.
Wash them off at the end of summer and use them to decorate your interiors!
And you can add them to your outdoor spaces when the weather is cool in the spring, when live plants haven't hit the stores yet!
Here are some of my favorite faux trees, shrubs and plants:

Check out these chic, inexpensive plant pots!:

Now that you've added faux greenery it's time to explore the benefits of lighting.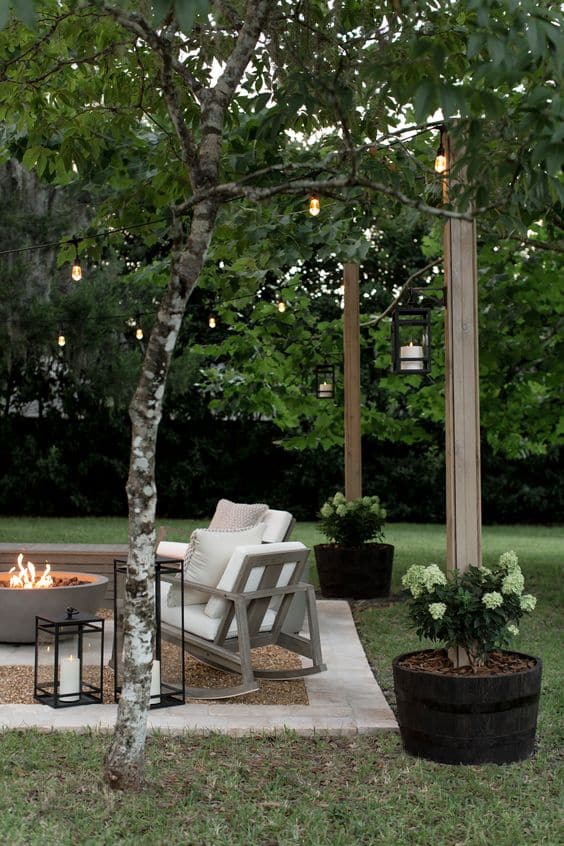 Lighting
Lighting is an essential layer to make an outdoor space look expensive.
Investing in outdoor lighting will transform your outdoor space into a magical oasis.
From string lights to lanterns, outdoor lighting creates a warm and inviting ambiance that allows you to enjoy your outdoor living space well into the night.
The glow of outdoor lighting creates a gorgeous ambiance and relaxing vibe!
Add 2 outdoor wicker or rattan lantern lights above a dining table
Hang string lights above an outdoor chat area. Hang the string lights with these inexpensive outdoor standing string light posts
Add candle lanterns beside a grouping of outdoor chairs or beside an outdoor sofa
Add spotlights to trees and shrubs that will light them up at night!
Shop these beautiful inexpensive outdoor lighting ideas:

Next, let's explore how adding inexpensive outdoor pillows can take your outdoor living space to the next level.
Outdoor Pillows Will Make Your Outdoor Space Look Expensive
Outdoor pillows are an inexpensive easy way to elevate your outdoor area.
They add style, pattern, color and comfort!
Mix rectangular lumbar pillows with square pillows for interest and that 'designer look'.
How to Mix Patterns Like A Pro!
DIY Hack – How to Waterproof Cushions
Here are some of my favorite inexpensive outdoor pillows:

Next up, let's look at how budget decorative accessories will make your outdoor space look expensive!
Decorative Accessories
New accessories will instantly update your outdoor area and elevate the look.
Decorate your outdoor spaces just as you would your indoor spaces to create a cozy, inviting look.
Add an outdoor pouf, tray for an outdoor coffee table and candles.
Here are some inexpensive outdoor decor ideas:

Once you've added decorative accessories it's time to add more ambiance with a fire feature.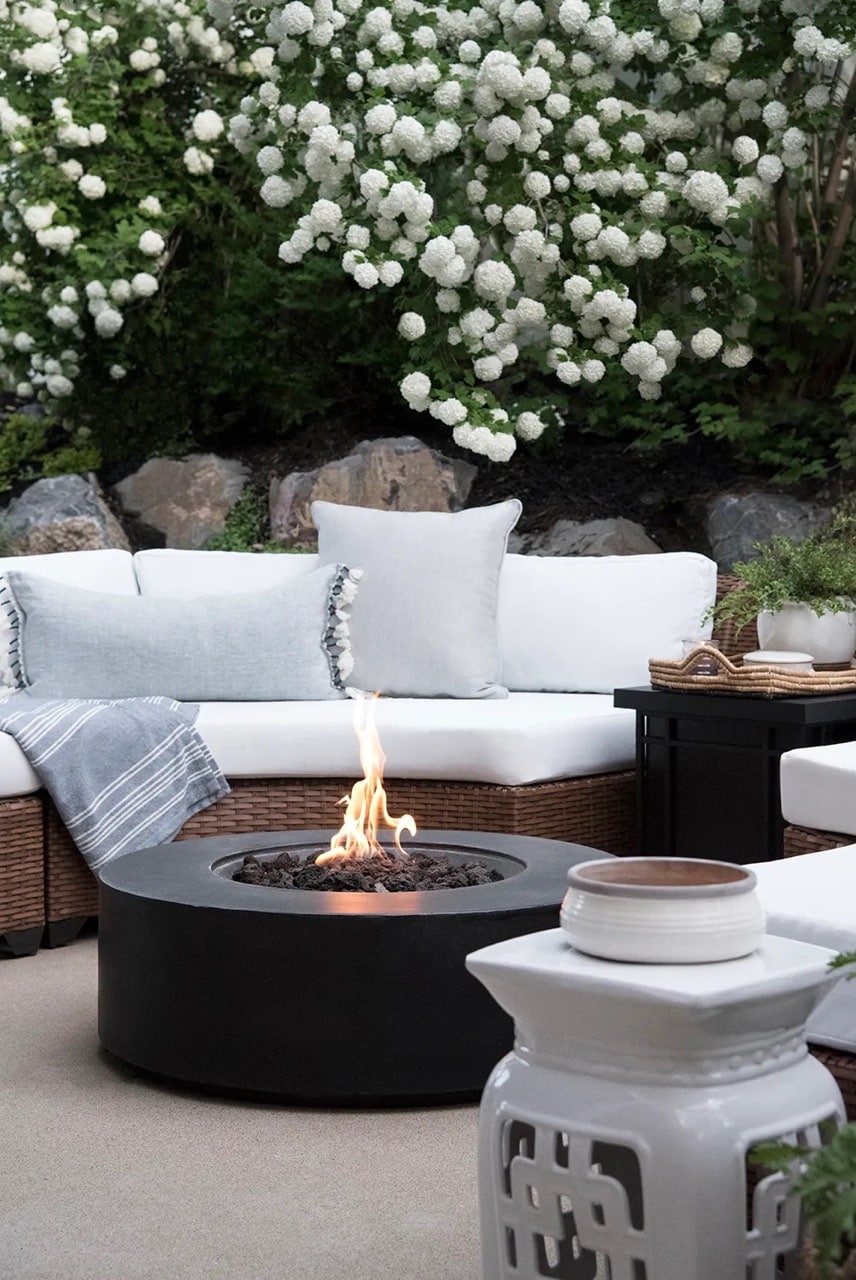 A Fire Feature Will Make Your Outdoor Space Look Expensive
I highly recommend adding an inexpensive fire feature such as a tabletop fire bowl, a metal fire pit or a fire table to your outdoor patio.
There is nothing like watching the flicker of firelight at night!
It's so relaxing and creates a stunning ambiance!
And making smore's over the fire is a summertime necessity!

Now let's add more backyard appeal with a bar cart.
Bar Cart
An outdoor bar cart will add functionality to your outdoor space and create a beautiful ambiance!
An outdoor bar cart is a great way to store and serve s'more ingredients, marshmallow picks and beverages!
Add a couple of small faux potted plants to the bar cart top when it's not in use.
Shop these inexpensive bar carts!

Next, let's explore how adding outdoor curtains will create another layer of 'wow' factor.
Outdoor Curtains
Adding outdoor curtains to a backyard patio or gazebo is such a high end look.
They create such a dreamy, billowy, tranquil vibe.
They will give your outdoor space a high end, boutique vacation resort feeling.
Outdoor curtains are inexpensive, if you know where to look, and have such a huge impact!
Here are some of my favorite inexpensive outdoor curtains:

Next up let's talk how an exterior paint refresh can make your outdoor space look expensive!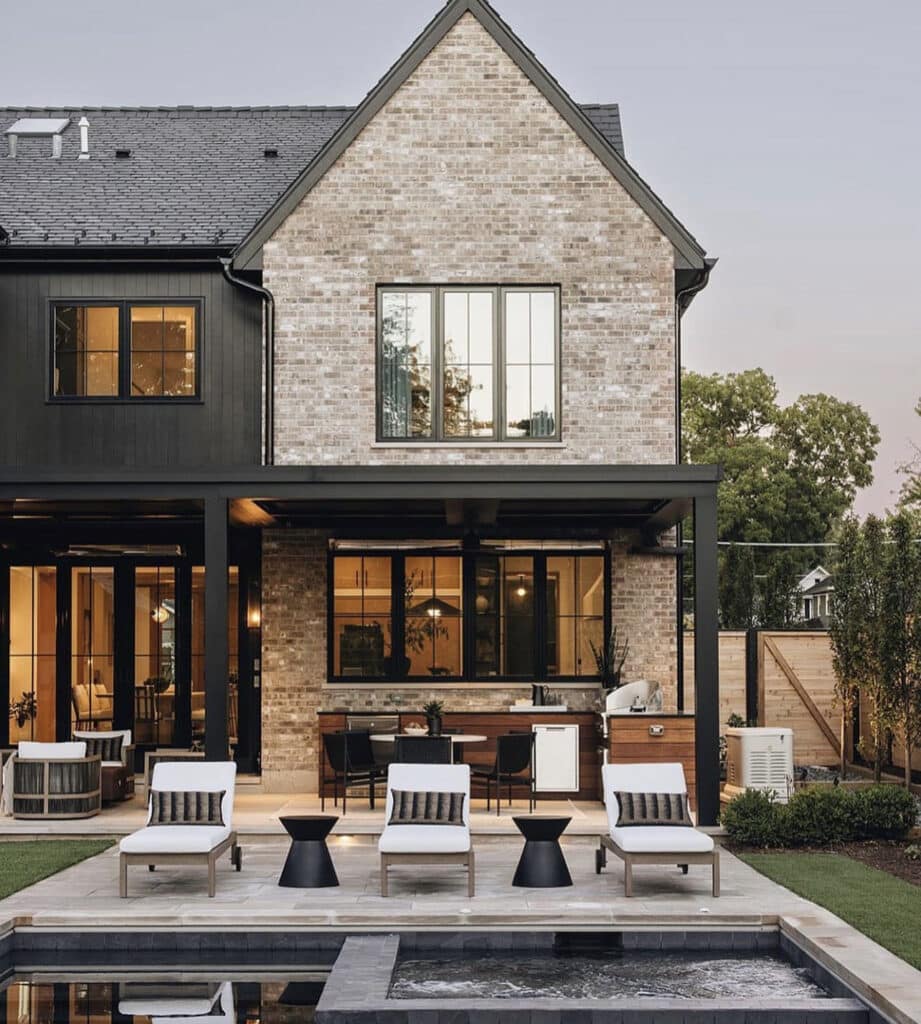 Exterior Paint Will Make Your Outdoor Space Look Expensive
As a True Color Expert® I love talking all things paint!
A fresh coat of exterior paint will instantly make your outdoor space look expensive!
Color trends change with time, so updating your outdoor paint color will also update the look of your outdoor area.
Freshen up an outdoor gazebo, fence and deck with an updated color!
Exterior Color tips:
Black and white are the most popular paint color for outdoor spaces right now
Dark brown and gray are also on trend for deck color and fences and will make your exteriors look more upscale as well.
Behr 2023 Exterior Stain Color Of The Year is Cordovan Brown. It's a gorgeous, sophisticated, rich timeless brown! It's also extremely versatile and pairs with lots of other colors.
To save money on exterior paint and stain:
Check out Sherwin Williams – they often have sales and their paint is high quality!
Another way to save a ton of money is to buy peel & stick paint samples to test the color in your space to avoid costly painting mistakes.
It's expensive to 'guess' if a color will work and buying gallons of it for your project, then learning after you've spent all that money, that you don't like the color!
Avoid that frustration and expense by buying a few peel & stick paint samples, then pick the best color from those samples.
Choose a color you love that will work with your fixed elements: outdoor brick, pavers and exterior siding color.
Another way to avoid costly mistakes when creating your outdoor space is to hire a virtual designer!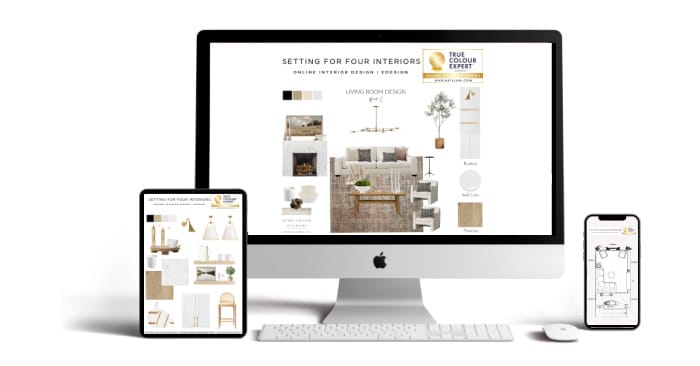 Hire a Virtual Designer
Making mistakes with your outdoor furniture and decor can be costly and really frustrating!
Hiring a virtual designer who has design experience, training and an eye for design to create a furniture arrangement plan and select the perfect furniture and decor pieces for your style and budget will save you money and avoid costly mistakes.
A virtual designer is less expensive than hiring a designer to come to your home because designers typically charge for the first consult visit, and rightly so because they are spending their time and gas money to come to your home.
I'm a virtual Designer and True Color Expert® – I can help you save money and create a beautiful outdoor design for less!
I can make your outdoor space look expensive while working with your budget!
You also save money with an online design consult with me because I don't charge to install the pieces in your home, and I don't charge to order the pieces, which designers typically do. You do that at your convenience!
√ The benefits of working with me is that you:
1) Save money by avoiding costly mistakes when doing it on your own
2) Eliminate the guesswork. I provide professional design advice, guidance and the information you need to create a space you'll love!
3) Proven results. Read my client reviews here
4) Work with a certified True Color Expert® – I have certification in color, professional training and experience with color!
5) Save time. My design results are ready in 15 business days from when I receive your complete information. Rush consults are also available.
6) Get your design concerns and questions solved, once and for all so you can love your space!
---
Need help with furniture layout, choosing paint colors, room design, selecting furniture or updating your home?
I'm a Designer and True Color Expert® – I can help!
See my Online Interior Design & Paint Color Services and client reviews.
Email me at [email protected] for more information and rates!
I'd love to work with you!

---
Frequently Asked Questions:
What are the benefits of outdoor living?
Indoor-outdoor living has become increasingly popular because it blurs the boundaries between the interior and exterior of a home.
People are drawn to the idea of seamlessly integrating their homes' indoor and outdoor spaces, creating a sense of flow and continuity between the two.
This allows homeowners to enjoy the benefits of being outdoors and increase their overall living space!
Transforming an ordinary outdoor area into a beautiful living space also adds value and comfort to your home!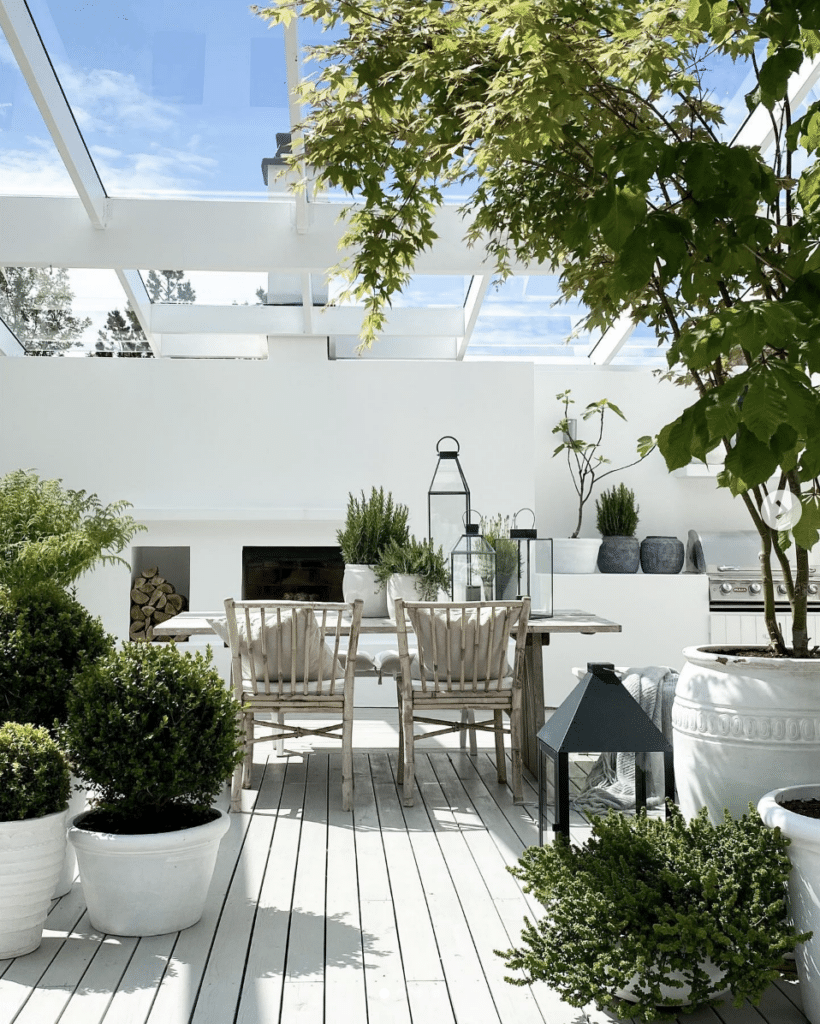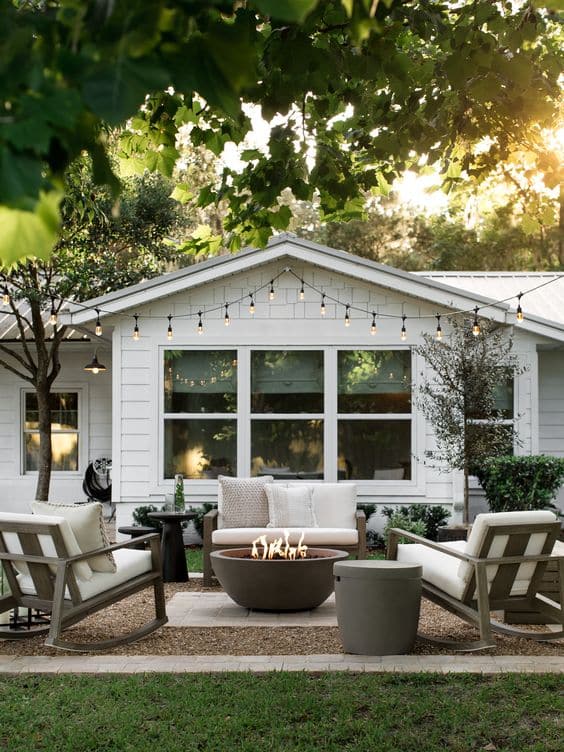 So, give your outdoor space the makeover it deserves with these inexpensive ideas!
As you've learned, creating a chic and sophisticated outdoor living space doesn't have to drain your wallet. It just takes a bit of creativity and effort.
Don't wait to start your backyard transformation!
Get started today so you, your family and friends can enjoy it!
By implementing these budget-friendly tips, you can create a luxurious outdoor living space that will make your backyard the envy of the neighborhood!
More Design & Decor Ideas