See the best ways on how to cover an ugly carpet – without ripping it all out!
Is your wall to wall carpeting unappealing or frumpy?
Or boring?
Hate the color or pattern…or both?
Maybe you're a renter…. or a home owner with a room that you just can't replace the carpeting in yet.
And you can't stand the site of it!
Here are some amazing design tips on how to cover up an ugly carpet… and make it more attractive!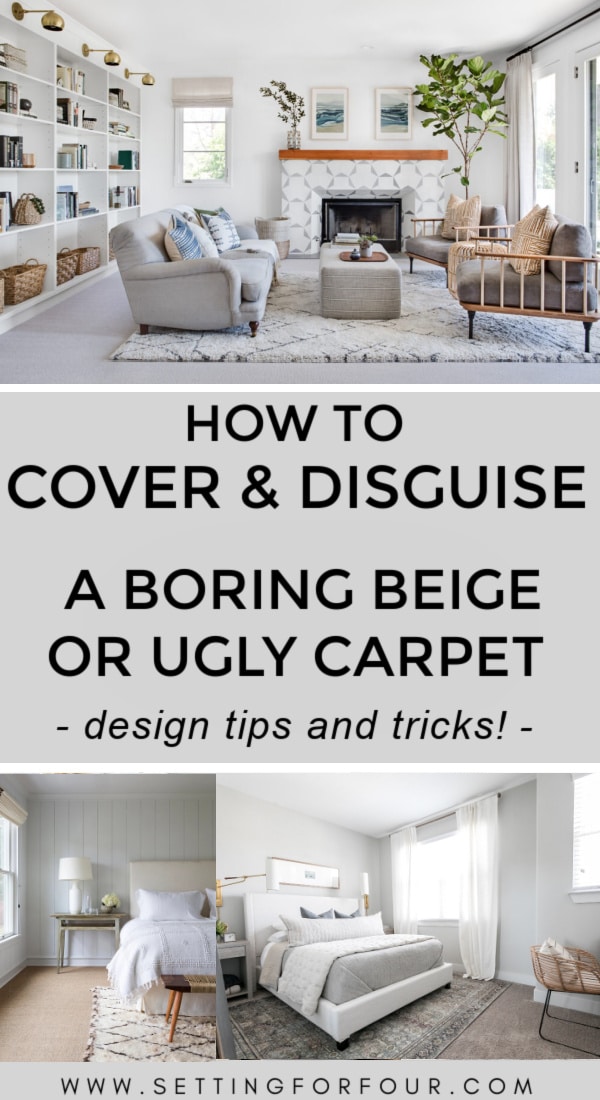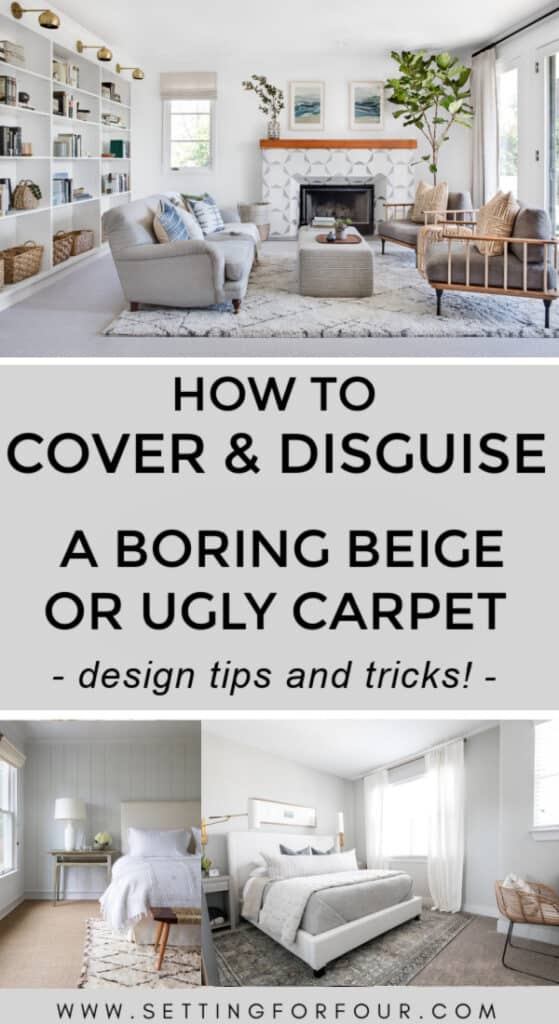 Ugly carpeting can feel so overwhelming and depressing!
There are lots of ugly carpeting colors out there from pink-beige carpet, muddy brown carpeting, gold carpet and the dreaded dusty rose carpeting.
They are so hard to design around because of the bossy colors, the unpleasant undertones and the fact that they take up a large amount of space!
But have no fear – I have some amazing design tricks and tips to conquer ugly carpeting!
Fabulous ways to disguise it and make your space beautiful.
Watch this video for helpful design solutions:
Read on for more design solutions!
Here are some examples of overpowering, ugly, boring carpeting with unpleasant undertones: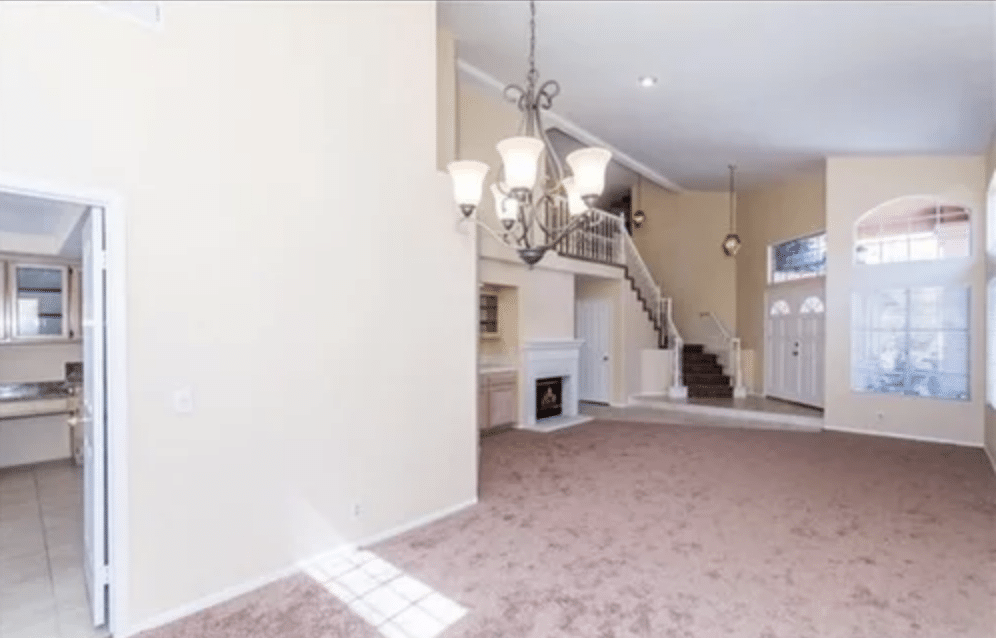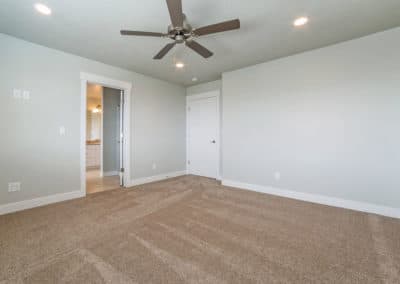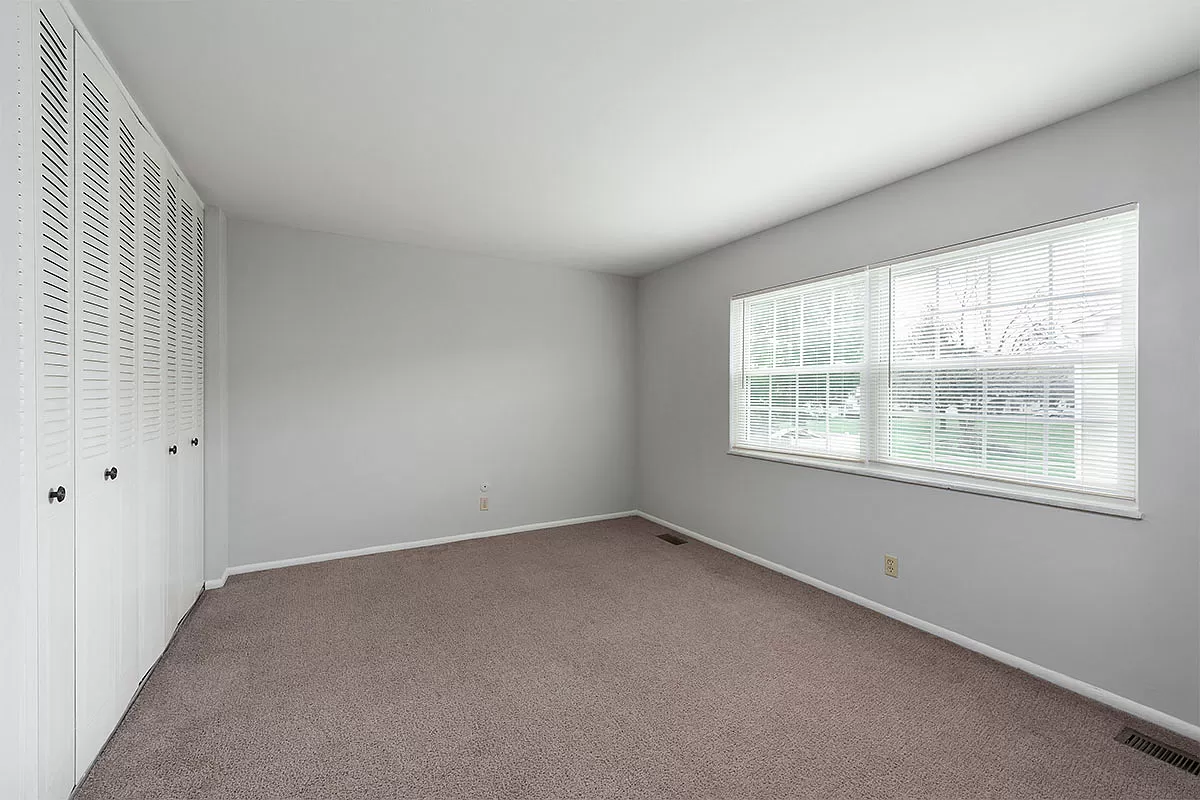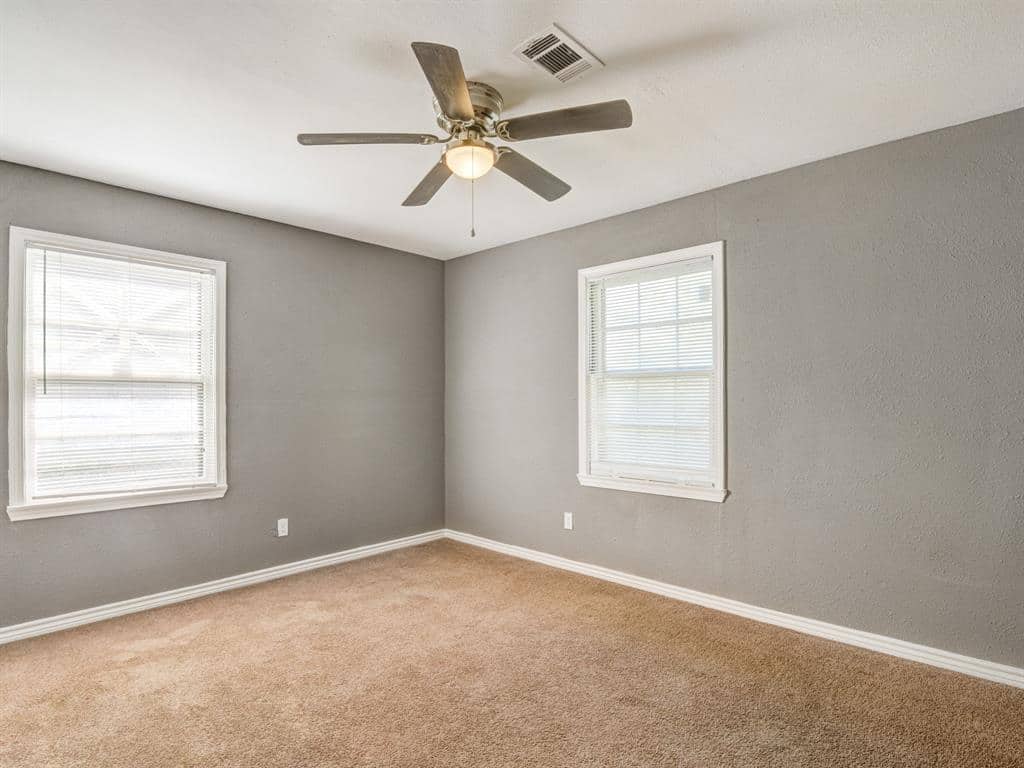 Now let's talk about helpful design tips and tricks!
How To Cover Up Ugly Carpeting:
Add Area Rugs
This is the best way to cover up an ugly carpet.
Yes – you can layer an area rug on a carpet!
Buy an area rug in the biggest size possible to cover as much of the wall to wall carpeting as you can.
Area rugs are so inexpensive today that you can affordably cover your ugly carpeting with an updated gorgeous area rug.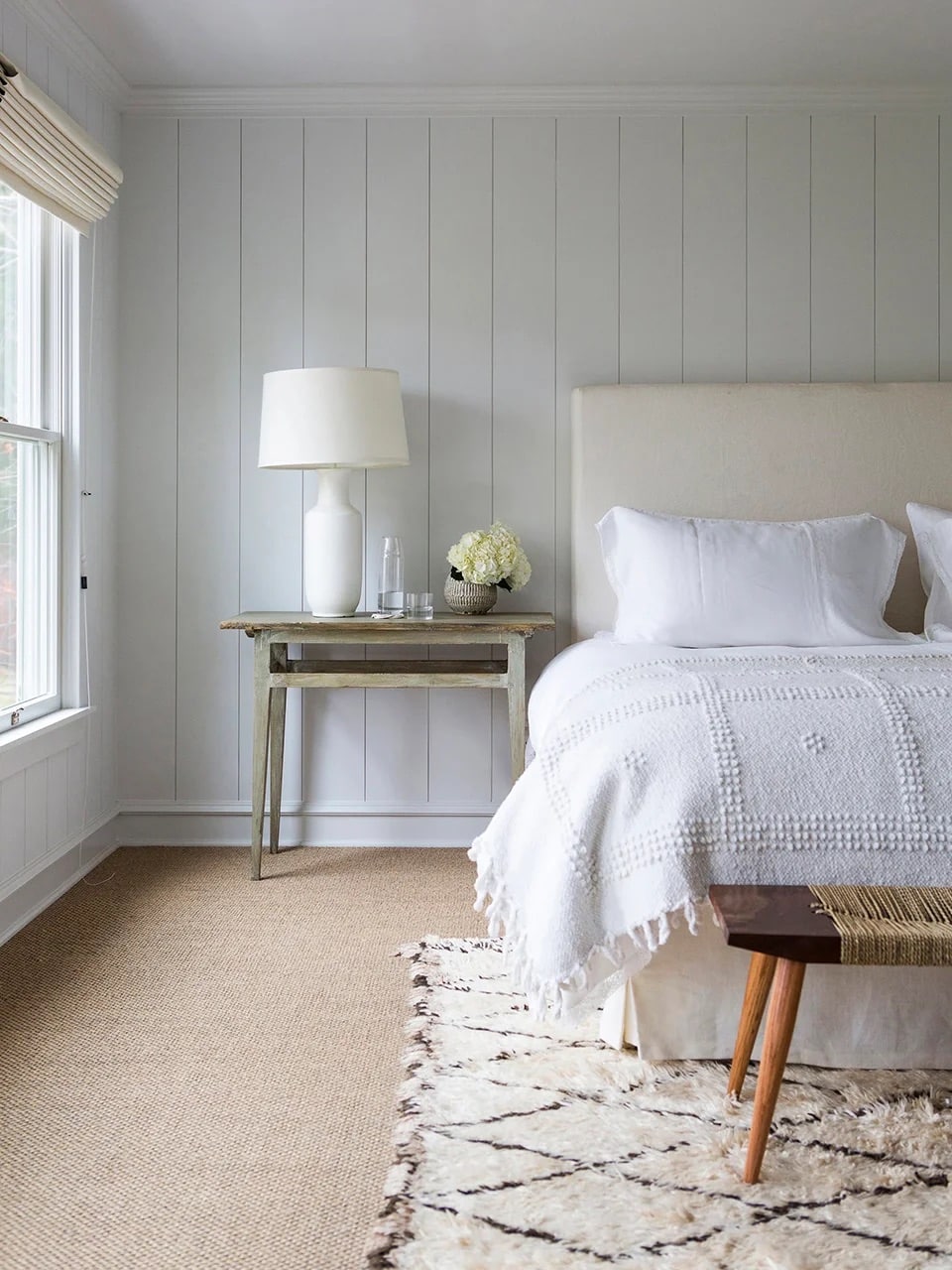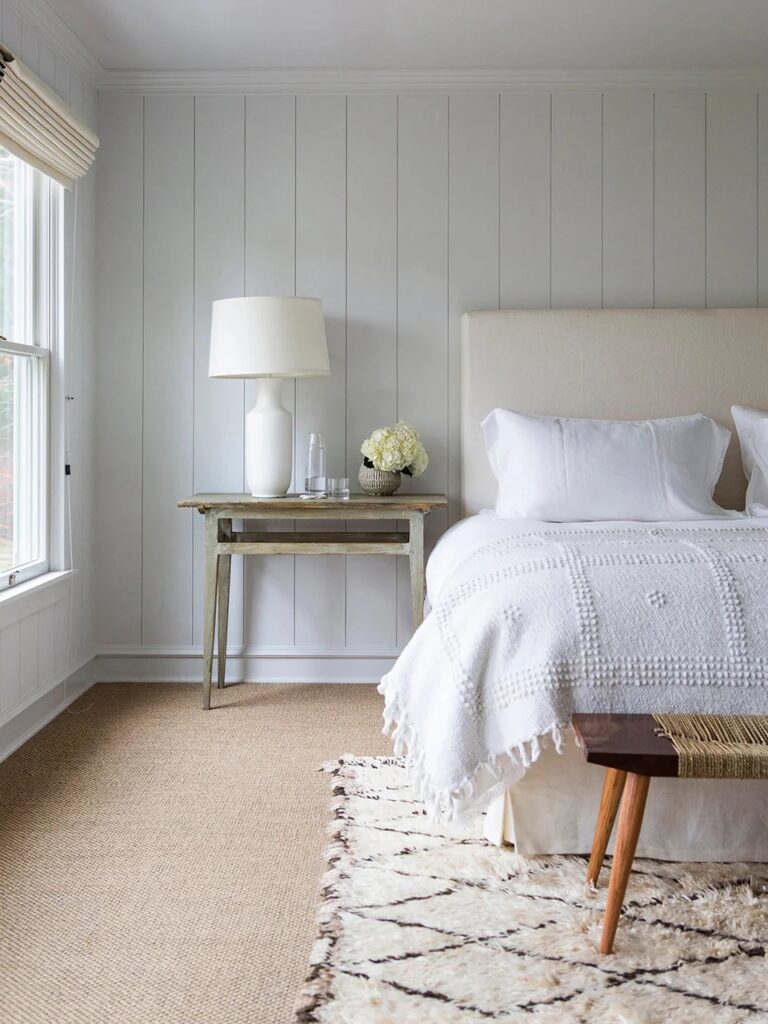 Design by Jenna Kayne Home
My favorite affordable rug sources are here and here.

Add A Bookshelf and Pouf Ottomans To Cover Ugly Carpet
Adding a beautiful bookshelf to the space will not only cover some of the carpeting but it will also draw the eye up and away to detract from it!
Also placing an upholstered pouf ottoman or two on the carpet will cover the carpeting and make it less noticeable.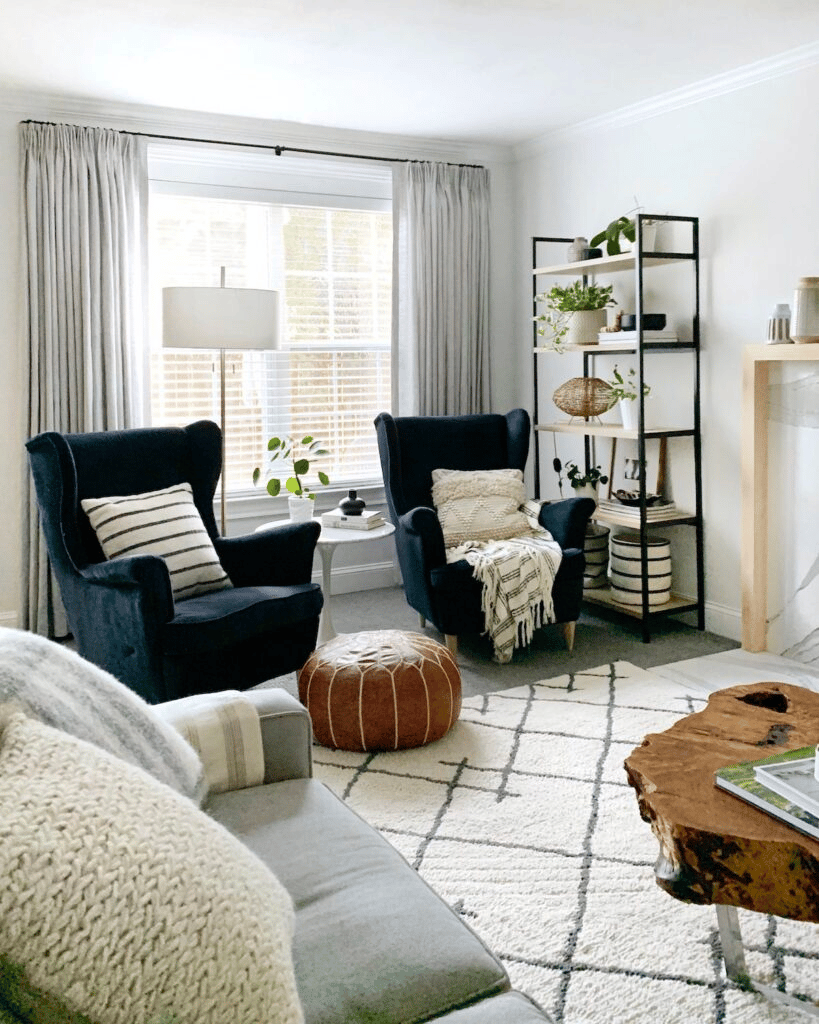 Design by KC Design Co.
---
Need help with furniture layout, choosing paint colors, room design, selecting furniture or updating your home?
I'm a Designer and True Color Expert® – I can help!
See my Online Interior Design & Paint Color services – and client reviews.
Reach out – email me at [email protected]
I'd love to work with you!

---
Add Potted Trees to Cover Ugly Carpet
Adding a potted tree or two,real or faux, will help to cover the carpeting so it's not so obvious.
Make sure you put it in a beautiful basket or plant pot!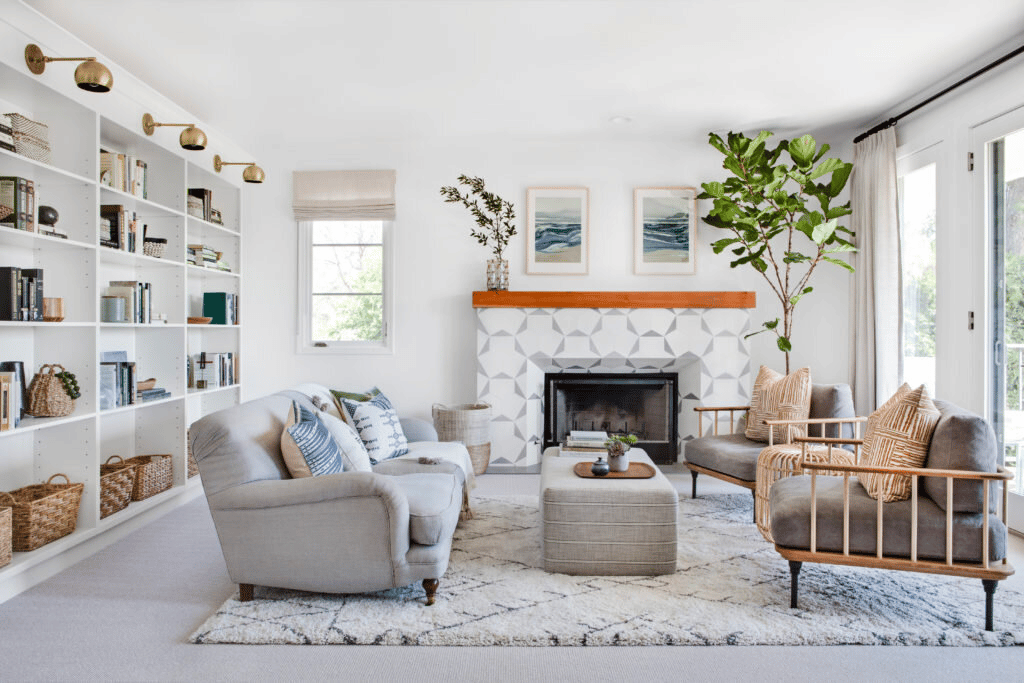 Design by Rose Beltran Design
See my favorite artificial faux trees



Add Accent Furniture Pieces
Adding accent pieces like a desk and chair or side tables will hide more of the unsightly carpeting!
They will also draw attention away from it so you don't notice it as much!
See How To Arrange Furniture In A Small Living Room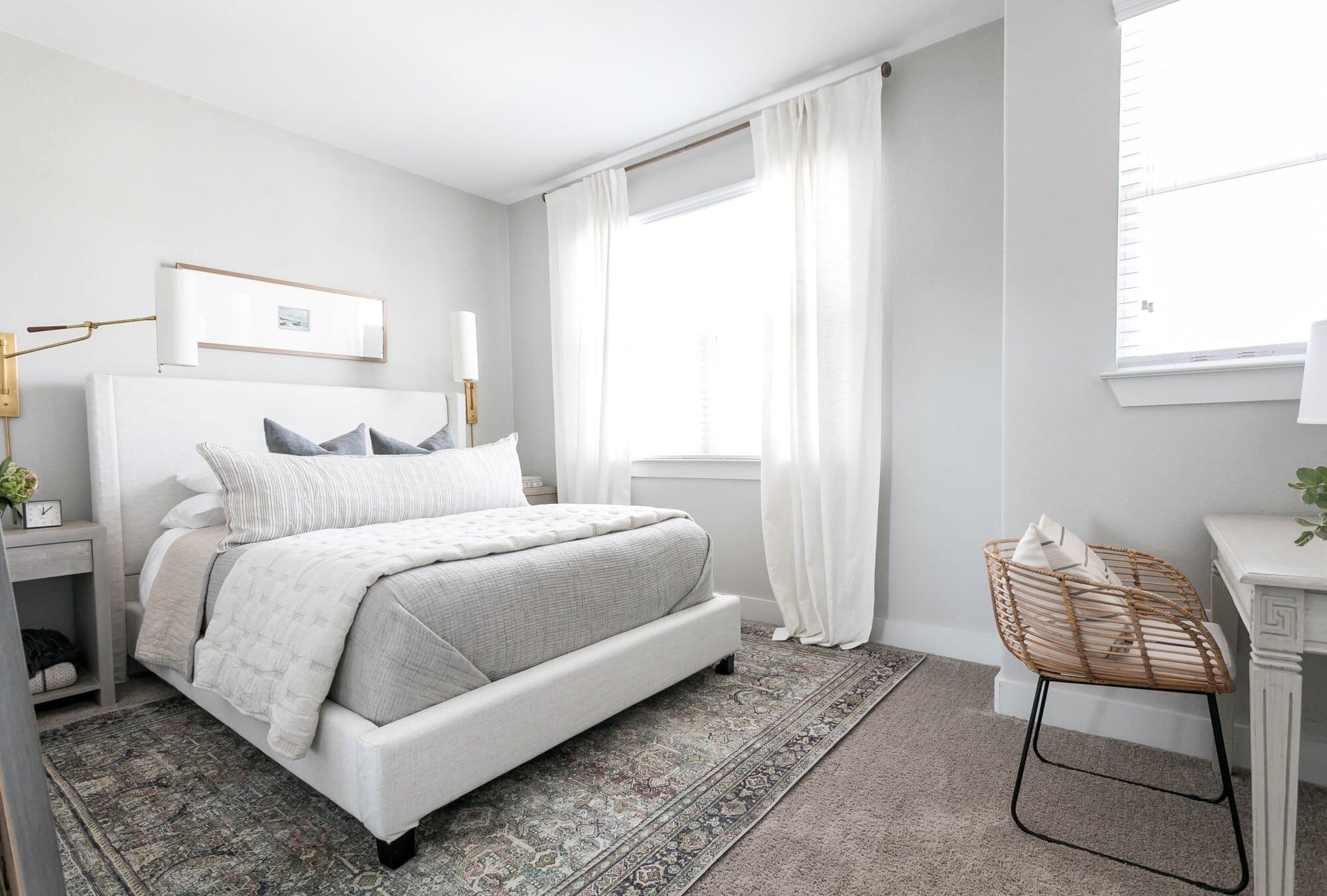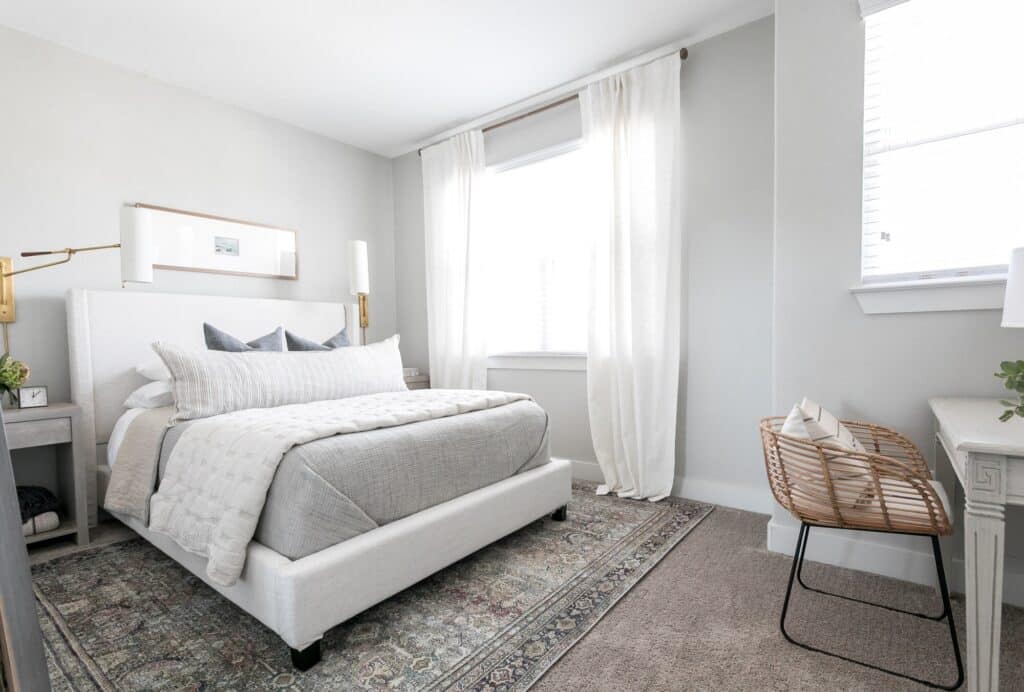 Design by Gold Coast Canvas
Update Your Furniture
If your furniture is looking dated, the ugly carpeting will only look more dated too.
Purchase at least one new 'wow' furniture peice to update the space and create a show stopping focal point.
For a bedroom, this could be a new headboard or bed!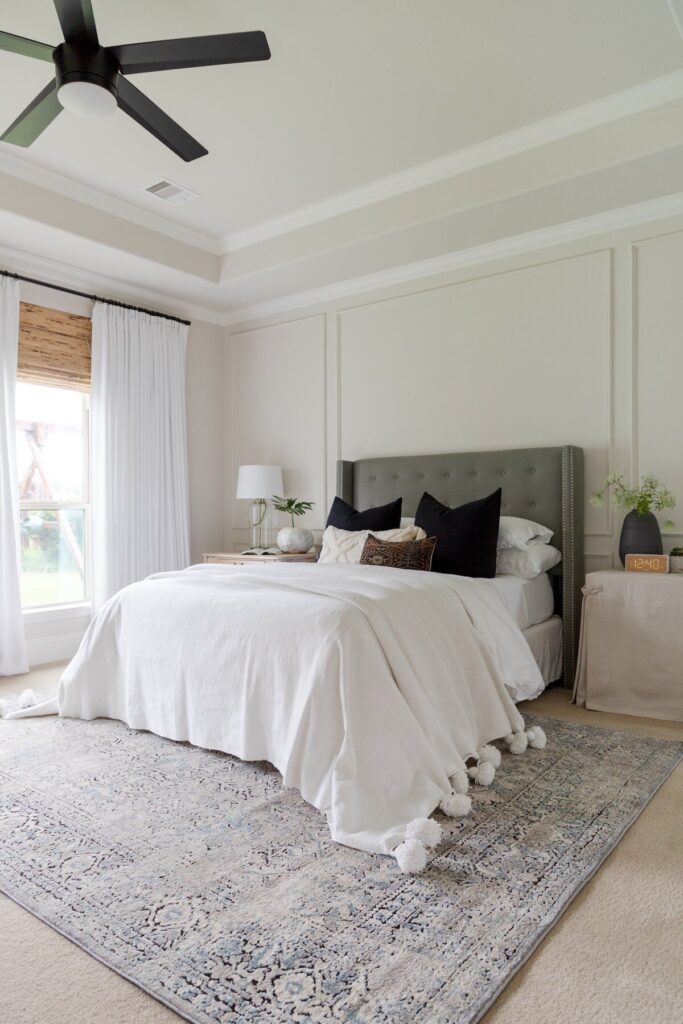 Design by Crazy Wonderful
To update your bed see 35 Stylish and Affordable Headboards
In a dining room add a gorgeous new dining table like these: 36 Stunning Trestle Tables You'll Love!
For a living room add a new sofa , sectional or 2 accent chairs.
See my favorite sofas
Remove The Carpet and Paint The Plywood Subfloor
Yes you can paint plywood subfloors!
If all else fails, remove your carpet and paint the plywood subfloor a neutral color.
This is a solution if you truly hate your carpeting and can remove it.
However the plywood subfloor must be in good condition.
Here are the best instructions on how to paint a plywood subfloor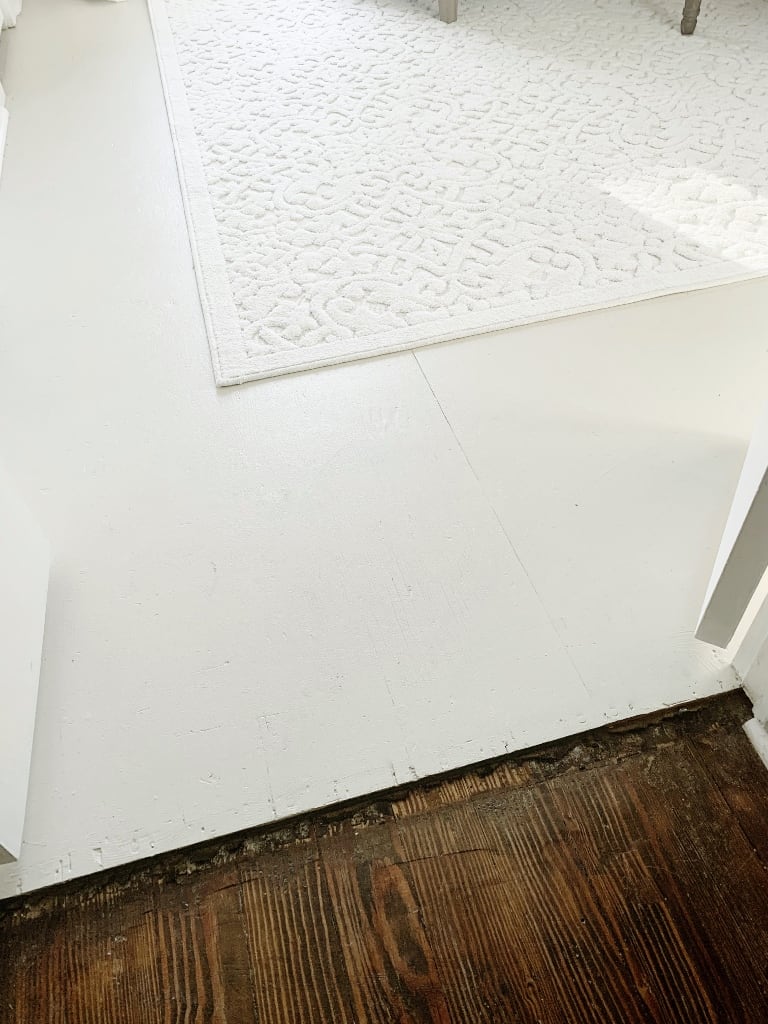 Other Tips to Distract From Ugly Carpet
Here are some more design tips and tricks when dealing with an ugly carpet!
1. Draw The Eye Up
Hang curtains as high as possible to draw the up and away from the carpeting.
Add beautiful ceiling lighting too.
2. Hang Beautiful Wall Art
Distract the eye with gorgeous wall art pieces.
Whether it's framed prints, a feathered art piece or a gallery wall of family photos, wall art will add style, color and pattern to a room.
3. Add A Beautiful Chandelier or Table Lamps
Lighting is the jewelry of a room! Add a gorgeous table lamp or chandelier as stand out pieces that become focal points
This will distract from the ugly carpeting.
4. Change Your Wall Color
Painting the walls with an airy neutral like Agreeable Gray, Sherwin Williams Silverplate Paint Color or bold color can temper an ugly rug.
Check out these additional beautiful wall color ideas:
I hope you enjoyed these tips on How To Cover An Ugly Carpet!
Do you have any other ideas that have worked for you?
Let me know in the comments below!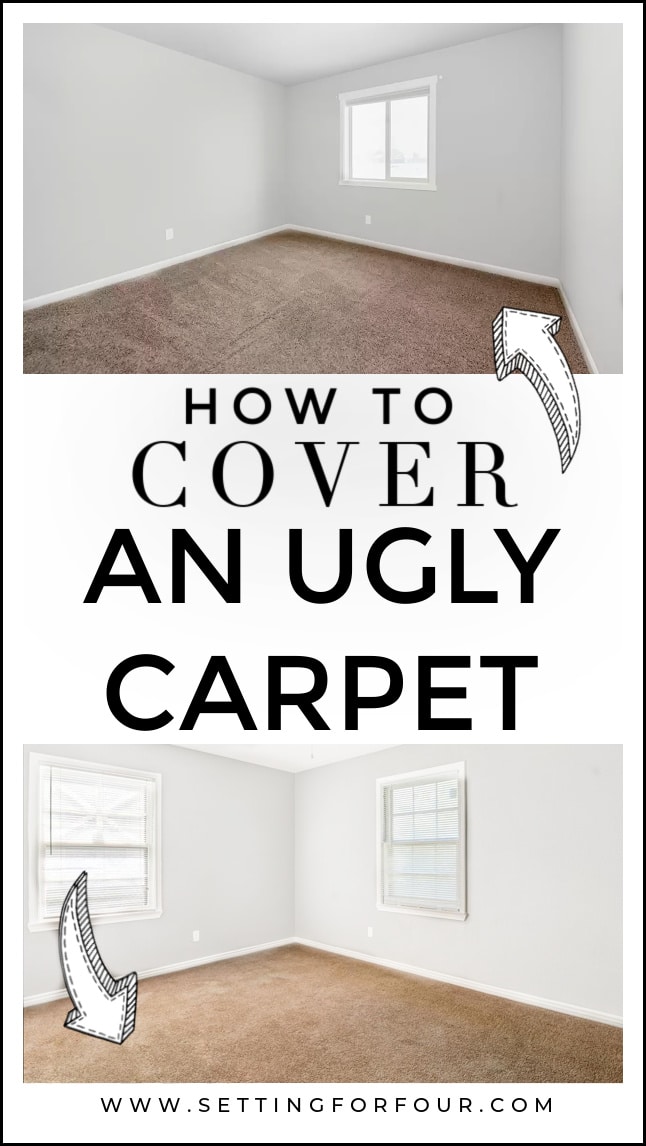 More Design and Decor Ideas