In this post I'm sharing helpful design solutions on how to arrange furniture with a corner fireplace.
These design tips will show you how to arrange your furniture – the right way  – to create a cohesive layout that looks pulled together!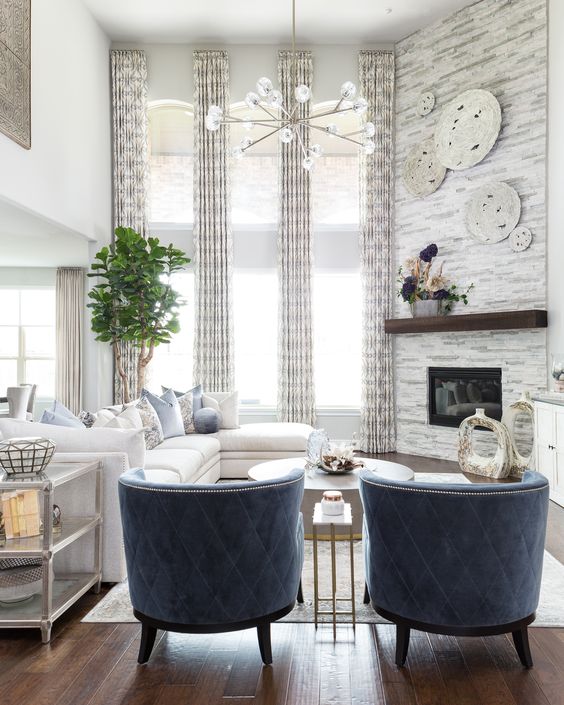 PLEASE PIN THIS AND SAVE IT FOR LATER!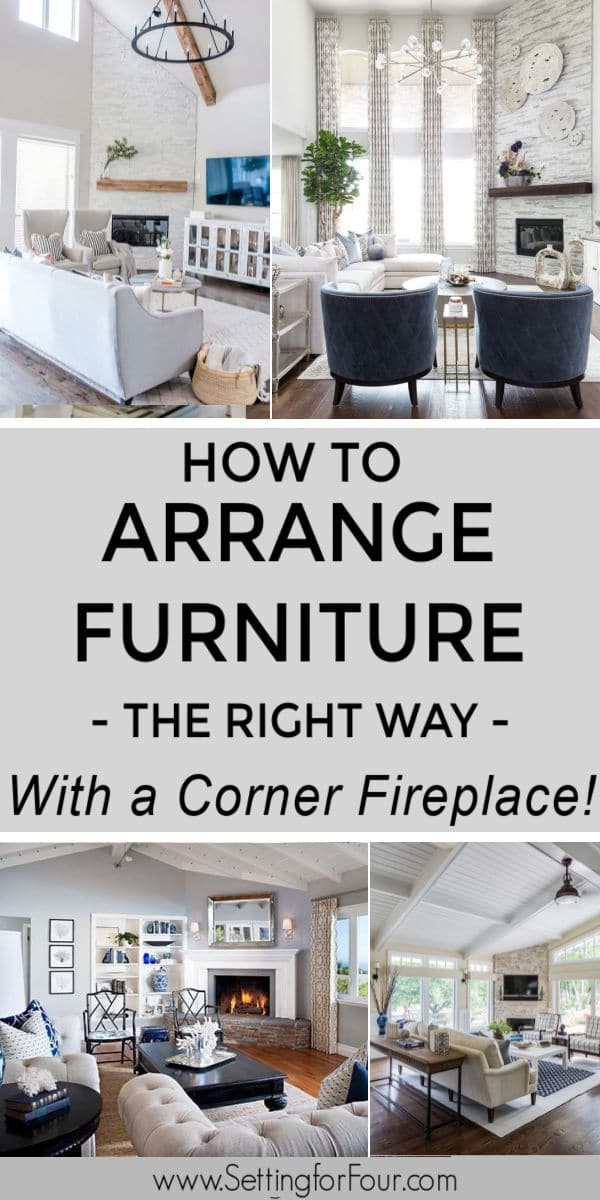 How To Arrange Living Room Furniture With A Corner Fireplace
Chances are – if you are here reading this then your living room furniture is too big or you have too many furniture pieces to fit your corner fireplace design.
If that's the case you'll have to either eliminate a lot of your furniture or buy new furniture to accommodate your corner living room fireplace layout.
Let's take a look at both scenarios!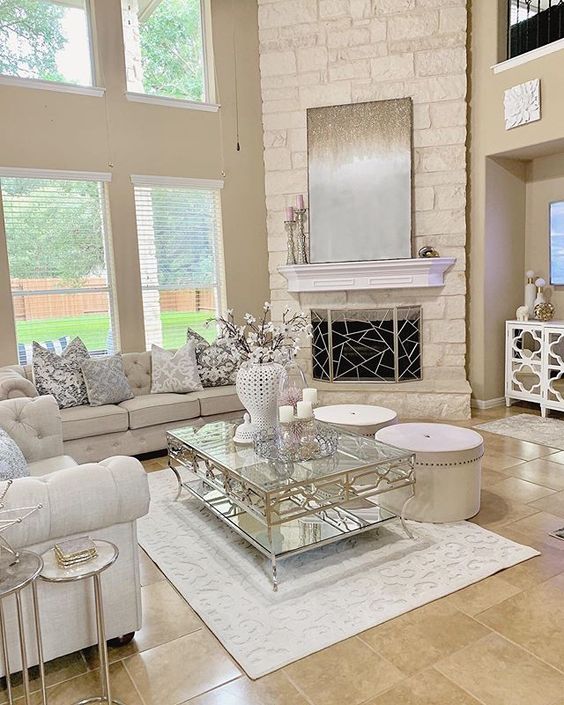 Living room sectional furniture arrangement idea with corner fireplace and TV as a focal point. The beautiful stone fireplace is incorporated into the design for a cohesive look.
The Design Problems That Corner Fireplaces Create
Corner fireplaces are awkward. There's no way around it!
I've seen awkward corner fireplaces so many times in my design clients' homes – even in new builds!
What causes the difficulty is that the fireplace is the focal point in a room ….and furniture needs to be arranged around it in a cohesive manner.
This is easy to do when the fireplace is on a flat wall.
When the fireplace is on a flat wall either the sofa/sectional is parallel to it and facing it or two chairs are.
However when the fireplace is located in a corner, furniture arrangement is more complicated.
It impacts the symmetry in a room.
And when the corner fireplace is paired with a tall ceiling, the fireplace angle is more pronounced and impacts furniture arrangement even more!
Also, if your corner fireplace has a large hearth and mantel, the balance of the room is impacted once again!
Whether you have a tile, stone, plaster, marble or brick fireplace surround – the corner configuration requires a strategized furniture layout plan.
Looking for new flooring? Read this Resilient Flooring Guide: Everything You Need To Know!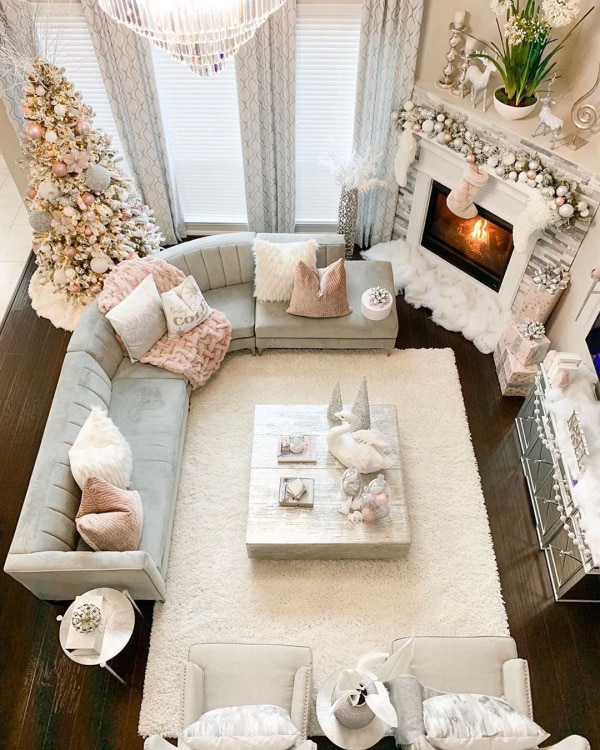 ---
Do you need help with your furniture layout, room design or picking paint colors?
See my online design & paint color services info and client reviews!  Email me at [email protected] to discuss an online design consult!

---
The Open Concept Living Room With A Corner Fireplace
What are the best furniture pieces for a good corner fireplace furniture arrangement in an open concept home?
Typically a combination of the following furniture seating best works for an open concept living room with a corner fireplace:
two sofas and one or two accent chairs
two large sofas
sectional sofa and one or two armchairs
4 comfortable chairs. A grouping of 4 chairs can be the best furniture arrangement solution for your corner fireplace.
Design Tip: Ground your furniture arrangement with a large rug to define the seating area and create a cozy, pulled together look. A rug adds cosiness and comfort too!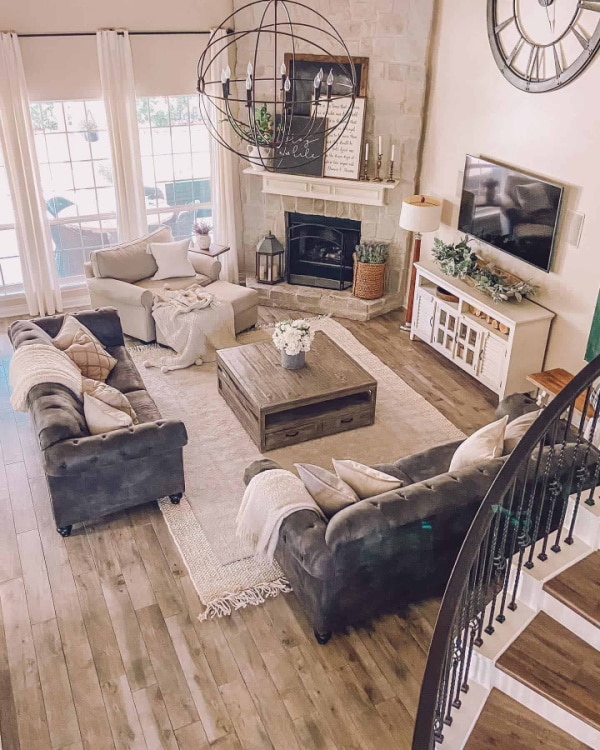 What about a narrow living room layout with a corner fireplace?
When a living room is narrow and there's a corner fireplace, the number of furniture pieces will be limited.
One sofa or two chairs may be all you can fit into this situation.
The other solution is to buy an apartment sized sofa or small sectional sofa that is smaller and will fit a small living room.
Click on the images below to shop beautiful apartment size sofas: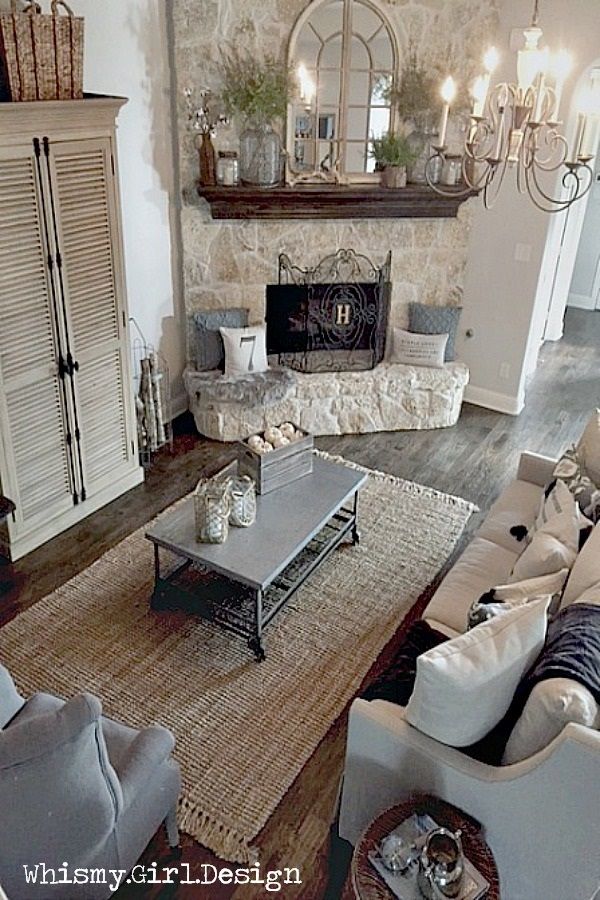 How do you arrange furniture around a corner fireplace?
The best furniture layout in my opinion is:
DO NOT place any furniture parallel to the corner fireplace.
Placing furniture parallel and facing a fireplace will make traffic flow around the furniture difficult because the corners of the furniture will jut out.
It's also not the best use of space.
Instead, place your sofa perpendicular to the corner fireplace and then place the second sofa (or two chairs) kitty corner to the sofa.
Also place a square or rectangular coffee table perpendicular to the fireplace.
(A round coffee table is the most flexible)
This will create an L shape furniture arrangement with the two sofas (or sofa and two chairs).
If you have a sectional sofa, place it perpendicular to the corner fireplace as well.
An open concept living room with corner fireplace furniture layout with sectional sofa perpendicular to corner fireplace and parallel/ facing the TV unit.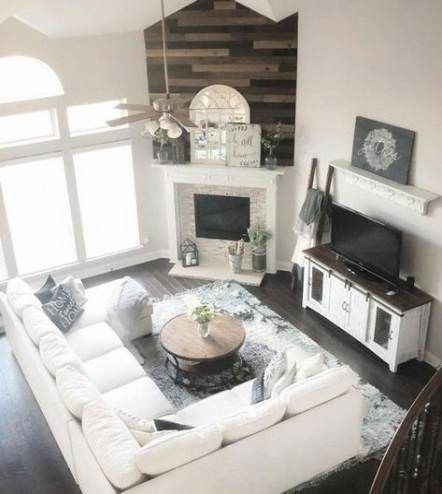 Sofa and chair perpendicular to the corner fireplace.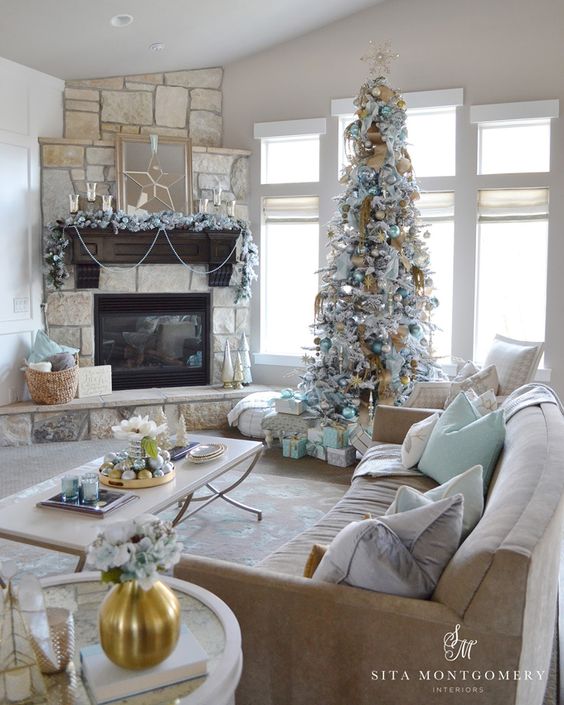 Furniture layout with sofa parallel to TV unit and perpendicular to corner fireplace: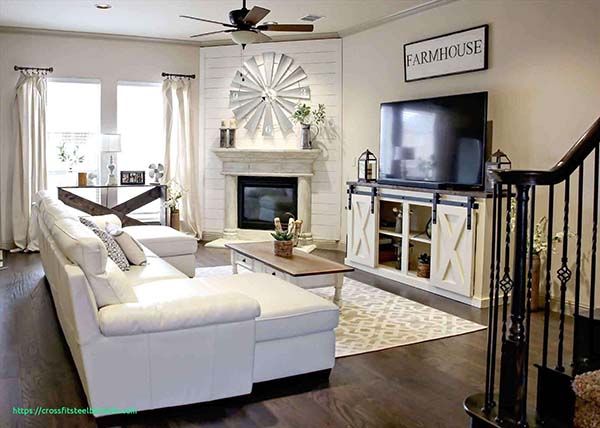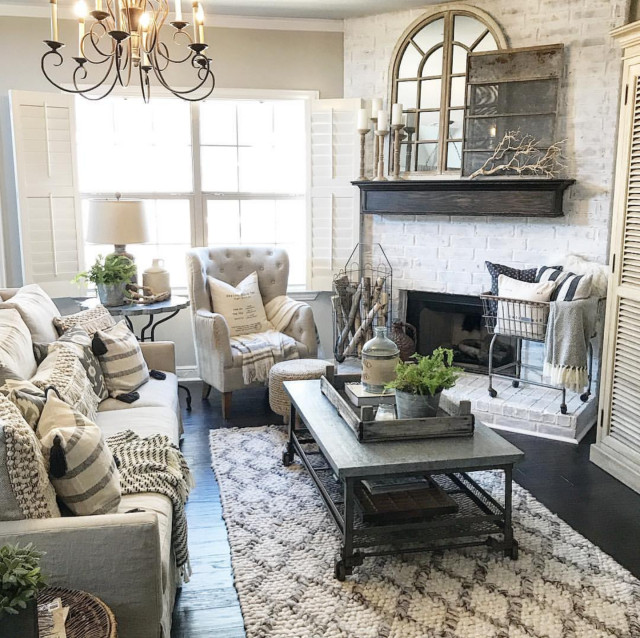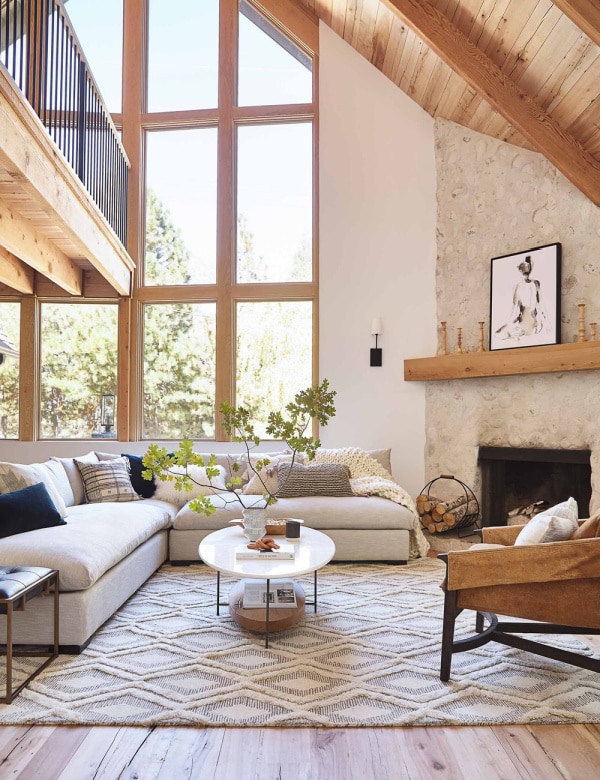 Should your sofa face the fireplace?
No! This doesn't look good in my point of view!
If you place a sofa directly facing the fireplace and parallel to the fireplace, it will cut off a portion of the living room and make placement of chairs awkward or not possible at all.
It will also cause the corners of the furniture to stick out in the room.
You may have to replace all or some of your furniture to fit the corner fireplace layout.
I can help you pick out the perfect size and shape of furniture that will fit your corner fireplace living room's footprint! See my online design service information here and let's chat!
Two sofas facing each other, perpendicular to the corner fireplace: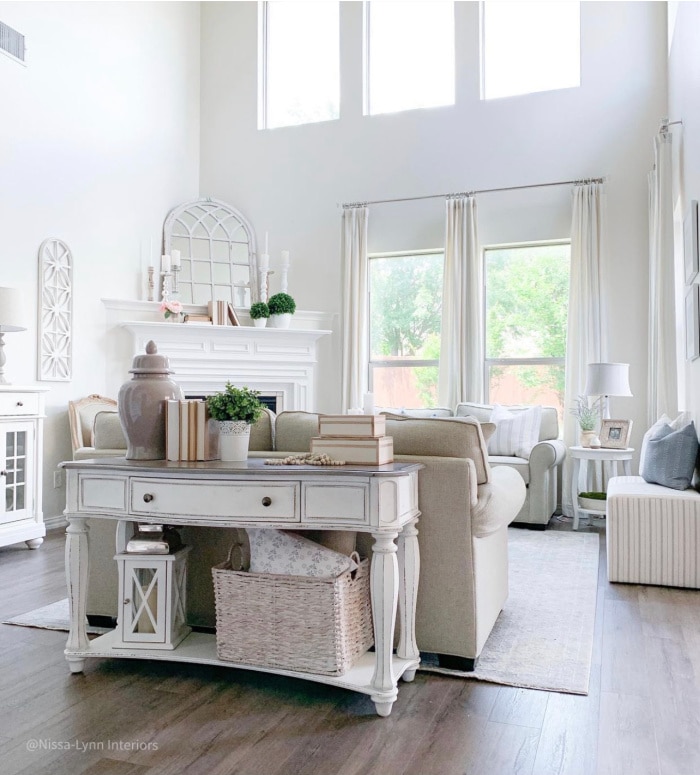 Here are a couple more corner fireplace questions – and answers!:
How do I arrange living room furniture with a fireplace and TV?
Where should a TV be placed on a corner fireplace?
The TV can be placed above the corner fireplace… but if you have space the TV looks best with a TV stand on the wall adjacent to the corner fireplace.
Arrange your furniture so that one piece faces the TV and the other furniture pieces are in an L configuration.
A sectional sofa should be placed with one of it's sides facing the TV and the other side facing the fireplace.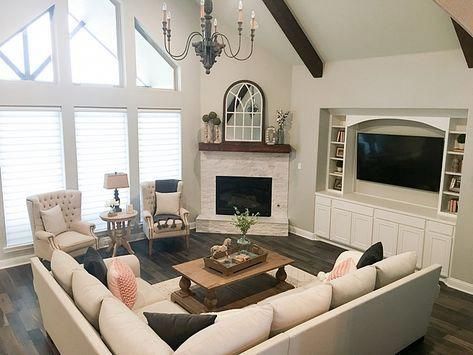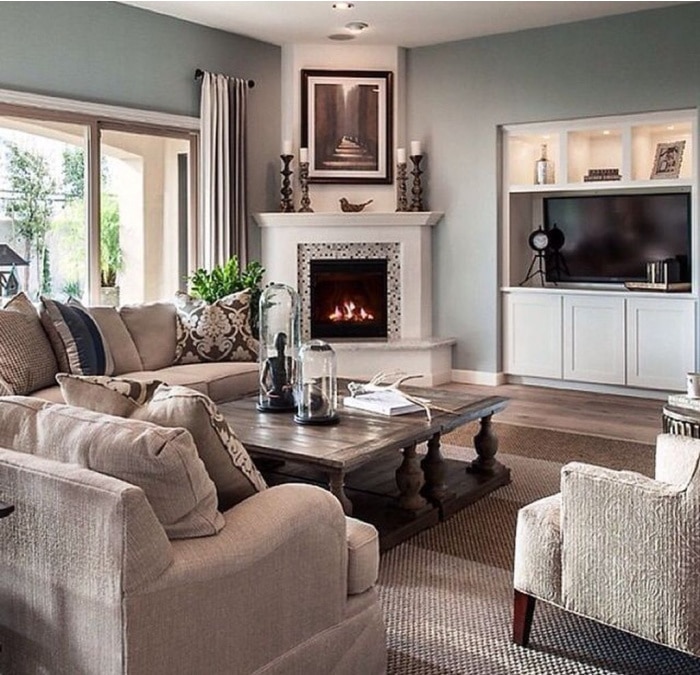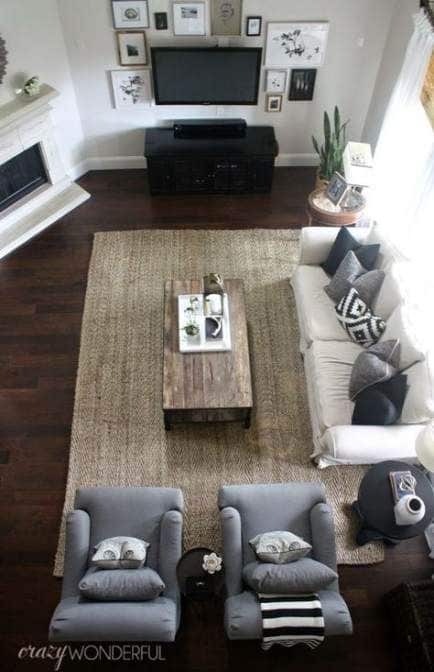 With these design tips your furniture will be arranged the right way to fit your corner fireplace!
Have any questions? Leave them in the comments below!
Follow me on Instagram and TikTok for more fabulous design ideas and inspiration!
More Design Tips For You: