In this post: Resilient flooring guide- everything you need to know for your next flooring project!
Get all the facts about this popular flooring! Learn what resilient flooring is, how I'm using it in my design consults, where to use it, performance, sustainability and how to clean it.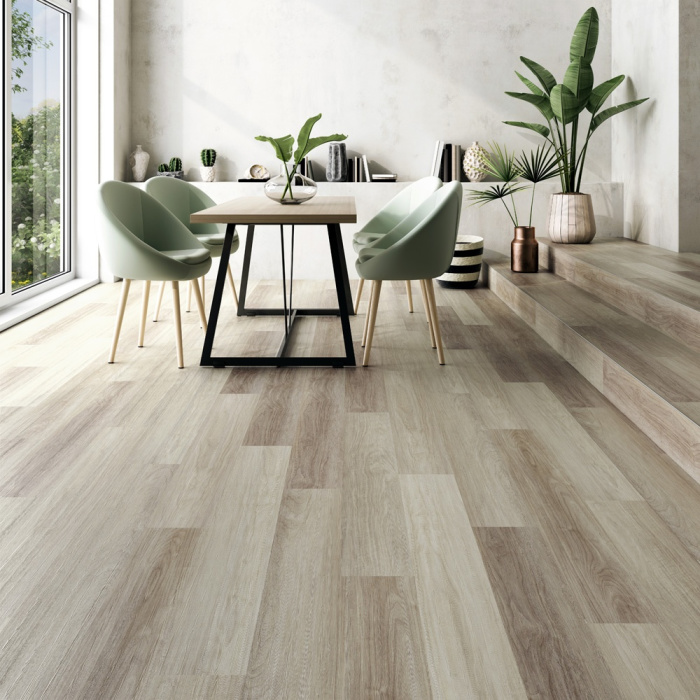 PLEASE PIN THIS AND SAVE IT FOR LATER!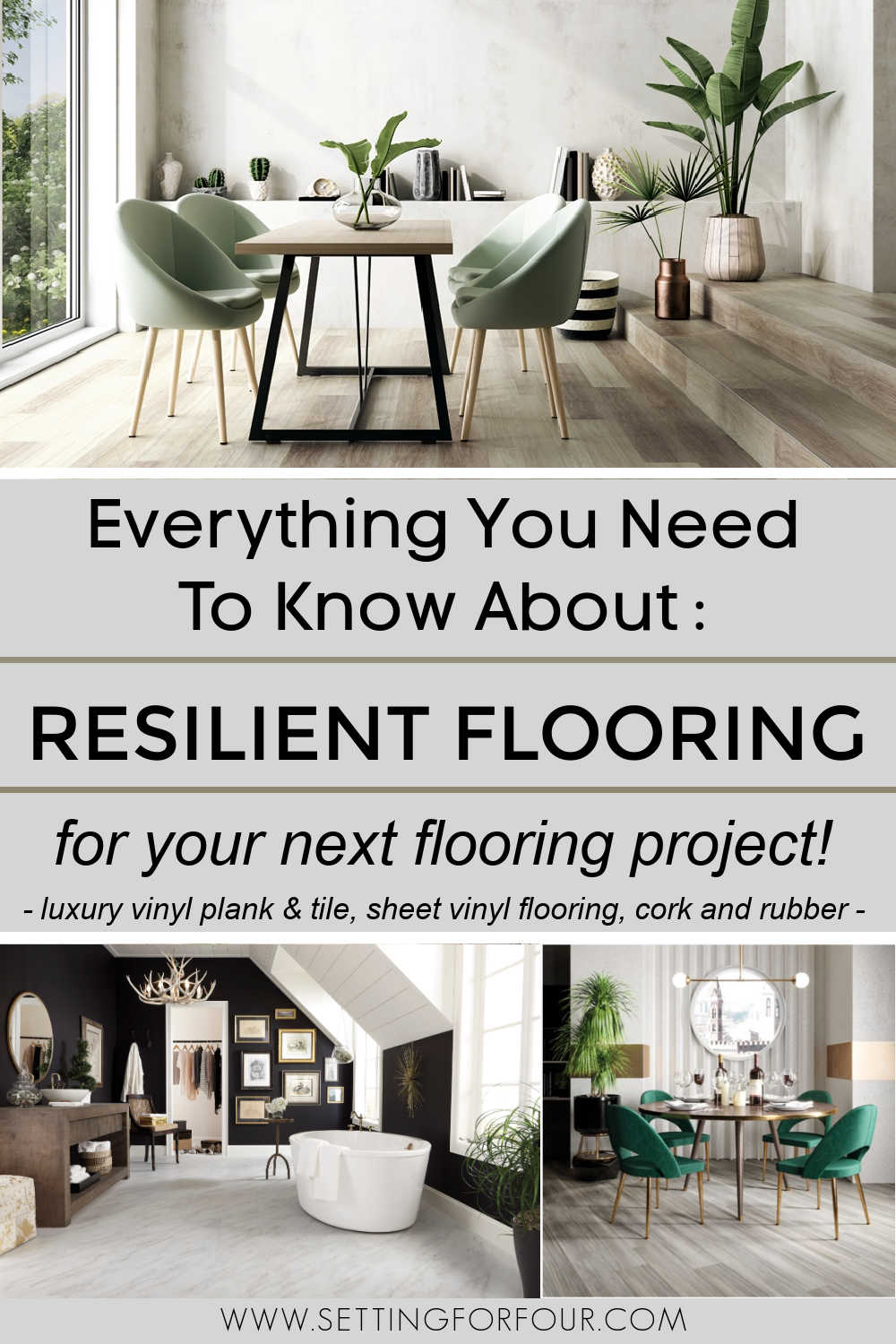 Resilient flooring is something that a TON of my design clients are requesting for their flooring projects and that I'm recommending in my design consults!
Luxury vinyl tile and Luxury vinyl plank are especially popular right now with my design clients because they provide the look of real wood and marble, but are more comfortable to stand on and are very durable with kids and pets.
In this post I'm sharing a helpful resilient flooring guide which will help you pick your next floor and you'll learn all the facts on this popular flooring!
This post was sponsored by Beautifully Responsible. All opinions are my own.
The Resilient Floor Covering Institute includes flooring brand partners that are dedicated to:
-gorgeous nature-inspired designs
-floors that stand up to wear for ages and are made for life
– floors designed for living well, with health in mind
-mindful manufacturing & sourcing
-being leaders in sustainability and recycling
What is Resilient Flooring?
Resilient flooring is a category of flooring that includes polymer floors engineered for comfort, flexibility and design.
It gets its name 'Resilient' from its ability to "give" under the impact of footsteps and then spring back into shape.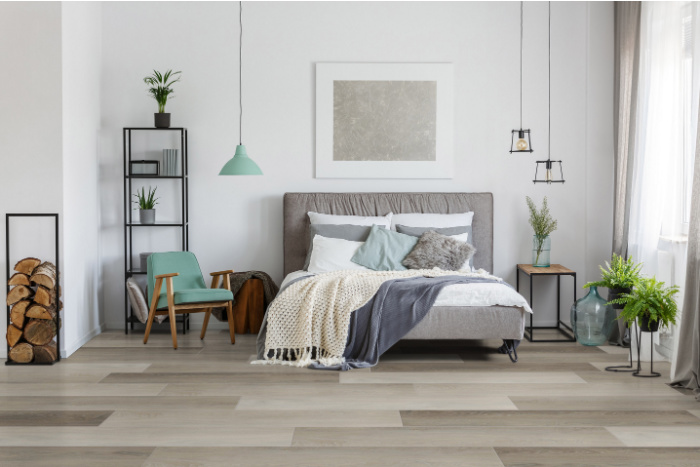 What is Resilient Flooring Made Of?
Depending on the type of resilient floor, it can be made from natural materials (like cork), synthetic materials (like vinyl), or a mixture of both (such as cork combined with rubber).
The binding and coloring agents also vary by type.
When you search for resilient flooring products, be sure to check out the Environmental Product Declaration, which will tell you the life cycle impacts of a product.
For ingredient information, check out a specific product's Health Product Declaration.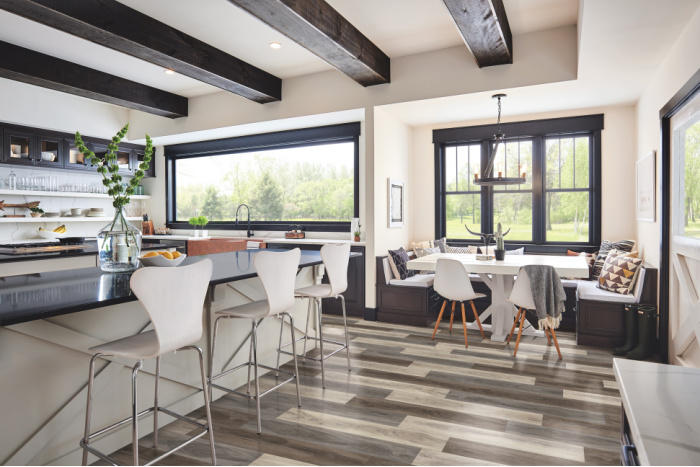 What Are The Most Common Resilient Floors?
The most common resilient floors are vinyl, cork and rubber flooring.
One of the most popular resilient floorings that I use in my client designs is Luxury Vinyl Plank flooring sometimes called LVP for short.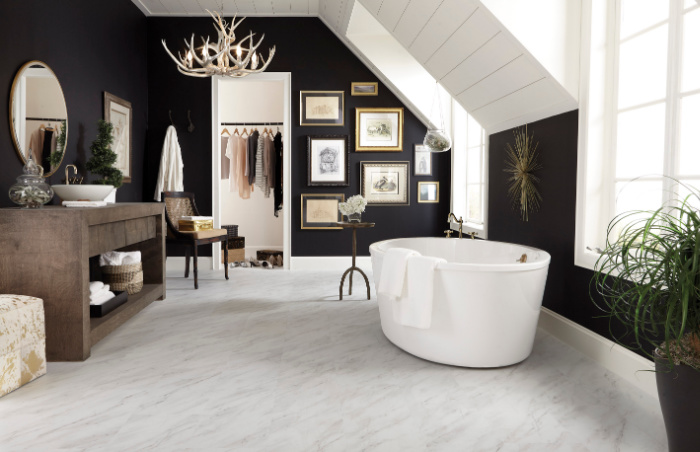 ---
Do you need help with furniture layout, room design or choosing paint colors?
See my online design & paint color services info and client reviews! 
Email me at [email protected] for more info!

---
Where To Use Resilient Flooring In Home Design?
Resilient flooring can mimic the look of tile, stone, even wood! So it's perfect to use in rooms where you want that style and look.
Luxury vinyl plank flooring (LVP) is often used in a home design because it looks like real wood.
Many of my design clients are adding luxury vinyl plank in their entire homes for a seamless cohesive look.
Vinyl sheet flooring can mimic marble tile and Spanish tile patterns – great for bathrooms, laundry rooms and mudrooms!
Resilient flooring is engineered to provide comfort, aesthetics, durability, and sustainability without the price of wood or ceramic, and without the ache that can come from standing on concrete floors. Perfect for kitchens!
Cork floors are often used in condominiums because they soundproof and muffle the sounds of the occupants above and below. Cork floors have a warm feel and shock absorption.
The insulating nature of cork also also reduces the transmission of heat into a room in the summer, and out of the room in the winter. This maintains a comfortable temperature in the bedroom year round, and reduces heating and cooling bills.
Cork is a wonderful choice for bedrooms because it prevents bare feet hitting a cold floor in the morning.
Resilient flooring options that are waterproof are great to use in basements.
Resilient flooring guide tip: This luxury vinyl plank flooring looks like hardwood. The long planks help make this dining room look bigger!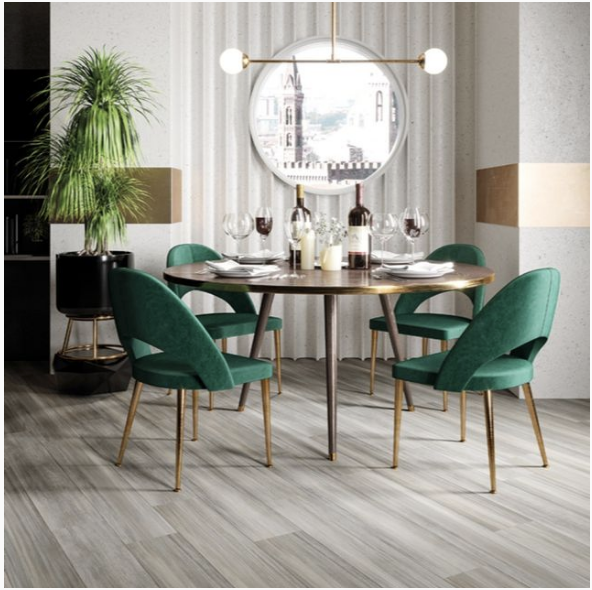 Is It Sustainable?
Yes they are! These flooring products are beautifully responsible, and beautifully made to keep the planet in mind!
Cork flooring is made from the bark of cork oaks, which actually thrive due to the bark harvesting process.
There is no harvesting of hardwood trees or any exotic species,
They incorporate mindful manufacturing processes too that use materials, energy, and water as efficiently as possible.
Synthetic ingredients like vinyl actually make resilient flooring products highly durable and long-lasting.
This helps homeowners waste less over time!
Is It Good for Your Well-Being?
Responsible resilient flooring is certified to meet high standards for good indoor air to ensure you are living well.
Look for FloorScore® and the Assure CertifiedTM labels related to good indoor air quality, which ensure your family's wellbeing. 
Is It Durable?
Resilient flooring is made for life! It's very durable and will stand up to heavy traffic!
Stands the test of time and stresses of everyday life:
have advanced scratch protection
are stain resistant
some are also dent resistant!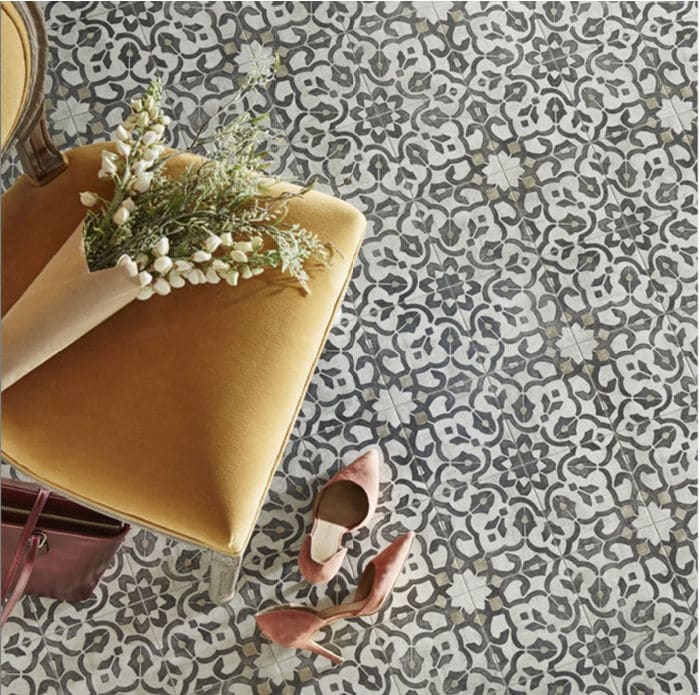 Is It Pet Friendly?
Yes it is! Resilient flooring is a wonderful choice if you have pets because it makes cleaning up after pets easy since messes, odors, and hair can be removed without elbow grease; specific flooring options are available that stand up best to sharp claws!
Is Resilient Flooring Waterproof?
Resilient flooring does come in waterproof and water-resistant options for those common spills and traditionally wet areas like bathrooms and mudrooms.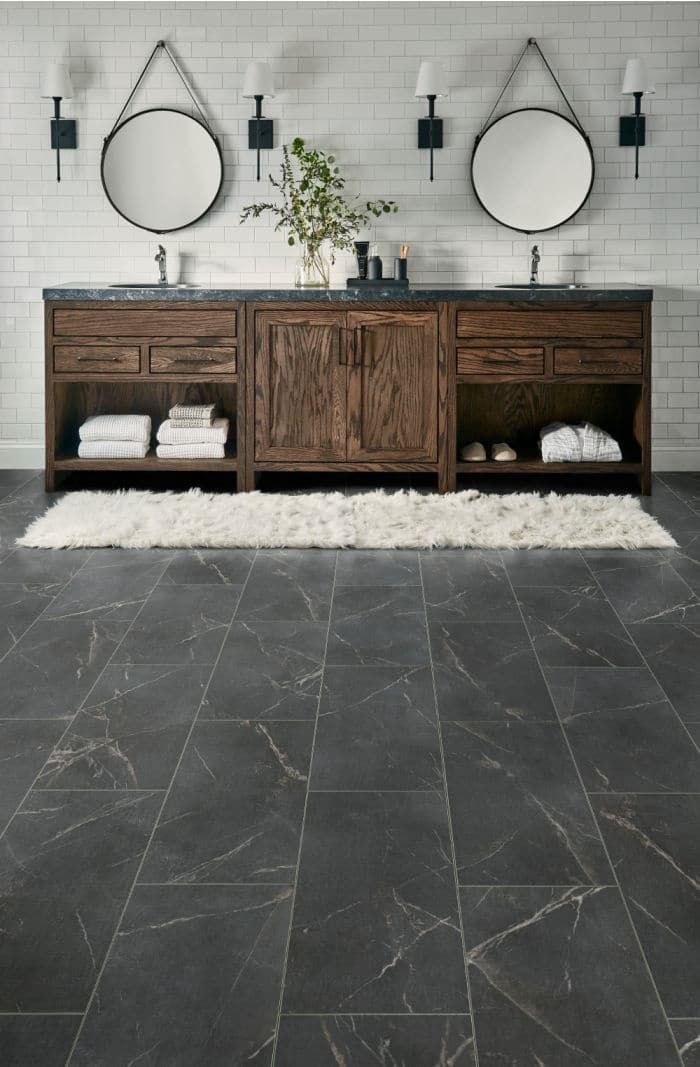 Can Vinyl Flooring Be Used In Bathrooms?
Yes it can! Vinyl flooring not only comes in waterproof options but it also comes available with built in properties to help protect against the growth of mold and mildew… and without the need for harsh chemicals!
How Do You Clean Resilient Flooring?
Sweep resilient floors regularly to keep grime from rubbing into it.
For deeper cleaning, a dry or damp mop plus a nonabrasive, all- purpose pH-neutral cleaner are all it takes.
The key is to avoid abrasive cleaners and harsh cleaning solutions.
Check with the flooring manufacturer for specific cleaning do's and don'ts and, for applicable products and instructions for waxing.
I hope you enjoyed this resilient flooring guide! 
Follow me on Instagram and TikTok for more design and decor inspiration!
More Interior Design and Decor Ideas: