How to Makeover Your Stairs When You Can't DIY Them – When to call a Good Pro, even if you are an experienced DIY'er! Tips to finding a good contractor, replace carpet and install hardwood with curved stairs.
Remember when I mentioned that we gave our stairs a makeover and removed out all of the ugly beige carpeting?
Well the renovation project is finished and I'm so thrilled with how great our staircase looks all beautified in hardwood!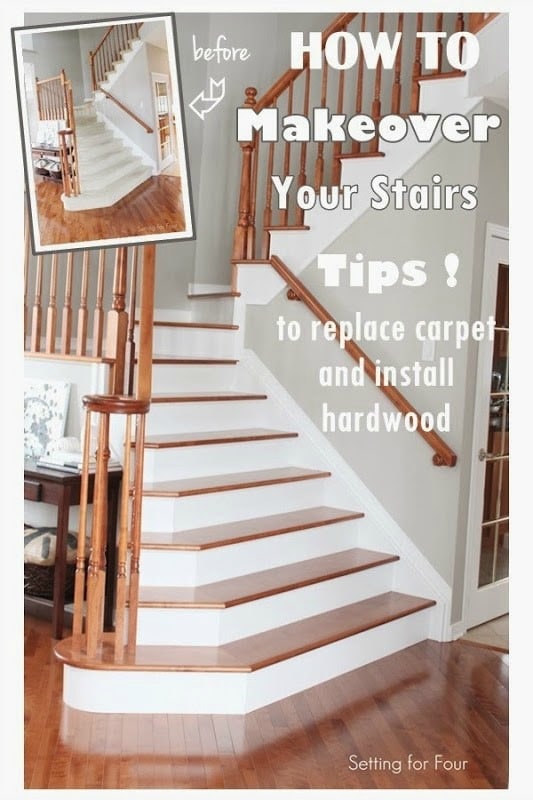 I love the transformation!:
When we moved into our home 2 years ago the carpeting on the staircase was one of the main things that really bothered us. Don't get me wrong – we love our house, all the room we have here, how bright our home is, the finished basement, our beautiful backyard and our fun hot tub…but the carpeting on the staircase was a total eyesore and hard to keep clean.
One of the first things we did after moving in was to repaint the walls on the main level. I'm not a fan of warm paint colors, that's just my personal preference…this photo doesn't really show it well, but this yellow was much more loud intense in real life!
I love the calm grey color we choose, it really compliments the hardwood color!
When you come into our home, the staircase is one of the first things you see….and the ugly beige carpeting along with it!
This carpet wasn't even a nice berber type…it was some odd type of shag carpet…definitely not our style!
At first we thought we'd tackle this project on our own; rip out the carpeting and restain the treads – but then we realized the treads were not made out of wood that could be stained.
Also our stairway has a custom layout meant custom cuts of hardwood using a custom template had to be made due to the curves and angles:
Even though my hubby is an experienced DIYer and has every tool you can imagine and really wanted to tackle this project – we knew we didn't have the DIY skills to do this and have it look beautiful….