The stair tread is the part you step on, it's the part we had hardwood installed onto. The stair riser is the vertical piece. This can be hardwood or painted white. It's your personal choice and there is no wrong or right way!  We chose to have our risers painted white to tie in the white molding on the walls and to break the hardwood up a bit for some contrast and interest. We love the result! The white color really brightens up the whole area and makes the hardwood tones pop!
4. Be prepared to do some touch up painting on your walls… so have some of your wall paint on hand: Because the old stairs wall molding was removed to ensure a tight fit of the stair treads, new molding was cut and added. As a result there were a few places that needed to be touched up with the wall paint.
My hubby did a great job touching up a few spots-Thanks handsome!
5. Ensure that your contractor cleans up after he is finished and removes all of the plastic dust covers from your home: Our contractor used a lot of plastic (thankfully!) and it was full of dust – the fact that he took it away with him was an extra bonus and meant less mess for us to deal with!  He also used large padded blankets to lay on the hardwood floors to set his tools on, so our existing floors weren't damaged.  Our contractor also vacuumed (he even brought his own shop vacuum) the entire staircase and main floor area when he finished the job, before he left. I joked that he could come back on a weekly basis since he did such an awesome job vacuuming!!! …He didn't take me up on it though!
Look at all of the tools he used! He also brought his own disposal bins and shop vac: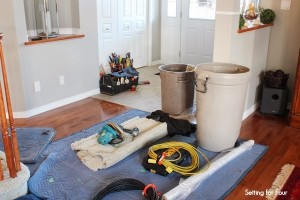 6. Make sure your contractor leaves you his contact information: You will need this in case you'd like him to return to make any touch ups that may be required or in case there are any deficiencies in the work that you might not notice immediately.
  Andy came back right away to fix a very small area where wood putty (used to fill in the small nail holes) had smudged a bit. He agreeably came back quickly and fixed it in a few minutes!  Andy rocks!
SO what do you think? Don't our stairs look so fresh and updated now?
Do you think we made the right decision to have the risers painted white or would you have had hardwood installed there too?
So, if you have a staircase to renovate, by all means DIY it yourselves if there are no custom cuts and angles involved; perhaps it's just a matter of removing the carpet and staining the wood underneath.
However, if it's a complicated job having a stairs renovation professional apply his craftsmanship, years of experience as well as his supplies towards the job can be the better (or only) choice!
I have plans to add a photo gallery wall to the tall wall where the stairs turn..stay tuned for progress with that project!
I'll be using this tip filled post for reference! 65 Plus Photo Gallery Wall Layout Ideas.
I hope you enjoyed my 6 tips on how to makeover your stairs!
More design ideas: