Deep Cleaning your hardwood floors keeps them in tip-top condition and protects their good looks when you use smart cleaning methods that make caring for your floors easy and effective. See my favorite way to deep clean hardwood floors using an oxygenated process that traps dirt and grime!
Spring is here and that means our hardwood floors get exposed to more mud, dirt and wet grime that love to hide and settle in the crevices of our hardwood floors – especially when you have two boys!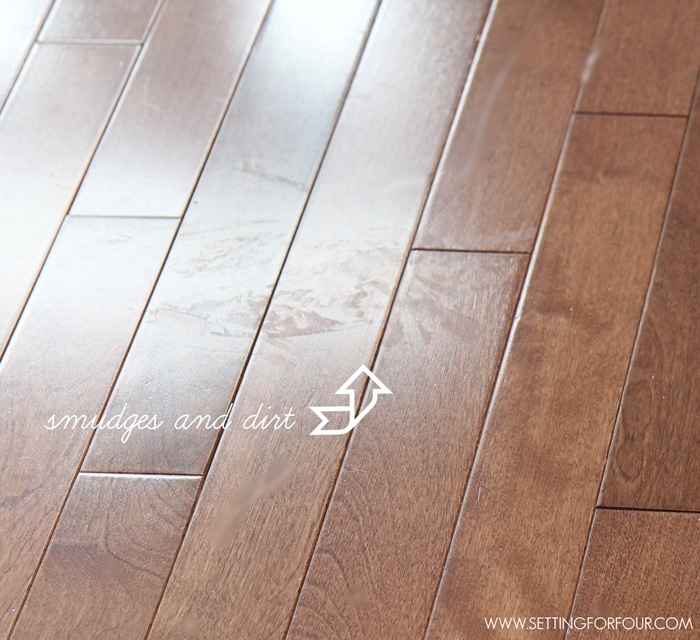 The answer? Using an oxygenated wood cleaner and a cleaning pad that loosens and traps tough dirt provides deep clean results that are fast, beautiful and easy.
Just in time for the annual Spring cleaning ritual, my friends at Bona have launched a new and amazing cleaning product called Bona PowerPlus a fabulous "deep clean" suite of products to tackle dirt and grime on hardwood floors.
When Bona contacted me about their new product I jumped at the chance to share it with you guys since I've already been a long time user and fan of Bona products!
Let me show you how the new Bona PowerPlus system power cleaned our grimy hardwood floors and whipped them into a rich and gleaming shine. No more buckets of dirty water and messy mops – hurray!
Wet, muddy spring weather and two boys = smudges and dirt!: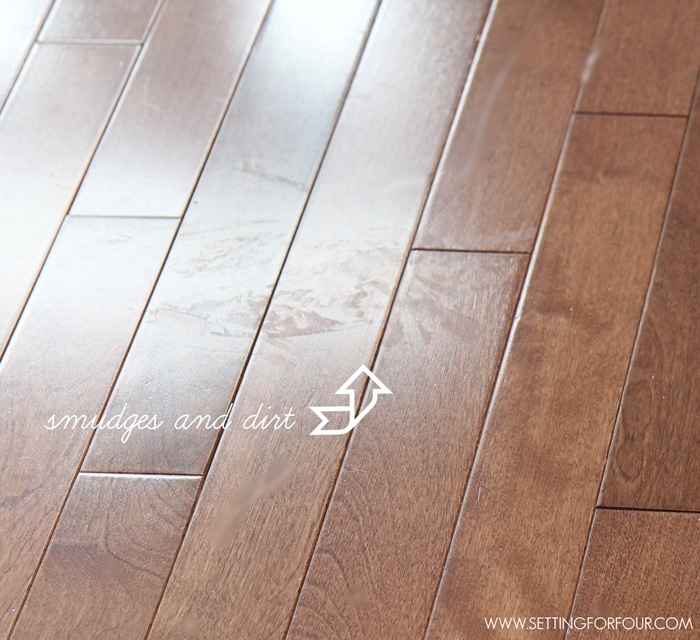 I love that the Bona PowerPlus line of deep cleaning floor care products provides three times the deep cleaning action in an easy all in one approach!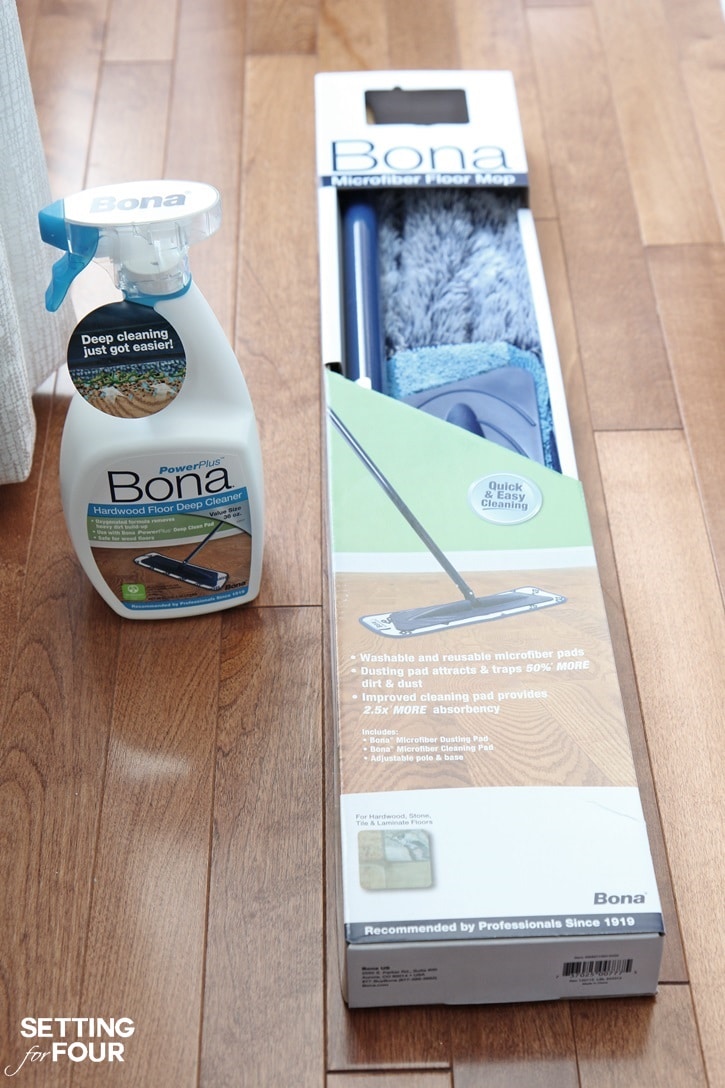 The Bona PowerPlus Hardwood Floor Deep Cleaner is specifically formulated for hardwood floors so don't worry – it won't harm or mark the wood! It leaves no filmy residue behind so no rinse step!
As a Mom, the one big thing that I love about this new cleaner is that it's also safe for kids, families, pets and the environment and too – it's GREENGAURD certified and eco-friendly!
The Bona PowerPlus Deep Clean Pad brings even more power to deep clean hardwood floors by trapping dirt with it's PowerLoop technology – tiny little loops that hug all the dirt! – and it's machine washable saving you money and saving landfills from disposable cleaning pads.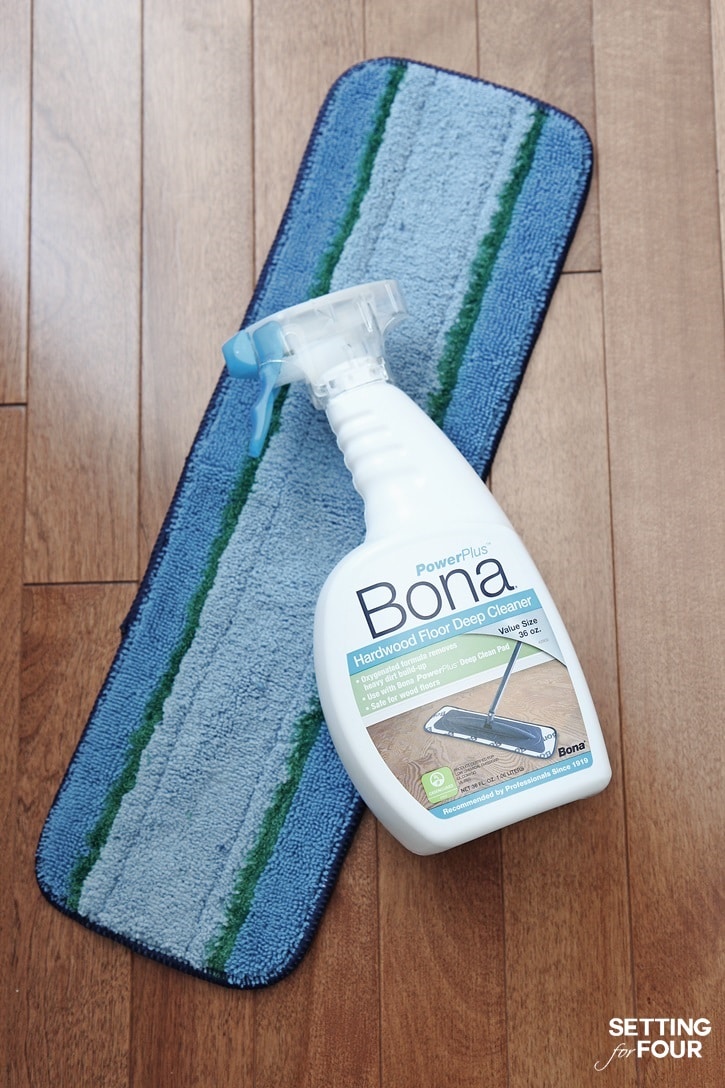 The muscles behind this new hardwood cleaner are the peroxide that penetrates dirt buildup for a power clean and the oxygenated bubbling action that lifts away surface debris.
Look at the bubbling dirt-lifting action at work!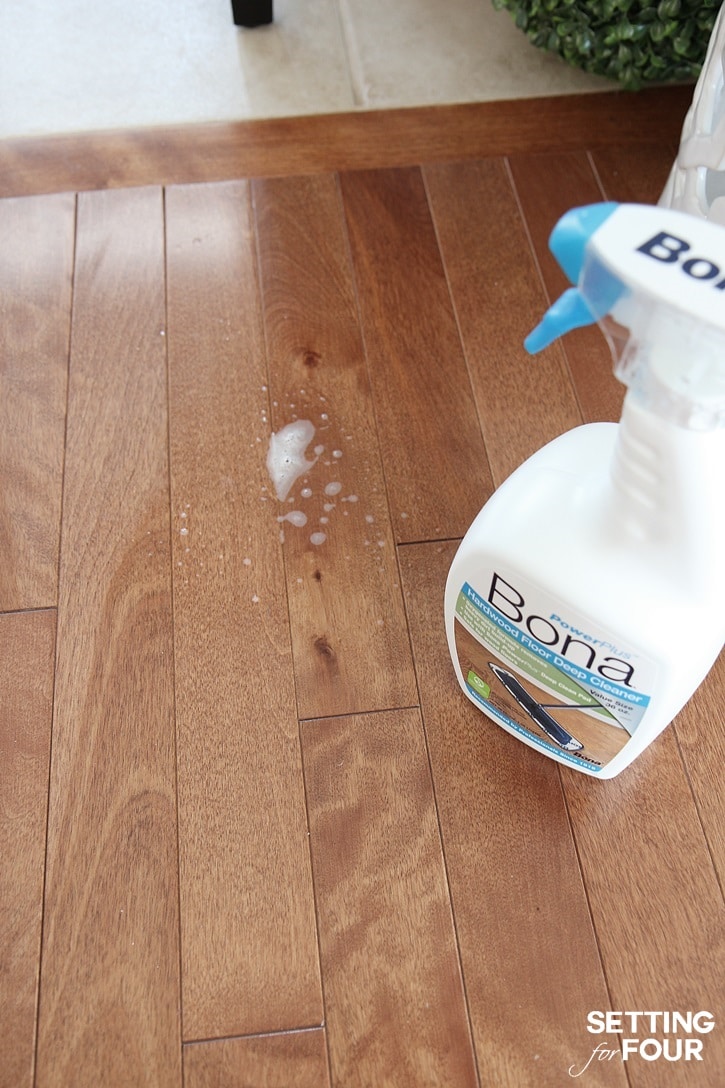 Just attach the PowerPlus Deep Clan Pad onto the Bona Microfiber mop, spray the PowerPlus Hardwood floor cleaner, mop and you have one gleaming floor!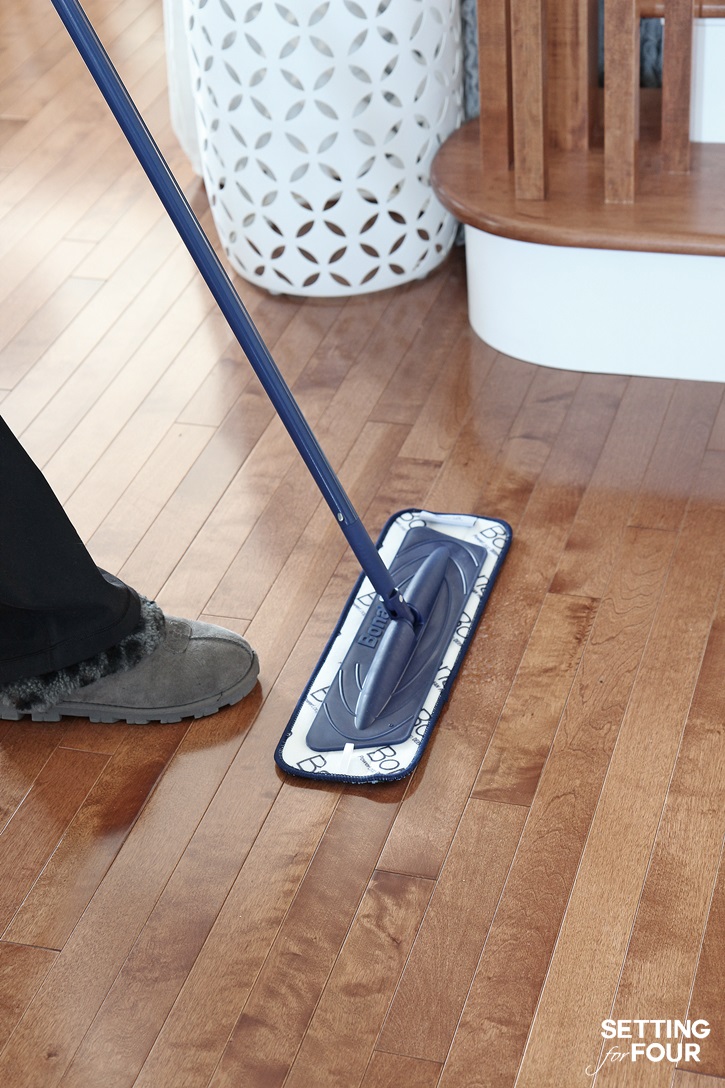 Look at the deep clean and gleaming shine!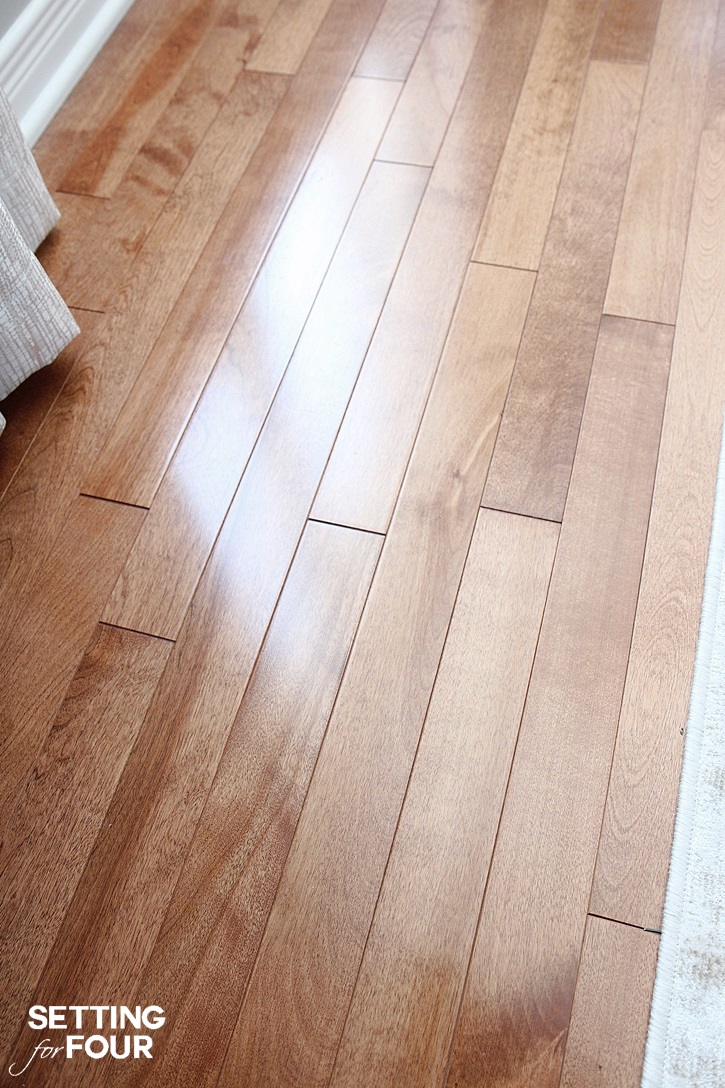 I love having clean, lustrous hardwood floors… and being able to clean them so easily too!
I hope you enjoyed seeing how you can clean, shine and protect the beauty and expense of your gorgeous hardwood floors with my favorite hardwood cleaning system!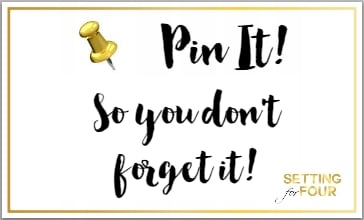 Looking for more cleaning tips? You may like these!
10 Things to Never Put in a Dishwasher

How to get your Dishwasher and Dishes Sparkling Clean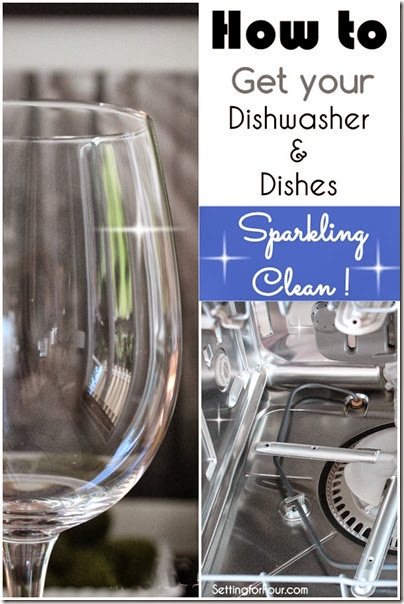 How to deep clean a toilet from top to bottom in 4 steps and ditch the toilet brush!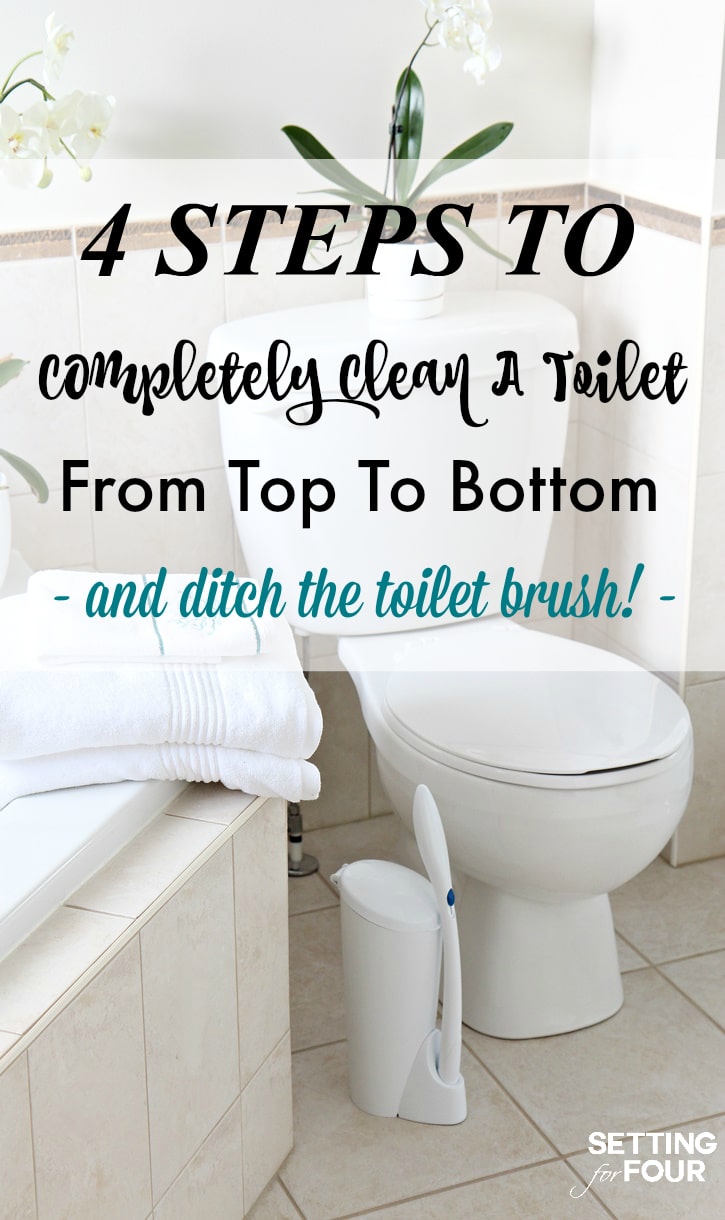 Disclosure: This sponsored post is in partnership with Bona but all opinions are 100% my own.