Learn about the Color Of The Year 2021 Sherwin Williams Urbane Bronze SW 7048 , it's undertone and what rooms it looks amazing in!
See it in real spaces and the colors to pair it with!

I'm so excited! The first color of the Year 2021 is HERE!!
Get the latest inspiration for color!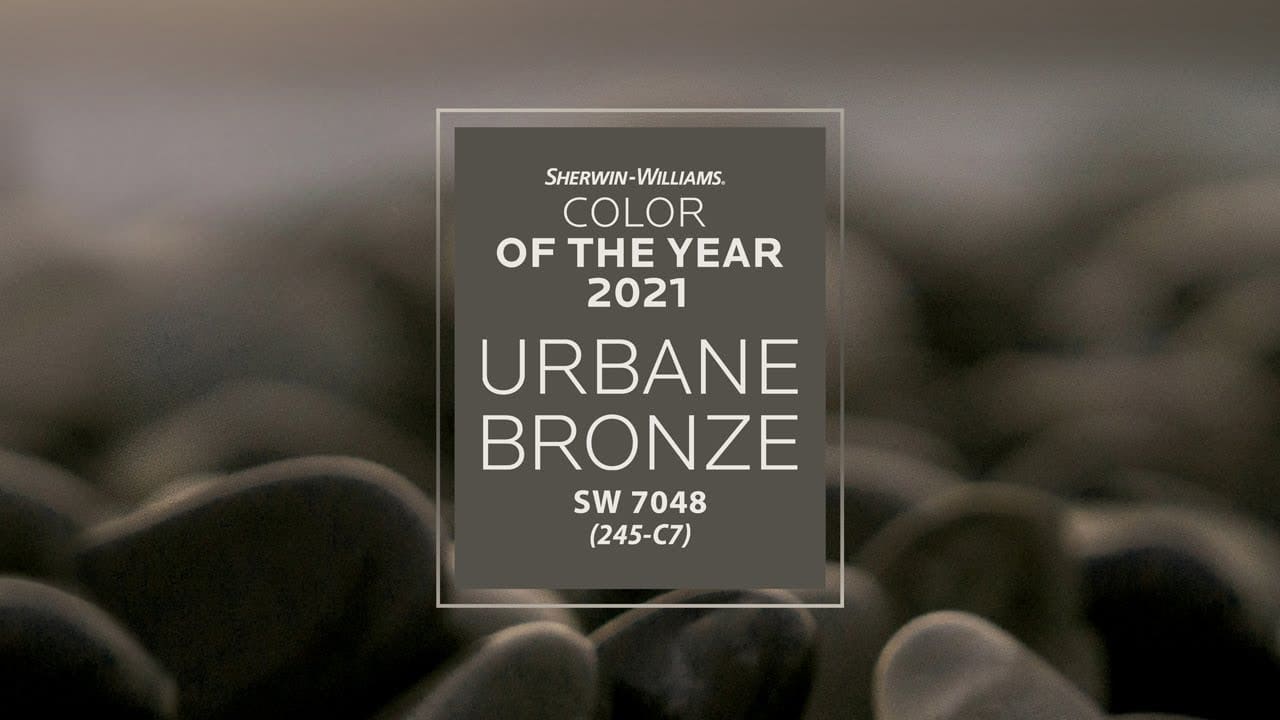 Affiliate links  included. Click HERE for my disclosure statement.
What is the Color of the Year 2021?
Just announced the color gurus at Sherwin Williams have named Urbane Bronze SW 7048 as it's signature color for 2021.
Sherwin Williams always has cutting edge design advice regarding color.
I love this sophisticated neutral color!
My favorite colors are neutrals and this is such a stunning neutral brown.
It's timeless and can look contemporary or classic, fitting all design styles: modern, traditional, transitional, farmhouse, boho and french country.
It's warmer than black and pairs beautifully with whites, grays, greens and amber hues.
It has depth and can add the contrast your space may need!
Sherwin Williams Urbane Bronze 7048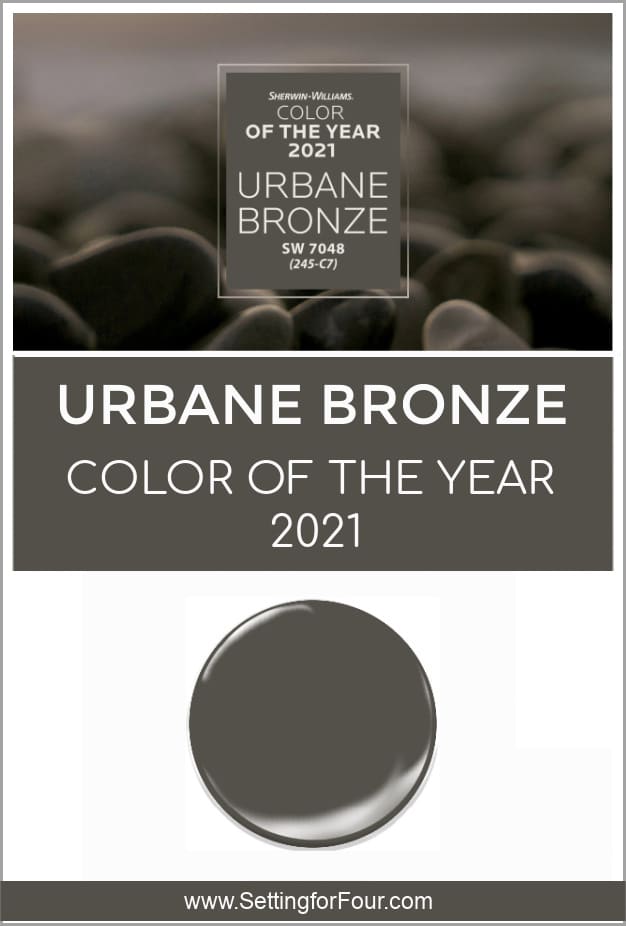 What color is Sherwin Williams Urbane Bronze?
Urbane Bronze is actually a dark gray, that has a slight bronze-brown undertone to it.
It is in the same color family (and on the same paint strip) as Worldly Gray SW 7043 and Amazing Gray SW 7044, two other popular gray, greige paint colors that I have used with my design client's paint color consults.
SW Urbane Bronze 7048

Paint Strip with SW Urbane Bronze 7048 and the paint colors in the same family: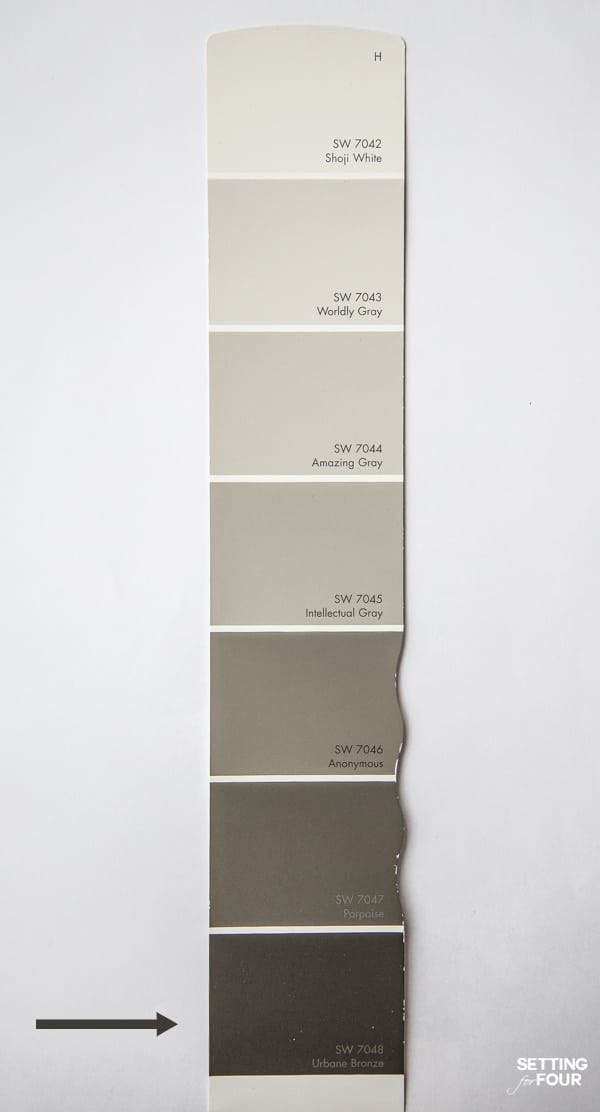 Here's another look at this family of colors in Color Strip 245: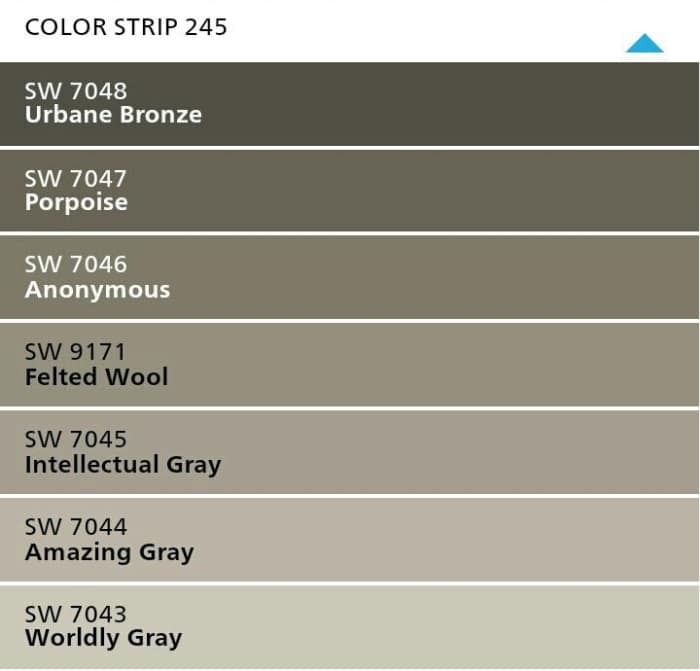 ---
Want to test a paint color in your own home, the easy way?
Check out these large peel-and-stick samples made with real paint!
Perfect for sampling color before you take the dive into gallons of paint!
Show the true paint color on your walls and compare colors instantly to make the best choice for your space.
Accurate colors. These big samples are rolled with two coats of paint to achieve incredible accurate color.
Less mess, more fun! No painting, no cleanup!
And samples are delivered overnight!
You can select samples from all the top paint brands like Benjamin Moore, Sherwin Williams, PPG, Farrow & Ball.
Here's a paint sample of Sherwin Williams Urbane Bronze SW 7048
---
A Description Of Sherwin Williams Urbane Bronze
This is how Sherwin Williams describes this gorgeous bronze color:
This warm hue draws from nature for a feeling of relaxation and serenity. 
The moments worth cherishing are right in front of us – sometimes we need a little reminder.
Stay grounded with a color whose natural simplicity cultivates a sense of calm from the ground up.
Tap into nature with a hue whose warmth and comfort breathe down-to-earth tranquility.
Our 2021 Color of the Year, Urbane Bronze, captures that simple sophistication every space is searching for.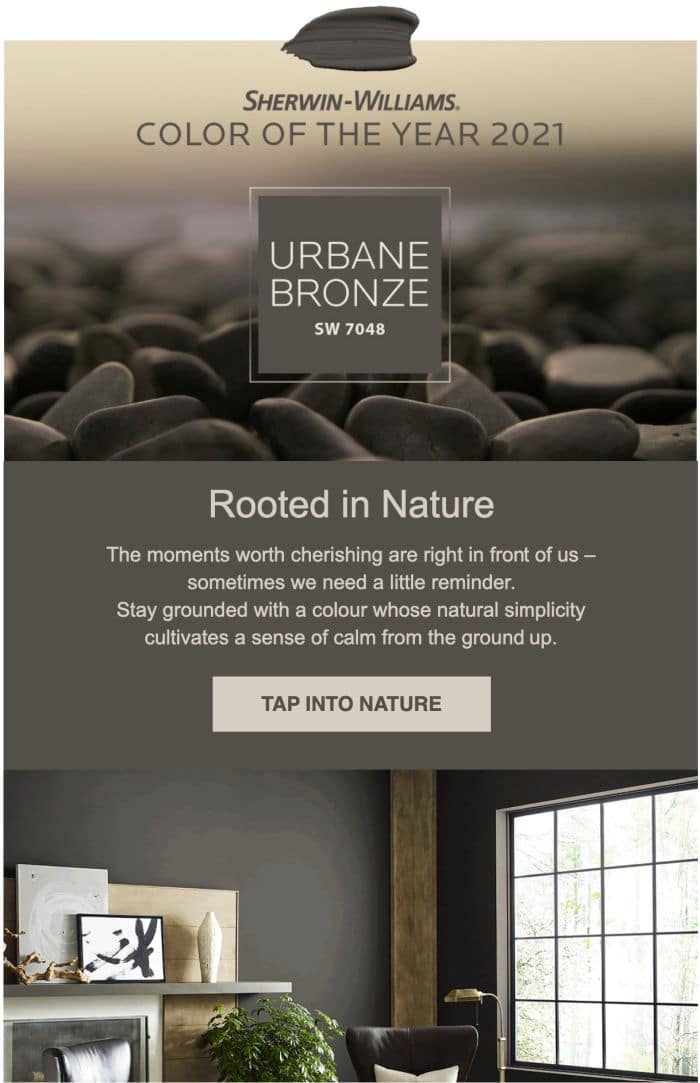 What is the undertone of Sherwin Williams Urbane Bronze?
SW Urbane Bronze is a stunning gray with a brown undertone.
---
Need help with furniture layout, choosing paint colors, kitchen/bathroom design, selecting furniture & decor or updating your home? I can help!
See my online design & paint color services!  Plus my client reviews!
Email me at [email protected] for more info!

---
What is the LRV of Sherwin Williams Urbane Bronze?
Sherwin Williams Urbane Bronze has an LRV of 8.
LRV, or Light Reflectance Value, measures the percentage of light a paint color reflects.
It's a number to assign how light or dark a paint color looks on a scale of 0 (black) to 100 (white).
The higher the LRV number is, the lighter the color is.
The lower the LRV number is – the darker the color is.
So an LRV or 8 means that SW Urbane Bronze is a dark color that doesn't reflect much light.
You can still use it however, in a dark room such as a den or basement movie theater room to create a cozy, moody feeling.
RGB Value of Urbane Bronze
The Hex and RGB values are R: 86 G: 81 B: 75 Hex Value: #56514b
What finishes and materials does SW Urbane Bronze pair with?
This serene color pairs beautifully with metal, wood and stone.
Natural materials like wood finishes, stone accents, and mixed metals ties this earthy neutral  back to its nature-inspired roots.
What paint colors does SW Urbane Bronze 7048 go with?
Pair it with other warm neutrals and bone whites, like Sherwin Williams Modern Gray SW 7632 or BM OC-17 White Dove to create an updated take on minimalism.
If you want to bring in more color, modern greens, like Sherwin Williams Messenger Bag W 7740, can be introduced to add a hint of bolder style.
Design Tip! Use these reusable peel and stick paint samples to easily test out how the paint color will look.
They're mess-free and you can move the peel and stick samples to different walls o see how the color will look in different areas of the room.  
Use these Peel & Stick Paint Samples for a mess-free way to test paint colors!
Sherwin Williams Modern Gray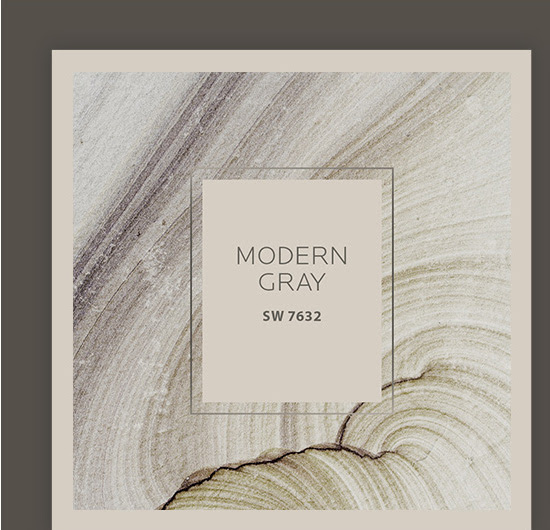 Sherwin Williams Messenger Bag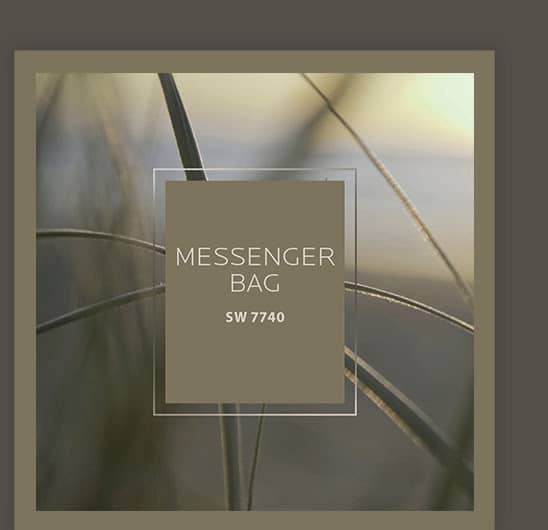 Where can Sherwin Williams Urbane Bronze be used?
Urbane bronze is a gorgeous exterior color for siding, front doors, garage doors and fences and Adirondack chairs!
It's also a stunning color for a dresser, buffet, cabinet or an accent wall!
Use it in a living room, family room, powder room, den, cozy bedroom or boy's bedroom, movie theatre room, dining room and on cabinets!
Use it with a warm white like Shoji White SW 7042 or a clean white like Pure White SW 7005
I love how the trim is painted the same Urbane Bronze color as the walls in this space: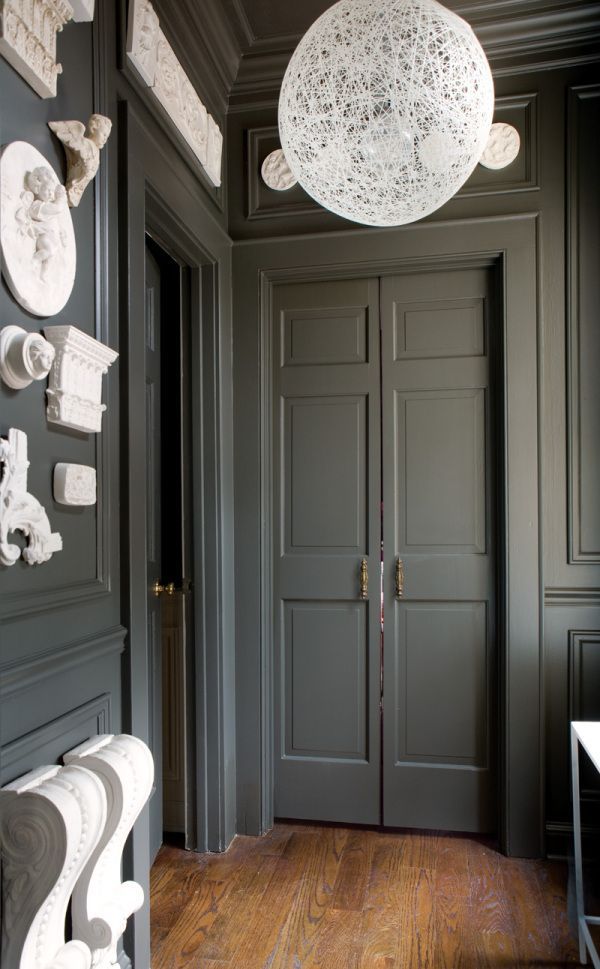 love this gorgeous bar cabinet!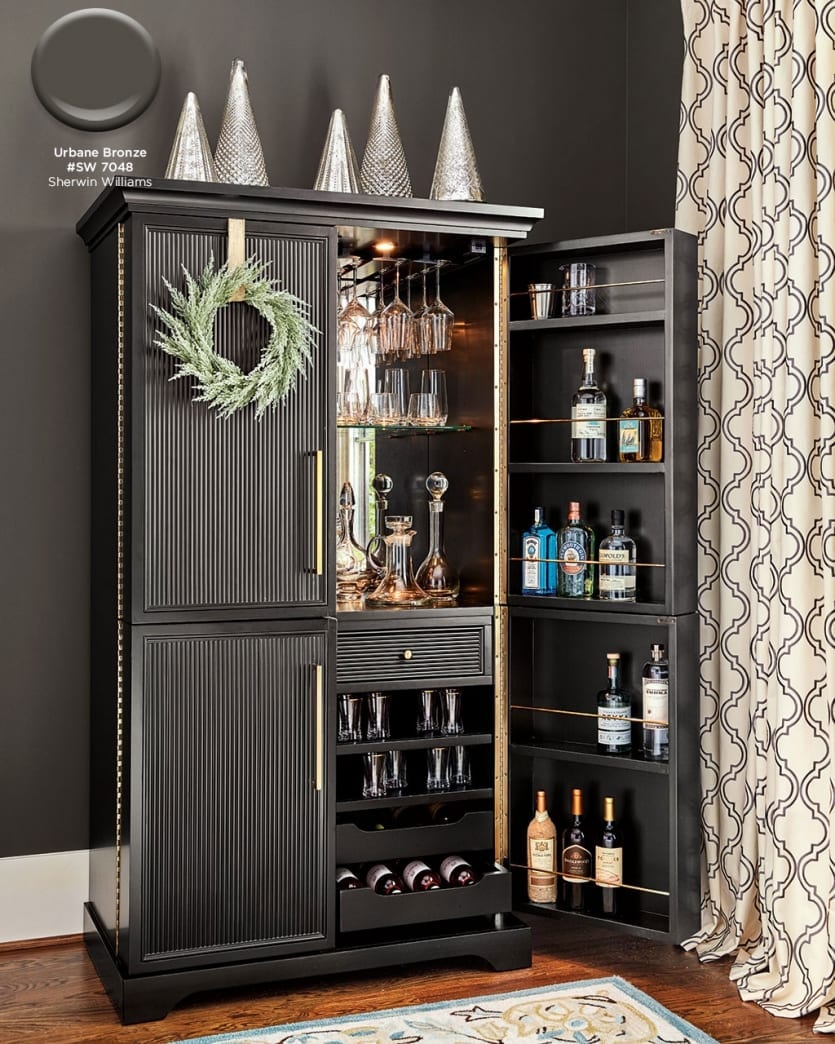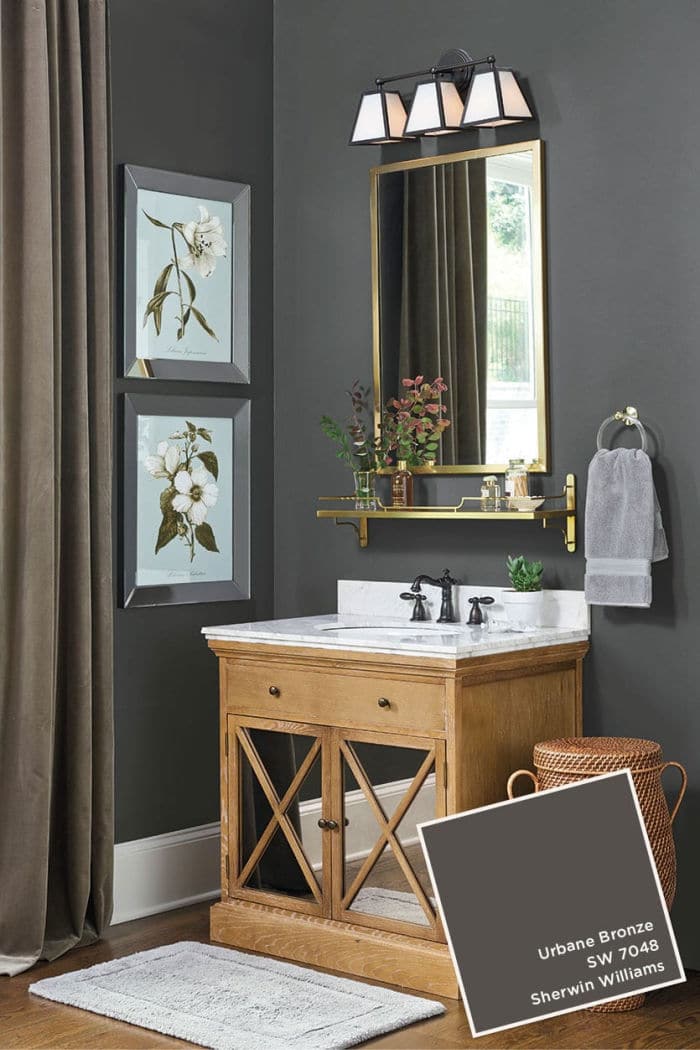 Click on the images below to shop my favorite paint decks!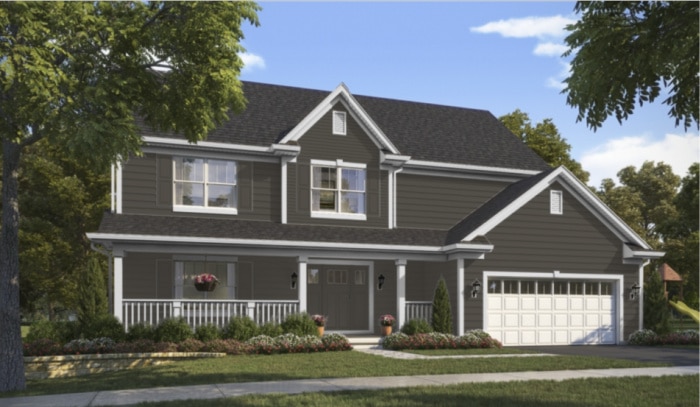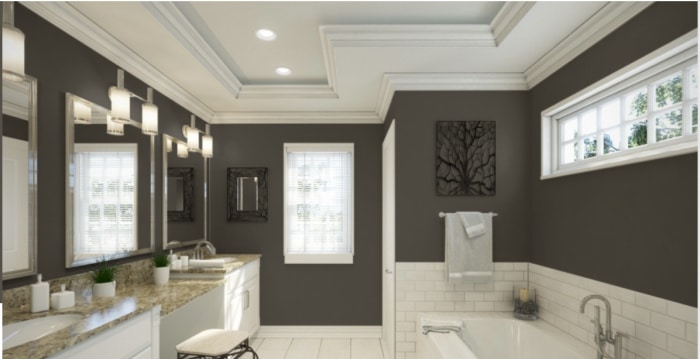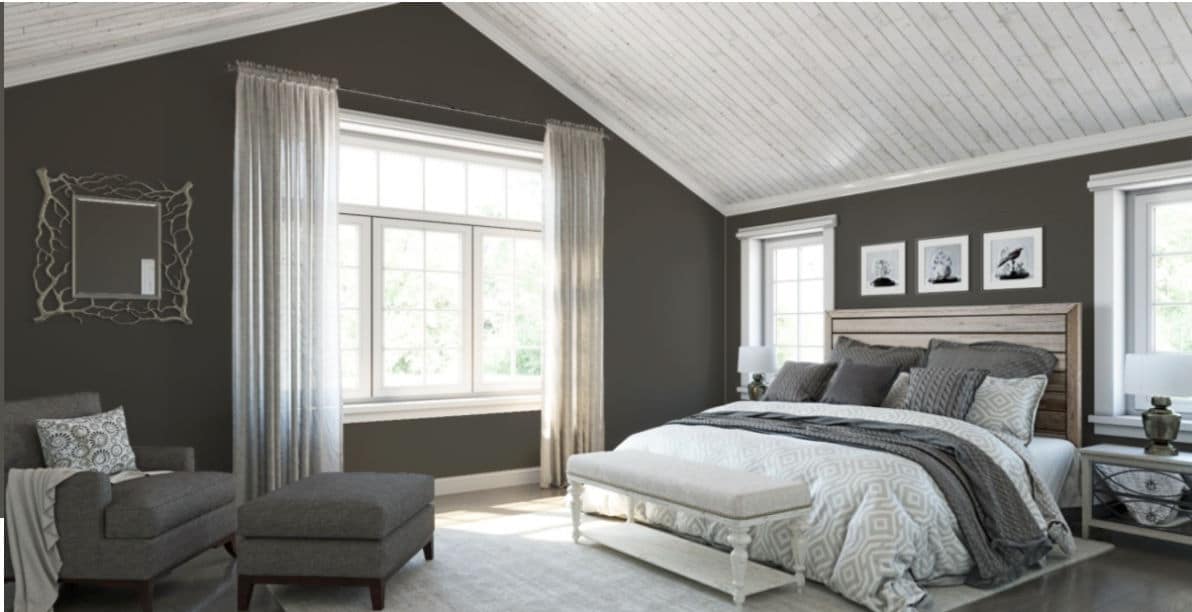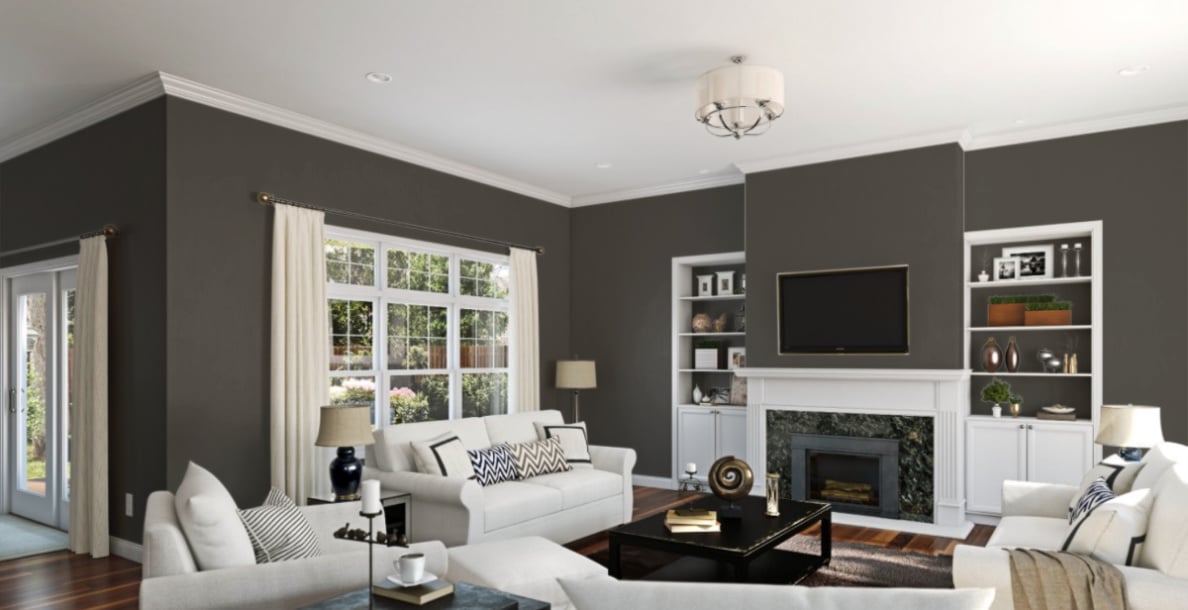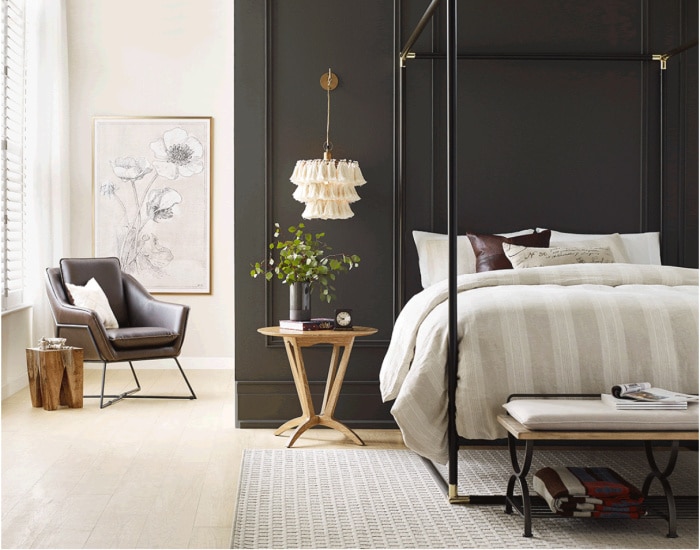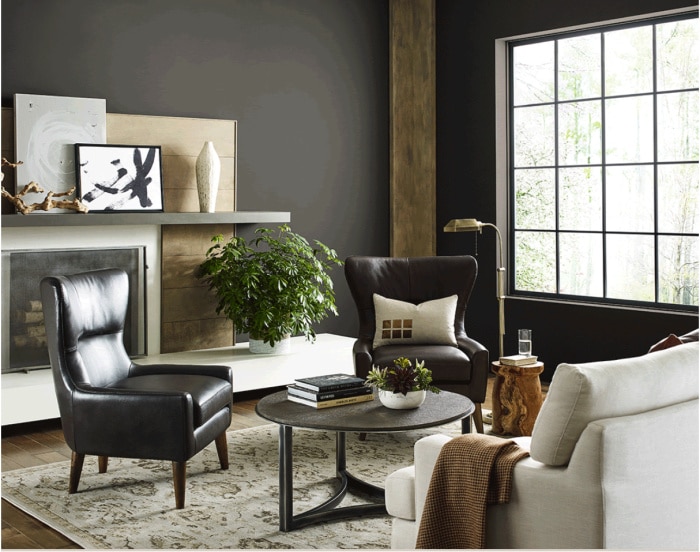 SW Urbane Bronze 7048 vs SW Iron Ore 7069
Sherwin Williams Iron Ore is also a gorgeous dark, elegant color. It's darker and more black than Urbane Bronze.
It's more dramatic and bolder in feeling than Urbane Bronze.
SW Urbane Bronze 7048
SW Iron Ore 7069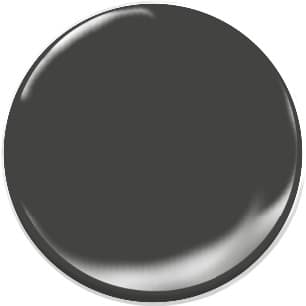 Sherwin Williams Urbane Bronze SW 7048 versus Iron Ore SW 7069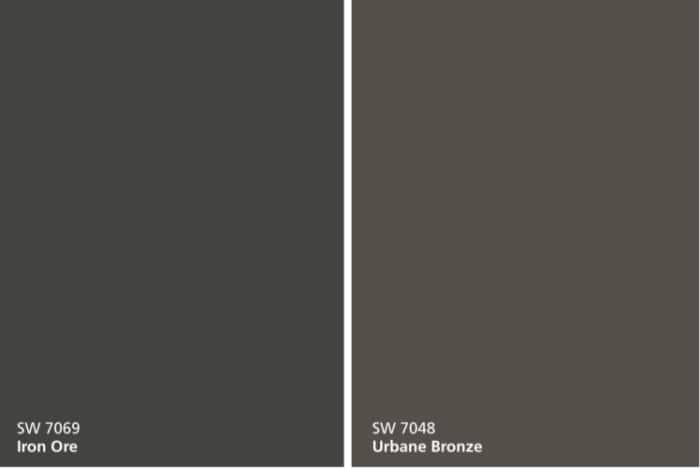 More Paint Color Resources and Design Ideas: