In this post I'm sharing tips on how to fake an entryway when you enter right into the living room.
Do you have the dilemma of having no entry? No problem!
These smart design solutions will help you fake an entryway – that's functional and beautiful!
PIN THIS AND SAVE IT FOR LATER!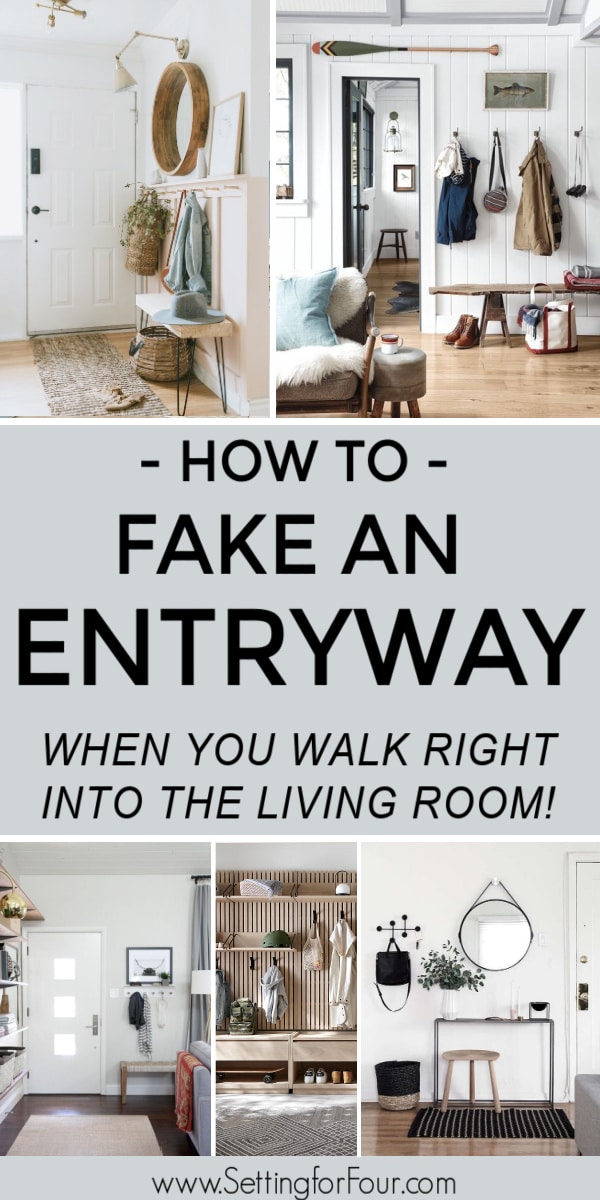 This post may contain affiliate links. Please read our disclosure policy.
Is an entryway important?
The home entryway is very important for function and esthetics!
It's the first impression for your guests to give them a feeling of comfort and welcome.
It's also the place to get ready for the day before we head out the door and the place that welcomes us home.
It's also a hard working space in your home – a place to store all of that outwear clothing, shoes, umbrellas, keys, sunglasses, dog leashes and kids backpacks.

What do you do if you don't have an entryway?
If your home, apartment or condo has no entryway and you walk straight into the living room it looks and feels really awkward.
When the front door opens into the living room and has no front closet there is a lack storage and lack flow between spaces.
To solve these problems you can fake an entryway!
Use these design secrets to create a foyer in an open living room.
These tips will show you how to add storage as well as visually and functionally separate the entry from the rest of the home.

---
Do you need help with furniture layout, room design, selecting furniture or choosing paint colors?
See my e-design & paint color services info – and client reviews! 
Email me at [email protected] for more info!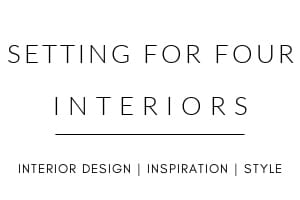 ---

Arrange your furniture to create a separate entryway zone
The first step is to rearrange your living room furniture to create a separate living room zone and separate entryway zone.
Furniture arrangement will easily solve this design problem.
Move your sofa so that it's perpendicular to the door like this:
If you have 2 chairs you can arrange them perpendicular to the door, instead of the sofa.
This will make space for an entryway when your home doesn't have one.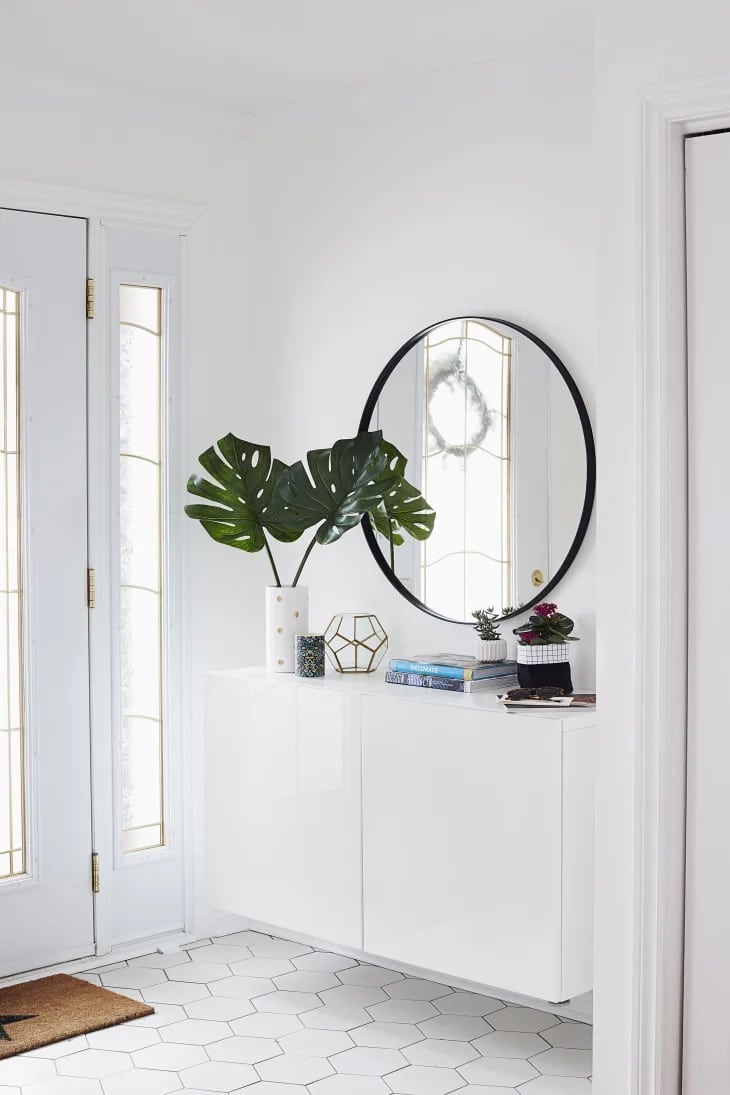 What should every entryway have?
In order of importance, here is what every entryway should have:
Hooks or a wall rack to hang coats, scarves, hats and backpacks
Closed storage or baskets to store shoes, mitts, dog leashes, keys and sunglasses
A easy to clean area rug or runner
An accent mirror
Lighting – either a ceiling light or sconces
Beautiful decorative accents
Seating – even a small stool or bench will do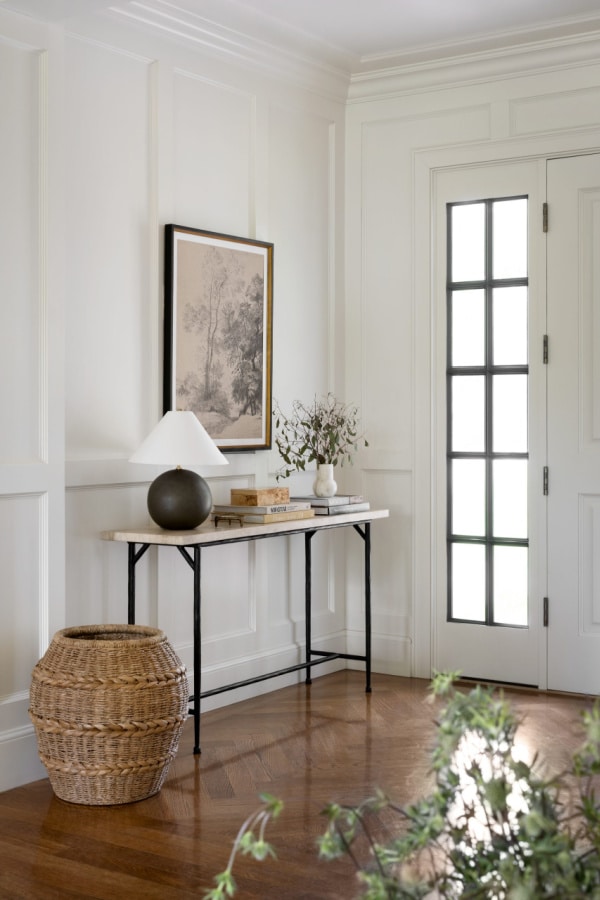 Add a console table to create a focal point
Placing a console table on the wall by the front door will create visual interest and a focal point to establish the entryway zone.
This demilune console table is gorgeous and is also a fabulous idea if you have small wall space. I love the scalloped trim!

Shop this entryway:

Closed storage – add a chest of drawers, hall tree or tall cabinet to hide clutter
When there is no entryway closet, clutter and untidiness is a big problem!
Add storage and fake an entryway zone by adding a consult table, stool, ottoman, chest, hall tree or cabinet beside the door.
The primary goal is to create shoe storage and coat storage.
There are narrow cabinet and table options if you have very small wall space to work with.
Narrow Hall Tree for Small Spaces

This hall tree is only 14.75″ wide and provides lots of organization and storage for coats, scarves, hats, gloves, backpack, purse ect
Shop these beautiful hall tree ideas: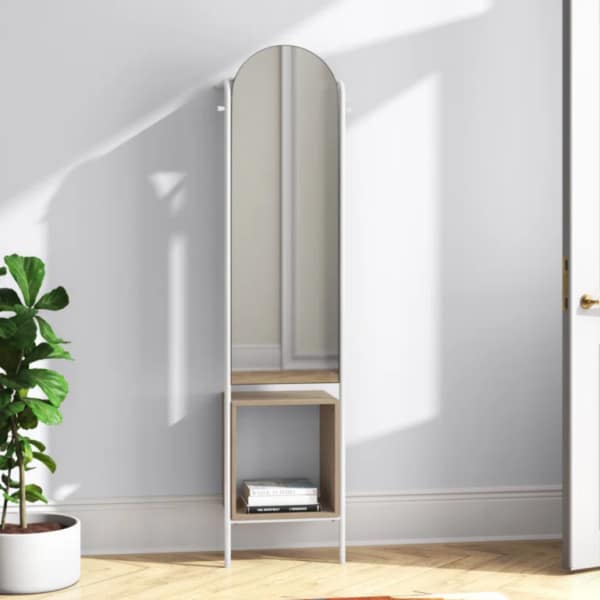 This hall tree with mirror is a chic option too and is only 18.75″ wide – plus it has hanging storage behind the mirror which is clever.
I love the arched mirror to check yourself before you head out the door!
Modular Wall Panel and Storage System

Click on the images below to shop this modular wall system:

Add a modular panel system
This stunning wood slat panel system can be customized with hooks and shelves to create a stunning entryway!
The panels come in 24″ widths so you can use one or two together to add style and storage to the foyer.
Baskets
Lidded baskets are also a fabulous closed storage idea and will help fake an entrywway.
They can store dog toys and leashes, kids toys and more!
Tuck them under a bench or beside a console table or hall tree .
If the hall tree has cubby space you can also tuck baskets there to organize your entryway!
Baskets also add texture and style to the foyer area!

Use hooks to organize your entryway
Adding individual wall hooks or a wall hook rack will visually separate the entry from the living room plus provide hanging storage for backpacks, scarves, coats ect.
You can also add wood wall pegs on top of wainscoting for a beautiful look.

Hang a wall shelf to create an entry
Another option to fake an entryway is to add a wall shelf and hang hooks underneath too. This is a great way to add decor and storage at the same time!
Here are some beautiful wall shelf and hook ideas:


Use mirrors to fake an entryway zone
If possible add a mirror beside the front door to create a focal point and to balance a console table or bench.
No entryway? Add a beautiful rug to define the space
To fake an entryway when your home doesn't have one – add a beautiful rug!
Rugs help create balance and tie the area together.
Designer tip: They are also a great way to introduce an accent color to a space.
Pick a color in the area rug as your accent color and repeat it in art and decor in the entry.
Adding a rug or runner will help create impact and visually separate the entryway zone from the rest of the home.
Pick one as large as possible for the most impact!

Add a statement light to the foyer area
To create a separate entryway visually it's important to add a statement light to that area.
A statement flush mount or semi-flush mount ceiling light will not only brighten up the foyer area but will also create visual impact.
It will automatically fake an entryway.
If you don't have a ceiling outlet add two plug in wall sconces to the wall area beside the front door.
Arrange the wall sconces on each side of (or above) a mirror or artwork above a console table or bench, or on each side of a hall tree cabinet or wall shelf.
You can also add a battery operated wall sconce or battery operated picture light if you don't have a wall outlet!

Add seating to fake an entryway
If possible add a small stool, chair, ottoman or bench to the entryway area.
This will provide a place to put your shoes on and ground the entryway area.
Add a console table to the back of the sofa
If there is room available, add a console table to the back of the sofa to help separate it from the entryway zone.
This will help define the entryway from the living room and make your home look cohesive and pulled together.
All of these design ideas will separate the living room from the entrance!
So you can welcome guests and family in style and add function to your home!
More Design and Decor Ideas: