Get ready for the holidays! How to decorate an elegant woodland Christmas tree with a winter wonderland nature theme!
This stunning holiday tree style celebrates the beauty of nature  – and is so peaceful and serene!
I'm also sharing where to buy these gorgeous owl ornaments, pine sprays, birch ribbon and pinecone ornaments to replicate this look!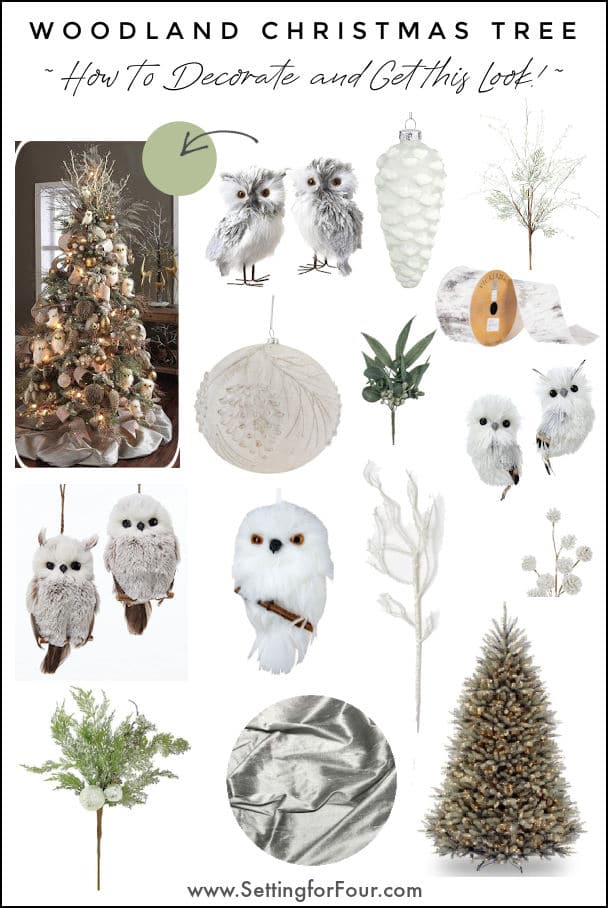 ---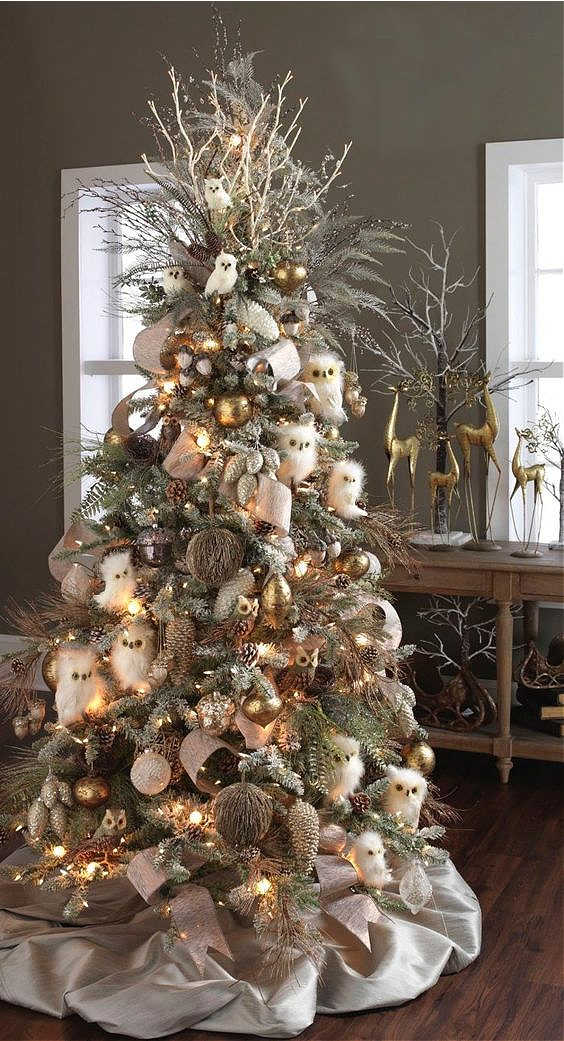 This post contains affiliate links for your shopping convenience. See my disclosure policy here.
Elegant Woodland Christmas Tree Decor Ideas
This rustic woodland theme christmas tree has been very popular in the past and is still popular today.
In fact this is one of my most popular holiday pins on Pinterest from my  Christmas Tree Color and Decor Schemes post!
So I thought I'd share the details on how to replicate this woodland Christmas tree look!
The appeal of this Christmas tree theme is that it's timeless and classic.
This natural style fits in to any room and design style wether it be traditional, farmhouse, modern, transitional or glam.
It also creates an ambiance of a quiet walk in the woods during winter – so serene and peaceful!
This winter woodland style is also appealing because it has so much beautiful texture!
And who can resist these adorable owls?
The other reason this holiday style remains popular is that it's fun for kids and adults alike.
You can make it as whimsical or as chic as you want.
You can personalize it too and make it as rustic or as glam as you like!
There are 4 holiday decorations needed to create this look:
owl ornaments
birch tree/birch bark touches
twiggy branch sprays and frosty pine sprays
pine cone ornaments
Of course there's the Christmas tree itself!
You can use a flocked or a natural pine holiday tree for this wintery woodland look.
If you have a flocked tree see How To Set Up A Flocked Christmas Tree To Minimize Flock Shedding!
If you want to pick up a new tree this year, I have lots of stunning artificial Christmas trees here – The Best Artificial Christmas Trees To Deck Your Halls
Click on the images below to shop artificial Christmas trees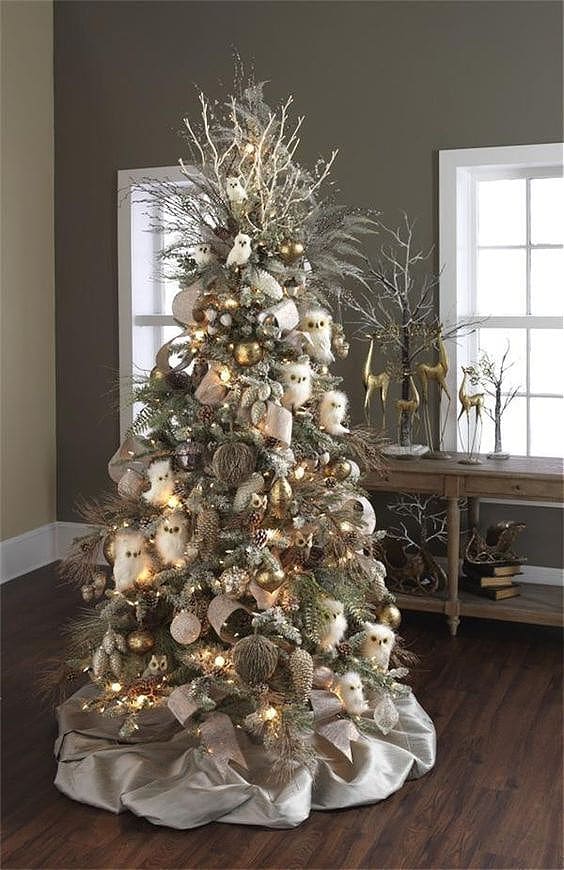 How To Decorate An Elegant Woodland Christmas Tree
Create a gorgeous frosted wintery forest look that's so peaceful and serene!
To show you how to decorate this gorgeous Woodland Christmas tree, let's start from the top and work our way down:
Woodland Tree Topper
This gorgeous tree topper only uses decorative Christmas sprays and picks! It's so quick and easy to create!
To the top of the tree add a few twiggy frosted branch sprays , glitter berry sprays and frosted pine and cedar sprays for a gorgeous nature look!
Tuck them in at the very top with some pointing straight up and some gently curving down over the top of the tree.
Click on the images below to shop this Woodland Tree Topper

Woodland Owl Ornaments
Bring the beauty of nature to your Christmas tree with these white and brown hanging owl ornaments! They are so charming and cheery!
These plush own ornaments bring loads of gorgeous texture and style to the tree.
Gift idea: Tie one of these adorable owls to a Christmas present with beautiful ribbon as a gorgeous gift wrap idea! Pair it with Christmas tree wrapping paper for a gorgeous winter forest look!
Click on the images below to shop these Woodland Owl Ornaments

Woodland Christmas Tree Ornaments
Add glass pine cone  and acorn ornaments, twiggy balls and Christmas ball ornaments with a woodland pattern.
Hang these printable Nature Woodland Gift Tags on  your tree for a beautiful woodland look!
Click on the images below to shop these Woodland Christmas Tree Ornaments

Christmas Tree Ribbon
Add ribbon with a shimmery birch bark pattern to your tree in soft loops. Leave a few ribbon ends showing and cut the ends in a v
Click on the images below to shop Christmas Tree Ribbon

Tree Skirt
This is such an easy tree skirt – it's just a few yards of gray raw faux silk material!
Buy 4 yards of the fabric and loosely tuck it around the base of the tree to hide the tree stand.
Wrap the entire circumference of the tree so the entire base is covered then push and smoosh it around to create soft folds.
It looks like a beautiful shimmery silver snow drift!
I've made a tree skirt similar to this with a faux fur throw blanket.
Click on the images below to shop these Woodland Tree Skirts

These woodland Christmas tree decor ideas will create beautiful holiday memories to treasure for generations to come!
Click on the images below to create your own Elegant Woodland Christmas Tree!

More Christmas decor ideas:
Follow me on Instagram for more holiday design inspiration and holiday sales alerts!